The dachshund is one of the most recognizable breeds in the world. This is in part because of their unique lowered and stretched or "chopped" appearance.
Popular or fashionable dog breeds always seem to carry more of a price. With prices that easily soar over a thousand dollars, choosing the right breeder is at least as important as the puppy becoming the newest member of the family. This makes breeder selection at least as important as breed and puppy choice.
A knowledgeable, ethical, reputable breeder can mean the difference between a nightmare experience and a pleasant experience from the very beginning.
These badger dogs which originated in Germany can be quite entertaining. However, they are certainly not for everyone, such as first-time dog owners. Buyers should be sure to do their homework before beginning to search for a puppy.
However, a reputable breeder will be sure to educate the buyer about the breed. The dachshund takes an experienced master, due to their strong will, intelligence, stubbornness, love of digging and burrowing, and of course their selective hearing. All together along with the fact that dachshunds are scent hounds meaning this is how they track their prey when hunting.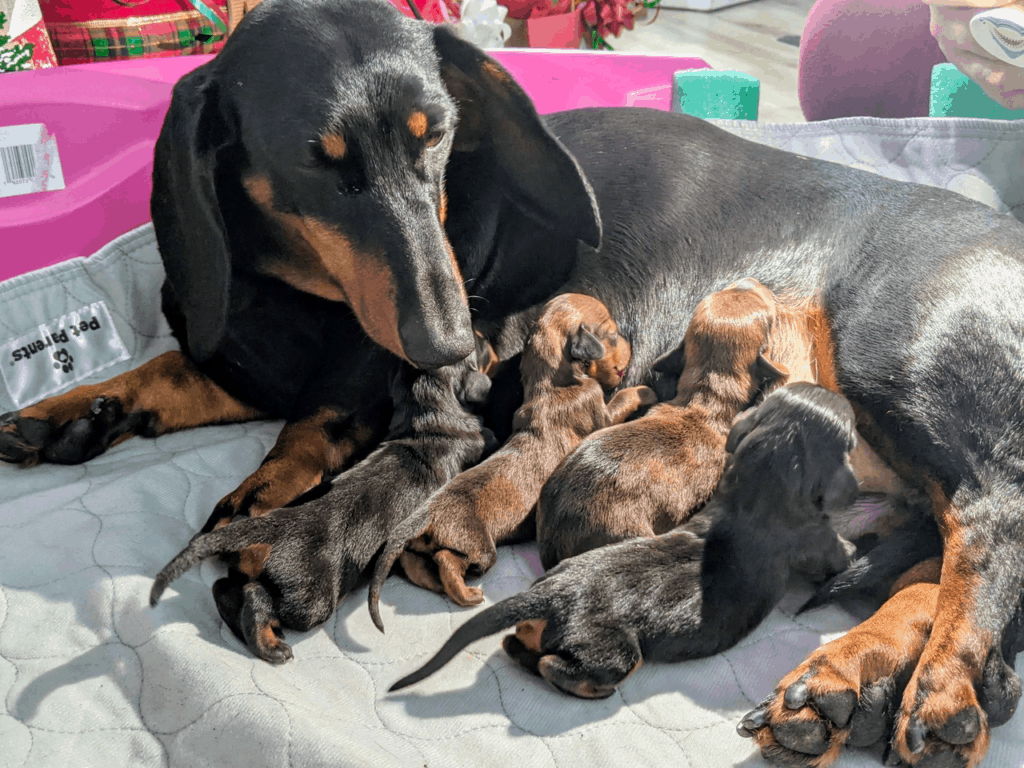 4 Types of Dachshund Breeders
Purchasing from a breeder is the best option for obtaining a dachshund. This is especially true if the puppy is intended to be a show dog or to become part of a breeding program. Some types of breeders are better than others. Hobby and professional breeders tend to be the most knowledgeable and their puppy prices reflect this.
When it comes to breeders, there are four common types. Each type of breeder has some advantages as well as disadvantages. There is the backyard breeder, the hobby breeder, the small business breeder, and the large corporate breeder. Hobby breeders tend to be the most up-to-date and knowledgeable of the breed or breeds they produce. This alone often makes them the preferable choice when purchasing a puppy.
1. The Back Yard Dachshund Breeder
These breeders tend to produce the fewest number of puppies and are often the least experienced or knowledgeable of all the different types of breeders. The Backyard breeder often has pet quality dogs and puppies that may or may not be registered with the local kennel club. This is the starting point for many breeders that go onto the other breeder types. However, this is mostly pet owners that may not even have purebred dogs or puppies.
They are also more likely to have extremely limited knowledge of current acceptable breeding practices. Sometimes these are breeders being mentored by more experienced breeders and if there is a deal to be found among the breeder types this would be the type that would have one. These puppies are usually just as healthy as puppies from more experienced breeders, but with a much smaller price tag. This is often due to the inexperienced breeder not having genetic testing done on the parents, standard medical care for puppies, and few if any other optional services that more experienced breeders might offer. Typically, these puppies have likely gotten a basic checkup, the first round of vaccinations, and dewormed.
2. Hobby Dachshund Breeder
Next, there is the hobby breeder. This is the ideal breeder to buy a puppy from due to their active participation with anything related to the breed. These breeders are of high quality and low volume. They are experienced breeders and often mentor new breeders. They tend to stay informed on the latest scientific information as well as all other breed-related information and practices.
All health testing, required vaccinations, and being dewormed are typically the minimal medical care the puppies have received. Often, they have had dew claws clipped, optional vaccinations, and when possible been put on parasite preventatives. Show dogs and breeding dogs are usually purchased from this type of breeder. They are usually fed premium foods and their cost typically comes at a premium as well.
3. Professional Dachshund Breeder
This breeder has made a small business out of breeding animals. They produce at higher rates and have a considerable amount of experience. However, they may not be as up-to-date on specific breed-related advances and trends. This is partly because they typically breed more than one breed and have an animal-related business like a boarding kennel or groomers. Their puppy prices are typically like the hobby breeders due to overhead and similar levels of care.
4. Large Corporate Dachshund Breeder
The fourth type of breeder is the large corporate breeder; these are the puppy farmers or the puppy mills. They turn out litter after litter with little if any regard to the health, wellness, comfort, or socialization of the puppies or their parents. These puppies are often the ones sold in pet stores and tend to have at least a few issues. These can range from lack of socialization to major defects that are common to the breed that responsible breeders have screened for and removed from their breeding program.
These pups tend to have only had bare minimal health care needs addressed. These breeders are all about profit. Due to this, they tend to cut corners at the animals' expense. Their prices are often marginally lower than that of the hobby and professional breeders. However, there are nowhere near the same levels of care.
How to Buy a Dachshund Puppy from a Reputable Breeder
While each breeder has their own procedure for purchasing one of their puppies, there are a few things buyers can expect from almost any breeder. Once initial contact is made, a type of interview process begins. During this process, both breeder and buyer have a lot of questions and through this process, these questions are asked and answered. At some point during the interview phase arrangements for the buyer to visit the breeders' home to meet the pup and view interactions with mom and siblings.
It is often during this meeting that the agreement is solidified and finalized with the contract being signed and the initial down payment that will hold the chosen puppy until the age of 8 weeks (about 2 months) old when it will be ready to leave litter mates and mom. When the buyer comes to pick up the puppy the sale is finalized with a completed contract and bill of sale if it is not already part of the breeder's contract.
How Much Does a Dachshund Puppy Cost?
There are many things that contribute to the price of a purebred puppy. There is a lot of variation in the prices based on several factors.
Currently, the most inexpensive is a non-registered standard short-haired dachshund puppy with a traditional two-color pattern of black or chocolate with tan or cream or solid chocolate coloring. The standard traditional-looking non-registered or papered puppy will run a buyer somewhere between $200 and $300 minimum from a reputable breeder. It will take at least an additional $100 each for different coat patterns, types, or overall sizes. These prices begin to soar when looking at registered puppies and can soar into the $3000 range or higher for a pedigreed registered puppy with at least one kennel club championship appearing in the pedigree.
Unique, rare, or exotic Dachshund puppies are typically an attempt to con prospective buyers into paying more. The most uncommon coat color is the solid black coat with no markings of any other colors. Even the solid black coat typically only adds $100 to $200 to the overall price of the puppy. Breeders that typically use this type of marketing for their puppies are charging more for what may be a dangerous or undesirable trait.
An example of this in the dachshund breed is the double dapple. While double dapples are beautiful dogs when the breeder beats the odds of trying to achieve the look. However, as in the case of double dapples, the risks are high, meaning every effort should be taken to avoid this dangerous and avoidable genetic issue. Major birth defects such as missing eyes or other body parts are some possible consequences of breeding two dapples or even parents that both carry the dominant dapple gene to each other.
How to Choose a Reputable Dachshund Breeder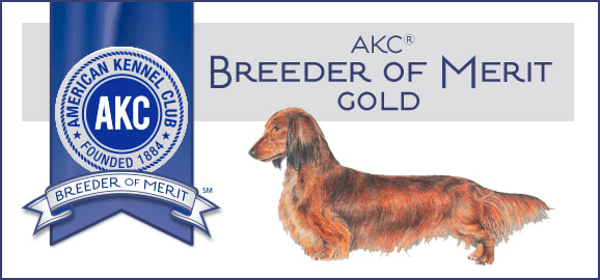 There are certain characteristics that almost all puppies from a reputable breeder typically have in common. There are often common procedures that help buyers identify+/ reputable breeders as well.
Check breeder reputations and other details
There are several ways a buyer can check the reputation of a breeder with today's technology. Do your homework on prospective breeders. When looking for a reputable breeder, confirm any information they give you whenever possible. Do not hesitate to ask questions. Breeders will probably have quite a few questions for prospective buyers as well. Most reputable breeders enjoy what they do and talking about the animals that they breed. This also checks to see that they list the breeder with the kennel club or similar organizations in which they claim to be associated with. Checking to see if we can find the breeder on the internet with any complaints or issues related to animals.
Meetings should always take place where the mom and puppies are kept
Typically, reputable breeders encourage prospective puppy buyers to visit their homes to meet their puppy and the puppy's parents. If a breeder discourages buyers from coming to their home for a visit should be questioned because there are some circumstances in which having a lot of visitors would not be appropriate. Often when breeders discourage prospective buyers from home visits is because of the conditions in which they kept the dogs and puppies.
Seeing mom with her puppies when visiting the breeder is essential
By seeing both the mother and puppy, the buyer can be relatively assured they are speaking with the breeder and not a puppy flipper. Buyers are also able to see interactions between mom and puppies. This also helps to gauge the approximate size of the puppy at full growth.  Seeing the mom and puppies also helps to ensure the overall health of the puppy This also provides an opportunity to determine the overall care that mom and puppies receive until they go to their new homes.
Check the Dachshund puppy has a clean and healthy appearance
Checking the puppy's eyes and ears is typically one of the best indicators of puppy health, as well as the hygiene routine of the breeder. Clean unmatted hair with a long-haired puppy helps to distinguish this as well. Looking just for these few things will rule out most puppy illnesses. Also, be sure that the puppy is not overly sluggish or yelp or cries in pain when any area of the body is touched. Additionally, inspect the puppy for any lumps, bumps, and scabs. These may indicate skin issues, allergies, or fleas.
Check all relevant health tests have been done
There are certain genetic conditions different breeds of dog is sometimes prone to. There are typical tests that either the parents or the puppies need to screen for certain genetic issues common to the breed. For some breeds, there are few if any, and in another breed, the list can get quite extensive. For the dachshund, however, there are a few tests that each of the parents needs to have so that the puppies are protected from possible genetic conditions.
In dachshunds, there are a few tests that will need to be done around one year of age, and twice as many need.
Puppies Are Ready To Go Home After 8 Weeks, Not Before
While the mama typically weens her pups by around 6 weeks (about 1 and a half months) old and they can start eating puppy food they are not quite ready to go to their new homes yet. The last two weeks the puppy is with mom and littermates is when the pup learns to be a dog. This is the time in which they learn the majority of their social skills. Proper socialization across as many situations and different people as safely possible is essential for the long-term health and wellbeing of the puppy.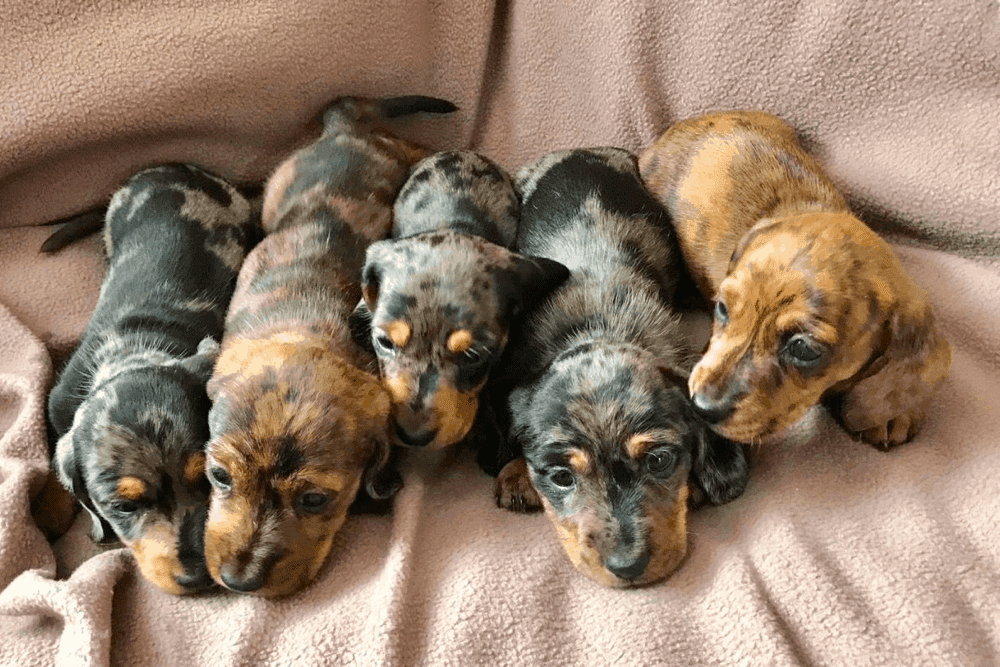 Make sure the breeder thoroughly answers all questions asked
A reputable breeder will answer all your questions. They will take the time to be sure that prospective buyers understand any information that they are being given. They try to be sure to educate the new owners on any specifics of the breed as well. Some of the possible information would be things that the particular breed is prone to. While Dachshunds are not prone to many genetic conditions, they are prone to back and disk problems, becoming overweight, and diabetes. Extra weight tends to aggravate each of these conditions.
What Paperwork comes with a puppy from a Breeder?
At an absolute minimum, a bill of sale or a contract and health records should come with any pup from a reputable breeder. Often you will get all of the documents previously mentioned in addition to information leaflets and either a registration application or the paperwork to complete your puppy's prepaid preregistration.
Advice From Author/Dachshund Breeder
The author has over 30 years of experience with Dachshunds, ten of which have been as a dachshund breeders. However, only working with AKC registered dogs and puppies for the last five years. Breeding Dachshunds or any dog really for the sake of conformity to or improvement of the breed is expensive and time-consuming. This decision should not be entered into lightly.
Getting a new puppy is much like bringing home a new baby in terms of time and money invested to responsibly care for the new life that has been brought into the home. When purchasing a puppy cost and time constraints must be taken into consideration. Many breeders attempt to help their buyers to consider this issue, as well as many others for the sake of everyone involved.
Do the homework on both the breed or breeds being considered and the breeders for each breed being considered. Since a word-of-mouth referral is not always possible, go to the kennel club website or the breed parent club and look in their marketplace to begin the search for the right breeder. Both types of club websites have a wealth of information on each specific breed. While there are many things to consider when picking a breeder, go with the one that feels the most comfortable to speak with, and adheres to most if not all of the signs for reputable breeders. There are some breeders that surpass these standards and some that fall considerably short of them in each type of breeder.
Each litter that I produce puppies begin crate and puppy pad training at 4 weeks. This is due to Dachshunds having an extremely strong sense of smell which makes them more difficult to housebreak. Every accident, every time must be thoroughly cleaned with the cleaner to ensure all the scent is removed. If it is not sufficiently removed, the puppy will continue to go back to that specific place repeatedly instead of going in the desired area.  Puppies I produce are also socialized from birth as much as is safely possible for their age.
Other Important Advice for Dachshund Buyers
When searching online for a puppy be sure to do the necessary work to get a reputable breeder and do not fall for the scams that abound online. Here are a few more tips and advice when searching for a dachshund puppy.
Do not Buy a Dachshund Puppy from a Pet Store
Purchasing pet store puppies supports the large corporate breeders which are often concerned only with profit and not the health and wellbeing of the puppy produced. These puppies are typically puppy farm or puppy mill-produced puppies. As a result, these puppies tend to be mass-produced and are prone to a variety of health problems.
Beware of Online Scammers
Remember the rule of thumb with scams is if it looks too good to be true it probably is. While it is possible to occasionally run across a great deal, proceed with extreme caution if it seems a great deal has been found.
Ask People for Recommendations
Talk to people. Neighbors, friends, family, anyone who has the variety of Dachshund that appeals to an individual or family. This is the best source for finding reputable breeders that have what the individual or family is looking for.
Research Reputable Dachshund Breeders
Once all word-of-mouth referrals have been exhausted and the right breeder and puppy have yet to be found begin looking at the marketplaces of the local kennel club or the breeds parent club.
Check Out Reviews of the Breeder
Reviews of a breeder are typically a great indicator of what you can expect. Reading about other customer experiences enables future customers to be prepared for many of the common situations that occur when buying and selling anything.
Finding Breeder Registration  
Again, looking on the local kennel club website is the place to determine whether a breeder is registered with the kennel club. Often the marketplace also offers information on the breeders that produced the puppies that are on the site.
What Next: Top Dachshund Breeders by State
See my list of the best breeders in each USA state (we will have each article to show all the best breeders in each state).
Checklists Below
There are checklists provided below to help remember the signs of a reputable breeder and questions to ask breeders when selecting a breeder and puppy. Blank spaces provided for buyers' own questions or signs.
Signs Responsible Dachshund Breeder
| | | | |
| --- | --- | --- | --- |
| Question/Observation/Statement/Sign | + | – | Questions/comments |
| Word of mouth referral? | | | |
| Kennel Club member? | | | |
| Breed's parent club member? | | | |
| Kennel Club registered puppies? | | | |
| Is there a waiting list? | | | |
| Only has occasional litter (1 to 2 litters per year)? | | | |
| The breeder does everything to ensure that their puppy will have a good home with the buyer. | | | |
| Breeder happily answers questions while building a relationship with the buyer. | | | |
| They do not ask for a deposit until after an in-person meeting. | | | |
| Meeting the puppy and its mother in the breeder's home is strongly encouraged. | | | |
| There are no problems with buyers looking around and playing with the chosen puppy. | | | |
| Puppies have a clean home and area to play and sleep in. | | | |
| Interactions go well between puppy siblings and mom. | | | |
| Puppies are clean, healthy weight, and enjoy being played with. | | | |
| Puppies are not allowed to go home until they are at least 8 weeks old. | | | |
| New owners are given puppy food and directions on feedings and other general care of the new puppy. | | | |
| Puppy is covered with insurance from the breeder for the first few weeks while everything settles, and owners get their own insurance. | | | |
| Is the puppy microchipped? (In some countries this is required by law.) | | | |
| Are all relevant health tests completed? | | | |
| Buyer is walked through all the expected paperwork before leaving with the puppy. | | | |
| Breeder discusses vaccinations with the buyer and explains what is next and when everything should be done. | | | |
| Breeder offers ongoing support for the life of the puppy in addition to offering information on the proper care of the new puppy. | | | |
Questions the Dachshund breeder should be asked when purchasing a puppy
| | | |
| --- | --- | --- |
| Question | Response | Comments/Thoughts |
| How long have you been breeding Dachshunds? | | |
| Do you breed other types of dogs? | | |
| How many Dachshund litters do you have a year? | | |
| What health tests have the Dachshund puppy had? | | |
| What's the parents' history? | | |
| How have you socialized the Dachshund puppy? | | |
| Is the Dachshund puppy covered by pet insurance? | | |
| Is the Dachshund puppy microchipped? | | |
| What are you feeding the Dachshund puppy? | | |
| When can I bring the Dachshund puppy home? | | |
| What vaccinations has the Dachshund puppy had? | | |