If you live in the Great Lakes state and you're looking for a Dachshund breeder you're in luck because we've done all the hard work of finding you breeders of Dachshund puppies in Michigan.
Dachshunds make great companion dogs. They're great dogs for apartment dwellings because they're so small and they don't bark much. Because you're eager to bring home your new puppy, we did all research then created a list of all the best breeders who sell Dachshund puppies just in Michigan state. For other states, we've written separate articles.
Of course, you'll need to decide which breeder is best for you. Before you choose a good breeder, make sure you read this post about what to look for in a breeder.
If you're eager to bring home a sweet dachshund puppy for your very own, keep reading!
Dachshund Puppies for Sale in Michigan (MI)
1. Mare-Bella Long-haired Dachshunds Breeder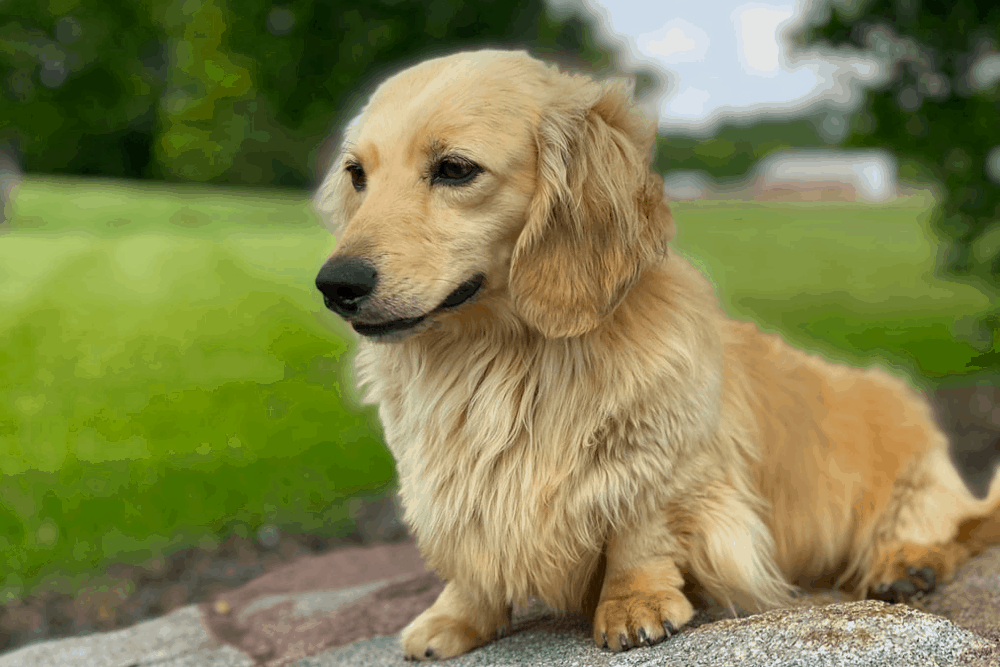 Mara-Bella Dachshunds is owned by a family who loves Doxies. Their puppies are handled, hugged every day to socialize and help them adjust to different environments. Their goal is to help your find the Dachshund puppy of your dreams. They breed top-quality healthy miniature Doxies with good temperaments. They breed mostly long-haired English Creams but do breed long or smooth-haired Doxies that are blacks, tans, or red.
When you purchase a Doxie from Mara-Bella Dachshunds, your pup will have a:
Vet health check
Up to date vaccinations
De-wormed
Socialized
All their puppies are AKC registered and they offer home delivery of your pup if you live in Michigan. Customers say their dogs are beautiful. The owner is honest and truly cares about the Dachshunds. They also say they would highly recommend them to anyone looking for a Doxie.
| | |
| --- | --- |
| Name of Owner | Mary Record |
| Address | 9775 Stanton Rd, Crystal, MI 48818 |
| Email | marebelladachshunds@gmail.com |
| Phone Number | (989) 506-4378 |
| Website | marebelladachshunds.com |
2. Von Wolff Kennel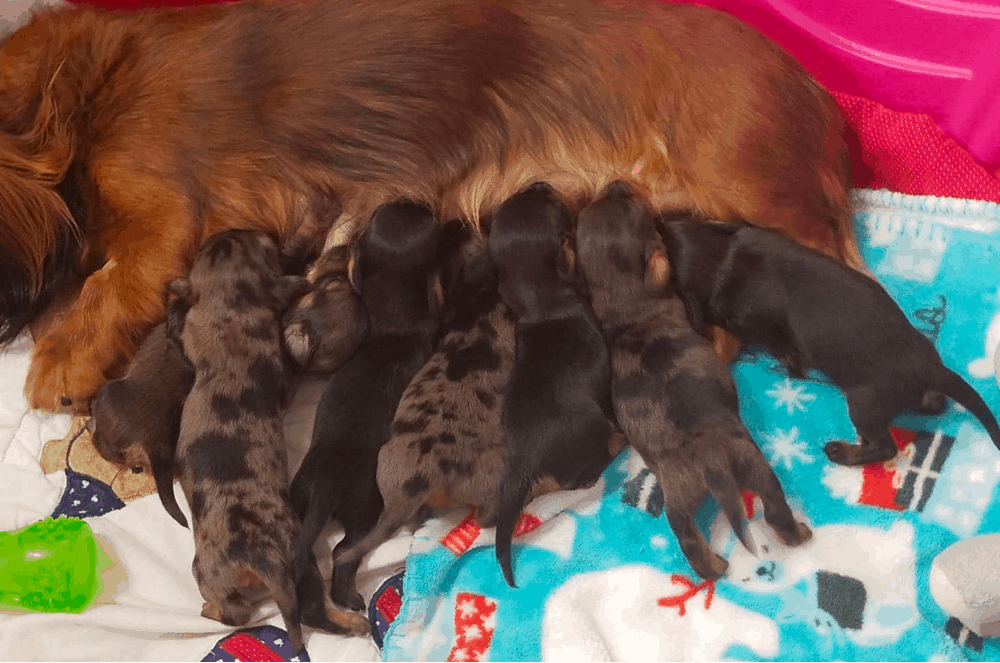 Breeding both miniature and Standard sized Doxies, Von Wolff strives to produce puppies that have a proper temperament and good health. They follow the breeding standards of the National Minature Dachshund Club. Their dogs make sweet companions that bring years of love and companionship.
Customers say this is a legit breeder with lots of knowledge about Doxies. Joanne cares about each dog. They say the facility is nice and clean and the puppies receive great care and attention.
3. Hielscher Dachshunds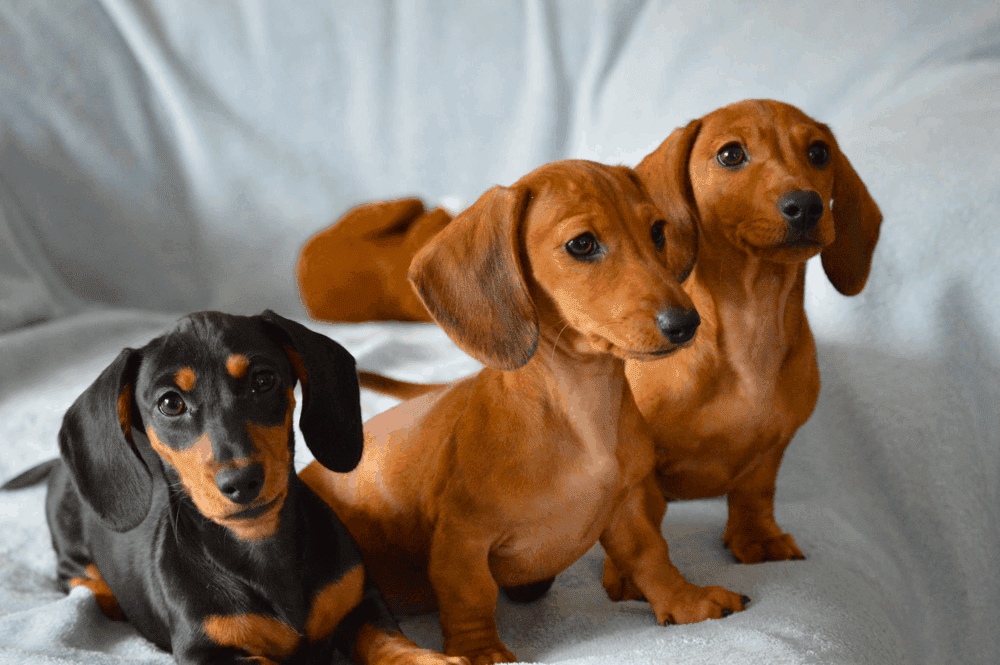 If you live in the Macomb, Michigan area ad you're looking for a Doxie pup, check out Hielscher Dachshunds. Gayle Sanitate has been breeding Dachshunds for over 35 years. Gayle's passion is to breed Doxies that are healthy with great temperaments. She takes pride in her miniature Dachshunds and guarantees them for life.
Customers say that Gayle is amazing to work with. She helps you through every step of the adoption process. She's knowledgeable and offers instructions for Doxie's parents. They say they highly recommend this breeder for anyone looking for a happy, healthy puppy.
| | |
| --- | --- |
| Name of Owner | Gayle Sanitate |
| Number of experience years | 35 years |
| Address | 24360 24 Mile Rd, Macomb, MI 48044 |
| Email | gsanitate@live.com |
| Phone Number | (586) 615-9717 |
| Website | hielscherdachshunds.com |
4. Asgard Miniature Dachshund Breeder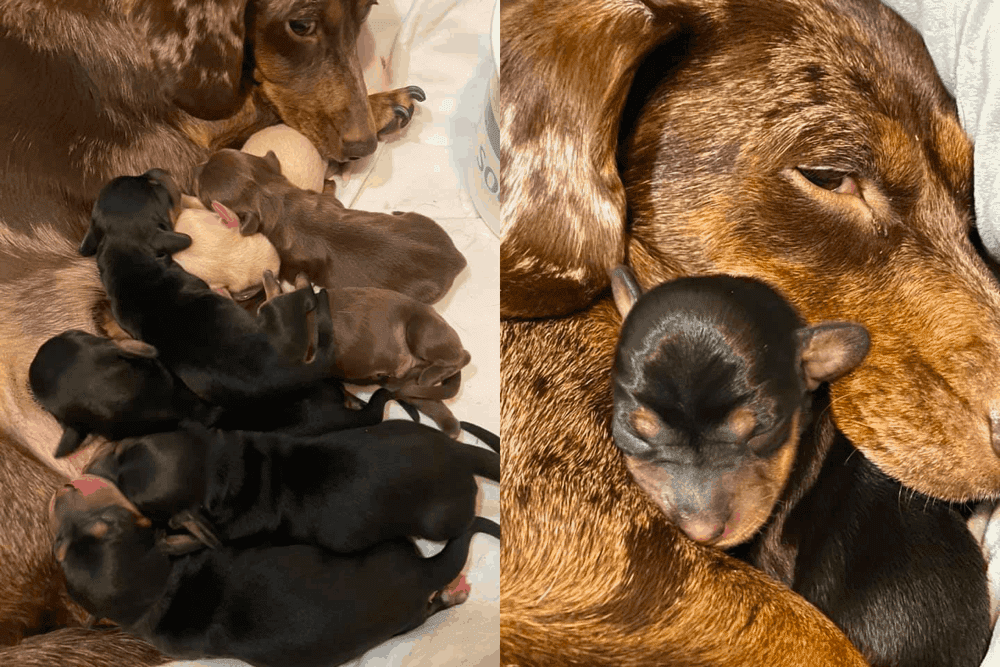 Asgard Dachshunds is a small in-home miniature Dachsund breeder in the Battle Creek, Michigan area. They offer AKC miniature dachshunds that are socialized, good-tempered and healthy. Customers say that Asgard Dachshunds owner, Kristen, is easy to work with and very helpful. She kept them up-to-date on their puppy's health and development sending pictures while they were waiting to adopt. One customer said they were surprised their puppy was already potty trained when they got it. Every customer says they would highly recommend this breeder to anyone looking for a sweet Doxie pup.
| | |
| --- | --- |
| Name of Owner | Kristen |
| Address | Battle Creek, Michigan |
| Email | asgarddachshunds@gmail.com |
| Phone Number | (269) 830-4006 |
| Facebook | AsgardDachshunds |
5. Limberlost Exotics (Greiner's Golden Doxies)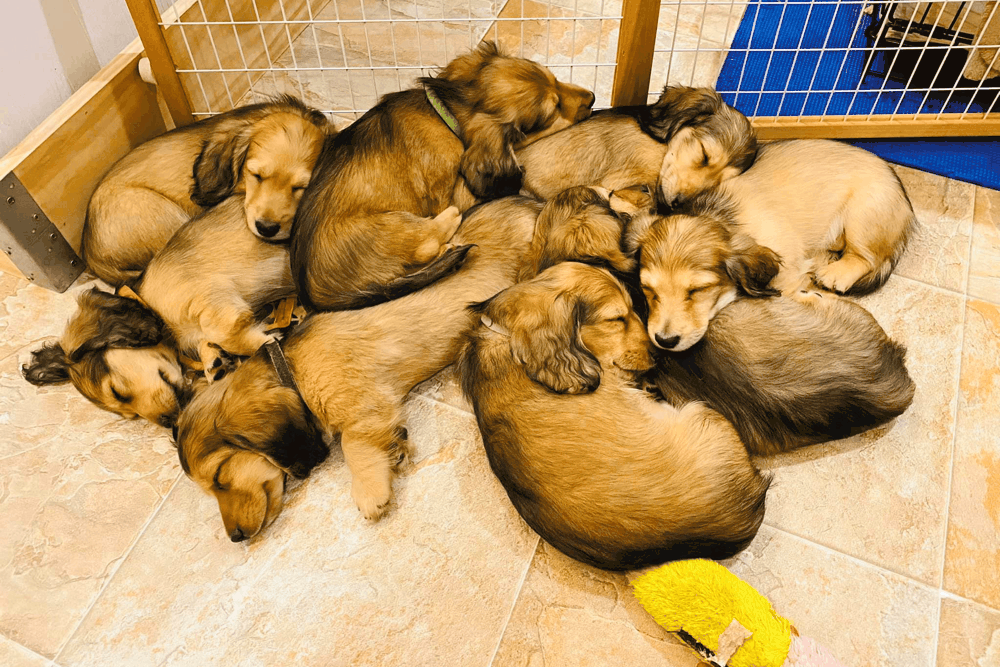 Located in Mulliken Michigan, this particular breeder specializes in long-haired English Cream Miniature Doxies. Daniel the owner of the Limberlost Exotics/Griener's Golden Doxies, has experience in genetics and a special love for Doxie. He strives to produce healthy, good-quality dogs using responsible breeding techniques.
Customers say that owner, Daniel, is very knowledgeable about Doxies. He's dedicated to this breed, providing excellent service. They also say that they received great communication from these breeders. Their puppies are beautiful and well-socialized so they're ready to go to their new home.
| | |
| --- | --- |
| Name of Owner | Daniel Greiner |
| Address | Lansing, Michigan |
| Email | limberlostexotics.com |
| Phone Number | (517) 230-1827 |
| Links | Website, Facebook |
6. Michigan Rockin' Dachshunds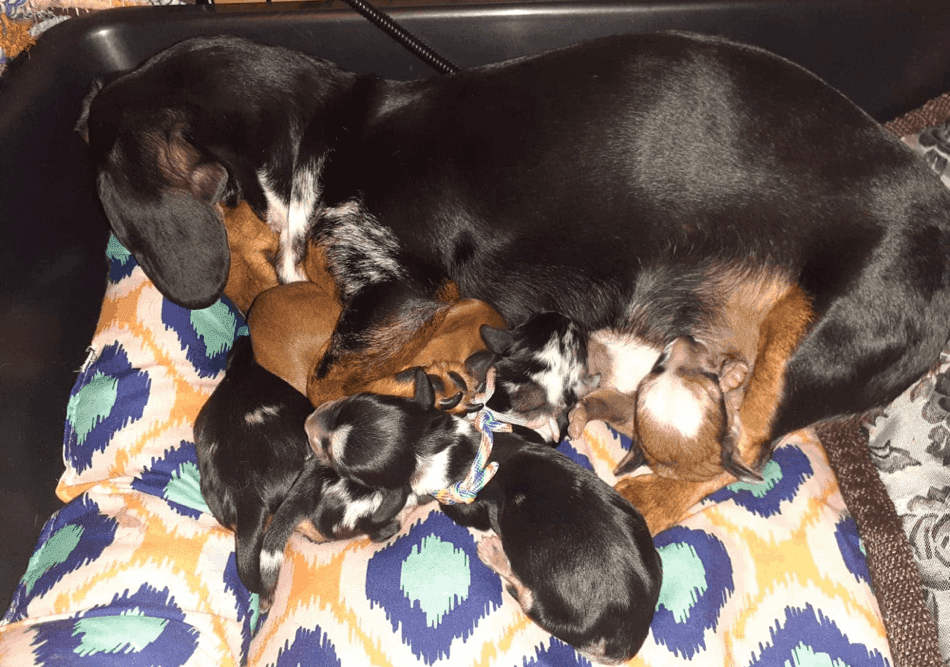 Michigan Rockin' Dachsunds is a small, home breeder located in Bay City, Michigan. Open since early 2021, they specialize in AKC registered miniature Doxies that are healthy and with a good temperament. They do genetic health tests to guarantee genetically healthy dogs. If you get a puppy from this breeder, the puppy comes with
Medical records
Growth and development records
Pictures of your dog when he was a baby
Up-to-date vaccinations
Potty trained
Customers say Michigan Rockin' Dachshund's owner, Kali, is really knowledgeable and friendly. She makes it easy to get a new puppy and customers say they loved working with her. They highly recommend this breeder if you're looking for a beautiful miniature Doxie.
| | |
| --- | --- |
| Name of Owner | Kali |
| Address | Bay City, Michigan |
| Email | michiganrockindachshunds@gmail.com |
| Phone Number | (989) 714-0112 |
| Facebook | Michigan Rockin' Dachshunds |
7. Hidden Haven Dachsies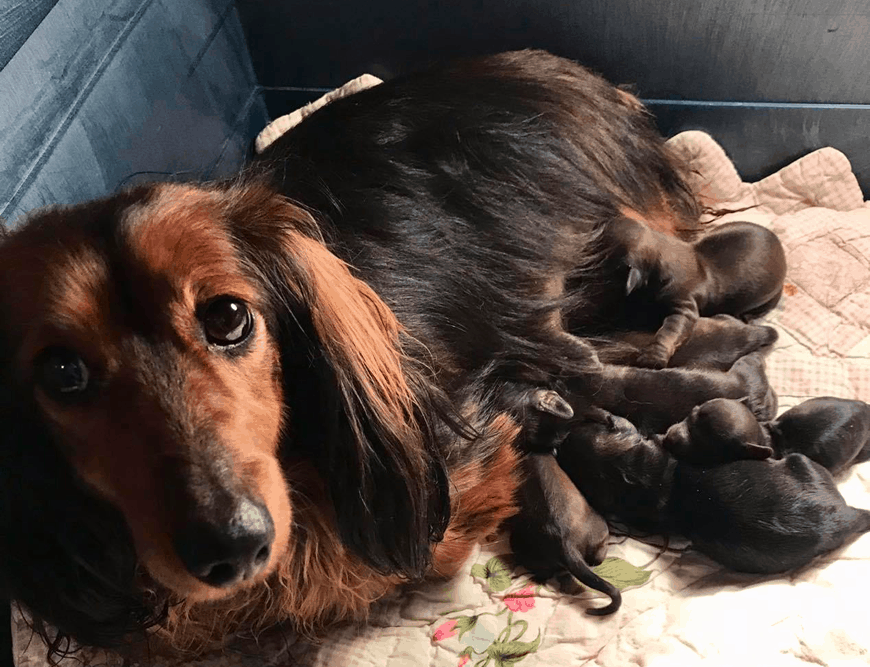 Hidden Haven Dachsies is a small breeder that's located on a farm in the Upper Pennisula of Michigan. Owners, Brittney and Roberta LaCosse, specialize in breeding long-haired Doxies but do occasionally have smooth-haired Doxies. Their puppies are home-raised along with the entire family holding and loving on them so the pups are well socialized.
Customers say the breeders really care about their dogs. They were helpful and patiently answered questions. Customers say their puppy is healthy with a wonderful temperament. The breeder kept them informed with updates and pictures. They say they'd highly recommend this breeder.
| | |
| --- | --- |
| Name of Owner | Brittney Olson & Roberta LaCosse |
| Number of experience years | Over 20 years |
| Address | Rock, Michigan, USA |
| Email | bobbielacosse@yahoo.com |
| Phone Number | (906)356-6441 |
| Website | Website, Facebook |
8. Jodachs Miniature Dachshunds
Located in the Grandville, Michigan area, Jodach's Miniature Dachshunds strive to produce healthy, well-socialized Doxie pups. All their puppies are home-raised and socialized to kids, cats, and outside environments. Owner, Cathy Potter, breeds the most conformationally correct English Cream Doxies that have a calm, happy, and non-aggressive demeanor. She says her dogs greet people with a tail wag rather than a bark. Cathy breeds longhair, smooth English Creams, blacks/ tan or red. She welcomes visitors to her home, just send her an email to arrange a visit. All puppies come with:
AKC reg, 1 yr health guarantee
Up to date vaccinations and shots
De-worming
Dewclaw removed
Ear tattooing for ID purposes is optional and free
| | |
| --- | --- |
| Name of Owner | Cathy Potter |
| Address | Grandville, Michigan |
| Email | Jodachs@att.net |
| Phone Number | (616) 534-3337 |
| Website | jodachsmi.tripod.com |
9. Noodle Minature Dachshunds
Located just west of Alma, Michigan, this breeder specializes in miniature Doxies. Dawn, the owner of Noodle Minature Dachsunds, home-raises her puppies. They're handled daily so each pup is well socialized and calm around people and other pets. They raise long-haired dapple minis that come in Blue, Chocolate, Cream, Black and Red, Sliver Dapple, Sable, or Piebald. Their puppies come with
AKC registration
Veterinarian well check
Shots
Up-to-date Vaccinations
Socialized around kids, horses, other dogs, and birds
Customers say this breed was wonderful to work with throughout the entire process of getting a Doxie pup. Dawn answered their questions about training and gave lots of good tips and information. Customers say they give Noodle Minature Dachshunds a 5-star rating.
| | |
| --- | --- |
| Name of Owner | Dawn |
| Address | Michigan |
| Email | DEWCO@charter.net |
| Phone Number | 1-877-655-2008 |
| Website | noodledogs.com |
10. Richards Dachshunds
Barbara Richards has been breeding and raising Doxies for 36 years. She specializes in Miniature smooth Doxies. Her puppies are well-bred, healthy, and socialized. Every puppy is AKC registered and has a health guarantee. Richards Dachshunds welcome inquiries and scheduled visits. Give them a call.
| | |
| --- | --- |
| Name of Owner | Barbara Richards |
| Number of experience years | 36 years |
| Address | 11668 Beech Daly |
| Email | jrichards@twmi.rr.com |
| Phone Number | (313)937-9593 or (313)407-5566 |
11. Lakeshore Mini Dachshunds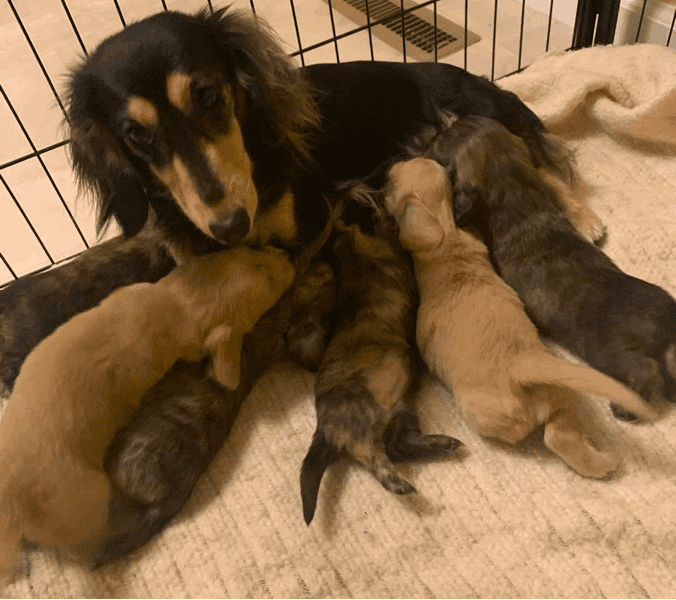 Lakeshore Mini Dachshunds' mother-daughter breeding team is located in Whitehall, Michigan area. Their Doxie pups are home-raised and never kennel-raised. They specialize in long hair cream miniature Doxies. Their goal is to produce healthy puppies with good temperaments so they adjust easily to their new home. They're responsible breeders who refuse to sell their pups to pet stores or puppy mills.
| | |
| --- | --- |
| Address | Whitehall, Michigan |
| Email | mksweetdachs@gmail.com or |
| Phone Number | 231-246-5380 |
| Links | Website, Facebook |
12. English Cream Dachshunds of Stoneriver
Vicki Stone, the owner of Stoneriver Minature Dachshunds, first started her breeding business in 1999. She began raising English Cream Miniature Doxies in 2005. She is a member of the Midwest Dachshund Club of quality breeders. Vicki's goal is to produce quality AKC registered Doxies as sweet pets and for show.
Customers say they love Vicki and her dogs. She's helpful and ready to answer questions. Every customer says they highly recommend this breeder.
Name of Owner
Vicki Stone
Started Breeding
Since 1999
Address
492 East Pineridge Trail

Newaygo, MI 49337 US

Email
stoneriverdoxies@aol.com
Phone Number
(231)225-6136 or (231)652-9727
13. PuppyLove Dachshunds
PuppyLove has been in the business of breeding Miniature Dachshunds since 2013. Owners Kathleen and Caleb's goal is to produce happy, healthy pups that make excellent companions. Every pup is AKC registered and comes with a guarantee of health. They specialize in shades of Cream, cholate, and tan, chocolate and cream, reds and dapples. Each puppy comes with
Up-to-date vaccinations
Health check by a vet
Toy and blanket
Leash
Health and registration papers
A packet of dog food
AKC Protection packet and microchip enrollment
Dog insurance information
Customers say Kathleen is wonderful to work with and helpful. They say she makes the entire process easy. She genuinely cares about each puppy. They say she answered all their questions throughout the process.
14. Puppy Luv Kennel of Dachshunds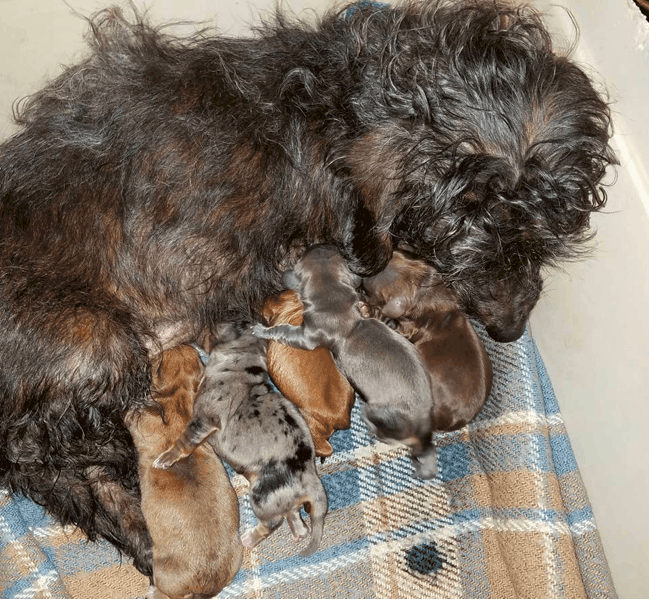 Located in Alma, Michigan, owner Debra Manthei fell in love with Doxies and started breeding them in 1999. They have miniatures, smooth, long, and wire-haired Dachshund puppies in blacks, reds, tans, silver dapple, and chocolate/tan and blues. Deb's puppies are raised in a caring environment and she makes sure every puppy is held daily to help socialize them so they will adapt well.
Customers who have used Puppy Luv say they're the best. Their puppies are healthy, well-adjusted and so cute. They say Deb is knowledgeable, helpful and they highly recommend her and her business.
| | |
| --- | --- |
| Name of Owner | Debra Manthei |
| Number of experience years | 22 years, since 1999 |
| Address | 75 E Van Buren Rd, Alma, MI 48801 |
| Email | puppyluv@ispmgt.com |
| Phone Number | (989) 463-2008 |
| Links | Website, Facebook |
If you live in Michigan and you're looking for Dachshund puppies, you've found the right blog. This extensive list of 14 breeders is some of the best Doxie breeders in the state. There are so many Doxies for sale in Michigan, but you want to work with a breeder who can help you find the perfect little Doxie pup for you. We hope this list helps you find your dear little companion.
Top Dachshund Breeders in the Other States