If you live in the Dairy State of Wisconsin and you're looking for a Dachshund puppy, you're in luck because we've created a list of the best breeders of dachshund puppies in Wisconsin.
Dachshunds make great companions. They're smart and easy to train, and because they don't bark much they're great dogs for apartment dwellers. We know you're eager to bring home that perfect little wiener dog so we've listed the best breeders who sell Dachshund puppies JUST in Wisconsin state. For other states, please check out the list in this post.
But, before you search for a breeder, take a quick look at this guide on how to choose a good breeder. It shares important information with anyone in the market for a puppy.
If you're really excited about finding a cute little Dachshund puppy of your own then keep reading to find one of the best Dachshund breeders in Wisconsin near you!
Dachshund Puppies for Sale in Wisconsin (WI)
1. Spring Valley Dachshunds
Located in Orfordville, WI, Spring Valley Dachshunds is an AKC Breeder of Merit and specializes in miniature longhair doxies. She has champion bloodlines and even offers stud service to approved females. Darcy of Spring Valley Dachshunds does not breed often, but when she does the focus is on breed preservation and producing healthy, quality companions.
Puppies are born in her home and handled from birth ensuring they are well-adjusted and love being cuddled. Starting at three weeks of age weekly baths and nail trims are given. Puppies are trained to puppy pads to make housetraining easier. Darcy is a member of the Janesville-Beloit Kennel Club and the Badger Dachshund Club.
When you purchase a Dachshund puppy from Spring Valley you will get the following:
Registration Papers
Sales Contract
Health Record
Puppy Starter Pack
2. Stardust Dachshunds
This breeder has been producing long-haired standard Doxies since 1981. With over 40 years of experience, their goals haven't changed-they strive to produce beautiful, high-quality Doxies. Stardust Dachshunds has earned the prestigious AKC Breeder of Merit award. Their puppies are home-raised and part of the family, completely spoiled and loved. They are active members of:
Dachshunds Club of America
Badger Dachshund Club
Winnegamie Dog Club
Dachshund Breeders Details:
| | |
| --- | --- |
| Name of Owner | |
| Dachshund breeder since | 1981 |
| Address | Appleton, Wisconsin |
| Email | stardust3940@aol.com |
| Phone Number | 920-209-3940 |
| Website | stardustdachshunds.com |
3. Starlight Kennel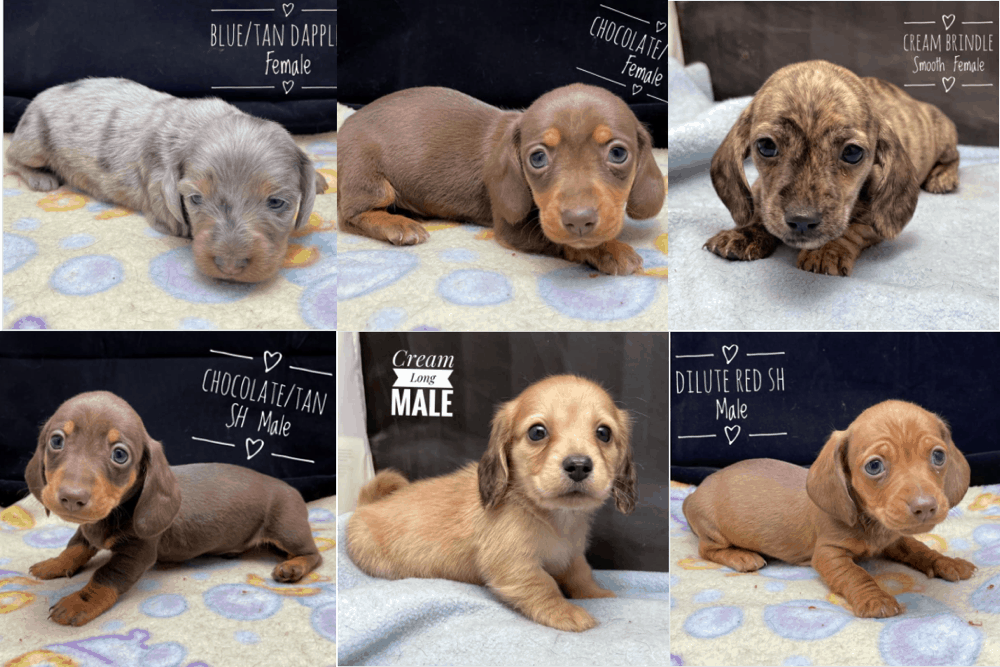 Starlight Kennels is a high-quality Doxie Wisconsin breeder that really cares about their puppies. Their Doxies pups get lots of playtime with family members so they're well socialized to people and other animals. Producing healthy pups is Starlight Kennel's goal. Every pup comes with:
Up-to-date vaccinations
Health records
Vet checked certification
Health Guarantee for Hereditary/Congenital Defects
Dewormed
Puppy manual
Puppy packet with blanket, collar and lead, and toy
Call or e-mail with questions for owner Angie
Customers say they had a great experience working with Angie, the owner, and breeder at Starlight Kennel. They say she knows her stuff and cares about her puppies. Customers also say they would highly recommend this breeder to anyone looking for a Dachshund puppy in the Augusta, Wisconsin area.
Dachshund Breeders Details:
| | |
| --- | --- |
| Name of Owner | Angie (Parizo) Baumhover |
| Address | S8821 Bartig Rd, Augusta, WI 54722 |
| Email | starlightkennel@yahoo.com |
| Phone Number | (715) 829-1960 |
| Links | Website; Facebook |
4. Lexi's Doxies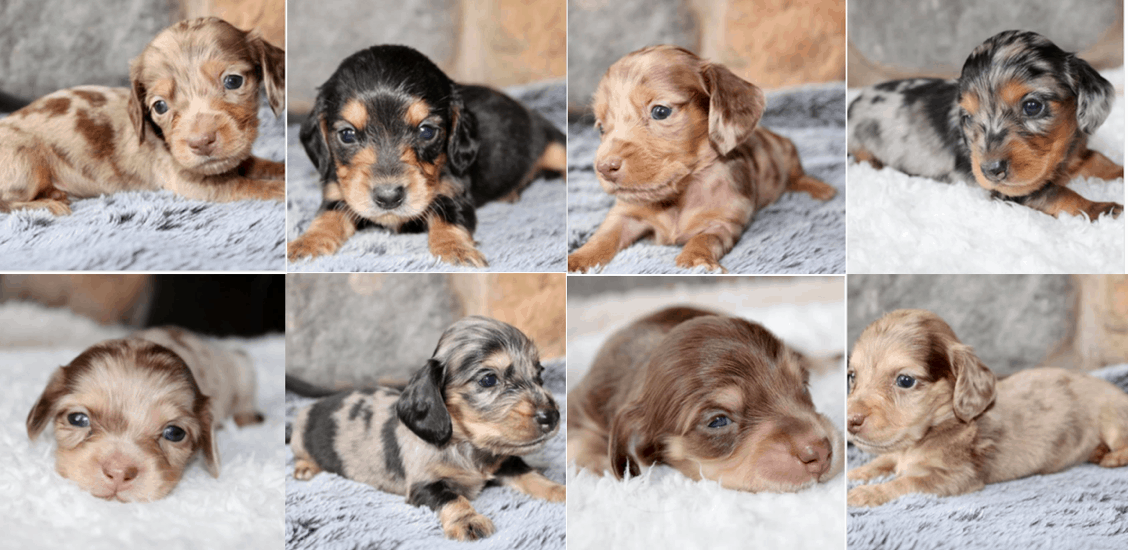 Located in Eau Claire, Wisconsin, Lex's Doxies offer beautiful Miniature Dachshund puppies. Owner, Breanna Heimberger, offers smooth, wire-haired, and long-haired Doxies in dapple, brindle in piebald patterns, and English Cream. Brenna strives to produce healthy, happy pups free of any genetic defects. Lexis's Doxie puppies are socialized to benefit good temperaments that are calm and easy-going in any environment.
Dachshund Breeders Details:
| | |
| --- | --- |
| Name of Owner | Ms. Katherine Cronauer |
| Address | Eau Claire, WI |
| Phone Number | (715) 828-7814 |
| Links | Website; Facebook |
5. Dancing Kennels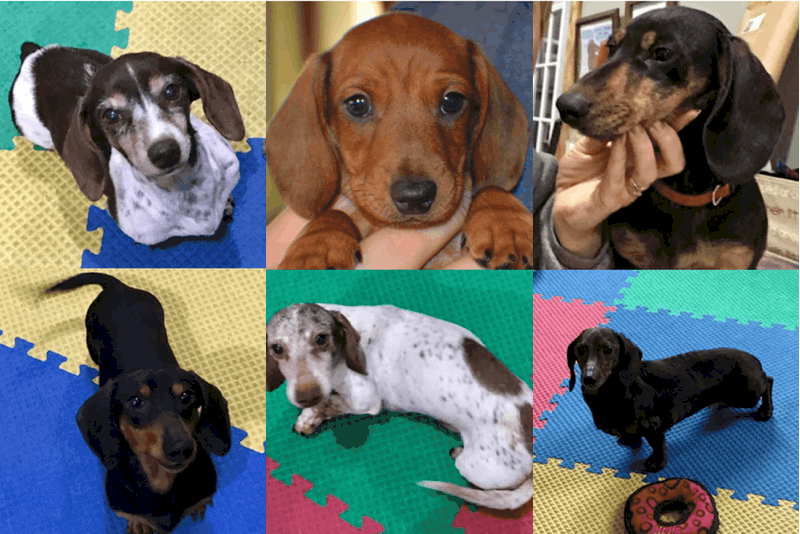 Located near Eleva, Wisconsin, Christie Rosenquist has over 25 years of experience working with Dachshunds. Her Doxies are a family affair with all the family getting involved with hugging and holding the puppies. The puppies are well adjusted and socialized to kids and noises so they're calm and laid back in any environment.
She shows her Doxies and has won ribbons for their high quality and temperaments. Christie works hard to provide her customers with sweet Doxie companions they can love for years to come. She's happy to talk to you and answer any of your questions. Her pups stay with her until they are 8 to 9 weeks of age.
Dachshund Breeders Details:
| | |
| --- | --- |
| Name of Owner | Christie Rosenquist |
| Dachshund breeder since | Since 1997 |
| Address | Eleva, Wisconsin |
| Phone Number | 715-577-2004 |
| Website | dancingkennels.com |
6. Dressler's AKC Miniature Dachshunds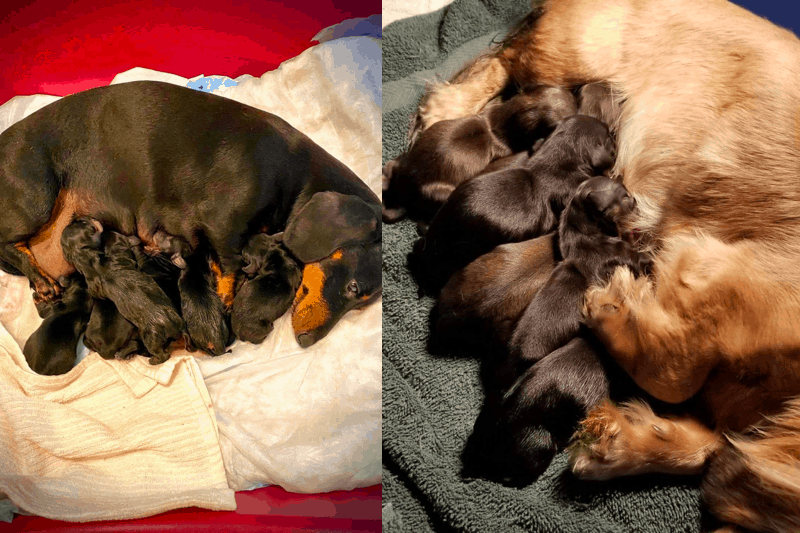 Gary & Lynnette Dressler have been in the business of breeding miniature Doxies since 2005. They breed their puppies according to AKC standards with the goal of producing quality puppies that are healthy with a good temperament. Because Dressler's AKC Miniature Dachshunds are small breeders, their puppies are socialized to kids and animals. They specialize in long-haired and smooth-coated miniatures in English Cream and red. All puppies must be at least 8 weeks old when adopted, and they come with:
A health guarantee against life-threatening illnesses
Up to date vaccinations
Vet check
AKC registration
Deworming
Customers say Lynnette is an amazing breeder of mini Dachshunds. They say she genuinely cares for her puppies and customers. They also say they would recommend this breeder to anyone looking for a mini Dachshund because they're knowledgeable breeders with reasonable prices.
Dachshund Breeders Details:
7. Dawn Brohn Dachshund Breeder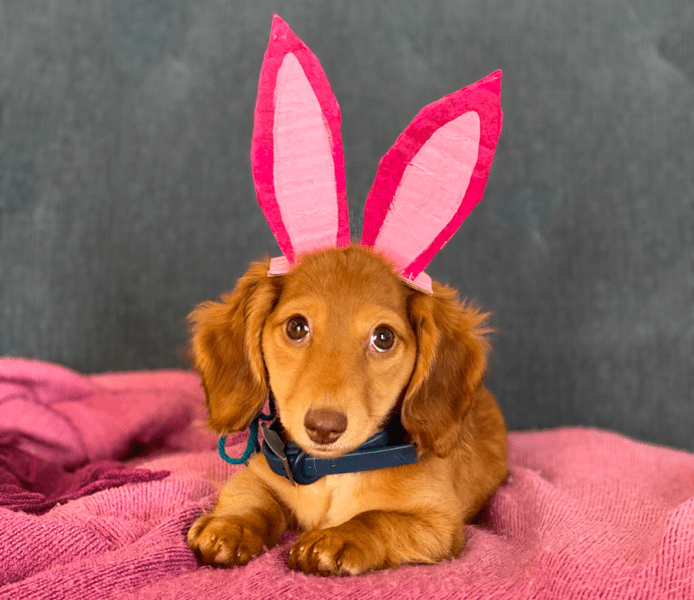 Owner, Dawn Brohn home-raises her AKC miniature Doxie pups to be well-socialized, even-tempered, and healthy. She never kennels her pups, but keeps them inside her home until they're ready to be adopted at 8 weeks. All puppies come with:
Up to date shots and vaccinations
One year health guarantee
AKC registered papers
Spay/neuter contract
Dewormed
Customers say they loved working with Dawn. They say she has the best Doxies. They also say that Dawn made everything fun and would highly recommend her to anyone looking for a Doxie pup.
Dachshund Breeders Details:
8. Friel Family Dachshunds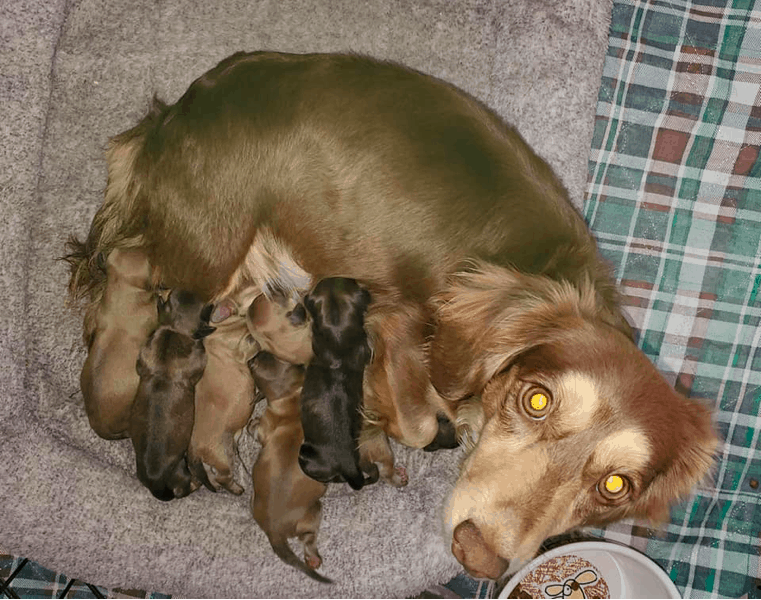 This family-run breeder only has puppies a few times during the year. Their puppies are home raised, held all the time so they're well socialized to kids and other animals. Their puppies are AKC registered miniature Doxies. These cuddly happy pups are owner Shannon Friel's pride and joy, she works hard producing the best quality pups for her happy customers
Shanon's customers rave about the puppies and Shannon's friendly, caring attitude. They say she's patient and answers all their questions. They highly recommend this breeder if you live in the Mt. Horeb, Wisconsin area.
Dachshund Breeders Details:
| | |
| --- | --- |
| Name of Owner | Shannon Friel |
| Address | 200 N 9th St, Mt Horeb, WI 53572 |
| Phone Number | (608) 437-1021 |
| Links | Website; Facebook |
9. Hessenjaeger Kennels Standard Wire-haired Breeder
Jerry and Margie Hollnagel are the owners of Hessenjaeger Wirehairs located in central Wisconsin. They breed only AKC-registered Wirehair Doxies that are healthy and well-socialized while living in their home.
Dachshund Breeders Details:
Name of Owner
Jerry & Margie Hollnagel
Address
W 892 State Road 23

Princeton, Wisconsin 54968

Email
hessenjaeger@yahoo.com
Phone Number
(920) 295-4174
Links
Website; Facebook
10. Pinky's Mini Dachshunds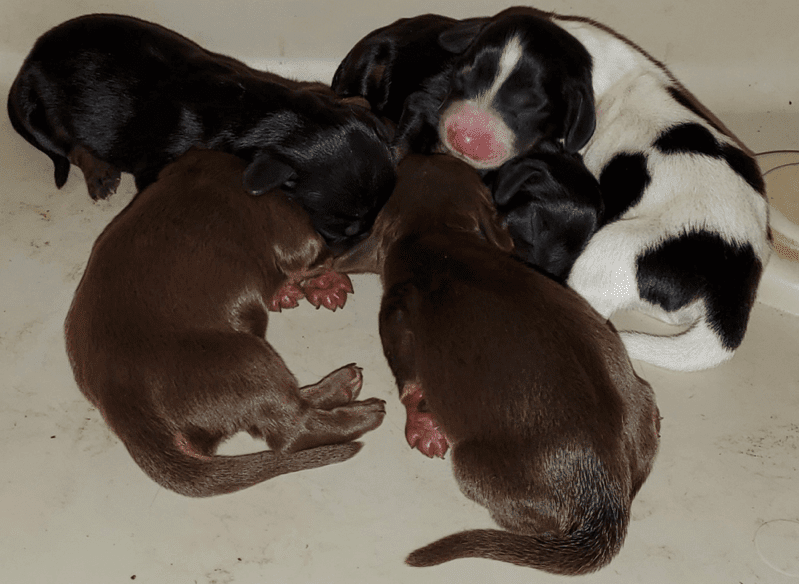 Located in Almond, Wisconsin, Pinky's Mini Dachshunds love their Doxie puppies. They raise mini Dachshunds that are healthy and well socialized so they're ready to go home to a loving family. Every puppy goes home with:
Updated shots and vaccinations
Dewormed
Vet checked
Paper trained
Socialized to noises, kids, and other animals
Customers say they love Pinky's puppies. Their good training produces the best Doxie pups. They highly recommend this breeder because of their good quality puppies, and friendly service. Customers say they received constant updates on the puppy they wanted to adopt. They say Pinky's produces adorable puppies that are well-mannered and beautiful.
Dachshund Breeders Details:
11. Dachzanity Miniature Dachshunds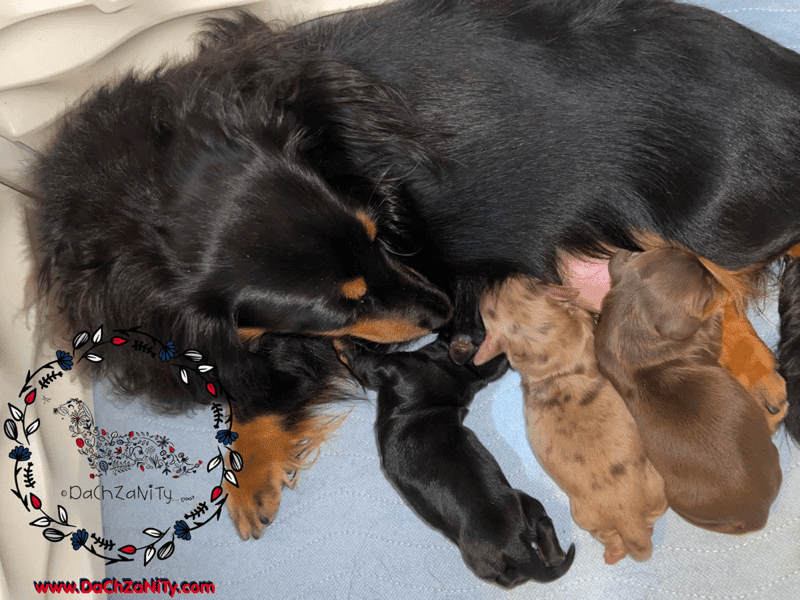 This is yet another small Dachshund breeder that is located in Wisconsin. At Dachzanity Miniature Dachshunds they specialize in breeding miniature Dachshunds of all three coat types. All puppies are kept healthy and happy. As a result, all puppies have been well socialized and are kept up to date on their shots and deworming. You will need to fill out a puppy application if you are interested in purchasing a Miniature Dachshund puppy from this breeder. Their application is available through their website.
You may also need to place a deposit and be put on a waiting list before getting a puppy. If you are interested in purchasing a puppy from this breeder then you can reach out via phone, email, or messenger over Facebook. Keep in mind that their website is still being created, so it is best to check their Facebook page for updates as of right now.
| | |
| --- | --- |
| Name of Owner | Dawn M Hintz |
| Address | Amherst, Wisconsin |
| Email | dachzanity@gmail.com |
| Phone Number | (715) 252-0011 |
| Links | Website, Facebook |
This list of Dachshund breeders in Wisconsin isn't exhaustive, but hopefully, it will help you find your sweet little Doxie puppy. We know you've chosen a Dachshund because they have so many amazing qualities and they make sweet companions for just about anyone. If you live in Wisconsin, don't worry, there is a breeder somewhere near you who can help you reach your dream of owning a Doxie.
Top Dachshund Breeders in the Other States