Dachshunds have a long history of a strong bond with humans, from their beginnings helping hunt animals like foxes, rabbits, and badgers. Now, they have become a relatively common breed to be sought after as pets due to their calm and friendly personalities. Many people are also attracted to Dachshunds due to their small size, especially since the size of a dog is often a major factor in the breed families choice.
Some people are unaware there are a variety of Dachshunds available. They come in Standard and Miniature sizes. These pups are very similar, but owners of Miniatures need to be aware of the higher possibility of back problems due to their build. Both sizes have three coat types including Smooth-haired, Long-haired, and Wire-haired. Some breeders specialize in a specific type of Dachshund, either in size or coat color and pattern, where others will have a variety of pups they breed. Be sure to ask if you're looking for a specific type of puppy!
If you're looking for the best Dachshund breeders in Alabama, you will find them here! We already looked over these breeders to ensure they will give you the best possible puppies! Whether you use a breeder from this list or not, be sure to check out our guide to choosing a good breeder! The best will likely have a waitlist, so you may have to be patient to get your perfect pup, but they will be worth it!
Dachshund Puppies for Sale in Alabama (AL)
1. FrostDox: Miniature Dachshund Breeder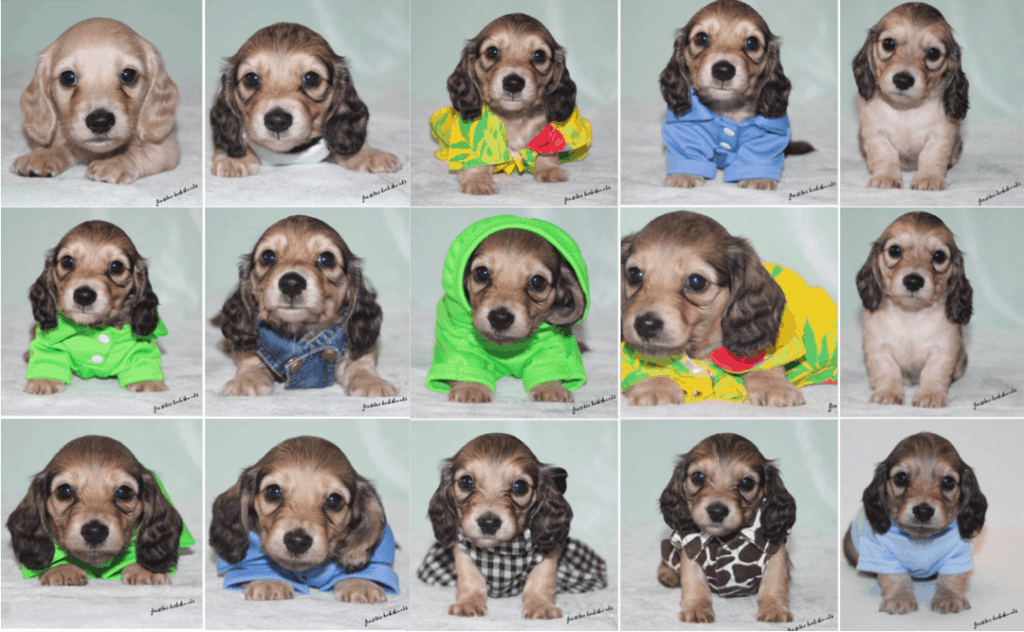 FrostDox is a small, in-home breeder located in Southside, AL run by Calvin and Darlene Frost. These Dachshund pups are raised in the Frost home and interacted with from day one. Frost puppies leave their home around 8 weeks old up-to-date with shots, de-wormed, and their dew claws are removed. The pups even come home already microchipped and with a goody bag! The Frost family welcomes prospective owners to call and schedule an appointment to visit, so they can get a first-hand look at how the puppies are handled and kept.
What does FrostDox do well according to reviews?
FrostDox Dachshunds has five-star reviews on Facebook! Their buyers say the couple has great communication and is very open with customers, allowing visits to their home. Recently, FrostDox has begun utilizing FaceTime calls for prospective customers to interact with their puppies while still being respectful of social distancing due to COVID. They produce perfect Dachshund pups in looks and health. The couple has even been recommended to customers as having some of the healthiest Dachshund puppies in Alabama by a local veterinarian!
FrostDox Information:
| | |
| --- | --- |
| Name of Owner | Calvin and Darlene Frost |
| Address | 2354 School Dr. Southside, AL 35907 |
| Email | dfrost@bellsouth.net |
| Phone Number | (256)442-6463 |
| Links | Website, Facebook Page |
2. Patti's Dachshund Farm: Miniature Dachshund Breeder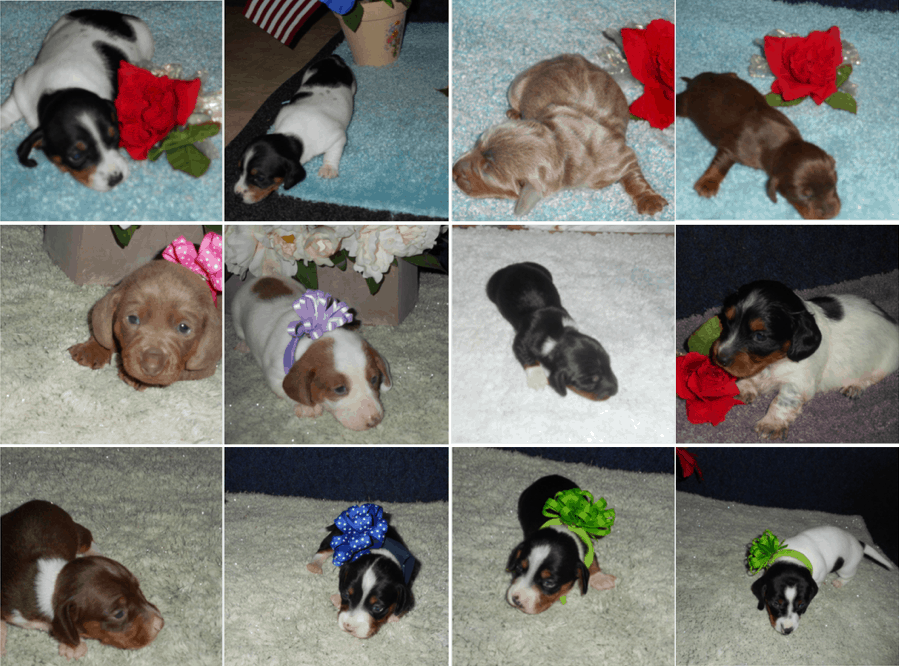 Located in Arlington, AL, Patti's Dachshund Farm is run by Patti, a woman passionate about providing the best Miniature Dachshunds of all coat and color varieties. Patti's dogs have been checked by the AKC and found to be in good health and kept in excellent conditions! The pups are interacted with and taken care of as can be seen from Patti's YouTube channel! Her passion is to ensure no health or genetic defects in her Dachshunds.
What does Patti's Dachshund Farm do well according to reviews?
Customers have said Patti's passion for Miniature Dachshunds is obvious in their communication with her and her care for her dogs. Many customers state the pups are easy to train and vets say they are in perfect health! In communicating with Patti, many customers find her insightful with lots of knowledge of her pups. She shows a lot of support for her pups and their families throughout the adoption process and afterward. Patti is highly recommended, not only in Alabama but by purchasers throughout the United States. She is easily one of the most recommended Dachshund breeders in Alabama thanks to her excellent care and knowledge about her pups!
Patti's Dachshund Farm Information:
| | |
| --- | --- |
| Name of Owner | Patti |
| Address | 3829 County Road 32, Arlington, AL 36722 |
| Email | pg9365@juno.com |
| Phone Number | (334) 385-2600 |
| Links | Website, YouTube, Facebook Page |
3. Bright Creek Kennel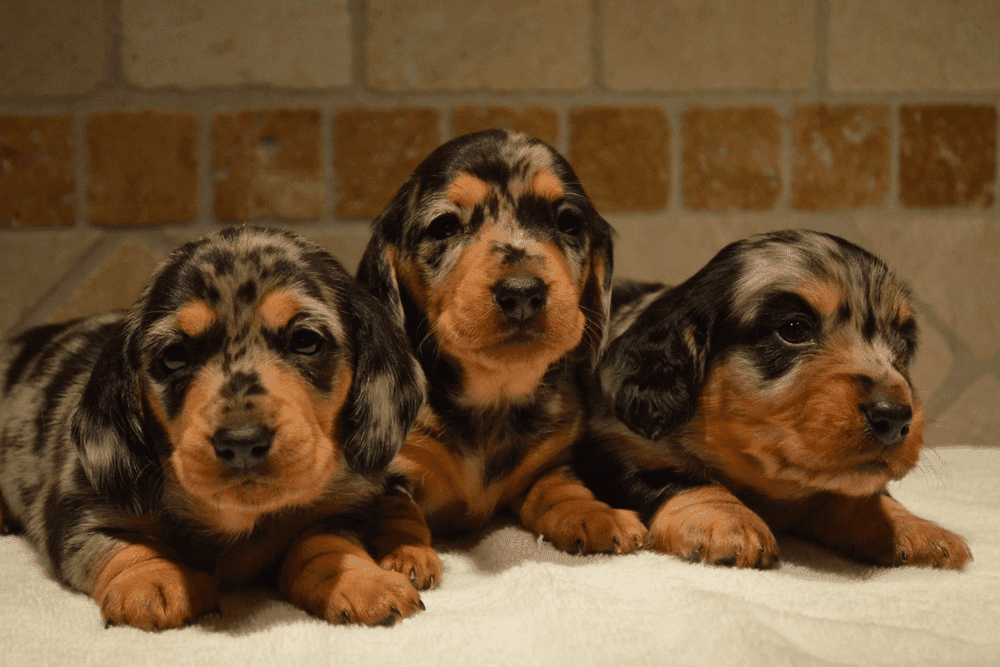 Bright Creek Kennel is a family-run Dachshund breeder with Ginger Van Dam as the manager. Ginger is passionate about ensuring her pups are the best-looking and have wonderful personalities! She has over 30 years of experience in Animal Husbandry, from breeding horses to spending the last 13 years focusing on breeding the best dachshund puppies in Alabama. She encourages prospective buyers to visit the farm and establish a relationship with her and her family. Bright Creek Kennel's website contains a blog and general Dachshund information for those new to the breed, but are considering one. She encourages people to consider whether a puppy is a perfect fit for their family or even one of her older dogs that's ready to retire from farm life.
What does Bright Creek Kennel do well according to reviews?
Bright Creek Kennel's reviews rave about the pups' looks and perfect temperaments, being well socialized and in perfect health. Customers also rave about Ginger's knowledge of the breed and passion for her animals. She ensures her customers are knowledgeable about the specific needs of Dachshunds before purchasing from her. Ginger's puppies are frequently reviewed as some of the best Dachshunds for sale in Alabama.
Bright Creek Kennel Information:
| | |
| --- | --- |
| Name of Owner | Ginger Van Dam |
| Breeder Since | 2008 |
| Address | 627 Little Israel Rd, Tuscumbia, AL 35674 |
| Email | bightcreek@gmail.com |
| Phone Number | (256) 381-5968; (256) 577-1681 |
| Links | Website, Facebook |
4. Bear Creek Dachshunds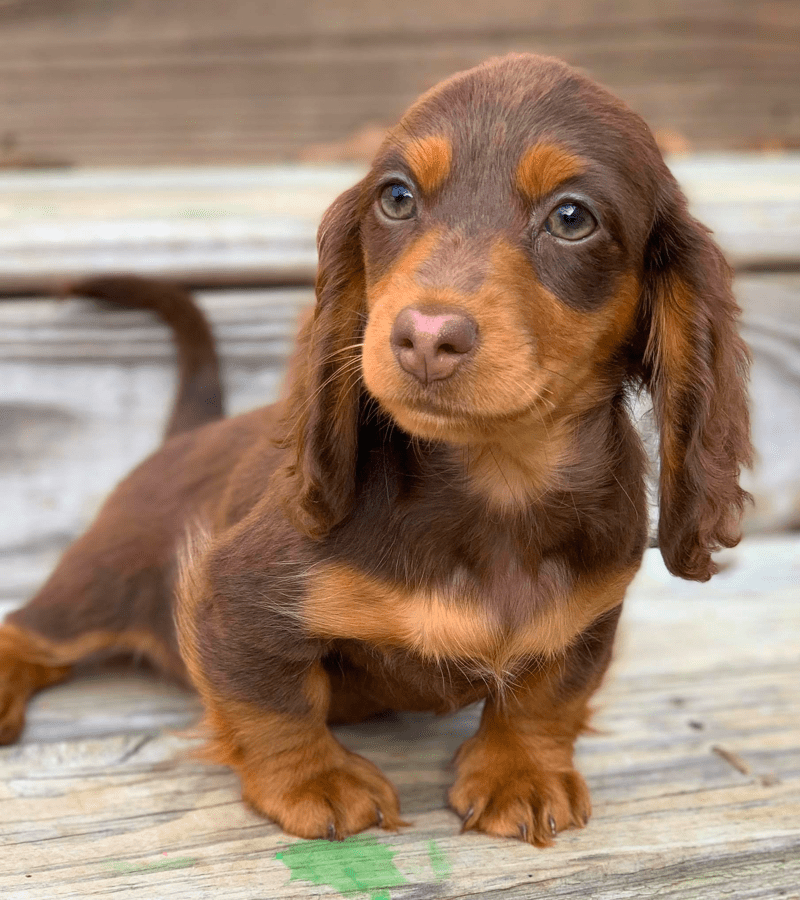 Bear Creek Dachshunds is a Miniature Dachshund breeder located in Tuscaloosa, Alabama. They breed long and short-haired Miniatures. They have been breeding Doxies for nearly 30 years. Their primary goal during this time has been to breed better Dachshunds by raising healthy, high-quality pups.
Their dogs are raised in-home with five acres of the family property to roam at will. From birth, puppies are interacted with by humans of all ages, including children. All puppies go home with limited AKC registration (as pets), up-to-date on shots and deworming, a genetic health guarantee, and a sample of their current food.
Reviews state Bear Creek Dachshunds has wonderful weekly communication with puppy parents while pups are in their care. The puppies go to their new home already started training and are well-loved. The puppies are well-loved, sweet, and full of personality. Many customers who have purchased puppies over the years state Bear Creek has stayed consistent while passed through generations in the family in terms of puppy quality, communication, and care for the puppies and customers.
Bear Creek Kennel Dachshunds Information:
Location
Tuscaloosa, AL
Email
dachsies1@charter.net

kd_smith68@yahoo.com

Phone Number
(205) 752-7574
Links
Website, Facebook
5. Bountiful Dachshunds
Bountiful Dachshunds is a Christian, family-run Dachshund breeder in Alabama, about 20 minutes north of Birmingham. These breeders put their Dachshunds right up top in their priorities, just like their family. They have owned Dachshunds for 23 years and began breeding in 1997, after lots of research on the breed! While raising their children, they homeschooled and their children were hands-on with the puppies. Now that their children are grown, the children and their families come and interact with the puppies, as well as family friends and other pets, to ensure proper socialization. The pups have their room in the house, right next to the living room, with a set schedule to ensure the pups' comfort.
What does "Bountiful Dachshunds" do well according to reviews?
Bountiful Dachshunds is very serious about ensuring their pets go to the best homes. Due to scam breeders, Bountiful Dachshunds has added a questionnaire to their website to encourage prospective pet parents they are reputable breeders and begin communication before receiving a deposit. Everything they do is for the best interest of their customers and pups to help find the best fit for everyone! They are very responsive to emails, often calling in response, and inquiries from prospective customers.
Bountiful Dachshund Information:
Name of Owner
Lynn Harper
Breeder Since
1997
Location
Warrior, AL
Email
bountifuldachshunds@gmail.com

bountifuldachshunds@yahoo.com

Website
bountifuldachshunds.com
6. Sunshine Acres Dachshunds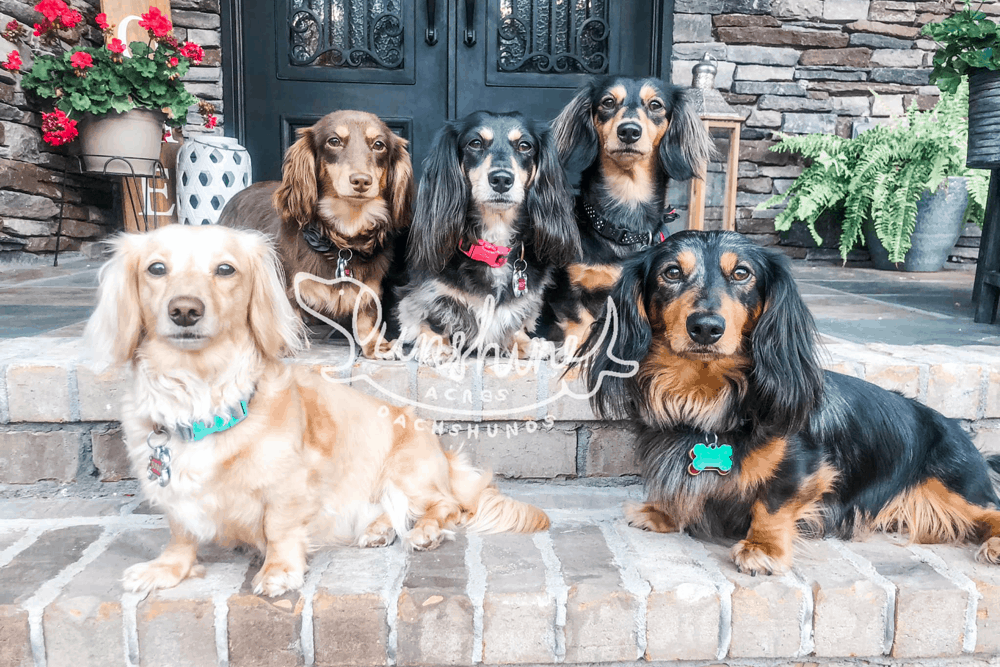 If you're looking for a long-haired Dachshund, look no further than Sunshine Acres! Located about 20 miles from Birmingham in Trussville, Sunshine Acres makes it their mission to provide the best long-haired Dachshund puppies in Alabama! Sunshine Acres registers all pups through the AKC and ensures their health with a health guarantee and vet checks, so they are up-to-date when it is time to go to their new homes! The pups also come home with a puppy pack to help the new owners get started! They make sure all puppies get the attention and care they deserve by only breeding a few litters a year, so all focus and energy goes towards the pups! The puppies come in cream, chocolate, and dilute colors, as well as sometimes a dapple pattern combination of colors!
What does Sunshine Acres do well according to reviews?
Sunshine Acres' Facebook reviews rave about their puppies' wonderful personalities! The owners have great communication with customers, keeping them informed on the puppies with messages, phone calls, and pictures. Araya and Jamey are frequently talked about as very friendly, helpful, and informative by their customers. They ensure a perfect fit for their puppies and future families. Many reviews also state the owners of Sunshine Acres treat the puppies like their own kids and part of the family.
Sunshine Acres Information
| | |
| --- | --- |
| Name of Owner | Araya and Jamey Reynolds |
| Breeder Since | 2015 |
| Location | Trussville, AL |
| Email | sunshineacresdachshunds@gmail.com |
| Phone Number | (205) 602-5820 |
| Links | Website, Facebook |
7. Deb's Dachshund Ranch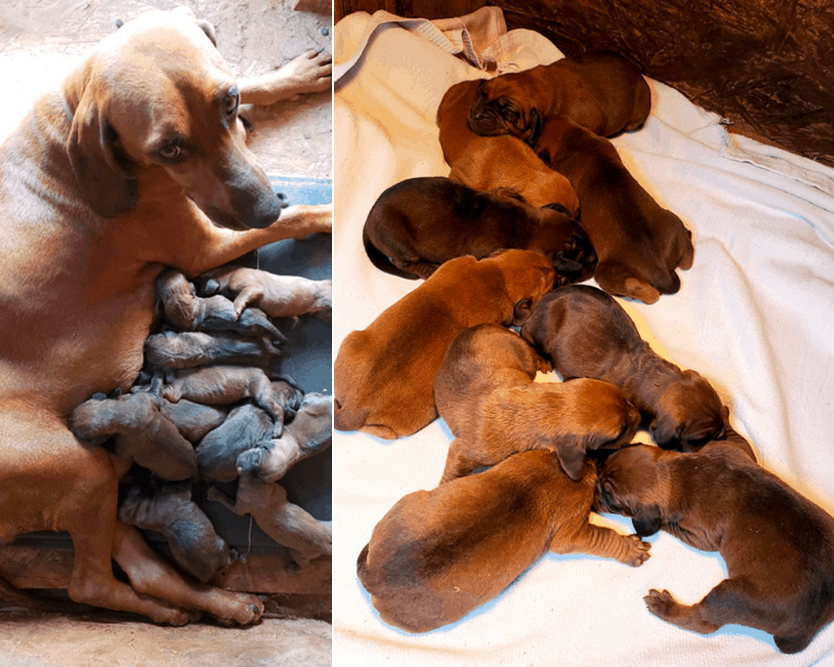 Deb's Dachshund Ranch is another family-run Dachshund breeder in Alabama. Deb has been breeding a variety of AKC registered Dachshunds since 2002. She is passionate about her pups and ensures they have two rounds of shots before they are allowed to leave her home. She has recently branched out to offering red coonhounds a few times a year as well. Due to COVID, Deb's procedures to get the puppies to their new homes have changed a bit. She now encourages prospective customers to meet outside her home or schedule an appointment at another location to receive their puppy.
What does Deb's Dachshund Ranch do well according to reviews?
Her reviews state that Deb's puppies have excellent personalities and are beautiful and healthy for a decent price. Many reviews also say she gives a goodie bag including food, a blanket with the mom's scent, and some more goodies! They state she takes excellent care of her pups and their area is kept clean.
Deb's Dachshund Ranch Information:
| | |
| --- | --- |
| Name of Owner | Deb |
| Breeder since | 2002 |
| Address | 255 LC McCarley Trail, Hamilton, AL 35570 |
| Email | dlmccarley@yahoo.com |
| Phone Number | (205) 495-2593 |
| Facebook | Debs-Dachshund-Ranch |
8. Zoey's Doxies: Long and short-haired Dachshund Breeder
Located in Northern Alabama, Zoey's Doxies has been raising Dachshunds for around 20 years. They focus on long-haired and short-haired Dachshunds in a variety of colors, including red, cream, blues, and black and tans. They take pride in their puppies and ensuring they are kept in clean living conditions and remain healthy, including a one-year health guarantee. The owner has even worked as a vet tech and added a lab to test the puppies for parasites, worms, and more. All puppies come with a health record and the adults have an up-to-date health record as well. They breed the dogs a few times a year, taking special care to watch over mom during pregnancy and ensure a healthy delivery. The puppies are interacted with frequently to ensure they are well-socialized when they go to their forever homes at 7 weeks.
What does "Zoey's Doxies" do well?
Zoey's Doxies keeps a record of their pups on their website's blog. They update pictures weekly from 2 weeks to 7 weeks old for the pups' families to see their growth and know what is going on with their puppies. They require a non-refundable $200 deposit to claim a puppy, which goes towards the total cost of the puppy.
Zoey's Doxies Information:
| | |
| --- | --- |
| Breeder Since | 2001 |
| Address | 280 County Highway 6, Blountsville, AL 35301 |
| Phone Number | (205) 237-4256 |
| Website | zoeysdoxies.com |
9. Camellia Creek Dachshunds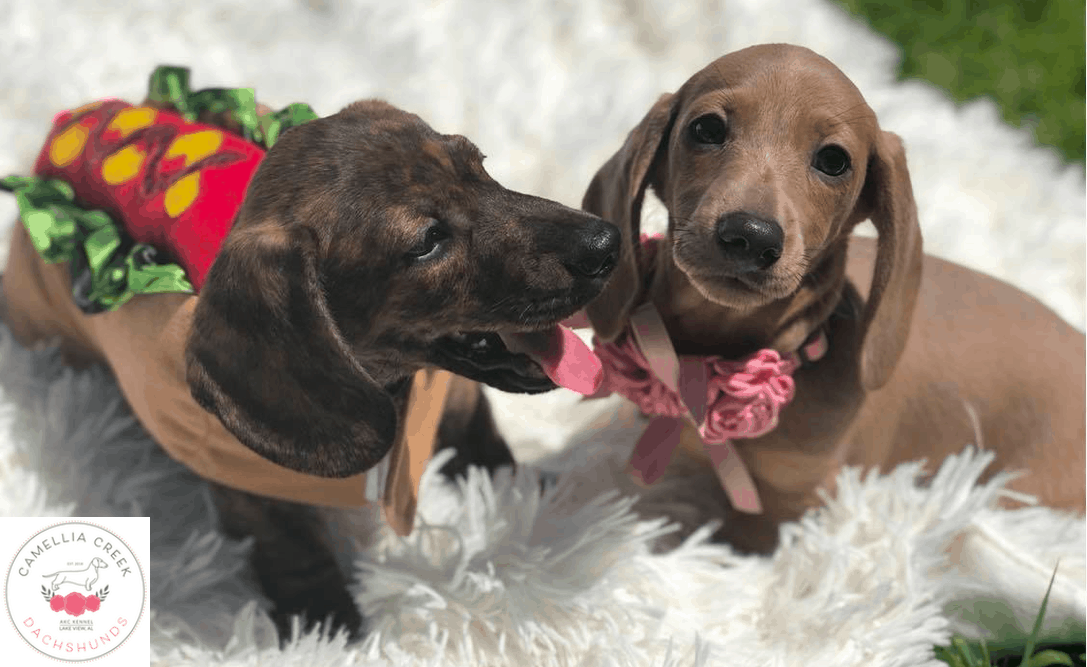 Camellia Creek Dachshunds is a small breeder in Lake View, AL focusing on Miniature Dachshunds. They breed long and short-haired Miniature Dachshunds in many colors and patterns, but mostly brindle, red, and cream. Their main goal is to "preserve and protect the historic breed". After a personal experience with a Dachshund pup with genetic problems, Camellia Creek Dachshunds set out to breed the healthiest, most loved pups they can with Sunshine Acres as their mentor! They make sure pups are well-socialized through a training program before the pups leave and frequent interactions. The pups are AKC registered, fully vetted with a health guarantee, and even come home with a puppy pack!
Camellia Creek Dachshunds Information:
| | |
| --- | --- |
| Name of Owner | Lauren |
| Location | Lake View, AL |
| Email Address | camelliacreekdachshunds@gmail.com |
| Phone Number | (205) 335-2166 |
| Links | Website, Facebook Page |
10. Taylored Dachshunds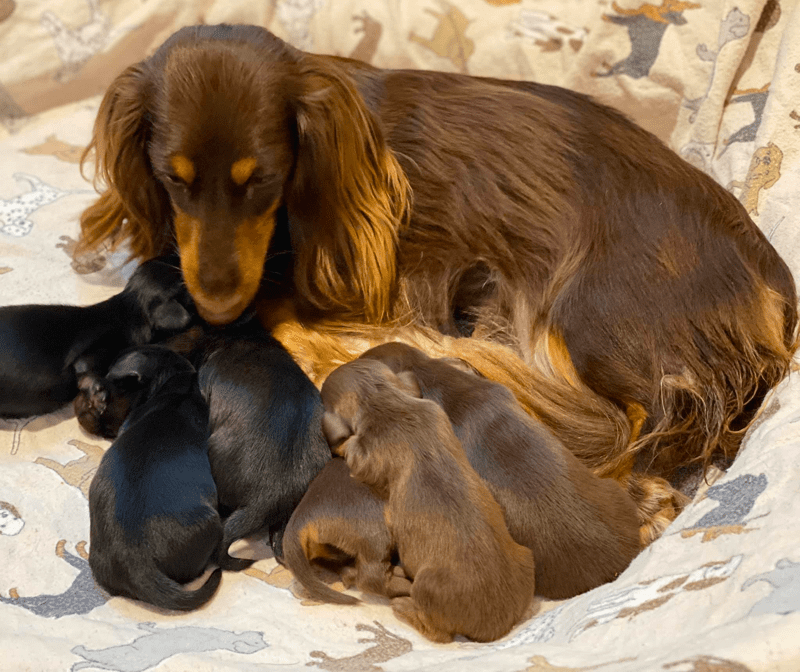 If you're looking for a small, in-home Dachshund breeder in Alabama, look no further than Taylored Dachshunds. Located in Oneonta, Alabama, Jennifer gets her foundation dogs from champion European lines, specifically Russia and Ukraine. They breed gorgeous long-haired miniature Doxies. The puppies grow up in-home and are interacted with daily, including playing, handling, and grooming. When older, they begin interacting with the other dogs as well for socialization skills. They begin potty and pee-pad training the puppies at a young age. These things make for pups who are able to adjust to their new homes easily and are well-prepared to live happily with their families.
Reviews state the owner, Jennifer, is very responsive to inquiries about pups, answering any and all questions, even once the pups have gone to their forever homes. She is knowledgeable about her dogs and works hard to take great care of the pups in her care, as well as ensuring they are good in their forever homes. The pups customers have received are healthy, happy, and have perfect temperaments for companions.
Taylored Dachshunds Information:
11. The Dachshund Ranch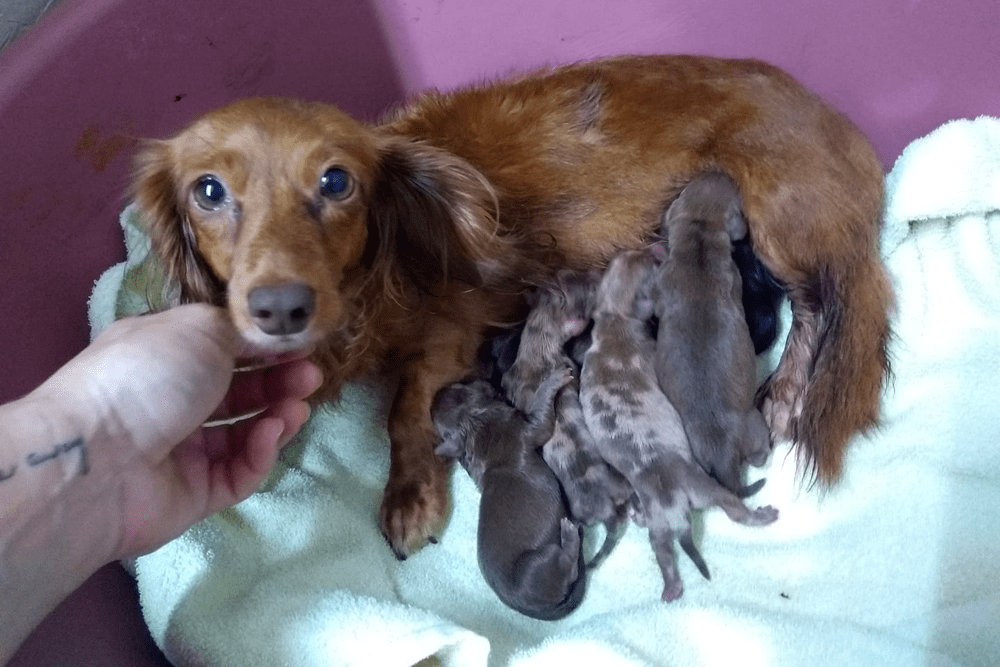 The Dachshund Ranch is a small hobby breeder located in Northeast Alabama. She focuses on breeding healthy, pet-quality Doxies. Their pups are CKC registered, but not DNA tested as they are bred for pets, not show. However, they will give full registration rights if requested, but do not ensure the pups are show or breeding quality.
Despite these things, their dogs and puppies are healthy and beautiful Dachshunds, ideal for companions. They do guarantee pups are healthy when purchased and are up-to-date on vaccinations and deworming.
Reviews state the owner takes great care to keep an open line of communication with future puppy families while pups are in her care. She is very patient while working with families and does her best to ensure the perfect fit. Customers also say their pups from The Dachshund Ranch are beautiful, healthy, and well-tempered to make wonderful companions!
The Dachshund Ranch Information:
12. DoxieWoods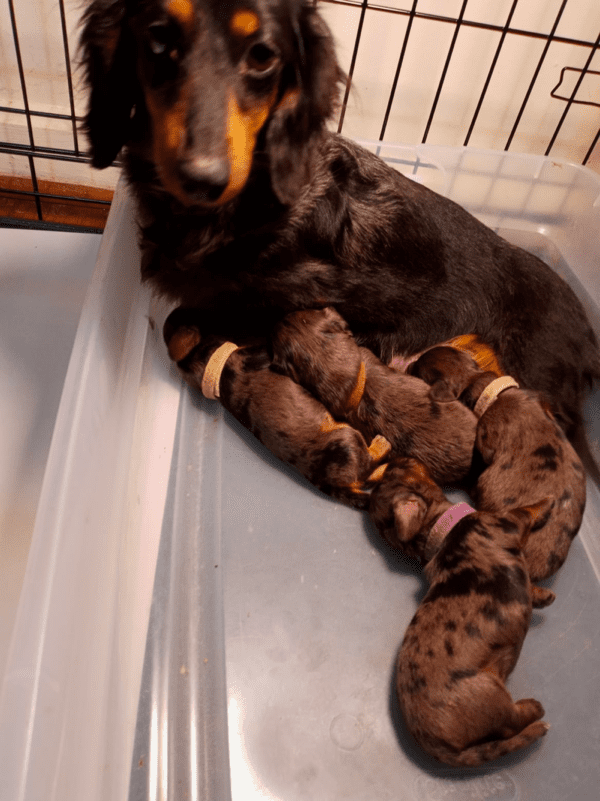 DoxieWoods is a Dachshund breeder located in Tuscaloosa, AL. Not only do they breed Dachshunds, but they also train Doxies as service or therapy dogs for a variety of emotional needs. All their dogs are AKC registered. They test their adults for genetic illnesses to ensure they do not pass these on to their offspring. A few are carriers and the pups are tested before going to their forever homes.
DoxieWoods Information:
13. Lighthouse Puppies: Miniature Dachshund Breeder
Lighthouse Puppies began breeding Dachshunds 12 years ago. Located in Steele, AL, they have strived to have the healthiest puppies possible. Lighthouse Puppies has dabbled in other breeds as well, including West Highland Terriers. However, their primary breed remains Dachshunds.
What does Lighthouse Puppies do well according to reviews?
Lighthouse Puppies provide puppies who are well-mannered and happy. Many reviews state their puppies are already house-trained and know their names by the time they come home! Lighthouse Puppies is very supportive of families once they bring home their Dachshunds as well.
Lighthouse Dachshunds Information:
| | |
| --- | --- |
| Name of Owner | Kim and Don Ray |
| Location | Steele, AL |
| Email Address | Lighthousepuppies@comcast.net |
| Phone Number | (256) 328-3769 |
| Links | Website, Facebook |
14. Teal's Kennel
Teal's Kennel is a Dachshund breeder in Alabama, not far from Chattanooga, TN, Atlanta, GA, and Birmingham, AL. They have been raising Dachshund puppies for 22 years with intentions to "produce happy, healthy puppies that have wonderful personalities". All puppies are well-socialized with children in the family to be the best family pets around! The puppies receive their first round of shots and are vet-checked before going to their homes. They come home with a Puppy Kit from Royal Canin. Teal's has begun selling all puppies on a spay/neuter contract, meaning Teal's will supply the puppy's AKC registration once the family has gotten them spayed or neutered when they are of age.
Teal's Kennel Information:
| | |
| --- | --- |
| Name of Owner | Matt and Jennifer Teal |
| Breeder Since | 1999 |
| Location | Centre, AL 35960 |
| Phone Number | (256) 475-7800 |
| Website | tealskennel.com |
15. Yates' Dachshunds
Yates' Dachshunds sells Miniature Dachshund puppies in Northern Alabama. The puppies are bred to conform to breed standards while having the best disposition. All puppies are AKC registered, vet-checked, and up-to-date on vaccinations! The Yates family provides an option to get the puppy microchipped, as well as information on a recommended supplement they provide the mothers and puppies with while in their care and recommend continued use. Prices on puppies vary depending on their coat, color, and sex, but all require a $200 deposit to save until they are old enough to go to their forever home.
Yates' Dachshunds Information:
| | |
| --- | --- |
| Name of Owner | Roger and Betty Yates |
| Breeder Since | 2008 |
| Address | Attalla, AL 35954 |
| Email | yatesdachshunds@aol.com |
| Phone Number | (256) 393-5650 |
| Website | yatesdachshunds.com |
16. Dachshund Fancier
Dachshund Fancier is a long-haired miniature Dachshund breeder in the city, Alabama. She focuses on breeding long-haired pups in black and creams. She takes great care to love on all her puppies and takes great care for their health as well, including seeing the local veterinarian, as well as being up-to-date on vaccinations and deworming.
The Dachshund Fancier Information:
17. Alabama House of Dachshunds
Alabama House of Dachshunds is an experienced in-home Dachshund breeder in Northeast Alabama. They actively bred Dachshunds for 20 years before taking a more laid-back approach. Now they have a few companions, who live in the house and are spoiled rotten and breed a few litters a year. All pups are born and raised in-home and cared for and interacted with from birth. Their dogs are AKC registered and their program is AKC compliant. Their goal is to breed quality pups and not worry about quantity.
Alabama House of Dachshunds Information:
18. Jo's Doxies: Miniature Long Haired Dachshunds Breeder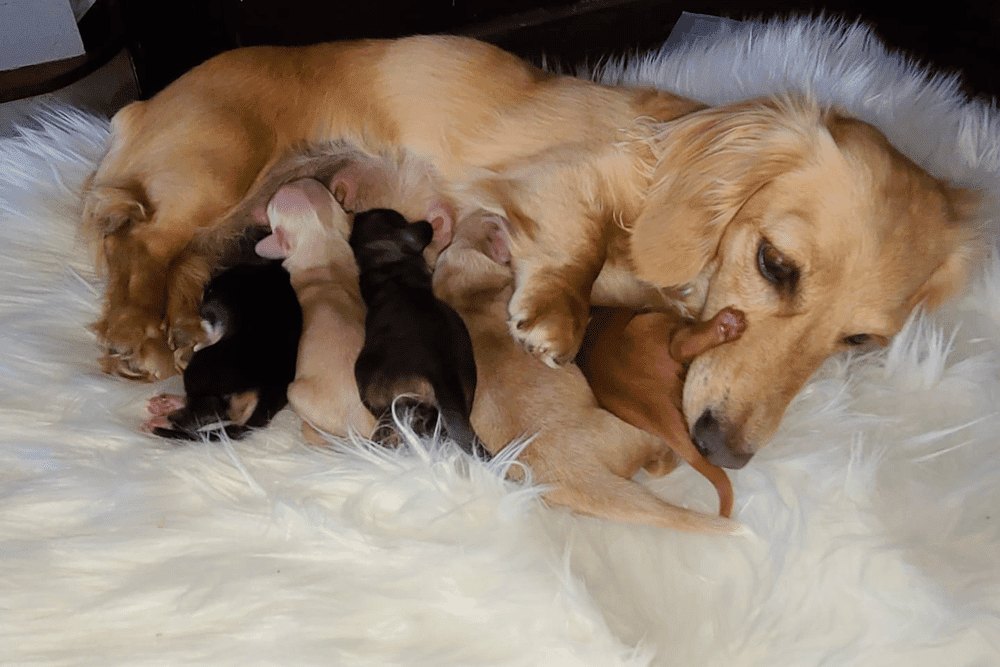 Jo's Doxies is a long-haired miniature Dachshund breeder located in Tuscaloosa County, Alabama. Their focus is on breeding long-haired Dachshunds with ideal temperament, size, and colors. All Jo's Doxies are spoiled including a home-cooked breakfast every morning of farm-fresh eggs, chicken, and other ingredients. Their dogs are sweet companions with silky smooth hair who love cuddling.
Jo's Doxies Information:
19. Carousel Acres Miniature Dachshunds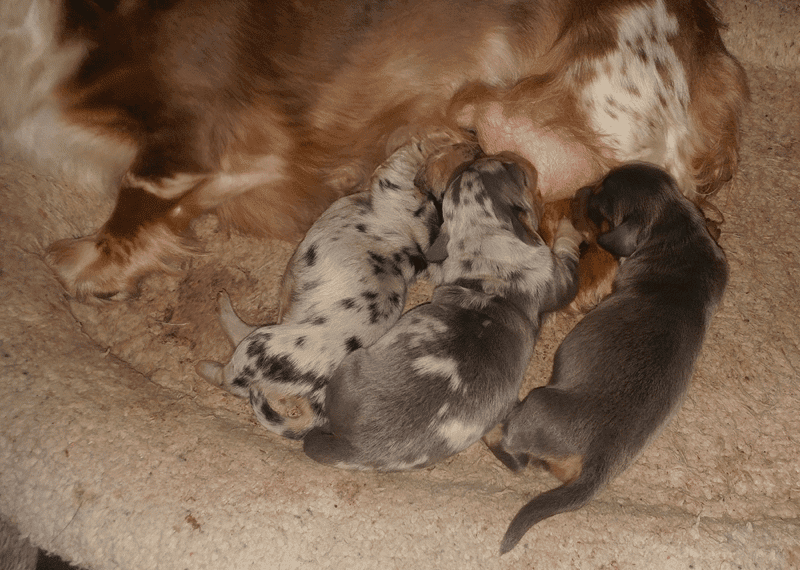 Carousel Acres specializes in breeding Miniature Dachshunds in Arab, Alabama. Their goal is to raise puppies with outstanding dispositions and conformity to breed standards. Reviews state they have achieved this as many reviews state their puppies have wonderful temperaments and are beautiful. Carousel Acres provides excellent care for their puppies, resulting in puppies with excellent health and temperaments.
Carousel Acres Miniature Dachshunds Information:
20. THJames Gang Dachshunds
TH James Gang Dachshunds has been a smooth and long-haired Dachshund breeder since 2004. The entire family runs the breeding program on their large farm. Their puppies are sold with AKC Limited Registration as pets. They consider breeder rights on a case-by-case basis.
THJames Gang Dachshunds Information:
Top Reputable Dachshund Breeders in the Other States
Final Thoughts
Alabama has many options for Dachshund breeders. Many are well-known throughout the nation for having some of the best-looking puppies with excellent personalities and health guarantees! If you are looking for puppies in the Heart of Dixie, be sure to check out the breeders on this list of Dachshund breeders in Alabama first to see if you can luck out on one of their pups!