So, you've decided you want to get a Dachshund puppy as a new puppy at your home. Congratulations! What an exciting journey to embark on. You're about to choose your own new companion and best friend. But how do you ensure that you're buying a puppy from a reputable Dachshund breeder in California?
Finding a reputable breeder is important not only to ensure that you are buying a healthy puppy that will live a good long life, but also because irresponsible breeding is cruel and unethical.
Apart from these, there're many kennel which have posed as member of affiliate of American Kennel club where getting a authentic dachshund puppy is a big task. If the lineage got mixed with other dogs then health quality may decrease.
In order to match the highest quality we need a akc registered right breeder who has proper knowledge of dachshund puppies and how the breeding program should start at very beginning. Breeding dachshunds is not just a one night task! The dogs are kept together like a companion.
It's not just in the USA or California where people look for a dachshund puppy, in every part of the world dachshund puppies are in demand.
There are a few different things you can look out for to help you choose the best Dachshund breeder in California. Check out our article about how to choose a good breeder here. And the last thing is that if there's any waiting lists to get a good new puppy then it's not bad to wait a bit.
Top 10 Reputable Dachshund Breeders in California
1. Nuforest Dachshunds
Nuforest Dachshunds has been breeding champion dogs since 1974 according to their website. They strive to produce well-bred, elegant Dachshunds that are intelligent, charming, and affectionate.
They also claim to be the largest and most active Dachshund show kennel in the US.
Not only are they AKC registered, but they have also been acknowledged as a Breeder of Merit by the AKC. They send their puppies home between 8 and 12 weeks of age after they have had plenty of time to be properly socialized and weaned.
Their love for Dachshunds shows in their availability of rescued Doxies on their website. This shows that they are not JUST about breeding for money, but about finding dogs and good homes.
They are full-time breeders who retired from their former jobs to be able to focus exclusively on their true passion.
2. Tudorglen Dachshunds
Tudorglen is located in Southern California and strives to breed the next "Best in Show" Dachshund. Their ultimate goal is to have a mini smooth Dachshund with a long hair pristine lineage that will reliably produce puppies with excellent temperament, conformation, and character.
They breed their dogs infrequently and methodically, planning a year ahead of time and doing their research to screen for genetic issues, temperament, and ancestry.
They want only the best pedigree dogs to breed. At least one, if not both parents of the litter, are AKC champions.
Tudorglen acknowledges the work that goes into a properly raised litter, which is why they only breed once per year at most.
They want to be able to devote the appropriate amount of time, energy, and resources to each of their litters.
They proclaim not to breed for profit because there isn't really money to be made as a breeder. Instead, they do it for the sheer enjoyment of a litter of puppies and pride in the breed.
Puppies are checked by a vet every 2 weeks while in their care and they are all microchipped, vaccinated, and given a strict nutritious diet.
3. Songcatcher Dachshunds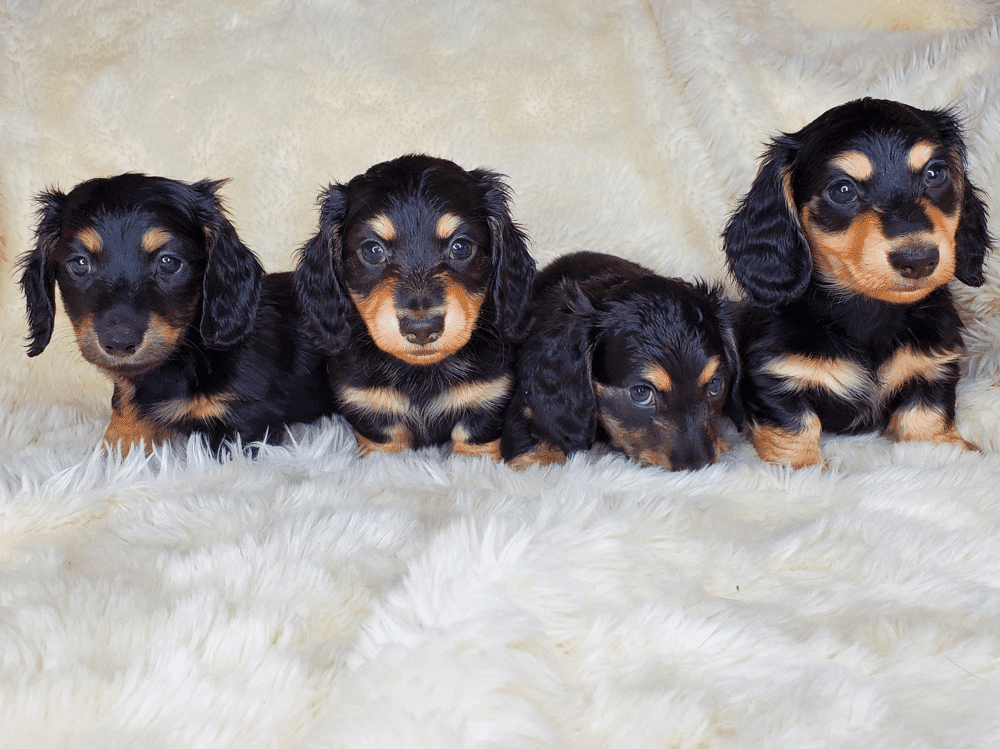 Songcatcher Dachshunds, located near Nevada City, CA, offers miniature Dachshunds in longhair and shorthair as well as several different colors. Jake at Songcatcher Dachshunds is one of the most knowledgeable Dachshund breeders you will have the pleasure of speaking with.
While owner Jake does not provide AKC registration papers for any puppy placed as a family companion, his adults are AKC registered with solid bloodlines. Songcatcher is careful when planning breedings to produce not just quality but also healthy Doxie puppies.
Puppies from Songcatcher Dachshunds are health checked, current on vaccinations, and come with a health warranty.
4. DeLorenzo Dachshunds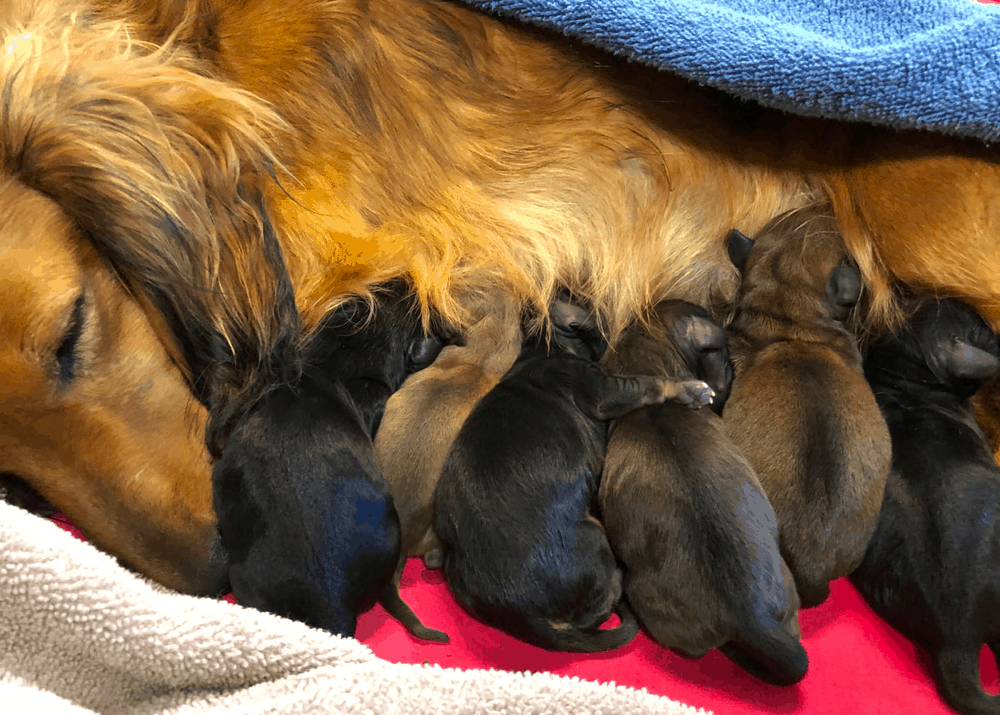 DeLorenzo Dachshunds is a small, family-owned breeder located in Southern California. They are licensed and AKC registered. Puppies are raised in their home with their family, which is an important part of socialization.
They go to great lengths to find the perfect homes for their pups. In fact, you need to apply to buy one of their puppies by filling out the Puppy Questionnaire on their website.
They want to build a relationship with their buyers and answer any questions you might have in order to send puppies to the best homes.
There is also a 24-month waiting list to get a puppy because they are responsible for how often they breed their dogs. This is a testament to how much they care and the quality of the puppies that they produce.
You can see pictures of the loving homes they choose for their puppies on their Instagram page! There are also loads of comments from happy families thanking them for the gift of a gorgeous Doxie pup.
| | |
| --- | --- |
| Name of Owner | Becky |
| Years of Experience | Est. 2009 |
| Address | Southern California |
| Links | Website, Instagram |
5. Dandydox Dachshunds
Dandydox strives to be the best by breeding their dogs for quality, conformation, and temperament. They are members of the Dachshund Club of America, the Northern California Dachshund Club, and the Shasta Kennel Club.
They have even been awarded a Breeder of a Merit award from the American Kennel Club!
Nancy and her husband have been breeding Dachshunds since 2000. They are dedicated breeders that raise litters in their own home so that they get plenty of early socialization.
They also have cats that they socialize with the puppies, which makes them a perfect choice for anyone who has a cat and is looking to add a Dachshund to their family.
Dandydox sends their puppies home in good health with all of their necessary vaccines and AKC registration.
6. Colorful Dachshunds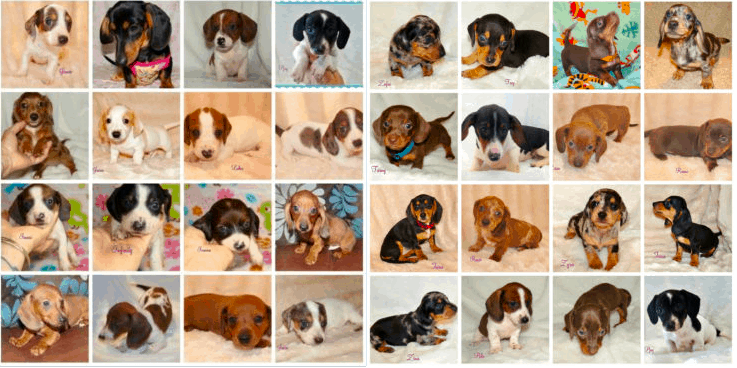 Colorful Dachshunds is a member of the Carmel Dachshund Club in Monterey, California. They are also AKC registered and were inspected as recently as 2020 to ensure that they are in full compliance with the high breeding standards.
In fact, they are proud to be part of the AKC's "Bred with HEART" program, which recognizes breeders who are committed to Health, Education, Accountability, Responsibility, and Tradition.
They painstakingly choose prospective homes and ensure a good relationship with lots of contacts as you welcome your new family member into your home.
They boast a one-year health guarantee on their website against any life-threatening congenital diseases, so you know that you are getting a healthy puppy that will have a long life. You also get a puppy that has had all the necessary vaccines, deworming, and more.
Colorful Dachshund prides itself on breeding sweet puppies that are loving, loyal, intelligent, and low maintenance.
They also breed a variety of color options, hence their name. So you'll literally have your pick of the litter!
7. Crown Dachshunds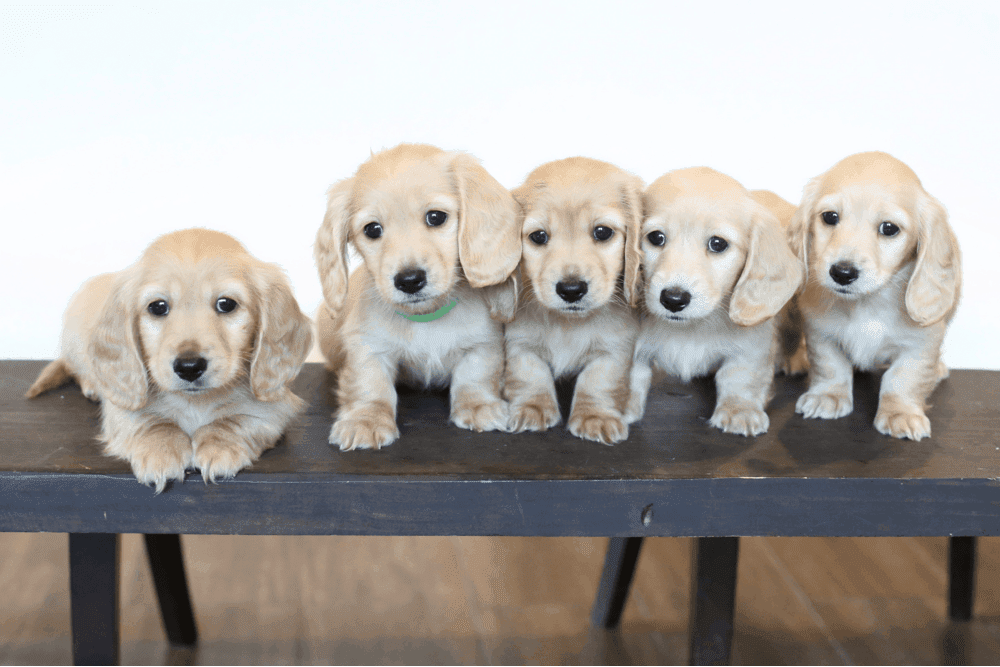 Susan and her young family fell in love with an English Cream Dachshund in 2011 and began breeding.
They love the English Cream variety because they are akin to a Golden Retriever or a lab, but in a smaller body. Their sweet temperaments and mild-mannered natures make them great for families.
Puppies are sent home after they reach 8 weeks of age and come with their first set of shots and a "puppy kit" that includes a blanket with the smell of their littermates, a week of food, sample vitamins, dog bowls, first toy, and puppy pads.
You can tell that they really care about their extended English Cream Dachshund family and maintain a relationship with all of the litters they have sent to new homes.
They are AKC certified and will provide pedigrees upon request, but only after they get proof that you have spayed/neutered your puppy.
This is a good breeding practice because it prevents people from "backyard breeding" their dogs irresponsibly.
Additional 1 year Health Guarantee
They also offer a 1-year health guarantee against any life-threatening health defects.
8. High Desert Doxies
Jennifer has been breeding since the 90s! Her experience and passion for the breed definitely show. She shows dogs regularly and takes a lot of pride in her dogs' accomplishments. Her pups have been featured in commercials, magazines, and TV shows for years – including Ellen and PetSmart!
High Desert Doxies is AKC certified and they breed a variety of different colors to choose from. They send puppies home with their first set of shots, food, toys, and a 1-year health guarantee. They also offer microchipping at no extra cost.
They stress the importance of building a relationship with you and answering all of your questions. Jennifer will also always take back any puppy or adult at any point in their life if the owner suddenly becomes unable to keep them.
You can find both puppies for sale as well as adult dogs for adoption on their website. The adult dog option is perfect for someone who wants a well-behaved and trained companion without having to go through the training process with a puppy.
| | |
| --- | --- |
| Name of Owner | Jennifer |
| Years of Experience | Est. 1996 |
| Address | Acton, California |
| Phone Number | 661-750-9211 |
| Website | highdesertdoxies.com |
9. Full Circle Dachshund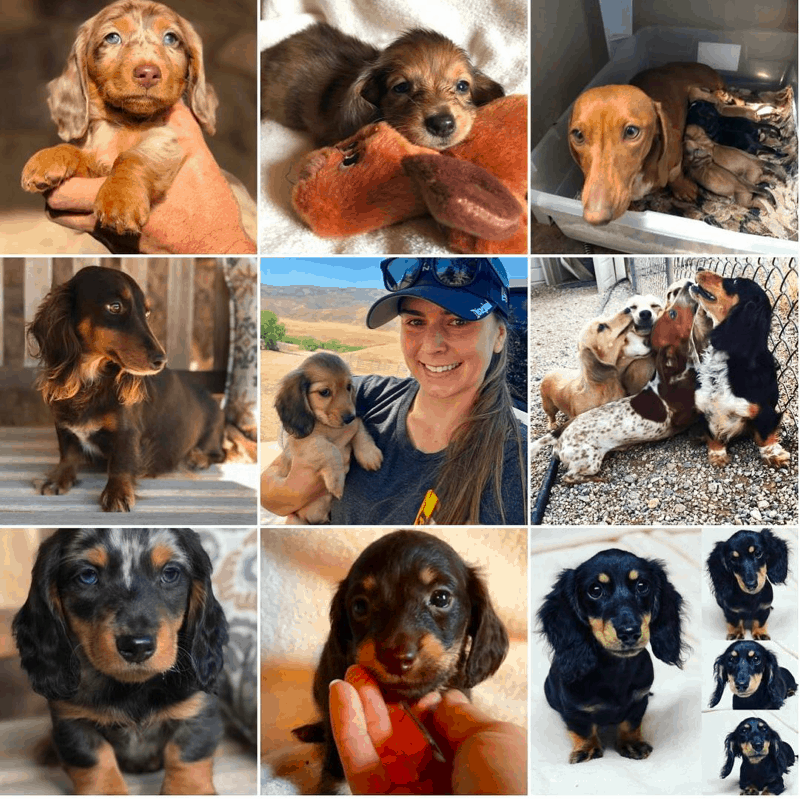 Full Circle has been breeding Dachshunds since 2002 and they are fully licensed and AKC registered. They are inspected yearly to ensure that their facilities and records are pristine.
They raise their puppies on 8.5 acres of land, a horse ranch with lots of fresh air. They are born and raised inside their own home until they are ready to go to their forever families.
When they're sent home, they come with a week's worth of food, a toy, the adoption contract, AKC papers, vaccination records, and information about puppy raising.
Cathy has a clear passion for Dachshunds and is a caring breeder. Her social media accounts on Facebook and Instagram demonstrate just how much she loves her dogs and the litters that they breed.
10. Wee Waddles Dachshunds
Wee Waddles Dachshunds have been breeding Doxies for over 25 years in the foothills of Northern California. They are a small breeder that focuses on matching puppies to the most suitable homes.
All of the puppies that they breed are considered to be members of their family, and they take great pride in spoiling them.
Miniature Dachshunds
They specialize in breeding "tweenie" miniature Dachshunds, that are between 11 and 16 lbs. They do not have mini or long-hair varieties. Puppies are sold as pets only in order to prevent backyard breeding by irresponsible or unqualified breeders.
Wee Waddles takes time to interview prospective homes before making their selections.
Puppies are only produced once or twice a year at most. They are raised in a home with lots of love and attention. They are vaccinated, de-wormed, and vet checked before they are sent home with a puppy care package.
Though everyone knows that California is a house of good dachshund breeders, sometimes it becomes tough to get a good and rare pup! That's why we suggest the circle search formula. Get connected with breeders in neighboring states like you can connect the breeders in Arizona for an example. You can get the list here.
Top Dachshund Breeders in the Other States