Dachshunds have become a popular dog breed in the United States over the last few years (ranked as #10 in 2020). Originally bred as hunting companions, breeders have worked to bring out pet quality characteristics in the Dachshund's temperament. They have become known for their stubborn playfulness while remaining loyal to "their person". These traits have come from their hunting history, but have made the Dachshund a fun and devoted companion in many families.
Dachshunds come in two main sizes, Miniature and Standard. Recently, teacup Dachshunds have been marketed in the United States. These puppies are even tinier than the Miniature, reaching a maximum of 8 pounds. These pups can be ideal family companions but are not good candidates for showing or hunting.
Outside of height and weight, there are few differences between these Doxies. Most Dachshund breeders in Massachusetts breed Miniature Doxies. All sizes come in three coat varieties, which have more influence on the personality of these dogs than size.
The original smooth coat is stubborn, but loyal and loves snuggling and a set schedule. The eloquent long-haired Dachshund has a sweet, loving personality matching its gorgeous looks making them an ideal companion. Finally, the goofy-looking wire-haired Dachshund often has a playful, silly personality to match their looks thanks to their terrier side.
These Massachusetts breeders have a variety of Dachshunds available. A few have show-quality pups, but all sell pups as family companions. While checking out our list, keep in mind the type of puppy you want and whether the breeder would be able to produce the puppy you need for your family.
1. Donna's House of Dachshunds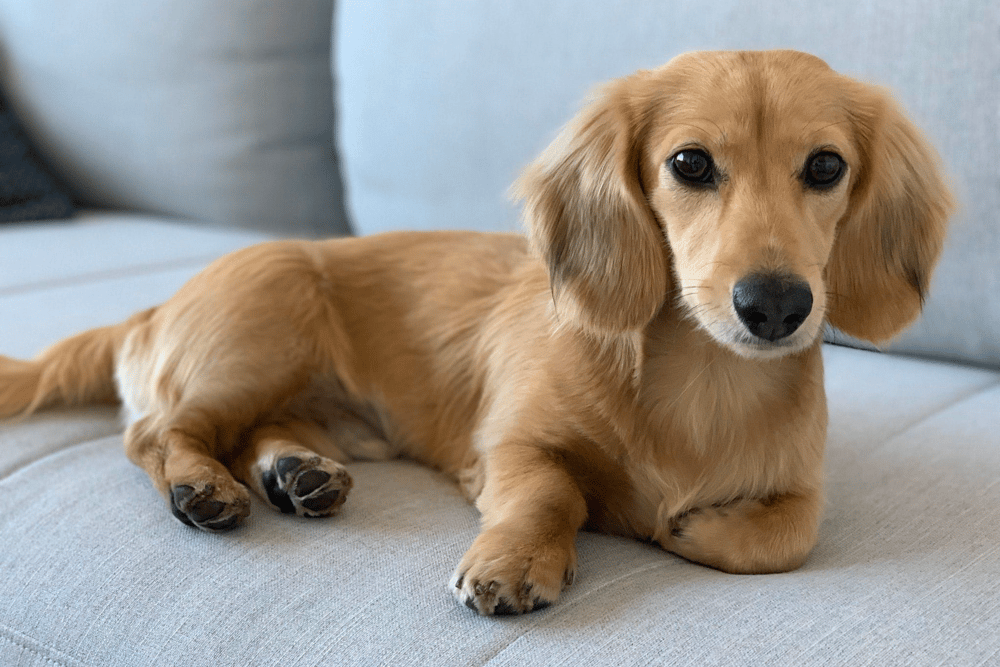 If you're looking for long-haired Dachshund puppies in central Massachusetts, look no further than Donna's House of Dachshunds! Donna has been breeding dogs for many years, starting with working Border Collies in Vermont. When she moved to Massachusetts in 2011, she got her first Dachshund and discovered how wonderful they are as companions and therapy dogs. This lead to her goal to produce Dachshunds with great conformation and beautiful coats who are happy and healthy, mentally and physically.
Donna specializes in gorgeous long-haired Chocolate and English Cream Dachshunds with champion lines. All her pups are AKC registered and go to their forever homes with a health guarantee. She works hard to produce puppies with excellent temperaments to ensure they are ideal family dogs. To help new puppy owners, she encourages them to begin visiting when the puppies are five weeks old to begin bonding and help the puppy and owner with the transition to the puppy's new home. She also works with puppies to ensure they know their name and begins potty training. When puppies go to their forever homes, she offers a lifetime of support any time puppy owners need her.
Donna's House of Dachshunds Information:
2. DTD Puppies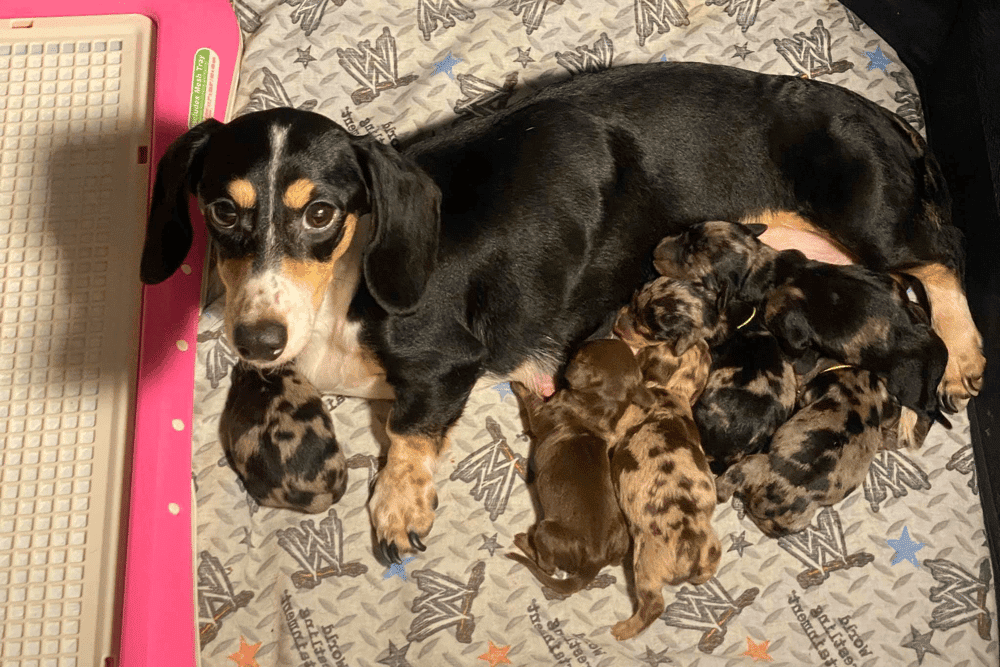 DTD Puppies is a pet-only Miniature Dachshund breeder located in North Andover, Massachusetts. They specialize in Miniature Short & Long haired Dachshunds with Limited AKC Registration. Their puppies are pet-quality and therefore all puppies are sold on Spay/Neuter contracts since they are sold to be pets.
DTD Puppies are born and raised inside with lots of love and attention. When puppies go to their forever homes at 8 weeks old, they will be vet-checked, have their first set of shots, and be up-to-date on deworming. They keep an open line of communication with prospective puppy owners while the puppies are still in their care and will refuse to continue the sale if an owner is unresponsive. They encourage puppy owners to visit when the puppy is 4 weeks old.
DTD Puppies reviews state they work hard to ensure their puppies are going to the right homes, as well as ensuring new owners are well-educated on the breed. They show great care for their puppies through the process they put into place for purchasing puppies. They also check in after puppies go to their forever homes to be sure everyone is happy. Owners of puppies (and adults!) from DTD Puppies state their dogs are in great health and wonderful pets, fitting into their families perfectly!
DTD Puppies Information:
3. Paradise Dachshunds
Paradise Dachshunds is a miniature Dachshund breeder located in Uxbridge, Massachusetts. All Paradise Dachshunds live in their home with two large yards for outdoor play. They breed short and long-haired pups in red and black and tan. Their focus is on these two colors as they are the traditional colors and most commonly used in the show ring.
Before breeding their dogs, Paradise Dachshunds ensures their sires and dams are meet conformation standards. Their dogs have titles on their names, showing they meet breed conformation and temperament standards. This also shows the breeder is involved in many organizations and events supporting Dachshunds.
Paradise Dachshunds believes in continuous education for breeders, which is why they are involved in show. By showing their dogs and being part of the Dachshund Club of America and Connecticut Yankee Dachshund Club, they ensure they are kept up-to-date on breed standards and keep to the strict guidelines in place by these and the AKC.
Paradise Dachshunds Information:
4. Depot Dachsies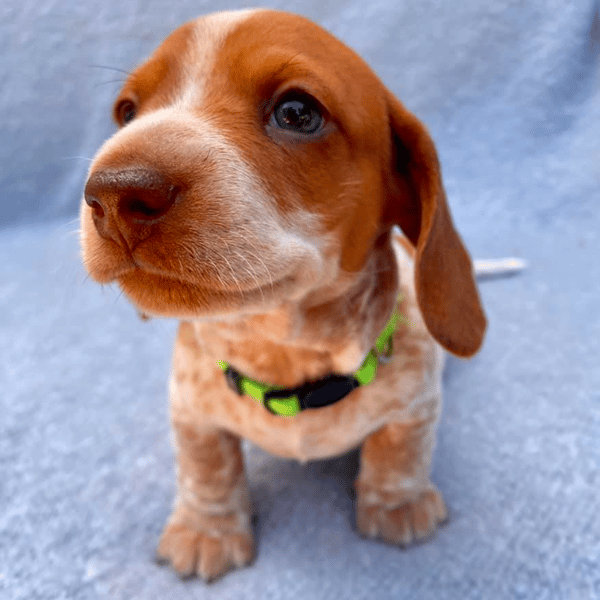 Depot Dachsies is a small, in-home Dachshund breeder located in Easton, Massachusetts. All dogs live in their home with an acre of land to play outside! They breed long-haired and short-haired Miniature Dachshunds in a variety of colors! They only avoid breeding dilutes.
Their goal is to breed high-quality, loving pets for families. They have three children in their home who help socialize and play with all the dogs, puppies included. They usually only sell puppies with limited AKC registration and on a spay/neuter contract as pets. Occasionally, they will consider full registration to other small, in-home breeders. Their primary focus is on the dogs' temperament and conformation to breed standards.
Depot Dachsies Information:
5. TotallyTailz
Located in Rochester, MA, TotallyTailz is a Dachshund breeder specializing in smooth-coated Miniature Dachshunds. All pups are raised in-home with their family. Their primary goal is to provide prospective Dachshund owners with happy, healthy puppies.
All of TotallyTailz dogs are AKC registered. Since their puppies are sold as pets, they sell them with limited registration. Puppies also go to their forever homes microchipped through AKC Reunite and vet-checked, including up-to-date on shots and deworming.
TotallyTailz Information:
| | |
| --- | --- |
| Name of Owner | Kendra Teixeira |
| Breeder Since | 2015 |
| Location | Rochester, MA 02770 |
| Email Address | TotallyTailz@gmail.com |
| Phone Number | (774) 271-4556 |
| Website | totallytailz.com |
6. Rumor's Dazzling Dachshunds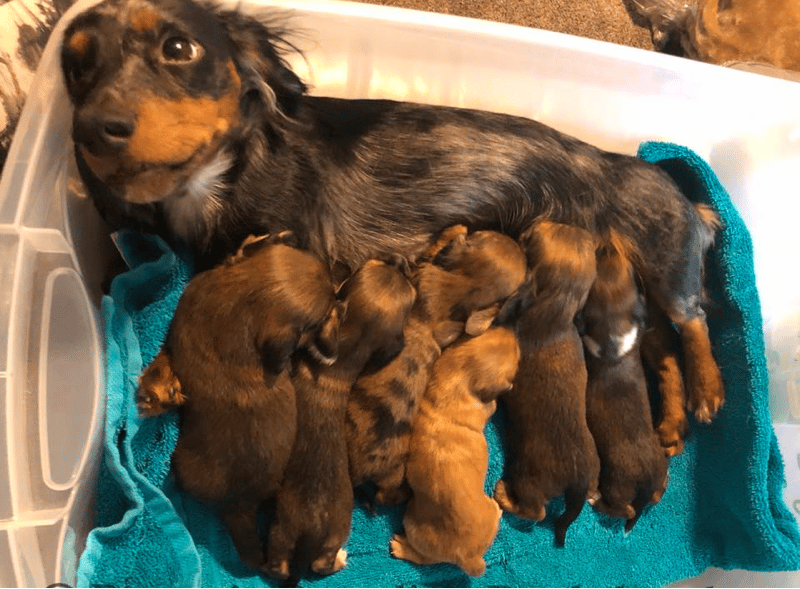 Rumor's Dazzling Dachshunds is a Miniature Dachshund breeder located in Wareham, Massachusetts. They breed short-haired and long-haired Miniature Dachshunds. All dogs are raised in-home with lots of love! They breed a variety of colors, including dapples, creams, dilutes, piebalds, and chocolates!
Reviews state Heather, the owner of Rumor's Dazzling Dachshunds, is an amazing breeder who loves all dogs and puppies that come through her home. While puppies are in her care, she sends weekly updates, including pictures and video, to their future families and keeps an open line of communication. Owners of Dachshunds from Heather state the puppies are gorgeous examples of the breed and have the best temperaments! When going to their forever homes, the puppies are nearly potty trained and easy to train.
Rumor's Dazzling Dachshunds Information:
While communicating with breeders from this list, remember to be open about what you are looking for in your Dachshund puppy. If you're having trouble deciding on your breeder or the process, check out our guide to finding a reputable Dachshund breeder. The guide will help walk you through finding a breeder to find your ideal Dachshund puppy in Massachusetts!
Best Dachshund Breeders in the Other States