Preparing to bring a new dachshund into your home, whether it's a young puppy or a senior dog, is an exciting time. However, you want to make sure you're prepared, particularly if you've never owned a dog before. Use the following checklist to ensure that you've got what you need for your new sausage dog.
However, if you've already got a dachshund, you might find something you need on this list, too. Do you know all the options for taking your dog with you on a hike, in the car, or on a plane? Do you have the best products for training this hard-to-train breed? You might find a good gift for a dachshund lover in your life, or you might consider buying a gift for yourself and your dog.
What to Buy for a New Dachshund Puppy
If you've never owned a dog before, you may find a trip to the pet store slightly overwhelming. The sheer number of food brands, types of treats, and styles of accessories can make it seem like you need one of everything. While you will need some essentials, of course, don't feel like you need to buy everything right away.
Your new puppy will probably come home with you around eight weeks of age. Even before you actually bring them home, you'll want to start preparing by getting what they need. We'll break down the "need to have" and the "nice to have" and make some recommendations on the best products for your dachshund puppy.
1. Dog Collar and ID Tags (Essential)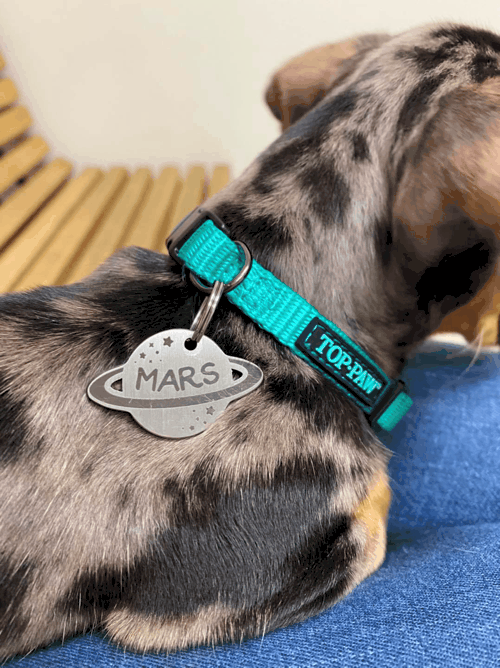 You probably aren't already worried about losing your dog, particularly if they're just a puppy. However, mistakes happen – a door might get left open, or you might turn your back at the wrong moment. Additionally, dachshunds are particularly prey-driven, which means they might chase a squirrel or interesting scent right out of your yard. Therefore, the first thing you need is an ID tag and a collar to put them on.
At the very least, your dog's tag should have their name and your phone number, complete with the area code. Depending on the size of the tag, you may also have room for your name and address, any medical needs, and a personal message like "please call my family." Additionally, you should seriously consider having your dachshund microchipped. A vet will place a small device under your dog's skin that can be scanned to bring up your contact information in case the tags are damaged or lost.
Finally, when your dachshund receives their rabies and other vaccinations, your vet will give you a tag as proof. This can also go on your dog's collar. If your dog dislikes the jangling of the tags, you can buy rubber silencers to stop this noise. You can also buy tags that slide or rivet directly onto the collar. Whatever you choose, make sure that the collar is loose enough – you should be able to comfortably fit two of your fingers between the collar and your dog's neck. Make sure the collar is adjustable as your puppy grows.
Recommended Dog Collars:
2. High-quality Dog Foods (Essential)
Obviously, your new dachshund will need to eat. You can always ask your vet if they have any recommendations for dog food, particularly if your dachshund has special medical needs. The most important thing to know is that dog food is formulated for the size of the breed as well as the dog's stage of life. For a dachshund, you should use a small-breed dog food made especially for a puppy (under a year), an adult (1-8 years old), or a senior dog (over age 8). Read more about our recommendations for the best dog foods for dachshunds here.
3. Food Dish and Water Bowl (Essential)
Whatever food you pick, your dachshund will need something to eat it out of. You'll also want to keep fresh water available at all times. It's a good idea to have a pair of dishes dedicated to this purpose, one that your dog knows belongs to them. Bowls are available in a number of styles and appearances, and most are more or less the same.
However, dachshunds are particularly food-motivated, so you might find that your new puppy chomps down their dinner distressingly quickly. This can become dangerous if your dog swallows a great deal of air while eating, which can lead to gas, nausea, and vomiting. Dachshunds are less likely to suffer from bloat than other breeds, but this dangerous condition is still possible. If you're worried about this, you can buy a food bowl designed to force dogs to eat more slowly. These bowls have dividers to portion the food into smaller spaces, keeping your dachshund from being able to scoop too much food in each mouthful.
4. Dachshund Dog Bed (Essential)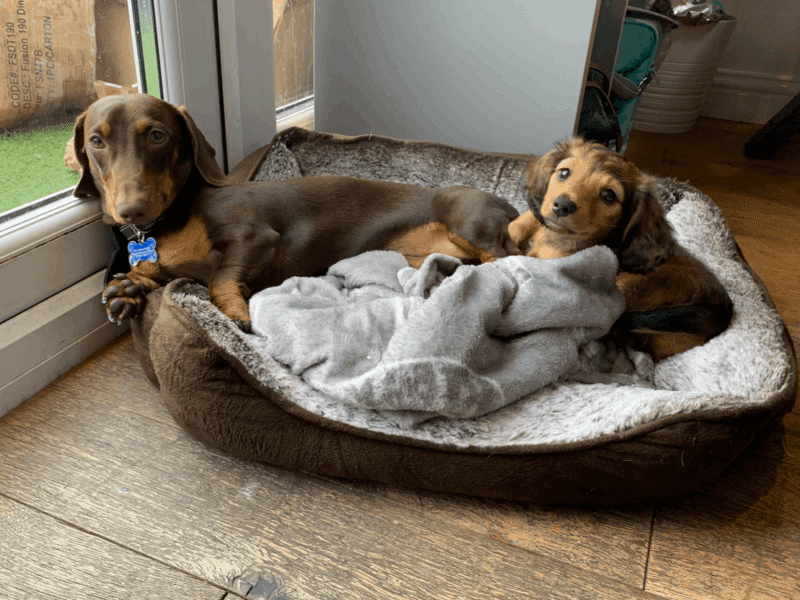 Just like you, your dog needs a comfortable place to sleep. At the very least, a dachshund bed needs to provide some cushioning and be large enough for your dog to stretch out on, though they may prefer to sleep curled up. For dachshunds, and especially senior sausage dogs, make sure the bed isn't too high off the ground for them to comfortably enter and exit.
Additionally, dachshunds are burrowers, and some prefer to sleep in enclosed spaces or under blankets. This keeps them warm in colder weather and makes them feel more secure. If your dachshund is prone to anxiety, a covered bed may help ease this feeling. Check out our list of the best dachshund beds to get some ideas of what's available.
5. Dog Leash or Lead (Essential)
Going on walks is an important part of dog ownership, particularly if you don't have easy access to a fenced-in yard or another outdoor area. It will serve as both a bathroom break and exercise time for your dog, and it's a great chance to bond with your new pet. Buying a sturdy leash (sometimes called a lead) is a necessity. Dachshunds like to follow their noses or chase small animals, so you should never walk your pup without a tether. The least expensive leashes are static lengths of nylon fabric, but there are also retractable leashes if you prefer.
Very young puppies should not go out on walks until they've received all their vaccines at 12-16 weeks of age. Only then is it safe for them to socialize with other dogs? Even then, they shouldn't be out for long, particularly on hot pavement. It's important to remember that dachshunds continue growing until they're 12 or 13 months old. However, you can gently begin getting them comfortable on a leash indoors as early as eight weeks.
6. No Pull Dog Harness (Essential)
You might be able to get away with clipping your dachshund's leash to their collar for short bathroom breaks, but when you take them on a substantial walk, you'll want to make sure they're wearing a harness. When a dog pulls on their leash, a good harness redistributes the force across the dog's shoulders and chest instead of their neck. This protects the dog's throat and ensures that they can keep breathing easily. A collar in the same situation can restrict the dog's breathing and potentially cause neck problems.
Since dachshunds are frequent leash pullers, it's a good idea to get a harness for your dog. Certain types of harnesses – for instance, those with leash clips on the front – can even help discourage leash pulling. We've compiled a list of the best dachshund harnesses to help you choose the best model for your dog. Consider your dachshund's size, the amount of hot weather where you live, and their usual leash behavior when picking a harness.
7. Dog Chew Toys (Essential)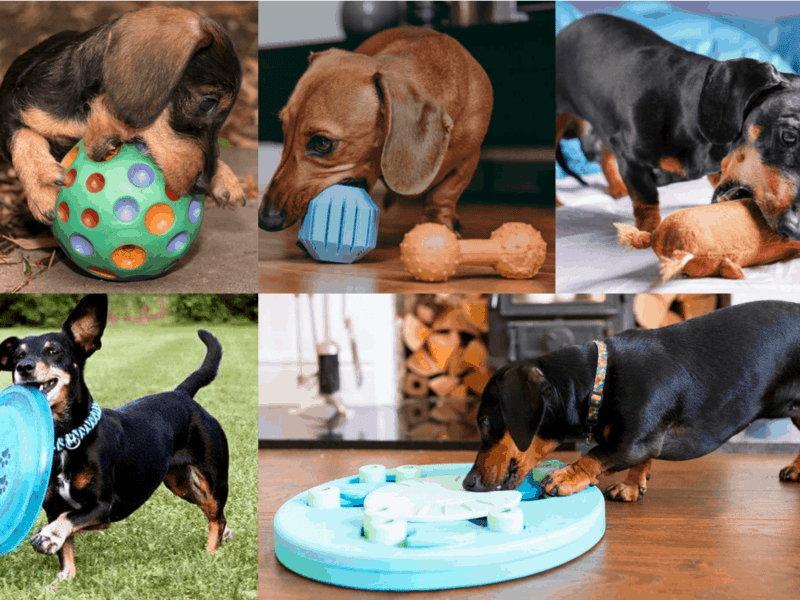 Believe it or not, toys are essential for dachshund owners. Although dachshunds aren't the most powerful chewers in the dog world, many doxies, especially puppies, have been known to chew shoes, furniture, and whatever else they can reach with their mouths. Dog toys give them something to chew and scratch and toss around. Additionally, remember that dachshunds were bred not only to track down small game but also to pull it from its burrow and kill it. Thus, your dachshund may go through a surprising number of chew toys, pulling out stuffing or squeakers. Durable chew toys made by Kong and Outward Hound will stand up to serious chewing.
However, dog toys aren't just for chewing. They can also provide mental stimulation to prevent your dog from becoming bored and thus destructive. For example, puzzle toys release treats when your dog turns them or moves them a certain way. Since dachshunds will do just about anything for a treat, a toy like this can keep them occupied for hours.
Finally, classic toys like balls and ropes for tug-of-war are also a good idea to have around. These toys allow you to play directly with your dog, providing them both exercise and mental stimulation. Plushie toys are also a standard and maybe a comforting toy for your dog to take to bed. Note that some dogs will tear plushies to shreds, though, so keep an eye on your dachshund to make sure they don't swallow something they shouldn't like toy stuffing. To help you get started, we have a list of the best toys for dachshunds.
8. Grooming Kit (Essential)
No matter how hard you try, your puppy is going to get dirty. Fortunately, short-haired dachshunds are very easy to groom and need little more than a bath with a gentle shampoo every six weeks or so. Long-haired and wire-haired dachshunds require more frequent grooming to keep their fur from becoming tangled. Check out our article on dachshund grooming tips for more info, but here are the basics you'll need in any good dog grooming kit.
Dog Shampoo
There are plenty of shampoos formulated for dogs. While you can use a mild human shampoo or body wash in an emergency, a dog's skin has a different pH balance than a human, and human shampoos can dry out a dog's skin and make it more prone to irritation. Thus, it's better to use dog shampoos whenever possible. If your dachshund has particularly sensitive skin, pick a formula with colloidal oatmeal for extra protection.
Dog Toothbrush and toothpaste
Dental health is actually connected to heart health, so you really do need to brush your dog's teeth. It's a bit awkward, but if you start when your dachshund is a puppy, you can get them used to it. Luckily, there are plenty of specialized dog toothbrushes and even toothpaste with flavors like chicken or beef. However, don't use human toothpaste, which can upset your dachshund's stomach.
Dirty teeth can cause tartar buildup and gum disease, which can lead to bad breath. Most dachshunds have bad breath at some point, but if the odor is constant and foul, it's time for a dental checkup. Usually, the problem can be fixed with a thorough cleaning and better hygiene, but there are a few other health problems that can cause metallic or sour breath.
Dog Nail clippers
Nail clipping is another grooming process that you'll need to get your dachshund used to at a young age. To prevent your dog from becoming overly sensitive about their paws, make sure to handle their paws regularly and gently while they're puppies. As adults, their nails should be clipped about every three to four weeks. The tip of the nails shouldn't touch the ground when the dog is standing.
Make sure not to cut beyond the natural curve of the nail, as this can cause bleeding and pain. To keep this from becoming a stressful procedure, use lots of treats and positive reinforcement. There are also nail grinders that wear the nail down rather than clipping it. This reduces the chance of hurting your dachshund, but the noise of the grinding disturbs some dogs. If you have too many accidents or you just can't bring yourself to do it, the vet or groomer can also cut your dachshund's nails.
Dog Brush and comb
Short-haired dachshunds will only require brushing about once a week to remove loose fur. Make sure to buy a brush made specifically for short-haired dogs that are soft and comfortable for both you and your dachshund. While dachshunds only shed moderately, regular brushing will help keep this shedding under control.
Long-haired and wire-haired dachshunds will need a brush made for longer hair. Unlike short-haired dachshunds, their fur may become tangled, so it's important to brush it a few times a week. If you don't, the fur may become knotted and matted, pulling uncomfortably against the dog's skin as they move. If you need help, you can always take your long-haired doxie to the groomer. In fact, wire-haired dachshunds should be taken to the groomer approximately twice a year to have their coat stripped, which will keep it looking its best.
Ear Cleaner
Dachshunds have long, floppy ears. They're adorable, but they can also hide dirt and debris that can cause irritation and even infection. Thus, it's important that you check your dachshund's ears at least once a week. There are plenty of dog ear cleaner liquids and wipes to help ensure that your dachshund's ears stay clean, particularly if they like to dig and get dirty. However, always make sure to clean gently and follow the instructions on the packaging. Never insert anything into your dog's ear canal. If you're worried about an ear infection, make sure to take your dachshund to the vet
9. Dog Crate (Helpful)
A dog crate straddles the line between helpful dog accessories and truly necessary products. No, you don't absolutely have to use a crate. Some people can't get over the way a crate looks. They confuse it with a cage. However, proper crate training can help reduce stress for both you and your dachshund, particularly if they're still being potty trained. Dachshunds are notoriously difficult to housebreak, and a crate can be a lifesaver when it comes to nighttime or leaving your dog alone in the house for brief periods.
The crate isn't a dog's cage; it's their den. Used properly, a crate can be a safe, comfortable space for your dog to relax. Crate training involves lots of positive reinforcement when your dachshund is in the crate, which will teach them that this is their safe haven within your home. You can also use a crate when you're traveling to keep your dog safe. Although not everyone chooses to use a crate, we highly recommend it for dachshund owners.
10. Puppy Potty Training Pads (Helpful)
No matter how careful and consistent you are with crate training and housebreaking, there will be accidents. Dachshunds are stubborn, and this can mean using the bathroom in the house even if they know better. For this reason, it's often helpful to have some puppy pads to stick on the floor. These will absorb urine and keep feces off your flooring. If you can't take your dachshund outside regularly, you can train them to use the pads. Alternatively, you can put them in areas where your dachshund tends to use the bathroom when you're not looking.
11. Pet Gate (

Helpful)
The importance of a pet gate will depend on the layout of your home or apartment. If you have areas where your dog isn't allowed, you'll want to be sure you buy a sturdy gate your dachshund can't slip through. Often, pet owners will put these gates at the base or top of the stairs. Additionally, if you choose not to crate train, you can gate off a room or small area to allow your dog play space. You may need to use puppy pads in this space to keep your floors clean.
Dachshunds aren't big jumpers or climbers, so you don't have to worry too much about your dog trying to go over the gate, but they are diggers and escape artists. Make sure the material of the gate is chew-proof and that it fits snugly in the space you put it.
12. Cleaning Products (Essential)
Finally, one last essential – your new puppy will make a mess at some point, and you will need the right tools to clean it up. Which products you buy will depend on your home, primarily what kind of flooring you have. If you have carpet, some kind of urine remover is a must, since dogs will tend to return to mark spots where they've gone to the bathroom before.
Whatever products you buy, make sure they're non-toxic and safe to use around pets. Always store your cleaning products where pets can't get to them, which may involve using cabinet locks if you've got a particularly curious dachshund.
Nice to Have Accessories for Dachshunds
If you've already got the new puppy basics, you can consider these helpful accessories, as well. They may not be necessary for all dogs and all lifestyles, but they can make your life easier when it comes to life with your dachshund.
13. Dachshund Backpack and Carrier
Dachshund Backpack for Hiking:
Dachshunds are curious and loyal dogs who will often want to follow their owners everywhere, but their short legs mean that they can tire out easily on long walks or hikes. If you'd like to take your dachshund with you wherever you go and give them the option of hitching a ride when they're tired, consider investing in a bag or backpack made to carry a dog. Most of these backpacks are designed for miniature dachshunds since toting around a 20+ pound standard dachshund is substantially more difficult. However, there are a few bags that can fit a standard doxie if you're willing to carry them.
Dachshund Carrier for Car or Airplane Travel:
Similarly, there are plenty of dachshund carriers designed for car, train, or airplane travel. Airplane carriers are usually a little more enclosed, though they may have flaps that open or areas that expand for the comfort of your dachshund. If you're going to use a carrier for plane travel, ensure that you check with your airline for exact carry-on measurements. They vary from airline to airline, so just because the product listing says "fits airline size restrictions" doesn't mean it applies to all flights.
14. Dachshund Car Seat
If you plan on taking your dachshund with you in the car, it's important to have some kind of carrier or car seat to put them in. Not only will it keep them safe in the event of a crash, but it will also keep them out of your way while you're focusing on the road. Car carriers or booster seats usually have a loop to thread through a seatbelt or straps that wrap around the car seat to keep the whole thing firmly in place. A good dachshund car seat will also offer plenty of visibility for the dog inside.
15. Dachshund Ramp for Bed or Couch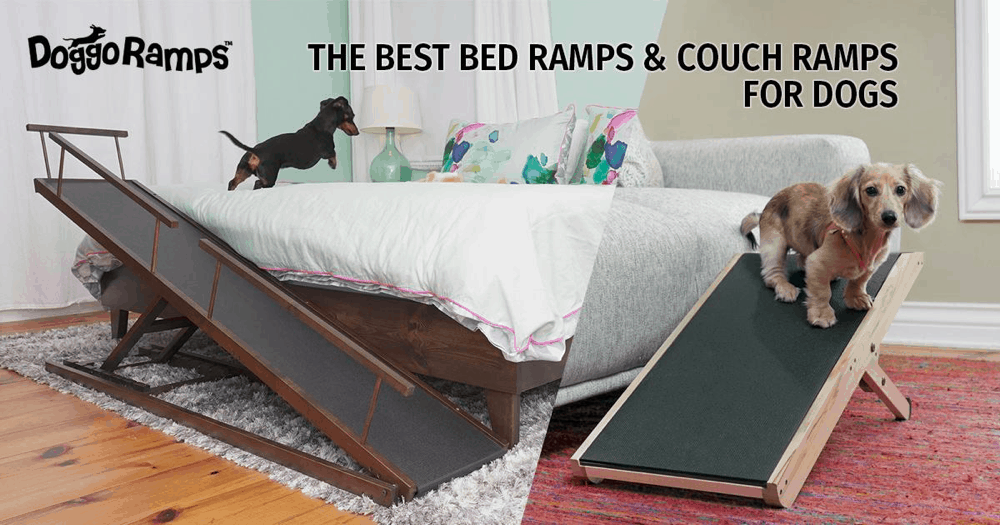 You probably know by now that dachshunds are unfortunately prone to spine and joint problems because of their long backs and short legs. For this reason, they shouldn't jump very often, and this includes getting onto or off of couches and beds. This goes double for senior dogs or dogs who are beginning to experience joint pain. Luckily, there are plenty of dachshund ramps and stairs that allow sausage dogs to easily climb up and down without putting extra stress on their back.
Many of these ramps and stairs are portable, and some can fold away when they're not in use. Some can be used to help your dachshund get into and out of the car. We recommend the Doggoramps brand, which has multiple models of ramps that are sturdy, adjustable, and affordable for most budgets. Whatever you pick, make sure you measure carefully so the angle isn't too steep for your dachshund to climb and so that the ramp will fit in the space you have available.
16. Dachshund Life Jacket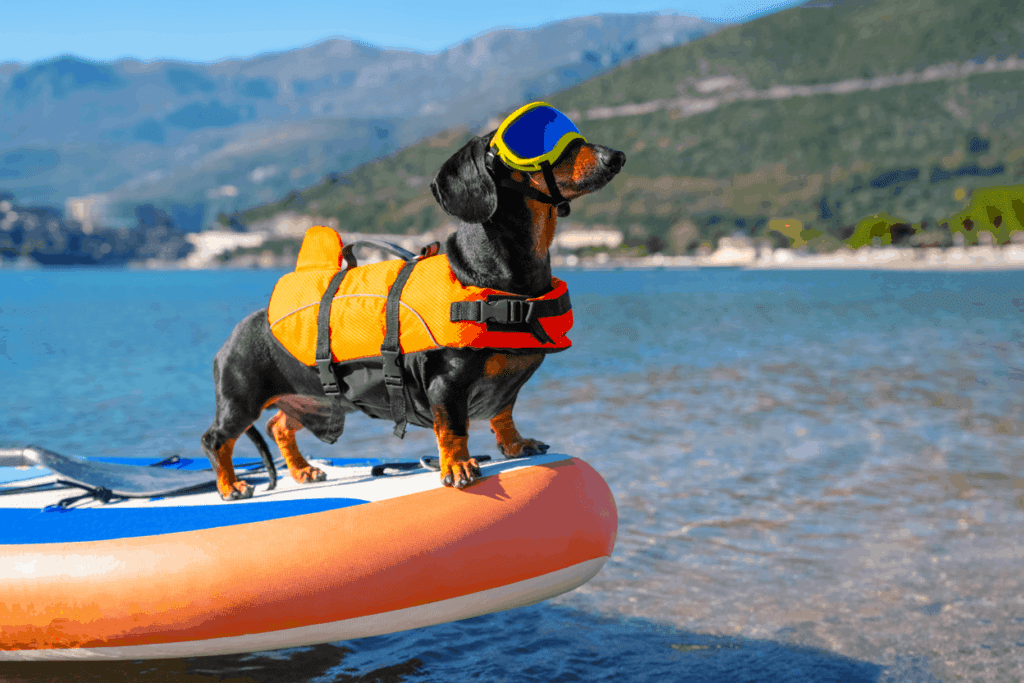 Dachshunds aren't water dogs by nature, but some might like to splash around in the water. Dachshunds can in fact swim. Again, though, the dachshund's short legs mean that they'll often tire quickly, so it's important that if you're going to take your dog into a large body of water, they have a life jacket. A good dachshund life jacket will help support your dog's neck to keep their head out of the water. Make sure you pay attention to the length of the life jacket, since many jackets for small dogs might not be long enough to support a dachshund's entire body.
17. Dog Bark Collar
Anyone who's ever owned a dachshund knows that they bark frequently. While you'll never train a dachshund not to bark at all, you can reduce unwanted barking with training. Some people use dog bark collars to help curb nuisance barking. These collars use sound, vibration, or puffs of air to startle the dog and hopefully stop the barking. Some bark collars may have shock settings that put out a painful shock in response to barking, but we don't recommend that you use this setting, as it is inhumane and will only increase your dog's anxiety.
Additionally, it's important to remember that your dachshund is barking for a reason, and even the best bark collar won't remove whatever stimulus is causing your dachshund to bark. This means your dog might continue to suffer from stress without alerting you to the cause, which again can increase anxiety. It's better to use positive reinforcement training to teach your dachshund what you want them to do instead of barking. Use bark collars with care and as a supplement to training.
18. Dog Training Treats
Dachshunds are highly food-motivated and will do almost anything for a treat. However, they're also prone to obesity, which can worsen back problems. This means you need to find treats for training that are tasty yet low-calorie so that you're not inadvertently feeding your dachshund extra meals every day. Since dachshunds are small, these training treats should also be small. Many dog owners also purchase a treat pouch that can clip onto a belt or belt loops. That way, you can have treats with you during training without making your pants pockets smell like dog food.
19. Dachshund Sweater or Jacket
If you have a short-haired dachshund and live in a cooler climate, your dog will need some help retaining body heat. A good dachshund sweater or jacket will keep your dog warm when you're out walking even on the coldest days. Of course, it doesn't have to be snowing for you to put a fashionable outfit on your sausage dog, and there are plenty of dachshund clothes that are made for appearance rather than warmth. Just make sure that if your dog does need warmth, you get a well-made sweater.
20. Food and Treat Container
Finally, make sure you keep your dog's food and treats in sealed containers. Not only will that prevent your dachshund from sticking their nose where it doesn't belong, but you'll also cut off a food source from potential pests like insects and rodents. It's a good idea to have containers with lids that can seal tightly. Anything from a simple plastic container to a handmade glass jar will do.
Final Thoughts
Part of adopting or buying a dachshund is making sure you have room in your budget not just for the dog, but also all the accessories a dachshund needs to be happy and healthy. However, this doesn't mean you have to buy the whole pet store at once. Instead, start with the basics and go from there. For example, you might find that your dachshund hates the water and thus is never really going to need a life jacket.
You'll also learn more about what your particular dachshund likes the longer you have them. They might love to chew toys but ignore plushie toys altogether. They might have an allergic reaction to popular dog shampoo. Thus, it can pay to wait a while and see what you need more of before buying in bulk. If you still have questions about what's best for your dachshund, you can always ask your vet. Be prepared, but be flexible to your dog's tastes.