If you're looking for a dog that is small in stature, but large in personality, look no further than the most beautiful Dachshunds! Dachshunds have become known for their long, short bodies giving them the nickname "wiener dog".
Dachshunds come in a standard size and miniature size. Both sizes come in three different coats. The original short or smooth-haired is popular among many for its rather easy care and larger-than-life personalities.
The gorgeous long-haired breed (Check exclusive article on this) has become a sought-after companion for their beautiful fur and sweet disposition. Finally, the wire-haired looks a bit silly and has the personality to match. All three come in various colors and patterns as well!
Since there are so many varieties available, many Dachshund breeders in Minnesota will specialize in a certain type of Dachshund. Some will specialize in a specific size, coat, and even color or pattern while others will just focus on a certain size or coat.
Due to this, it can be difficult to search and find a good, reputable breeder with just the right pup. We used our guide to find reputable breeders to find the top Dachshund breeders in Minnesota and compile them into a list for you.
We've given you the must-have information to narrow down your options and find your perfect puppy and breeder.
Dachshund Puppies for Sale in Minnesota State
1. Dachshunds Up North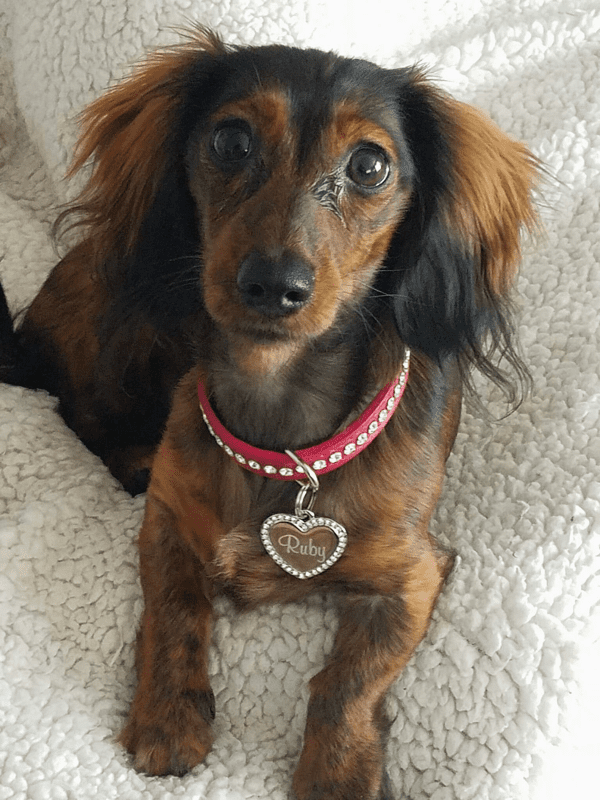 Dachshunds Up North is a family Dachsund breeder in Big Fork, Minnesota. They specialize in gorgeous long-haired Miniature Dachshunds but have expanded to occasionally breed short-haired and wire-haired as well. All dogs are born and raised in the luxury of the family's home.
Dachshunds Up North strives to breed happy, spoiled pups with ideal dispositions to be the perfect companions. They begin socialization with humans of all ages, other dogs, and even other animals from a young age.
With the puppies being raised in the home, they are familiar with household sights, scents, and smells. They also begin encouraging familiarity with the outdoors and potty training from a young age as well.
Puppies from Dachshunds Up North are all healthy puppies allowed to come to their new homes at 8 weeks old with their first set of shots, vet checked, and a one-year health guarantee.
The breeder also sends a puppy care kit, including a sample of their current food, a leash, their puppy collar, and blanket, and toys with mom and siblings' scent.
Chuck from Dachshunds Up North makes an effort to have an open line of communication with families interested in his puppies. Many reviews state they would get weekly updates once they picked out their dachshund pup and he was very helpful and knowledgeable about the breed. Reviews state the puppies have excellent pet temperaments and health.
Dachshunds Up North Information:
| | |
| --- | --- |
| Name of Owner | Chuck Goering |
| Address | 42563 Turtle Lake Rd, Bigfork, MN 56628 |
| Phone Number | (218) 256-1713 |
| Links | Facebook |
2. Long Ears & Long Dogs Ranch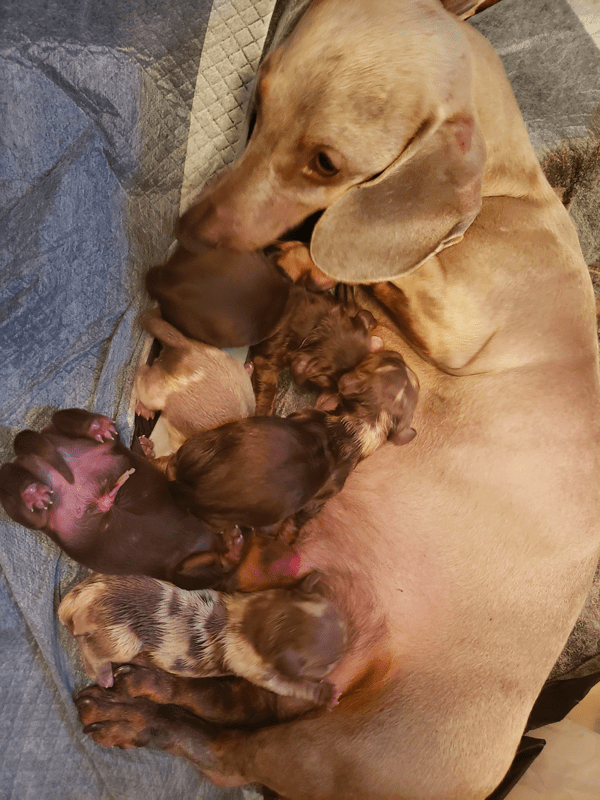 Long Ears and Long Dogs Ranch is a ranch in Donnelly, Minnesota. In addition to being a Dachshund breeder, they also care for and breed Mammoth Donkeys and American Mammoth Jackstock.
Long Ears and Long Dogs Ranch has a variety of Dachshunds they breed. They breed standards and miniatures with smooth and long coats in a variety of colors.
The primary goal with their breeding program is to create Dachshunds who will be ideal lifetime partners for their families. They encourage early socialization by having friends and family, especially those with children.
The couple also allows the dachshund puppies to interact with other dogs and animals on the ranch. All of this helps with proper socialization, so the puppies are comfortable in their forever homes.
All puppies receive vaccinations before leaving around 8-10 weeks of age. The puppies are also dewormed, vet checked and microchipped. Their puppies go to their new homes with a one-year health guarantee, as well as a lifetime of support in case the owners find themselves unable to continue caring for their new pup again.
Long Ears & Long Dogs Ranch
| | |
| --- | --- |
| Name of Owner | Mike and Gwen Ritter |
| Address | Donnelly, MN |
| Email | prladyritter@gmail.com |
| Phone Number | (320) 760-4461 |
| Links | Website, Facebook |
3. Darling Doxies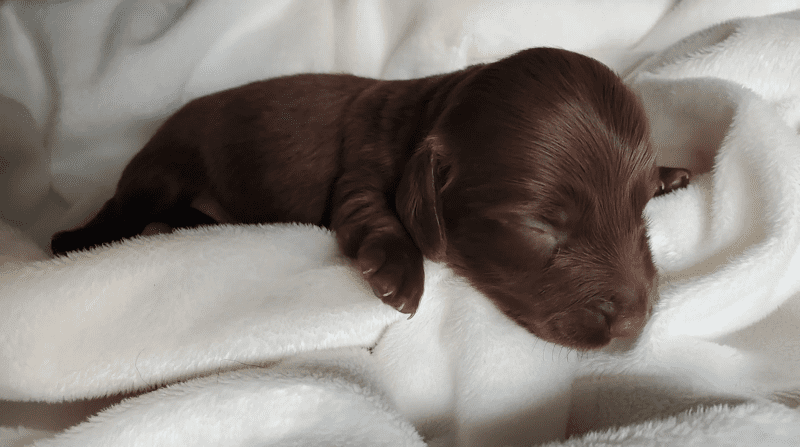 Darling Doxies is a Dachshund breeder in Elk River, MN, about 45 minutes from Minneapolis. They boast +16 years of experience breeding and raising Dachshunds. All their pups are bred true to standards with healthy, well-rounded personalities to be the best pets possible.
The puppies are raised in the family's home around kids and other people of all ages. From a young age, the puppies become families with the sounds and activity of a busy household.
The breeder offers a lifetime of support for their pups and their families. If the family has questions at any time, they are encouraged to contact the breeder. They love updates as well!
All puppies go to their new home with a health and genetic guarantee, as well as up-to-date vaccinations and worming. Puppies also come with goodie bags including their current food, toys, chews, and a blanket smelling like mom and siblings. This encourages a smooth transition for the pup and their new family.
Darling Doxies Information:
4. Guardian Dachshunds
Located in Kilkenny, Minnesota, Guardian Dachshunds has been focused on breeding the highest quality Miniature Dachshunds. Pups are bred from championship lines, encouraging pups fitting other breeders' standards. All pups are AKC registered and guaranteed.
Guardian Dachshunds strongly encourages spaying or neutering the puppy as early as possible, unless they are being bought to breed or show.
They also provide tips for housebreaking and crate training puppies as quickly as possible on their website. There is also information on bringing the puppy home and creating a schedule.
Reviews on Guardian Dachshunds' website state the puppies are excellent dogs. Many owners boast about the pups' perfect temperaments. Many reviews state the pups are loving, sweet, and mischievous in typical Dachshund form. Some pups have even gone on to win shows!
Guardian Dachshunds Information:
| | |
| --- | --- |
| Name of Owner | Dan & Deb Smith |
| Address | 46502 151st Ave, Kilkenny, MN 56052 |
| Phone Number | (507) 595-3360 |
| Links | Website |
5. Lakeside Miniature Dachshunds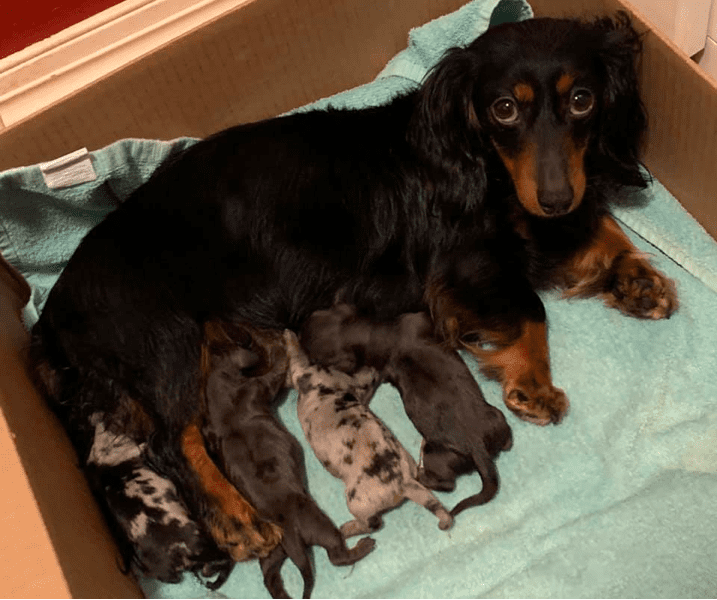 Lakeside Dachshunds is a breeder specializing in miniature Dachshunds in Wadena, Minnesota. They have dedicated themselves to providing the highest quality Miniature Dachshund available in Minnesota. All parent Doxies are AKC registered with perfect conformation to standards and excellent temperaments.
Puppies and their parents are all raised in home. This helps with ensuring the puppies are part of the family and receive proper care. Puppies are handled from day one to encourage proper socialization from an early age.
Reviews state Lakeside Miniature Dachshunds produces the friendliest, sweetest puppies full of personality. The owner of Lakeside has open communication with families from the day they pick their puppy throughout the puppy's life.
The owner even provides the owners with a private Facebook group to keep up-to-date on the puppies and allow families to communicate with one another as well.
Lakeside Miniature Dachshunds Information:
| | |
| --- | --- |
| Address | County Highway 71, Wadena, MN |
| Phone Number | (218) 640-3353 |
| Links | Website, Facebook |
6. SK Dox Miniature Dachshunds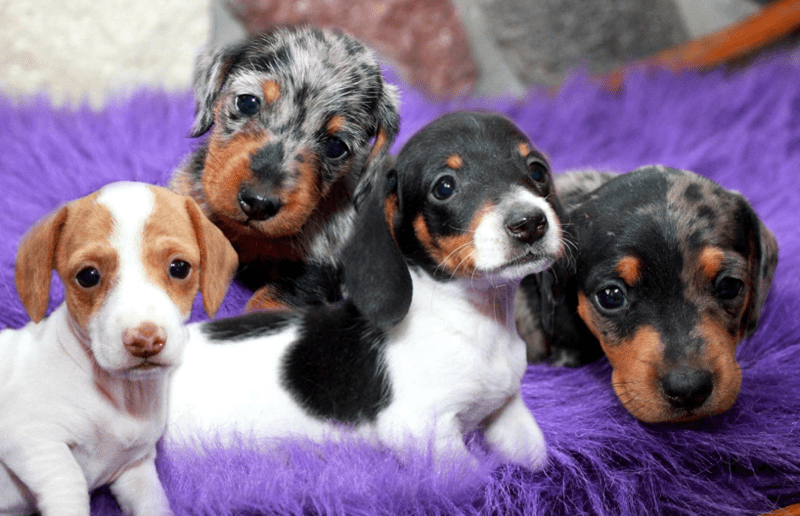 SK Dox is a Miniature Dachshund breeder in Akeley, Minnesota. They raise their puppies on 40 acres with a variety of trails to explore. Their passion is in raising family companion quality Dachshunds.
All pups are interacted with by humans of all ages from a young age. The dogs are treated as family from day one. Every Dachshund is AKC registered as well as kept up-to-date on worming, vaccinations, and other routine vet care.
Each adult in SK Dox's care has an excellent temperament, making them comfortable not only giving a health guarantee, but also a full temperament guarantee as one as well.
SK Dox provides customers with a packet of information on general puppy care as well as Dachshund-specific care. Puppies also come with lifetime breeder support from the day the puppy is picked out.
When going home, SK Dox gives a bag of current food, a weeks' worth of vitamins, a blanket smelling like mom and siblings, a collar, a leash, and a toy. This encourages a smooth transition from their home at SK Dox to their forever family.
SK Dox Dachshund Breeder Information:
7. Stepuppies Dachshunds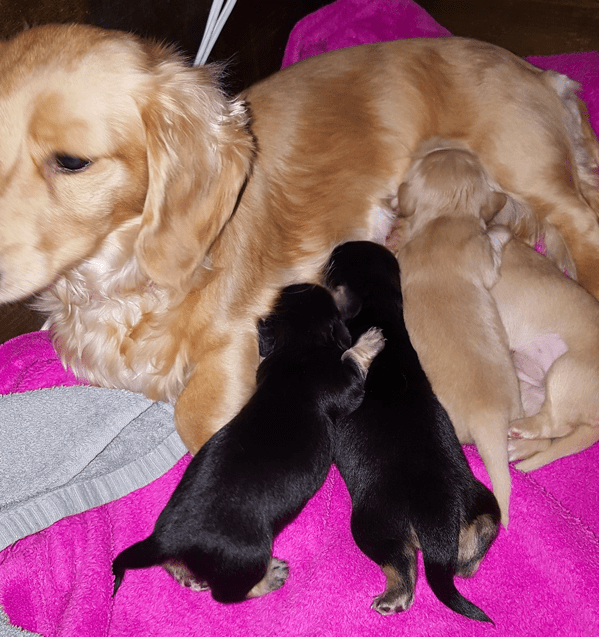 Located in Clear Lake, Minnesota, Stepuppies Dachshunds breeds long-haired Dachshunds in a variety of colors. However, they specialize in English Cream Doxies. They have been breeding Dachshunds for about 20 years with every pup being a part of their families.
Reviews state the owner of Stepuppies is very passionate about her dogs. The puppies have an excellent demeanor and are extremely smart from day one.
Some puppies have special needs and have even been bottle-fed by the owners while in her care.
Reviews also state the owner of Stepuppies ensures buyers are well-informed in puppy care and the Dachshund breed to ensure the best experience for everyone involved. Many owners also become repeat buyers from Stepuppies due to the care the owner puts in.
Stepuppies Dachshunds Information:
8. Wind Prairie Doxies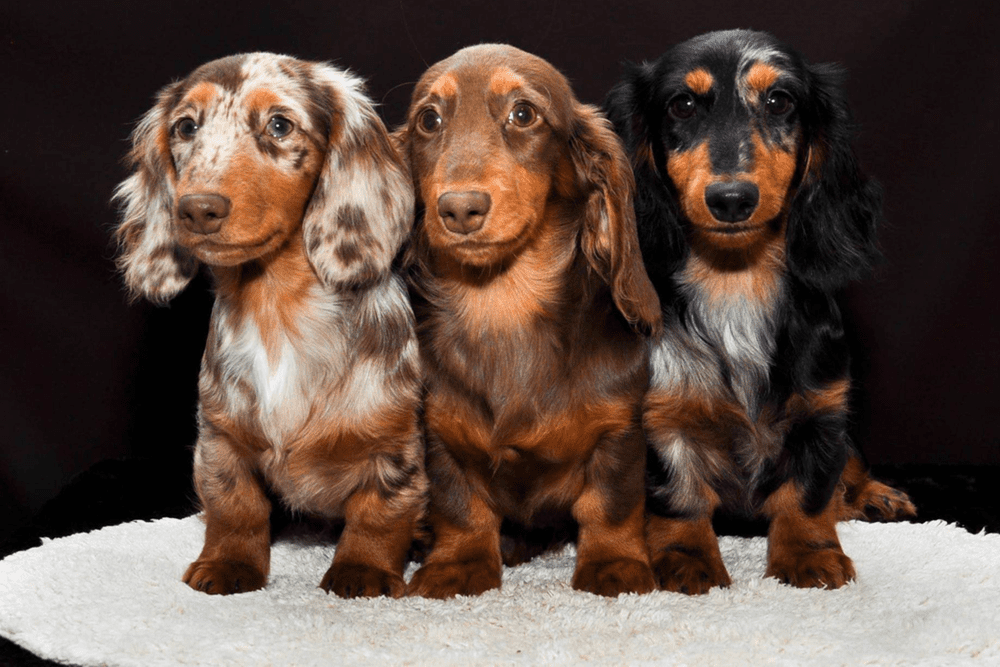 Wind Prairie Doxies is an in-home breeder of Dachshunds located in Long Prairie, Minnesota. They breed long-haired and short-haired miniature Dachshunds. They have pups in a variety of colors and patterns, including dapples, brindles, and piebalds.
All dogs are born and raised inside the home and treated like family. The owners of Wind Prairie Doxies ensure all pups are well-socialized with humans of all ages and other animals.
When purchasing a Dachshund from Wind Prairie, your puppy comes with a guarantee against genetic problems. The pups also come home with their first set of shots, wormed, and vet-checked.
Wind Prairie provides new puppy and parents with an informational folder with the puppy's vet record, puppy care information, and general Dachshund information. All puppies go to their new home with their AKC registration complete, microchips, and lifetime enrollment in AKC reunite.
While in Wind Prairie's care, the puppies begin training from early socialization to pee pad training. Reviews state the puppies are healthy and beautiful with playful, sweet personalities.
Terina is very responsive to inquiries from prospective puppy parents, ensuring they are knowledgeable in the breed and well-prepared for the care of their future puppy. She also ensures the family and puppy are perfect fits for one another in her communication with the prospective puppy families.
Wind Prairie Doxies Information
9. Ember Creek Doxies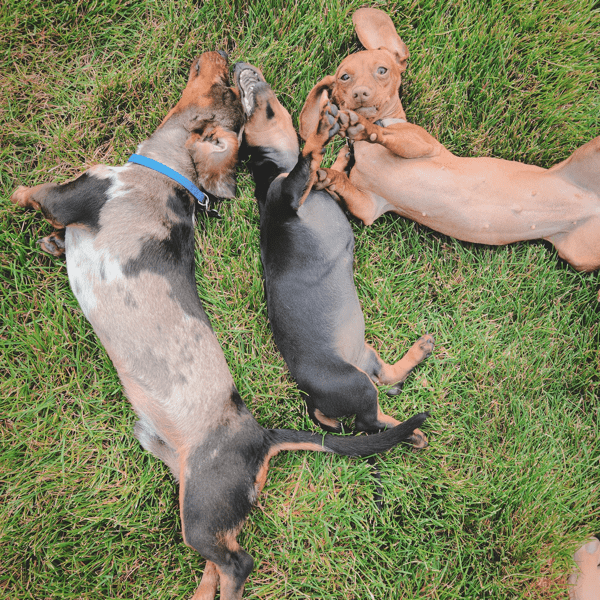 Ember Creek Doxies is a newer Dachshund breeder in Wyoming, Minnesota. They began breeding Dachsunds in 2020 to provide other families with wonderful pet Doxies. Currently, Ember Creek specializes in short-haired miniature Dachshunds.
When puppies go to their forever families, they leave Ember Creek with a vet check, dew claws removed, and up-to-date on deworming and vaccinations. This ensures the puppies are healthy and prepared to live long lives in their future homes.
The puppies are sold as companions on a spay/neuter contract to ensure they are kept as pets, not for breeding. Ember Creek sends their puppies home with a blanket smelling like mom and their siblings. This helps puppies adjust to their new homes.
Reviews state Ember Creek Doxies' owner keeps an open line of communication with future owners once they have chosen their puppies. The puppies have excellent temperaments and many reviews state pups are healthy and happy in their new homes.
Ember Creek Doxies Information:
Best Dachshund Breeders in the Other States
While looking through the breeders in our list, be sure to check back to our breeder guidelines for tips to ensure you've found the best breeder to fit your needs! Many of these Dachshund breeders in Minnesota have long waitlists, which is a good sign! Waitlists mean these breeders are highly sought after, which usually signifies they produce good pups and are reliable breeders! Patience is your friend when looking to find the perfect puppy.