Are you looking for a qualified Dachshund breeder in Ohio? Look no further, because we've created a list of ten of the best Dachshund breeders found in Ohio State. You know that Doxies are famous for their short legs, long bodies, and bold personalities. You probably love weiner dogs because they're such great companion dogs. Because they're such sweet dogs, it's no surprise there are so many Doxies for sale in Ohio.
If you live in Ohio and are looking for a Dachshund puppy, keep reading! This article has all the information you need to find the best breeder.
We did the hard work, but….although we did the hard work of finding ten qualified Dachshund breeders in Ohio, it's up to you to choose the breeder that works best for you. Check out this article for more specific information on how to pick a breeder. The article includes questions you should ask a breeder and how to be prepared for the breeder to ask you questions.
Top 10 Dachshund Breeders in Ohio
1. Mom's Dachshunds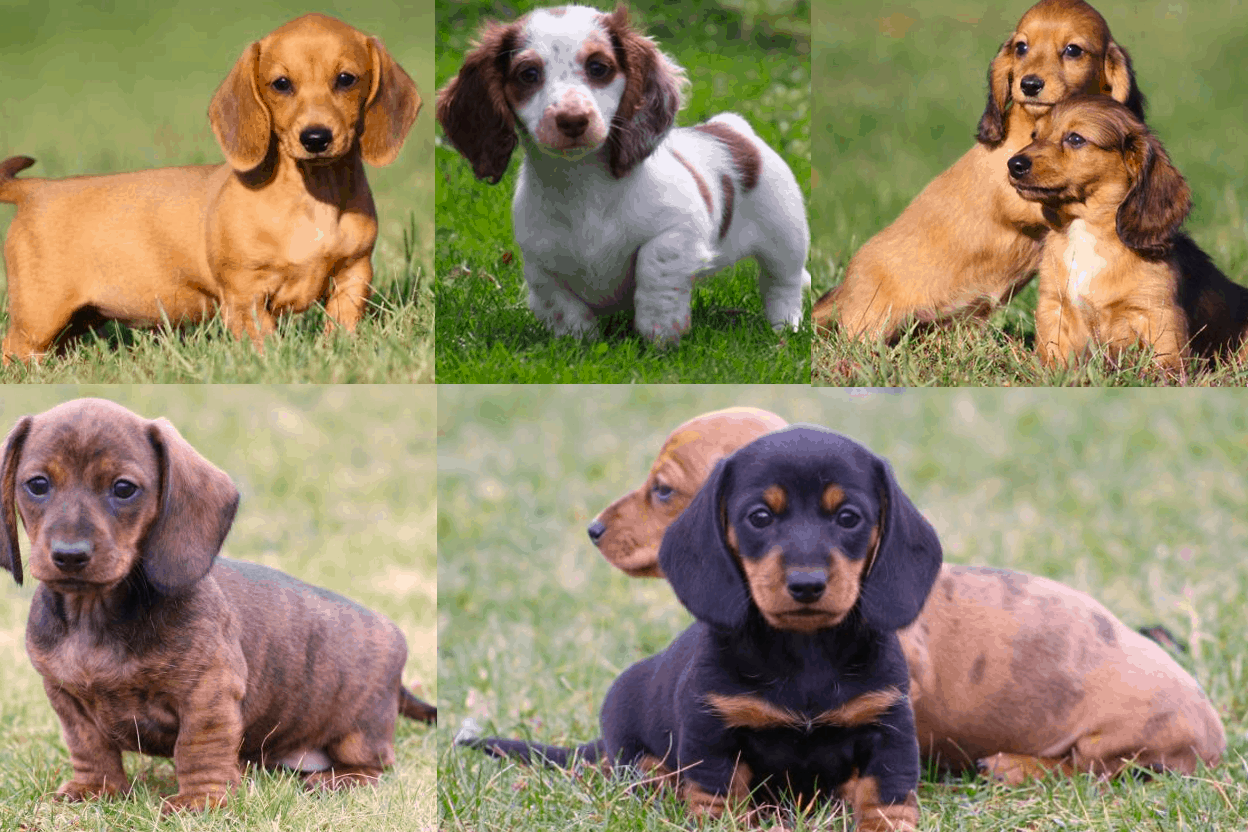 Mom's dachshunds are owned and operated by Maryann Nash. She has a reputation for being an excellent breeder. Her clients rave about her compassion and incredible love for her animals. She carefully spaces breeding, so she doesn't overbreed her female Doxies. Clients say this breeder is knowledgeable., and happy to answer questions. She does a good job of helping you assess which dog would be best for your home.
Mom's Dachshunds offers:
Visits with an appointment
Two-year genetic health assurance on pets
De-wormed
Vaccinated
If your vet discovers a fatal illness, she will provide you with another puppy when you present a letter from your veterinarian
Mom's Dachshunds Information:
| | |
| --- | --- |
| Owner | Maryann Nash |
| Address | Garrettsville, Ohio 44231 |
| Email | momspets@aol.com |
| Phone | 440-548-2698 |
| Website | http://momsdachshunds.com |
| Facebook | N/A |
2. Dashing Dachshunds
Dashing Dachshunds is located in Hamilton, Ohio. They are a kennel-free breeder meaning the Dachshund puppies are raised inside their home. The puppies are handled carefully with lots of socialization around children and other pets. The Dashing Dachshund breeder only raises Dachshunds. This gives them an edge over other breeders who raise a variety of different breeds because they're very knowledgeable about one breed. The owner's goal is to produce healthy, happy puppies with wonderful temperaments for their clients. Dashing Dachshunds received excellent reviews. Their clients rave about this breeder, saying they are professional and caring. The clients express their satisfaction and gratefulness to the breeder.
Dashing Dachshunds breeder offers:
Nine-week old puppies with a one-year guarantee
Health records
Vaccinations
Deworming
Full Canadian Kennel Club (CKC) registration with breeding rights
Dashing Dachshunds Information:
3. Creekside Doxies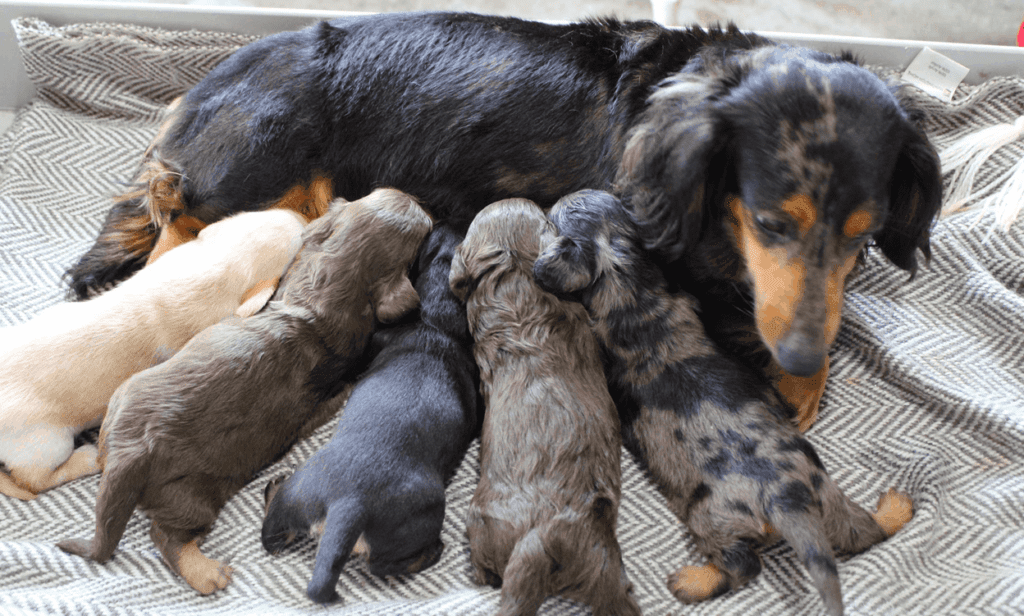 Creekside Doxies is a breeder located in Chillicothe, Ohio. They raise both long hair and short-haired mini Dachshunds. They are known for the excellent quality Doxie breeds. Creekside Doxie breeder's goal is to provide puppies that are healthy, good-tempered, and socialized. They offer dogs that are ready to join their new family in nine weeks.
Creekside Doxies breeder comes with:
Health guarantee
Vaccinated
De-wormed
Checked by a veterinarian
Dewclaws removed
Creekside Doxies received a 5.0 rating on google reviews. Clients bragged about this breeder's ability to answer all their questions and how they enjoyed working with them. They say this breeder's puppies are beautiful and healthy. This is a highly recommended Dachshund breeder.
Creekside Doxies Ohio information:
4. Martin's Hounds

Martin's Hounds are a highly rated Doxie breeder in Ohio. Their goal is to provide families with a happy, healthy, good-tempered Doxie pup. Their clients praised their professionalism and well-bred puppies. Although they don't allow visits with the puppies in order to prevent disease, they will arrange a live real-time video via Facebook with prospective dog parents and pups. Martin's Hounds breeders promise to answer any and all of your questions regarding Dachshunds or a particular dog. Their puppies are ready to bring home at nine weeks:
Vet checked
De-wormed
Vaccinated
Come with a one-year health guarantee
Martin's Hounds information:
5. Hidden View Farms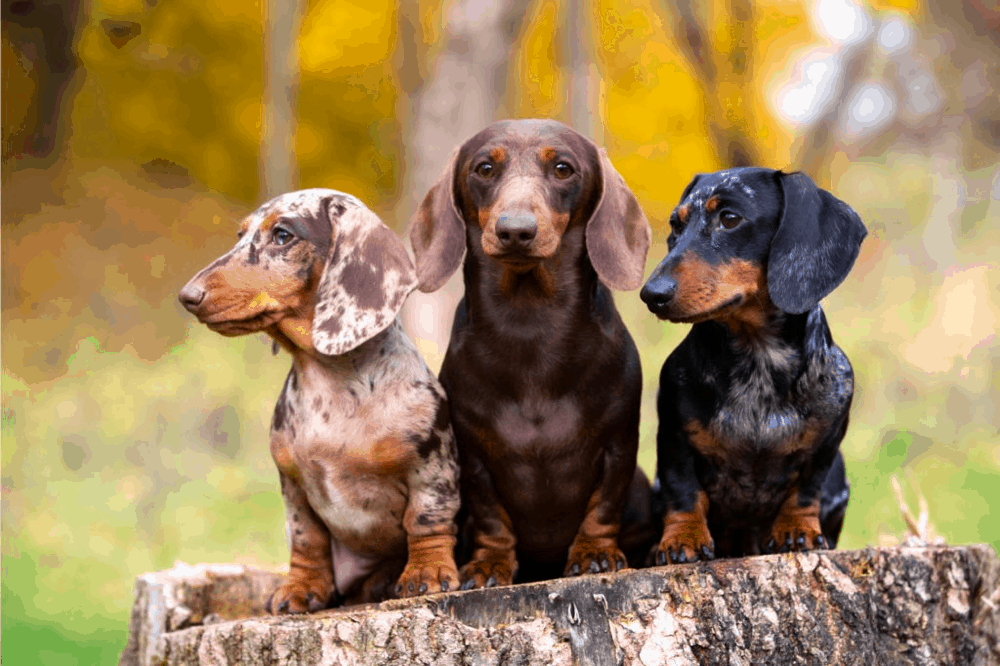 Hidden View Farms are professional dog breeders with over twenty years of experience. They are located in Lancaster, Ohio. They breed a small variety of puppies including Dachshunds. They focus on learning how to produce the best puppies that are good-tempered and healthy. Their farm is American Kennel Club inspected and they are USDA and State of Ohio licensed. Hidden View Farm received high ratings from their clients who've bought dogs from them. These folks say they love this breeder and highly recommend them.
Hidden View Farms information:
6. Honeyman's Miniature Dachshunds
Honeyman's has a great reputation as professional breeders who produce well-bred Doxies. They carefully screen potential dog parents through an application process. You are welcome to visit their home to see the puppies with an appointment. Check out their website for pictures of Doxie puppies. They received good ratings from their clients who've bought Dachshund puppies from them. These clients say they're very happy with their puppies and highly recommend this breeder.
Honeyman's Miniature Dachshunds Information:
7. Grandma's Little Angels
This breeder has a variety of breeds of dogs available to adopt or buy. Their puppies are not kenneled, but considered part of their family. This breeder receives high praise from their clients who say the breeder was caring, honest and the best breeder they've dealt with. Clients say the breeder is professional and responsive. Grandma's Little Angels breeders offer puppies that are:
Vaccinated
Checked by a veterinarian
Not kennel trained
Grandma's Little Angels Information:
8. Ice Legendz Dachshunds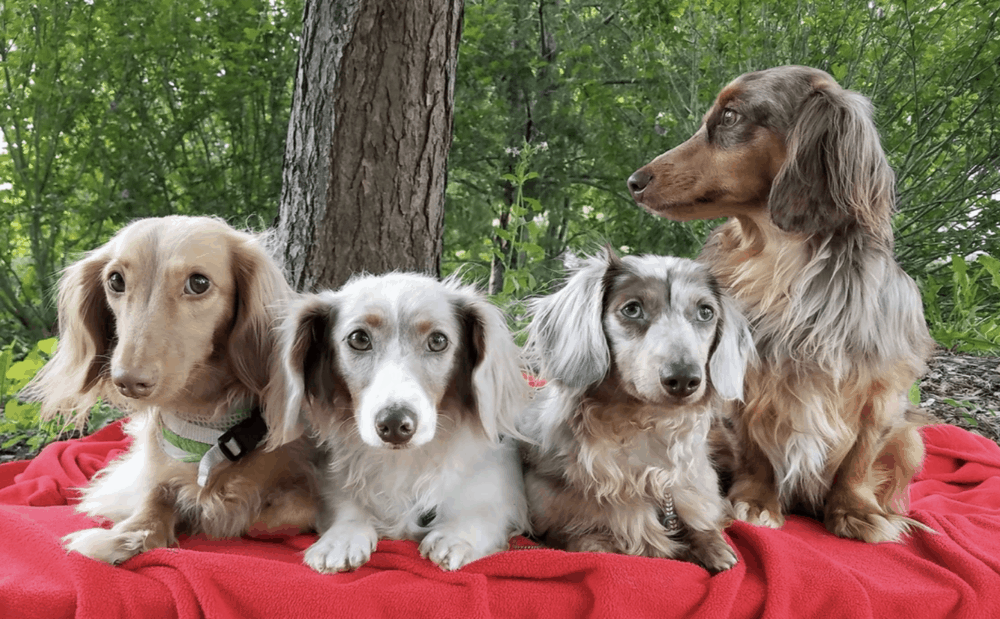 This breeder has had Doxie's since 1997. Tara is a stay-at-home Doxie momma who carefully cares for all the puppies in her home. Since there are no kennels, the dogs get lots of holding and socializing. Ice Legendz Dachshunds strive to produce the best Doxie puppies. They're proud to say they're bred going into their 9th generation with hopes to continue the Doxie lineage for years to come. They are regularly inspected by the AKC and by a local warden. The breeder's clients give them lots of praise, saying they highly recommend this breeder. They say that Tara cares for her puppies and is amazing throughout the process of choosing and bringing home a puppy.
Ice Legendz Dachshunds information:
9. Doxiepaw Kennel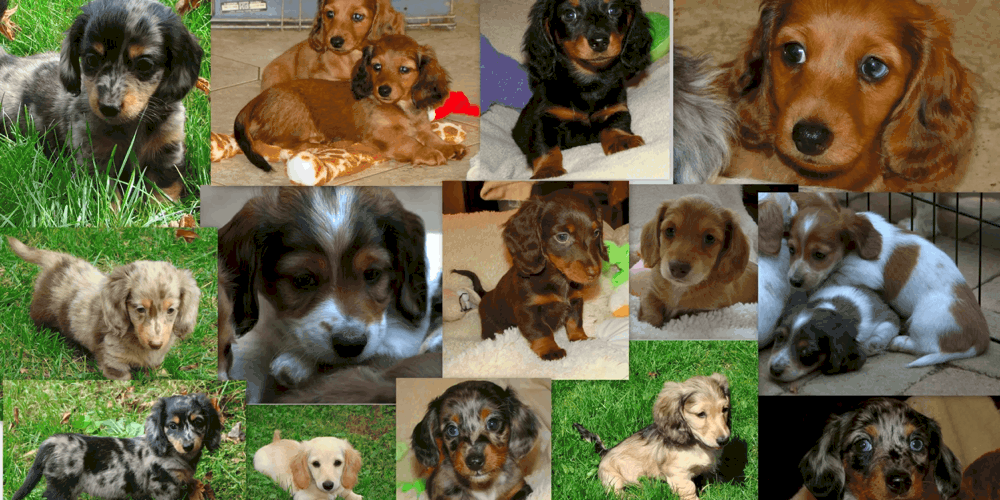 Doxiepaw Kennels is a small kennel that produces only a few litters a year. This breeder guarantees quality puppies in good health and a happy temperament. They are an in-home breeder of long-haired Dachshunds. Each puppy is personally handled and socialized with children and other pets. Because they have a limited number of Doxies pups each year, they suggest you check their website to see if puppies are available.
Doxiepaw Kennels information:
| | |
| --- | --- |
| Owner | Unknown |
| Address | Garrettsville, Ohio |
| Email | doxiepaw@aol.com |
| Phone | 440-666-3886 |
| Website | https://doxiepawkennel.com |
| Facebook | N/A |
10. Richmond Kennel
Richmond Kennel breeders' passion is to produce healthy, happy puppies. They love their puppies and ensure they aren't cooped up in cages all day handling them and socializing them regularly. Their clients say they had a good experience with this breeder. The breeder was friendly, patient with the expectant pet parents and showed excellent care for the puppies. Clients say it's the only breeder they recommend to others. You can visit the kennel to see the puppies by appointment only. Their puppies are AKC and CKC approved and regularly checked by a veterinarian.
Best Dachshund Breeders in the Other States
How to choose a good Dachshund Breeder?
A qualified Dachshund breeder follows good breeding practices so their buyers get a healthy, good-tempered Doxie puppy.
This article lists the names of reliable breeders in Ohio, but it's up to you to choose the best breeder to fit your needs.
Here are the steps you can take to choose the best breeder for you:
Visit the website to learn more about the breeder. Does the website look professional? Do they give enough information?
You may want to drive by past the breeder's address to check what the general condition of the place looks like to you.
Contact several breeders via phone or email. Ask questions such as
How long have you been in business?
Why did you decide to be a dog breeder?
Why did they choose to breed Dachshund puppies?
What are their practices to guarantee the Doxie puppies are healthy?
Are your puppies raised in kennels or in-home?
Asking these questions will help you decide if the breeder is knowledgeable enough for you to take the next step with this breeder.
If you're satisfied with the breeder's answers, you should arrange to visit their location to see their Doxie pups. As you visit with the pups, evaluate their care and the environment they're in. Observe how the breeder relates to the dogs and how they talk about the dogs.
Trust your gut. You want to feel totally comfortable working with a breeder. Breeders have different personalities. Some will be more relatable than others, so if you don't feel that level of comfort, perhaps you should move on.
A good breeder will ask you questions
No need for this part, since we have already had a guide on choosing the breeder and some questions/answers.
A good breeder will be picky about who buys their Dachshund puppies. They want to guarantee that their sweet puppies will be well cared for and grow into healthy adult dogs.
They will be eager to get to know you, so they'll ask you a lot of questions. At first, some of their questions may feel invasive, but it's important they understand who you are so they can provide you with the best puppy. They may ask things like:
Why did you choose a Dachshund puppy?
Where do you live? Are you in an apartment or a house?
Do you live in the city or in a rural area?
What is your family like? Do you have kids? Do you have other pets?
Do you work full-time away from home?
Have you ever owned a Dachshund?
Don't be intimidated by the breeders' questions. Qualified breeders are proud Doxie parents who will ask questions like any good parent. They want to be sure you're capable of caring for their beloved Doxie pups. Your answers will reassure them that their precious baby will be in good hands when you buy them.
If you live in Ohio and you're looking for a sweet Doxie pup, these ten breeders can help you find the perfect pup. They're very knowledgeable about this breed. They take good care of their puppies and are professional in the way they deal with their clients. They've gotten rave reviews from their clients. So what are you waiting for? Run, don't walk, and contact one of these amazing breeders. Before you know it, you'll be bringing home a sweet little Doxie pup as your own.