Dachshunds are popular dogs in the United States for various reasons. Originally bred in Germany as "badger dogs", some owners still choose Dachshunds as a hunting companions. They still have many of these hunting traits, such as a nose for a hunt and their famous short, long bodies built to the tunnel.
Now it is becoming increasingly common for owners are getting Dachshunds to be companions or pets. Many Dachshund breeders in Virginia breed specifically for companion pups.
These dogs are still extremely loyal from their hunting days, which has to lead to them creating an extreme bond with their family. However, Dachshunds are also known for being stubborn and owners should be prepared to discover ways to work around this.
Doxies now come in many varieties. They have two sizes: Standard and Miniature. Standards are between 16 and 32 pounds, while Miniatures reach 11 pounds. The original smooth-haired have short hair, requiring minimal grooming and lots of cuddles to stay warm!
Next, the long-haired ones require the most grooming but have this extra elegant look about them. Finally, the wire-haired dachshund is the silliest looking, has some terrier-like traits, and has some special grooming considerations. All three coats have a variety of colors and patterns available as well.
Some Dachshund breeders in Virginia will only breed-specific varieties, while others breed all types of pups. When choosing your puppy, you want to ensure your breeder is knowledgeable in the breed and takes great care to produce the best puppies most ethically. Check out our breeder guide for more helpful tips for choosing your most reputable breeder here!
Dachshund Puppies for Sale in Virginia (VA)
Please keep in mind that we are continuously updating the list of reputable dachshund breeders. This list is not final and constantly changing! Your input is very important to us! If you think we missed any good breeders, please send a message via the contact page and we will make adjustments accordingly.
1. Joy's Diamond Dachshunds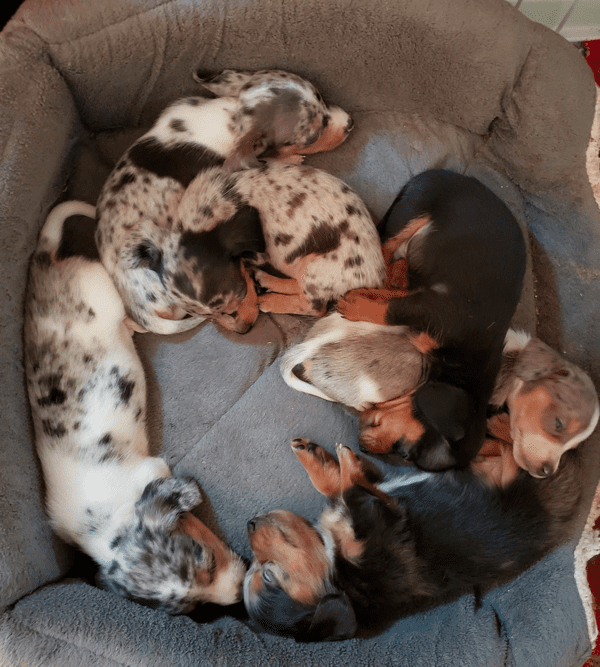 Joy's Diamond Dachshunds is a Dachshund breeder located in Warrenton, Virginia. Joy has been in the business of breeding Dachshunds since 1994. Along with her breeding program, she shows her pups as well. Her primary goal is to breed the best possible quality Dachshunds.
To do so, she ensures her adults are health-tested and has a guarantee against genetic illness. She breeds long and short-haired Doxies in a variety of colors and patterns.
Reviews state Joy is wonderful to work with when finding a Dachshund puppy. Joy is very responsive to customer inquiries and continues communication once the puppy is chosen and still in her care, as well as when they have left for their forever home.
Joy's puppies are gorgeous and healthy with typical Dachshund traits like intelligence and personalities "too big" for their small bodies.
Joy's Diamond Dachshunds Information:
| | |
| --- | --- |
| Owner Name | Joy |
| Breeder Since | 1994 |
| Location | Warrenton, VA |
| Email | joyyyyysmith@yahoo.com |
| Phone Number | (540) 878-6487 |
| Links | Facebook |
2. Our Gang Dachshunds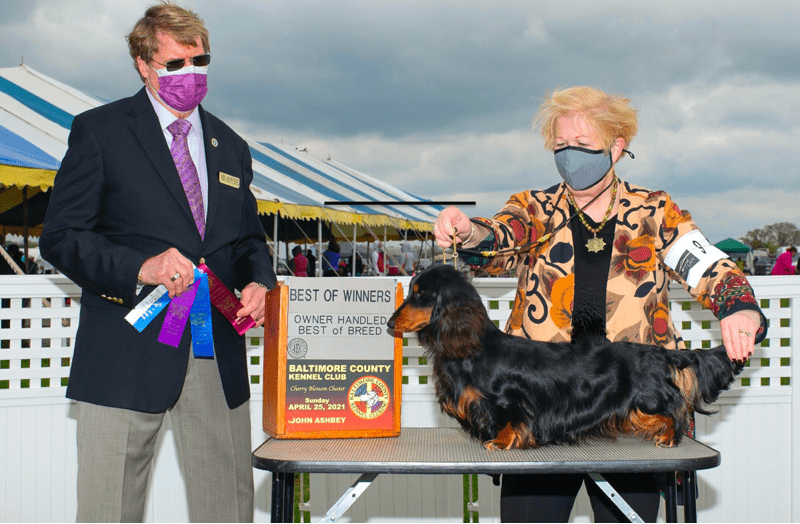 Located in Winchester, VA, Our Gang Dachshunds breeds a few select varieties. They breed standard wirehaired and miniature longhaired Dachshund pups, mostly focusing on the longhair varieties now.
They have been awarded AKC Breeder of Merit for the quality of their pups. Their dogs have a variety of colors, including red, black, and tans, and dapples. The dogs are bred in show champion lines so many are ideal show dogs!
Our Gang Dachshunds Information:
3. Oakley Farm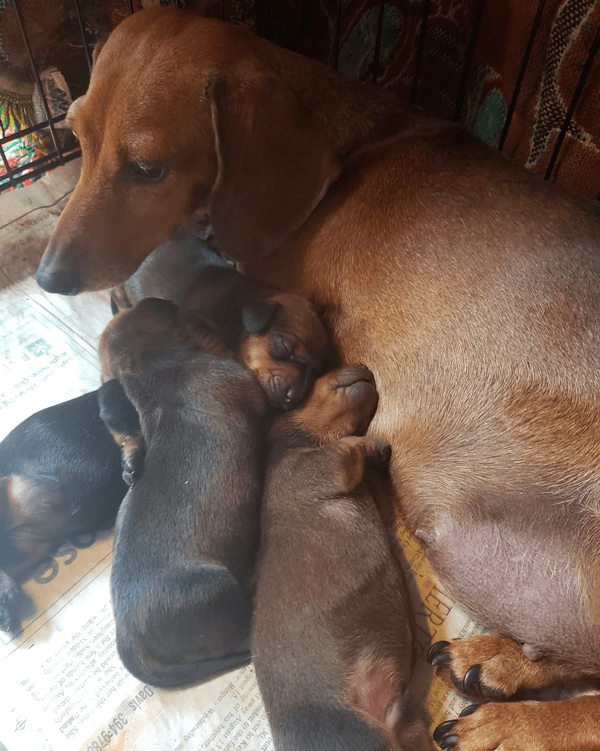 Oakley Farm is a Dachshund breeder in Virginia specializing in miniature, smooth-haired dogs. Their pups are bred to show quality while having ideal personalities as companions as well.
The owners of Oakley Farms are knowledgeable in the most trusted dachshund breeders and do their best to ensure the future families are informed as well. All dogs, pups, and parents, live inside the home and are cared for like family.
Oakley Farm Information:
4. DoxieFun
DoxieFun is a Dachshund breeder in Norhtern Virginia. They only breed miniature Dachshunds of the longhair and shorthair varieties. They focus on a few select colors, including black and tan, reds, and brindles. Dachshunds are the only pets in their care to ensure the best treatment for the puppies and adults.
All puppies are AKC registered and tracked for life to ensure they are in proper homes and properly cared for. Puppies come to their new homes up-to-date on vaccines and worming, as well as two weeks' worth of food, pee pads, a bottle of scent they potty too, a no-chewing spray, collar or bandana, and four informational DoxieFun ebooks.
This ensures families have all they need to get their puppy off to a good start in their new home!
DoxieFun Information:
5. Heart & Soul Mini Doxies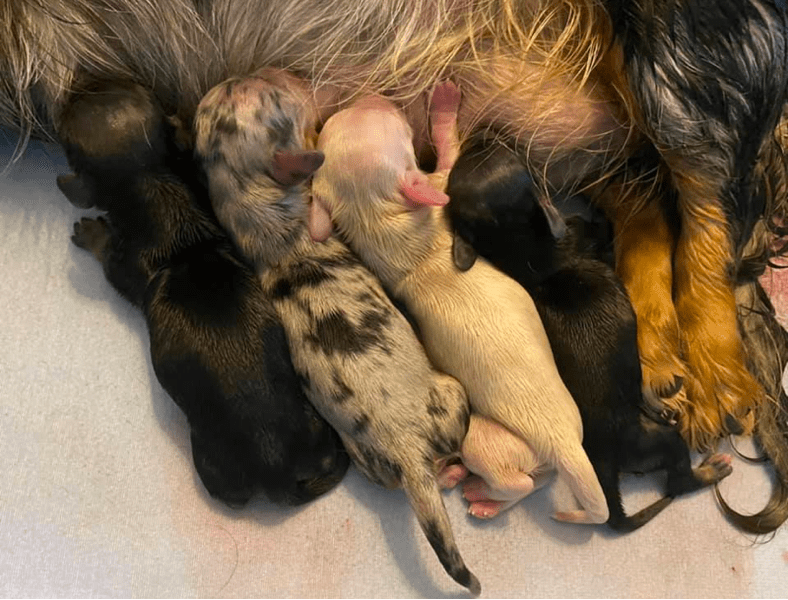 Heart and Soul Mini Doxies is a small, in-home Dachshund breeder in Lexington, Virginia. All dogs are bred and raised in their home to be given the most attention possible.
They breed a variety of colors, including creams, brindles, piebalds, and even dapples with various colors. All puppies are spoiled rotten with interaction with people of all ages, from children to adults.
Puppies go to their new homes with a one-year guarantee against life-threatening genetic illness, microchipped, dewclaws removed, first shots, dewormed, coccidia/giardia prevention done, vet checked, and a small care package.
Reviews state that Beth from Heart & Soul Doxies is extremely passionate about her dogs, really putting her heart and soul into all the pups in her care.
Heart & Soul Mini Doxies Information:
6. Minideelites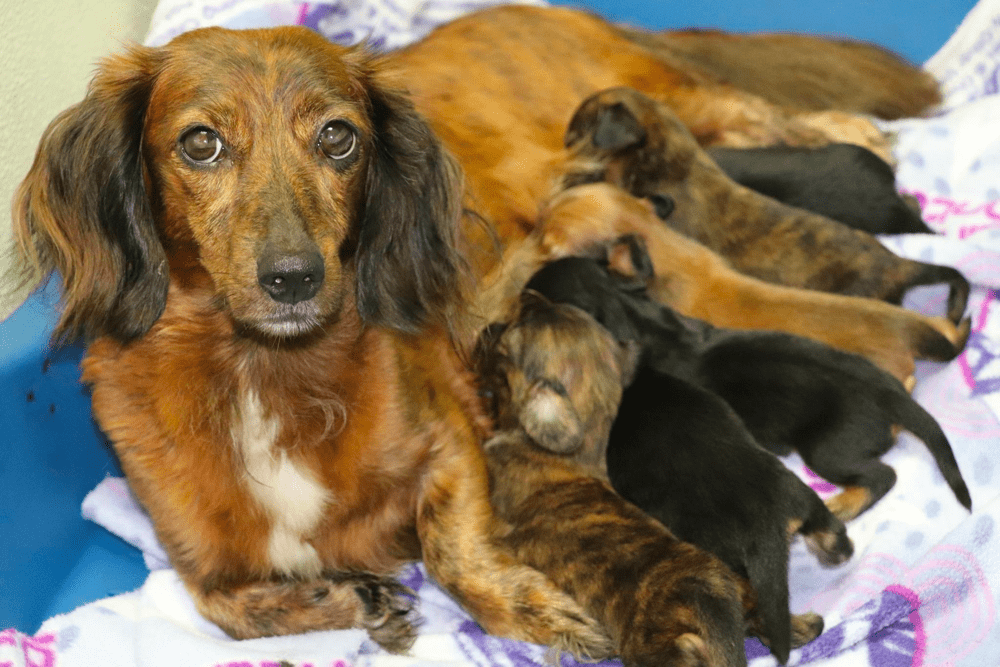 Located in Crimora, VA, Minideelites is a miniature Dachshund breeder specializing in long-haired Dachshunds. Occasionally they may have shorthaired puppies as well. No matter what variety you chose, Minideelites will have one small in size with a huge personality. Her dogs are well-socialized and many reviews state they have ideal companion personalities, loving all people.
The dogs are extremely healthy and happy when leaving for their forever homes. The owner, Sigrid, has an open line of communication with future owners, answering any and all questions while keeping future owners up-to-date on their pups.
Her pups are top quality, in personality and conformation, meeting AKC standards.
Minideelites Information:
7. Mini Love Bugs Dachshunds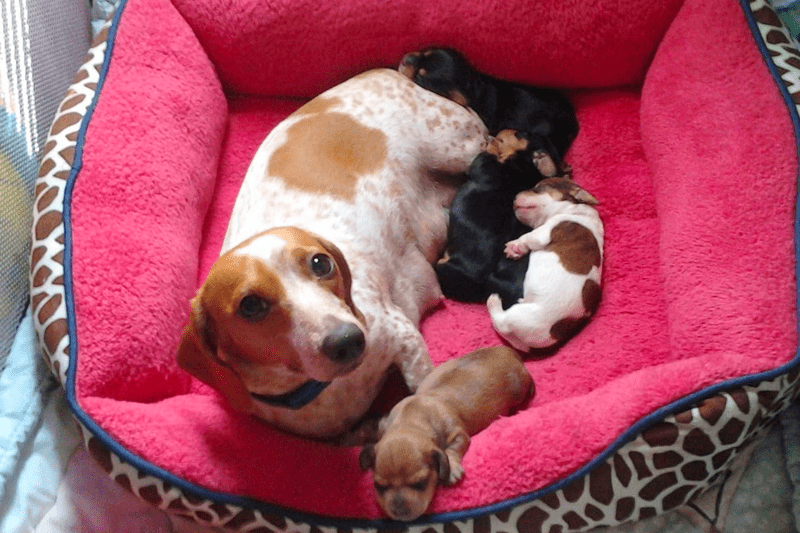 Mini Love Bugs is an in-home Dachshund breeder in Hampton Roads, Virginia. They primarily breed short-haired miniature Dachshunds. Their top priority is treating all the dogs as royally spoiled pets.
They breed for perfect temperaments and show quality looks. They often have pups available in a variety of colors that are well-taken care of and spoiled in their time with Mini Love Bugs. All puppies come dewormed with their first round of shots, and health-checked.
The puppies also come home with a care package including some of the food they are eating and a blanket with mom's scent on it. If the puppy's name is already picked out, Mini Love Bugs will begin using it immediately.
Reviews state the owner is extremely caring for her puppies and responsive to inquiries. She truly wants what is best for her puppies and their families and does her best to ensure this.
Mini Love Bugs Information:
8. PDX Miniature Dachshunds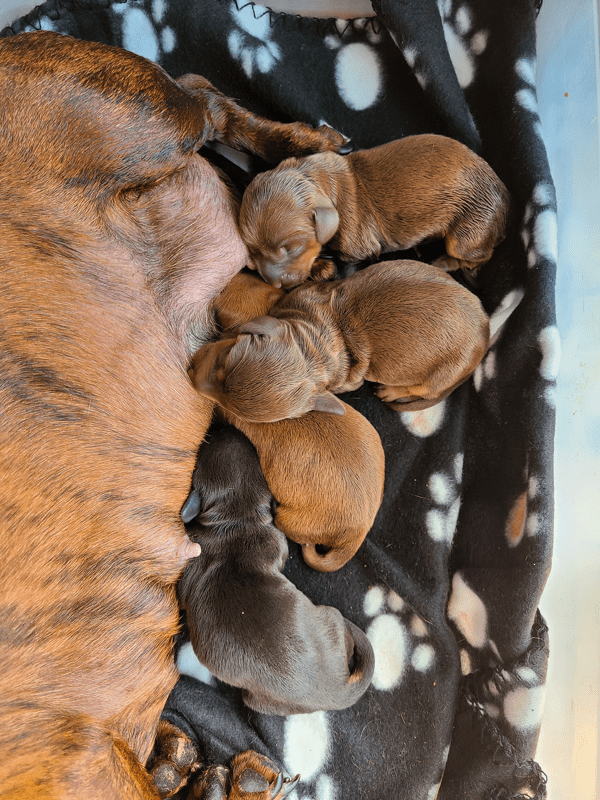 PDX (PairoDoX) Miniature Dachshunds is a hobby breeder with a strong passion for the Dachshund breed. All dogs are raised in their home and interact with humans of all ages, as well as other animals.
The first 8 weeks of the puppies' lives are spent in the kitchen to allow the puppies to become familiar with a variety of home noises and activities.
PDX puppies are bred to be sold as pets. Due to their in-home raising, the puppies are well-rounded and socialized from a young age. Puppies are not sold registered, except in special circumstances where the owner of PDX approves. All puppies go to future homes with a spay/neuter clause stating they will be spayed/neutered when they are of age.
Reviews state the puppies have wonderful personalities and are super smart, learning to potty on pee pads and other things very quickly. The pups are also healthy with ideal conformation to breed standards.
The owner of PDX Miniature Dachshunds is also very responsive to inquiries from future owners, as well as does their best to keep new puppy parents up-to-date while puppies are in their care. Once the puppies leave PDX, they are still supported and the PDX owners love getting updates on their dogs!
PDX Miniature Dachshunds Information:
9. Virginia AKC Miniature Dachshunds
Virginia Dachshunds breeds miniature smooth-haired Dachshunds in a variety of colors. The owner has very high standards for the dogs she breeds, including performing DNA testing to ensure the dogs are healthy. The owner does her best to keep prospective puppy parents up-to-date while pups are still in her care.
She shows major dedication to her pups while they are in her care and after they go to their forever homes. Some reviews even state their puppy came already crate-trained and nearly potty trained! The puppies have goofy, sweet personalities and are ideal pets in their forever homes.
Virginia Dachshunds Information:
10. Ana's Beautiful Doxies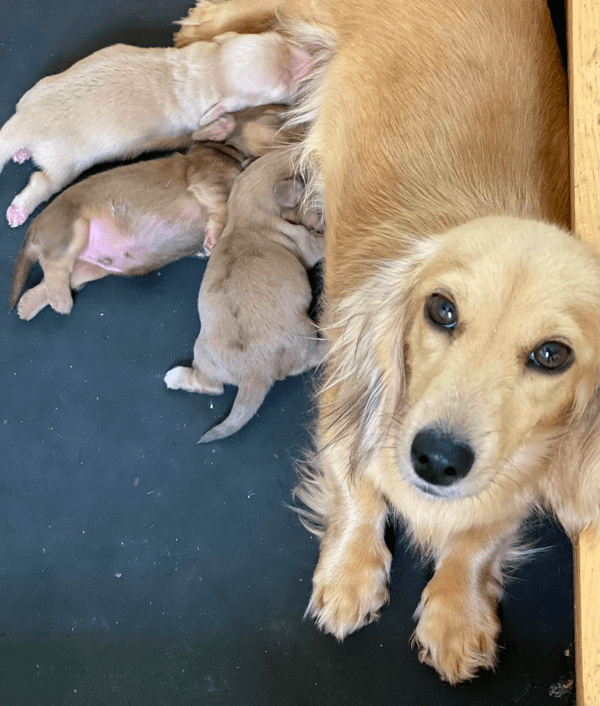 Ana's Beautiful Doxies is a family-run long-haired miniature Dachshund puppies breeder in Axton, Virginia. They specialize in miniature long-haired Dachshunds with many creams and cream variations available! Their puppies are handled from an early age to ensure proper socialization before going to their forever homes.
The puppies are allowed to go to their new homes at 8 weeks old with their first shots, dewormed, food, pee pads, toys, and blankets. All puppies are AKC registered, but they mostly sell their puppies with limited registration unless full is requested.
Ana's Beautiful Doxies aims to sell show-quality pups as pets. Reviews show this has been a success. Reviews state the puppies are perfect with easy-going personalities while being super smart.
Ana keeps the puppy's families up-to-date with weekly pictures and videos before the pups go to their homes. She is very knowledgeable in answering questions and providing assistance for her families.
Ana's Beautiful Doxies Information:
Whether you are looking for a hunting buddy or pet, you cannot go wrong with a Dachshund puppy. No matter your goals, they will be loyal, entertaining companions.
Remember to follow our guidelines to ensure your dog breeder of choice is ideal for you. All of these breeders want the best for you and their puppies, so be honest about what you want and ask questions you may have. If they are truly in it for the best reasons, the breeder will be open with you and kind in their response to ensure the best experience for everyone involved.
Before plunging into further research of good dachshund breeders in the neighboring states, we suggest to have a look our article on top rated breeders in New York because this state is famous for it.
Best Dachshund Breeders in the Other States