Dachshunds are an amazing dog breed to consider for you and your family, and they fit many people's lifestyles very well. However, there will be several different things to consider before you bring home your first Dachshund puppy. This will likely include the dog's size and coat color. In addition, you will also need to consider how much grooming that you will be willing to do for your dog. This is because wire-haired and long-haired Dachshunds will need much more grooming than a short-haired Dachshund. However, the most important factor to consider when it comes to looking for Dachshund breeders in Kansas is whether or not they are reputable. Here are some of the best breeders to get Dachshund puppies for sale in Kansas.
If you're looking for a wirehaired dachshund (Check its details) then it's a bit tougher to get it in Kansas. You can look for it in New York or in Florida.
1. KC Dachshund Empire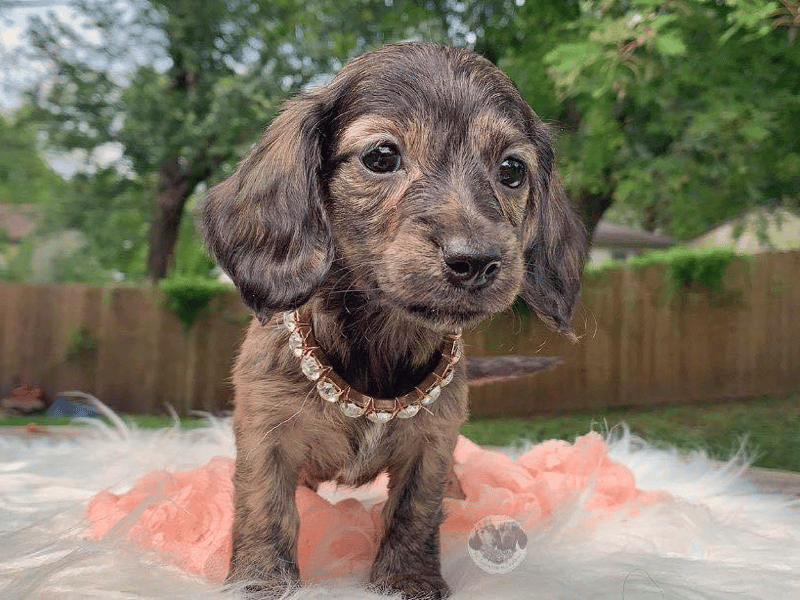 At KC Dachshund Empire, they take the health of their puppies very seriously. They give their puppies the recommended amount of deworming every two weeks, and they are also kept up to date on their vaccinations. You will be able to visit your puppy, but only after they have gotten their first dose of vaccines at 6 weeks. Of course, all of their puppies are also given a health check by a vet before going to their new homes.
All puppies are sold with a health guarantee and a starter puppy pack. However, you will need to fill out a new puppy application and be put on a waitlist before bringing your new puppy. For AKC limited pet dogs, you will need to sign a spay/neuter agreement form as well.
Although this breeder does not offer to ship their puppies, they will agree to meet with you for up to four hours for a fee. In addition, they are also willing to meet you at an airport where you can fly back with your puppy as a carry-on. As for testimonials, you can check out what people have to say about this breeder on their Facebook page. They do not have a rating in place, but many people post pictures of their new puppy with their positive reviews.
2. Flinthill Dachshunds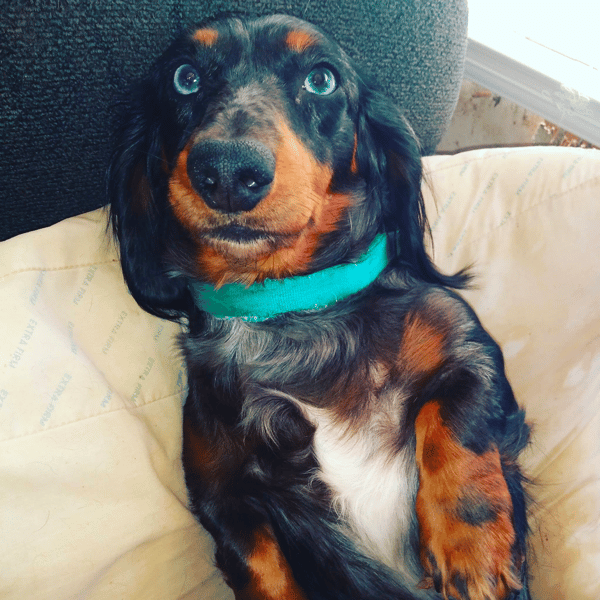 Flinthill Dachshunds is a small miniature Dachshund breeding program that is local to Kansas. All of the puppies and adult dogs are treated with the utmost care at Flinthill Dachshunds, and all puppies go to their new homes up to date on their vaccinations, deworming, and recommended vet visits. In addition, all puppies are also sold with a health guarantee and adult dogs go through genetic health testing before being bred.
Puppies also come with a puppy starter pack. This includes a starter food bag, a blanket, APRI registration, and some additional helpful puppy information. All puppies will also be socialized before going to their new homes as well. This will give them a good foundation for the socialization that you should continue once your puppy gets home.
Before getting a puppy from Flinthill kennels you will need to fill out a puppy application form on their Good Dog profile. Once you have done this there may be a bit of a wait before you get your new puppy. You will either need to meet the breeder at their location or at their nearest airport if you plan on traveling that way. As for testimonials, you can view them on the Flinthill Dachshunds Facebook page where they have an impressive five-star rating.
| | |
| --- | --- |
| Name of Owner | Linda Clagett |
| Address | Emmett Kansas |
| Email | dachshunds4life18@gmail.com |
| Phone Number | (785) 844-2972 |
| Links | Good Dog Profile, Facebook |
3. B and S Kennels
B and S kennels is a breeder that is located in Olpe Kansas. Although they breed several different breeds of dog, the miniature Dachshund is one of the breeds of dog that they breed regularly. All of their puppies are treated with care. They are kept up to date on vaccines and deworming, and they are fed a great diet. On their website, they do state that you can come and visit your puppy as long as you make an appointment with them first.
As for certification, B and S kennels are licensed by the USDA and the state of Kansas. This kennel is also a part of the KPP, the keep program, and the TSPPA. Larry Bolz, one of the owners of B and S Kennels, is even a part of the KPP board of directors. Of course, they are willing to also answer any questions that you may have about their dog breeding program.
B and S Kennels do have some testimonials available to view on their website. However, they do have more comments, testimonials, and referrals on their business Facebook page. You can also view some posts on available puppies and upcoming litters as well. On the reviews section of their page, they have an impressive five-star rating, with multiple people recommending this breeder.
4. Dog Blessed Kennel
Like the previous Dachshund breeder on our list, Dog Blessed Kennel breeds several different breeds of dog. However, the Dachshund is one of their main breeding projects. All puppies will go to their new homes up to date on vaccinations, deworming, and vet visits. In addition to this, all puppies are also sold with a one year health guarantee.
When it comes to bringing your new puppy home you will need to meet the breeder in person, and they explicitly state on their website that they do not ship their puppies. This breeder is licensed with the state of Kansas.
On their website, they do not have any testimonials available. However, they do have a gallery section on their website where you can view past puppies that they have produced. There is no Facebook business page for this Dachshund breeder.
5. Rocky Acres Ranch
At Rocky Acres Ranch, they breed both Dachshunds and Border Collies. At this time this Dachshund breeder seems to specialize in the long-haired coat variety of Dachshund. All puppies come home up to date on vaccinations, deworming, and the recommended vet visits. Every puppy is also registered with the American Kennel Club.
You will need to contact the breeder directly when it comes to availability, as there will likely be a waitlist. In addition, you will also likely need to meet the breeder in person when it comes to picking up your new Dachshund puppy to bring home with you.
This Dachshund breeder does have a business Facebook page. However, there is no official rating available for them at this time. Still, their page does still provide you with some comments and opinions that people have about this breeder, and they are overwhelmingly positive.
6. Buzakos Doxies
Buzakos Doxies is a small Dachshund breeder currently in the process of moving from Colorado to Kansas. Their primary goal is to provide families with happy, healthy puppies. Their puppies are well-socialized with humans of all ages, as well as other dogs. Their dogs are well taken care of within their home and treated like part of their family. All their dogs are also AKC registered.
Reviews state their puppies are absolutely gorgeous examples of the Dachshund breed! The puppies are also very healthy, even with other vets saying so! The owners take great pride in their puppies, which is shown through their interaction with prospective puppy owners. The owners are very responsive to inquiries and professional when communicating with future puppy families.
Buzakos Doxies Information
Name of Owner
Andrew and Miranda
Location
Kansas
Phone Number
(620) 352-1896

(970) 652-3147

Links
Website, Instagram
Best Dachshund Breeders in the Other States
Final Thoughts
Dachshunds are a great addition to many people's families. Luckily, if you live in or around the state of Kansas then you are in luck! There are several good Dachshund breeders listed above that are in Kansas. Always be sure that you check if a breeder is reputable before purchasing a puppy from them. This is not only the most ethical thing to do when it comes to purchasing a puppy, but it is the safest as well.