When you begin your search for your next family member, you may just not know where to start. There is so much misinformation online these days that you really do not know whom you can trust. That is when you trust your gut. This is simply a starting point for you with breeders that we have taken a closer look at and feel confident adding to our list.
However, just because a breeder is on our list does not mean they are the breeder for you. Make a list of questions for breeders that you plan to contact.
If you feel that a breeder is not answering your questions or you simply do not like the answers, thank them for their time and move on to the next reputable breeder name on your list.
Before you start your search for a new Dachshund to love, read How to Choose a Reputable Dachshund Breeder so you are more equipped to be able to spot warning signs and find a breeder that is right for you.
Just because a responsible dachshund breeder has a puppy available does not mean you should rush out and buy that puppy.
Take your time and research breeders to find the right one and essentially the right puppy for you and your family. Here are 10 Dachshund breeders in Illinois as a starting point for your journey to find dachshund puppies.
Dachshund Puppies for Sale in Illinois (IL)
1. Heartland Dachshunds of Southern Illinois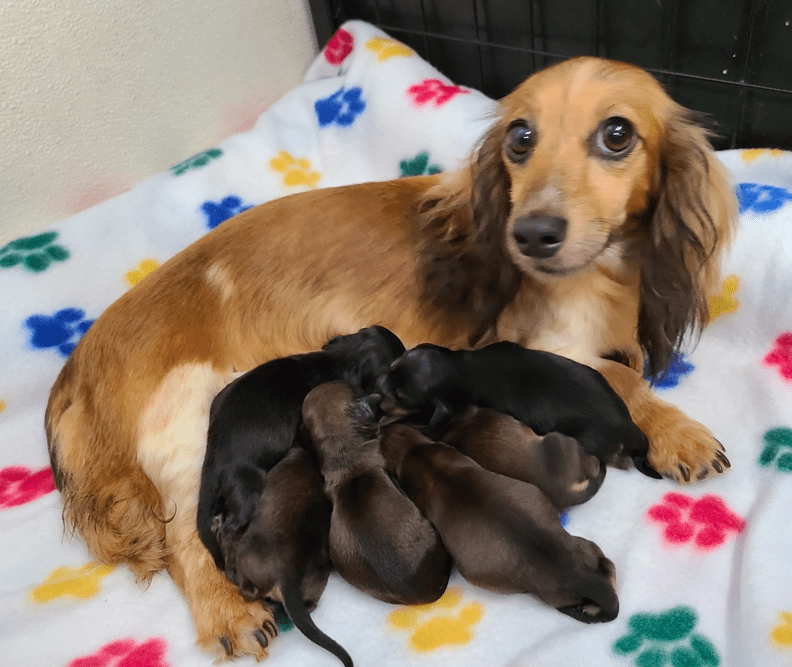 The top Illinois breeder is Heartland Dachshunds of Southern Illinois. The owner of Heartland Dachshunds, Reba Mandrell, breeds American Kennel Club (AKC) registered miniature Dachshunds. Her doxie pups come in a variety of colors, patterns, and all three coat types.
She's active in AKC events and ensures her puppies are well socialized before going to their new homes. The doxies are also micro-chipped and go home with a bag of food and other items such as a toy, something from mom, and a littermate scent on it.
Reba gives her customers all the information they need about their puppies, as well as information about the breed. Buyers must apply and then be interviewed by Reba, so she can be sure they're suitable for one of her sweet doxie pups.
| | |
| --- | --- |
| Name of Owner | Reba Mandrell |
| Years of experience | 20+ years |
| Address | 13033 E Violet Rd, Mount Vernon, IL |
| Email | rjmandrell@gmail.com |
| Phone Number | (618) 231-1906 |
| Links | Website, Facebook |
2. Twin hills dachshund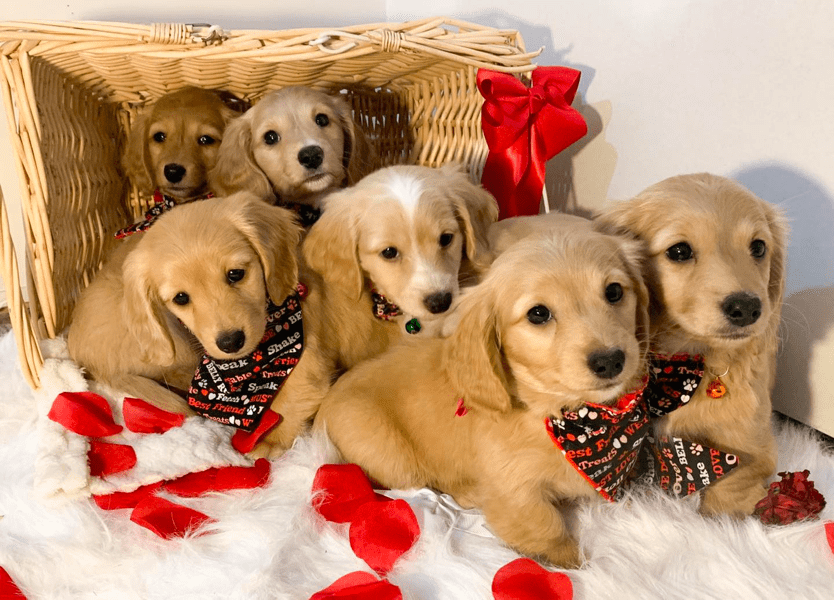 Nicole Tygett is the breeder and owner of Twin Hills Dachshund. Her long-haired miniature dachshund puppies are registered with either Canadian Kennel Club (CKC) or American Kennel Club( AKC). The entire family gets involved with the puppies' socialization, holding and playing with them to prepare them for their new homes.
Nicole has an application process for her customers and right now there's a waiting list. She strives to make the best match for her sweet doxie puppies and her buyers.
| | |
| --- | --- |
| Name of Owner | Nicole Tygett |
| Years of experience | 3+ years |
| Address | Jonesboro, IL 62952, USA |
| Email | twinhillsdachshunds@gmail.com |
| Links | Website, Facebook |
3. Dog Dynasty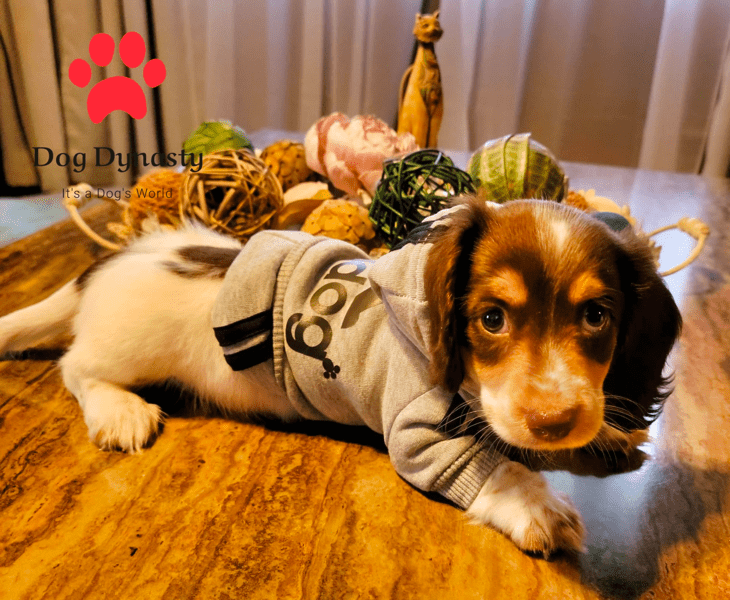 Steve Laird and Tammy Laird, owners of Dog Dynasty, have 24 plus years of experience breeding miniature dachshunds. Their goal is to match buyers with a sweet lifelong doxie companion. Every puppy comes with:
Full registration paperwork
A puppy starter kit with food and toys
A microchip
Current vaccinations
Their dew claws removed
A written health guarantee
They've been in the business a long time and know Doxies well. They provide the best possible care for their dogs, including lots of socialization to help them adjust easily to their new homes.
Give them a call if you live in their area. They're ready to answer all your questions and get you a sweet little Doxie of your own.
| | |
| --- | --- |
| Name of Owner | Steve and Tammy Laird |
| Years of experience | 24+ years |
| Address | 607 west 10th street, Metropolis, IL 62960 |
| Email | |
| Phone Number | (618) 309-3733 |
| Links | Website, Facebook |
4. Doxie Waggin Tails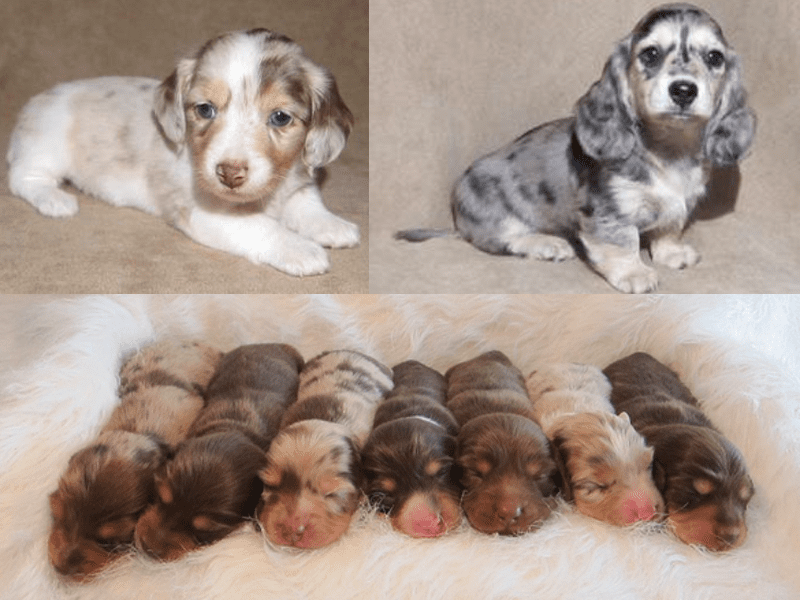 Breeder and owner Vicki Cloe, purchased her first Dachshund, named Maggie, in 2010. She fell in love with the breed and decided to start her own breeding business, naming it Doxie Waggin Tails. Vickie offers long-haired and smooth coat doxies.
Her pups are sweet temperament, in good health, and quality in a variety of colors or patterns. She also breeds creams, Isabell, and blue (find details of blue coat) in addition to the more common color combinations. Her Facebook page lists information on the latest litters.
She asks that buyers call, text, or email her with their questions. Buyers say Vicki stays in contact with them after they bring home their new pup too, offering them advice or help if they need it.
| | |
| --- | --- |
| Name of Owner | Vickie Cloe |
| Years of experience | 11+ |
| Address | Pana IL |
| Email | doxiewaggintails@yahoo.com |
| Phone Number | (217) 562-2563 |
| Links | Website, Facebook |
5. Noel Wiener Ranch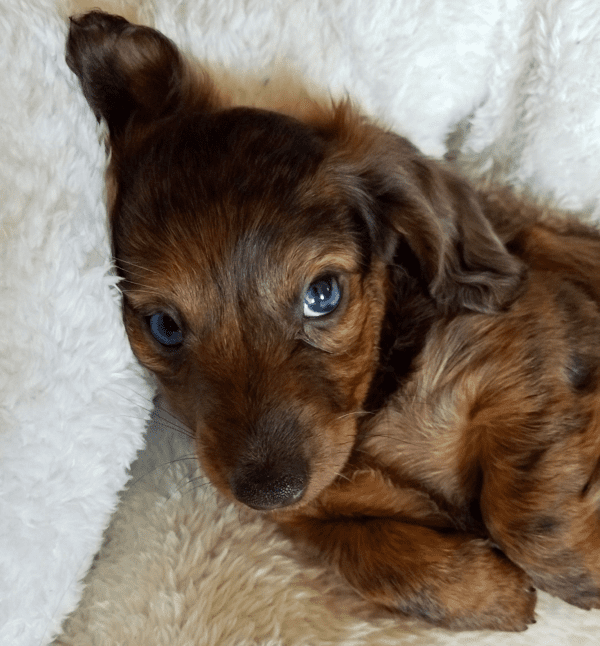 This central Illinois breeder produces miniature long-haired dachshunds. The owners Missy and Denny are AKC Bred with H.E.A.R.T. breeders. HEART means Health Education Accountability Responsibility & Tradition.
They have also been recognized by gooddog.com for their health testing practices. They have a five-star rating on Facebook, and they send a puppy pack home with each puppy that even has a gift in there for their new family. Each puppy comes pre-spoiled and well socialized.
Updates on litters and much of the adoption process they share with their Facebook fans. Their puppies are up to date on shots, have had multiple rounds of dewormed, and have been vet checked. Full AKC registration is by approval only for hobby or small-scale breeders or shows homes only.
| | |
| --- | --- |
| Name of Owner | Missy and Denny |
| Address | Monmouth, IL |
| Email | Noelwienerranch11@gmail.com |
| Links | Facebook |
6. Mabry Dachshunds
Located in Southern Illinois, Wendy of Mabry Dachshunds has worked hard since 2011 to cultivate a breeding program offering all three coat types: shorthair, longhair, and wirehair.
Their miniature Doxies come from solid bloodlines and Wendy does not compromise when it comes to temperament. She wants each of her puppies to move into their forever homes and adjust quickly.
Puppies are born in her home and handled from birth. While her adults are AKC registered, when she places puppies into pet homes she does not give registration papers.
A health guarantee is given with each puppy. You are encouraged to ask Wendy questions to ensure that you take home the best puppy for your family.
When you purchase a Dachshund puppy from Mabry Dachshunds you will get the following:
Health Guarantee
Sales Contract
Health Record
Puppy Starter Pack
Microchip
7. Rolling and Howling Bassett Hounds and Dachshunds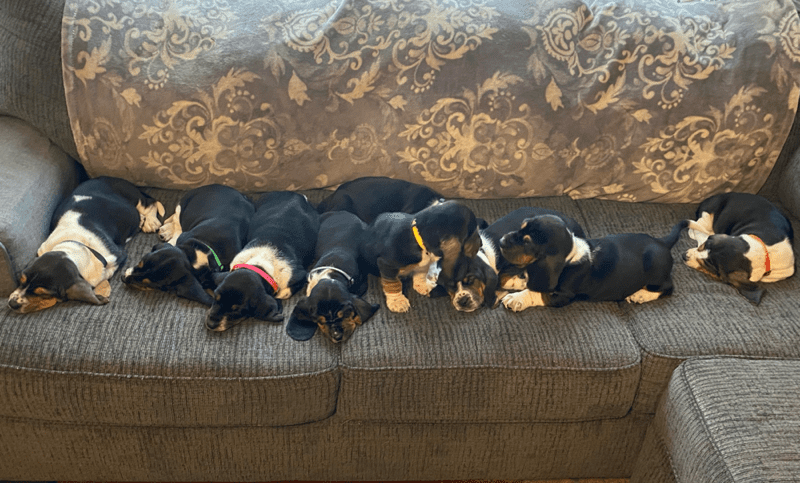 Owner and breeder, Shannon Goebel loves her puppies. She strives to breed good-tempered, healthy miniature Dachshund puppies. Shannon works hard to create the perfect match so you'll find the perfect puppy for your family. Every puppy comes with:
Crate training experience
Potty training
Micro-chipped
Well socialized and desensitized to household noises
Buyers pick up puppies at the breeder's home. Customers say Shannon is knowledgeable about Doxies and ready to answer questions. If you're looking for a sweet Doxie pup and live not too far from this breeder, give her a call today.
| | |
| --- | --- |
| Name of Owner | Shannon Goebel |
| Address | Waukegan IL |
| Phone Number | (224) 469-7820 |
| Links | Facebook |
8. Roxie's Doxies
Owners and breeders, Roxie and Chuck Ebert produce and sell AKC registered Dachshunds. They strive to produce quality pups, whether for a show dog or just the family pet.
She offers smooth and wire-haired coat types and multiple colors and patterns such as dapple, piebald, and brindle. Their farm's dining room is the puppies' play area, with the living room being their nursery where they're born.
It's a full-time job breeding and caring for their sweet Doxie pups, but they love every minute of it.
Because they have a long waiting list, Roxie's Doxies are not taking applications to be placed on the waiting list. She offers full AKC registration for an additional fee. Their buyers rave about their healthy, happy Doxie puppies.
| | |
| --- | --- |
| Name of Owner | Roxie and Chuck Ebert of Roxie's Doxies |
| Address | 10598 E US Hwy 24 Idaville, IN 47950 |
| Email | roxiesdoxies@ffni.com |
| Phone Number | 765-412-8436 |
| Website | roxiesdoxiesminis.com |
9. Happy Tails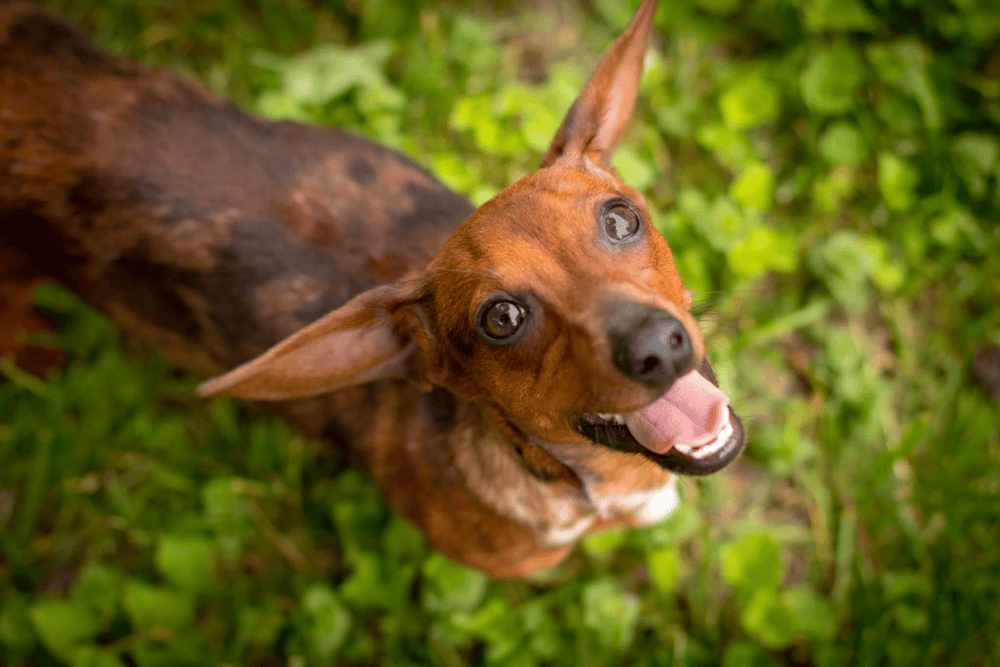 Happy Tails breeders strive to produce healthy, happy, and well-adjusted Miniature Doxies. Debbie, owner, and breeder at Happy Tails, is picky about who adopts her Doxies babies, but she wants both the puppy and the new family to be a perfect match.
She weans the pups around 7 weeks, and that's when they receive their first vaccination. When you get your puppy, they will have
Been dewormed
Have up-to-date shots
Vaccination card
Eat dry food
Been vet checked
Customers say they had a great experience working with Debbie. She was helpful throughout the process. She gave them weekly updates and helped ease their mind about waiting. They say they highly recommend this breeder.
| | |
| --- | --- |
| Name of Owner | Debbie |
| Number of experience years | 12 years |
| Address | Ashley, Illinois 62808-2608 |
| Email | happytailspetsupply@yahoo.com |
| Phone Number | 618-521-0159 |
| Links | Website, Facebook |
10. DC Mini Dachshunds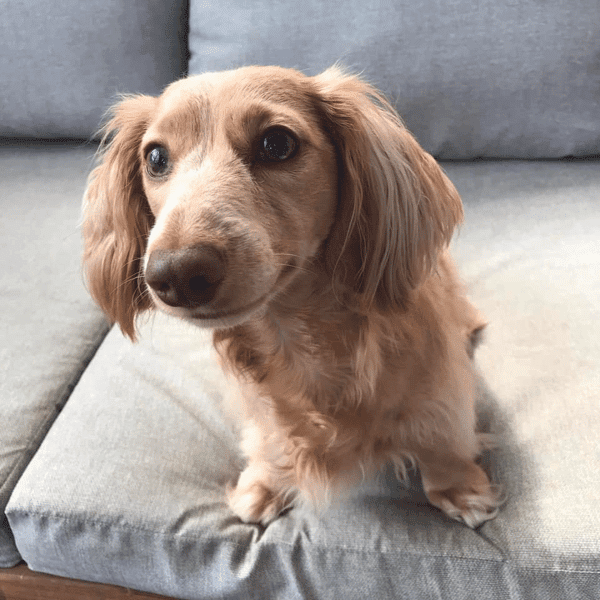 DC. Mini Dachshunds is a new Miniature Dachshund breeder located in Dalton City, Illinois. They are hoping for their first litter around Halloween 2021 or a little after.
Over the last two years, they have focused on allowing their current dogs to mature and otherwise prepared for breeding.
DC. Mini Dachshunds uses an indoor Amish-built kennel for their dogs, which is cleaned frequently. The Dachshunds have access to a fenced-in yard as well as the screened-in patio.
Their program is AKC approved. All Doxies in their care are regularly vetted and up-to-date on shots and deworming. Their dogs have monthly baths, as well as regular brushing and nail trims as necessary.
| | |
| --- | --- |
| Breeder Names | Rhonda and Kirk Lash |
| Breeder Since | 2019 |
| Location | Dalton City, IL |
| Email | lash6667@hotmail.com |
| Phone Number | (217) 823-3701 |
| Links | Facebook |
Please use this guide as a starting point and be sure to pick the breeder that feels the most comfortable. It cannot be stressed enough how important it is to do the homework when choosing a new furry family member.
The best outcome for everyone comes when the breeder, buyer, and puppy are well matched. This seldom happens by accident. The work put in before choosing the breeder and puppy will pay off for the next decade or longer through the enjoyment of the breeder specializes puppy selected now.