Are you looking to expand your family with a new furry friend and live in North Carolina? You're in luck as this article will list the top 10 most reputable Dachshund Breeders in this state! The Dachshund, Doxie, Wiener-Dog, whatever you decide to call it is one of the most popular breeds in the USA.
Dachshunds are bred in two sizes: Standard and Miniature which mainly focuses on the size difference in weight and length. Due to its very long body, it is important to know the growth rate of your Dachshund to ensure that it is a healthy weight for its age to avoid possible back complications. There are also some coat variations between Dachshunds.
The smooth or short-hair Dachshund is perfect for a family that is not looking to have their dog groomed often while the long-haired and wire-haired both need a little bit more care with grooming.
Each Dachshund is a little different but when it comes to temperament, they are described as being very intelligent, lively, and courageous to the point of rashness.
The also come in a range of colors such as Dapple (Read more about it), Solids, English Cream, Piebald, and even Blue! It is important for you to find breeders that are at least AKC Registered and have been in the business for a few years to ensure a safe and reliable cliental as well as reputable.
Fact: Dachshund blue is not a pure blue colored breed. Know more about it.
To help you with your search, a list has been created to help you decide if the breeder is considered reputable or not. Now that you have some basic knowledge of the Dachshund, let's look at who I think are the top 10 Dachshund Breeders in North Carolina!
1. Louie's Miniature Dachshunds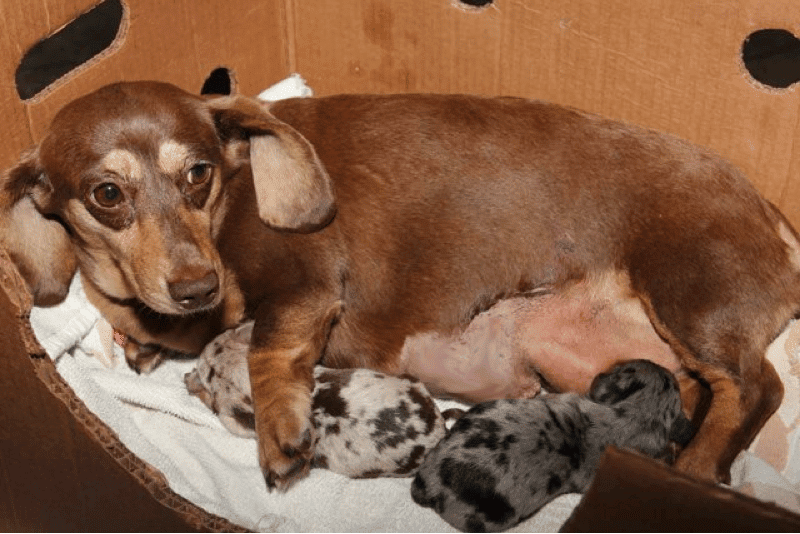 Opening their doors in 2003, they strive to produce healthy quality Dachshund puppies with excellent conformation and temperament. They are AKC and USDA inspected annually and can ship their dogs to all 50 states!
They have all types of Dachshund puppies from Mini Dachshund puppies to English Cream and Wire Hair Dachshund puppies! They are very popular and have many reviews on both Google and Facebook.
If you see a puppy that you like on their website, give them a call, and then if the puppy is available, they will ask for a deposit to put you on the waiting list until your forever friend is old enough to go home with you.
They are willing to meet you in person at their location or if you are too far away, give them a call and an arrangement for a meeting can be made.
The puppy is guaranteed to be free of genetic and/or life-threatening diseases and they also offer a 5-year health guarantee if your puppy is started on and kept on Life's Abundance dog food throughout his/her life. Otherwise, the health guarantee is 1 year.
The puppies are wormed on a 2-week schedule and given age-appropriate vaccines. A health record will also be given to you when the puppy goes home, and it is agreed that the puppy will be spayed/neutered within 6 months of age unless the puppy is sold for breeding purposes.
| | |
| --- | --- |
| Name of Owner | Lois Baker |
| Breeder since: | 2003 |
| Address | 95 Chambers Ln, Andrews, NC 28901 |
| Email | info@louiesdachshunds.com |
| Phone Number | (828) 321-4646 |
| Links | Website, Facebook |
2. Heartfelt Dachshunds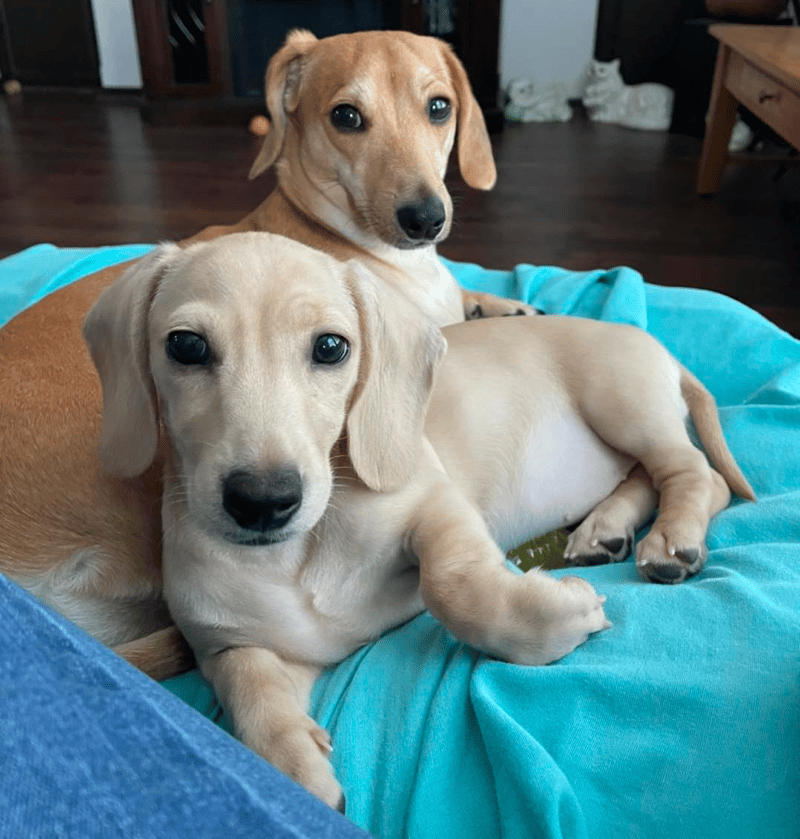 At Heartfelt Dachshunds, they specialize in breeding AKC Miniature Dachshunds in all colors, coats, and markings with a special emphasis on both English Cream Dachshunds and Wire Hair Dachshunds.
Their goal is to breed healthy beautiful puppies that they can place in homes with a healthy environment for the family of the puppy. The breeders at Heartfelt Dachshunds started breeding 12 years ago and became hooked to the feeling of love and excitement they would see on the faces of the new owners when they picked up their babies.
When the puppy goes home with you, they will come with vaccine records and deworming records, a bath before leaving, AKC papers if they have them if not, they will be mailed to you, a copy of the health guarantee, and a lifetime of breeder support if you ever need anything!
By far one of the more popular breeders in North Carolina with over 100 reviews on Facebook and many on Google as well. They have a long list of reviews on their website, and everyone just loves their puppy! One review said that the Dachshund from Heartfelt Dachshunds is the most lovable dog that she has ever had and gets many compliments from strangers wherever they go.
| | |
| --- | --- |
| Name of Owner | Lynda Carter |
| Breeder since: | 2010 |
| Address | 650 McLean Rd Lumberton, NC 28358 |
| Email | heartfeltdachshunds@gmail.com |
| Phone Number | (910) 740-2209 |
| Links | Website, Facebook |
3. Kerr Lake Dachshunds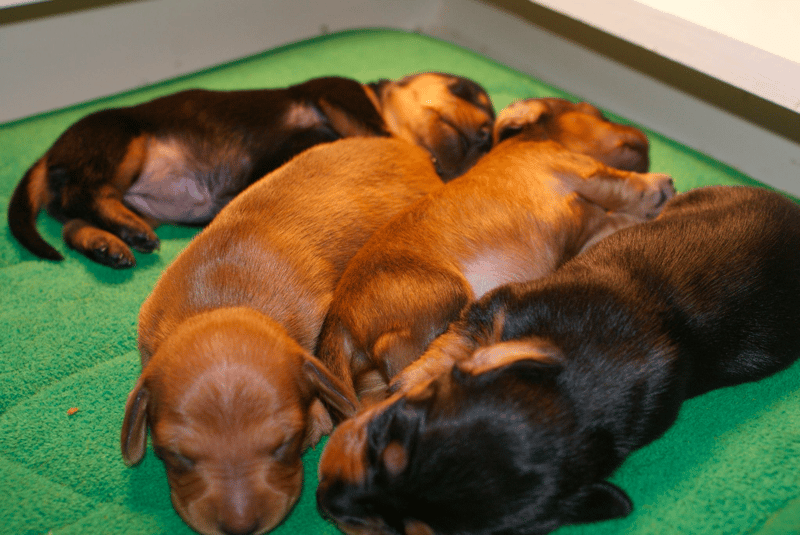 With over 30+ years of exclusive Dachshund experience, they are one of the best breeders of Dachshunds in North Carolina! They are a small Dachshund breeder offering a few litters for sale and placement each year to homes they approve of.
All their puppies are AKC registered and have veterinarian pre/postnatal care including age-appropriate vet administer vaccines and a 1-year health guarantee. They are bred for conformation and temperament with an outstanding lineage to back up each puppy.
Again, with so much experience over the past 30 years, they have built up a great reputation within the North Carolina community. They have great reviews on both Facebook and Google saying that their dogs are family members and the breeders at Kerr Lake Dachshunds are caring people and only want the best for the pups.
| | |
| --- | --- |
| Address | 446 Leisure Lane, Manson, NC 27553 |
| Phone Number | (252) 456-1955 |
| Links | Website, Facebook |
4. Oak City Kennels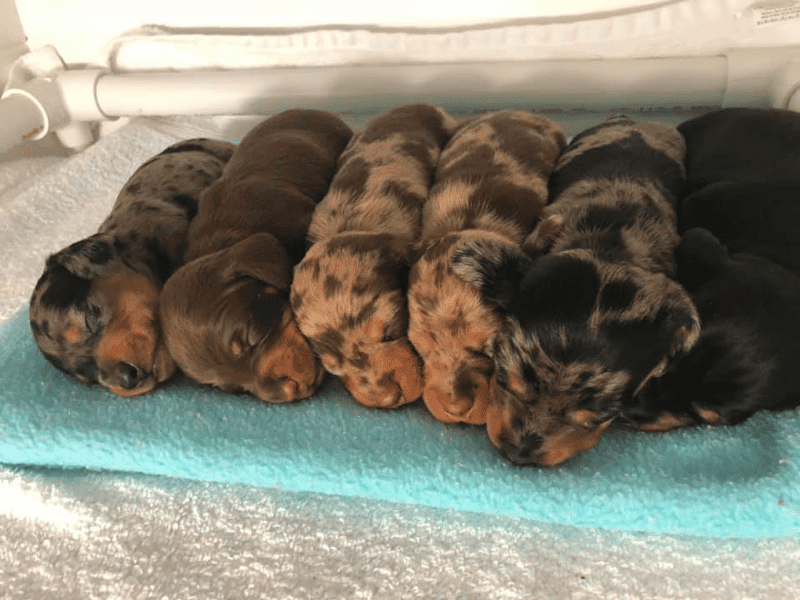 This breeder is a small family-owned kennel in Central North Carolina raising AKC registered Dachshunds. The Dachshunds are health checked before breeding, examined, and vaccinated annually by their veterinarian.
They see that their Dachshunds are part of their family, and the puppies are raised indoors with daily interaction with the family and other pets. They spend lots of time playing with them and making sure they are well socialized before going to their new and forever home.
The puppies come with a puppy care book, AKC limited registration unless otherwise discussed, health records, the folder for storing puppy's records filled with tips and information, some puppy food, and a blanket with mom and littermate's smell. They are bred with H.E.A.R.T which is an AKC program.
| | |
| --- | --- |
| Address | Wake Forest, NC 27587, United States |
| Email | Oakcitykennels@gmail.com |
| Links | Website, Facebook |
5. Lion's Gate Dachshunds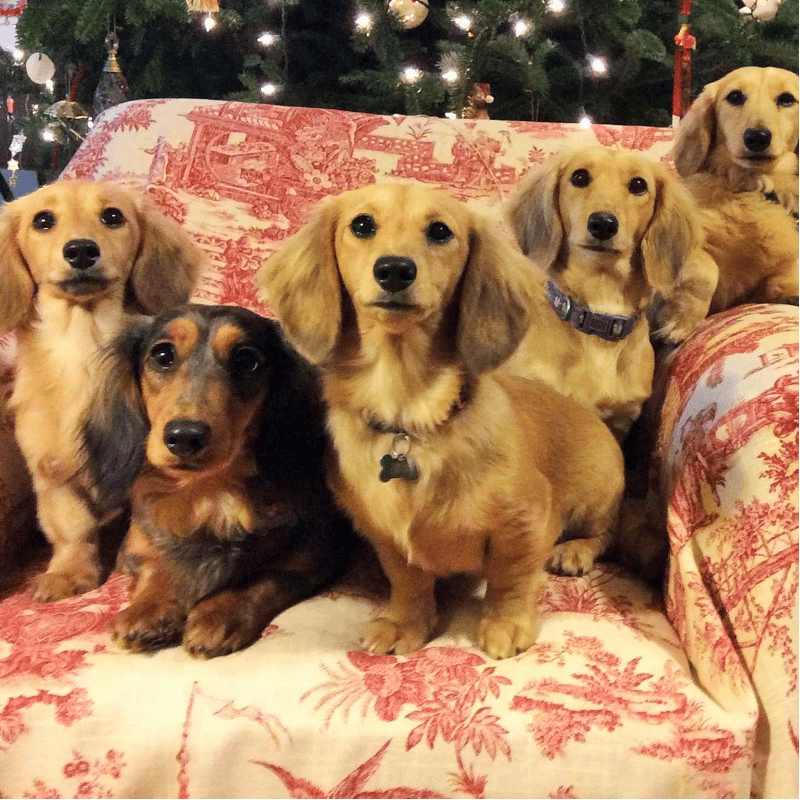 They are a small and experienced breeder of AKC Dachshunds only for 26+ years! They stay a small business so they can focus on temperament, socialization, and make sure they give all the dogs the love that they deserve.
They look for the best pedigrees to breed with but make sure they are at an affordable price for everyone to enjoy. They make sure to breed ethically so after 2-3 litters, the moms are retired and are up for adoption so they can continue to live a happy and healthy life!
They are located on 2 acres of land so lots of room for them to run and play.
There is no waitlist for a puppy, and they have a 2-year health guarantee. Before going to their forever home, the puppy gets a health check, age-appropriate vaccines, and dewormed. The price of a puppy ranges from $1,800 to $2,500 depending on price and all Dachshunds are sold as pets only.
| | |
| --- | --- |
| Name of Owner | Stephanie Wright |
| Breeder since: | 1985 |
| Address | Fletcher, NC 28901, United States |
| Email | anniewright@bellsouth.net |
| Phone Number | (828) 628-4584 |
| Links | Website, Facebook |
6. Benny's Dachshund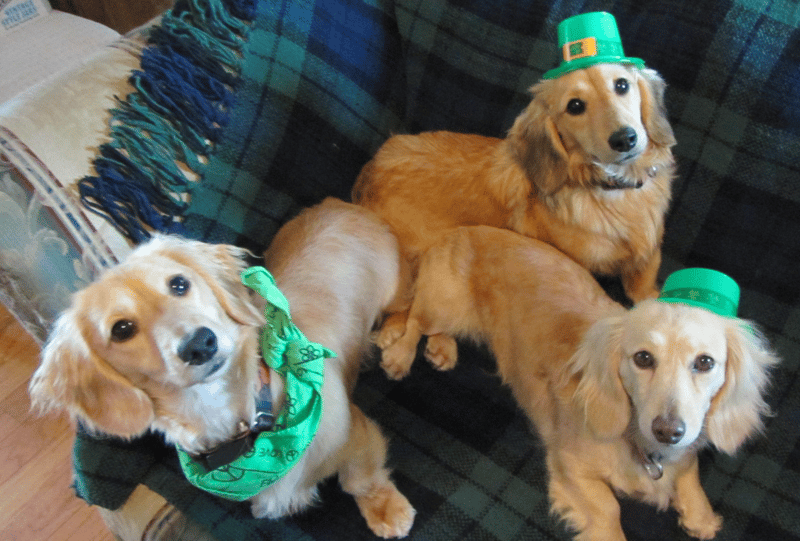 They are a small, kennel-free breeder, specializing in long-haired English Cream Mini-Dachshunds. They take great pride in breeding and caring for their gorgeous dogs. Every puppy and their parents are hand-raised in their home, kennel-free, and are considered important family members. All Miniature Dachshunds carry registration with AKC and come with a health guarantee.
They have many reviews on Facebook saying that have some of the best English Cream Dachshunds on the east coast. Donna White is the breeder at Benny's Dachshunds, and everyone says she is a wonderful and compassionate person who truly cares for the dogs and their wellbeing. Many owners would get another Dachshund from her in the future.
| | |
| --- | --- |
| Name of Owner | Donna White |
| Address | Wilmington and Lumberton, NC |
| Email | ohdona48@yahoo.com |
| Phone Number | (910) 397-7619 |
| Links | Website, Facebook |
7. Delightful Dachshund's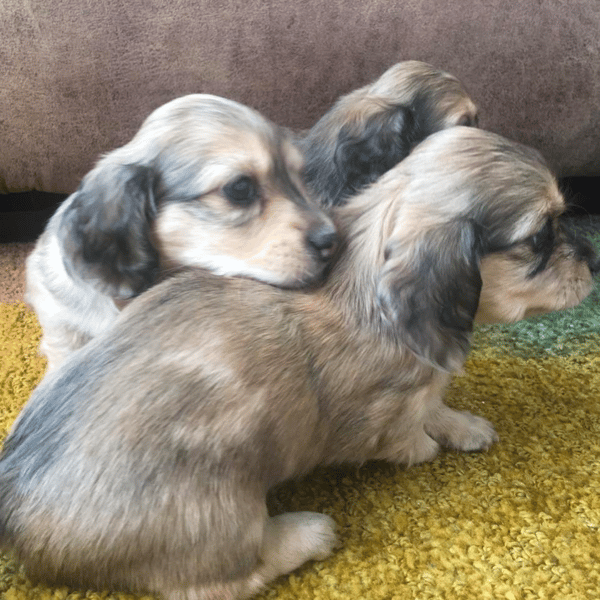 Located in Mocksville, North Carolina, they are a small breeder of AKC registered long-Haired Miniature Dachshunds (Check in details of this breed) and English Cream, Black and Tan, Black and Cream, Chocolate, and Tan, Chocolate and Cream, Red, and Dapple!
They treat all dogs as part of the family and each dog is on Heartgard, flea, and tick prevention. All puppies come with AKC registration, dew claws removed, dewormed, vet checked, health records, up-to-date vaccines, a baby blanket with mother's scent, and some food to adjust to their new home and environment.
| | |
| --- | --- |
| Address | Mocksville, NC, United States |
| Email | delightfuldachshunds@yahoo.com, ronclark1sjlm@yahoo.com |
| Phone Number | (336) 469-5427 |
| Links | Website, Facebook |
8. Bass Dachshunds
Each Dachshund at Bass Dachshunds is registered with the AKC and they treat each one of them as a true family member. They are in Eastern North Carolina and have Miniature Dachshund puppies in most colors and coats.
They also have adults available for adoption occasionally! Even though they can be small, the people at Bass Dachshunds know each one of them has a special personality! They treat them like their own children and want to make sure they go to the right home.
Once you have decided on your puppy, you have 4 days to take him/her to the vet to inspect for life-threatening defects and if there is one assumed, you will get a full refund of the purchase.
They have some very good info on the basics of taking care of a puppy on their website, so I recommend looking at it before deciding to put down a deposit!
| | |
| --- | --- |
| Address | 804 Down Home Lane, Washington, NC, United States |
| Email | Basskennels@yahoo.com |
| Phone Number | (252) 945-2479 |
| Website | basskenneldachshunds.com |
9. Claudia's Dachshunds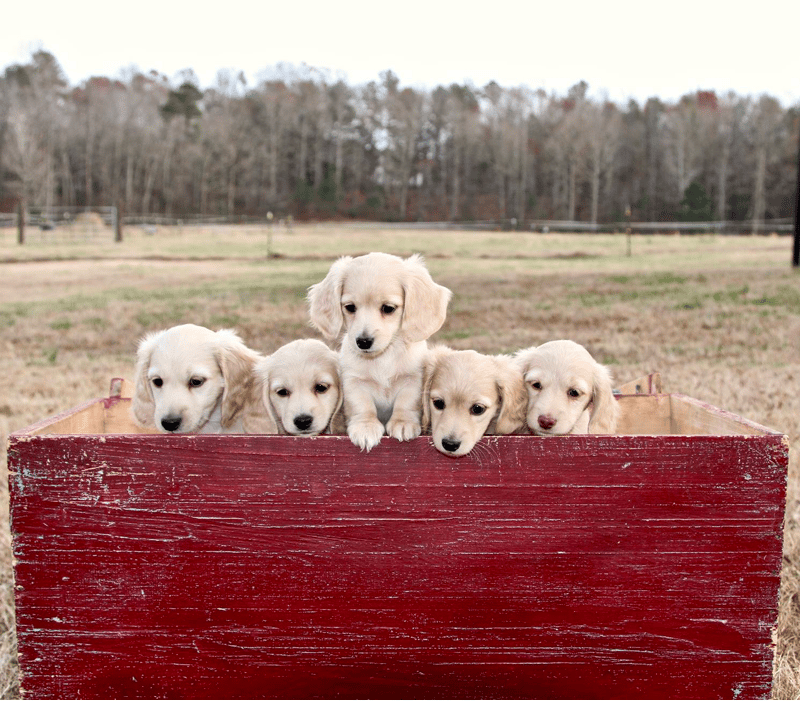 Claudia is a small hobby breeder of AKC Miniature Long-Haired Dachshunds, and she only breeds AKC Miniature Long-Haired Reds and English Creams.
She has a very careful selection process of picking the dams and sires and she focuses on raising the healthiest puppies that she can. The puppies are raised in the house with plenty of time to be out in the fresh air and grass once old enough.
She makes sure the puppies are handled by both children and adults to ensure they become great family pets. She believes that the best puppy is one through natural means.
Once the puppy is ready to go home with you, it will come with high-quality puppy kibble supplemented by whole foods. The puppy will also come with a high-quality probiotic and a natural deworming regimen.
| | |
| --- | --- |
| Name of Owner | Claudia |
| Address | Raleigh, NC, United States |
| Email | claudia@brownfamily.co |
| Phone Number | (919) 605-6801 |
| Links | Website, Facebook |
10. Majesdach Smooth Dachshunds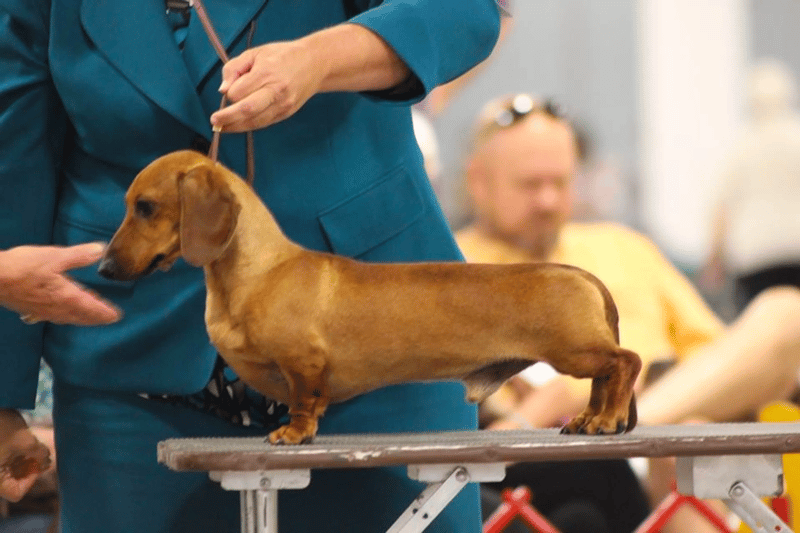 The breeder at Majesdach Smooth Dachshund is a show breeder of Miniature Dachshunds and the primary goal is to raise their next show dog. They are dedicated to producing quality Miniature Smooth Dachshunds with outstanding temperament, correct conformation, and the outstanding type and breed character.
Before breeding, they make sure to screen for genetic issues and to make sure they know as much as they can about the ancestors in the pedigrees. The puppies are raised in the home, and they are well socialized and loved.
Breeding for profit isn't their thing but they breed to better the breed and for the sheer enjoyment of showing a puppy that the have bred and raised. They follow strict health and nutritional rules and vet check puppies at 8 weeks of age.
| | |
| --- | --- |
| Name of Owner | Karen |
| Address | Catawba, NC 28609, United States |
| Email | Karenloubr2003@yahoo.com |
| Phone Number | (760) 803-4851 |
| Links | Website, Facebook |
Final Thoughts
Overall, North Carolina has a great selection of Dachshund breeders and many more that may not have made the list. Dachshunds are a great family dog and they are one of the most popular dog breeds in the US!
If I had to pick the best breeder from this list, I would first contact Louie's Miniature Dachshunds because they produce quality AKC Dachshunds and are USDA inspected giving them more credibility.
They have been around for almost 20 years, and it seems like the public really loves them and their dogs! Before purchasing from a breeder, please make sure to do your research on them and ask around to see who the best breeder is in your area.