The origin of Dachshunds can be traced to the long healthy relationship between man and dogs—a time when people raised dogs that could hunt animals such as foxes, badgers, and rabbits. The Dachshund breed is a moderately low and long dog intelligent dog with a well-structured body.
This canine breed is gradually winning over the hearts of many people in the United States and the UK. They come in six varieties, two sizes: Standard and Miniature. Miniature comes in three coats: Smooth-short, Long-haired, and Wire-haired. They are loyal companions and make excellent family pets. It's no surprise that you will see many Dachshund puppies for sale across Florida.
Notwithstanding, picking a reputable Dachshund breeder in Florida who performs various health checks and vaccinate their dogs could be a daunting task, especially when you have little or no knowledge about Dachshund. This is why we created this list to help you narrow down your choices.
How to Recognize a Good Dachshund Breeder?
A reputable Dachshund breeder will comply with the good practice prerequisites of the Kennel Club's Assured Breeder Scheme and will constantly be available and glad to answer any question you may have at any stage of your dog's life. In addition, they will be interested to hear how your dog is progressing.
Reputable breeders will guarantee that their puppy has been raised in the most suitable condition and typical specimen of the breed. A good breeder cares about the welfare and health of their Dachshunds rather than volume and profit.
Breeders registered with the Dachshund Breed Club are reputable breeders that breed a small number of healthy pups every year and comply with the ethical codes of the Dachshund Breed Club, which covers all the conditions that must be fulfilled to make sure the dog lives a healthy life. Breed Club members will know the applicable health tests necessary for Dachshunds and speak proficiently about the significance of these requirements.
For a Dachshund Breeder to be considered a good breeder, they must:
Be a member of a Kennel Club Breeder Scheme
Have their puppies registered with a Kennel Club?
Have a waiting list for buyers. (Although this isn't essential, nonetheless it's a good sign as it shows they breed a small number of puppies)
Have only small litters
Be happy to answer all of your questions and wants to build a relationship with you
Make sure the Dachshund puppy looks to be a healthy
Have done all the relevant health tests
Be up to date on the dog's vaccination history
READ MORE: Top 8 Florida Dachshund Rescues
Dachshund Puppies For Sale in Florida (FL)
1. MLT's Dachshunds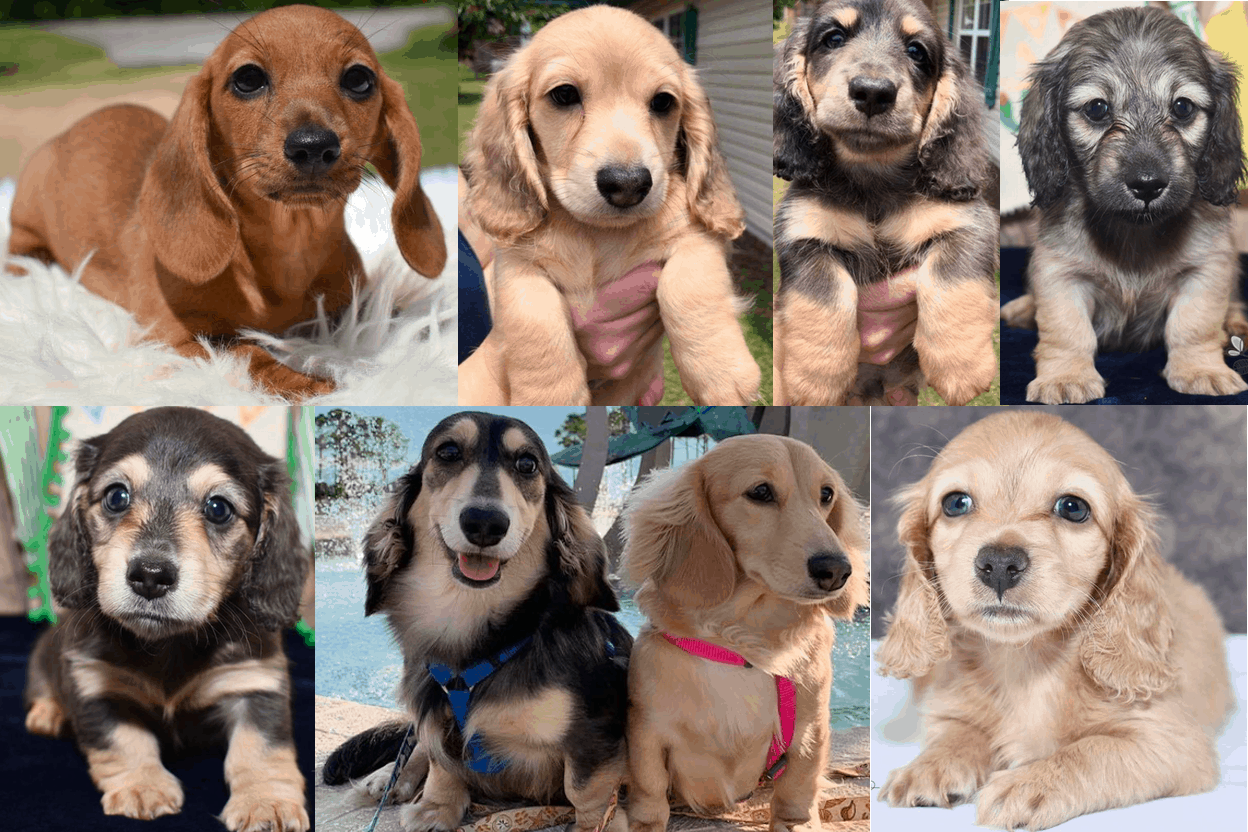 MLT's Dachshunds is situated in Westville, North Florida, and is owned by Macey Thomas, a breeder of quality, exquisite Miniature wiener dogs. MLT's Dachshunds specializes in short and long hair Dachshund puppies, and they deworm their puppies every two weeks.
All their dogs are registered to the AKC and/or CKC (Canadian Kennel Club). Although their miniature dachshund puppies are born and raised in their home, they are trained to be social and friendly. Their puppies come with health certificates, registration papers, and up-to-date vaccination.
MLT's Dachshunds gives a three-year health guarantee on their puppies' liver, heart, and kidneys. Due to the pandemic, they don't allow visitations to avoid any risk of man-to-do disease transmission. So, if you are planning to buy your new companion from them, you need to contact them through the phone. They constantly update pictures on Facebook, so you can visit their page to choose one from there.
MLT's Dachshunds Details:
2. Mosaic Dachshund of Florida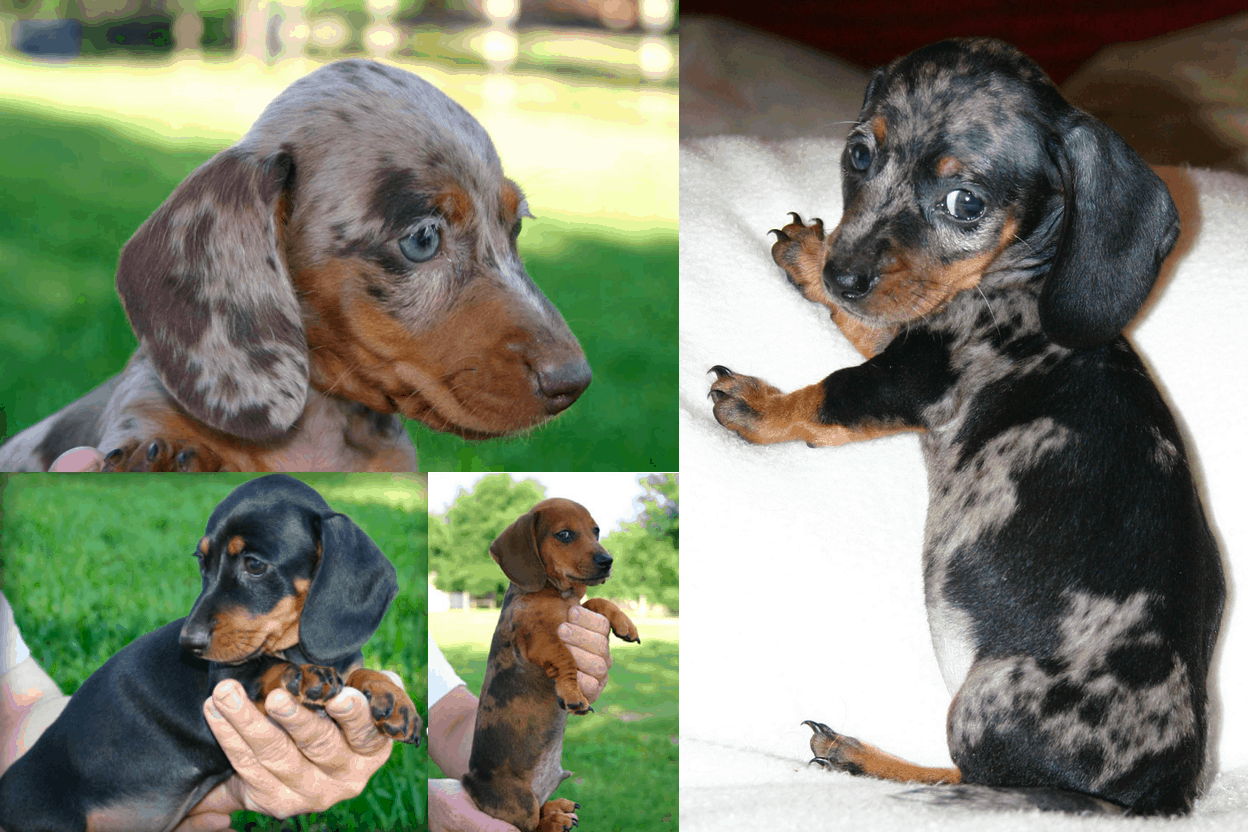 Mosaic Dachshund of Florida is an organization established by Michele Farnam, who rears standard and mini doxies in Deland, Florida. He cherishes all of his doxies, and he considers them part of his family. You can get CKC registered, or AKC registered Dachshund puppies at Mosaic Dachshund of Florida.
They raise their puppies to be friendly with people and other animals, and every puppy receives the proper vaccinations before they leave their new family. Most buyers love to buy from Mosaic Dachshund because, unlike other registered breeders, they offer a one-year guarantee against genetic health problems.
If you want to get a puppy from them, you can reach out to them on the details below, and they will be happy to help you with any further information if needed through mail or call.
Mosaic Dachshund of Florida Details:
3. Lena's Mini Doxies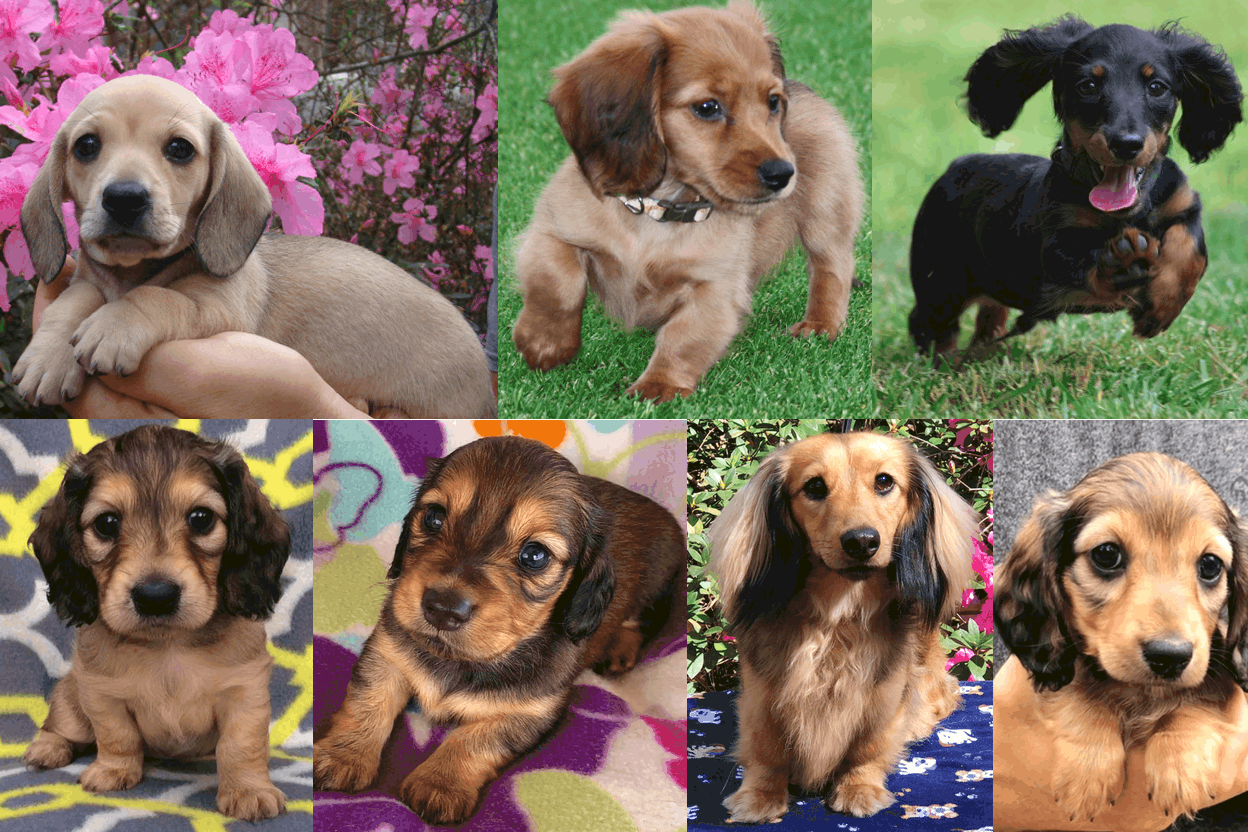 Lena's Mini Doxies is owned by Matt & Lena Rivenburgh, and it houses many quality AKC Registered Miniature Dachshunds. They breed just to improve the quality of the breed and preserve pure Dachshunds bloodlines so you can get the best from them.
Their puppies are raised with lots of love. They currently only offer long coats in different patterns and colors. They have some exceptional breeding stock with Champions. Lena's Mini Doxies are healthy puppies, checked, dewormed, and vaccinated. They rear their puppies for at least eight weeks before they can be sold.
If you want to buy a puppy from them, you can reach out to them via the details below. You can be assured to get a puppy with a Health Certificate, Health Record, AKC Registration Application, a starter pack of NuVet Vitamins, a Four Generation Pedigree, a puppy kit designed with puppy food, lots of useful information, a toy, and a blanket.
Lena's Mini Doxies Details:
4. Dachshunds of Castleshield Florida

Dachshund of Castleshield in South Florida is an American Kennel Club (AKC) licensed hobby breeder of purebred doxie since 1980. They breed some of the best quality Dachshund puppies that are great family companions and emotional support animals. Their love and passion for Dachshunds began in Germany in 1980 and grew tremendously over the years.
Dachshunds of Castleshield only breeds Dachshunds and no other dog breed, and they strive to deliver the finest dogs. They breed to improve their dogs' health, temperament, and conformation. They raise various Dachshund puppies with all three types of coats and consider Each one of their dogs a member of their family.
Dachshunds of Castleshield breed smooth coat, wire-haired and long-haired Dachshund with quality care, and they guarantee that you will love them. Their puppies are raised around cats, larger dogs, and children so that they can easily fit into the social life of any household. The breeder's Dachshund puppies are vaccinated, dewormed, and have a functional microchip on them.
In addition, they offer lifetime breeder support, an official certificate of veterinary inspection, up-to-date registration papers, a lifetime genetic health guarantee, and a useful wiener puppy starter package. If you want to contact them about pet adoption, use the details below to book an appointment and pick up your Dachshund later on.
However, if you're unable to travel down due to travel restrictions, they offer shipping through Cargo or Delta Cargo and American Airline cargo which comes with a flight nanny.
Dachshunds of Castleshield Florida Details:
5. Reed's Mini Dachshunds FL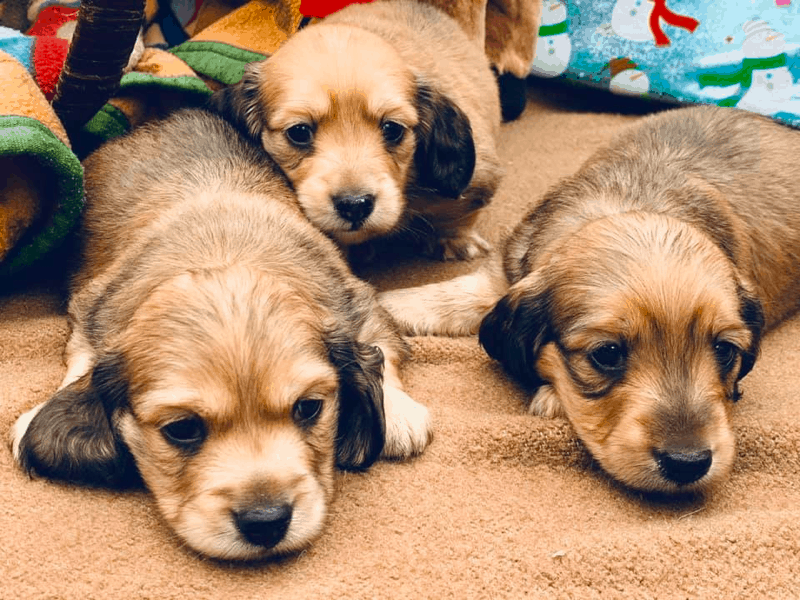 Jeni Reed Amanda owns Reed's Mini Dachshunds, and she has been a Dachshund owner all her life. Jeni grew up in Indiana and Ohio, and her family lived in Lake Coty in Florida. Jeni's family has a great love for their dogs, and that's probably the reason behind two of her kids also having miniature Dachshund puppies of their own.
As a doxie breeder, they care for their dog's health and temperaments. No doubt, Jeni had beautiful childhood memories with her Dachshund. According to her, that is one of the motivating factors for choosing to be a breeder to help dog lovers get similar experiences with their pets.
Although they have different sausage dogs, they specialize in Long Haired, Smooth, and wire-haired Miniature Dachshunds. They also breed Doxie with different personalities and nature. Doxies are generally shy and lovely puppies. They enjoy playing in one space and make friends in a very short time. Apart from doxies, they also breed Yorkies.
Jeni Reed's website and blog are very informative and filled with helpful articles on caring for dogs and puppies. Her goal is to make sure each of her wiener puppies is transferred to a home where they will be treated with love and care. If you are interested in adopting a puppy from them, you can send them an email or visit our website for further information.
Reed's Mini Dachshunds Detail:
Name of Owner: Jeni Reed
Number of experience years: unstated.
Address: Paisley FL 32767
Phone Number: (352) 223-5125
Website: reedsminidachshunds.com
6. FloriDachs Miniature Dachshunds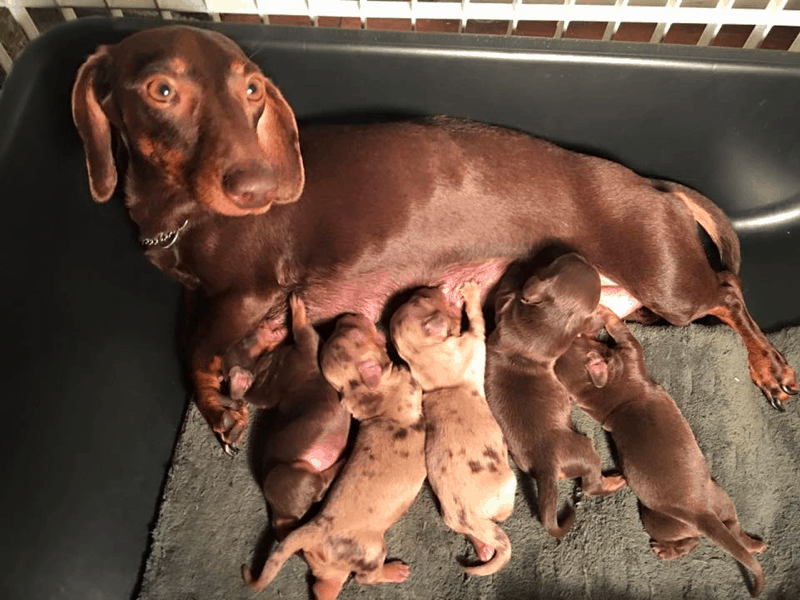 Floridachs Miniature Dachshund is a popular organization in Florida that breeds healthy Miniature doxies in all coats and colors of largo. Their Dachshunds are raised with love in the best environment for early learning and socializing.
These puppies are raised in their own home and not in kennels nor cages for the first three weeks after birth; but you can hardly tell because they are full of life and love. After the mandatory three weeks of in-house training, they are then moved into a communal space where they are exposed to everyday activities and expected to socialize with cats and people. Their puppies are trained with toys, and after three weeks, they are placed on potty training. The training is important because a well-trained dog saves you a lot of stress and you will enjoy your time with them.
If you decide to get your puppy from them, their puppies are AKC registered and are vaccinated and dewormed by a licensed veterinarian eight weeks after birth for any genetic/non-genetic birth defects. Contact them through their details below or fill out the form available on our website. They will be glad to help you out with everything regarding Dachshund.
FloriDachs Miniature Dachshunds Details
7. Cameo Dachshunds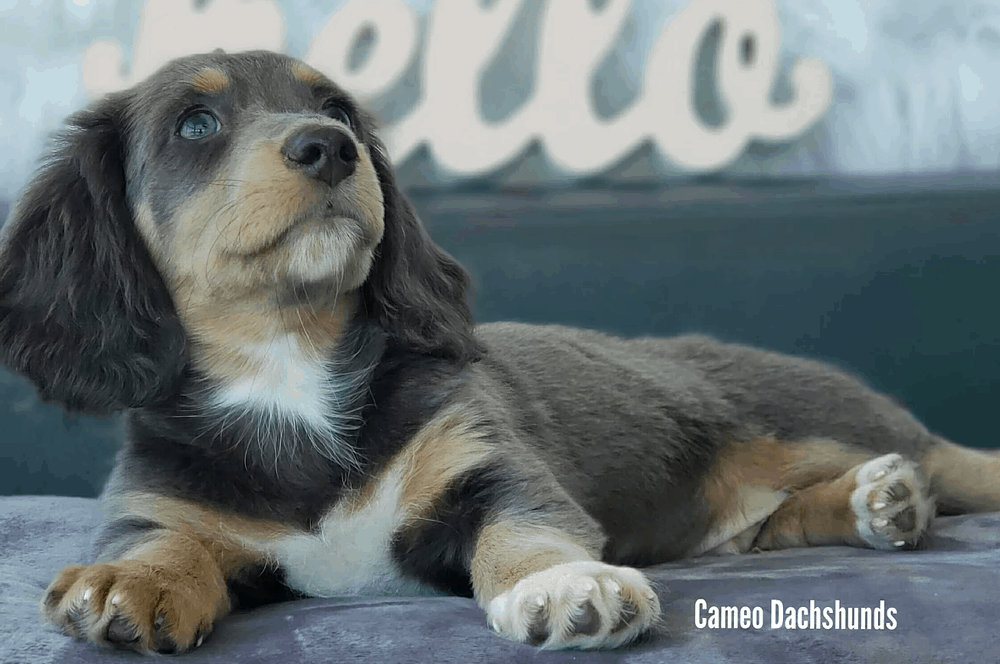 The Cameo Dachshund dog breeding facility belongs to Kim Gillet. She has a strong history of breeding German Shepherd puppies dog. Her father was a police dog trainer, and her family helped their dad in training the dogs.
According to her, she got all her interest in dogs during her time with her father. This background led to her career as a Vet Technician, where she first experienced the miniature Dachshund. After 15 years as a Vet Technician, Kim felt it was high time she got into the breeding game by breeding quality miniature Dachshund on a small-scale program at home.
Their breed miniature-sized sausage puppies are raised in a calm environment with AKC conformation standards in mind. They also have a network of friends who have also started breeding. They love to make dog lovers happy with their puppies. If you consider getting a puppy from them, you can contact them through the details below. They warmly welcome you.
Cameo Dachshunds Details:
8. Dachshund Unlimited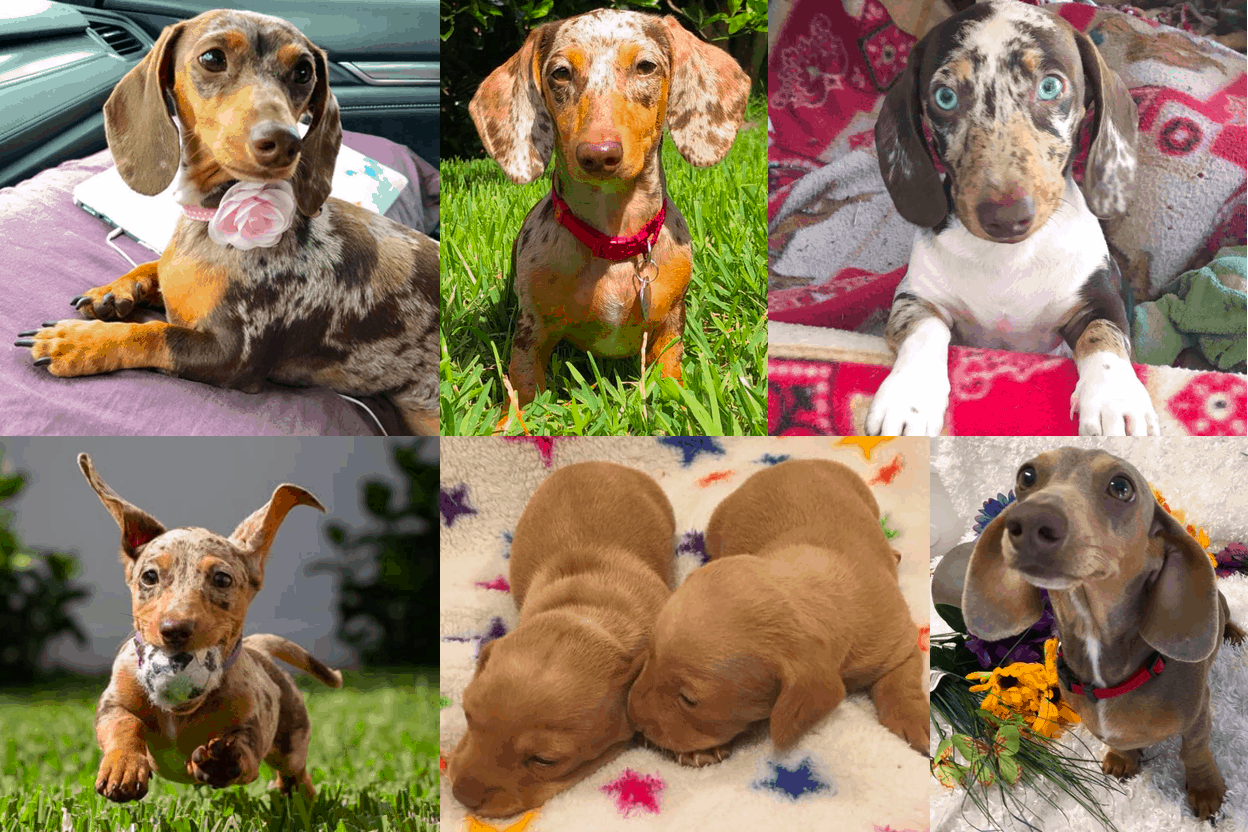 Dachshund Unlimited is a beautiful dachshund breeding place. Established in 2004 by Susie Thomas and certified as AKC Bred with HEART breeder in 2011 to breed Miniature Dachshunds. Susie and her team specialize in breeding purebred, smooth, and long-haired Miniature sausage puppies of colors and patterns.
At Dachshund Unlimited, you can get different darling doxies ranging from black and tan, chocolate and tan, blue and tan, and Isabella and tan. In addition, you can get Dachshunds marking patterns, including piebald, dapple, solid, and double dapple.
Susie claims she put in her best to breed the purest of Dachshund so that every dog lover can experience the beauty, temperament, and intelligence of Dachshund like she does every day. If you care to adopt from them, you can email Susie for an appointment or text her through the details below. She has a lovely personality and will be happy to speak to you.
Dachshund Unlimited Breeders Details:
9. Robin's Dachshund Nest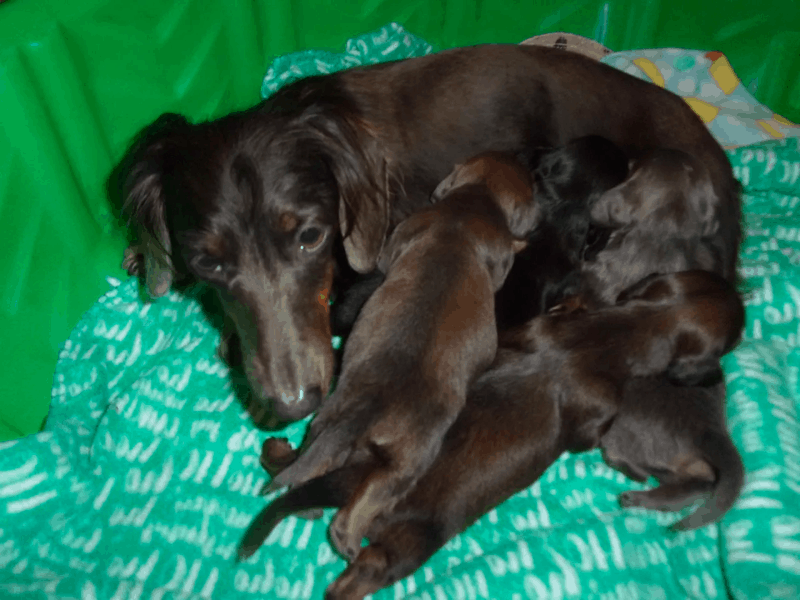 Robin's Dachshund nest is an AKC-registered Mini Dachshunds breeding program established by Robin in 2005 and focused mainly on the healthy and happy dachshund breed. Robin breeds miniature doxies that are healthy, smart, playful, loving and protective companions.
The puppies are kept with the Mom for feeding, protection, and closure after their birth. You can be sure that Robin's dachshunds are healthy, playful, dewormed, and vaccinated. In addition, you will receive a copy of the AKC registration application papers, the pups Florida Vet Health Cert, and the puppy pack.
Although you can't adopt a robin's puppy until it's eight weeks old, however, you can reserve the puppies you desire to adopt and make a scheduled visit after they are five weeks old. They don't ship puppies, so you may have to travel down to fill the necessary document and get your puppy. Contact them through the details below.
Robin's Dachshund Nest Breeders Details:
10. McCoys Precious Doxies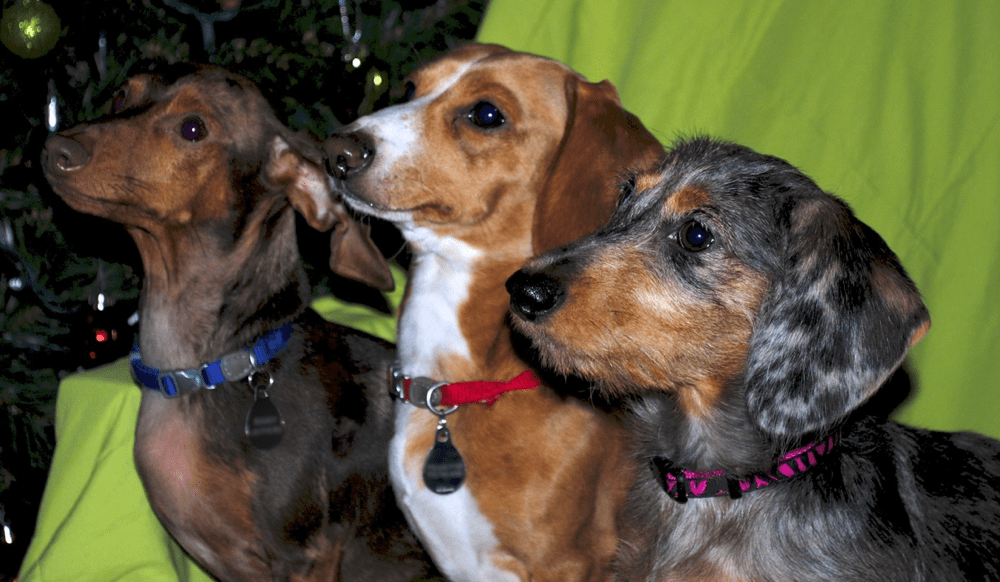 McCoys Precious Doxies started breeding dachshund puppies in 2005, and in such a short time, Debbie and Thomas McCoy have created an impact in the breeding business. At the moment, they are among the top-rated dachshund breeder in the business. Their purebred puppies are AKC registered and well socialized. They raised their puppies in a smoke-free environment and are only allowed to go out occasionally to potty and play.
Unlike other breeders, they offer "Camp McCoy" to the puppies at a ridiculously cheaper rate than their peers. Their doxies are raised in their home and not in a crate, and they only give birth twice a year. After birth, the puppies are kept in a comfortable place for three weeks before they are allowed to associate with other dogs. Book an appointment through an email or phone call to know more about their different offer mouthwatering offers.
Dachshund Puppy Breeders Details:
11. Dachshund Beauty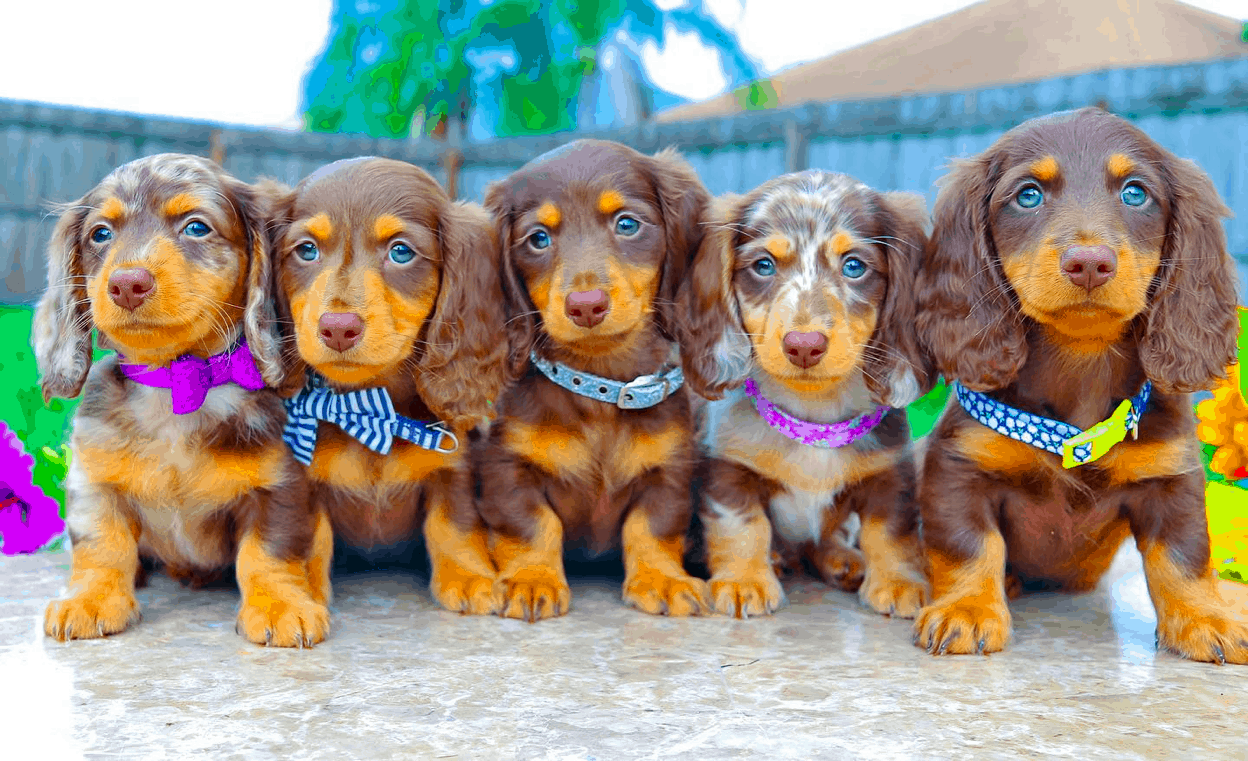 Dachshund Beauty is located in Winter Haven, Florida. They started as an in-home breeder, and they have perfected their breeding pattern and are among the best-rated breeders in Florida. Although they breed Chocolate, Dapple, EE Cream, and Blue color AKC registered puppies; they specialize in purebred & rare long hair Dachshunds. They take good care of their puppies, and they make sure their dachshund puppies friendly, intelligent, and easy to train.
They vaccinate their puppies eight weeks after birth and their puppies are dewormed every two to three weeks to protect them from harm. If you plan to adopt from Dachshund Beauty, they will give you a 2 Year Puppy Health Guarantee and Deluxe Puppy Package that includes toys, food, and shampoo. Contact them through the information below to book an appointment and choose one of their Dachshunds. Visit them to fill the paperwork to ensure you get the purest dachshund breed.
Dachshund Puppy Breeders Details:
12. Pretty in Pink Doxies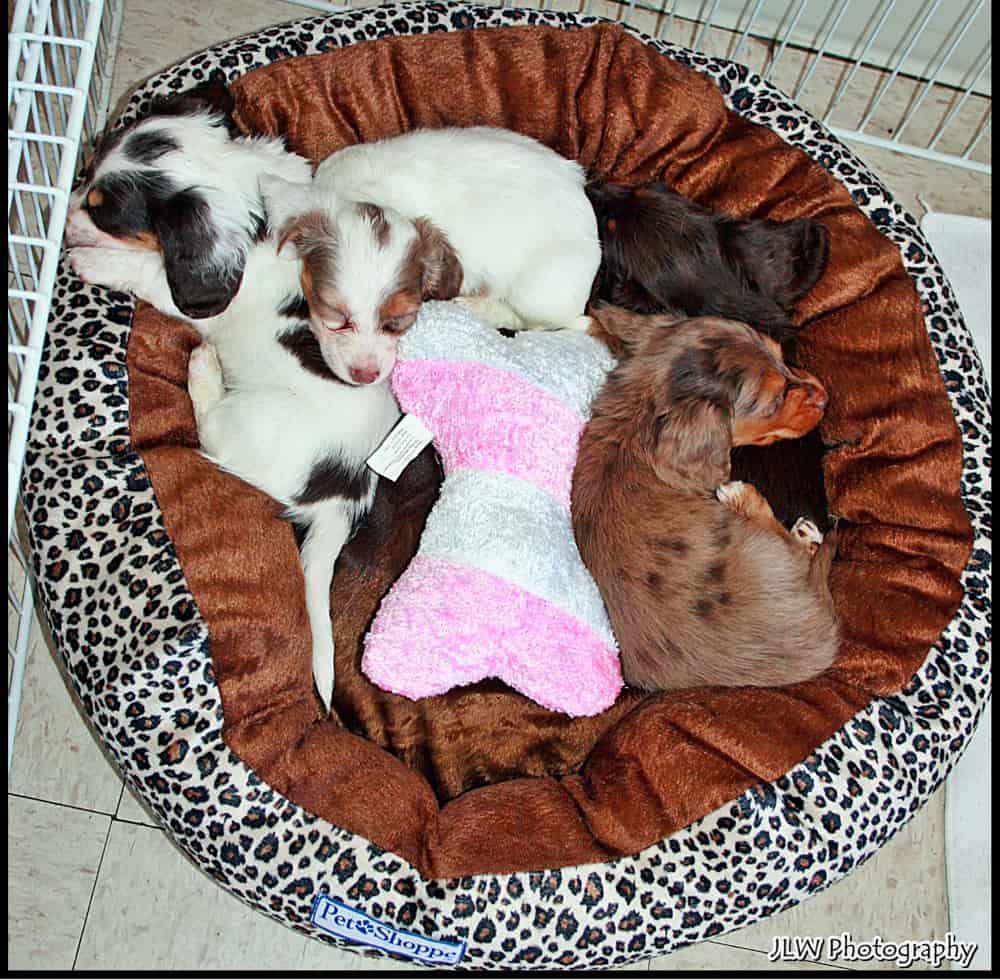 Pretty in Pink Doxies is a small Miniature Dachshund breeder in Central Florida owned by Jessica Walker. They breed pups long & smooth coat pups and specialize in Chocolate Dachshunds. In addition, they produce doxies of different colors, including; Black & Cream, Cream, Chocolate & tan, Isabella & tan, & red, in the dapple, Black & Tan, piebald & solid patterns. Just like most breeders in Florida, their puppies are raised with love inside the house.
If you want to adopt a wiener dog from them, please contact them through the details below. You can also call or mail them via the medium below to ask about the lifetime of your puppy. They will be very glad to help.
Pretty in Pink Doxies Breeders Details:
Name of Owner: Jessica Walker
Number of experience years: unstated
Address: Central Florida, about an hour from Tampa.
Phone Number: 863-412-1298
Website: prettyinpinkdoxies.com
Final Thoughts
We strongly suggest you visit the nearest Breed Club Secretary for recommendations before making any commitments. Don't buy from a pet supermarket or pet shop regardless of how sweet the deal may look. Their puppies will most likely come from backyard breeders or puppy farms where puppies are reared in poor conditions with no regard for health and welfare.
If the Dachshund puppy is registered to any Kennel Club, ask the breeder for their registration details and check on the Kennel Club website to see what comes up. It's best to buy a dachshund from a reputable breeder because you will be sure they are raised in the best condition and will experience good health.
Best Dachshund Breeders in the Other States