Everyone knows that a dog is a man's best friend, and they make great companion animals for individuals and families. The Dachshund is known to be a great family dog and is one of the most popular dog breeds in the USA. The Dachshund, Doxie, Wiener-Dog, and whatever you decide to call it are known to be loyal, loving, and snuggle bugs. Dachshunds are bred in two sizes: Standard and Miniature which mainly focuses on the size difference in weight and length. They also come in different hair coats such as long, short, and wired. The smooth or short-hair Dachshund is perfect for a family that is not looking to have their dog groomed often while the long and wire-haired both need a little bit more care with grooming.
While the breed has some common characteristics between each of them, no one Dachshund is the same! They are as just as individualistic as us humans and although they are small, most come with big personalities.
Before committing to a Dachshund, it is important for you to research the Dachshund and see if their temperament fits with what you want in a dog. If you want a dog that is cuddly and loves to snuggle, a Dachshund is perfect! It is important to find the right breeder and something to look for in a good breeder is if they have AKC registered puppies as well as genetically test the parents first before breeding. Now that you have some basic knowledge of the Dachshund, let's look at who I think are the top 10 Dachshund Breeders in Arkansas!
1. Get Along Little Doxies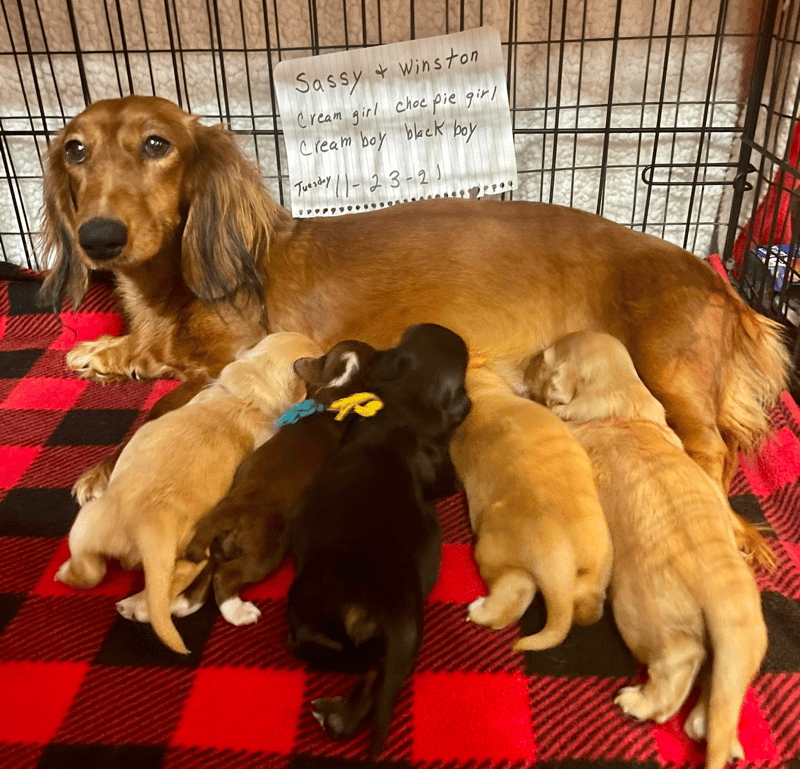 They are a small, home-based operation located in the foothills of the Ozark Mountains in Northcentral Arkansas. They believe that Miniature Dachshunds are the best companions on earth, and they raise them because they absolutely adore them! They have beautiful Dachshund puppies who have been bred carefully for great temperament, and intelligence, with fun and loving personalities. They have a rainbow of colors available and some with rare brindle and dapple patterns as well. All the Miniature Dachshunds are Long-Haired because that is what the family thinks is the cutest.
Every puppy is AKC registered, and they can go home with you at 8 weeks of age. All puppies will have been to the vet for their first round of vaccines and wormed regularly. They are also sent home with their very own blanket and a tote bag filled with toys and goodies. While the puppies are growing in the 8 weeks before pick up, they make sure to update you with lots of photos and videos!
They are very well known in the area with many previous owners coming from all over the country such as Mississippi, Tennessee, Alabama, and even Arizona! One review on Facebook says that they are amazing people and provide a wonderful service.
| | |
| --- | --- |
| Name of Owner | Kay T |
| Address | 80 Oak St, Pleasant Plains, AR 72568 |
| Email | Kayeron_turner@yahoo.com |
| Phone Number | (501) 658-4514 |
| Links | Website, Facebook |
2. Divine Doxies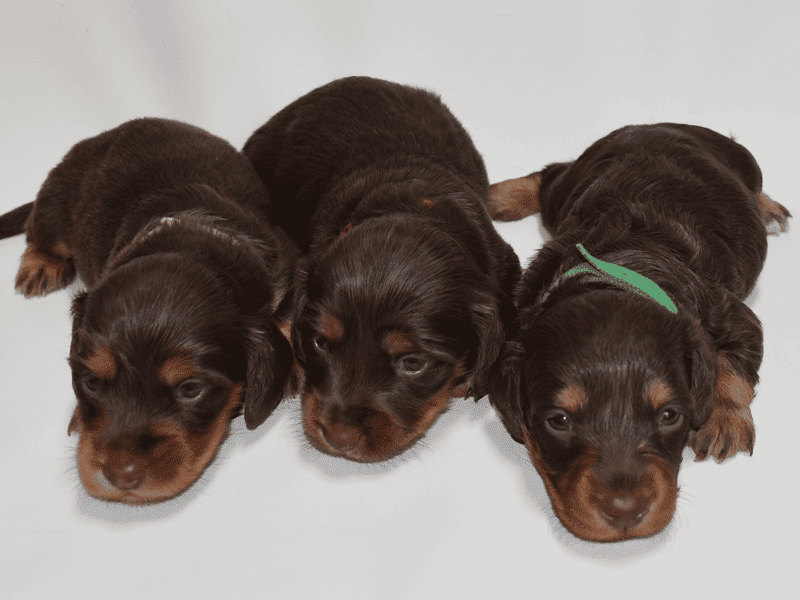 Located on 6-acres of land in the country, they are a small breeder of long-haired Miniature Dachshunds. All their dogs live with them in the home and as a result, they quickly become socialized with their dogs and people, both children and adults.
To make sure you are getting a quality Miniature Dachshund when you pick up your new best friend, they will come with up-to-date vaccinations and worming, the first application of heartworm preventative, vet health record, AKC registration application, copies of both parent's paper: Clearances and Pedigrees, and a Parvo information sheet. They do have a health guarantee that is limited to the development of any serious, life-threatening, congenital, or hereditary defects within one year. They will replace the puppy of the same color/gender with the next available litter.
| | |
| --- | --- |
| Name of Owner | Patricia Franklin |
| Address | 1028 Salina Springs Cove, Benton, AR 72019 |
| Email | gefranklin38@yahoo.com |
| Phone Number | (501) 317-8398 |
| Links | Website, Facebook |
3. Beverice's Dachshunds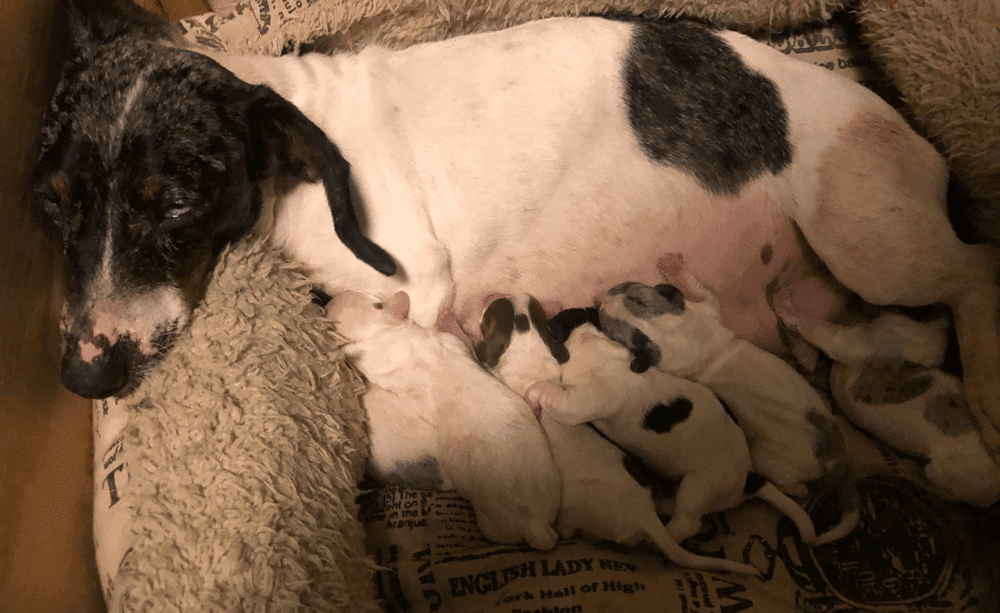 After retiring from her job which took up 21 years of her life, she decided to start a new passion; raising wonderful Dachshund puppies for people who love dogs as much as she does! Her puppies are registered with the AKC and CKC and she offers both limited and full registration. She makes sure to raise the puppies around other pets and companions to socialize them before going to their new home. The parents are health tested before breeding and paired to make beautiful puppies with the best chance for long and happy life.
The puppies are available for pick up after 8 weeks of age. If they are not picked up right away, then there will be a $10 charge per day the puppy stays in boarding. She only does this because too many people in the past have said yes to a puppy but won't pick up the puppy on time!
| | |
| --- | --- |
| Address | 496 North Wilson Ratcliff, AR 72951 |
| Email | acbline@yahoo.com |
| Phone Number | (479) 209-5876 |
| Links | Website, Facebook |
4. Prairie View Dachshunds Kennels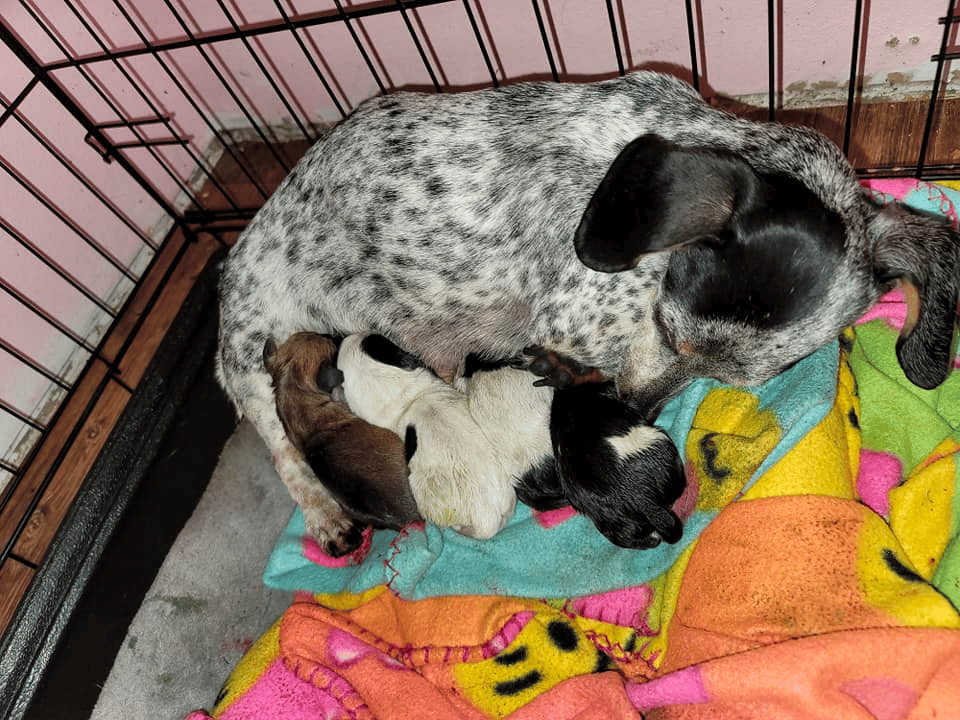 Amanda Sheppard lives on a farm in Charleston, AR, and has always been a dog lover to the core. Even though she knows these dogs are for breeding, she will always see them as family and her own pets first. The dogs get lots of outdoor time and exercise every day making them very well socialized. She wants to keep the pure breeds going and hopes to brighten up anyone's day with her babies!
The puppy will come with a 6month guarantee, age-appropriate vaccines, and dewormed. People love her and her dogs and say that she is an excellent breeder who is kind and compassionate. If interested, I recommend going to her Facebook page or website and reaching out to her.
| | |
| --- | --- |
| Name of Owner | Amanda Sheppard |
| Address | Charleston, AR 72933 |
| Email | Prairieviewfarm123@gmail.com |
| Phone Number | (479) 883-6469 |
| Links | Website, Facebook |
5. Charisma Dachshunds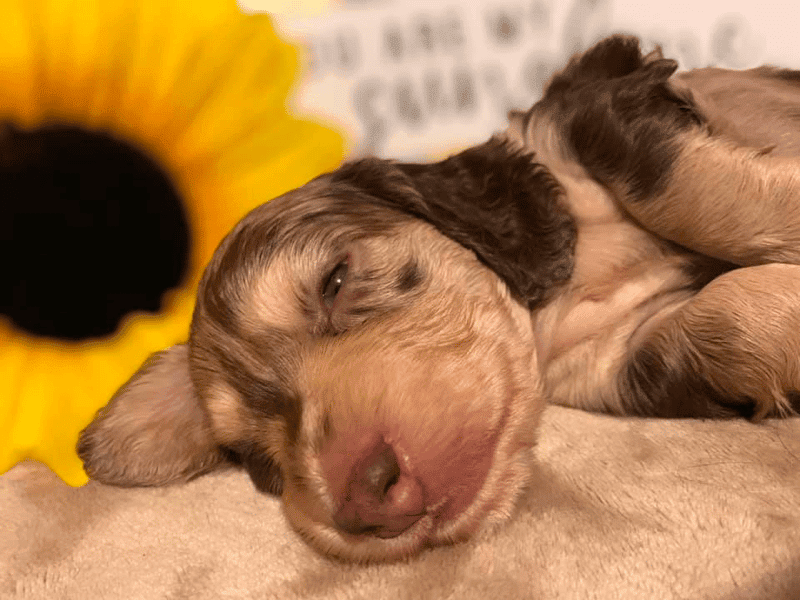 Karen Seratt and her business Charisma Dachshunds are in Chester, AR surrounded by 180 acres of mountain woods. They care deeply about this breed and are very proud of the Dachshund puppies they produce. They are responsible breeders, and they cherish each dog and puppy and will do everything in their power to make sure they get the best lives possible. This includes making sure the parents are genetically sound before breeding with good temperaments, proper socialization, and daily care, and placing them in loving homes.
The puppies come with a 1-year health guarantee that covers genetic health and defect. All the puppies are wormed at 2, 4, 6, and 8 weeks. They would have visited the vet for an overall health check and the first round of vaccinations. They will also get sent home with a blanket, a puppy starter kit, a food starter bag, a certificate of health, and AKC registration. The best way to contact her is through the Good Dog website or by messaging her on Facebook!
6. Haven Ridge Doxies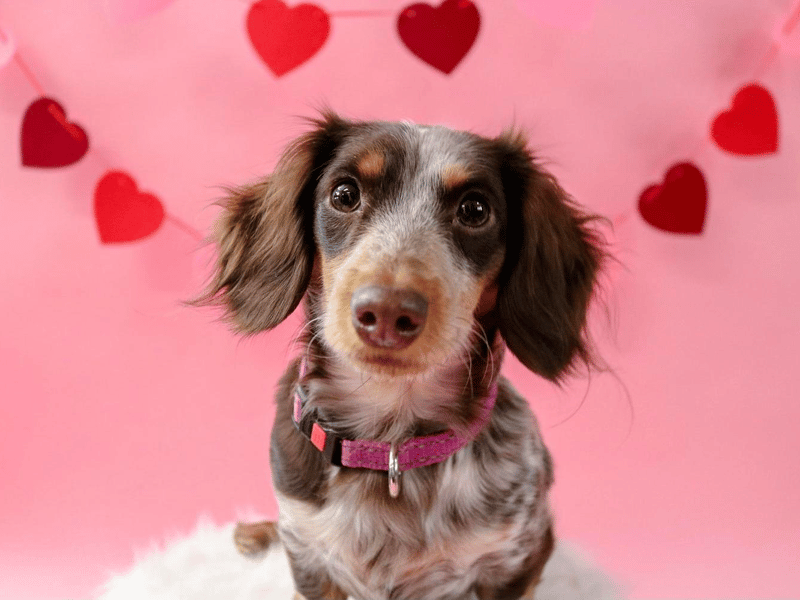 With only the best in mind for her puppies, Kaylin Gabbard is an animal lover, and she has always been invested in the well-being of animals. The dogs are a huge part of her life, and she enjoys spending time with them. She believes Dachshunds are the perfect companions for families and individuals. As a breeder, she feels a sense of responsibility to prioritize the overall health and temperament of each of her puppies and to ensure that they are loved and well cared for prior to joining their forever home. Her Miniature Dachshunds are also AKC and CKC registered
The puppy will go home at 8 weeks of age and every puppy is dewormed, given 2 sets of vaccinations, and taken to a licensed vet for a health check. She offers a 1-year health guarantee, and a health guarantee covers genetic health issues and defects. She makes sure to genetically test the parents for diseases and genetic disorders before breeding them.
She has 5-star reviews on Facebook and people absolutely love her and her dogs. Everyone has only had a great experience with her and say she has great communication One reviewer said that she sends photos every week of their puppy before going to their forever home. Another person loved her so much that they purchased 3 puppies from her!
| | |
| --- | --- |
| Name of Owner | Kaylin Gabbard |
| Address | Washington County, AR |
| Email | Kaylingabbard55@gmail.com |
| Phone Number | (479) 301-6230 |
| Links | Gooddog Profile, Facebook |
7. Savvy-Dee's Dachshunds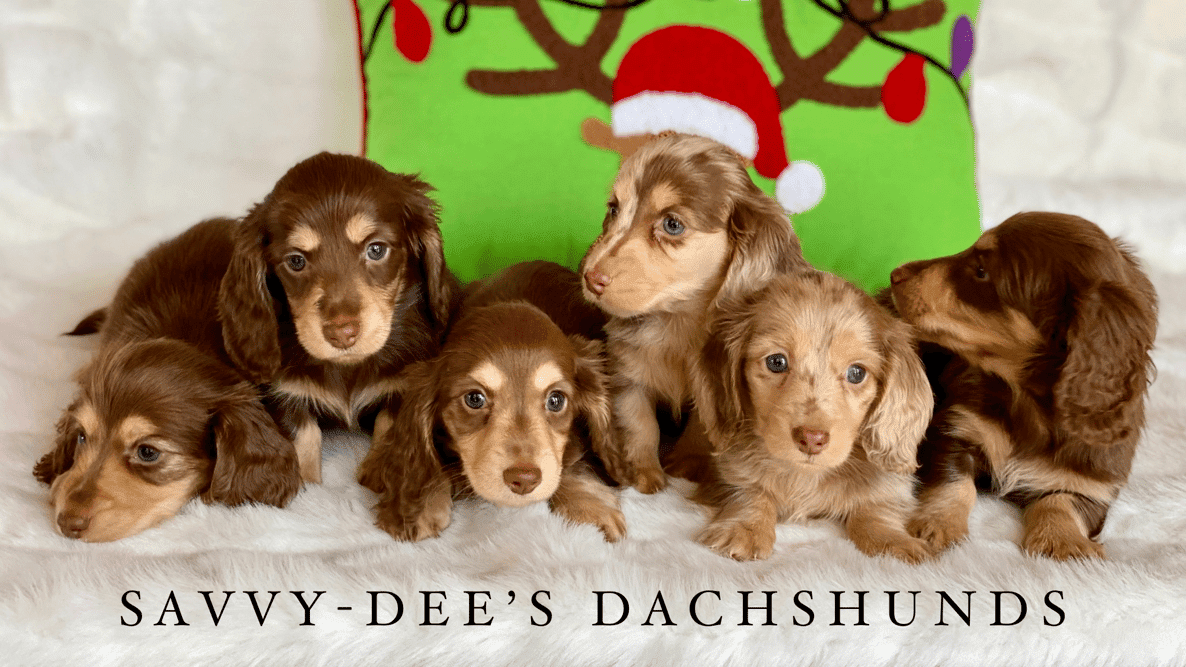 With a goal of ensuring every dog that comes from their program is set up to live a happy and healthy life, Deonna Moore is what you want in a great breeder. She provides each pup with lots of socialization and love, and she is dedicated to maintaining responsible breeding policies. She focuses on intentional breeding so that she can produce quality puppies that are excellent representations of the standard. These are AKC registered Miniature Dachshunds and some of the puppies offered are from champion bloodlines.
The puppy goes homes with you at 8-weeks of age and they are given age-appropriate vaccines, dewormed or have a negative fecal exam and they offer a 1-year health guarantee that covers anything life-threatening and genetic.
She has about 3,000 followers on Facebook which makes her one of the more popular breeders in Arkansas! She is constantly posting photos of the new litters and the parents as well.
| | |
| --- | --- |
| Name of Owner | Deonna Moore |
| Address | Augusta, AR 72006 |
| Email | tagbull@prodigy.net |
| Phone Number | (501) 230-9086 |
| Links | Website, Facebook |
8. The Dachshund Barn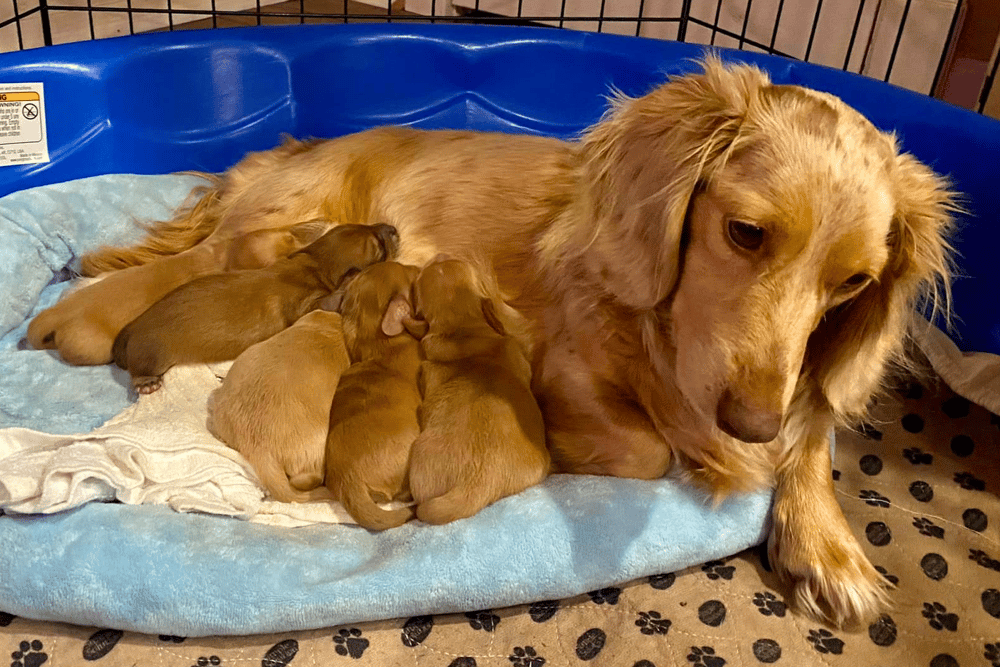 Misti Smith is a former dental hygienist and an all-time Dachshund lover. After several years of owning her own Dachshunds, she decided to share her joy by raising loved, healthy, happy puppies. This is a small family business, and she makes sure to have her husband and her son help with the puppies as well. Her puppies are AKC registered and if you would like more information, check her website where she has photos of the dams and sires!
After you have placed a deposit for your new friend, you will be updated with videos and photos! At 6 weeks of age, you are welcome to visit your puppy to make sure their temperament is a good fit for you. At 8 weeks the puppy is usually ready to go home! If you would like more information on vaccines and deworming programs, reach out to them with the contacts below.
| | |
| --- | --- |
| Name of Owner | Misti Smith |
| Address | E Fairview Rd, Hensley AR 72065, United States |
| Email | Mistismith75@yahoo.com |
| Phone Number | (501) 350-4322 |
| Links | Website, Facebook |
9. Cranberry Dachshund
They are a small in-home breeder of Miniature Dachshunds located in Central Arkansas! Their goal is to produce the best quality puppies that they possibly can with health, temperament, and conformation in mind. All puppies receive ENS (Early Neurological Stimulation) starting at birth which helps them get used to handling and better prepares them for their lives to be better pets and well-behaved dogs. The puppies are crate-trained before leaving their home. All puppies are AKC registered as well so they are quality puppies.
The puppy will come with a 2-year genetic health guarantee, vet check prior to leaving, all puppy vaccines, 5 lb bag of 4Health puppy food, dewormed regularly, and lifetime breeder support! The dog will be ready to go home at 12-14 weeks of age.
| | |
| --- | --- |
| Address | Conway, AR 72032 |
| Email | cranberrydachshunds@yahoo.com |
| Links | Website, Facebook |
Final thoughts
Overall, each breeder from this list is one I would consider to be a good and ethical breeder. Make sure to do your research before committing to a breeder and puppy as you do not want to get an unhealthy puppy or a puppy from a puppy mill. To find out which breeder you want to choose, I would recommend asking people who have purchased from the breeder, and they should be able to tell you if the breeder is reputable, has great communication, and takes care of their puppies.