Over the last few years, Dachshunds have become a popular dog breeds for many reasons. Many have found Doxies to have ideal personalities to be companions. Others have continued searching for Dachshunds to hunt.
The Dachshunds were originally bred as hunting dogs. The name Dachshund literally means "Badger dog", which tells us what they were bred for. They originally would dig underground and chase badgers out of their holes. This use explains the short, long bodies, which were ideal for burrowing.
As mentioned before, Dachshunds have become ideal companions as well. They have a goofy, but sweet disposition. If the right show dog breed is chosen, they can even be ideal for families with children.
If you are looking for an ideal companion for you and your children, be sure to tell your breeder so they can match you with the right puppy!
Another way to ensure you are getting a puppy with the best personality is to consider the general personalities of certain varieties of Dachshunds.
They come in standard, miniature, and even teacup sizes, which are all rather similar. However, the three coat types, which are available in all sizes, have some differences in personalities.
The original short-haired Dachshund is known for their stubbornness, as well as being loyal and smart. The wire-haired Dachshund is known to be the goofiest with their terrier traits and looks. Finally, the long-haired Dachshund has become a most popular companion.
Though their hair does require more care than their counterparts, they are known for their laid-back, sweetest personalities. This has made long-hair popular in many areas with New Jersey is no different.
If you're searching for a Dachshund breeder local to you in New Jersey, you're in luck. We've found the four best in New Jersey! When checking out our list, remember to follow our guide to finding a reputable breeder for things to keep in mind when choosing your individual dachshund breeder.
1. Harlequin Dachshunds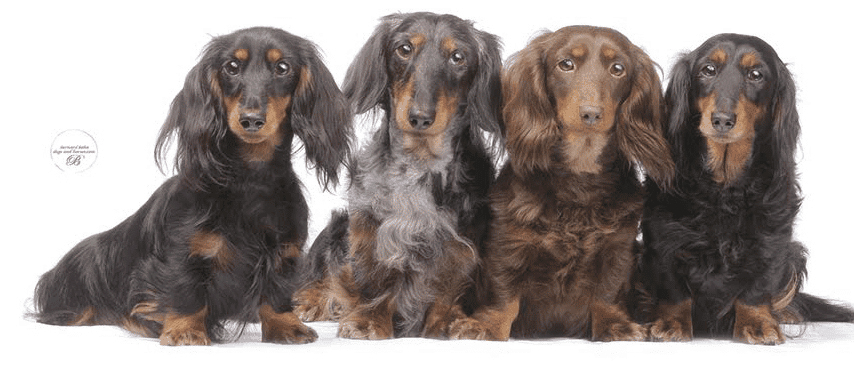 Harlequin Dachshunds has been specializing in long-haired Miniature Dachshunds in New Jersey for over 20 years! The owner chose the name "Harlequin" because it means "clown-like" or "comical", which is fitting for most Dachshunds. Dachshunds are known to be comical little dogs but are easily trainable and happy dogs.
Harlequin Dachshunds pups have proven the intelligence of the breed! Many have gone on to be therapy dogs, working with the elderly and children alike. In addition, their dogs have received awards in agility and obedience competitions!
They encourage early socialization in their puppies socialize home-based environment from a young age.
Harlequin Dachshunds' puppies come in a variety of colors and patterns. Their pups are bred to be the best in conformation, intelligence, and temperament. This is proven by their dogs' success in AKC conformation competitions over the last 16 years.
Harlequin Dachshunds Information:
2. CopperHill Dachshunds
CopperHill Dachshunds is a Dachshund breeder located in Central New Jersey. Their focus is ideal conformation and temperaments of standard, long-haired Dachshunds.
Their goals are for the dogs to be successful in the show ring, as well as performance events. With their focus on proper conformation, their pups are red or black and tan, as these are common colors in the show ring.
They ensure their puppies' health by health testing the parents allowing them to give a health guarantee. All puppies go to their forever homes with up-to-date on vaccinations and deworming.
CopperHill Dachshunds Information
| | |
| --- | --- |
| Name of Owner | Katherine Hiemer |
| Breeder Since | 2001 |
| Location | Bridgewater, New Jersey |
| Email | khiemer@verizon.net |
| Phone Number | (908) 722-2712 |
| Links | Website |
3. Jersey's Blue Moon Doxies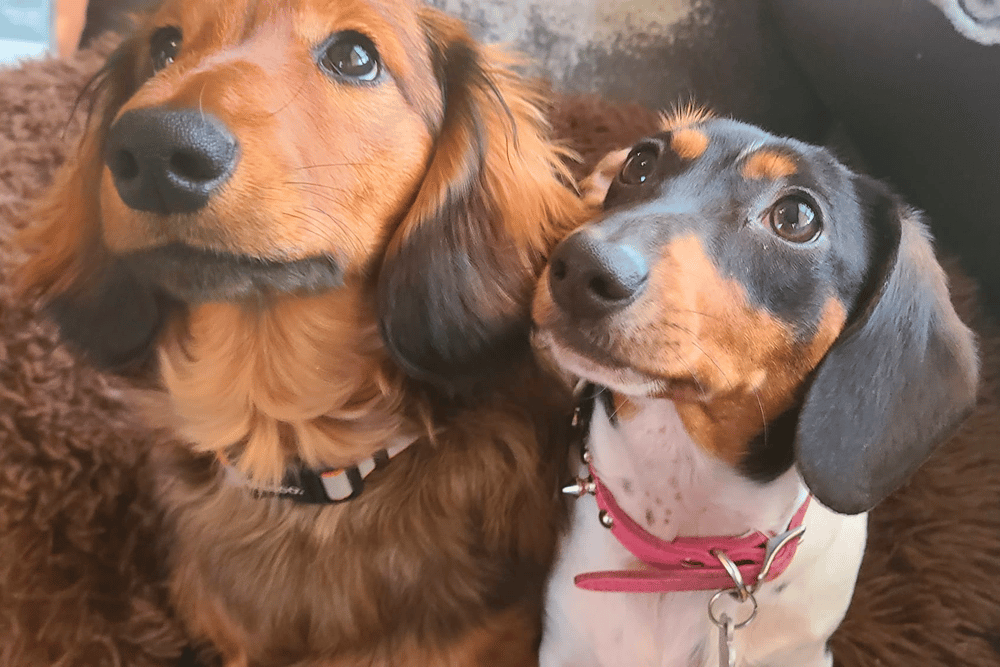 Jersey's Blue Moon Doxies breeds Miniature Dachshund puppies in Williamstown, New Jersey. Susan of Jersey's Blue Moon Doxies has had a passion for the the Dachshund puppy breed from a young age, watching her mother breed Dachshunds in Germany.
They have a small breeding program focused on providing well-socialized and happy puppies to be ideal companions in their future homes. To do this, they ensure their pups are well-socialized with other dogs and children.
They also take great care to pick the best parents possible and placing the puppies in the best homes for their needs.
Jersey's Blue Moon Doxies Information
| | |
| --- | --- |
| Name of Breeder | Susan Glennon |
| Location | Williamstown, New Jersey |
| Links | GoodDog, Facebook |
4. Mary Lou's Dachshunds
Mary Lou's Dachshunds is a small-scale breeder located in New Jersey. Their primary goal is to provide top-quality companion Dachshunds to families!
They are passionate about their rescue dogs, and sharing the love of Dachshunds with others! Their puppies go to their forever homes at 10 weeks old. This ensures they are fully prepared for the adjustments of leaving their mom.
Mary Lou's Dachshunds Information
| | |
| --- | --- |
| Name of Breeder | Mary Lou Bergamo |
| Location | New Jersey |
| Links | GoodDog |
Over time, the Dachshund has gone from a hunting partner to a loyal companion. These dogs have found their way into many people's homes and hearts. Even though New Jersey is a small state, it has a few excellent local breeders who will help connect you with the best pup for you and your family.
Best Dachshund Breeders in the Other States