Dachshunds are a well-known breed for their long, short bodies. This comes from their history where they were originally bred as "badger dogs", where they needed their long, short bodies to the tunnel after the badgers. Some are still used for hunting, but some owners still choose Dachshunds for their short stature and silly-looking, long bodies.
Dachshunds come in a few sizes, Standard and Miniature. The standard is only 8-9 inches tall compared to the 6-8 inches of the miniature. However, the big difference comes in weight, where the standard is 16 to 32 pounds and miniature are only 11 to 18 pounds. Both have similar personality traits, exercise needs, life expectancy, and come in multiple coat varieties, colors, and patterns.
Many Dachshund breeders in South Carolina specialize in a specific type of Dachshund. This can be dependent on size, coat, color, or even all of the above. The majority of the breeders in South Carolina specialize in Miniature Dachshunds with long-haired being the popular coat type. However, some breeders have smooth-haired and/or wire-haired in addition to the popular long-haired.
If you're in South Carolina and trying to find your perfect Dachshund, we have compiled this list just for you! We used our guide to find the reputable Dachshund breeders with best practices to give you the happiest, healthiest puppy meeting Dachshund standards!
Dachshund Puppies For Sale in South Carolina
1. Triniti Miniature Long-haired Dachshunds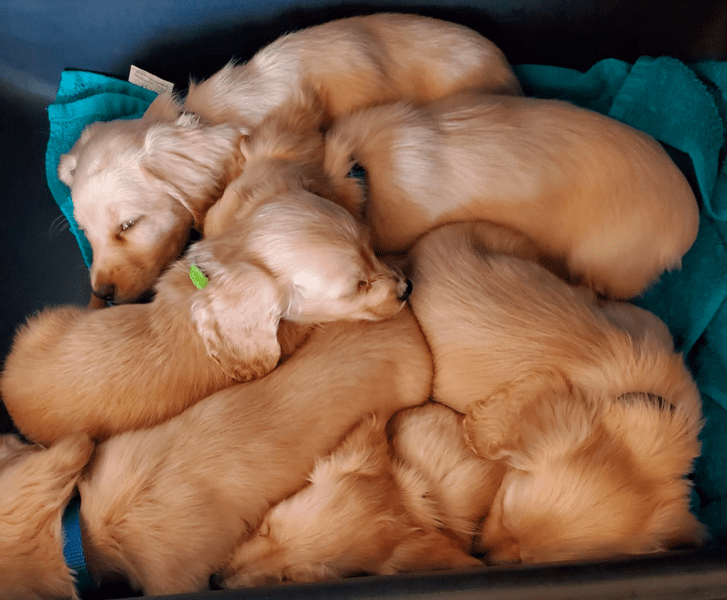 Located in Spartanburg, South Carolina, Triniti is a breeder of show-quality long-haired Miniature Dachshunds. All pups at Triniti Dachshunds are bred from champion lines from around the US and even the UK. The champion parents have excellent genetics leading to healthy pups with good and friendly temperaments as well as exceptional conformation to standards. The owner of Triniti Dachshunds is so confident in her pups' genetics she offers a lifetime guarantee against genetic health defects and congenital conditions. The health of the dogs is one of the top priorities, following a proper vaccination schedule and all puppy health protocols.
In addition, to show pups, Triniti pups have also gone on to be therapy dogs, pass AKC Good Citizen training, obedience, rally, and even just loyal, loving companions. All the pups, whether show quality or not, are beautiful, happy, and well-socialized pups when going to their forever home. The majority of the Dachshunds from Triniti's breeding program are companions first and foremost, before their other endeavors with their families.
The owner of Triniti Miniature Dachshunds works hard with prospective puppy families to ensure they are a good match for their puppy. She ensures those interested in showing Doxies get the most high-quality show pups available. She also ensures families get pups who will fit in their lifestyle. All pups go home with a microchip and AKC registration.
2. Music Row Dachshunds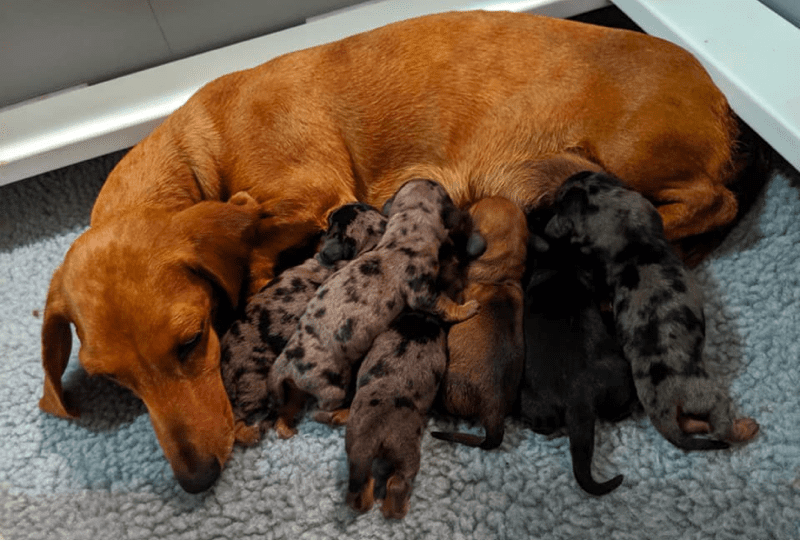 Music Row Dachshunds is a Doxie breeder in upstate South Carolina. They specialize in breeding short-haired Miniature Dachshunds. They are a family breeder who also runs a horse farm in addition to breeding their pups.
From birth, the puppies are interacted with by children as at least one of the family's daughters is usually present at birth. One of their main goals is for their puppies to be well-rounded companions, which includes child-friendly. Graber Ranch pups are also bred to conformation standards as well. The family shows their pups throughout the Southeastern US and has many champions in their bloodlines.
Along with champion bloodlines, Graber Ranch ensures their pups are healthy as well. They test their adults for PRA, genetic blindness in Miniature Dachshunds, to ensure they are clear and cannot pass this on. All pups are up-to-date on shots and worming, as well as vet checked before going to their new homes at 12 weeks old. They have a later age where the puppies go to their future homes so the pups can receive two sets of shots, begin potty training, and ensure they are well-socialized with humans of all ages and other animals.
3. Dachshund Domain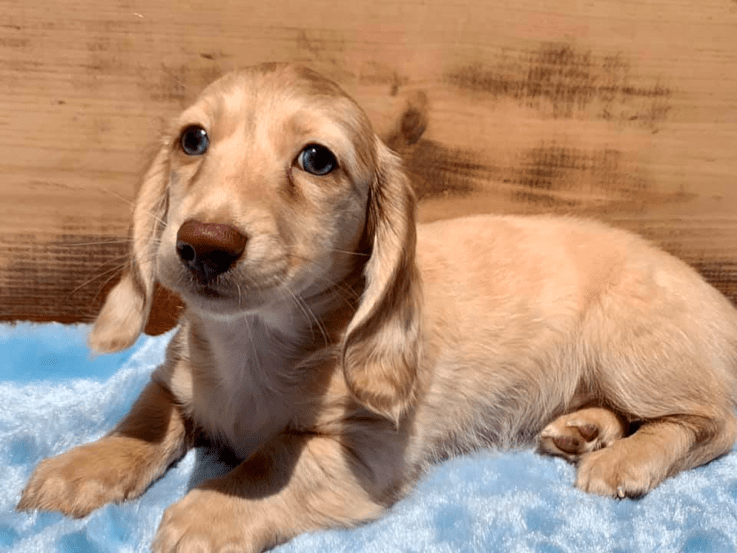 Dachshund Domain is an in-home breeder in Laurens, South Carolina. Their focus is on Miniature Dachshunds with short and long coats in a variety of colors. Their dogs come in a variety of patterns including creams, dapple, and even piebald. Dachshund Domain's goal is to produce healthy puppies who meet breed conformation standards and ideal temperaments for them to fit into any family.
The majority of pups from Dachshund Domain are bred as companions and are therefore sold on a spay/neuter contract. All doxies in their care are AKC registered with a health guarantee. The puppies will be fully up-to-date on vaccinations, deworming, and vet-examined by the time they go to their homes. When the puppies go to their forever homes, they leave with their health certification and vaccination record, a bag of food, a puppy pack full of information and more, and a lifetime of support from the breeder.
As mentioned before, Dachshund Domain is an in-home breeder. This means the puppies are raised in their home with their six human children and handled by humans from the moment they are born. This leads to well-rounded puppies with excellent temperaments.
4. Doxie-ology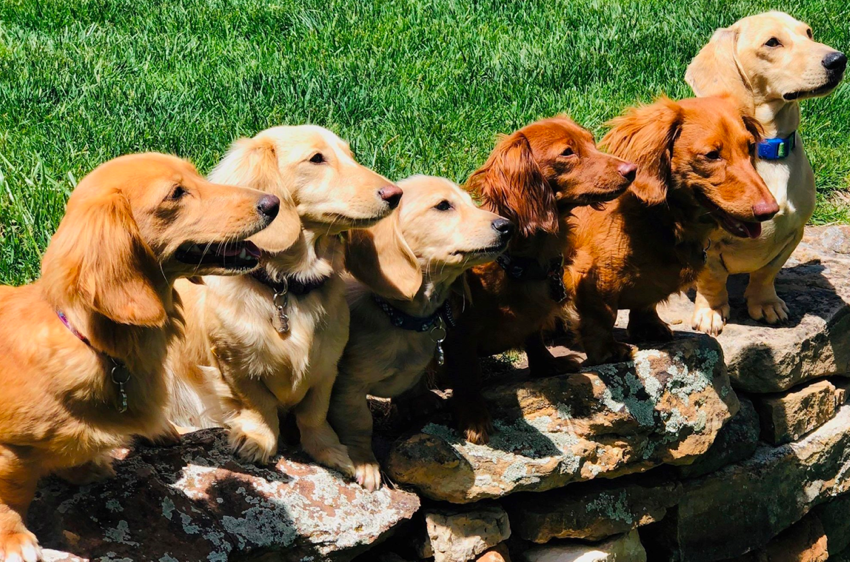 Doxie-ology is a hobby, Dachshund breeder in Andrews, South Carolina. They specialize in creams and red in both long and short-haired. They take care to plan their litters so they have the healthiest, loving pups for families. They carefully breed for ideal temperaments and health, as well as looks.
Reviews state Dave and Denise are extremely knowledgeable in the Dachshund breed. They truly care for their dogs and all puppies are a part of their family, even once they have gone on to their forever family. The McAfees communicate with families throughout the waiting period from birth to eight weeks when they can go to their new homes. Their puppies are beautiful, healthy, and have perfect temperaments.
5. Williams Mini Doxies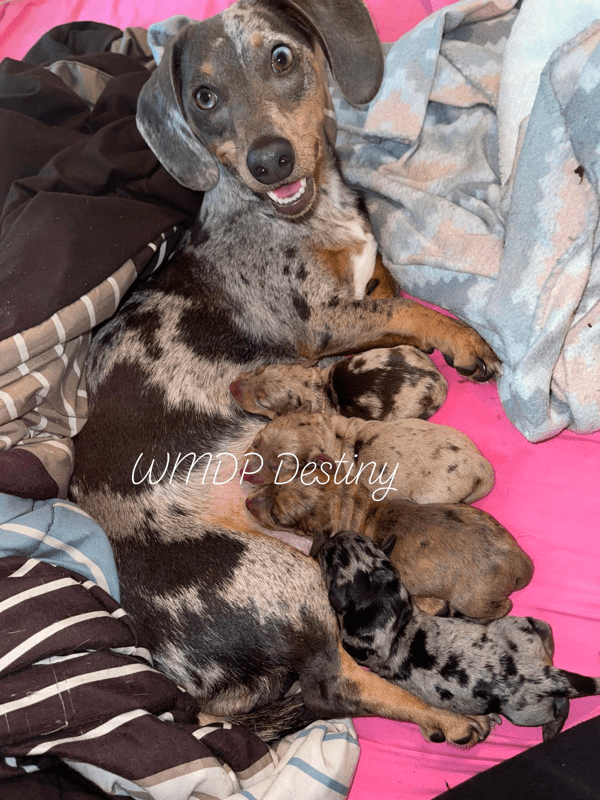 Williams Mini Doxies is a Miniature Dachshund breeder in Blackville, South Carolina. They specialize in Miniature Dachshunds with short hair in a variety of colors and patterns. Recently, they have joined the AKC Bred with HEART program. This means they breed their pups with health, education, accountability, responsibility, and tradition. Breeders in this program agree to continue education through the AKC and breed healthy pups.
Reviews state Williams Mini Doxies breeds healthy, happy, and gorgeous pups. They take such great care of their pups in their first 8 weeks so they are well-socialized and easily adjust to their new families. The owner of Williams Mini Doxies keeps an open line of communication with future puppy families. She is open to quickly answer any questions future owners have as well as sending weekly pictures, videos, and message updates while the puppies are still in her care. The owner ensures all her dogs, adults and puppies, receive top-notch care to have excellent temperaments.
6. Shady Oaks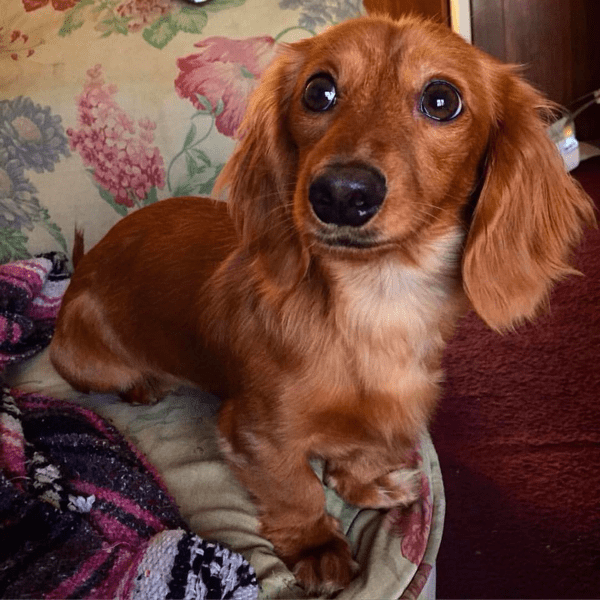 Shady Oaks is a small Dachshund breeder in UPstate South Carolina. They specialize in AKC registered long-haired Doxies. They breed a limited number of litters each year. All puppies are raised in their home and handled from birth.
Before going home, Shady Oaks' puppies are vet-checked and up-to-date on vaccinations and deworming. They encourage puppies ' forever families to continue these schedules to keep puppies as healthy as possible.
Reviews state Shady Oaks puppies are gorgeous, super sweet, and very smart. Even owners who have older dogs from Shady Oaks state their dogs have been in perfect health their entire lives. Reviews state the owner of Shady Oaks keeps an open line of communication with future owners while puppies are still in her care, as well as quickly answering any questions they may have. Many people drive long distances to get their puppies from Shady Oaks with no regrets.
| | |
| --- | --- |
| Name of Owner | Tina Smith |
| Address | 327 Belle Shoals Rd., Six Mile, SC 29682 |
| Phone Number | (864) 506-2598 |
| Links | Facebook |
7. SC Palmetto: Miniature Dachshunds Breeder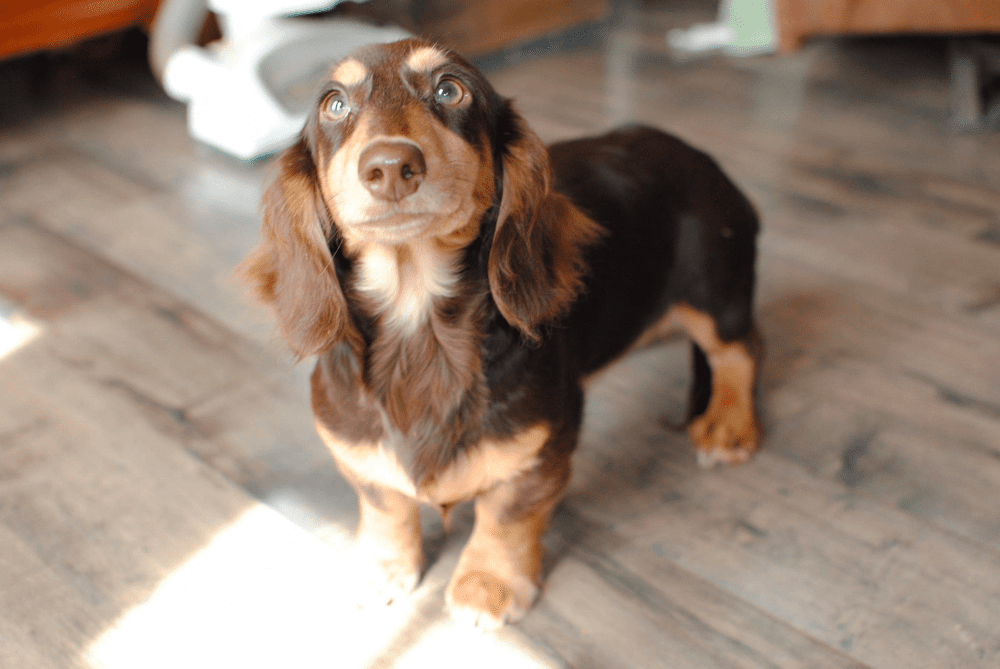 SC Palmetto is a Dachshund breeder located in upstate South Carolina. They specialize in Miniature, long-haired Dachshunds, occasionally breeding short-hairs as well. Their primary goal is to breed healthy, even-tempered, high-quality Doxie pups.
Their Dachshunds are bred to be excellent companions in the home and the field. To qualified prospective pup parents, SC Palmetto will allow pups to be purchased with breeder rights. However, the majority are sold as companions.
SC Palmetto Dachshunds come to their new homes with a one-year health guarantee against genetic illnesses. Puppies also go to their new homes up-to-date on vaccinations and worming.
8. Porth Kennels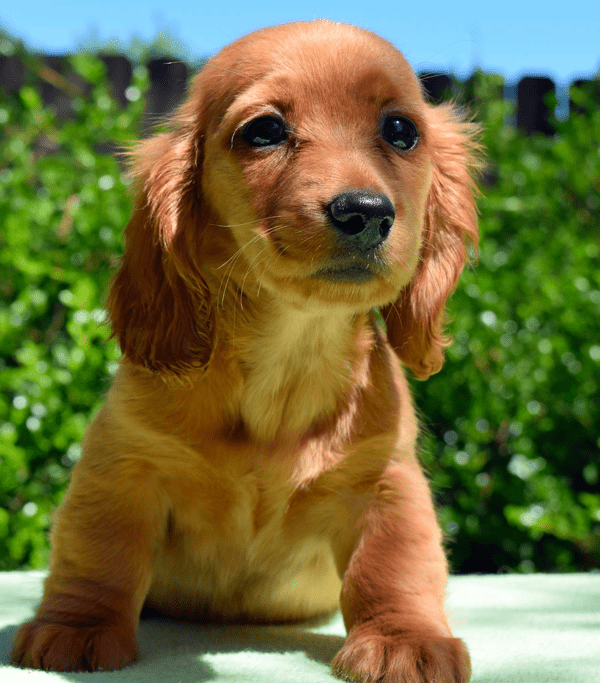 Located in Lexington, South Carolina, Porth Kennels is a Miniature Dachshund breeder specializing in English Creams. A true English Cream Dachshund can be hard to find. However, Porth Kennels has a unique line of imported "true" English Creams. These pups are known to have the best temperaments while being extra exquisite in looks.
Porth Kennels' breeding program began in 1998 and they found it to be a passion in learning more about the breed. This has lead to their pups having excellent genetics and healthy while having ideal temperaments and making wonderful family companions. All adult dogs are part of their family, as well as the puppies. Their passion is truly in the best interest of the puppies to the point they will refuse to sell to someone they do not see as a good fit.
In addition to the puppies being bred as ideal companions, Porth Kennels also breeds for conformation. Their Dachshunds have won in AKC Majors for their confirmation, while others have gone on to win rally titles and earned their AKC Canine Good Citizens. This proves their pups are not only perfect pets but smart and conform to breed standards as well.
All puppies come with a 2-year health guarantee, AKC registration application, 5 generation pedigree, and appropriate shots and deworming for their age. The majority of their pups are sold on spay/neuter contracts except for special circumstances.
9. Graber Ranch Dachshunds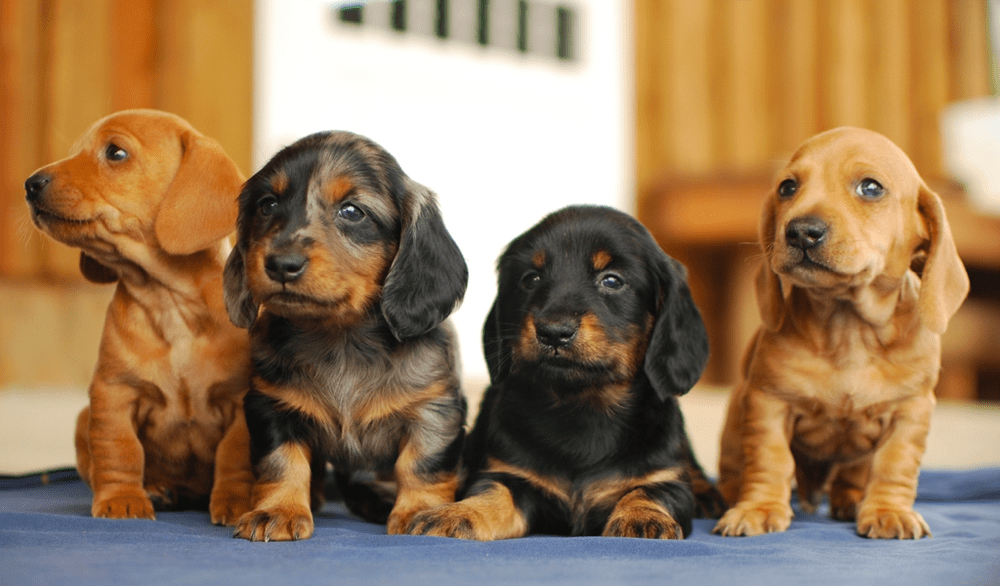 Graber Ranch is a Miniature Dachshund breeder located in Westminister, SC. The family has owned Dachshunds for 34 years, starting with a few as pets. They decided to spread the love of Dachshunds to others by breeding starting in 1992.
Graber Ranch specializes in Miniature Dachshunds, bred to be excellent companions. Their puppies are handled from day one by everyone, including children. Their pups are loyal, loving companions who adjust to a variety of situations.
The health of their adult and puppies is a top priority for Graber Ranch. Puppies receive their first worming from 3 weeks old and vaccinations at 6 weeks old. They encourage puppy parents to take proper measures with their choice veterinarian to continue these treatments and others necessary for the puppy to live a long, healthy life.
Reviews state Graber Ranch breeds the best companion Dachshunds possible. Their pups are smart with sweet temperaments while being built true to the doxie breed.
10. Dogwood Acres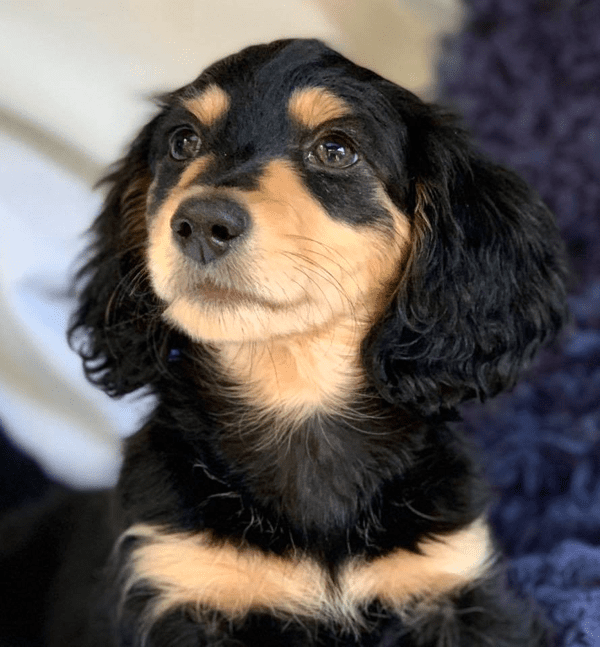 Located in Fountain Inn, South Carolina, Dogwood Acres is a kennel-style Dachshund breeder. Even though they have a "kennel", the dogs are not kept to runs but instead given a large, safely fenced area to run and play. At night, the dogs are kept in their own personal Dogwood Acres Doghouse, which looks like a mini house.
Dogwood Acres takes great care for the safety of the puppies, limiting visits until the puppies have their first set of vaccinations. Before that, they will keep the pup's future families up-to-date with weekly photos and videos.
The primary focus of Dogwood Acres breeding program is excellent temperaments while meeting breed conformation standards. The majority of their Dachshund puppies are sold as companions, so they take great care to ensure the puppies are well-socialized and healthy to live long, happy lives in their forever homes. Dogwood Acres stands behind their puppies with a health and temperament guarantee. Puppies go to their forever homes with AKC registration, health certificates, and puppy packs.
Best Dachshund Breeders in the Other States
Remember, these are not the only Dachshund breeders in South Carolina, just the ones meeting our standards for reputable breeders. While checking out different breeders, be sure to ask questions and still use our reputable breeder guide to ensure they meet your needs. Be open and honest with your chosen breeder to ensure you get the best pup for you, not just the first available. Sometimes patience is the best thing when finding your ideal pup!