The goal here at Dachshund World (DachWorld.com) is to provide Dachshund owners and potential Dachshund owners with valuable resources to ensure their companion is living their best life. We provide tips, trade secrets, health information, genetic testing, and basic care including the best diet and exercise regimen as well as tips to help your long-backed companion from developing spinal problems.
Dachshund World will quickly become your go-to resource for all things Dachshund breed, including training tips, the best food for your dachshund, toys, products, beds, training advice, and general information on how to acquire a new dachshund for your family. The Dachshund is a fantastic dog that is dedicated to their family, happy, loving, and just a bit stubborn but just as charming in its cuteness.
This site is a not-for-profit site; however, for us to continue to provide such a fantastic resource to you, we do have sponsors and advertisements. We try to keep Dachshund World from becoming too cluttered by limiting the advertisers and sponsors to information pertaining to canines.
The adage adopt don't shop is truly a double-edged sword, especially when it comes to pet ownership. Many people prefer to adopt a dog from a rescue and shelter and that is to be commended. However, many other people prefer to bring their new companion home from a breeder who has been diligent in performing genetic health testing, temperament testing, and carefully socialized and trained their puppies and adults. Neither adoption nor purchasing is right or wrong; it is simply a matter of preference.
If you are searching for a new Dachshund to add to your family, be sure to check out our section dedicated to responsible breeders and rescues. While Dachshund World does its very best to screen breeders and rescues, you will need to do your due diligence as well and thoroughly research the breeder or rescue you are interested in getting your next Dachshund from.
There is even a section on our site dedicated to those who have loved or currently love a Dachshund mix. Most of the care and training tips shared here will be beneficial to all Dachshunds, including those that may not be 100% Doxie.
While the Dachshund is not the ideal companion for every family, they do provide a loyalty that will make them a favored breed for anyone who has ever had the pleasure of owning one, or two, or maybe even more, like me who currently has nine little Doxies.
Dr. Holly Ramsey, Ph.D.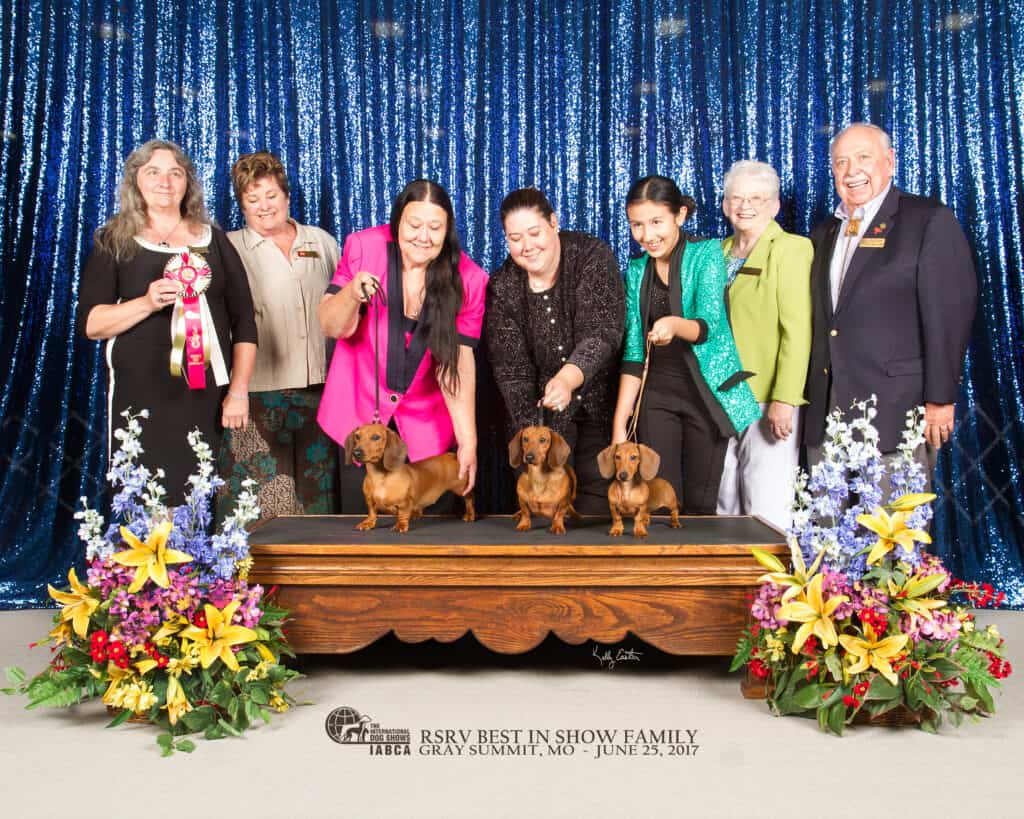 As a content writer, it is a joy to be able to share my passion with others who love and cherish the Dachshund. I have been a preservation breeder of Dachshunds at Classic Kennels since 1996, specializing in miniature short-hair Dachshunds. Throughout the years, I have successfully campaigned over 12 Dachshunds to multiple championships.
Along with my mother, we have produced companions that have lived up to 18 years old and been well-adjusted companions. We always act as the first resource for our Dachshund families and it is a privilege to share some of my knowledge here at Dachshund World, which I hope will become the second resource for all my Dachshund families.
Having been a dog lover my entire life, I am constantly striving to learn more and more about the Dachshund including advancements in genetic testing and their overall health. I am also committed to ensuring that my Dachshunds receive the best care, including dietary needs, and am continually researching dog food companies and performing analysis on specific brands that I have used for over 20 years.
It is my goal to help Dachshund World become a leading resource for ALL Dachshund lovers so that their Doxie companion will be a happy, healthy, well-adjusted family member. Check back often as new content will be added regularly and if you do not see a topic covered that you would like to see, contact the admins of Dachshund World with your suggestion.