Dachshunds have become a popular breed of dog, making dachshund puppies highly sought after. They come in a variety of coat types, colors, and even sizes! Dachshunds are most commonly available in miniature and standard sizes, but also tweenie and the tiny teacup or rabbit size!
There are three main coat varieties available in Dachshunds. The smooth or short-haired Dachshund is popular due to easy upkeep. The long-haired and wire-haired both have differing grooming needs that will need to be taken into consideration by prospective owners.
Dachshunds also come in a variety of colors and patterns! In Colorado, the highly sought-after dapple pattern is very popular and there are a few breeders specializing in this pattern!
The most important thing to consider when searching for a Dachshund breeder in Colorado is whether or not they are reputable. To help you along the way, we have created a list of breeders who we consider reputable based on the information we are able to find on them!
1. Bianka's Dackels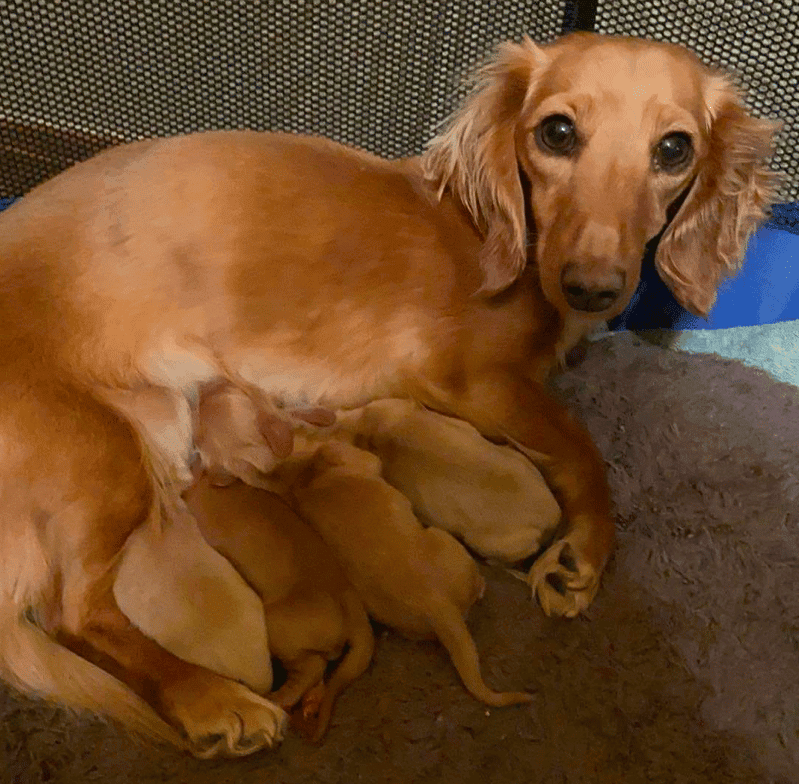 If you're looking for a long-haired Dachshund puppy, look no further than Bianka's Dackels in Southern Colorado! Bianka has been raising Dachshunds all her life, starting with her family's breeding program in Germany when she was growing up.
When moving to the United States, she brought a couple of Dachshunds with her and began focusing more on her breeding program after retiring.
Bianka specializes in producing long-haired Dachshunds with a focus on creams and chocolates. She takes great care to ensure her dogs have championship lines, clean bill of health, and not breeding related dogs.
Her puppies come with AKC paperwork, vet-checked with a health guarantee, first shots, dewormed, and even a puppy starter kit! To ensure her puppies will do well in all environments, they are well-socialized from a young age with other dogs, humans of all ages, and even cats!
Reviews state Bianka is very professional, answering any and all inquiries from potential customers. She also keeps potential puppy families informed with regular updates on their puppies! She is very kind and it is easy to see the care and compassion she has for her dogs. Puppies purchased from Bianka are healthy, loving, and have excellent temperaments.
Bianka's Dackels Information:
2. Wiener Wilderness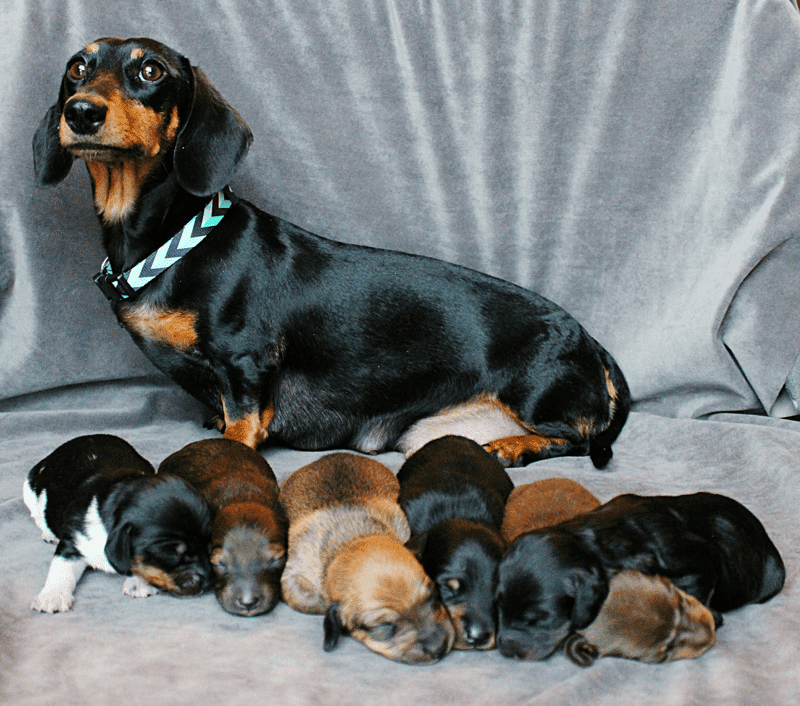 Wiener Wilderness is an in-home Miniature Dachshund breeder located in Elbert, Colorado. They breed long-haired and short-haired Miniature Dachshunds.
Their pups have a variety of colors, including traditional colors (such as red or black and tan), solids (chocolate and black), creams, piebalds, and dapples. Their primary goal is to provide families with well-rounded, healthy puppies. Her care for the Dachshunds she raises shows in her social media presence where she shares frequent updates on her puppies and adult dogs.
Wiener Wilderness deems puppies ready to go to their new homes at 10 weeks old. This ensures they have begun all required vaccinations and completed deworming.
When puppies go to their forever homes, they have been microchipped, vet-checked with health guarantee and records, and take a starter kit. They also offer limited or full AKC registration.
For limited registration, they require a spay/neuter contract for 12-18 months. Their spay/neuter contract is longer than normal for the health and well-being of the puppy.
The starter kit includes a small container of food, a blanket smelling like mom and siblings, a Snuggle Pet, a puppy toy, a year of health insurance coverage, and a 3 day supply of NuVet supplements.
The blanket and Snuggle Pet are key to helping puppy transition by providing them with familiar scents and a warm toy with a familiar sound (heartbeat).
Reviews state Wiener Wilderness puppies are excellent examples of the Dachshund breed. Their puppies are not only gorgeous but have outstanding, sweet personalities.
The owner, Heather, takes great care of her puppies, including a clean, healthy environment and lots of love. She also does an excellent job keeping prospective families up-to-date on their puppy and loves to keep in contact to see how the puppy is growing after going to their new home.
Wiener Wilderness Information:
3. Rocky Mountain Dachshunds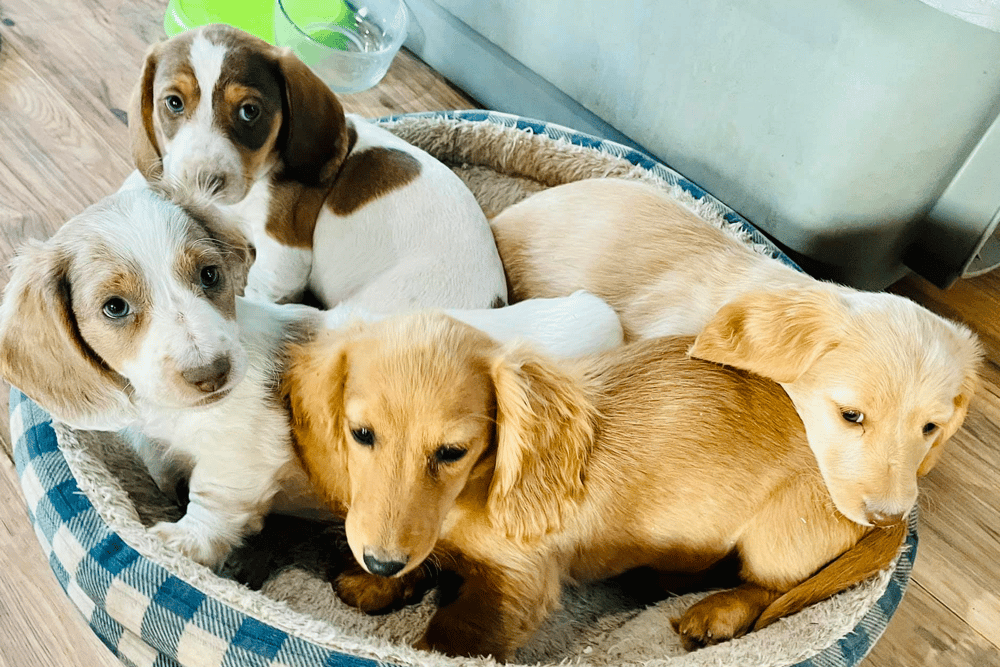 If you're searching for Dachshund puppies in Colorado, look no further than Rocky Mountain Dachshunds! Rocky Mountain Dachshunds produces long and short-haired Miniature Dachshunds in a variety of colors and patterns. To ensure quality and health, the sires and dams are all genetically tested.
While in Rocky Mountain Dachshunds' care, puppies are well-socialized with other dogs, cats, and even young children! The puppies also have dew claws removed, first vaccinations, deworming, and are vet checked before going to their forever homes!
Reviews state Brandi is an excellent breeder who shows lots of compassion for her dogs! She keeps an open line of communication with families, answering all any questions, while the puppies are in her care.
Once the puppies go to their forever homes, she even checks up to see how the adjustment is going for the puppy and their family! Puppies from Rocky Mountain Dachshunds are gorgeous and very sweet, fitting in well in a variety of homes.
Rocky Mountain Dachshunds Information:
4. Sunset Dachshunds
If you're on the search for a breeder with experience in raising excellent Dachshund puppies in southwestern Colorado, look no further than Sunset Dachshunds. They have been raising Dachshunds for over 30 years.
Sunset Dachshunds specializes in Miniature Dachshunds with long-hair and wire-hair in a variety of colors and patterns. This breeder is unique in the fact her pricing is the same no matter what gender, color, coat, etc. they have.
Sunset Dachshunds' focus is on breeding pups with excellent dispositions and temperaments. To do this, all dogs are treated as members of the family, including receiving the best in terms of nutrition and care.
Their pups also come from AKC championship lines, but their goal is to produce pups who will be ideal companions. The owner also holds certification as an AKC Canine Good Citizen Evaluator, teaches obedience, and leads puppy socialization and playgroup.
Sunset Dachshunds Information:
5. Rockin L Dachshunds
Located in Walsh, Colorado, Rockin L Dachshunds breeds Miniature Dachshunds with short and long hair in gorgeous colors. Their colors include brindles, dapples, piebalds, and solids. Their puppies are eligible for limited CKC registration only as they only sell the puppies as pets.
All of the Rockin L Dachshunds are raised in-home and around many family members. This encourages early socialization as the puppies are around humans of all ages, as well as other animals.
From a young age, puppies are introduced to different environments, such as carpets, hardwood floors, and grass. Puppies are also potty pad-trained once they begin walking.
Reviews state Rockin L Dachshunds puppies are gorgeous with great temperaments. The puppies are very healthy as well! The owner, Linda, does her best to answer any questions prospective puppy owners have and keeps an open line of communication with them as well.
Rockin L Dachshunds Information:
6. Colorado Dachshunds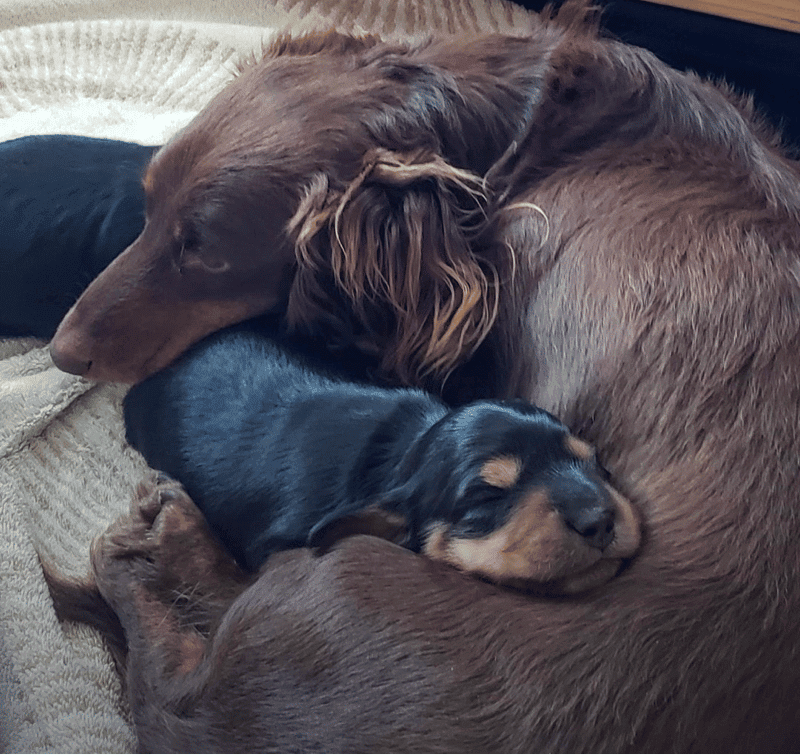 Colorado Dachshunds is a small, in-home Dachshund breeder in Colorado. They produce only long-haired miniature Dachshunds. They only have two litters a year to ensure all the dogs and puppies get their full attention and proper care.
Colorado Dachshunds keeps all dogs in their own home in the backyard, but they are still a part of the family. Their focus is on providing above-average Dachshunds, which is why they get dogs from championship lines.
Their dogs go to their new homes with a one-year health guarantee, as well as vet-checked and up-to-date on vaccinations and deworming. The majority of their puppies are sold as pets with limited registration, but they are willing to consider breeding rights on a case-by-case basis.
Colorado Dachshunds Information:
7. Heritage Doxies
Heritage Doxies is a small-scale breeder producing Dachshund puppies in Colorado Springs. The owner has a passion for the Dachshund breed since getting one as a companion at a young age. They fell in love with these dogs and wanted to share these excellent companions with others.
As mentioned before, Heritage Doxies' primary goal is to share this beautiful, unique breed with others. Their dogs are gorgeous and produce lovely puppies as well! They request to be contacted by prospective puppy owners before deposits are made to ensure they will have a proper puppy for the family.
Heritage Doxies Information:
8. Flickennel
Flickennel is an experienced kennel, producing Dachshund puppies located in Westcliffe Colorado. They have been breeding Dachshunds since 1968. This experience has given them expertise in the breed and the ability to produce pups with the best temperaments, conformation, coats, and bloodlines.
Not only have they sold puppies to families and breeders throughout the United States, but they have had breeder requests from people in Canada, Germany, and Australia, who have now continued the bloodlines in their countries!
Flickennel produces pups in all sizes, including standard, miniature, and rabbit (teacup). Their dogs also come in most colors, patterns, and coats. They are willing to try to produce specific requests as well. So if you have a specific Dachshund you're looking for, Flickennel is a great option to discuss the possibilities!
Flickennel Information:
9. Dapple Doxies
Dapple Doxies is a family-run kennel producing Dachshund puppies located in Johnstown, Colorado. They have spent many years working to ensure they produce quality puppies that meet conformation standards. They produce puppies with smooth and long coats in a variety of colors, including dapple, creams, and piebalds.
Dapple Doxies puppies are well-socialized from the beginning with care by all members of the family, including children. Before they go to their forever homes, all puppies must have their first round of vaccinations and completed deworming. All puppies are sold with a one-year health guarantee and limited AKC registration as pets. They will consider breeding rights on a case-by-case basis.
Dapple Doxies Information:
10. Dry Creek Miniature Dachshunds
If you're searching for a Miniature Dachshund in Northwestern Colorado, look no further than Dry Creek Miniature Dachshunds. They take great care to breed puppies with excellent temperaments as well as beauty.
All their dogs are treated as pets foremost and raised in their home with family. To ensure ideal temperaments, they begin socialization with humans and other animals from birth. Their puppies have gone on to compete in agility competitions but mostly go to their forever homes as companions.
Dry Creek Miniature Dachshunds Information:
11. Galewinns Irish Setters & Miniature Dachshunds
This small family breeder is dedicated to Miniature Dachshunds and Irish Setter. Their Doxies come in a variety of colors and patterns in shorthair or longhair. Galewinns only produces a few litters each year so you will want to ask about their waitlist. A deposit is required to reserve a puppy.
Health and temperament are very important and each dog is chosen based on their overall conformation, health, and temperament. Puppies are well-socialized and grow up around kids and dogs. Puppies transition into their new homes with very few problems.
| | |
| --- | --- |
| Name of Owner | Pam Gale |
| Year founded or number of years breeding | Since 1998 |
| Address | Windsor, CO |
| Phone Number | 970-214-5328 |
| Email | pam@galewinns.com |
| Website | galewinns.com |
12. JM Kennel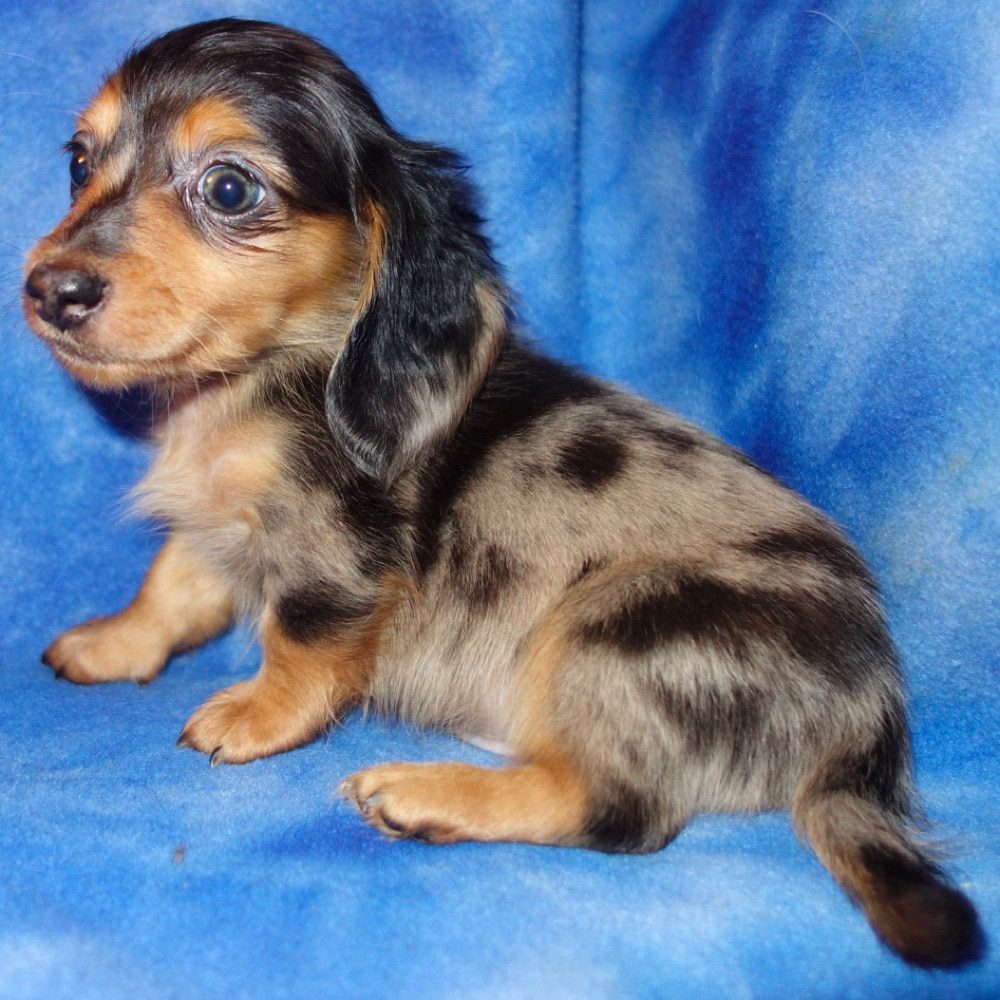 A small in-home breeder offering English creams, dapples, and piebalds in shorthair and longhair, JM Kennel focuses on health and personality. Puppies are raised in their home and handled from birth, therefore, they are well-socialized.
All puppies from JM Kennel are placed with limited registration as family companions. This means they should be spayed or neutered when they are old enough and are not being sold to be breeding or show animals.
Puppies are covered under a one-year written healthy guarantee, age-appropriate vaccinations and de-wormings, and a puppy starter pack.
We hope this list helps you find your perfect Dachshund breeder in Colorado! While reviewing the breeders on this list, remember to follow our guide to finding a reputable breeder to also ensure they are the right fit for you!
Remember it is usually a good sign if you have to wait a bit to get your perfect puppy! Sometimes patience can be very important when finding your new family member! If you are unable to get a pup in Colorado kennels or breeding houses then we strongly suggest to connect breeders in Arizona.
Top Dachshund Breeders in the Other States