If you're looking for a qualified Dachshund breeder in Texas, you're in luck. We've created a list of the most reputable Dachshund breeders found in the big state. Doxies are well-known for their long bodies, short little legs, and bold personalities. Plus, weiner dogs make great companion dogs. They're really sweet dogs, so it's not surprising there are lots of Doxies for sale in Texas.
If you live in Texas and are looking for a Dachshund puppy, keep reading! This article has all the information you need to find the best breeder in Texas. So, keep reading!
Top 11 Most Reputable Dachshund Breeders in Texas
1. Blessed Doxies in Texas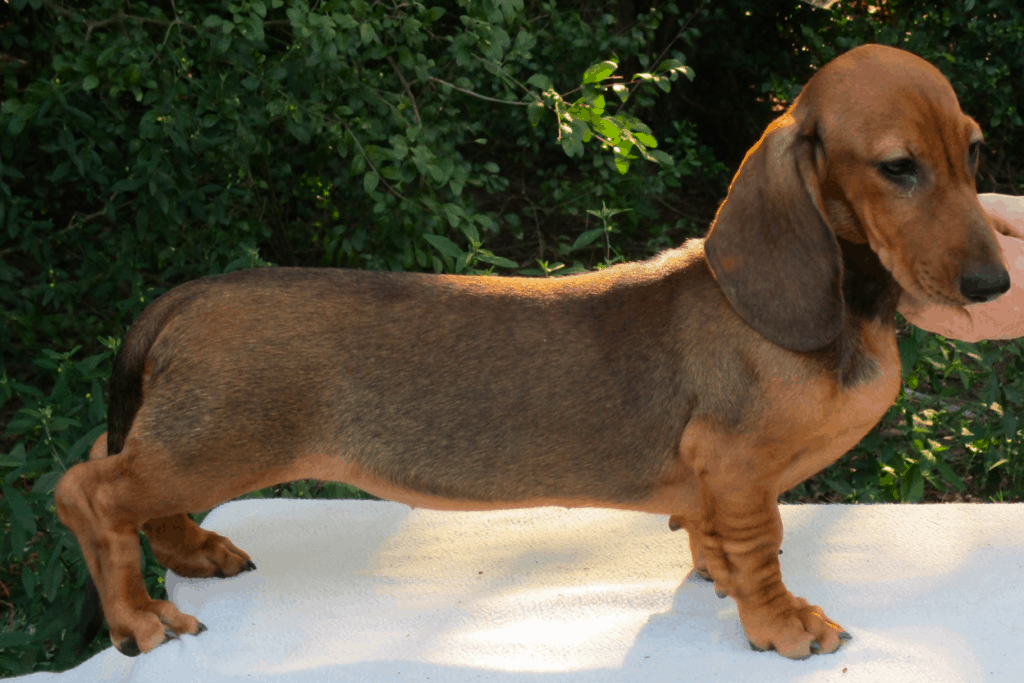 Carla Hendrickson has been breeding Dachshunds for over 30 years. She's committed to breeding healthy, strong puppies so their doggie parents can enjoy a lifetime of blessings. Because Dachshunds have a history of back problems, Carla focuses on breeding puppies with strong loins and long rib cages for more support in the puppy's spines.
Blessed Doxies breed smooth and long-haired standard and miniature Dachshunds. They have a wide selection of colors such as
Red
Red chocolate
Red brindle
EE Red
Shaded red
Black/cream
Black/tan
Black and tan brindle
Chocolate/tan and cream
Dapples
Solid black
Chocolate with no markings
Although Dachshunds have a tendency to gain weight which puts them at risk for health problems, if you give them the right food and plenty of exercises they can live anywhere from 13 to 18 years, with some dogs living up to 20 years.
Aware of a Dachshund's tendency toward weight gain, Blessed Doxies cross dogs that are genetically prone to not easily gain weight. This gives them overall better health and longevity.
Why do people love Blessed Doxie breeders?
People say that Blessed Doxies are high-quality breeders who really care about their puppies. Carla, they say, is professional, kind, and helpful to folks as they try to choose a puppy. Another client raved about how Carla went out of her way to accommodate their needs. The facility was clean and the puppies all looked healthy.
Why do we love Blessed Doxie breeders?
We like how this breeder is so knowledgeable about Doxies and makes efforts to breed healthy puppies that have fewer back problems and are less prone to being overweight.
Blessed Doxie Breeder Information:
| | |
| --- | --- |
| Name of Owner | Carla Hendrickson |
| Address | 15004 Cedar Acres Loop, Mabank, TX 75147 |
| Email | blesseddoxies@aol.com |
| Phone Number | 903-275-5878 |
| Links | Website, Facebook |
2. Muddy River Dachshunds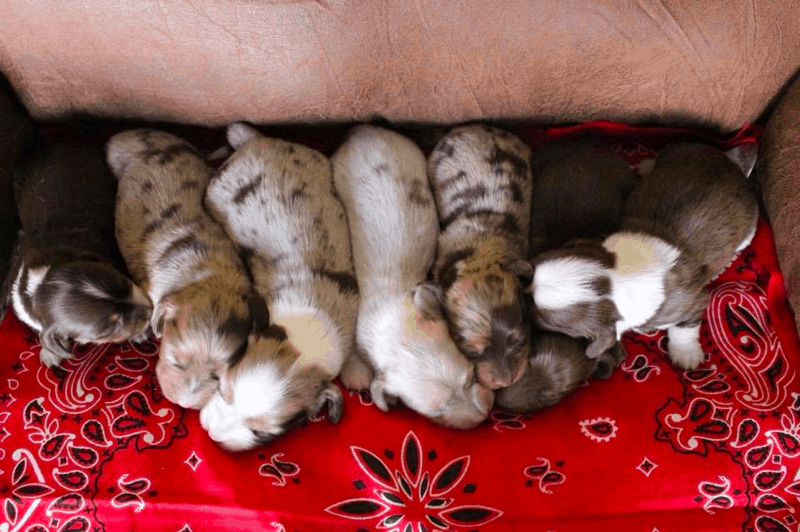 Located along the San Antonio River about 35 miles from the city of San Antonio, this small family-owned breeding business offers purebred AKC miniature Dachshunds. They produce good-natured, healthy AKC registered Doxie pups that are socialized and in excellent health.
Their puppies range in size from 8 to 11 pounds to 12 to 15 pounds depending upon what size you're looking for. They're currently offering long and short-haired Doxies. They keep their Doxie pups indoors inside their house in a puppy playroom where they're held and played with. They never go outside unless they've been checked by a veterinarian.
Muddy River breeders think it's important to maintain breeding standards. Because of this, they do not overbreed their dogs but keep the litter small. They don't breed toys or especially tiny Dachshunds because it's not ethical. They refuse to breed their females or studs with other people's dogs.
When you purchase a Muddy River Dachshund, your 8-week old puppy comes with:
A packet of information about how to care for your pup.
A list of all the puppy shots-Every puppy will be up to date on their shots.
Dates when the puppy was dewormed
Blanket and toy
Sample of food
Puppy training pads
Socialization skills
What do people love about Muddy River Dachshunds?
People say they'd highly recommend Muddy River breeders because they had a great experience working with them. They say that Jennifer is very responsive and honest.
What do we like about Muddy River Dachshunds?
We like how organized this breeder is and although their website is slightly difficult to read because of the black background and pink font, they answer many questions about their puppies and the process of buying a puppy on her website.
Muddy River Dachshunds information:
| | |
| --- | --- |
| Name of Owner | Jennifer Luke |
| Address | 30 Poth Street, Floresville, Texas |
| Email | muddyriverdoxies@gmail.com |
| Phone Number | 830-391-8210 |
| Links | Website, Facebook |
3. Texas Country Dachshunds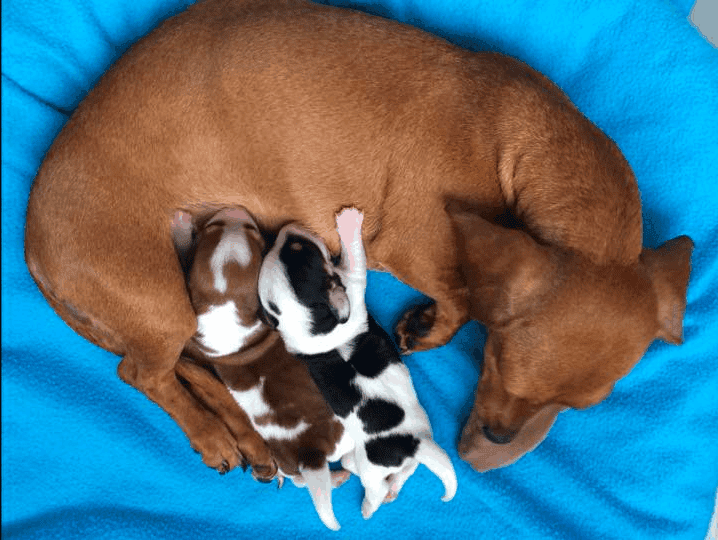 A home-based breeder located in the heart of Texas, this small breeder is committed to producing the healthiest Dachshunds. Their puppies are all AKC registered, English Cream long hair and smooth-haired, Doxies that come in a variety of patterns and colors. They love their puppies and give them lots of attention. Their Doxies are socialized with hand-holding and are free to roam and play on the farm.
When you purchase a puppy from Texas Country breeders, your pup comes with
2-year health guarantee
Veterinary health check
Dry puppy food
Potty pads to get your pup home
Puppy blanket and toy
Texas Country Dachshunds refuse to over- breed their dogs but create a waiting list for upcoming mini Dachshunds. You can request a puppy from a litter. Check their website to learn more about the waiting list.
What do people love about this Texas Country Dachshund?
Clients say that Beverly and her family were very helpful. One client said they signed up for the waitlist and Beverly explained what to expect plus found them a puppy right away. She sent them pictures and a video of their Doxie. They say their new puppy is healthy and happy and they'd recommend Texas Country Dachshund 100%.
Other people say this breeding business is:
Professional
Reliable
Responsive
Breed quality puppies
What do we love about this breeder?
We like their website. It's easy to navigate, informational and they mention they're licensed in the state of Texas.
Texas Country Dachshund information:
| | |
| --- | --- |
| Name of Owner | Beverly |
| Address | 2231 Sulak Road, East Bernard, Texas 77435 |
| Email | tcdoxies@gmail.com |
| Phone Number | 512-773-4248 |
| Links | Website, Facebook |
4. Red Oak Dachshunds Texas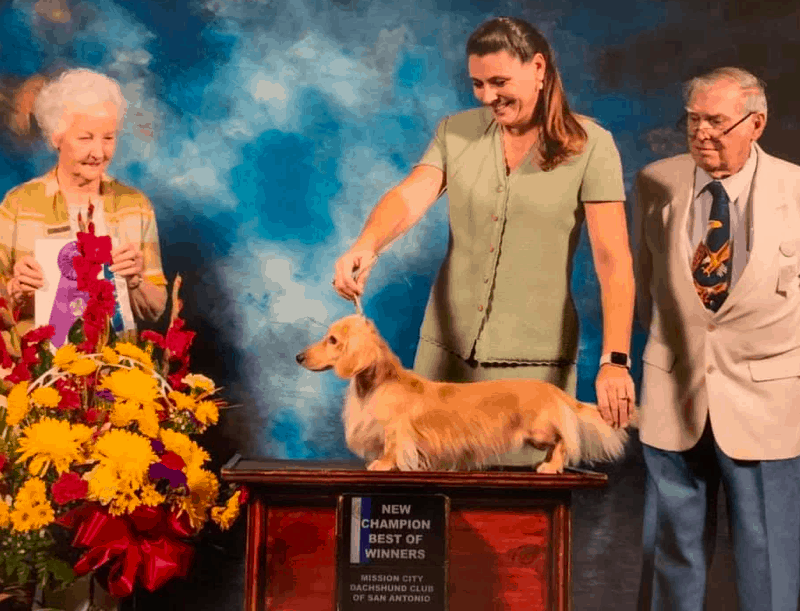 Lori and Aaron Darling are the owners and breeders at Red Oak Dachshund. They've been raising and handling miniature Dachshunds in Texas for many years. Their small home-based breeding business is located just south of Dallas. They breed a few litters of Miniature Dachshunds every year. Because they're a small breeder, they can handle and play with their puppies every day. The Darlings refuse to breed for color or pattern but love the English Creams. Their puppies come in:
Reds
Blacks
Tans
Chocolates
Brindle
Dapple
Piebald
Red Oak Dachshund breeders work hard to provide their clients with a healthy, good-natured puppy. All their dogs and puppies are purebred AKC registered. They send their puppies home with:
First distemper shot
First booster shot
Dewormed
Dewclaws removed
3-year health guarantee
5 year health guarantee to customers that keep their pets on NuVet supplements for the 1st year of life or a lifetime guarantee for those clients who keep their puppy on NuVet for life.
They follow all the AKC safety and health standards for their litters and don't over breed their dogs.
What do people love about Breeder Red Oak Dachshunds?
Their customers give Lori and Aaron high praise for the care, training, and quality of their puppies. They encourage their customers to visit their homes to see the puppies. Those who visited the facility said it was clean and the puppies are well cared for.
What do we like about Breeder Red Oak Dachshunds?
We like the many pictures they put up on their website.
Red Oak Dachshunds Texas information:
| | |
| --- | --- |
| Name of Owner | Lori and Aaron Darling |
| Address | 200 Spring Circle, Red Oak, Texas 75154 |
| Email | dachshunds1169@yahoo.com |
| Phone Number | 972-515-3820 |
| Links | Website, Facebook |
5. Rockin M Kennel Dachshunds Texas
Breeders and owners of Rockin M Kennel, Tracy, and Chelsea Mixon specialize in raising miniature Dachshunds (11 pounds and under) as well as other dog breeds. Their facility is located in south Texas, around 90 miles south of San Antonio. Texas. Chelsea grew up with dogs, especially Dachshunds. Her love for dogs is evidenced in her high breeding standards.
This husband and wife team handpick their breeding dogs to ensure healthy, good-tempered offspring. All their puppies are AKC registered and they do genetic health testing to ensure their puppies don't have a genetic disease. Due to their good breeding standards, they received a Good Dog award from the Responsible Breeding Program.
Rockin M Kennel offers short-haired and occasionally long-haired Doxies in a variety of colors such as:
Black
Tan
Chocolate
Dapple
English cream
Piebald
Chocolate/tan
Blue/tan
What do people love about Rockin M Kennel Dachshunds?
Customers who dealt with Rockin M Kennels give it a resounding five stars. They say the breeders were helpful and gave them peace of mind about finding a puppy. Other comments include:
Great service
Priceless quality
Good communication
Helpful and go beyond to serve
Great socialization of the puppies
What do we love about these breeders?
We like the good rapport these breeders seem to have with their customers.
Rockin M Kennel Dachshunds Texas information:
| | |
| --- | --- |
| Name of Owner | Tracy and Chelsea Mixon |
| Address | PO Box 242, George West, Texas |
| Email | rockinmkennel@hotmail.com |
| Phone Number | 361-449-6111 |
| Links | Website, Facebook |
6. Clear Fork Dachshunds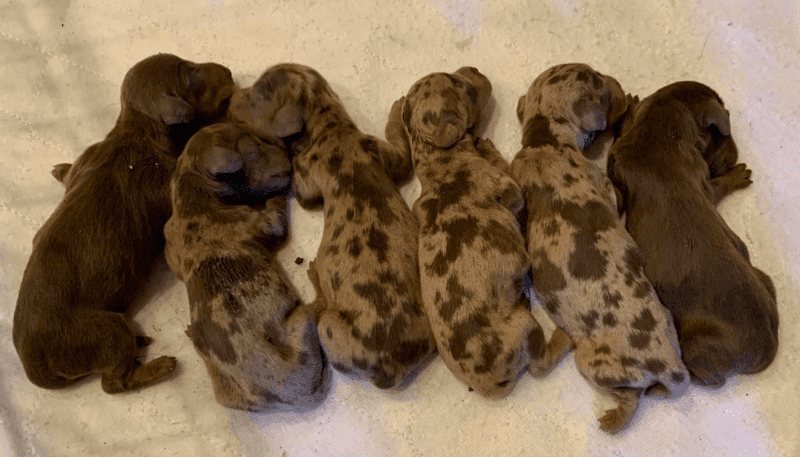 Located in Aledo, Texas, this breeder offers miniature long-haired Dachshunds that are home-raised and socialized with kids and pets. Their miniatures are on average 8 to 11 pounds and come in a variety of colors, such as:
Reds
Red dapple
Chocolate and tan
Black and tan
Chocolate dapple
Black and tan dapple
Their Doxie puppies are all AKC purebred that come with a health guarantee, dewormed, with their first round of shots.
Although we couldn't find any reviews for their breeder, they have a good website and a decent Facebook site.
What do we like about this breeder?
We liked the fact that they have a Flight Nanny. It's a friend who is a flight attendant who loves dogs and can fly your puppy to an airport near you if you live outside of Texas.
Clear Fork Dachshunds information:
| | |
| --- | --- |
| Address | Kelly Road, Aledo, Texas 76008 |
| Email | cleardorkdoxies@gmail.com |
| Phone Number | 682-597-4128 |
| Links | Website, Facebook |
7. Hound House Farm
Specializing in miniature Dachshunds, Hound House Farm is located in Austin, Texas. Their motto is Not quantity, but quality Dachshunds. All their dogs and puppies are AKC registered and they follow the AKC safety and standards for breeding. Hound House Farms is confident of its good-quality puppies. Their dogs have been named champions, grand champions, and even international champions.
Hound House Farms works hard to be a step above their competitors striving for the best Doxie puppies in the state and in the country.
Hound House Farms is a licensed breeder in Texas producing pups that have good temperaments and are healthy for their customers to enjoy for many years. Their Doxies come in a variety of colors such as classic reds, dapple, piebald in smooth or long coats. They refuse to sell to puppy mills, pet stores or practice unethical breeding habits but will do everything they can to breed puppies that have a good temperament and are healthy.
What do people love about Hound House Farm breeders?
Customers love Hound House Farms. They say that Mandy produces some of the best Doxies they've seen. They say the facility was clean and the dogs are treated like family pets. Other customers said
Mandy answered all questions
Provided support
Highly recommend
Dogs have great temperaments
Professional
What do we like about this breeder?
We like their passion for maintaining the high breeding standards of their Doxies.
Hound House Farm information:
| | |
| --- | --- |
| Name of Owner | Dowell and Mandy Missildine |
| Address | Blum, Texas 76627 |
| Email | houndhousefarm@yahoo.com |
| Phone Number | 254-434-8776 or 254-485-8727 |
| Links | Website, Facebook |
8. Darling Dachshund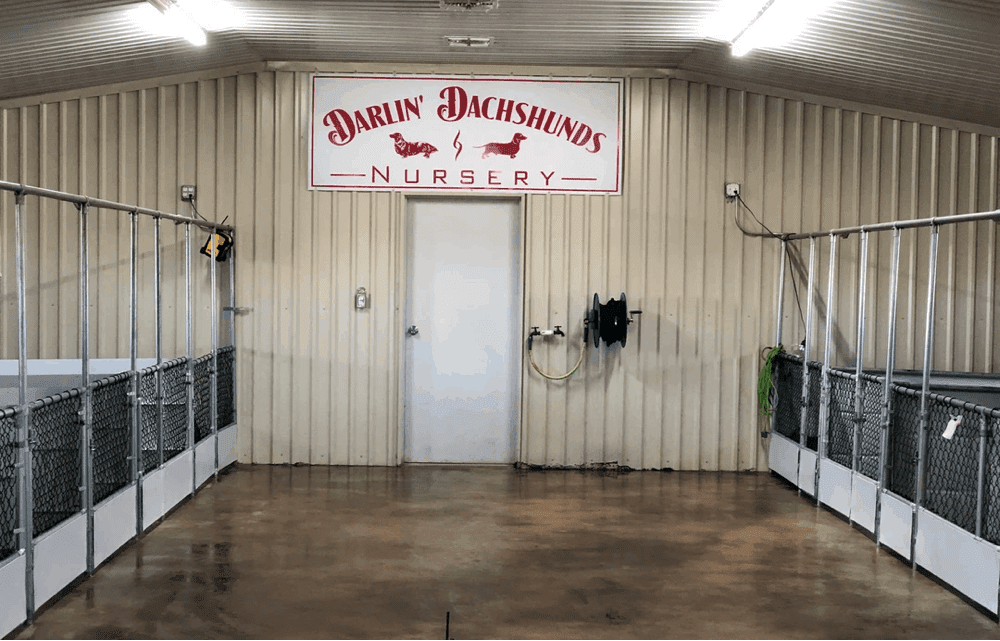 These breeders raise long and smooth-coated miniature Dachshunds. All their puppies are registered as AKC or CKC or both. This family-owned business is operated on a 122-acre ranch near the small town of Louise, Texas. They started raising Doxies when they heard they were good watchdogs against mice and snakes. Falling in love with the breed, they started their business producing good quality Dachshunds for others to enjoy.
Their puppies are home-raised, including the puppies into everyday life. Darling Doxies are dedicated to their puppies, giving them good nutrition, exercise, socialization, and good medical care. At the time of purchase, your puppies will be dewormed, have a one-year health guarantee on genetic defects, and up to date on all vaccinations.
What do people say about Darling Doxies?
Clients give them five stars, saying they loved working with these breeders. Another client says 100% recommend this breeder, easy to do business with. Other comments include
Great communication
Good paperwork
Quality puppies
Answered all questions
Dependable
Reliable
Great experience
What do we like about this breeder?
We like the pictures of the large farm with the open Texas sky in the background. It looks like a great place for puppies to run and play.
Darling Doxies information:
| | |
| --- | --- |
| Name of Owner | Lisa |
| Address | P.O. Box 12157 Austin, Texas |
| Email | darlingdachshundsnms@gmail.com |
| Phone Number | 979-578-1072 text to hear about new litters or retired adults @844-741-0653 |
| Links | Website, Facebook |
9. Select Dachshunds
Located in the Piney Woods of East Texas, this breeder originally worked with other breeds but found their love for Dachshunds in the mid-1980s. They've been in love with them ever since offering AKC standard miniature Dachshund pups. They're located in eastern Texas, not far from Dallas. They offer puppies in a variety of patterns and colors. This licensed breeder has a waiting list for specific types of puppies.
Select Dachshund puppies are 8 weeks old when they leave. Other services they provide when you buy a puppy include:
Dewormed every 2 weeks.
Vaccinated according to AKC regulations
Parvo shot at 6 weeks
Weaned starting at 6 weeks
The purchase price comes with a limited AKC registration
Require a vet visit within 72 hours of purchase
Why do people love the Select Dachshund?
Clients say they enjoyed the overall experience. The breeders are good communicators through calls, photos and emails. They also said that Billy and Marty made the process smooth and easy. They offered advice and their wisdom from the beginning.
Other qualities clients listed include:
Professional
Quality
Responsive
Value
Caring
Honest
Stand behind their good quality dogs
Knowledgeable
Cares very much for their dogs
What do we like about his breeder?
We like how much these breeders have to offer their clients. We like how they list their licensing in Texas and maintain high AKC standards inbreeding.
| | |
| --- | --- |
| Name of Owner | Marty and Billy |
| Number of experience years | 7 years |
| Address | 583 Boggy Road, Waskom, Texas |
| Email | selectdachshund@gmail.com |
| Phone Number | 903-371-8424 |
| Links | Website, Facebook |
There's no doubt there are a lot of good Dachshund breeders in Texas, but these 9 are some of the best breeders in the state. If you live in the Lone Star State and you're looking for a Doxie pup, we've done all the hard work of finding a great breeder. Now all you need to do is to pick which one is right for you. So, get started!
10. Dachshund Dude Ranch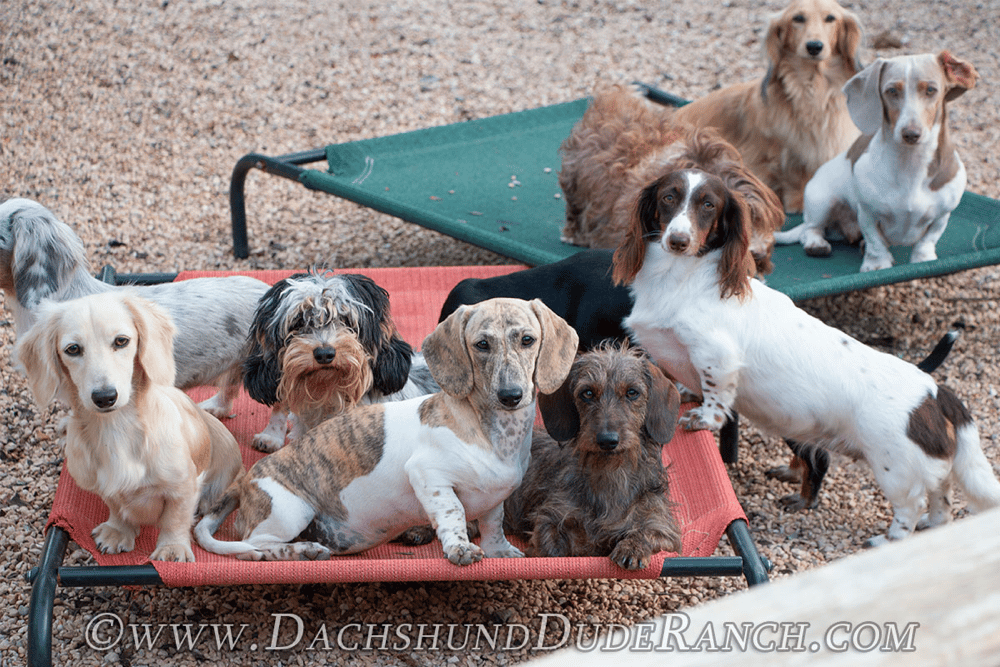 This is a bit of a larger Dachshund kennel that is located near San Antonio, Texas. The main goal of this breeder is to bring joy into people's lives by giving them a Dachshund puppy that is loving, healthy, and happy. These breeders specialize in producing miniature dachshunds. However, a standard size does occasionally become available. Most puppies are sold with limited AKC registration from Dachshund Dude Ranch, but full registration is offered to a select few for an extra fee.
All puppies are sold with an amazing five-year guarantee. They are all also kept up to date on their vaccinations and deworming, and they are even given their first dose of flea, tick, and heartworm prevention as well. The pedigrees of the dams and sires bred at this kennel are available through their website. As for testimonials, you can view them on their business Facebook page in the reviews section. Please note that you may need to put down a deposit and be put on a waitlist before getting a puppy from this breeder.
| | |
| --- | --- |
| Name of Owner | Molly Williams |
| Breeder since: | 1995 |
| Address | Verde Hills Dr. Center Point, TX, TX 78010 |
| Email | mollymollyddr@gmail.com |
| Phone Number | (818) 515-0719 |
| Links | Website, Facebook |
11. American Dachshunds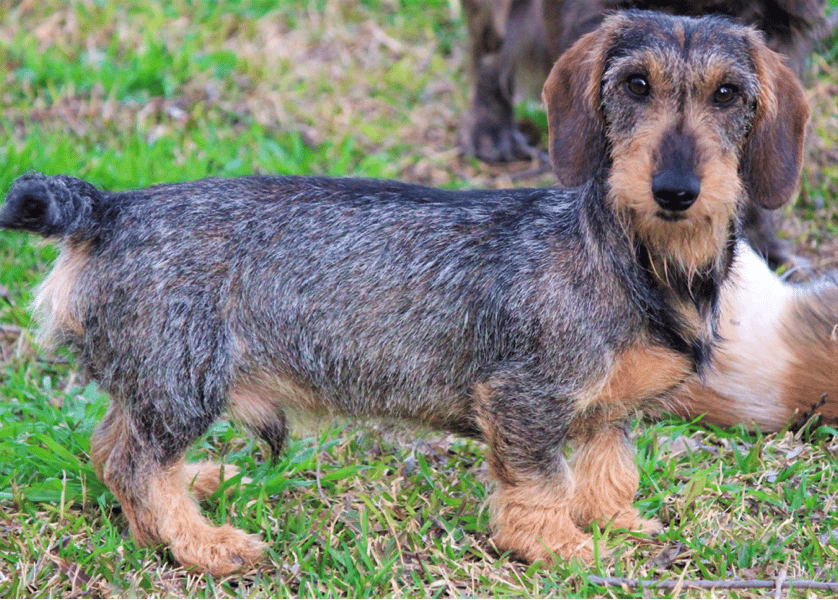 American Dachshunds is a Texan Dachshund breeder that is a part of the American Kennel Club's bred with heart program. This breeder's main goal is to give people a new furry family member that is healthy, happy, and has an amazing temperament. As a result, all of their dogs are health tested before breeding to ensure sound genetic health in their puppies. On top of this, all puppies are sold with a health guarantee and are kept up to date on their age-appropriate vaccinations and deworming. Puppies are also microchipped and seen by a vet before going to their forever homes.
In addition to their puppies' health, the breeders behind American Dachshunds also view socialization is incredibly important. Because of this, all dogs are introduced to a wide variety of stimuli, people, and things from a young age. If you are interested in purchasing a Dachshund puppy from this breeder then you can send them a message through their website or Good Dog profile. If you are not in Texas, but still want a Dachshund from this breeder don't worry! They offer a variety of shipping options including by airplane or car.
Top Dachshund Breeders in the Other States