Dachshunds are a popular breed across the United States and even worldwide. They are known for being small dogs with excellent personalities! Long-haired, short-haired, and wire-haired Dachshunds all have different personality traits associated with them.
The wire-haired Dachshund is a unique dog. Similar to the other two, wire-hairs are known for being friendly, but stubborn like many hounds. They are great with kids. However, they also have traits associated with terriers. Wire-hairs are barkers, which can make them excellent tiny guard dogs. They also are more likely to be destructive when left to their own devices. They are often considered more goofy and curious than their short or long-haired counterparts, as well. For more information on how wire-haired Dachshunds are different, check out our post all about wire-haired Dachshunds.
Now, if you're here, you are probably searching specifically for wire-haired Dachshund puppies and possibly having difficulty finding a breeder in your area. The wire-haired is the least common variety of doxen with few breeders having wire-haired puppies and even fewer who specialize in wire-hair Dachshunds.
But we're here to help! We've scoured the web to find the best wire-haired Dachshund breeders in the United States and compiled them in a list for you. Don't forget to follow the steps in our guide to finding a reputable breeder to ensure you make the best choice for yourself and your new pup!
Top 12 Best Wire-Haired Dachshund Breeders
1. Tarlyn Miniature Dachshund Breeder in

Philadelphia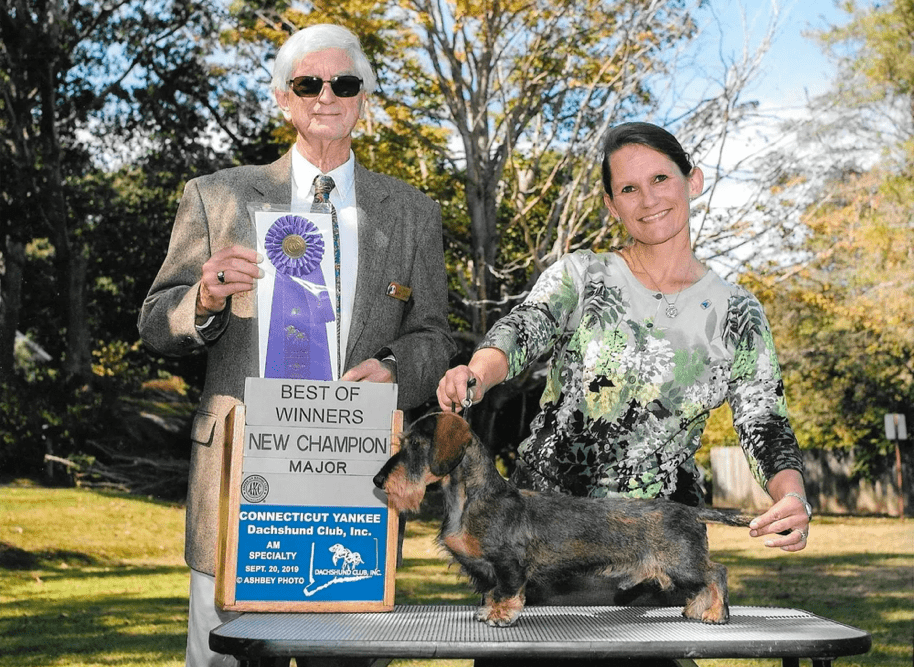 If you're located near the Poconos Mountains and searching for a wire-haired Dachshund, look no further than Tarlyn Miniature Dachshunds! Tarlyn specializes in Miniature Dachshunds with short or wire-haired. They have been breeding and showing Miniature Dachshunds since 1966. They strive to have all puppies meet AKC's Dachshund standards. Some do not still and they will sell them as family pets, who are home-raised with great temperaments and healthy!
What does "Tarlyn Miniature Dachshunds" do well?
Tarlyn Miniature Dachshunds is focused on raising quality puppies in their family home. They ensure their puppies are vet-checked and up-to-date on all vaccinations and worming, as well as meeting show quality. They do not sell their dogs for breeding, instead offering a Limited Registration with the AKC and a Spay/Neuter Contract. Finally, they encourage high-quality food for health and microchipping your pet for safety reasons.
Tarlyn Miniature Dachshunds provides tons of information on their website regarding health and general Dachshund information to encourage the best care and help future owners. Though they cannot guarantee every puppy will be show quality, Tarlyn does work hard to ensure every puppy is friendly and properly cared for!
If you are looking for a wire-haired Dachshund breeder near New York City or Pennsylvania, read on for Tarlyn's information!
Tarlyn Miniature Dachshunds Information:
| | |
| --- | --- |
| Name of Owner | Sandra Krieger |
| Breeder Since | 1966 |
| Location | Stroudsburg, PA |
| Links | Website, Facebook |
2. Heartfelt

Wire-haired Dachshund Breeder in

North Carolina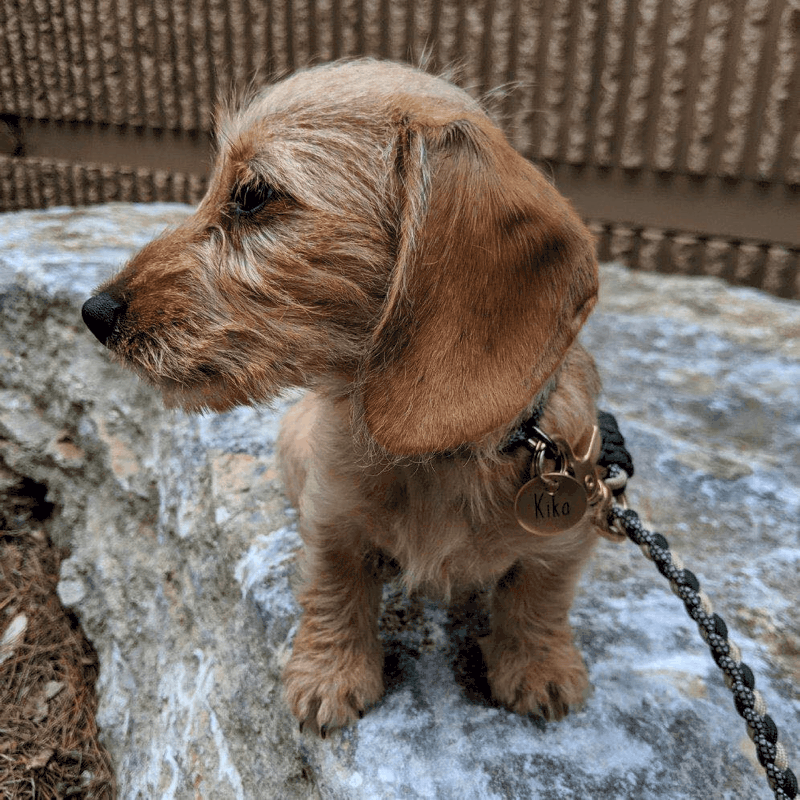 Are you looking for the best wire-haired Dachshund puppies in North Carolina? Look no further than Heartfelt Dachshunds. Lynda of Heartfelt Dachshunds is passionate about producing the highest quality doxies with a special emphasis on the English Cream color and Wire-haired Dachshunds. Her puppies are perfect family pets, as she strives to encourage the best personalities and health when breeding.
To ensure the best fit for you and the puppy, Heartfelt Dachshunds requires a two-step process just to get on the waitlist. First, you will fill out a form to ensure you are knowledgeable about the breed, as well as details about the puppy you want. Then, you will submit a $200 refundable pre-deposit. If you find your perfect puppy before they are available with Heartfelt Dachshunds or want to be removed from the waitlist for any other reason, you can get this refunded. However, once you have chosen a puppy the deposit becomes non-refundable!
What does "Heartfelt Dachshunds" do well according to reviews?
Reviews state Lynda from Heartfelt Dachshunds is very passionate and knowledgeable about her dogs. She does her best to ensure her puppies are going to well-informed homes. Customers have also said the pups have the best personalities so much that they have repeatedly purchased from her. Lynda is also very supportive after the puppies have left her home if her customers have any questions or need other assistance from her.
Heartfelt Dachshunds Information:
Name of Owner
Lynda Carter
Breeder Since
2009
Location
Lumberton, NC
Email
cartersdoxies@att.net

heartfeltdachshunds@gmail.com

Phone Number
(910) 740-2209
Links
Website, Facebook
3. Louie's

Wire-haired Dachshund Breeder in

North Carolina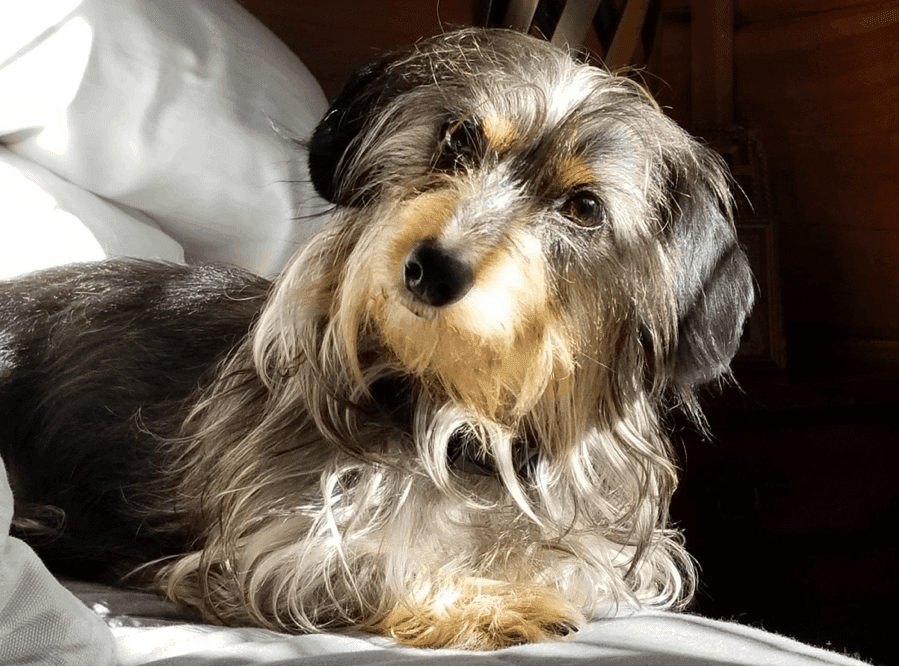 Louie's Dachshunds specializes in Miniature Dachshunds of all coat types, including trying to have one litter a year of wire-haired Dachshund puppies. They are one of two wire-haired dachshund breeders in North Carolina and many customers come to them specifically for their wire-haired doxies! Their website states their wire hairs are popular due to being great companions and having fun personalities! They are within driving distance of Georgia, Tennessee, Virginia, and South Carolina, as well as some parts of Kentucky and Florida! If you are not within driving distance, they can ship their pups as well.
There are a few options to take when getting a puppy through Louie's Dachshunds. They allow people to choose a puppy on their website via phone call or email, as well as two waitlist options. You can choose to be on the paid waitlist with a $104 refundable deposit or unpaid waitlist, which is notified after the paid waitlist. Once you have chosen your puppy, the deposit is no longer refundable. If you pick an available puppy from their website, they require the $104 deposit as well. They are willing to make payment plans with prospective families as well.
What does Louie's Dachshunds do well?
Louie's Dachshunds is very knowledgeable of the dachshund breed and especially cares for wire-haired pups. Louis ensures prospective puppy parents are well-educated before getting their puppy to ensure the best future for their puppies and their family. Louie's also loves updates on their puppies and frequently posts received updates from customers on their Facebook and website! These doxies have excellent personalities and are wonderful family pets.
Louie's Dachshunds Information:
Name of Owner
Louis
Location
Andrews, NC
Email
info@louiesdachshunds.com
Phone Number
Home: (828) 321-4646

Cell: (828) 360-4647

Links
Website, Facebook
4. Willow Springs Wire-haired Dachshund Breeder in Georgia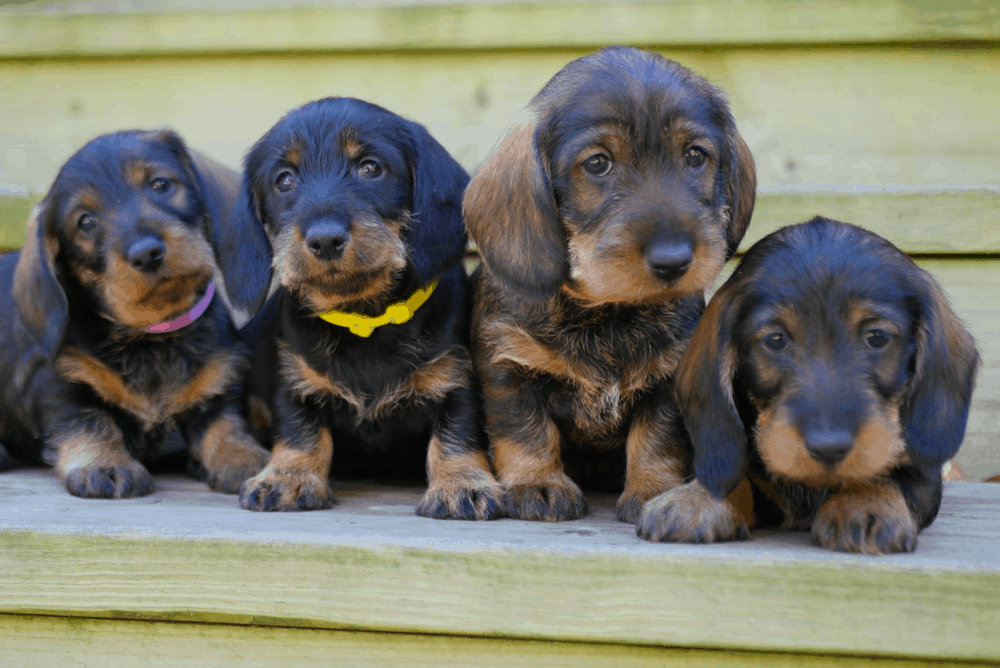 Willow Springs is a wire-haired Dachshund breeder in Georgia. They breed standard and miniature wire-haired doxies. They have received the AKC Breeders of Merit for their dedication to preserving the wire-haired Dachshund, as well as their history producing healthy, well-socialized puppies. The family fell in love with wire-haired Dachshunds while living in Germany and decided to breed wire-hairs that conform to breed standards while being capable of the job they were originally bred for. They also only breed wire-haired doxies instead of mixing long or short-haired with wire-haired to keep their pups as close to the pure wire-haired they encountered in Germany. All their puppies are a part of the family, including living in the house in a whelping room to being moved to the living room to become accustomed to the noises of the family.
Willow Springs' wire-haired Dachshunds are extremely sought after and they currently are not accepting prospective customers to add to their waitlist. However, they do have a contact form on their site to allow prospective families to inquire about when the waitlist is reopened.
Willow Springs Information:
| | |
| --- | --- |
| Name of Owner | Alex and Cyndi Branch |
| Location | Central Georgia |
| Email | willow.springs.dachshunds@gmail.com |
| Phone Number | (404) 824-0126 |
| Links | Website, Facebook, Instagram |
5. Reed's Mini Dachshunds in Florida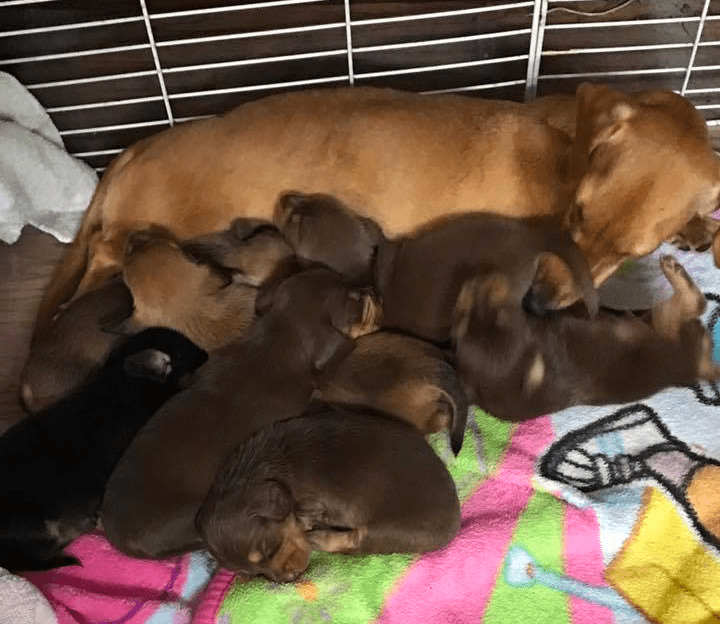 If you're looking for a wire-haired Dachsund breeder in Florida, be sure to contact Reed's Mini Dachshunds! As the name suggests, Reed's focuses on miniature Dachshunds of all coat types, including wire-hairs. Jeni of Reed's has been passionate about miniature Dachshunds since a young age when she first had one as a child. As she grew up, she continued owning mini Dachshunds and decided to breed them to share the joy with other families. Jeni shows passion in her puppies and ensures their families are knowledgeable about the breed so they and the puppy can have the best lift together.
To hold a puppy, Reed's asks for a $300 non-refundable deposit. They also have an Adoption/Sale contract that must be signed when picking up the puppy. The puppies are allowed to leave at 8 weeks old with their first shots, a happy puppy certificate, a copy of the contract, limited AKC registration, food to transition the puppy, and care instructions. Jeni also provides continued support of her puppies and guarantees against genetic defects for up to a year as long as the contract has been followed as well as proper care including medical.
Reed's Mini Dachshunds Information:
Name of Owner
Jeni Abernathy Reed
Location
Paisley, FL
Email
jeni@reedsminidachshunds.com

reedsminidachshunds@gmail.com

Phone Number
(352) 223-5125
Links
Website, Facebook, Instagram
6. Boreas Standard Wire-haired Dachshunds (Kentucky)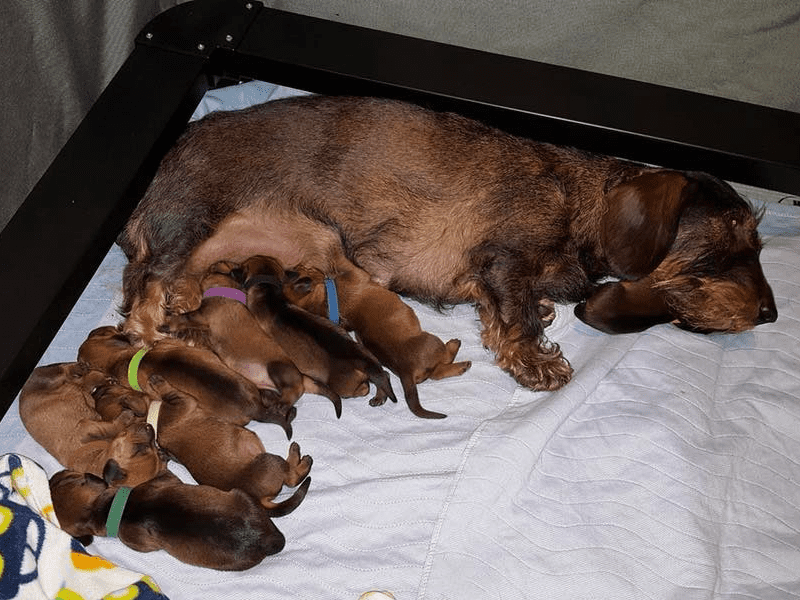 Experienced and reputable Wire-haired Dachshund breeders in Kentucky can be difficult to come across. Boreas Dachshunds has been breeding standard wire-haired Dachshunds since 2008 with a history of breeding other hunting breeds before that. Their goals are to breed to the standards and function of the breed, as well as good temperament and health. All puppies are raised inside their home and socialized from a young age within the home, as well as brought to the public when able. They also offer socialization for service dog training as well.
Boreas Dachshunds Information:
7. Puppy Luv Wire-haired Dachshund Breeder in Michigan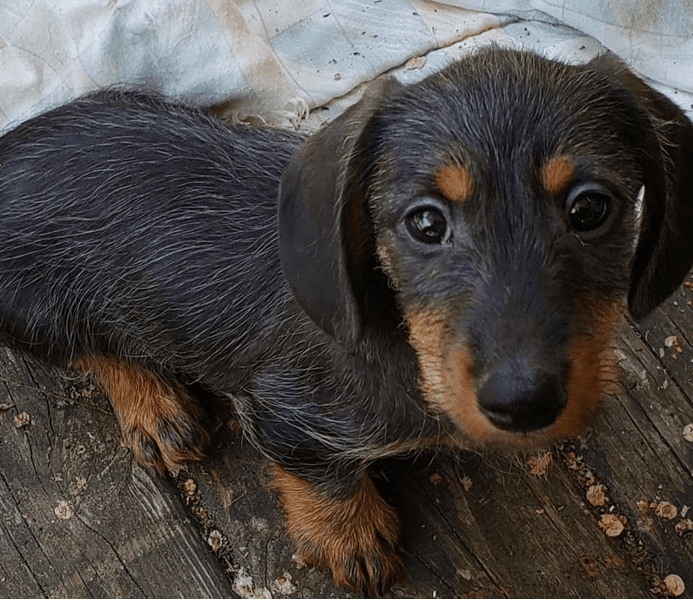 Puppy Luv is run by Deb, a woman passionate about Dachshunds of all varieties. She is the only wire-haired Dachshund breeder in Michigan. Deb handles all her puppies from day one to guarantee they are perfect family companions. All puppies are raised in a healthy, happy environment to ensure they are well-socialized and will easily adapt to their new homes!
What does Puppy Luv do well according to reviews?
Puppy Luv has rave reviews on their Facebook page! Customers often state Deb has an open line of communication with customers from the day they show interest in a puppy, keeping families up-to-date on their new family member. She ensures customers are well-informed on the breed before going home with their pup. According to reviews, Deb's puppies are always healthy and have the best personalities, which is her primary goal in her pups.
Puppy Luv's Information:
8. Roundabout Kennel (Wisconsin)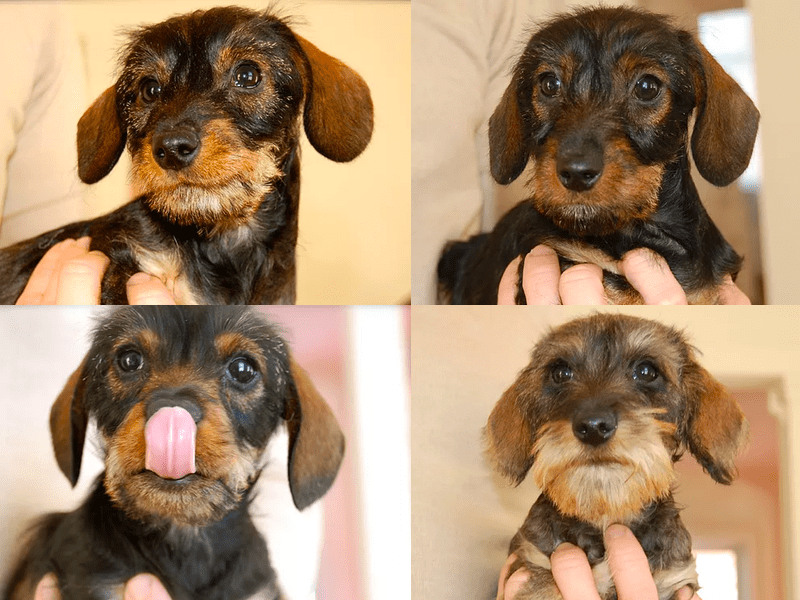 If you're looking for someone focusing on breeding wire-haired Dachshund puppies in Wisconsin, look no further than Roundabout Kennels! Roundabout Kennel only breeds wire-haired Dachshunds with big personalities and has even been featured by the AKC! They have a limited number of litters a year to ensure all puppies get proper care and socialization. To raise the healthiest, strongest, and most confident puppies, Roundabout keeps pups until 14-16 weeks of age. During this time, they ensure the pups meet people of all ages, experience a variety of sounds, and experience many other things they may encounter in their future homes. This also means by the time they arrive at their new home, they will be sleeping through the night, walking on the leash, and fully prepared to begin potty training.
To purchase a Dachshund from Roundabout Kennel, they are open to applications to be added to their waitlist. Travis takes his time to get to know every puppy and perfectly matches them to their ideal family.
Roundabout Kennel Information:
| | |
| --- | --- |
| Name of Owner | Travis Wright |
| Location | Spring Green, WI |
| Email | info@roundaboutkennel.com |
| Website | roundaboutkennel.com |
9. Olde Fashion Wire-haired Dachshunds in Wisconsin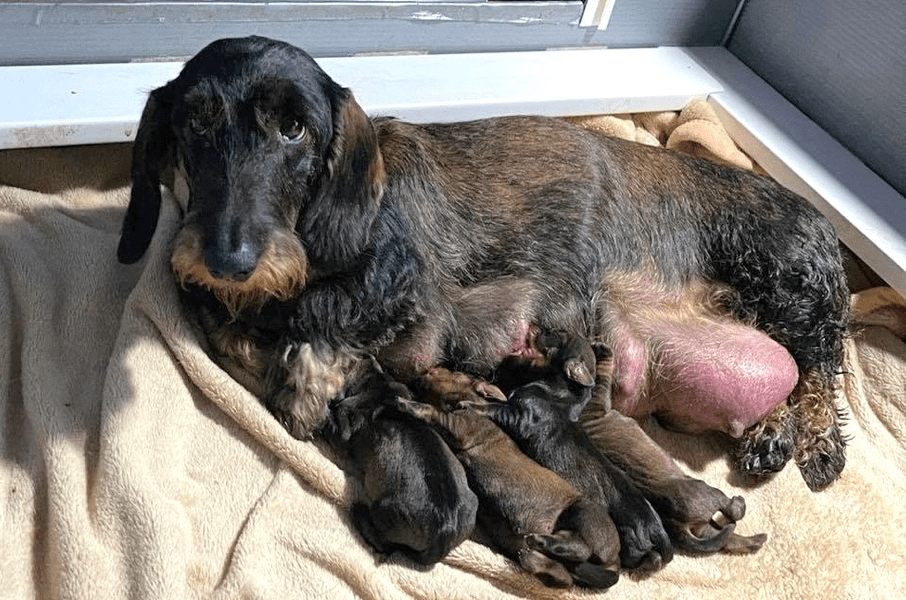 Olde Fashion has worked hard to become well-known in the hound world. With 46 years of experience breeding beginning with Basset Hounds, Olde Fashion decided to add wire-haired Dachshunds to their family in 2014. They have a passion for educating people in these two breeds and ensuring the dogs are always put first. All litters are raised in the home, where they are closely monitored and well-socialized. They adjusted their home to be the best place to raise their dogs, including two large yards for their dogs' outdoor time.
What does Olde Fashion do well according to reviews?
Customer reviews state Jane, owner of Olde Fashion, shows extreme passion for her pups. Not only when they are in her care, but afterward as well, including helping people new to showing dogs get the best quality pup. She is knowledgeable and loving with her dogs, encouraging prospective families to be the same when bringing the pups into their homes.
Olde Fashion Information:
| | |
| --- | --- |
| Name of Owner | Jane Wagner |
| Breeder Since | 2014 |
| Location | Two Rivers, WI |
| Email | bassets@oldefashion.com |
| Links | Website, Facebook |
10. Hessenjaeger Wirehairs (Wisconsin)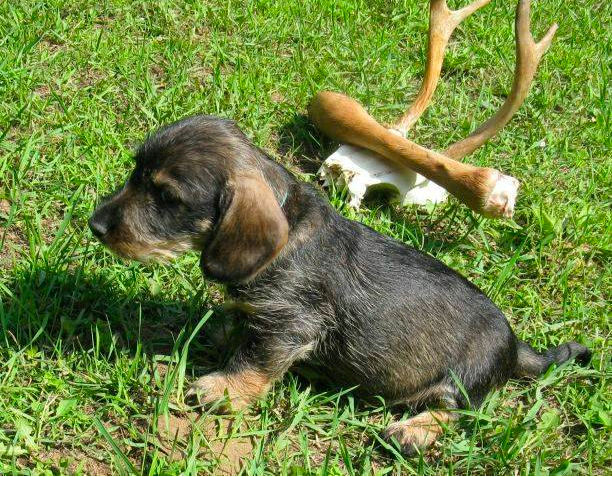 Hessenjaeger Wirehairs has focused on being a top Standard Wire-Haired Dachshund breeder in Wisconsin for many years. Their pups meet AKC standards for the breed with excellent personalities. These dogs are bred to be field and tracking dogs, while still affectionate and loving family pets. All puppies are raised at home to encourage proper socialization. They limit their litters to only a few a year to ensure all puppies have the best start possible. Their website includes links to education on the breed to ensure prospective owners can be as knowledgeable as possible.
Hessenjaeger Wirehairs Information:
10. Two River Dachshunds (Missouri)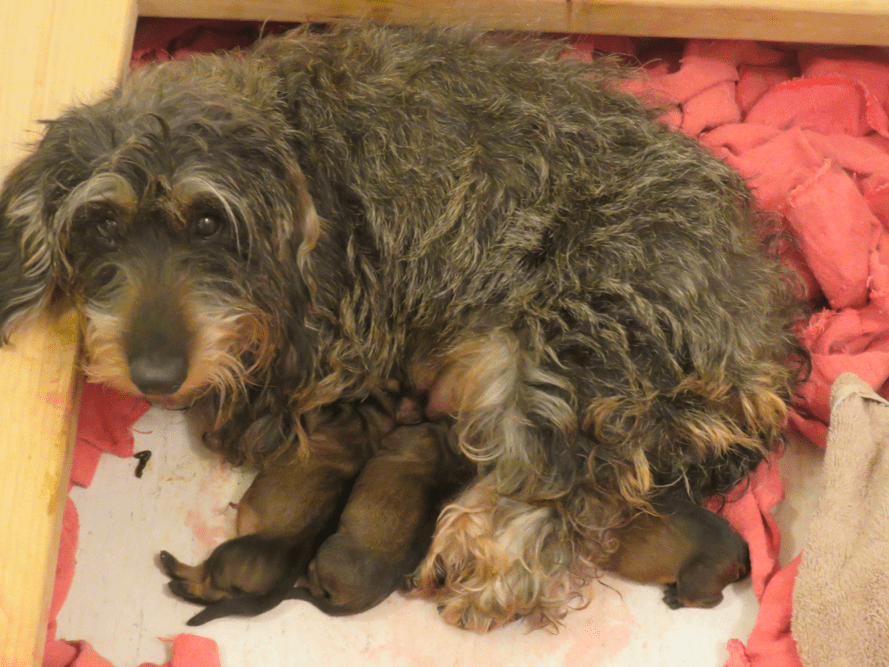 Whether you're looking for a wire-haired Dachshund as a hunting buddy, family pet, or both, you'll find what you're looking for at Two River Dachshunds. Two River Dachshunds only breed wire-haired Dachshunds in Missouri. Their pups are bred to hunt, track, and be the perfect pet. They ensure their pups have European hunting bloodlines while socializing them to be the perfect companion. To encourage hunting and tracking traits, Two River begins introducing pups to hunting and tracking from a young age. All pups are raised in the home with hands-on care to ensure excellent personalities! They are very passionate about producing the best puppies for the home and hunt!
Two River Information:
| | |
| --- | --- |
| Location | Fair Grove, MO |
| Email | shoemakerbrad@hotmail.com |
| Phone Number | (417) 844-4338 |
| Links | Website, Facebook |
11. Hathor Farm (Washington)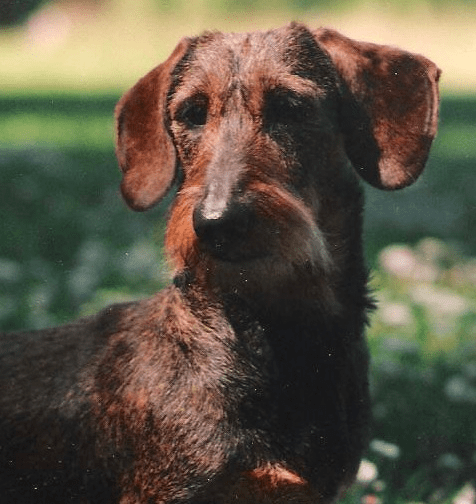 If you're located in the Northwest of the United States and searching for wire-haired dachshund breeders, look no further than Hathor Farm! Hathor Farm is a wire-haired Dachshund breeder in Washington state. These pups have a unique combination of European and American bloodlines, making these pups one of a kind! They are committed to breeding pups that are perfect companions while excelling in all dog sports. The Hathor Farm dogs have been known to perform in conformation shows, field trials, obedience, rally, tracking, agility, and Earthdog.
Hathor Farm has been around for many years, originally begun by Mary Waterman after moving to the US from Germany. Ten years ago, Mary passed on the name of Hathor Farms to the current owner, Jean, who has done her best to keep the pups up to Mary's standards. Jean's interest in doxies began as a teenager with her first miniature. Jean encourages visitors by appointment to ensure they arrive when Jean and her pups are home instead of out participating in their various activities.
Hathor Farm Information:
| | |
| --- | --- |
| Name of Owner | Jean |
| Breeder Since | 2011 |
| Location | Whidbey Island, WA |
| Email | wiredox@hathorfarm.com |
| Phone Number | (360) 579-2725 |
| Website | hathorfarm.com |
12. Nuforest Dachshunds (California)
Nuforest Dachshunds is the only Dachshund breeder in California with an option for wirehairs. They only breed miniature Dachshunds of all varieties. Their pups are perfect for families looking for a perfect pet, breeders looking to improve stock, and even enthusiasts looking for a show dog. All puppies are raised in the home and socialized with family members of various ages. The couple began breeding Dachshunds in 1974 and have made it a mission to improve their pups with every generation. They have joined various Dachshund Clubs from national clubs to local. They are the largest Show Dachshund Kennel in the US but interact and love on all their pups daily. The couple has continued their education in genetics and the breed in general by attending lectures and seminars regularly.
Nuforest Dachshunds encourages prospective owners to contact them. By doing this, Nuforest gets to know the prospective owners and ensures the best placement for the owner and puppy or adult dog. They also welcome visitors!
Nuforest Dachshunds Information:
| | |
| --- | --- |
| Name of Owner | Bill and Susan Buck |
| Breeder Since | 1974 |
| Location | Ramona, CA |
| Email | nuforest@aol.com |
| Phone Number | (760) 789-0592 |
| Website | nuforestdachshunds.com |
Wire-haired Dachshunds can be difficult to find in the United States since there are so few breeders. However, many of the wirehair breeders in the US encourage prospective owners to be knowledgeable in the Dachshund breed and wirehair care. If you're considering adding a wire-haired Dachshund, be sure to review our list to find the best breeders in your area or even consider shipping from another area. We hope that by checking out our list and following our reputable breeder guide, you find the perfect sweet, goofy wire-haired Dachshund to fit your family.