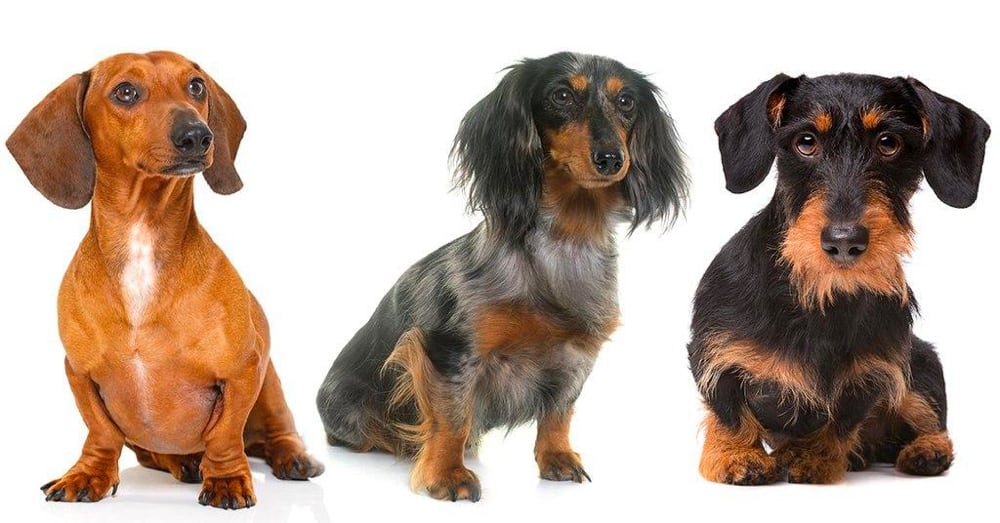 Dachshund rescue organizations are located across the country.
Purebred rescue groups are usually run by people with in-depth knowledge of specific breeds. Rescue groups keep adoptable animals until they can be placed in loving, permanent homes. These animals may come from failed breeding operations; arrive from boarding kennels and veterinarians, where they were abandoned; be rescued as strays living on the streets, or be obtained through the cooperation of local animal shelters. Adoption fees vary, depending on veterinary and other costs that have been incurred. Follow-up counseling is usually available.
When you contact a breed rescue group, be sure to find out as much as you can about the group, how it cares for its animals, how it decides which animals are adaptable, and what other adoptions and post-adoption services are available.
Dachshund rescue organizations save dachshunds from bad situations
The following is a listing of organizations throughout the country dedicated to saving and rescuing dachshunds from bad situations. If you're in the market for acquiring a dachshund we strongly suggest you contact one working in your area. Like a human adoption agency, they will want to make sure that you are capable of owning a dachshund and providing that dog with a safe and well-balanced life. They in turn want to make sure that their rescued dogs are in the best possible shape, physically and mentally, before handing one over.
READ MORE: Are you a Dachshund person?
Dachshund Rescue Organizations
If you can't locate an organization in your area, contact an organization close to you. They can help you find a group.
Alberta Dachshund Rescue (Alberta and Western Canada)
Dachshund rescue, rehabilitate, bring back to health if needed, assess and find permanent new homes for Dachshunds and dachshund crosses in Alberta and Western Canada.
All American Dachshund Rescue (Southern United States)
(formerly Southern States Dachshund Rescue)
The mission of All American Dachshund Rescue is to protect the welfare of Dachshunds, to promote the humane treatment and well being of these animals by:
Providing shelter and medical care for stray and abandoned Dachshunds;
Responding with personal commitment, humane sensitivity, compassion, and technical skill to the needs of these Dachshunds;
Actively promoting suitable adoptions of Dachshunds;
Encouraging spaying and neutering to ensure the numbers of unwanted Dachshunds be kept to a minimum;
Helping to prevent cruelty to animals by promoting animal welfare education.
Almost Home Dachshund Rescue Society (Nationwide)
Almost Home Dachshund Rescue Society is a nationwide organization of volunteers that seeks to rescue abandoned, abused, neglected, and unwanted dachshunds and dachshund mixes, provide necessary veterinary and behavioral care for them and place them in homes where they will be a perfect fit.
Canadian Dachshund Rescue (Canada)
Promotes dachshund rescue in Canada. We help Canadians adopt rescued dachshunds, and help dachshunds and dachshund-mixes in need of new homes.
Central Texas Dachshund Rescue (Texas)
CTDR has rescued hundreds of dogs over the years. Some are healthy, some need veterinary care to be ready for a new home, and some of the precious dogs that we take into our program are so sick that they simply will never recover to a point where they will be adoptable. But that doesn't mean they aren't loved and cared for just as much as any other dog we rescue.
Coast to Coast Dachshund Rescue (CCDR) (Nationwide)
National all-volunteer organization dedicated to rescuing needy Dachshunds and Dachshund mixes.
Dachshund Adoption and Rescue (Florida)
Nonprofit organization dedicating to homeless dachshunds.
Dachshund Rescue of Bucks County (Pennsylvania)
Helping Dachshunds regardless of age, color, size, or medical difficulty from Delaware to Southern New York.
Dachshund Rescue of North America (DRNA) (Nationwide)
DRNA is an organization with one sole purpose — rescuing, rehabilitating and re-homing needy dachshunds and mostly dachshund mixes.
Dachshund Rescue NW and Dachshund Club of Spokane (Washington State)
To rescue around 50+ dachshunds each year and educate the public on spaying and neutering their pets. Covering Washington, Oregon, Idaho, Montana and British Columbia, Canada
Dachshund Rescue of San Diego (California)
The DRSD is a dedicated group of volunteers working to provide care and new homes for unwanted, abandoned and needy Dachshunds. We are a breed specific rescue.
Dallas-Ft. Worth Dachshund Rescue Foundation (Texas)
We concentrate our efforts on those dogs who are scheduled for euthanasia. We have limited spaces and resources and try to save those resources for the dogs who truly need our services.
Diamond Dachshund Rescue of Texas (Texas)
Diamond Dachshund Rescue of Texas is an all-volunteer group in the heart of Texas that is dedicated to the health, welfare, and happiness of our dachshund friends in San Antonio and surrounding areas.
Dixie Dachshund Rescue, Inc. (Southeastern United States)
We are an all volunteer nonprofit organization incorporated in Alabama and serving the Southeastern United States at this time.
DREAM Dachshund Rescue (Atlanta Area)
(Dachshund Rescue, Education, Awareness and Mentoring)
We rescue dachshunds and dachshund mixes from animal control facilities that are in danger of being destroyed. They are housed in foster homes until they are adopted by loving families within an hour of Atlanta, Georgia.
Florida Dachshund Rescue (Florida)
Nonprofit organization comprised of experienced rescue people who share the same philosophies, goals, and love of the breed.
Furry Angels Dachshund Rescue (New England)
FADR is a RI non-profit corporation and a federal non-profit corporation 501(c)(3) dachshund rescue located in Foster, RI and we have come to serve Rhode Island and its surrounding areas! The rescue is run by all volunteers. Our mission is a simple one: the rescue, rehabilitation, and re-homing of the dachshunds
Midwest Dachshund Rescue (Midwest United States)
Finds homes for needy Dachshunds in Illinois and Wisconsin.
Mile High Dachshunds Rescue, Inc.  (Greater Denver Metro Area and Northern Colorado)
Our Mission Mile High Dachshunds Rescue is a 501(c)(3) volunteer-run, foster-based nonprofit Colorado corporation in northern Colorado and the Greater Denver Metro area committed to protecting and improving the lives of abandoned, abused, rescued, and surrendered Dachshunds and which is supported entirely by donations, grants, and fundraisers. Our Vision •To provide temporary shelter in a safe, caring foster home to stray, abandoned, abused, surrendered, and discarded commercial breeding dogs for the purpose of finding permanent suitable new homes; •To provide spay and neuter services and any necessary medical care to those Dachshunds in our care; •To work with area rescues, shelters, and humane organizations to develop a solid network of volunteers and supporters in order to create a better place for homeless Dachshunds; •To promote public awareness and education on pet overpopulation, commercial breeding facilities (also known as puppy mills), health and wellness of our pet population and to educate on the value of senior, rescued and special needs Dachshunds.
---
While this is only a partial listing of Dachshund rescue organizations, it should get you started. If you are associated with a dachshund rescue organization and would like to have your website listed, please fill out a form on the contact page.