Dogs can have some of the same problems humans do when it comes to dry, itchy skin or allergies. Due to their fur, and depending on where they like to roam around outdoors, they can also develop itchiness for other reasons, too. If your dog scratches too much or seems excessively distracted by itchiness, and it doesn't appear to have an immediate cause like bugs or a skin infection, you might start looking for the best shampoo for a dog with itchy skin.
These shampoos can moisturize your dog's skin and wash away allergens. Some can even treat for dandruff and parasites, though of course, you'll want to consult your vet if you suspect your dog has an underlying medical problem. We'll go over some of the causes of itchiness in dogs and then make our recommendations for the best anti-itch dog shampoo for a number of situations.
When Itchy Skin Becomes a Problem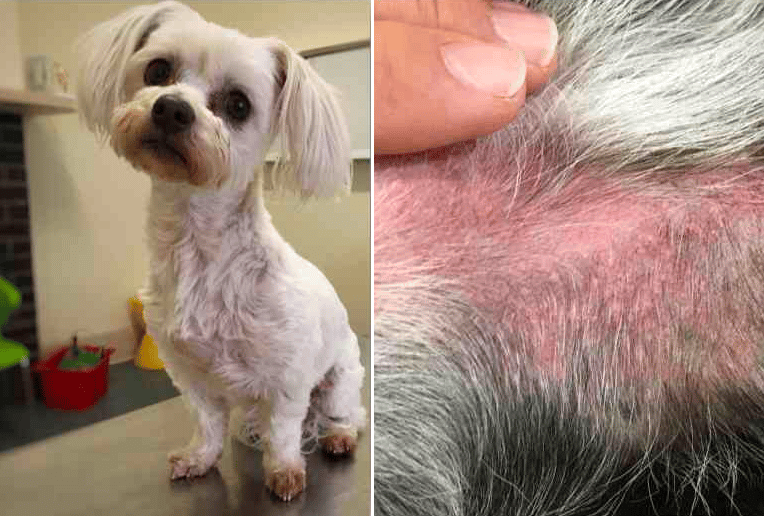 All dogs get a little itchy at some point. It's perfectly normal to have a momentary itch thanks to very slight skin irritation. However, if you notice that your dog is scratching repeatedly and vigorously, it's time to look closer. Aside from the obvious scratching, if they rub up repeatedly against walls or furniture, they may be trying to get rid of an itch. Check their skin for raw or red spots that may be evidence of excessive scratching.
Also remember that dogs may scratch itches, especially in their paws, by licking, chewing, or biting at them. If your dog is licking or gnawing on their paws excessively, it might be because they itch. Some causes of itchiness may be chronic, like dry skin or living in a low-humidity environment. Others may be seasonal, like allergies, or come on suddenly. Be aware of your dog's normal scratching behavior so you can tell if something changes.
Causes of Itchy Skin
A number of factors may cause your dog to feel itchy. Some of these can be remedied with shampoo, but others require veterinary treatment.
Fleas and Ticks
When you suspect your dog is feeling itchy, the first things to check for are fleas and ticks. Use a fine-toothed flea comb to carefully search your dog's fur for fleas and their eggs. Also, look around your home's floor and furniture. Ticks may be a bit easier to spot at the location where your dog tends to scratch. Remember that your first priority should be to prevent fleas and ticks with regular medication or topical ointment, but you can also get treatments to remove these pests. If you find evidence of fleas or ticks, make sure to treat these first instead of relying on anti-itch shampoos to get rid of the symptoms.
Dry Air or Skin
Just like humans, some dogs are born with drier skin than other dogs. Some may even have dandruff. Even if they don't, low humidity in the environment may cause their skin to dry out, causing itchiness. This may be chronic, depending on where you live, or it may be seasonal. For example, your heater dries out the air in your home, so your dog may become itchy in the colder winter months. A good anti-itch shampoo can help remedy this problem.
Allergies
Food allergies can be one cause of itchiness, especially if it comes on suddenly and you've recently changed your dog's diet. Even if you haven't, know that dogs can occasionally develop food allergies after many years on the same food. Seasonal allergies like pollen, dust, and mold can also cause itching. If the allergy is mild or seasonal, you may be able to treat it comfortably with shampoo. However, if the itchiness persists even with the shampoo, consult your vet.
Skin Infections
Some types of skin infections can cause itching on their own, and some can develop after excessive scratching. Look for areas of redness, sores, or blistering. Advanced infections may develop a putrid or rotting smell. If you suspect your dog may have a skin infection, take them to the vet. A veterinarian will be able to identify the infection. The treatment may be antibiotics, antifungals, or a specific type of shampoo, some of which you can only get with a prescription.
Mange
This is a disease caused by parasitic mites that burrow into your dog's skin. Unlike fleas and ticks, they're too small to see with the naked eye, but they can cause severe itching and pain, hair loss, sores, and inflammation. If you suspect your dog has mange, take them to the vet immediately. This is a highly contagious condition, similar to scabies in humans, which might infect other pets.
Stress
Bored, anxious, or stressed dogs may scratch excessively as a way of acting out. If this is the case, it won't hurt to use an anti-itch shampoo, but you're better off trying to fix the root of the problem. Is your dog left alone during the day and thus is feeling unstimulated? Is there something in their environment that is causing them stress or anxiety? Puzzle toys, increased playtime, and extra exercise may be your best bet here.
Top 8 Best Dog Shampoos for Itchy Skin
If your dog experiences mild itchiness from dry skin or allergies, one of these shampoos can help relieve the problem.
| | | |
| --- | --- | --- |
| Product | Superlative | Description |
| Vet's Best Allergy Itch Relief Dog Shampoo | Best shampoo for dogs with allergies | To wash away allergens and soothe itchy skin, this shampoo is powerful yet gentle. |
| Burt's Bees for Dogs Natural Skin Soothing Shampoo | Best shampoo for dogs with dry skin | Honey is the skin-soothing ingredient in this shampoo that makes it best for dogs with dry, flaky skin. |
| Veterinary Formula Clinical Care Dog Shampoo | Best medicated formula | This clinical-strength shampoo contains ingredients that combat dry skin, dandruff, inflammation, and even infections and parasites. |
| Pets Are Kids Too Premium Pet Oatmeal Shampoo | Best puppy shampoo for itchy skin | This gentle, tear-free formula is hypoallergenic and comes with a money-back guarantee. |
| TropiClean Medicated Itch Shampoo for Pets | Best scent | A pleasant coconut and lime scent accompanies this oatmeal and tea tree oil-based sensitive skin shampoo. |
| Arm & Hammer for Pets Soothing Oatmeal Pet Shampoo | Best for tight budgets | To stretch your budget the farthest, try this inexpensive vanilla-coconut scented shampoo that moisturizes and soothes itchy skin. |
| Sulfodene Medicated Shampoo | Best extra strength | For the itchiest of pups, this high-strength formula will knock out problem scratching quickly and efficiently. |
| Dhohoo Dog Shampoo and Conditioner 2-in-1 | Best natural formula | Cedarwood, lemongrass, and lavender oil give this shampoo its itch-fighting power and excellent scent. |
1. Vet's Best Allergy Itch Relief Dog Shampoo
Best for Allergies
Particularly if your dog has a skin allergy rather than a food allergy, you want to get them clean and moisturize their skin without exposing them to additional allergens. Vet's Best Allergy Itch Relief Shampoo leaves out the parabens, sulfates, and artificial fragrances found in some dog shampoos, making it great for even the most sensitive skin. It includes natural itch-fighting ingredients like oatmeal, neem oil, tea tree oil, and aloe vera. We find this to be the best allergy shampoo for dogs.
Pros
Good smell
Part of a line of allergy-fighting products including sprays and supplements
Made in the USA
Cons
Thin and difficult to lather
2. Burt's Bees for Dogs Natural Skin Soothing Shampoo
Best for Dry Skin
Although putting honey in a dog's fur might seem like a bad idea, as an ingredient in Burt's Bees for Dogs Natural Skin Soothing Shampoo, it helps to calm skin irritation that causes itching. Also, it contains no fragrances, sulfates, or colorants that might irritate sensitive skin. This shampoo is made with cruelty-free ingredients and is pH-balanced specifically for dogs' and puppies' skin, leaving it moisturized and soft. Overall, it's the best dog shampoo for dry, itchy skin.
Pros
Gentle moisturizing and itch relief
7% natural ingredients
Makes fur soft and shiny
Cons
Plant-based ingredients may cause a reaction in dogs with ragweed allergies
3. Veterinary Formula Clinical Care
Best Medicated Shampoo
If you suspect your dog has contracted a parasite, take them to the vet as soon as possible. However, if you're unable to get them to the vet promptly, you can use a medicated formula like Veterinary Formula Clinical Care, which includes micronized sulfur, an antiparasitic ingredient. It's also antiseborrheic, which means it fights dandruff and can fight off certain bacterial and fungal infections. Although it's not a substitute for the vet, particularly if your dog's itching is severe, it will help to relieve symptoms quickly. However, be careful not to get this in your dog's eyes while washing, as it is likely to cause irritation.
Pros
Affordable
Suitable for many conditions that cause itching
Soothes itching, flaking, and inflammation
Cons
Will cause irritation if it gets in your dog's eyes
4. Pets Are Kids Too Premium Pet Oatmeal Shampoo
Best for Puppy with Allergies, Itchy, Dry, Irritated Skin
A shampoo that's made for puppies should be gentle and tear-free with a neutral pH. Pets Are Kids Too Premium Pet Oatmeal Shampoo ticks all these boxes and more, with oatmeal, baking soda, and aloe vera to soothe itchy puppy skin. All ingredients are organic, cruelty-free, and hypoallergenic, and it leaves your dog with a faint oatmeal cookie scent. A portion of every sale goes to help pets with cancer, so you can feel good about your purchase.
Pros
Lifetime, no-questions-asked, money-back guarantee
Hypoallergenic and organic
Made in the USA
Cons
If you request a refund, the company will remove your negative Amazon review.
5. TropiClean Medicated Itch Shampoo for Pets
Unfortunately, some medicated shampoos smell medicated. They can leave your dog with an unpleasant or artificial scent. However, despite containing beta-hydroxy and salicylic acid for itch relief, TropiClean Medicated Itch Shampoo still smells great. The scent of coconut and lime is fresh and natural without being overpowering, and customers report that it left their dogs' fur soft and clean.
Pros
Fresh scent of coconuts and lime
Available in bulk 2.5-gallon size
Made in the USA
Cons
Some customers report bottles were damaged in shipping
6. Arm & Hammer for Pets Soothing Oatmeal Pet Shampoo
Most Budget-Friendly Shampoo
Arm & Hammer is known for selling baking soda, so it makes sense that Arm & Hammer for Pets Soothing Oatmeal Pet Shampoo would have a baking soda base to help absorb odors. This shampoo leaves out parabens, phthalates, and sodium laurel sulfate to avoid irritating your dog's skin, but includes oatmeal to soothe irritation. Customers enjoy the vanilla coconut scent and the ease of lathering, though they report needing to use it somewhat frequently.
Pros
Inexpensive
Fights itching, sensitive skin, and odors
Leaves fur extra-soft
Cons
Anti-itch effects may not last as long
7. Sulfodene Medicated Shampoo & Conditioner
Best Extra-Strength Formula Shampoo
Unfortunately, it can sometimes be hard to judge the relative strength of good dog shampoo for dry skin. However, the two-in-one Sulfodene Medicated Shampoo & Conditioner has a reputation for helping where other products have failed. The medicinal smell of the product might be a downside if your dog's itch problem is mild, but if nothing else helps, customers report that Sulfodene often takes care of the problem and does it quickly.
Pros
Quick relief of dry, itchy skin
Good for all sizes and breeds
Softens and deodorizes fur
Cons
8. Dhohoo Dog Shampoo and Conditioner
Best Natural Formula Shampoo
As we've said before, words like "natural" and "organic" are often marketing language that doesn't mean much in practical terms. Most of the shampoos on this list bill themselves as having "all-natural ingredients" and are "free of harsh chemicals." However, if by "natural" you mean hypoallergenic and based on essential oils, Dhohoo Dog Shampoo and Conditioner is a safe bet. Lemongrass, lavender, and cedarwood oils serve to clean and soothe irritated skin, leaving behind soft fur and a fresh scent.
Pros
Hypoallergenic and gentle for even the most sensitive skin
Fresh, clean scent
Leaves fur soft and smooth
Cons
Very thick and difficult to pour
Frequently Asked Questions
What makes a dog shampoo good for itchy skin?
If you spend any time researching the best shampoo for itchy dogs, you'll see a wide variety of ingredients, both natural and medicated. Here are some of the most common ingredients to combat itching, inflammation, dryness, or general mild skin irritation:
Colloidal (ground-up) oatmeal
Baking soda
Aloe vera
Neem oil
Tea tree oil
Coal tar
Salicylic acid
Medicated shampoos that combat bacteria, funguses, or parasites may include ingredients like micronized sulfur, chlorhexidine, or hydrocortisone. These are best used in conjunction with your veterinarian's input.
Can I make a homemade dog shampoo for itchy skin?
Yes, you can make your own anti-itch dog shampoo, though it may not smell as good as the kind you can buy. The American Kennel Club recommends the following formula:
1 quart of water
1 cup of baby shampoo or nontoxic dish soap
1 cup of white or apple cider vinegar
1/3 cup of glycerin
2 tablespoons of aloe vera gel
Mix all of the ingredients together in a spray bottle and shake thoroughly before spraying it on your dog's fur. You can also make a DIY anti-itch shampoo by grinding one cup of dry oatmeal in a food processor until it's the consistency of flour, mixing in half a cup of baking soda, adding a quart of warm water, and stirring. This mixture will be thick enough that you'll need to apply it by hand.
What if my dog's scratching is isolated to hot spots?
Some dogs don't itch all over. Instead, their scratching is confined to isolated "hot spots" on their bodies that seem to itch a great deal. If this is the case, and they don't have dry skin all over, it may be more effective to treat the spots rather than repeatedly shampooing all their skin, which may actually dry it out further. You can treat the spots with homemade baking soda or oatmeal paste. If that doesn't work, there are medicated wipes, creams, and sprays that may be worth trying. Some of these might include topical pain relievers to keep the skin from stinging. As always, follow the instructions on the package and talk to your vet if the scratching persists.
Final Thoughts
If you spot your dog scratching or chewing persistently, your first job should be to check them for signs of bugs, parasites, or infections. However, if nothing is obvious and the problem isn't so severe that your dog is breaking their skin by scratching, a good anti-itch shampoo can be your next step. Keep in mind that some ingredients can work better for certain dogs than others. For example, if an oatmeal-based shampoo doesn't do the trick, try a tea tree oil shampoo next. However, if you get to the point of needing medicated shampoo, it's a good idea to talk to your vet to make sure there isn't an underlying medical problem.