As wonderful as dachshunds are, there's no getting around the fact that the breed has an unfortunate disposition toward back problems. Intervertebral disc disease (IVDD), spinal injuries, and other health problems can limit your dachshund's mobility and lower their quality of life. However, there are plenty of dachshund wheelchairs out there that will help your wiener dog use the strength they've got to get around on all kinds of terrain.
Whether your longtime pet is growing older or you've decided to adopt a dog with special needs, living with a disabled dog requires some adjustments and a lot of patience. The regular care they need will vary based on your dog's health and level of mobility, but here are some common things you'll need to do for a partially or fully paralyzed dachshund.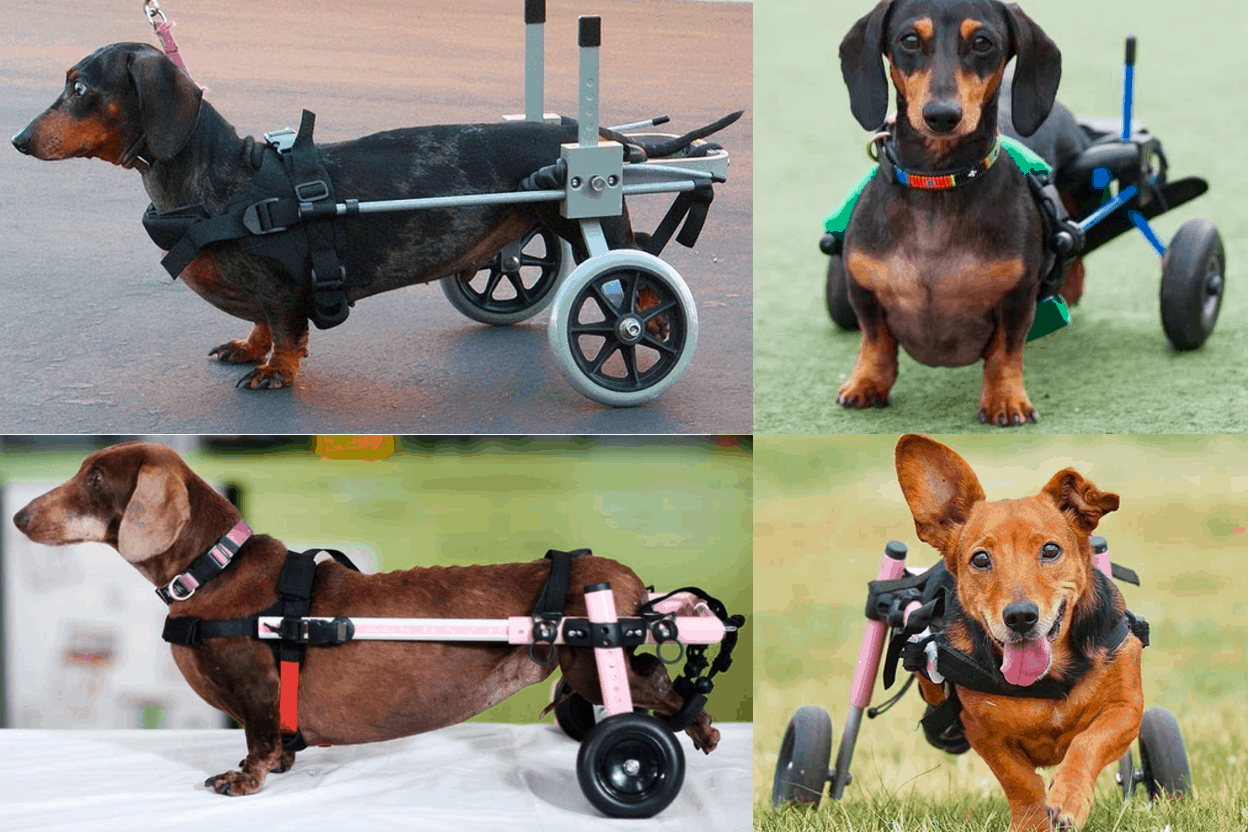 Wheelchairs, Carts, and Walkers
Wheelchairs aren't just for paralyzed dogs – many dogs that experience pain and limited mobility in their limbs can benefit from the use of a wheelchair. Conversely, not every dog with mobility issues or paralysis needs a wheelchair, since the dog will need a certain amount of strength and athleticism to move themselves and the chair. Thus, these products are usually discussed in terms of dog wheelchairs for back legs, since dogs with strong front legs can still get around pretty well. To a dachshund whose back legs are not working, this will give your best buddy the independence to move on their own again.
Additionally, wheelchairs can provide extra stability for dachshunds and other dogs who are recovering from injury or surgery or dealing with hip dysplasia and other joint issues. Quad wheelchairs, sometimes called walkers or carts, can provide this stability to encourage exercise and prevent any additional damage to joints. In addition, some rear-limb wheelchairs for dachshunds can be upgraded to add front wheels should your dog's mobility decrease or change.
Top 3 Picks of Wheelchairs for Dachshund
| | | | |
| --- | --- | --- | --- |
| Factors | Walkin' Wheels | NewLife Mobility | K9 Carts |
| Weight | 8 lbs. | Unknown | 5.5 lbs. |
| Materials | Aluminum frame, foam wheels | Aluminum frame | Aircraft-grade aluminum frame |
| Ease of assembly | Easy – video available | Moderate | Easy – English instructions |
| Adjustability | Adjustable height, width, and length | Adjustable height, width, and length | Adjustable height, width, and length |
| Supports | Belly belt and leg stirrups included | Belly band included | Contoured foam padding |
| Ease of putting on/taking off | Easy | Moderate | Easy |
| Why you should buy it? | This is the best all-around wheelchair for durability, support, and ease of use. | The XS-LW model is specially designed for long-bodied dogs like the dachshund. | This made-in-the-USA wheelchair can easily be upgraded for changing mobility needs. |
Check for more wheelchairs below.
How to choose the Best Wheelchair for Your Dachshund
When you're looking at wheelchairs, you'll naturally want to know how to pick the right size and model. Here's our guide for doing just that.
Like any pet product, not all dachshund wheelchairs are made alike. Here are some of the things that make a wheelchair a good fit for your dachshund.
Weight and Durability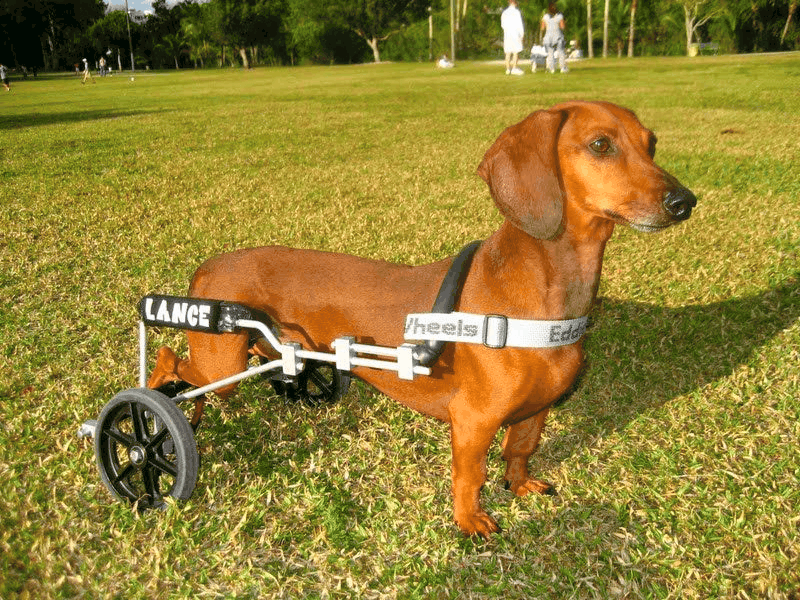 Most wheelchair frames are made from aluminum or aluminum alloy because of their lightweight and resistance to rust. Unfortunately, it's not as durable as something like stainless steel, but usually, the trade-off is worth it for the reduced weight, particularly for a small doggie wheelchair. Likewise, the wheels are usually made of polyurethane foam to save weight. Even the best-designed wheelchair won't do much good if your dachshund struggles to pull it along. It already takes quite a bit of strength in a dog's forelimbs to pull a rear-limb wheelchair, so you want to make it as easy as possible.
Adjustability
Any good dog wheelchair is adjustable, even if it's custom-made to your dog's measurements. Having a chair that's even a few millimeters off can cause chafing, discomfort, or limited mobility, so fit is very important. Pay attention to how a particular wheelchair is adjusted and how easy it is to do so. Although most wheelchairs can adjust in all dimensions, many can only do so incrementally. That means if your dog requires an adjustment that's between settings, this won't be possible and your dog will have to make do with a fit that's slightly off.
Support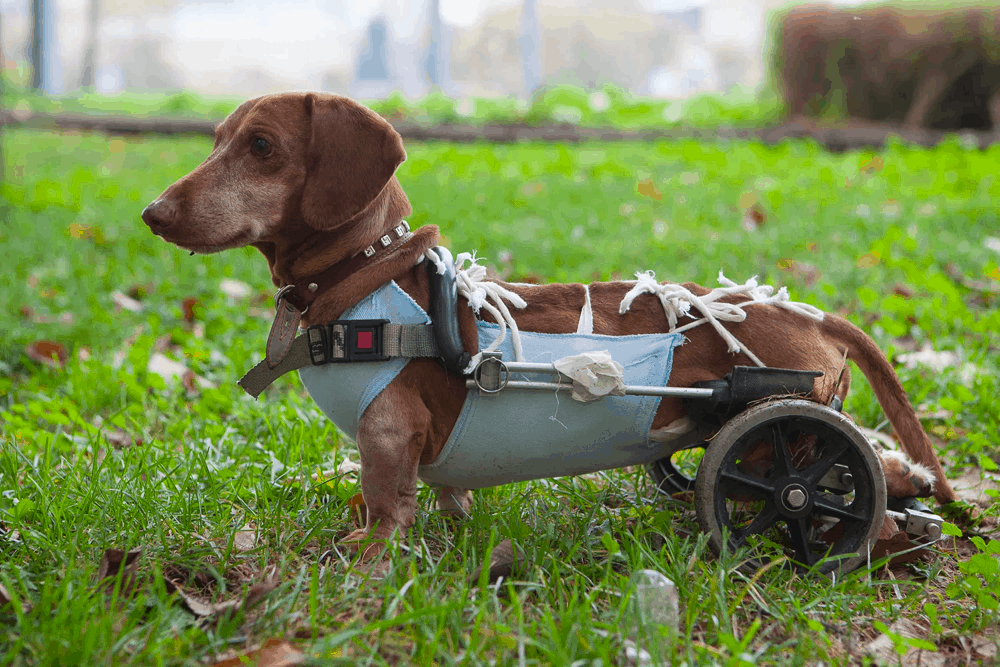 Pay attention to how much support your dog will receive once strapped into the wheelchair. With dachshunds, it's often important to have a belly strap or something similar to help support their long backs. Additionally, especially if you're looking at rear-limb wheelchairs, consider the support given to your dog's hind legs. If they still have mobile hind legs and the chair is mostly a balance aid, make sure they'll be able to move their legs with ease. On the other hand, if your dachshund's back legs are permanently paralyzed, make sure the chair has support straps to keep their legs out of the way and prevent injury.
Easy On/Off
Some wheelchairs are all one piece, where you simply set your dog in the contraption and fasten the straps. Others require you to put a harness on first and then attach the harness to the wheel frame. Some harnesses can be pulled over your dog, while others require you to pick the dog up and set them in it. This is less of a concern for dachshunds, especially mini doxies, but if you have limited arm strength yourself, you'll want to pay attention to how easy it is to get your dog in and out of the chair. Generally, dogs don't sit around in their wheelchairs all day, so if you're going to be taking it off and on throughout the day, you want this process to be as smooth as possible.
Freedom of Movement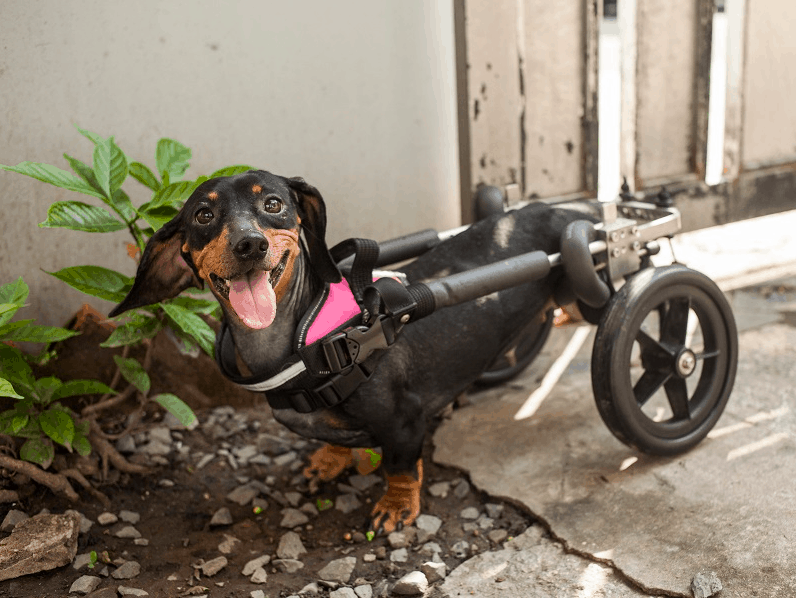 Any good dog wheelchair must be designed so that your dog can use the bathroom easily and without making a mess. Some wheelchairs even have a bit of foldability, allowing the dog to sit and lie down while still in the chair. Again, this is less of a concern for dachshund owners, since sausage dogs have such short legs that they can comfortably rest against the ground even if their rear ends are in the air. However, you still want to make sure that your dog can move comfortably within the chair without chafing.
Length of Use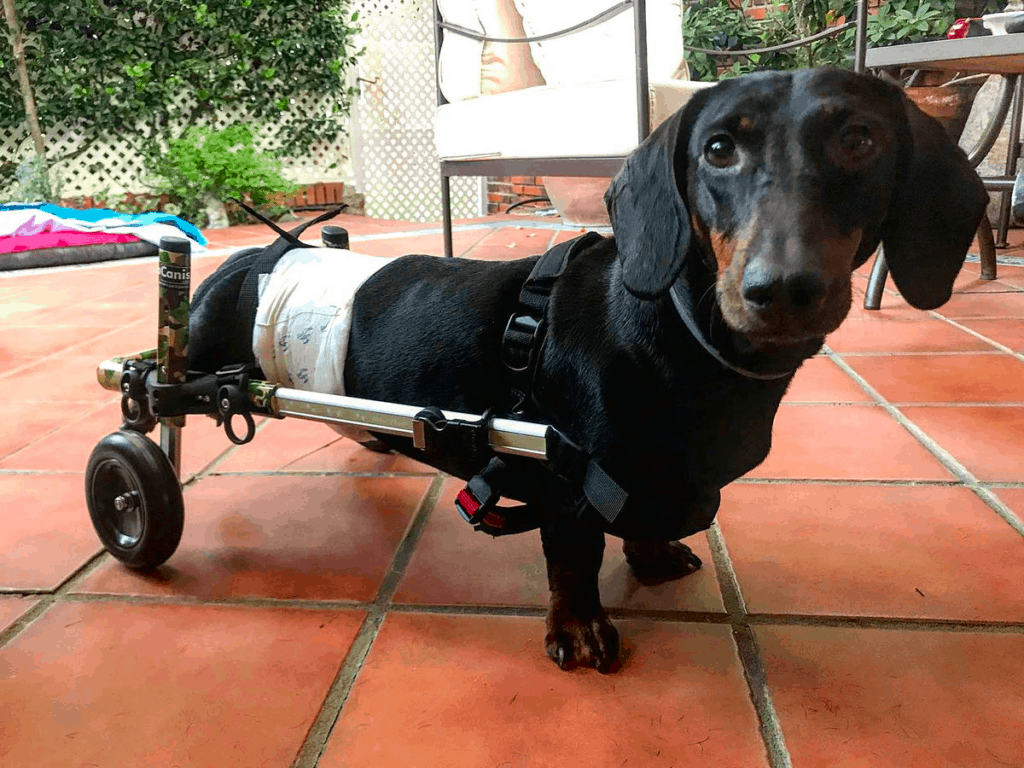 Finally, you'll want to take into account how long and how frequently you expect your dog to use the wheelchair. If it's a temporary mobility aid – if they're recovering from an injury, for example – you can probably get by with a less expensive, less adjustable wheelchair. On the other hand, if their loss of mobility is permanent but their health is otherwise good, your dachshund may need a chair for years. In that case, you'll want to get an upgraded model. If their health or mobility needs are uncertain, you may consider getting a chair that can add or remove wheels, support straps, or other features as needed.
Top 8 Best Dachshund Wheelchairs
Here are your best options for pet wheelchairs for your dachshund. These are all rear-limb chairs since that's what dachshunds most frequently need, but many of these companies also offer quad chairs or walkers as well.
1. Walkin' Wheels Dachshund Wheelchair
Walkin' Wheels is quite possibly the most popular brand of pet wheelchairs out there, and they make a special rear-limb model for small dogs with short legs. Not only is it designed for a dachshund's body shape, but it's also fully adjustable in all directions. There are several sizing options based on both weight and leg height, making this ideal for a doxie's short stature. Dog owners in the UK can purchase a Walkin' Wheels chair here.
Features
Aluminum frame
Two dense foam wheels with rubber treads
Three color options (pink, blue, camo)
Wheel size: 4"
Weight: 8 lbs.
Pros
Adjustable height, length, and width
Easy to assemble
Models for both standard and mini doxies available
All parts of the wheelchair are washable/waterproof
Folds flat for easy storage
Cons
High price for a non-custom chair
Heavier than expected
The chest strap can slip down
Can tip over on uneven surfaces
2. Newlife Mobility Adjustable Dog Wheelchair
The XS-LW model of the Newlife Mobility Wheelchair was designed with low-rider dogs like dachshunds and corgis in mind. There's a thick belly band to protect the spines of these breeds, and the chairs are adjustable in length, width, and height. It's also one of the least expensive rear-limb wheelchairs available.
Features
Lightweight aluminum frame
Leg guard for hind limbs
Pros
Designed specifically for the dachshund body type
Highly adjustable
Comes with a free leash
Relatively inexpensive
Cons
May be difficult to assemble or adjust, especially initially
Less sturdy than other chairs
3. K9 Carts Original Dog Wheelchair
K9 Carts boasts that their dog wheelchairs are designed and approved by US veterinarians, and they have excellent customer reviews to match. Sizing is based on four measurements – more than most other chairs, but this helps ensure a better fit. The small size is likely best as a miniature dachshund wheelchair, and the small-medium should fit standard doxies.
Features
Aircraft-grade aluminum frame
Cable leg rings and rear leg straps
Weight: 5.5 lbs.
Pros
Handmade in the USA
Fully adjustable
The highly durable and lightweight frame
Add-on kit for front support wheels available
Excellent customer service
Cons
Expensive
Larger wheels may get caught on things
The steep angle of leg rings may cause discomfort
4. HiHydro Pet Wheelchair for Handicapped Hind Legs
If your dachshund needs a wheelchair but you're on a strict budget, the HiHydro Pet Wheelchair, probably in XS or XS+, is a good choice. Stainless steel is heavier and more durable than aluminum, but your dachshund may need to have good strength in its back and forelimbs to use this chair.
Features
Stainless steel wheel frame
Multiple sizing options
Hind leg protector
Pros
Durable wheel frame
Highly adjustable
Colorful straps
Inexpensive
Cons
Heavier than an aluminum frame
The durability of non-steel parts is questionable
The instruction manual is poorly translated English
Difficult to put on if the dog can't stand on back legs
5. SYLPHID Adjustable Dog Wheelchair for Hind Legs
The XS-B is the Sylphid Dog Wheelchair best suited for a dachshund's body shape, and it will support dogs up to 22 pounds. The company has produced instructional videos to help you assemble the chair and get your dog into it. This chair gets excellent marks for durability and value.
Features
Lightweight aluminum alloy frame
Push-button adjustability
Sandwich mesh straps for breathability
Foam wheels
Weight: 2.7 lbs.
Pros
Easy to assemble
Belly belt for extra support
Inexpensive
Cons
An instruction manual is poorly written
Difficult to fit dog
6. Best Friend Mobility SitGo Dog Wheelchair
The Best Friend SitGo in size XS has a feature that no other chair on our list does: the wheel frame can fold to allow your dog to sit down while wearing it. Of course, this is less of an issue with dachshunds because they're already so low to the ground, but it does allow for added comfort. You won't have to take it off and put it back on as often so your dog can rest.
Features
Aluminum frame with stainless steel hardware
Fully adjustable in height, width, and length
Polyurethane wheels
Pros
Unique design allows a dog to sit
Don't need to lift dog to get them into the chair
Comes mostly assembled
Cons
Expensive for a non-custom chair
Few customer reviews
Confusing assembly instructions
7. Grey Snouts Dog Wheelchair for Back Legs
With many sizes to choose from, the Grey Snouts Dog Wheelchair is appropriate for both miniature and standard dachshunds, so take a look at both the XXS and XS models. This is the chair for rear limbs, but Grey Snouts does make a full quad wheelchair as well. The website provides full, illustrated instructions for assembly and adjustment.
Features
Aluminum frame with stainless steel hardware
All-terrain polyurethane wheels
Fully adjustable
Neoprene shoulder harness
Comfortable rear leg straps
Weight: 3 lbs.
Pros
Padded shoulder support
Good wheel bearings for smooth rolling
Easy to assemble
Relatively inexpensive
Cons
Bumps and ruts can cause the chair to tip over
Requires hex wrench to adjust
8. Eddie's Wheels Custom Dog Wheelchairs
Unfortunately, despite the adjustability offered by most dog wheelchairs, dachshunds can still be hard to fit into non-customized products. If your dachshund is going to need their wheelchair for several years to come, consider getting a custom chair from Eddie's Wheels. In the process of making custom wheelchairs, this company has worked with lots of dogs with IVDD, which dachshunds are especially prone to. They have special features based not just on your dog's measurements but also on their mobility, activity levels, health, and more.
Features
Totally customized fit
Rear-wheel, front-wheel, or quad models are all available
Padded welded saddle for maximum support
Many options for support straps, variable axles, counterbalancing, etc., based on your dog's unique needs
Weight varies by model and options
Pros
Guaranteed to fit your dog
Neutrally balanced to put no weight on dog's shoulders
Any model can be upgraded for changing mobility needs
Every cart guaranteed for the life of your dog
Cons
Expensive
Requires extensive measurements
Takes at least two weeks to make and ship
Not returnable
Expressing Your Dog's Bladder
If your dachshund can't go to the bathroom on their own, you may need to express their bladder for them. When done properly, it's not uncomfortable for the dog, and with practice, you won't even get urine on your hands. Luckily, dachshunds are small and light enough that this should be relatively easy to do.
When you're first learning to do this, make sure you work with your vet to learn to do it properly. However, the basic process involves supporting your dachshund's chest with one hand while using the thumb and forefinger of the other to locate the bladder and gently pinch it. Your dachshund may lift their tail when you've found the right spot and will begin to urinate. Continue pressing gently until the urine stream stops and the bladder is empty.
How to Measure a Dachshund for a Wheelchair
The first thing to know is that pet wheelchairs are usually sized by height rather than weight, so dachshunds will often need the shortest size available. However, even if you think you know what size you need, measure your dog and compare it with the company's sizing chart to make sure. Most wheelchairs require at least two measurements: length and height. Always pay attention to the manufacturer's directions for measuring, but here's the most common process.
Lay your dachshund on their side.
Measure your dachshund's length across the midline of their body. This measurement should reach from their front armpit to the end of their rump, not taking the tail into account.
Measure the height of your dachshund's back legs. This measurement should reach from the bottom of the foot to the underside of the belly with the leg extended but not completely straight.
Again, pay attention to the individual manufacturer's measuring requirements. Some companies will have photo diagrams or even phone assistance to help you get the measurements right. Of course, if you are ordering a custom wheelchair, measuring accurately is of the utmost importance, so take your time and double-check your work.
Modifying Your Home
Of course, if your dachshund needs wheels, you'll need to modify your home for a wiener dog wheelchair. Having non-slip flooring is an important piece of the safety puzzle, as well as having a recessed bed that doesn't require your dog to step up and down to get in and out of it. Of course, having dachshund ramps to allow your sausage dog to climb up on high surfaces is a necessity, though you should start using them long before your dog needs a wheelchair. Jumping and climbing are bad for long spines, so add a dog ramp to your dachshund's daily routine as soon as possible.
If your dachshund has mobility issues, they may also have problems with incontinence, so creating an indoor bathroom space can be a good idea. You can use puppy pads for a disposable solution or artificial turf for a washable one. Place them in the corner of the room where your dachshund tends to rest. For older dachshunds who may also have visual and hearing impairments, you can use cues from their other senses to help them navigate their daily routine. For example, placing food and water dishes on a plastic mat helps them feel and smell their way to dinner.
FAQs
How much do dachshund wheelchairs cost?
The prices of dog wheelchairs vary widely by size and features. Fortunately, since dachshunds are low to the ground, wheelchairs in their size are relatively inexpensive. A non-custom, adjustable wheelchair for a dachshund will typically cost between about $80 and $250. A customized wheelchair will typically cost $300 and up, depending on the manufacturer and what features your dog needs.
Does my dachshund need a custom wheelchair?
Fully customized chairs are expensive, and they can't be returned, reused, or resold, so you want to think carefully about ordering one. However, the benefits of a custom chair are a much better fit, improved comfort, and often the ability to add upgrades as your dog needs them. When making this decision, consider your budget as well as how long and how often you anticipate your dachshund needing to use the chair. If your dachshund has a chronic condition and thus you expect to need the chair for several years, you're likely to have a better experience using a customized wheelchair.
When does my dachshund need a wheelchair?
Sometimes it's clear when your dog would benefit from having a wheelchair, for example after a spinal injury. Other times, however, you may wonder whether it's worth spending the money on one. Here are some health conditions that may require the use of a dog wheelchair:
Intervertebral disc disease (IVDD)
Degenerative myelopathy
Arthritis or dysplasia
Sudden paralysis
Knee/ACL problems
If you're still not sure whether your dachshund has the strength in their front legs to pull a rear-limb wheelchair, you can do something called the "towel test." Take an old towel, roll it up lengthwise, and slip it under your dog's hips. Then pull up on both ends of the towel, supporting your dog's rear end so that their back is level. If your dog can then walk normally, with you continuing to hold the weight of their backside, your doxie should be able to use a wheelchair.
Final thoughts
If you can afford a customized wheelchair for your dachshund, that's the one that will give them the most support and comfort. However, there's no getting around the fact that custom chairs are expensive, and you may have to wait a few weeks to receive them. Additionally, if a wheelchair is part of rehab for your dog and not a permanent fixture, you may not want to spend more money than you need to.
Look through the above list of dog wheelchairs to see which one meets your needs. No matter which one you pick, make sure to measure your dog carefully for the best fit. With a good wheelchair, your dachshund can once again exercise and run around freely, which is sure to improve their quality of life.