Curious puppies love to explore the world, following their noses and their instincts. Sometimes, this leads them to roll in things that leave them smelling bad to human noses. Even if they don't roll in anything, though, they will eventually need you to bathe them to keep them healthy and clean. Particularly if your dog has long, fine fur, it's important to keep them well-groomed with the best shampoo for puppies.
However, shampooing your puppy isn't just a matter of reaching for whatever you use on your own hair. Your shampoo is created to have the best results on human skin and hair, and dogs need something different. While you won't injure your puppy using human shampoo, you may irritate sensitive skin or eyes. If you want to take the best care possible of your puppy, you need to get them their own shampoo.
We'll go over how to choose the best puppy shampoo as well as list our top choices. Then we'll answer some common questions about keeping your new puppy clean.
What to Look for in Puppy Shampoos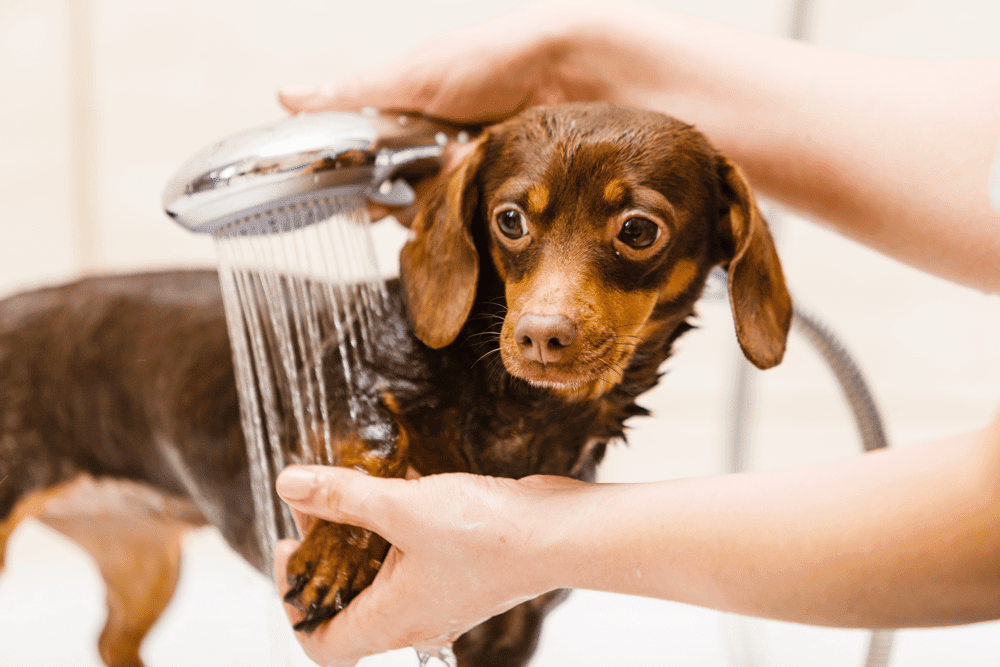 Not all dog shampoos are created equal, so here's what you should look for in a shampoo for a puppy.
Formulated for Puppies
Although puppy shampoo isn't substantially different from shampoo for adult dogs, the ingredients are usually a bit gentler on sensitive skin. In fact, many dog owners find a puppy shampoo they like and continue to use it on their adult dogs.
Tear-Free
While no shampoo is completely tear-free, puppy shampoos will cause less irritation and pain if some should get into the dog's eyes. Tearless shampoos are safe to use on your puppy's head. However, as with all shampoos, make sure to rinse thoroughly, especially around your puppy's eyes and mouth. Even tear-free shampoos can cause irritation if not rinsed out.
Neutral pH
The biggest difference between human and dog shampoo is usually the pH, or acidity, of the liquid. A totally neutral pH, like that of plain water, is 7. Human skin has a slightly lower acidic pH of 5.5 to 5.6. Dogs, however, have a more neutral pH of 6.2 to 7.4. Thus, using human shampoo on a puppy can irritate and dry out their skin, which over time can lead to flaking and increased vulnerability to infections.
Scent
To be honest, the scent of the shampoo you choose will matter much more to you than it does to your dog. Some shampoos with lavender or other specific scents will claim to be "calming," but there's usually no evidence to actually back that up. Remember also that dogs' noses are more sensitive than humans, so too strong a smell might not be pleasant for them. Instead, pick a scent – preferably one that's not too overpowering – that you enjoy.
Top 10 Best Shampoos for Puppies
Here's a quick look at our choices for the best puppy shampoo.
| | | |
| --- | --- | --- |
| Products | Superlative | Descriptions |
| Crazy Dog Baby Dog Shampoo | Best Overall | This mild puppy shampoo represents the best balance of price, long-lasting scent, and high-quality ingredients to keep your dog's skin and fur clean and moisturized. |
| Earthbath Ultra-Mild Wild Cherry Puppy Shampoo | Best Tearless Formula | The contents of this shampoo are gentle enough to use on puppies as young as six weeks old. |
| Burt's Bees for Dogs Natural Tearless Puppy Shampoo | Best Natural Formula | With no dyes, fragrances, or sulfates, this shampoo provides a gentle clean on even sensitive skin. |
| Vet's Best Hot Spot Itch Relief Shampoo | Best for Itchy Skin | Soothe your puppy's itchy, flaking skin with the aloe vera and tea tree oil found in this moisturizing shampoo. |
| Seamus Sugar Cookie Tearless Puppy Shampoo | Best Scent Shampoo | This mild, gentle shampoo will leave your dog smelling like fresh-baked sugar cookies. |
| Oster Oatmeal Essentials Gentle Puppy Shampoo | Best Budget Option | An excellent value for money, this shampoo works every bit as well as more expensive options. |
| Nature's Miracle Puppy Shampoo | Best for Fighting Odors | If your puppy can't stay away from bad smells, wash them out gently with this highly effective shampoo. |
| FURminator Ultra Premium Deshedding Shampoo | Best for Shedding | Remove loose fur at bath time with this shampoo that helps to combat constant shedding. |
| Bodhi Dog Waterless Shampoo | Best Waterless Shampoo | This spray-on, no-rinse shampoo is a great option for getting rid of odors and oily fur between full baths. |
| Honest Paws 5-in-1 Oatmeal Dog Shampoo and Conditioner | Best Shampoo Conditioner | Wash, condition, detangle, deodorize, and moisturize your puppy all in one bath. |
1. Crazy Dog Baby Dog Shampoo
There are plenty of great puppy shampoos out there, but Crazy Dog Baby Dog Shampoo represents the best balance of quality, price, and results. This mild shampoo is made in the company's solar-powered factory in California, showing the company's commitment to clean energy as well as clean dogs. Customers report that their dogs' fur feels clean and soft after bathing, and the fresh, baby powder scent sticks around. Many have kept using it even after their dogs grew to adulthood.
Pros
Excellent value for money
Mild but effective
Long-lasting scent
Cons
Puppy shampoo only available in baby powder scent
2. Earthbath Ultra-Mild Wild Cherry Puppy Shampoo
Nearly all shampoos made specifically for puppies are tearless, but Earthbath's Ultra-Mild Shampoo takes it an extra step by offering a 100% satisfaction guarantee. If you and your puppy don't love it, you can return it and receive your money back. This formula is gentle enough to use on puppies starting at six weeks of age but strong enough to truly get your dog clean. It even contains aloe vera to soothe skin.
Pros
Money-back guarantee
Very gentle on skin
Safe for even very young puppies
Cons
Some customers say scent is weak or artificial
3. Burt's Bees for Dogs Natural Tearless Puppy Shampoo
We'll be honest: the word "natural" doesn't mean much on a product label. Every product on this list is made with mild, non-irritating cleansers and is free of chemicals known to harm puppies, but they all contain some synthetic ingredients. However, Burt's Bees for Dogs Natural Shampoo is a little more upfront about the contents of its products, branding this one as "99.7% natural." It is unscented and free of colorants, and it's surprisingly low in price.
Pros
No fragrances, dyes, sulfates, or petroleum products
Inexpensive
Comes in post-consumer recycled bottles
Cons
Not as effective on strong odors
4. Vet's Best Hot Spot Itch Relief Shampoo
A "hot spot" is a spot on your dog's skin that they just won't leave alone, scratching or gnawing at it until the skin is raw. For spots just like this, Vet's Best Itch Relief Shampoo is specially formulated to calm minor inflammation with soothing aloe, tea tree oil, and vitamin E. It's safe to use on puppies 12 weeks and older, and it won't interfere with flea or tick medication. Although it won't sting irritated skin, make sure never to apply it to broken skin, and if itchiness persists, take your dog to the vet. Even the best dog shampoo for itchy skin might not have the same effect as something your vet can prescribe.
Pros
Smells good
Lathers well
Good for skin allergies
Cons
May take a lot of shampoo for each bath
5. Seamus Sugar Cookie Tearless Puppy Shampoo
Obviously, which shampoo has the best scent will depend heavily on what you like to smell, but Seamus Sugar Cookie Shampoo promises to make your dog smell good enough to eat. It checks all the boxes for a good puppy shampoo, as it's non-irritating, gentle on the skin, and tear-free. The company claims that its shampoos use "Pharmasome technology" to make the scent last longer; however, there is not much information about this substance outside of Seamus's own marketing language, so take it with a grain of salt. Regardless, customers report that while it may not smell like sugar cookies in the bottle, it reliably leaves the scent on their puppies' fur.
Pros
Great for any age or breed
Unique, delicious scent
Makes coats soft and shiny
Cons
Need to leave it on for 5-10 minutes to let scent sink in
6. Oster Oatmeal Essentials Gentle Puppy Shampoo
Owning and caring for a puppy is expensive, and it's possible your budget doesn't stretch as far as you'd like. If this is the case, Oster Oatmeal Essentials is an excellent choice. This baby powder-scented shampoo is as easy on your wallet as it is on your dog's skin. It's pH-balanced and contains no alcohol, dyes, phthalates, or parabens. Many dog owners have said it works just as well as more expensive brands.
Pros
Inexpensive
The oatmeal formula soothes skin
Safe to use with topical flea/tick treatment
Cons
The scent doesn't last long
7. Nature's Miracle Puppy Shampoo
Even the staunchest dog lovers can admit that sometimes their pups get stinky. Moreover, some dogs have a worse natural odor than others, particularly when wet. Whether your dog is one of these lovable but smelly pooches or they have a tendency to roll in the foulest substances, Nature's Miracle Puppy Shampoo can help combat overpowering odors. Oatmilk and aloe are soothing on even the most sensitive skin, and Nature's Miracle – well known for its products that clean pet odors out of carpets – makes this special version of their shampoo just for puppies.
Pros
Long-lasting odor-fighting ingredients
Moisturizes skin and fur
Money-back guarantee
Cons
Conflicting reports on whether it's truly tearless
8. FURminator Ultra Premium Deshedding Shampoo
Puppies tend to shed their first coat between the ages of four and six months, though some may start shedding as early as 12 weeks. Of course, some breeds shed more than others, and if you have a dog with a long double coat, you'll need to get used to finding a thin layer of shed fur all over your house. However, using a de-shedding shampoo like FURminator Ultra Premium can help you remove loose fur at bath time so it doesn't go everywhere. While no grooming product is going to completely eliminate shedding, FURminator will help minimize the problem. Just be careful with puppies, because although FURminator can be used on puppies as young as six weeks, it will likely irritate their eyes if suds get in them.
Pros
Reduces shedding while enriching skin and coat
Faint and pleasant scent
Matching conditioner available
Cons
Not tear-free – avoid washing your puppy's head
9. Bodhi Dog Waterless Shampoo
Although dry or waterless shampoos don't wash away dirt and debris, they will absorb oils and get rid of odors, making them a good option for dogs with sensitive skin who might not be able to take full baths very often. Additionally, they're a godsend for owners of dogs who just hate taking a bath. In particular, Bodhi Dog Waterless Shampoo does a good job of keeping a puppy's coat fresh without being greasy. Simply spray it on your puppy's coat, brush, and enjoy a better-smelling dog.
Pros
Comes in lavender, lemongrass, and oatmeal & apple scents
No detergents, alcohols, or clays
Excellent for touch-ups between full baths
Cons
You won't get the same results as a shampoo and water rinse
10. Honest Paws 5-in-1 Oatmeal Dog Shampoo and Conditioner
Although Honest Paws 5-in-1 Shampoo and Conditioner is a little more expensive by weight, you won't have to buy two different products to get your puppy's coat clean and soft. In addition to shampooing and conditioning, Honest Paws will deodorize and detangle your dog's coat as well as moisturize their skin. It's gentle enough for puppies 12 weeks and older, and it doesn't contain dyes, parabens, or phosphates. This product is especially good for long-haired or thick-coated breeds, though it must be kept away from your puppy's eyes.
Pros
Excellent value for money
Cleans, conditions, deodorizes, detangles, and moisturizes
Very high customer satisfaction
Cons
Not tear-free – avoid washing your puppy's head
FAQs
Here are some common questions about bathing a puppy.
When is a puppy old enough for its first bath?
According to the American Kennel Club, you should wait until a puppy is at least three months old before giving them a bath. However, some vets say it can be as early as eight weeks. If you adopt a very young puppy, check with your vet to see what they recommend. They may have specific suggestions based on your puppy's breed and skin health.
How often should you bathe a puppy?
As with so many questions about dogs, the answer is "it depends." Too frequent bathing can dry out a dog's skin and fur, but too little bathing can cause health problems as well. The right length of time will depend on your dog's type and length of coat, general health, and activity level. However, unless they're a hairless breed or frequently get dirty and muddy, once every four to six weeks is usually sufficient. More often than every other week is usually too much.
Can you use baby shampoo on puppies?
Normally, you shouldn't use human shampoo on a dog. However, baby shampoo is actually an exception because it's both tear-free and pH neutral. While we do recommend that your dog or puppy have their own shampoo formulated specifically for dogs, human baby shampoo will work, as well.
Can you give a puppy a bath without shampoo?
While you can certainly rinse down your dog with only water to remove a surface layer of dirt, consider the smell of wet dog and whether that's your end goal. To really get a puppy clean, just like when you wash your own hands, you need some type of soap or shampoo. However, if you're worried about bathing your dog too often, short-haired dogs can often be wiped down with damp washcloths for a quick clean between baths. Some dry shampoos and wipes can also serve this purpose.
Final Thoughts
Investing in a puppy shampoo is a good choice, and it doesn't have to break the bank. Start the habit of properly bathing your puppy early on to keep their fur soft and clean and their skin moisturized and healthy. As with any dog product, if you have concerns about allergies or the suitability of a certain product, ask your vet. And even if that shampoo says "tear-free," remember to rinse your puppy's head thoroughly.