Ear cleaning is an essential part of grooming for all dogs. Without regular ear cleaning, dogs could develop ear infections, especially if they have floppy ears. So, choosing the ideal dog ear cleaner solution could protect your dog from having painful and irritated ears.
This article will analyze ten great products for washing a dog's ears. You will also learn the importance of dog ear cleaning and how to choose the best type of ear wash for your dog.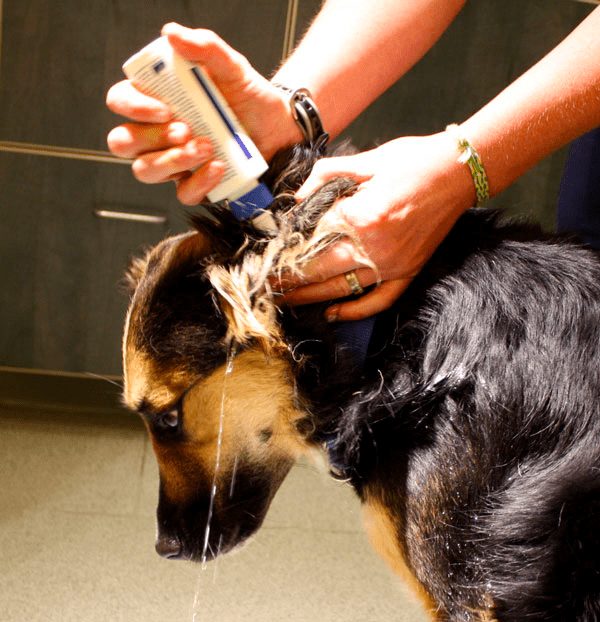 Top Pick for Best Dog Ear Cleaner Products
There are many dog ear cleaner products out there, so how do you choose the best one for your canine? Here are ten popular options to help narrow down your search.
1. Zymox Otic Pet Ear Treatment
Best for Treating Infections.
Not only does Zymox Otic's solution keep your dog's ears clean, but it can also soothe existing conditions. It can treat symptoms in your dog's ear caused by bacterial, fungal, and yeast infections. It has active enzymes that prevent excessive itching and irritation, and also destroy antibiotic-resistant microorganisms.
Bottles for this cleaning solution come in three different sizes, most of which are on the pricier end. Even so, most reviews express that the product is very effective for different kinds of ear infections, making it worth the price. However, some reviews explained that the solution didn't work as described and that it was difficult to get the liquid to come out.
2. Pet MD Aloe Vera & Eucalyptus Ear Wipes
Best for Easy Cleaning
This product is a package of ear wipes rather than a liquid. It has 100 wipes, which can be used for regular cleaning to prevent future ear problems. They're designed to remove dirt, wax, and odors from your dog's ears. They're gentle and alcohol-free to avoid irritating your dog's skin. These wipes even use aloe vera and eucalyptus oil to properly soothe your dog's ears.
Reviews explain that these wipes pick up dirt and debris well with a soft, absorbent texture. However, some customers thought that the wipes were too small to use on big ears. Others felt that the scent was strong and the wipes were messier than expected.
3. Virbac Epi-Otic Advanced Ear Cleaner
Best for Preventing Ear Infections
This liquid cleaner is ideal for preventing ear infections before symptoms occur. It's a soothing solution that contains 0.2% salicylic acid to clean deep inside the ear canal. It's made for routine cleaning and doesn't cause irritation, making it a good choice for sensitive ears. It has a low pH, and it's known to soothe inflammation in a dog's ears.
Many customers agreed that this solution is perfect for regular ear cleaning, which is something dogs with floppy ears often need. Unfortunately, the product wasn't effective for all reviewers, and it even caused a small reaction for some dogs.
4. Nutri-Vet Ear Cleanse for Dogs
Best for on a Budget
The Nutri-Vet Ear Cleanse uses a mixture of gentle ingredients that can effectively remove wax, dirt, and debris from your dog's ears. It's formulated by veterinarians using aloe vera. The liquid can get into all the canals, flaps, and crevices of your dog's ear to prevent future irritation and infection.
Reviews indicate that the product is effective for keeping a variety of canine ears clean. Yet, it's possible that the bottle might leak, and the liquid's scent is a little unpleasant. The affordable price for an 8-ounce bottle makes up for those downsides though.
5. TropiClean Ear Cleaning Wipes for Dogs
Best for Pleasant Smells
While many canine cleaning products have an unpleasant odor, TropiClean offers effective products with satisfying scents. These affordable wipes have a mild coconut scent. The wipes gently clean dog ears without causing any discomfort or irritation. They can remove wax, debris, and odor to prevent infections as much as possible. This product is made with propylene glycol and witch hazel.
Most users explained that this product smells good and is easy to use. However, a few customers left negative reviews due to the fact that the wipes were dried out upon arrival. Yet, most customers seemed to have no issues with the product.
6. Vet's Best Ear Relief Wash
Best for Variety
This Vet's Best product comes with a combo of two solutions: one for washing your dog's ears and one for drying. These items are made with natural, alcohol-free ingredients. Some ingredients include aloe vera, echinacea, chamomile, tea tree oil, calendula, and clove oil. It has a two-step process to more effectively prevent ears from getting red and itchy.
A lot of the reviews say that this product provides relief for irritated dog ears. They said it's fast-acting and effective. However, not all reviewers agreed. Some claimed that the items had unpleasant odors and didn't clean as the instructions described.
7. Earthbath Ear Wipes for Dogs
Best for Routine Cleaning
This product comes with 25 ear wipes, which can clean wax, discharge, and odor from your dog's ears. These wipes are fragrance-free and safe for any dog over six months old to use. They use hazel to naturally clean and prevent infections. The container dispenses wipes, making it easy to use them on a regular basis.
A lot of customers brag about how these wipes are easy and convenient to use. They work well and have no scent, but some customers thought that the wipes needed to be bigger. Others also claimed that the wipes they received didn't have enough moisture.
8. Miracle Care Ear Powder
Best for Removing Moisture
This affordable product is a bit different from the liquid solutions and ear wipes. It's an odor-free powder that's great for removing excess hair from ears, which removes unnecessary bacteria. It's recommended that customers use it about once a week to keep ears clean and odor-free. The powder is perfect for removing excess moisture from the ear canal.
Reviews explained that this product works really well despite being different than other options. Since many dogs dislike liquids going into their ears, they're more likely to cooperate with the powder. Customers say that it's excellent for dogs with hairy ears. Yet, a few reviews state that the powder can be messy.
9. VetWELL EarWELL Otic Cleansing Solution
Best for Sensitive Dogs
This liquid cleaning solution has a refreshing cucumber melon scent with aloe vera gel. It's made to fight smelly, irritating dog ears. It's formulated by veterinarians, and it can deodorize, clean, and dry ears to reduce the risk of ear infections. It also reduces wax, discharge, and itching.
Many people with dogs prone to ear problems purchased this product and gave it great reviews. Reviews state that it did a great job cleaning ears without any issues. A few users weren't fond of the perfume-like scent, but others said they enjoyed it.
10. Burt's Bees Care Plus – Dog Ear Rinse
Best for Lasting Effects
Burt's Bees is known for creating natural skincare products, but now they also have options for dogs too. This dog ear rinse is made of natural ingredients like chamomile and rosemary. It soothes and cleanses ears, providing lasting relief to canines. It's a pH-balanced formula that's free of fragrances, sulfates, and colorants.
Customers described this product and gentle, safe, and effective. Many reviews noted that their dog stopped scratching not long after using this liquid. However, some people received damaged products, which spilled and made a mess. Yet, for the most part, customers were amazed by the effectiveness.
Why Do Dogs Need to Have Their Ears Cleaned?
Ear infections are common for most dog breeds, especially if they have floppy ears, like dachshunds, beagles, and golden retrievers. Cleaning a dog's ears can prevent too much wax and debris from building up in your canine's ears.
If ear infections aren't treated in time, they could lead to severe conditions, such as deafness. Dog ear canals are also very deep, so there are lots of crevices where parasites and bacteria could hide. Using dog ear wipes or a dog ear cleaner regularly can help prevent any ear problems.
Every time you take your dog to the vet, they will evaluate your dog's ear health. If you have any questions about how to clean their ears and how often, your vet can give you specific advice in that area.
Ear Infection Symptoms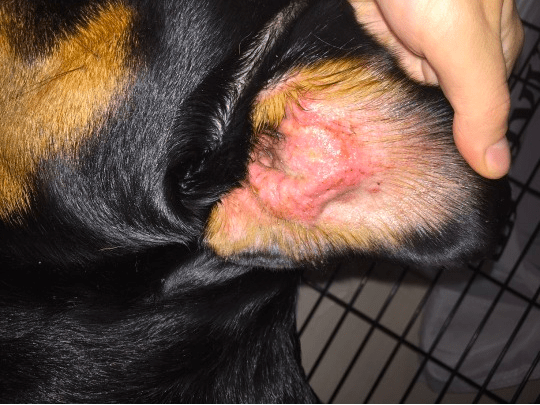 It's a good idea to check your dog's ears regularly for signs of infection. Some dog ear infection symptoms may include:
Ear discharge
Unusual odors
Excessive ear wax
Excessive itching and scratching
Red interior of the ear
Hair loss around the ear
Dark ear wax color
If you notice any of these symptoms in your dog, you might want to visit your vet. Regular ear cleaning might not fix the issue, so your vet can give you a special type of dog ear cleaning product to cure their ear infection.
Liquid vs. Wipe Ear Cleaners: Which is Best for Your Dog?
Not all dog ear cleaners are equal. They might have different ingredients and instructions, and some might even come in different forms. Most ear cleaning products are either liquids or wipes, so here are the pros and cons of each kind.
Liquid Dog Ear Cleaners
The liquid solution is the most common type of dog ear cleaner. It makes it easier to loosen up wax and debris that's deep in the dog's ear canal. When your dog shakes their head afterward, that often helps the liquid clean its ears even more.
If you need to clean the outside of the dog's ears, you can use paper towels or cotton balls with the liquid to do so. Thus, these products work well for both inside and outside the ear.
However, liquid cleaners can be messy. If your dog shakes too soon, some of the liquid could get all over the place. Plus, some dogs might not sit still for liquid cleaners. So, it might be easiest to clean your dog's ears outside or away from the carpet.
Wipe Dog Ear Cleaners
Wipe ear cleaners are perfect for cleaning the surface of your dog's ear. They're less messy and easier to use. It's less likely for dogs to put up a fight for these products.
The only downside to these convenient products is that they can't clean deep inside your dog's ear canal. So, dogs with floppy ears will likely need a liquid solution instead.
Final Thoughts
Ear cleaning is a common part of dog grooming that many families forget about. No matter what kind of dog you have, they can benefit from some type of ear cleaning, whether you use liquid solutions or wipes. When in doubt, ask your vet about the ideal cleaning practices for your canine's breed.