The Dachshund routinely ranks as one of the most popular dog breeds in the United States, and it's easy to see why. These little dogs have personality and courage that exceeds their small size, and their short legs and long bodies give them a distinctive and adorable appearance. Unfortunately, their unusual stature means that Dachshunds are prone to back and joint problems, particularly as they get older. Thus, it's important to make sure these pups don't put undue stress on their joints.
Additionally, Dachshunds were bred to hunt badgers and other burrowing animals, and while they're mostly companion dogs nowadays, the breed is still strongly prey-driven. That means when you take a Dachshund out for a walk, they're likely to see every bird and squirrel as something to chase, and thus they tend to pull on their leashes. For both of these reasons, experts recommend that Dachshund owners clip the leash onto a chest harness rather than a collar that will strain the dog's neck.
Here, we'll go over the best harnesses for Dachshunds, as well as what to look for in a good harness and the special considerations for a dog with a Dachshund's body type.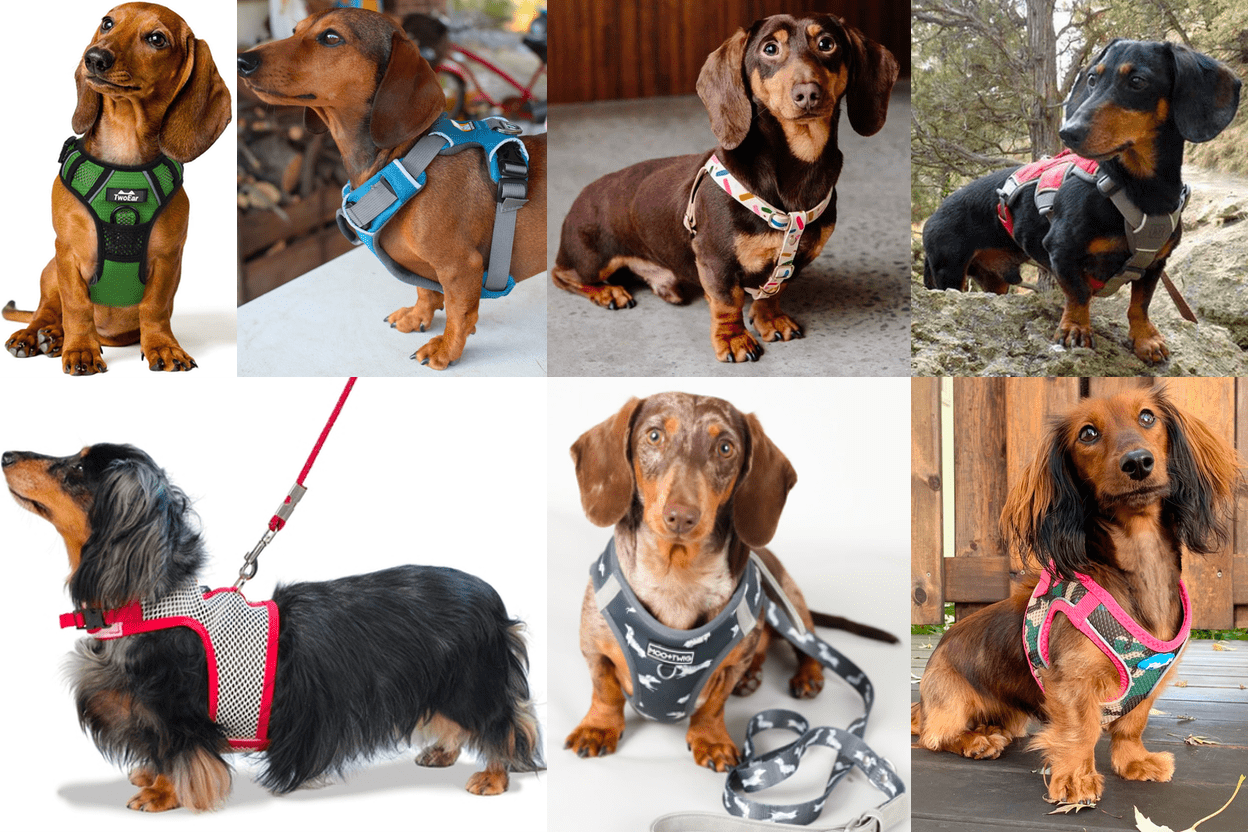 Top 16 Best Dog Harnesses for

Dachshund
Products
Best for
Descriptions
RuffWear Front Range Harness
Best overall
This true no-pull harness ranks highest in safety, durability, and comfort. Though it costs a little more, this rugged yet lightweight harness will stand up to constant use.
EcoBark Harness
Best budget harnesses
Made of recycled water bottles, this comfortable, inexpensive harness is hard to wriggle out of.
Sporn Non-Pull Mesh Harness
This is the least expensive true no-pull harness on our list, with lightweight mesh and a unique design to encourage good leash manners.
Voyager Harness
Best harnesses for miniature Dachshunds
Available in 27 colors and even the smallest of sizes, this inexpensive harness will suit any Dachshund of any size.
Puppia Soft Dog Harness
The adjustable straps and padded leg holes make this harness comfortable for mini and standard Doxies alike.
ChokeFree Velpro Shoulder Harness
Most lightweight harness
If you live in a hot climate, you'll want this low-coverage harness that nonetheless protects your dog's neck while on the leash.
Ezydog Quick Fit Adjustable Harness

Easiest on/off the harness

This easy-to-fit harness also keeps its shape when it's not on your Dachshund, making it easy to put on and take off even the most active dogs.
Peak Pooch Heavy-Duty Harness
Best back support harness
If your Dachshund has back problems, this harness provides superior support for an affordable price.
RuffWear Multi-use support Harness
You'll pay a luxury price for this harness, but you'll get maximum support and durability for any and all outdoor activities.
Gooby Comfort Small Dog Harness
Safest harness
Although all these harnesses are choke-free, this one goes an extra step and redesigns the classic harness to ensure that the force of a pulled leash is spread harmlessly across your dog's chest.
Petsafe Easy Walk Deluxe Harness

Best no-pull harnesses

With its simple design and front leash attachment point, this harness will ensure that you'll be walking your Dachshund and not the other way around.
Petsafe Easy Walk No-Pull Dog Harness
Similar to the Easy Walk but with the additional option of a standard leash attachment point, this harness is the only one you'll need.
Muttitude Dog Harness

Most stylish dog harness

This full-coverage vest harness comes in four fashionable patterns, and a matching leash is included in the price.
PoyPet No-Pull Dog Harness
This harness combines no-pull function with fashion, available in 14 colors and patterns.
Rabbitgoo Dog Harness

Most comfortable dog harness

Both lightweight and padded, this harness also has the option of a no-pull front leach attachment point.
Comfort-Fit Harness
With superior cushioning for extra comfort, this harness is good for cold-weather pups who need a bit of pampering.
Harness vs. Collar: Which is Better for Dachshunds?
All dogs should wear collars to hold their important tags, including vaccination tags and tags with the owner's contact information. Additionally, many collars are designed with a strong metal ring to which you can attach a leash. However, that doesn't mean that this is necessarily the best option when taking your dog for a walk.
If your dog has excellent leash manners and rarely drags you along as you walk, then a collar is probably fine. However, dogs like Dachshunds with strong prey drives and keen senses of smell are often so curious about the world around them that they tend to follow their noses without patience. Despite a Dachshund's small size, you may find that your dog is walking you, rather than the other way around.
Unfortunately, when a dog pulls on a leash that's clipped to a collar, the collar ends up straining their neck. The metal ring on the collar will rotate behind the dog's neck, allowing the front of the collar to compress their throat. When this happens, you'll often hear your dog wheezing and struggling to breathe, though their curiosity will often drive them to keep pulling despite any discomfort they're feeling.
Even if the collar fits well, over time, all this pulling can damage your dog's throat and neck, especially if they also tend to lunge while on a leash. Small breeds like Dachshunds have small bones, and in the worst-case scenario, your Dachshund might damage the hyoid bone in their throat or their larynx. With Dachshunds, you also need to remember that joint and back problems are common, and you need to do everything you can to reduce strain on the neck and back.
The good news is that there are many types of harnesses available to not only avoid causing damage but also help your dog learn good leash etiquette. Some Dachshund harness vests merely spread the force of a dog's forward pull, greatly reducing the chance of injury, but others will actively help discourage your Dachshund from pulling. Most don't even require you to remove your dog's collar before a walk. Read on to find out which of these is best for your Dachshund.
Top 16 Best Harnesses for Dachshunds
Fortunately, you have plenty of options for dachshund harnesses. All of the following are no-choke, step-in harnesses, but they vary in price and other features. We've broken them down by the best in each category. Also, please keep in mind that these harnesses are designed to be clipped to a leash for walking. They are not meant to keep the wearer safe in the event of a car crash – that's a different kind of harness.
1. RuffWear Front Range Dog Harness
In terms of safety, durability, and comfort, we rate RuffWear Front Range as the overall best harness for Dachshunds. This is a true no-pull harness with leash attachment points on the back and chest and four points of adjustability for a perfect fit. Once you've got it adjusted, it's very easy to put on: you just slip the front over your pup's head and buckle the chest strap. It's good for both training and everyday use, and all straps and mesh are reinforced for even the hardest leash pullers. The material even has reflective trim for greater visibility.
The biggest con is the price. The RuffWear Front Range is not the most expensive on this list, but it does cost a bit more than your average simple harness. However, we're confident this highly durable harness will outlast many cheaper options. It's even available in 16 different colors, sizes XXS to XL. Depending on the size of your Dachshund, you'll probably need XXS or XS.
Pros
Two leash attachment points make for a true no-pull harness
Padding overall buckles for maximum comfort
Reflective trim for extra visibility
ID pocket for your dog's tags (if they're not wearing a collar)
Available in 16 colors
Cons
The high end of the price range
The smallest size is appropriate for a chest circumference of 13", so may be too big for some mini Doxies.
Best Budget Harness
Whether your budget is small or you'd like to have a less-price backup harness, these are the most inexpensive options.
2. EcoBark Step in Dog Harness
As the name suggests, the EcoBark Harness is not only inexpensive but also environmentally friendly. The straps are made from recycled water bottles, and the vest is a breathable padded mesh. The soft trim around the leg holes provides a more comfortable experience while walking than straps or buckles, though the buckle is specially reinforced to keep the vest in place. Keep in mind that the double layers and the padding mean that this vest is warmer than some others, and thus may become uncomfortable in hot weather.
Although no harness is truly escape-proof, the way the EcoBark harness sits high up on your dog's back makes it especially difficult to wriggle out of. It is easy to put on and take off, as you simply have your dog step into the leg holes and then fasten the harness with a snap and a buckle at the back. The EcoBark is available in a variety of sizes, down to XXS for the smallest dachshunds, as well as 6 colors.
Pros
Inexpensive
Environmentally friendly
Comfortable double-layer mesh neoprene vest
Fits pets with chest circumference as low as 9.5"
Comes in black, pink, red, purple, green, and sky blue
Cons
Snap closure makes for minimum adjustability
Full coverage vest may be too warm for summer months
Some customers report the sizing is off (i.e., too large or small)
3.

Non-Pulling Dog Harness by Sporn
The Sporn Non-Pull Mesh Harness is the least expensive option with a true no-pull feature. It consists of a lightweight mesh chest piece and nylon straps. Although the leach attachment point is in the back, it discourages pulling by tightening the leg straps if your dog yanks on the leash. The fact that the leg straps tighten and loosen means that there's no need to adjust straps and clip skin-pinching buckles – you merely slip it over your dog's head and ensure their legs are through the correct loops.
The mesh looks a little flimsy, though, and some users have reported that their dogs have chewed through the straps. Thus, you may want to keep it away from power chewers and escape artists. Additionally, opinions of Dachshund owners were split on the fit of the Sporn No-Pull Harness, with some saying it fit well and others saying it didn't. The good news is that this harness is inexpensive enough that you won't lose a huge financial investment if it doesn't work as expected.
Pros
Least expensive no-pull harness
Padded "sleeves" with no plastic or metal
Easy on/off with no buckles
Cons
Some Doxie owners report an awkward fit
Only comes in black
Some dogs have been able to chew through the straps
Best Harness for Miniature Dachshunds
Unfortunately, not all harnesses come in all sizes. This can be a problem if you've got a miniature Dachshund. Though their chests are usually larger than those of toy breeds, you still need to find a harness that fits well.
4.

Voyager Step-in Air Dog Harness
The Voyager Harness is an inexpensive option available in sizes XXXS to XL, though your miniature Dachshund will probably need an XS or S. It is similar in design to the EcoBark harness, though the leg holes are a bit larger. The leash attachment point also consists of two D-rings over the buckle, meaning that even if the buckle were to break, the leash clip would hold the harness in place. This is good news since the closure under the buckle is Velcro, which can lose stickiness if it becomes clogged with dog fur.
It also comes in more than two dozen color combinations, all with small reflective bands on the sides for greater visibility in low lighting. However, it only allows for minimal adjustments, so be sure to carefully measure your mini Doxie. If you get the right fit, though, multiple Dachshund owners report that this is the ideal harness for your dog.
Pros
Simple harness with easy on/off
Fits pets with chest circumference as low as 9.5"
Comes in 29 vests/trim color combinations
Good ratings specifically from Dachshund owners
Cons
Velcro closure may not stand up to heavy use
Buckle closure makes for minimum adjustability
Full coverage vest may be too warm for summer months
5.

Puppia No Choke Soft Dog Harness
Alternatively, the Puppia Soft Dog Harness offers a bit more adjustability in sizes XS through XL. It's available in 14 colors and is also highly affordable. Instead of a full coverage vest like the Voyager and the EcoBark, the Puppia has a back strap that can be adjusted to better fit around your dog's chest. Unfortunately, this makes it a little easier to wiggle out of, but if your Doxie isn't an escape artist, the extra adjustability may be well worth the trade-off.
Some Dachshund owners say the padded 100% polyester vest can get a little too warm in the summer heat, and others took issue with where the chest strap buckle rests in the armpit area, where it's easy to pinch skin by accident. One common complaint is that the Amazon seller is difficult to work with when it comes to returns and exchanges. The harness itself, however, has many excellent reviews.
Pros
Fits pets with chest circumference as low as 9"
Available in 14 colors
Padding around leg holes for extra comfort
Cons
The polyester vest may be too warm for summer months
Less escape-proof than other harnesses
Some users report issues with fit and online sizing chart
Most Lightweight Dachshund Harness
6. ChokeFree Velpro Shoulder Harness
If you live somewhere hot and value breathability over ruggedness, the ChokeFree Velpro Shoulder Harness provides a safe harness without the bulk. This very simple harness is barely more than a strip of fabric with leg holes and a Velcro closure in the back. A D-ring pokes through from one layer of closure to the other and rests on your dog's back. Several Dachshund owners report that it's small and snugly-fit enough that even their escape-prone dogs couldn't easily back out of it.
The trade-off is that it's not very adjustable or durable, and the only closure is Velcro – though users report it is strong Velcro. Additionally, the nature of the closure makes it awkward if you want to hook your dog's tags to the same D-ring as the leash – you'd have to pull them through the hole in the fabric every time you put the harness on. However, your dog can always wear a collar as well as the Velpro, and for quick walks in the heat, you can't beat it. It's inexpensive enough that it can be a backup harness for the hottest parts of summer.
Pros
Highly lightweight
Easy on/off
Comes in black, blue, pink, purple, and red
More escape-proof than other harnesses
Cons
Not very adjustable or durable
Velcro closure may not be very secure
The polyester mesh may stretch over time
Dog Harness That is Easiest to Put On and Take Off
7. Ezydog Quick Fit Adjustable Dog Harness
If you've got a wriggly Dachshund who won't sit still to let you adjust multiple straps and buckles, consider the Ezydog Quick Fit Adjustable Harness. There's only one buckle and one point of adjustment, but the padded neoprene should still ensure a comfortable fit for your Dachshund. Part of the appeal comes from the fact that this harness holds its shape when it's off your dog – it doesn't simply collapse into a confusing spaghetti pile of straps. When you pick it back up again, it's easy to tell what goes where.
The Ezydog comes in 11 colors and sizes starting with XXS. The One-Click Fit system promises that this harness is as simple to use as any color. The nylon straps come with reflective stitching, and the chest strap is padded with neoprene for comfort. Unfortunately, this harness doesn't do much to stop dogs from pulling on the leash, and at this price point (it's only a little less than the RuffWear Front Range), you'd expect a little more functionality.
Pros
Very easy on/off and fit
Fits dogs with chest circumference as low as 12"
Nylon straps for high durability and neoprene padding for comfort
Comes in 11 colors
Cons
On the higher end of the price scale
Doesn't discourage pulling
Best Dachshund Back Support Harness
Even if your Dachshund doesn't have back problems yet, you want to do your best to keep them from putting undue stress on their spine. And if they've developed a problem like IVDD, you want to give them as much back support as you can. Here are the harnesses with the most support for your sausage-shaped dog.
8. Peak Pooch Heavy-Duty Harness
We find the Peak Pooch Heavy-Duty Harness to be the best harness for a dachshund with back problems. It's much longer than a regular harness, extending down the dog's back and looping under their chest and stomach with three straps instead of two. This provides extra support along with the choke-preventing features of a standard harness. Despite the fact that it's made from heavy-duty materials, with nylon straps and fleece padding, this harness is also surprisingly affordable.
Each strap is adjustable, making this a good fit for dogs with broad chests and narrow waists like the Dachshund. Three straps does mean that there's more to attach every time you put it on, so if your Doxie won't hold still, this may make walk time more difficult. Still, once you get your dog strapped in, this harness is very difficult to escape from.
Unfortunately, even the smallest size of the Peak Pooch is unlikely to fit miniature Dachshunds. For standard Doxies, however, the extra-small will likely work. It's also worth noting that this harness has a lifting handle on the back for easy transport. However, you still don't want to use this harness to life your Dachshund one-handed – always use one hand to support your dog's back end. This helps protects their backs.
Pros
Long harness with superior back support
Heavy-duty nylon straps and reflective trim
Comes in black, blue, hunter green, light blue, orange, and red
Excellent value for money
Cons
Smallest size appropriate for chest circumference of 17", so likely too big for mini Doxies
More difficult on/off than some other harnesses
Lifting handle may encourage a bad habit of not supporting your Dachshund's back end
9. RuffWear Web Master Multi-Use Support Dog Harness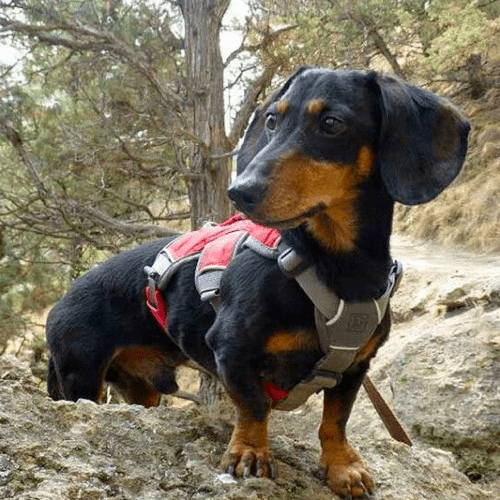 Since Peak Pooch's extra-small size might be too large for miniature Dachshunds, we also recommend the RuffWear Web Master, which fits even smaller dogs. Like RuffWear's other offerings, this is an extremely durable harness with great safety features like reflective trim. It has three padded straps for maximum support, though there's not as much padding on the straps as many other harnesses have.
This is a harness built for hiking and other rugged outdoor activities in all weather conditions, and it's as resilient as you'd expect. Like the Peak Pooch, this also has a lifting handle, but the same warnings about supporting your Dachshund's rear end apply. It's no use purchasing a harness specifically for back support and then not providing that support yourself.
It's also the most expensive on our list, which is why it doesn't get the top spot in this category. Frankly, it might have more features and durability than you need, considering that Dachshunds are rarely thought of as hiking or trail running dogs. Their legs are too short for many high-impact outdoor activities, so as good as the RuffWear WebMaster is, you might feel like you're overpaying. Also, the full-back and large straps of this harness could make it uncomfortable in hot weather.
Pros
Extremely heavy-duty and durable
Long harness with superior back support
Reinforced lifting handle
Cons
Still probably too big for the smallest miniature Dachshunds
High price
Full coverage harness may be too warm for summer months
Safest Dachshund Harness
10. Gooby Small Dog Harness
Although all harnesses on this list are designed to minimized pressure on your Dachshund's throat and neck. However, the Gooby Comfort X has an especially innovative design to keep your pooch safe. The X shape ensures that when your Dachshund pulls on the leash, the force of the pull is split over your dog's shoulders instead of compressing their throat. It's available for all sizes of small dogs (reviews say sizing runs small) in six different colors, and it's machine washable.
However, the singular design also means it may not be as durable for the strongest leash pullers. Putting pressure on the X over the chest pulls the pieces of fabric away from each other and puts stress on the stitching there. Gooby specifically recommends another of its products for heavy leash pullers. Additionally, the chest strap features an overly large buckle without any padding beneath it. This may irritate your Doxie's skin, and you may accidentally pinch some of their skin without meaning to while putting the harness on.
Pros
Most reliably choke-free harness
Fits dogs with chest circumference as low as 12"
Machine washable
The company has a great reputation for customer service
Cons
Not for leash pullers
Large buckle may cause skin irritation or pinching
Best No-Pull

Dachshund

Harnesses
11. Petsafe Easy Walk Deluxe Harness
If your top priority is keeping your Dachshund from yanking your arm out of its socket, the Petsafe Easy Walk Deluxe Harness is just what you need. It has a loop for leash attachment on the front of the harness, so your Dachshund won't be able to choke themselves or pull on the leash. It's well-made of durable nylon, and the deluxe version is padded with neoprene for extra comfort.
The most significant drawback is that it can take a few tries to put it on and fit it correctly. It's similar to the Ezydog harness – and less expensive, too – but it doesn't hold its shape when your dog isn't wearing it. That means it can be difficult to figure out what goes where when you initially start using it. The two buckles can also pinch your dog's skin if you're not careful when putting it on.
Pros
Stops dogs from pulling with leach attachment on chest
Made of durable and comfortable materials
PetSafe is a trusted brand
Easy replacements
Comes in green, blue, red, and gray
Cons
Slightly more difficult on/off
Smallest size appropriate for chest circumference of 15", so likely too big for mini Doxies
Easier to wriggle out of than a traditional harness
12. Petsafe Easy Walk 3-in-1 No-Pull Dog Harness
If you like the idea of the Easy Walk but want the option of using a standard leash attachment as well, you can get the Petsafe Easy Walk 3-in-1, which allows you to clip a leash to the front or back of the harness. It's a little more expensive, but it's also a little more intuitive to put on. It looks more like a standard harness with a chest strap and a neck strap. It's also worth noting that this is one of the few harnesses on our list that can be used as a safety device in the car – there's a strap on the back of the harness to guide a seatbelt through.
However, the Easy Walk 3-in-1 has a similar buckle problem to the regular Easy Walk. And while there is some padding, quite a lot of the nylon straps will rest against your dog's skin, which may cause irritation. However, the XS size of this harness will fit dogs with chest circumferences of at least 13", so it can work with smaller dogs than the regular Easy Walk.
Perhaps best of all, Petsafe's customer care department will replace either Easy Walk harness if your Dachshund chews it up, or even if you order the wrong size.
Pros
Gives you a choice between standard leash attachment and no-pull leash attachment
Car-safe harness with additional handle for seat belt
Made of durable nylon
PetSafe is a trusted brand
Easy replacements
Cons
Less padding than similar harnesses
Smallest size appropriate for chest circumference of 13", so likely too big for mini Doxies
Only available in teal and purple
Most Stylish

Dachshund 

Harnesses
If your Doxie isn't a puller or a chewer, or if you want a high-fashion option for showing your pooch off, here's the best-looking option on our list.
13. Muttitude Dog Harness for Mini Dachshunds
The Muttitude Dog Harness for Miniature Dachshunds comes in four stylish patterns, and the purchase price even includes a color-matching leash. The full-coverage vest is machine washable, and the Velcro and buckles provide some adjustability – though not as much as with other harnesses. These are made specifically for small dogs, so miniature Doxies are likely to need size L and standard Doxies probably need size XL due to their larger chest girth.
The sheer amount of fabric and padding might prove uncomfortably hot in the summer months, but they also make this a more escape-proof dachshund harness than most. However, keep in mind that no harness is truly 100% escape-proof. Also, since this harness is primarily made of fabric, it won't be as durable as those made of nylon straps. Heavy leash pullers may pull this harness out of shape over time.
Pros
Comes in four stylish designs
Price includes matching leash
All buckles are padded for extra comfort
Machine washable
Cons
Minimum adjustability
Made of less durable fabric
Likely too warm for summer walks
14. PoyPet No-Pull Dog Harness
The PoyPet No-Pull Dog Harness comes not only in solid colors, but also patterns like plaid and, of course, houndstooth. Since this harness is made specifically for small dogs, it will fit miniature as well as standard Dachshunds. You won't need to sacrifice functionality for style, either, since this harness has a chest leash attachment point to discourage pulling. There are four points of adjustability, making it much more customizable than the Muttitude.
However, if you have a strong leash puller, you might want to opt for a more heavy-duty no-pull harness. The buckles are a little flimsy, and the adjustable straps may come loose if your dog applies a lot of force to them. Additionally, there is a padded handle on top to help you control your Dachshund and keep them from lunging, but it should not be used for lifting. This feature could accidentally encourage you to pick your Dachshund up in a way that's not safe for their back.
Pros
Comes in 14 colors and patterns
Option of the chest (no-pull) or back (standard) leash attachments
Reflective strips
Fits Dachshunds of all sizes
Cons
The padded handle is not meant for lifting
Not as durable as other no-pull harnesses
Most Comfortable Dachshund Harnesses
Maybe your biggest concern for your Dachshund is comfort. Whether they have sensitive skin, allergies, or they're just finicky, these harnesses let you pamper your pooch while keeping them safe.
15. Rabbitgoo Dog Harness
The Rabbitgoo No-Pull Dog Harness combines the strength and durability of nylon straps with comfortable, breathable mesh padding. With four points of adjustability, it's easy to get the perfect fit on even the most unusually shaped Dachshund. And despite the padding, the harness has a relatively low surface area, meaning it's lightweight and likely appropriate for walks in warmer weather. It comes in many colors and features reflective strips so you can see your dog even in low-light conditions.
As for drawbacks, it does have plastic buckles that can pinch delicate skin if you're not careful. Additionally, some customers reported that their Rabbitgoo harness came without instructions for fitting, although they are available on the website and Amazon page.
Pros
Leash attachment on chest (no-pull) or back (standard)
Soft padding for superior comfort
Available in 12 colors
Cons
Hand wash only
Buckles can potentially pinch
May need to look up fitting instructions
16. Comfort-Fit Dog Harness
Finally, the Comfort Fit Harness is about as cushioned as you can get. There's thick, soft padding throughout this harness vest, ensuring that there are no harsh straps to rub against your Dachshund's tender skin. Customers report that this is an especially good harness for small dogs like Dachshunds who are often hard to fit for harnesses. The full coverage also means that this is a good harness for escape artists who tend to wiggle out of more strappy harnesses.
Of course, all this padding means that the Comfort Fit is much warmer to wear than other harnesses. If you live somewhere with year-round cool weather, that might not be a problem, but this harness will probably get uncomfortable in the summer heat. It's also not very adjustable, so you'll need to measure carefully before picking a size. The Velcro closure is not the most secure, so this might not be a good harness for a heavy-duty leash puller.
Pros
Padding and covered trim for improved comfort
Available in 10 colors
Fits dogs with chest circumference as low as 10"
Highly escape-resistant
Cons
Full-coverage cushioning may be uncomfortable in hot weather
Low to no adjustability
Velcro closure is less secure
What to Consider when Choosing a Dog Harness for a Dachshund
When deciding on the best harness for your Dachshund, you'll have a number of choices when it comes to design and features. Here are some of the most common features to look for.
Choke-Free
All good harnesses should be choke-free. The entire point of a harness is to take the pressure off a dog's throat and neck, so this shouldn't be a problem if you're buying a mass-manufactured harness. However, if you're purchasing one from a smaller maker – on Etsy, for example – make sure it's designed to avoid choking. Only experienced dog trainers should use slip collars or tightening harnesses that constrict the dog's neck when they pull.
Fit
The way the harness fits is possibly the most important aspect to your decision. Dachshunds have small bodies but broad chests, so you can't choose a harness by your dog's weight alone. If you don't already know how to properly measure your dog, we'll cover that in the next section.
Material
The most common material for harnesses is mesh, fabric, nylon, and leather. Each has its pros and cons. Mesh is lightweight and comfortable, especially in hot weather, but it tends to be less durable and may not hold its shape for long. Fabric harnesses often come in fun colors and prints, but they're usually made more for looks than function. Leather is certainly durable, but it's also expensive and difficult to clean, and it may be too heavy for a small dog like a Dachshund.
Nylon tends to be more expensive than mesh or fabric but less than leather, and it's both durable and easy to wash. It also stands up to chewing in a way that mesh, fabric, and leather don't. We tend to find that nylon is the best option, though it may irritate your pet's skin if not fitted properly. A well-made mesh harness with nylon straps may be a good compromise.
Padding
Some harnesses include an underlayer of soft padding. These tend to be more expensive than the ones with no padding, but this extra material makes the harness more comfortable for your dog to wear. This may be especially important for short-haired Dachshunds, who may be more prone to chafing since there is less fur between harness and skin. However, keep in mind that padding keeps in heat and may become uncomfortable during long walks on hot days.
Ease of Putting On/Taking Off
Dachshunds rarely sit still, so you'll want to take into account the method of putting on or taking off the harness. There are two basic types: those that require your dog to step into with at least one paw, and those that slip over their head. Step-in harnesses, which are by far the most common, usually have at least one buckle. Slip-on harnesses are simpler, but they'll require you to maneuver your Dachshund's front paws and head through the appropriate holes. Which you pick may depend on how patient your dog is with being handled.
Adjustability
This feature usually depends on how the harness goes on or comes off. Slip-on harnesses are often one piece of material and thus are not adjustable. Step-in harnesses, on the other hand, have straps and buckles that allow you to adjust their fit. They tend to be a little more expensive, but since fit is so important, we typically recommend adjustable harnesses over those that can't be custom fit. You'll also have the comfort of knowing that you won't need to buy a new harness if your Dachshund gains or loses weight.
Pulling Prevention
Simple harnesses are mostly designed to redistribute the force of a pulling dog to avoid injury. However, some are also designed to actively discourage pulling. For example, some harnesses put the attachment point for the leash on the dog's chest instead of its back, meaning that if your dog tries to pull forward, the force will actually direct the dog to the side.
When looking at no-pull harnesses, it's important to keep two things in mind. First, a no-pull harness won't teach your dog not to pull when they aren't wearing it. That means you can't switch back to a collar and expect your dog not to pull on the leash. Second, many harnesses are marketed as "no-pull" without necessarily including any design elements that actually discourage pulling. Do some research into customer reviews to see how well a no-pull harness actually works before investing in it.
Back Support
Finally, a harness feature that's especially important to Dachshunds is back supported. As previously mentioned, Dachshunds are prone to back problems, particularly intervertebral disc disease (IVDD). Thus, it's a good idea to purchase a harness that has additional support pads on the chest or belly area. Harnesses designed specifically for Dachshunds will often include these, though they do tend to be more expensive than simpler harnesses.
How to Measure a Dog's Neck & Chest for a Harness
When determining which harness to get for your dog – and which size to get – you'll need to take some measurements first. This is especially important for Dachshunds, which have vastly different proportions than other dogs of similar weight. You'll need to know your Dachshund's current weight as well as their neck and chest circumference.
You'll measure your Dachshund's chest at the widest part, which is usually right behind the dog's "armpits." If your pooch is particularly wiggly, you may need a helper to hold your dog still for this process. Use a flexible tape measure and loop it around the widest part of your Dachshund's chest. Similarly, measure the thickest part of your Dachshund's neck, down near the shoulders, lower than where a collar would usually sit. For the most accurate measurement, the tape measure should be snug but not tight.
The actual length of the harness will be about two inches larger than the dog's chest measurement. Usually, the seller will do the math for you. If your dog's measurements are between harnesses sizes, always go for the larger size. You'll also probably want to opt for an adjustable harness for a better fit. Once you've purchased the harness, follow the manufacturer's instructions for adjusting it. The harness is fitted correctly if you can comfortably slip two fingers between each harness strap and your Dachshund's body.
Frequently Asked Questions
What if my dachshund has weak or injured back legs?
For dogs suffering with mobility problems, particularly if illness or injury has weakened their back legs, special dog lift harnesses and slings can them get around. Dog slings are harnesses that go under your dachshund's hips or around their back legs and connect to a long strap for you to hold. That way, you can help support your dachshund's rear end, taking the strain off their legs and back.
Full-body lift harnesses usually have straps for the chest, belly, and hips and one or two lifting handles. Although they're mostly used for larger dogs that are more difficult to lift, a dachshund can still benefit from a harness that encourages full-body support. You can lift your elderly or injured dachshund to help them go up stairs or reach high places without them having to jump.
Why should I use a harness when I take my Dachshund for a walk?
Dachshunds tend to be leash pullers. They're not content to walk slowly beside you. Instead, they usually want to dash after squirrels or birds or any moving thing at all. Thus, if you clip their leash to a regular collar, that collar will pull tight against their neck, compressing the throat and potentially causing choking and even permanent damage. A harness redistributes this pulling force across your Dachshund's chest and shoulders, removing the possibility of choking. Some harnesses even actively discourage leash pulling.
Are there specific features to look for when buying a harness for a Dachshund?
Dachshunds don't require too many special considerations when it comes to harnesses, but keep in mind that you can't go by weight when picking a size – you need to go by chest (also called girth) measurement. Dachshunds have broader, deeper chests than other small dogs, and since harnesses go around the chest, they usually need a larger size than dogs of similar weight.
Do I have to take off my Dachshund's collar to put on the harness?
Usually, no – the harness should fit low enough around your dog's chest that it shouldn't overlap the collar and cause chafing. You can keep your Dachshund's important tags on their collar and only put the harness on for walks.
What is a no-choke harness?
Most well-made harnesses are no-choke. That means they don't put pressure on your dog's neck or throat when your dog pulls on the leash. Usually, the primary purpose of choosing a harness over a collar for leashed walking is to prevent your Dachshund from choking by pulling too hard on the leash.
What is a no-pull harness?
Many, if not most, dog harnesses advertise themselves as "no-pull" harnesses, but many of these don't actually discourage pulling. If the leash attachment point – usually a metal D-ring – rests on your dog's back when the harness is on, the harness will keep your dog from choking itself, but it won't prevent pulling. To do this, the leash attachment point must be on the front/chest, or a portion of the leash must tighten around the legs. This redirects the force of the dog's pull such that they can't continue to lunge forward.
Conclusion
There's no single perfect harness for every Dachshund. When picking the right one for your pup, you'll need to take into account their measurements, their leash behavior, their general health, the weather in your area, and when and how often you go for walks. For example, if you tend to take your Doxie on walks near sunset, buying a harness with reflective trim for maximum visibility might be important. Regardless of what you choose, we're confident that any of the harnesses on this list will make for safer, easier walking than a collar alone.