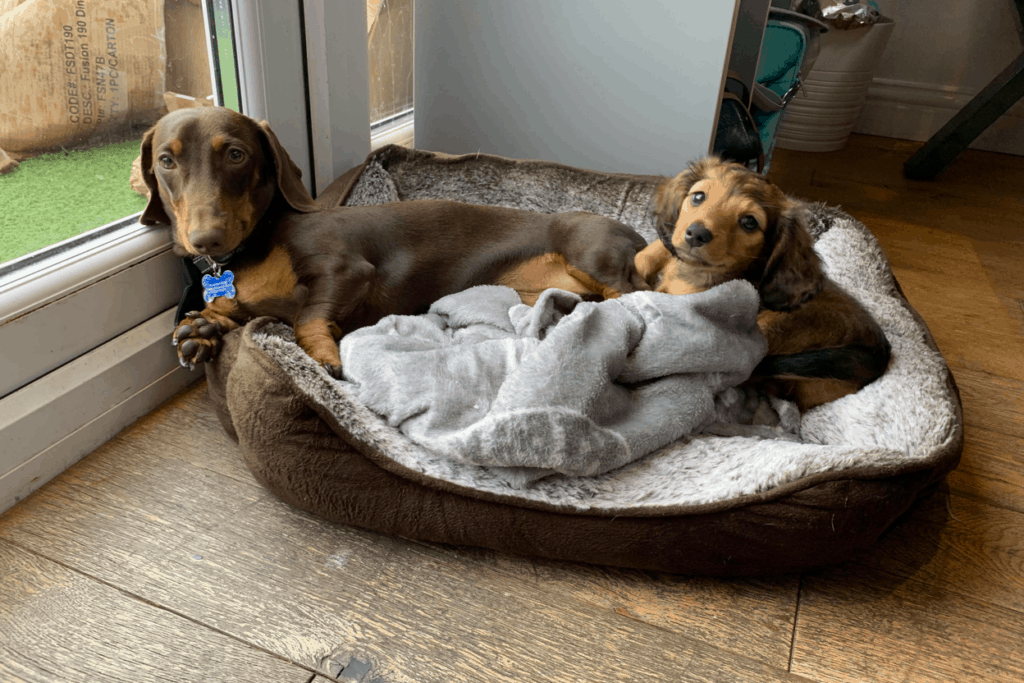 It seems like most dogs will nap anywhere, and they certainly can. However, it's important that your dog has an actual bed to call their own. Although dachshunds aren't particularly territorial dogs, they do like having a safe, comfortable place to relax. Additionally, dachshunds are prone to back and joint issues, particularly as they age, so it's important to provide them with a bed that will provide both comfort and support. Growing puppies need similar support so that their joints and bones can develop properly.
Dachshunds in particular come with instincts that tell them to burrow and nest, particularly as they prepare to go to sleep. Therefore, you might find that your dachshund prefers a cave-style or sleeping-bag-like bed to a plain cushion. On the other hand, you don't want to drop a lot of money on a fancy bed your dog will barely touch. We'll cover the different types of dog beds available and outline which are the best for wiener dogs.
Top 15 Best Dachshund Dog Beds
We've gathered a selection of the best dog beds out there with dachshunds in mind, everything from the simplest cushion to the most luxurious heated bed.
| | |
| --- | --- |
| Dachshund Beds | Why you should buy |
| 1. MIXJOY Memory Foam Dog Bed | A simple, inexpensive option, this rectangular dog bed nonetheless provides the support and comfort of memory foam. |
| 2. Petmate Pet Bed | A simple design and cute bone logo make this an excellent bargain buy. |
| 3. Amazon Basics Warming Pet Bed | The cozy fleece interior and bolstered sides will keep your dachshund warm, though be aware that there is no electric heating element in this bed. |
| 4. Ethical Pets Sleep Zone Cuddle Cave | This sleeping bag-like bed features a plush interior and a faux-suede exterior for maximum comfort and warmth. |
| 5. Cozy Cuddler Luxury Orthopedic Dog Bed | A built-in blanket allows your dachshund to burrow to their heart's content, and you'll appreciate the company's money-back guarantee. |
| 6. Furhaven Round Snuggery Hooded Dog Bed | Plastic tubing keeps the hooded blanket on this circular dog bed standing up, giving your dachshund a cozy cave to burrow into at the end of a long day. |
| 7. ASPCA Microtech Dog Bed | If your older or less mobile dachshund has trouble stepping up, try this bed with a low threshold entrance and bolstered sides. |
| 8. TORDES Dog Bed Shark Covered Cave | Let your miniature dachshund sleep safely in the mouth of a Great White with this shark-shaped cave bed. |
| 9. Best Pet Supplies Pet Tent | For dachshunds that like to sleep in an enclosed space, this tent-shaped bed provides a cozy, well-structured dome. |
| 10. K&H Pet Products Thermo-Snuggly Sleeper | This deluxe bed has an automatic on/off heating pad that warms up when your dachshund lays on it. When the weather warms up, you can remove the heating pad. |
| 11. RIOGOO Pet Heating Pad Bed | Adjust the heat level and program a timer with this simple waterproof heating pad specially made to keep your dog warm. |
| 12. Best Friends by Sheri Calming Lux Fur Donut | This extremely plush, round bed is perfect for snuggling up for sleep, and the whole thing can be machine-dried as well as washed. |
| 13. Gen7Pets Cool-Air Cot Elevated Dog Bed | Your dachshund can stay cool inside or outside on this elevated platform bed that allows for maximum airflow. |
| 14. Bedsure Orthopedic Dog Bed | Firm, high-density foam and raised bolsters to ensure that your aging or arthritic doxie will get all the support they need in a bed. |
| 15. Furhaven Deluxe Orthopedic L-Shaped Chaise Lounge | Choose between an orthopedic egg crate, memory foam, or a cooling gel mattress as well as several fabric combinations in this unusually shaped bed. |
1. MIXJOY Memory Foam Dog Bed
This simple, no-frills dog bed is as easy on your dog's joints as it is on your wallet. If by chance your dachshund doesn't love the MIXJOY Memory Foam Dog Bed, you won't be out a lot of money. Even though it's inexpensive, you still get the benefits of comfortable yet supportive memory foam, though some customers reported creases in the cushion. Most of these went away after a few days out of the packaging, but some remained a bit lumpy.
Pros
Low price
Removable, machine-washable cover
Non-skid bottom
Dense memory foam cushion provides good support
Cons
No extra features
Some users report a lump or crease in the cushion
No insulation from cold floors
2. Petmate Pet Bed
If all you need is a simple, inexpensive dog bed, the Petmate Pet Bed is a good choice. It's a one-piece oval-shaped bed with bolstered sides and a cute bone logo on the front. The whole bed is machine washable, though some customers have reported that multiple washes have caused the seams to begin to fail. However, if budget is your primary concern, this may be the best dog bed for you
Pros
Low price
Machine washable
Bolstered sides
Recycled polyester filling
Cons
Runs small – might be best for miniature dachshunds
Not very durable
3. Amazon Basics Warming Pet Bed
Although the "warming" feature in the product name merely refers to the fact that it's cozy – there is no actual heating element – this Amazon Basics Pet Bed is a solid, simple choice. With a corduroy exterior and a faux sherpa fleece interior, it will help your dachshund retain body heat. However, its biggest drawback is that it can only be spot-cleaned; it's not machine washable, and there's no removable cover. Despite this, some customers say they have put it in a washing machine and it's come out fine.
Pros
Cozy fleece interior
Bolstered sides
Relatively inexpensive
Cons
Not machine washable
Only available in gray
Sides are flimsy
4. Ethical Pets Sleep Zone Cuddle Cave
This cross between a cave and sleeping bad design makes for the best dachshund snuggle bed. Even better, the Cuddle Cave is made from 100% pet-safe materials that are never tested on animals, and the company offers a money-back guarantee. It's one of the coziest beds around, but it is designed for smaller dogs, so it's best for mini doxies only. Additionally, it's so well-insulated that it may be too warm for the summer months or for year-round warm climates.
Pros
Faux suede exterior and plush interior
Padding won't clump or shift
Entire bed is machine washable
Available in 4 colors
Cons
Too small for standard dachshunds
Less durable for chewers and diggers
5. Cozy Cuddler Luxury Orthopedic Dog Bed
No need to buy dachshund beds and blankets separately – this dachshund burrow bed comes with a hooded blanket to make your dog feel safe and secure. The Cozy Cuddler is a circular shape for doxies who like to curl up to sleep, and when it gets dirty, you can simply throw the whole thing in the wash instead of having to worry about removing a cover. The small size will work well for miniature dachshunds, and the medium is perfect for standard doxies, and you have your choice of colors in each size. Some customers have reported that the cushion flattens and the fake fur sheds over time, but others are thoroughly impressed with this bed.
Pros
Comes in 9 colors and two sizes
Dirt and water-resistant exterior
Entire bed is machine washable
Money-back guarantee
Cons
Stuffing in the bottom flattens out over time
Seams are susceptible to chewing and digging
Fluffy faux-fur on the interior may shed easily
6. Furhaven Round Snuggery Hooded Dog Bed
Like the Cozy Cuddler, the Furhaven Round Hooded Dog Bed has a built-in blanket for extra coziness which is raised over the surface of the bed with a length of the plastic tube. It also offers you numerous options when it comes to color, size, and fabric type. You can choose from beds lined with faux lamb's wool, faux fur, and micro velvet. Better yet, based on your dachshund's individual needs, you can choose from a base made of orthopedic foam, memory foam, or cooling gel foam. Unfortunately, dachshunds that like to chew and dig frequently may tear up the cover.
Pros
Choice of 11 colors, 3 fabrics, and 3 foam types
Appropriate for mini and standard dachshunds
Removable bed cover is machine washable
Furhaven is a trusted brand
Cons
Not suitable for power chewers and diggers
Plastic tubing that holds the hood up is reportedly flimsy
7. ASPCA Microtech Dog Bed
The unfortunate drawback to some extremely fluffy, plush beds is that they can be difficult to get into and out of, especially for dogs with short legs and aching joints. If you've got a senior dachshund, consider the ASPCA Microtech Dog Bed, which has bolstered sides but a low-cut entrance to allow your sausage dog to step into it easily. Unfortunately, the bottom of the bed is less cushioned than other options and seems to wear out faster than the sides.
Pros
Low point of entry makes for easy access
Entire bed can be machine washed and dried
Reasonable price
Non-skid bottom
Cons
Only available in blue
Doesn't hold up well to chewing
Bottom is less durable than sides
8. TORDES Dog Bed Shark Covered Cave
This cave-style bed is shaped like a shark! The TORDES Shark Cave gives your dachshund a fun place to curl up, as long as you don't mind them peering out from between some sharp teeth. You can choose from pink, blue, or gray sharks, and if you mash the dome down, the bed converts into a "couch" of sorts – though it's a bit of a stretch to actually call it a couch. However, this is probably only big enough for miniature dachshunds, as there isn't a great deal of room inside. While the interior cushion can be removed and washed, the exterior can't, making it more difficult to keep clean.
Pros
Fun novelty shape
Inexpensive
The cushion is machine washable
Non-skid bottom
Cons
Too small for standard dachshunds
Not much room to stretch out
The exterior is difficult to clean
Cave top has little structural support
9. Best Pet Supplies Pet Tent Soft Bed for Dog
If you like the idea of an indoor campout with your pooch, this dachshund cave bed is shaped like a tent. Unlike some other cave beds that can collapse, the Best Pet Supplies Pet Tent will stay structurally sound even after you throw it in the washing machine. The body of the tent comes in corduroy (beige), linen (brown, gray, navy, plaid, sand), and coral fleece (dark brown, tan, gray lattice) to match your home's interior. It's not as well-cushioned as some other pet beds, but for active adult dachshunds, it's a good choice.
Pros
Dome holds its shape, even after washing
Comes in 9 colors and 3 different fabrics
Anti-skid base
Both exterior and removable interior pillow are washable
Cons
Runs small – make sure you get the XL for a dachshund
May not hold up to chewing or digging
Interior pillow not very plush
10. K&H Pet Products Thermo-Snuggly Sleeper
If you don't mind spending a bit more on a heated bed, the K&H Thermo-Snuggly Sleeper provides a luxurious sleeping space. This oval-shaped, bolstered bed features a low-watt heater that automatically turns on when it senses your dachshund climb on. You won't need to buy a cooler bed for the summer months, either – you can simply remove the heating element. The heating pad doesn't cover the entire bottom cushion, instead of concentrating heat in the middle, and it's less powerful compared to higher-wattage models. However, it's a safe bed, and you can always add a blanket if your doxie needs more insulation.
Pros
Automatic removable heater
Large enough for standard doxies
Cover and pillow are washable
Exceeds US electrical safety standards for heating pads
Cons
High price
The heating pad doesn't cover the entire bottom of the bed
The heat level is not adjustable
Some reports that the bolstered sides are flimsy
11. RIOGOO Pet Heating Pad Bed
Perhaps your dachshund already has a bed that they love, but it's just not warm enough for the winter. In that case, you can simply add this lightly-cushioned, programmable, and adjustable pet-safe RIOGOO Pet Heating Pad to your pup's existing nest. Alternatively, this pad is so reasonably priced that you could bring it out for the winter months only. It doesn't have much in the way of cushioning or support, but its warmth will help soothe aching joints, and you can always add a blanket or put a cushion underneath. Keep in mind, however, that you will need to actively program this heating pad for your dog to make use of it.
Pros
The heater is programmable (1-12 hours) and adjustable (80-130°F)
Safe, UL-approved heating element
Removable, machine-washable cover
Less expensive than most heated beds
Cons
Very light cushioning – more of a pad than a bed
No automatic on/off
The manufacturer isn't good at responding to customer complaints
12. Best Friends by Sheri Calming Lux Fur Donut
Perfect for dachshunds who like to curl up to sleep, the Best Friends by Sheri Fur Donut is. The firmer outer edges act as bolsters for the softer middle, so your doxie will always have a place to rest its head. This is similar to the Cozy Cuddler, but it lacks the built-in blanket, which you may not need if your dachshund is rarely cold. Best Friends by Sheri is a well-respected brand, and you'll find this bed on many "best of" lists. However, it's so fluffy that it's rather tall, so dachshunds with joint or back issues may find it a bit of a challenge to climb onto.
Pros
The entire bed is machine washable and dryable
Water- and dirt-resistant bottom
Available in 4 colors
Faux fur for maximum softness
Cons
Easy to chew a hole and access the stuffing
It maybe too tall for dachshunds with mobility issues
13. Gen7Pets Cool-Air Cot Elevated Dog Bed
Whether your home gets warm in the summer or you just like to have your doxie with you outdoors on a hot summer day, the Gen7Pets Elevated Dog Bed will ensure that your dog stays cool in the heat. As a bonus, your dog will rest comfortably on a clean surface above any mud, grass, and bugs you might find outdoors, and it's durable enough to resist teeth and claws. Of course, since the bed is designed with cooling in mind, it doesn't provide much in the way of padding or cushioning and will likely need added blankets in the winter.
Pros
Good for indoor or outdoor use
Highly durable frame and stitching stands up to chewing and scratching
Collapsible for easy transport
Fits any size dachshund
Cons
More expensive
Maybe too tall for dachshunds with arthritis or mobility issues
Not much cushioning
14. Bedsure Orthopedic Dog Bed
As a dachshund owner, you probably know how important it is to support your pup's back to keep their spine healthy. However, even the most pampered doxies often develop back and joint problems later in life, and climbing into and out of an extremely soft dog bed can become painful. This Bedsure Orthopedic Dog Bed has an open side to allow your dachshund to climb in and extra-supportive foam cushioning to support them when they lay down. Your pup's head, neck, back, and hips will all be supported.
Pros
Supportive foam base and sofa-like side bolsters
Machine washable cover
Inner foam has a waterproof cover in case of accidents
Cons
Zipper to remove cover sometimes breaks
Not very resistant to chewing
15. Furhaven Deluxe Orthopedic L Shaped Chaise Lounge
The L-shape of this Furhaven Deluxe Chaise Lounge combines the security of a bolstered bed with the ease of entry and exit of a simple cushion. This bed comes in multiple fabrics and fabric combinations: plush/suede, linen/faux fur, chenille, and velvet. As with Furhaven's Round Hooded Dog Bed, this bed is available with memory foam, orthopedic foam, or cooling gel foam. However, keep in mind that the "orthopedic foam" here is a high-density egg-crate material, not any kind of unusual or high-tech stuffing.
Pros
Unusual chaise lounge shape
Choice of 4 fabrics, 16 colors, and 3 foam types
The removable cover is machine washable
Furhaven is a trusted brand
Cons
Some customers report egg-crate foam is low quality
Faux fur fabric is very thin and may not be durable
Features to consider in the best Dachshund Bed
You have quite a few options when it comes to sausage dog beds. There's nothing wrong with a simple cushion as a dog bed, though you will probably want to make sure anything you choose is long enough for your dachshund to stretch out. Also, at least the cover, if not the whole bed, should be machine washable to make your life easier. Your dachshund should be able to easily get into and out of the bed without requiring any jumping.
If you want to give your doxie a little more in the way of luxury, however, you can get a bed with one or more of the following features.
Bolstered Edges
This simply refers to beds that have raised edges, making them look more box-like than the typical flatbed. This feature increases the coziness factor of the bed, allowing your dachshund to nestle up against a soft surface on all sides. These are also slightly warmer than traditional beds since they help keep your dog's body heat contained.
Chewing Resistance
If your dachshund is a power chewer, or if they seem to take apart bed after bed with aggressive digging, you might consider a bed made of tougher material. Poly canvas is one popular material, and you can even get a removable cover for your existing bed. This prevents sharp teeth or claws from getting to the filling inside.
Extra Back Support
Of course, you want any bed to be comfortable, but older dachshunds or dachshunds with back problems may benefit from an orthopedic bed. This sounds fancy, but it really just refers to a bed with firm padding for support. These are not as plush and squishable as other beds. Keep in mind that just because a bed is marketed as "orthopedic," that doesn't necessarily mean it's any different from any other well-padded bed. There's no medical or veterinary standard that a dog bed has to meet in order to be advertised that way.
Heated Beds
If you live in a particularly cold climate or if your home is drafty, you might consider getting your dachshund a heated bed. These beds act like heating pads and must be plugged into work. They can also soothe back and joint pain for older doxies. Keep in mind, however, that an unattended heated bed can become a fire hazard. Your dog should never be allowed to chew on the heating element or the cord. Furthermore, the wiring inside also means that these are more expensive than other bed types. Less-expensive models may call themselves "self-heating," but this means that the cushioning can trap some body heat. There is no additional heat source in these beds.
Cot Beds
On the other hand, if you live in a warm climate or you don't have air conditioning, a cot-style bed may be the best choice. These beds consist of a piece of breathable material suspended on a metal frame several inches above the ground, allowing air to circulate underneath the dog lying on top. The only word of caution here is that your dachshund should be able to get into and out of these raised beds without needing to jump.
Cave or Blanket Beds
Dachshunds are natural burrowers, so your dog might enjoy getting to sleep in an enclosed space. This can take the form of a bed shaped like a cave or a bed with a blanket built-in that looks a bit like a sleeping bag. Your dachshund can burrow to its heart's content and end up in a cozy sleeping space.
Novelty Beds
Some dog beds are made to look like human furniture. Others may be in the shape of food or animals. There's nothing wrong with picking a dog bed because it looks cute, but make sure it has sufficient padding for your dachshund's comfort.
Calming and Anti-Anxiety Beds
You'll see many, many pet beds advertised as "calming" or "soothing" or "anti-anxiety." Most of the time, this doesn't actually mean much, and these beds are no different from other pet beds. They might be very soft, but other than that, just like with "orthopedic" beds, it's all marketing language. You might run across a few that have, for example, lavender-scented cushions, and that might help a bit. However, the best calming bed for dachshunds is simply whatever bed they're most comfortable in.
FAQs
Why do dachshunds burrow under blankets?
Believe it or not, the dachshund's short legs and long body have a purpose – they were bred to chase tunneling animals like badgers and rabbits down into their burrows. Even if your dachshund has never chased a single badger, they still have the instinct to tunnel and dig, which often shows up when they burrow into beds, blankets, or even your clothes. Dogs, in general, like to have a safe, warm den in which to sleep, and dachshunds are no exception.
Why do dachshunds dig in bed?
The answer to this question is very similar to the question about burrowing – it's in a dachshund's nature to dig. When it comes to digging in a bed, dachshunds have the urge to create a safe space to sleep by digging a hole. Instead of dirt, however, this indoor "hole" consists of blankets and pillows. Just like you, your dachshund might prefer to fluff up blankets and pillows to create a more comfortable sleeping space.
If the digging becomes a problem – if it's too frequent or destructive – this might mean your dachshund is bored or unable to spend enough of their energy during the day. Consider adding more exercise to their daily routine, or get a few puzzle toys for your dachshund to play with.
Do dachshunds like to snuggle?
All dachshunds are different, of course, but in general, dachshunds are cuddly affectionate pooches. They like to burrow, and they like to sleep in enclosed spaces, so that may mean your doxie loves cuddling up with you under a blanket. Additionally, dachshunds tend to bond strongly to one person, so that person may get a great deal of affection.
Where should dachshunds sleep?
As long as it's a safe, warm space, dachshunds can (and do) sleep most anywhere. Pet beds and blankets are popular choices. Additionally, you can create a cozy nest in your dog's kennel or crate, giving them an enclosed space that's all their own. If you like, you can even bring your dachshund into your own bed to snuggle. The only place or position dachshunds shouldn't sleep in is one that puts undue stress or pressure on their spines.
Should I let my dachshund sleep with me?
In the past, canine behaviorists have suggested that it wasn't a good idea to let your dog sleep in bed with you. Nowadays, however, it's believed to be fine to share your bed with your sausage dog. Of course, if you have allergies, it might make them worse, and you may find your dachshund interrupts your sleep. For your health and safety and that of your dog, it's a good idea to follow a few rules:
Wash your sheets at least once a week.
Bathe your dachshund and check them for fleas regularly.
Pick a designated spot on the bed that belongs to them.
Provide blankets to burrow under.
Have a backup bed that's just for them on nights when you want a humans-only sleeping space.
Is there such a thing as an anti-anxiety dog bed?
As wonderful as dachshunds are, they are sensitive little pups who may be prone to anxiety. Naturally, many owners do their best to calm their sausage dogs, even trying to hunt down an anti-anxiety bed for dachshunds. And they will certainly find plenty of options online. However, there's no real difference between an "anti-anxiety" or "calming" bed and a regular bed. There's no particular feature any of these beds have that makes them actively combat anxiety – though that doesn't stop dog bed manufacturers from claiming that they will.
That's not to say that a good dog bed can't help soothe your dachshund's anxiety, at least a little bit. Dachshunds are natural burrowers, so you may find that a bed with a built-in blanket or an enclosed bed provides them more comfort. Natural snugglers may like the feel of a memory foam cushion that hugs them more closely than other kinds of cushions. However, there's no single solution for canine anxiety. If your dachshund is very anxious, you're better off consulting with your vet or a behaviorist to see if training or medication can help.
Final Thoughts
There is no one perfect dog bed for dachshunds that your sausage dog is guaranteed to love. Some doxies are finicky, as their owners already know, and you can sometimes buy what you think is the perfect bed, only to have your dachshund prefer a cheap couch cushion. For that reason, you may want to consider starting with a less expensive bed or starting with a brand that offers a money-back guarantee.
Also, keep in mind what you already know your dachshund likes, and think about how you're going to use the bed. Do you travel often and need something portable? Do you want something that can also be used outdoors? The good news is that there's a bed out there for just about every dog in every situation, so even if you don't immediately find something you like – or something your dachshund likes – keep looking.