A dachshund can never have too many options when it comes to toys! Have you ever brought home a toy only to see it has been "disemboweled" just hours – or even minutes! – later? Well, you're not alone.
These intelligent and feisty little dogs have unique needs when it comes to the best dog toys. Dachshunds were historically bred to hunt rodents and other small animals. As a result, they can have quite the prey drive and easily rip toys to shreds!
They are also very clever and need more mental stimulation than some other breeds. A regular chew stick or tennis ball will only get you so far with these guys.
Have you struggled to find a dog toy for your dachshund? Have the toys you've brought home been hit or miss? Well, read on to find out more about how to find the best toys for dachshunds and our top picks for Weiner dog toys!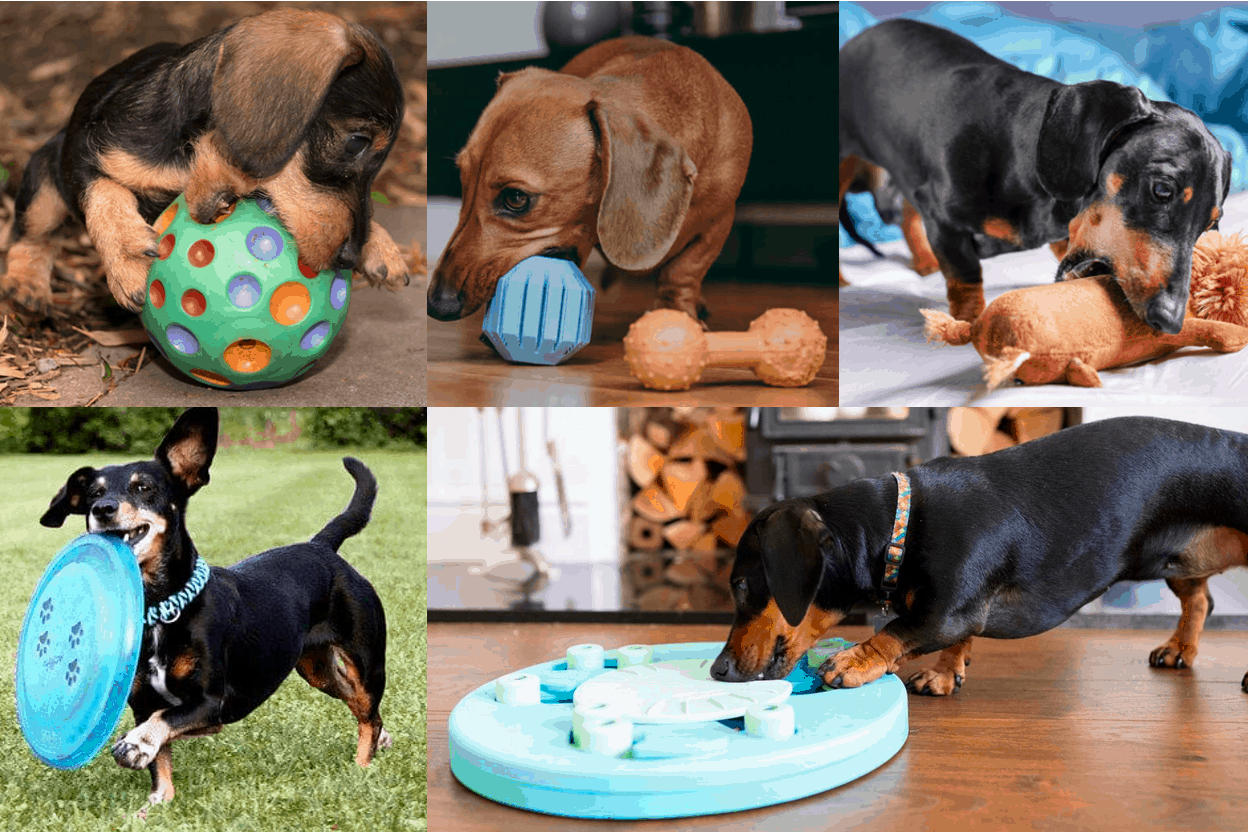 What are common toys for dachshunds?
With their genetic predisposition for being hunters, a good toy for dachshunds will be the kind that allows them to use their hunting skills. Stuffed squeaking toys tend to be very popular for this reason!
Stuffed squeaking toys resemble small animals with their fluffy exteriors and the squeaking noises provide a rewarding stimulation for doxies that is sort of like catching their prey. Toys like this are perfect for playing fetch or "hide and seek" where they can "hunt" it down either inside or outside.
It's not uncommon for a dachshund to get very attached to a particular stuffed squeaking toy as well. They often use them as security blankets and they grow to smell like home, which provides a sense of comfort.
Top 20 best dog toys for your Dachshund
Here are some of our top 20 picks of toys for the Weiner dog. These are not necessarily in any particular order because the best toys for your doxie will depend on what they love the most!
If they really love to chew, then the chewable toys below will suit them better. By comparison, if they really love to chase and hunt things then they'll love our selection of other fetch or squeaking toys way more.
This selection is based on a combination of factors: enticing design, practicality, price, availability, ratings, and popularity.
1.  Frisco Flat Plush Squeaking Raccoon Dog Toy
This unstuffed plush toy has not just one or two, but four squeakers in it! You will have one very happy doxie on your hand while they merrily chomp and whip this 'coon around.
It's also soft and cuddly enough to be your pup's security blanket to sleep with and take with them on any travels or overnight stays away from home.
One thing we particularly love about this type of unstuffed stuffy toy is that if your dachshund does happen to rip it open, you won't have to deal with the cleanup or the choking hazard of stuffing!
Be sure to select the appropriate size for your doxie. It also comes in the form of an alligator, duck, or even a cute purple unicorn!
2. West Paw Durable Dog Bone Chew Toy
This is a fantastic option for aggressive chewers because of its durability. It is a bouncy and floatable material that is perfect for playing fetch on land or in the water.
The material is safer than other harder materials like bone, antler, or wood, but still highly durable. It can also be tossed in the dishwasher for cleaning and it's recyclable!
The small size is ideal for dachshunds or the x-small for miniature doxies. The Love It Guarantee means that you can buy without worries!
3. Kong Dog Toy
This is an "old faithful" reliable dog toy for dachshunds that are included in the Arsenale of many dog owners – and for good reason. These things are virtually indestructible and can provide hours of distraction when they are stuffed with different treats.
Your doxie will be working hard to lick and chew their treats out of the center of this Kong toy. They can also be used for an exciting game of fetch as their oblong shape makes them bounce in all different directions!
To make it more challenging, use different textures of treats in the middle. Combine peanut butter or broth with bits of kibble, treats, chopped veggies or meat, and chuck it in the freezer until you're ready to use it. It will take your doxie ages to get all the good stuff out! It makes a perfect distraction for them while you're crate training and you have to leave them home alone.
4. Ethical Pet Dura Brite Treat Dispenser Ball
This treat ball is a simple puzzle toy that will keep your pet occupied for ages while they work to get all of their treats out. As they roll the ball around, treats will come out of it to reward their clever thinking!
Its thermo-plastic rubber also makes it an excellent chew toy option. This material will also feel particularly good on teething gums for puppies.
Choosing a simpler puzzle toy like this one is a great way to introduce your doxie to puzzle toys. Picking a puzzle that is too difficult will inevitably lead to frustration. It's important that they feel rewarded as they figure it out.
You can even sit with your pup and help them figure it out the first few times by rolling the ball and demonstrating the way the treats come out.
5. ZippyPaws Squeaky Hide and Seek Plush Dog Toy
This is an excellent dachshund puzzle toy because it will allow them to channel their innate hunting skills and desires into play.
They will have a blast "hunting" for these little hedgehogs tucked away in their "den". It will also put their intelligence to use as they figure out how to get them out of there!
Each hedgehog is a stuffed squeaky toy, which even on its own can be a source of entertainment as your pup whips them around.
They are machine washable for easy cleaning. But be warned: the manufacturer cautions that these are not meant for aggressive chewers.
There's even a version with squirrels in a log if your pup is particularly obsessed with those!
6. Ethical Pet Seek-A-Treat Puzzle Dog Toy
This is a slightly more complicated puzzle toy if you think your pup is up for more of a challenge. Or if you've tried a treat-dispensing ball already and would like to level up, this is a great option!
Your dachshund will have to figure out how to flip or slide open each of the little compartments to find their reward. Place your smelliest and tastiest treats in this one to provide extra "in-scent-ive"!
This is a great dachshund toy to wear them out mentally and prevent boredom or restlessness. Mental stimulation like this is so crucial to preventing (or treating!) behavioral problems, which are often a result of boredom or anxiety.
7. Chuckit! Ultra Rubber Ball Tough Dog Toy
If you happen to have a dachshund that loves to chase balls and play fetch, then the Chuckit! Ultra Rubber Ball is a must-have! This is one of the best toys for dachshunds that love to play fetch. Don't forget to get the compatible ball launcher so that you never have to touch another drooly, dirty ball with your bare hands ever again!
While no dog toy is ever indestructible, these are pretty darn close! Please make sure to also choose an appropriate size – the small should fit comfortably for most dachshunds, but make sure it is not too small to be a choking hazard. It's also important to be mindful if you have larger dogs at home that could choke on a smaller rubber ball like this.
This is best for outdoor use, especially if you plan to use the ball launcher.
8. Kong Squeezz Ball Dog Toy
I've yet to meet a dog that doesn't love a squeaky toy. Kong brings the best of both worlds together with a squeaking ball toy that is perfect for fetch. The squeaker inside the ball is a great way to get your pup's attention if they get distracted. They will also love making the ball squeak themselves – the cries of their prey.
This is another great option for outdoor play and can also be used indoors. The squeaker is designed so that it will continue to work even if it is punctured.
9. Multipet Loofah Dog Plush Toy
The mini version of this stuffed squeaking toy is the absolute perfect size for your dachshund. This one is not as resilient as some other stuffed toys, but they are super inexpensive and perfect for "hunting"!
It fits perfectly in their little mouths and provides the thrill of that squeak. Play fetch by tossing it across the room, or play hide and seek by hiding it under a blanket or in a different room and having your doxie look for it!
It is highly rated for a reason! At this price, get backups for your backups of this one!
10. Multipet Latex Polka Dot Globken Chicken Squeaky Dog Toy
This is a squeaky toy option without the stuffing or the plushy exterior. Who doesn't find a rubber chicken at least a little bit entertaining?
This bird will squawk right back at you when you squeeze it! The sounds are sure to engage your dachshund and make them feel like they've caught a true prize.
It comes in both mini and large sizes, but even with the large size, your doxie would be able to get its mouth around a neck or a leg on this type of toy. The latex coating also makes it a breeze to clean.
11. Hartz Dog Treat & Chew Toy
This is a great dachshund toy for chewing and keeping those teeth clean! Dachshunds are prone to dental disease because of their small mouths, so chewy treats like this that help to clean teeth are a win-win!
12. Wobble Wag Giggle Ball Dog Toy
Your clever and curious doxie will be intrigued by this Giggle Ball. As it rolls around, tubes inside the ball will let out giggle sounds. The unique design with bright colors will also entice them to play.
Can you already picture the adorable head-tilting as they wonder where that sound is coming from or how to make it happen again?! And if they manage to pick it up and shake it, well, you'll probably have a viral video on your hands with how hilarious that will be. No batteries required!
13. Kong Floppy Knots Dog Toy
This is a perfect example of a multi-purpose tug toy that your doxie can play with on their own or with you. It is a hybrid of a plush toy with internal knotted rope and even a squeaker!
Entice your pup to play tug of war or chase by squeaking the toy or dangling it at them. Or chuck it across the room (or yard) to get them to play fetch.
The variety of textures between the plush design and the interior knotted rope will also keep your curious doxie occupied. The rope also satisfies the natural urge to chew.
As an added bonus, there is minimal stuffing in the event your pup happens to disembowel this toy. That means minimal cleanup and less of a choking hazard.
14. Multipet Lamb Chop Squeaky Plush Toy
This bundle from Chewy.com is a perfect pairing! A cute squeaky plush toy in the form of Lamb Chop is a great toy for your dachshund to "hunt" and the bully sticks are perfect for chewing and teething.
Lamb Chop has a squeaker to entice your doxie to play hide and seek, or fetch! The mini size is 6 inches, the regular is 10 inches, and the jumbo – if you're feeling particularly generous – is 24 inches!
Bully sticks are a tried and true favorite for so many dogs. They are a safe chewing option and great for keeping your doxie's teeth clean. They're even sturdy enough to get beneath the gumline! Rich in protein, they are 100% digestible and an excellent alternative to rawhide.
15. Outward Hound Tail Teaser Toy
You may think that teaser toys are only for cats, but you would be wrong! The best toys for dachshunds are the kind that targets their instinct for hunting and catching prey.
This version of the teaser toy has a highly durable nylon cord, which is perfect for dogs that want to catch and tug on the lure at the end. Playing together is an important way to bond with your dachshund. This teaser is sure to keep both of you entertained!
Just make sure you let them "win" occasionally by allowing them to catch the lure. Otherwise, dogs will get frustrated and this can elicit bad behavior.
16. Outward Hound Fetch Dog Toy
We all know just how indestructible firehose material is, right? Well, Outward Hound has taken real recycled firehose to make this toy. It's built to last even with the most aggressive chewers.
This toy is multi-purpose as a squeaky toy, a tug toy, and a fetch toy! It also floats, which makes it perfect for outdoor use in the lake or the pool too.
The Firehouse Squeak N Fetch was designed with durability in mind between the firehose material and double-stitched seams. It's sure to last with your demolishing doxie.
17. Chuckit! Max Glow Ball Dog Toy
Do you have a doxie that loves to chase and fetch things endlessly – well into the evening? Then this glow-in-the-dark ball will be a crucial part of your collection!
Like its orange and blue cousin listed above, Chuckit! makes some pretty indestructible balls. This version is made with a proprietary glow pigment that lasts for up to 20 to 30 minutes of high-visibility play. Re-charge the ball in just five minutes under any bright light. No batteries are necessary!
Pair it with the Chuckit! ball launcher so that you don't have to touch slimy, drooly, and dirty balls with your bare hands.
18. Starmark Treat Dispensing Dog Toy
This is another popular treat-dispensing interactive puzzle toy for dachshunds. Its oblong shape makes its movements less predictable than a regular ball.
Fill it with your tastiest and smelliest treats to keep your doxie entertained for hours. Stand it up for a toy that your pup can knock around to get its treat out, or if it gets knocked over then they can roll it around as well!
You can adjust the size of the openings depending on the size of the treat you put in it and the level of difficulty your pet might prefer.
19. Benebone Wishbone Tough Dog Chew Toy
This is another cult classic favorite with high durability. The bacon flavor scent is enticing to virtually any dog. Uniquely shaped, your doxie will be able to get a good grip on this chew toy.
Chewing is a natural instinct for most dogs and promotes good oral health. Chew toys like this help to massage the gums and loosen plaque and tartar buildup.
As an added bonus, each purchase of Benebone supports rescue organizations!
20. Kong Plush Duck Dog Toy
One of the biggest benefits to this toy from Kong is the ability to remove the squeaker. Want to keep Fido occupied but need to get on a virtual call for work? No problem! Take the squeaker out to keep things quiet while they can continue to chew, shake, and thrash it around.
Kong has a reputation for designing durable toys, and their plush duck here is no different. If your doxie does happen to disembowel it, it has minimal stuffing for minimal cleanup.
5 Types of Dog Toys
Depending on the age and stage of development your dachshund is in, they might have different needs for different toys. Different types of toys also fulfill different needs – mental stimulation, physical activity, dental health, and even those that just bring your dog some joy or comfort.
Let's break down each different type of dog toy a little bit more.
1. Chew Toys and Teethers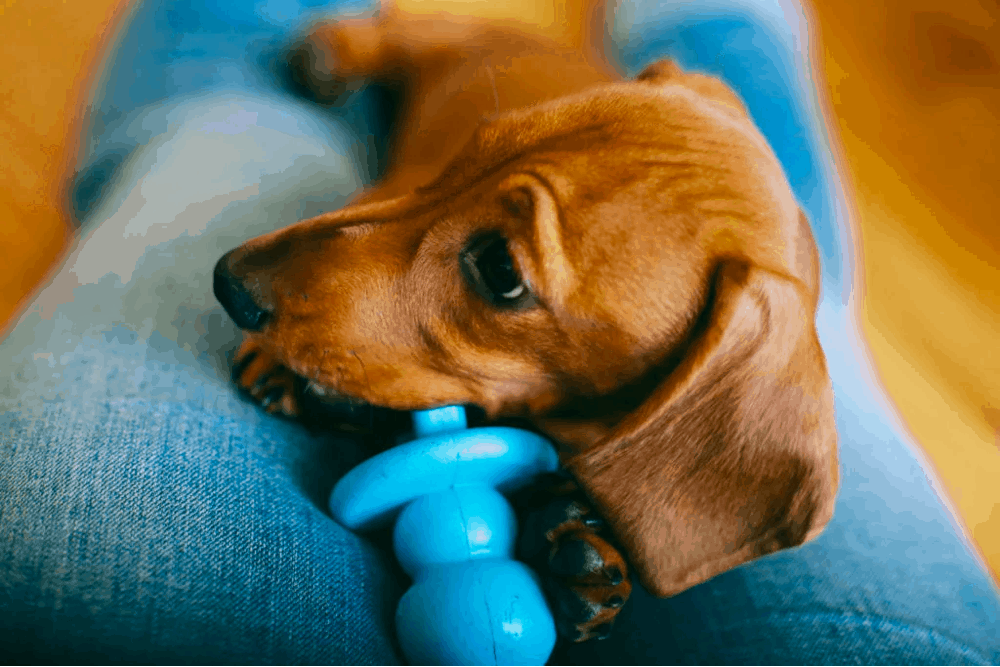 Teething toys that your puppy can chew on are especially important while their baby teeth are still falling out. Teething can be uncomfortable! Better to take it out on a designated chew toy than your furniture or shoes!
Some dachshunds will grow out of this, but lots also carry this love of chewing on things into adulthood. This can be very good for dental health! It can act almost like a toothbrush by breaking down any plaque or tartar buildup on your doxie's teeth.
That being said, it's important to choose toys that aren't going to cause any dental injuries. Fractured teeth can be incredibly expensive to fix at the vet. Not to mention, if a chunk of a toy got swallowed by accident, what kind of harm could it do internally?
A common rule to help guide you is to only choose to chew toys and teethers that you'd feel comfortable hitting your kneecap with. For example, while deer antlers have grown in popularity, you probably wouldn't want someone to hit your kneecap with that!
2. Plush and Squeaky Dog Toys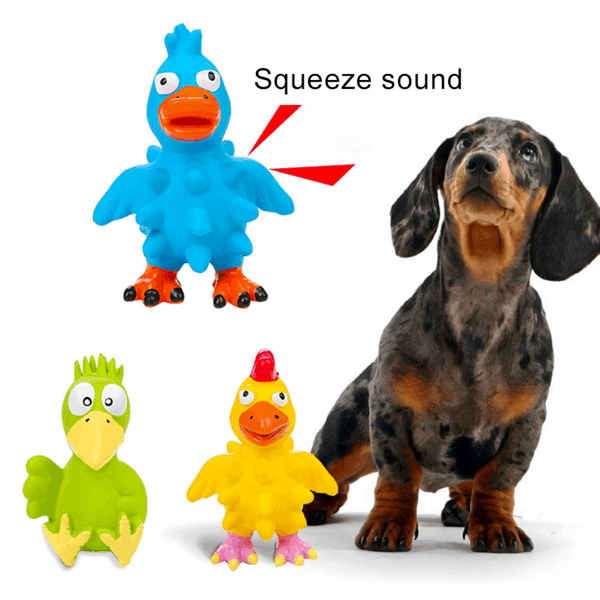 Stuffed toys more often than not have squeakers in them and some of them may even crinkle! Squeaking toys may also come in the form of a rubber or silicone-type of material. Both are very popular for pretty obvious reasons!
These toys provide a variety of sensations that can bring joy to your pup. Different sounds and textures can provide a stimulating smorgasbord! They also help your doxie channel their innate desire to hunt by somewhat mimicking the experience of catching their prey.
Even stuffed toys without squeakers or crinkly bits can be a source of comfort. Some dogs may still like to gently chew on these types of toys and carry them around or sleep with them. They often end up smelling like home or their favorite human(s), which can be an ultra comforting tool if they ever need to travel or stay somewhere unfamiliar (e.g. the vet, or a boarding facility).
3. Fetch Toys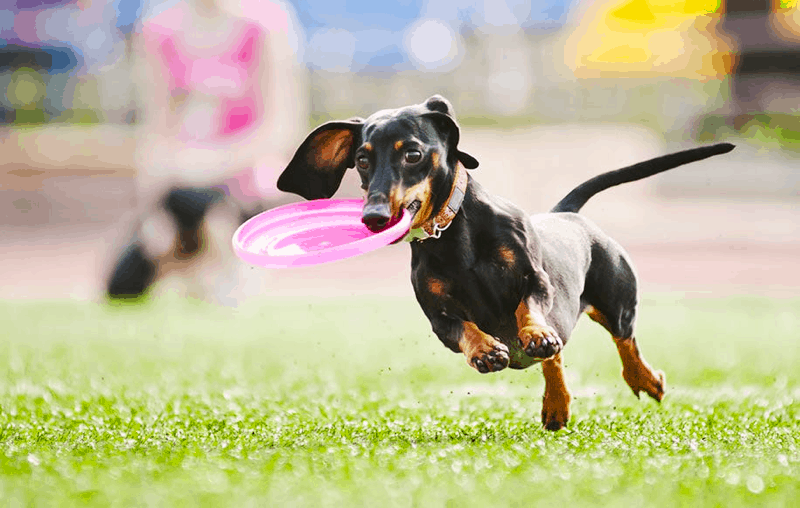 Some dachshunds love to play fetch. You can use stuffed or squeaky toys to play fetch of course, but there are also balls, rubber bones, and rope toys for this too!
This is another activity that sort of allows them to mimic the process of hunting by capturing or hunting down a toy that you've hidden and bringing it to you.
If you find that your doxie isn't into running after a ball, try hiding a well-loved fetch toy and letting them use their nose to hunt it down and find it.
4. Rope and Tug Toys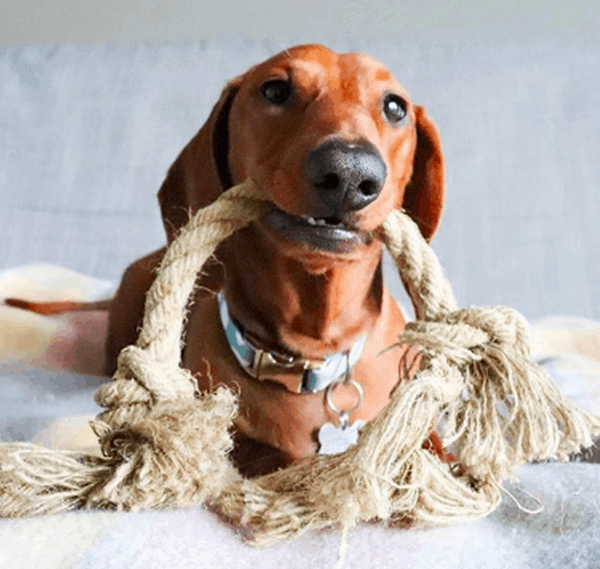 Playing tug of war with a little dog like a dachshund hardly seems fair! But they love to put up a good fight. It's part of their hunting instinct to pull, tug, and try to whip things around. It's great physical activity to build up their strength and endurance.
Some rope or tug toys often double as a fetch toy or a stuffed toy, which can make them a great multi-purpose toy to have on the go. Going to the cottage or a friend's house? A rope toy with a ball on it, or a stuffy toy with ropes for appendages is perfect to take along.
Rope and tug toys are a great way to play and interact with your pup. Just make sure you let them win once in a while and don't be too rough on their little mouths.
5. Interactive Puzzle Toys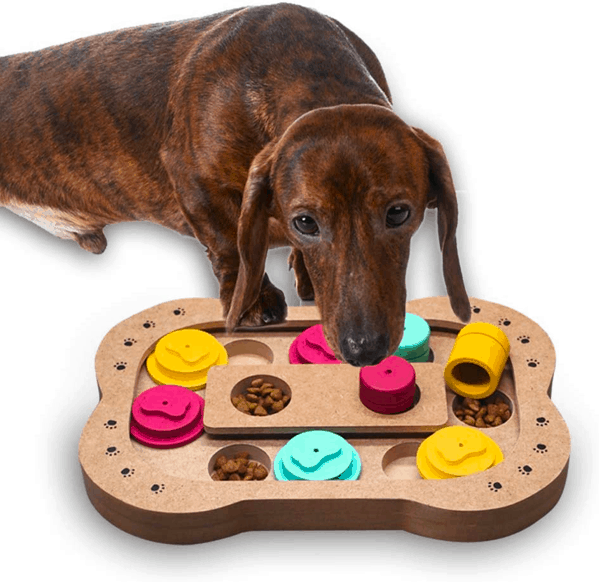 Puzzle toys provide an outlet for dachshunds to really use their smarts, which helps to wear them out even more than just any old stuffed toy would do.
While physical activity is an important part of any dog's routine, it doesn't necessarily tucker them out. And too much activity can actually be detrimental to their bodies. Doxies are prone to back problems, which can be aggravated by certain types of exercise.
Instead, a puzzle toy that rewards them with treats can help them use up some mental energy. It's also another way for them to use their remarkable hunting noses.
Final thoughts
It can feel challenging at times to find the best toys for your dachshund. They are clever, curious, and funny all in a compact-sized package. Yet they were also bred to be hunters! Toys designed for small dogs are often not designed to be super durable. Whoever designs dog toys must have never met a small dog that loves nothing more than to disembowel stuffed animals!
Try choosing toys that satisfy your doxie's natural instincts and curiosity. Interactive puzzle toys that challenge them, or toys that allow them to channel their hunting ancestry are the best dog toys for dachshunds.