Many dachshund owners wish their furry friends could be with them for all of life's adventures. This includes many outdoor activities that the Dachshund is perfectly suited for such as hunting rabbits, camping, or even hiking. However, trips to the lake or other bodies of water must consider a dachshund's safety when planning these types of activities or trips.
Thinking of the safety of a dachshund, the first question should come as no surprise. With their unique build, can Dachshunds swim? Is a Dachshund life jacket needed? Which is the best Dachshund life vest on the market? These are just a few questions owners may ask themselves when thinking about dachshund accessory purchases.
While perfectly adapted to hunting and burrowing, a dachshund's unique shape means they are not strong swimmers. For this reason, any Doxie in or near water should be properly wearing a well-fitted life vest or jacket whether at home in a backyard pool or traveling the world.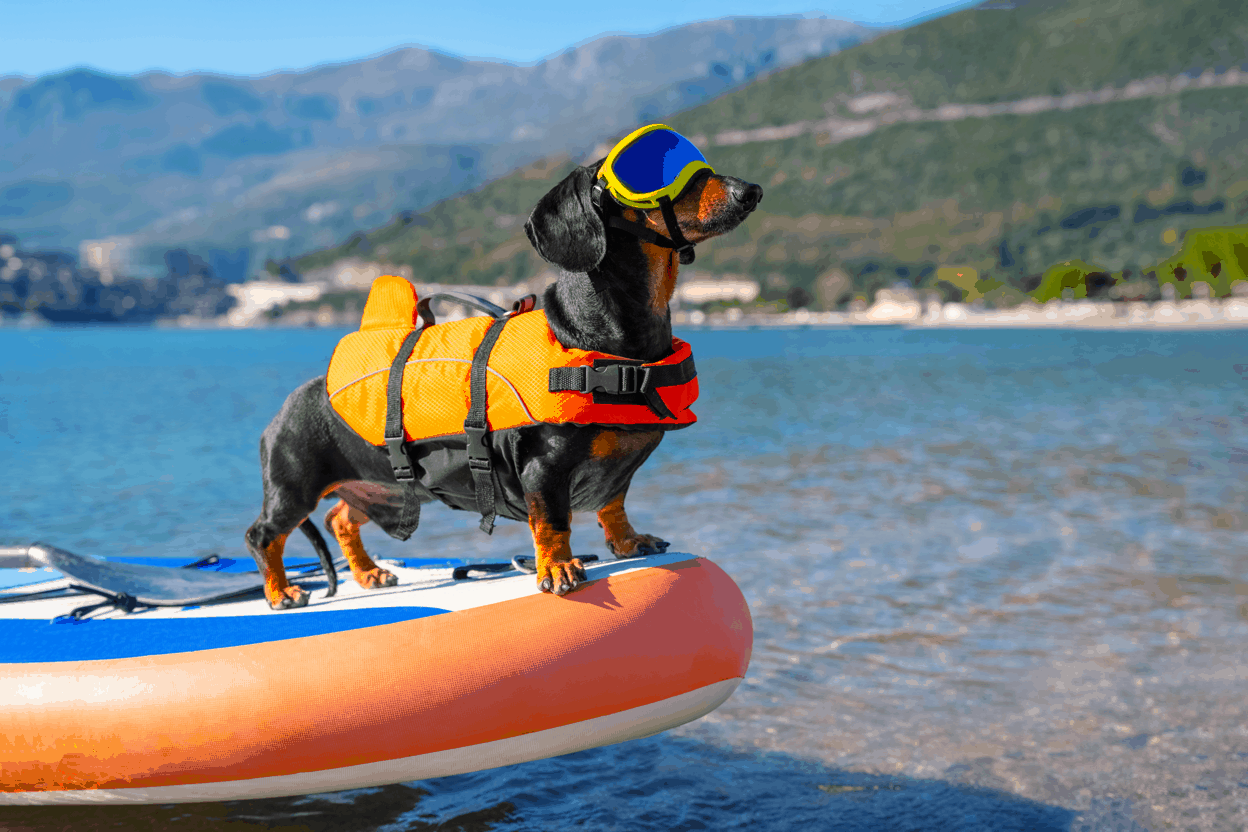 How to Choose The Best Dog Life Jackets for Your Dachshund?
Water and swimming do not come naturally to dachshunds, making use and proper fit of life jackets essential anytime the dog is in or around water. There are several key safety features and criteria that go into choosing the best type of life vests for dachshunds.
Sturdy handles and adequate underbelly support: These features make Doxie water rescues much easier in an emergency.
A sturdy handle found on top of the pet's back for small to medium dogs: Two sturdy handles are used for larger breed dogs. The single handle used for the sizes generally worn by dachshunds is actually great for this breed by providing a small amount of added back and neck support
Thick straps or well-made underbelly support panel: These features make rescues more comfortable on the pet and easier for the rescuer.
Foam placement so that dachshund is comfortable on land and safe while in water: Placement of foam should provide safety and comfort in the water and dog should be able to sit or lay down comfortably without removing or adjusting jacket.
Sturdy adjustable side buckles to: help in creating and further ensuring a snug custom fit for an individual pet.
Reflective accents: Adds visibility in the water making dachshund easier to see.
Comes in a variety of Bright colors: Makes the jacket easy to see in water which aids in keeping the pet safe.
Removable or adjustable chin float: Keeps head above water and provides extra neck support for doxies.
Variety of sizes available: Extra small through extra-large is typical sizing; however fewer sizes in some brands and more sizes in others is also typical.
Availability of nearby physical locations: Possibility of dachshund trying on life vest or jacket to ensure proper fit.
Top 10 Best Dachshund Life Jackets
All life jackets making this list are suitable miniature dachshund life jackets as well as standard dachshund jackets. Life jackets are a better choice than vests for dachshunds. This is due to their elongated bodies and being naturally poor swimmers. Most life jackets tend to have more buoyancy while covering more of the dog.
| | |
| --- | --- |
| Products | Why it's great? |
| Outward Hound's Granby Splash | Best overall life jacket for Dachshunds! AKC's top pick best all-breeds life jacket. Due to the extra support offered by the design, it is the top choice of life jacket for Dachshunds as well. |
| Ruff Wear's Float Coat | Best features with safety, convenience, and comfort in mind. |
| EzyDog DFD x 2 Booster | Best fit for unrestricted movement. Custom sizing and thin streamlined design for extra comfort in and out of the water. |
| PetGlad with Reflective Wings | Best choice for convertible features. Durable and comfortable with Reflective Wings with Removable foam panel at the neck. |
| VivaGlory Sport Dog Life Jacket | Best fastening system. This system ensures a secure fit. |
| Zippy Paws' Adventure | Best budget-friendly choice. Neck float and dense foam panels provide support where needed for Dachshunds. |
| Snik-S Dog Life Jacket | Best support for doxie's back through safety features. Great buoyancy and sturdy rescue handle supply support for Doxie's back. |
| Queenmore Dog Life Jacket | The best reflective area for high visibility Fish Scale design on top is easier to see and provides a fun alternative to ordinary dog life jackets. |
| Haocoo Dog Life Jacket | Best float system to assist with keeping dog's head above water. |
| Paws Aboard's Designer Doggy life Jacket | The best protection from life jacket slippage and loss while the pup is in water. |
1. Outward Hound's Granby Splash Dog Life Jacket
The Granby with ripstop material tops many lists and rankings, including the AKC all breeds best life jackets for dogs. It provides superior safety and comfort for any dog. However, it's a top pick for dachshunds because it supplies support for their long bodies and the neck float helps them keep their head above water. Dachshunds of any size often struggle with this when they swim. Plenty of well-placed foam makes this dog life preserver jacket both safe with maximum buoyancy and comfortable enough for your dog to sit or lay comfortably on land. This dog safety jacket has a sturdy top handle to make rescues a breeze should it be needed.
Pros:
AKC's top pick for all dog breed water safety jacket
Available to try on in most physical stores such as Walmart, PetSmart, and Tractor Supply.
Available in sizes extra small to extra-large
Variety of bright colors for easy visibility.
Affordable dog floatation device.
Great for both novice and expert swimmers.
Cons:
No D ring to attach a leash.
Restricted head movement while on land due to neck float; Dachshunds, however, need the extra support provided by the neck float.
2. RuffWear

Float Coat Dog Life Jacket
The Gaia foam panels in Float Coat's soft and flexible design are meant to move with the dog supplying comfort as the pet moves around freely nearly unrestricted by the life jacket. While it is a bit pricey it is well made and worth the extra cost.
Pros:
Reflective accents
Available in sizes XXS to XL
The adjustable telescoping neck provides the ability to adjust once to secure permanently
Strong buckles are sheltered to keep straps from coming loose
Natural swimming position is supported by strategic placement of the foam panels
Cons:
More expensive than many of the life jackets reviewed
The leash clip is not easily accessible from its location under the safety handle.
3. Safe Dog Lifejackets by EzyDog
This unique streamlined custom-fitted dog life vest is built for slim safety and ultimate comfort. Among the unique features of this jacket are supported for the neck and head without a neck float and extra support and buoyancy provided by the even foam distribution. This includes a foam insert in the underbelly panel. This added placement of foam provides Dachshunds with an extra layer of support for their long bodies.
Pros:
D ring leash attachment found behind the handle.
Available in sizes XS to XL
Unique collar adjustment provides neck and head support without a neck float
High reflection piping trim
Even distribution of foam including foam underbelly panel for added safety and comfort.
Durable construction
Streamlined ergonomic construction for a slim lightweight fit
Custom sizing makes this life vest available for any breed
Cons:
Only comes in 2 colors red and yellow.
4. PetGlad Dog Life Jacket with Reflective Wings
The Petglad dog life jacket has a removable neck float. This gives even more versatility to this dog life jacket. There are several PetGlad life jackets that are designed to fit any size Doxie the one reviewed here has wings with reflective stripes on them. This fun unique feature adds a little originality to the life jacket choices without hindering the safety of the jacket.
Pros:
D ring to securely attach the leash.
Available in sizes XS to XL
Unique wing design with reflective stripes add extra visual appeal
EPE pearl cotton inside ripstop material provides durable safety and floatability.
Quick-release adjustable straps
Durable comfortable magic sticker mesh underbelly
Removable foam neck foam
5. VivaGlory Sport Dog Life Jacket
Side fastening adjustable straps, sturdy rescue handles, and bright reflective fabric are the top safety features for this life jacket. This is a top 10 dachshund pick due to the support it provides for the wiener dogs' long back.
Pros:
Convenient D ring leash attachment at the top of the jacket.
Available in a variety of sizes from XS to XL
Comes in a variety of bright colors for easy visibility with added style
Adjustable straps and reflective trim
Wide belly panel and durable material
Durable and sturdy with a comfortable safe fit
Cons:
Does not have a neck float which is preferable for breeds such as the Dachshund that have difficulty keeping their head above water.
6. Zippy Paws Adventure Life Jacket for Dogs
The adventure life jacket by zippy paws has a built-in handle for added stability and strength when pulling a wet wiener dog from the water. Some of the best safety features with this life jacket are the adjustable straps, dense foam panels, and neck float. This is an inexpensive doggy life jacket choice while still supplying superior safety.
Pros:
Available in traditional physical stores
Available in sizes XXS to XL to fit a wide variety of breeds.
Has a neck float
High reflection stripes are sewn into the jacket
Durable construction, with padded lift harness
Cons:
Nowhere to attach leash securely
Only comes in 2 colors red and yellow.
7. Snik-s Dog Life Jacket
Snik-s has several different styles available that are right for dachshunds of any size. This life jacket provides extra assurance that the jacket will stay put while in water with double closures on the buckles.
Pros:
Sticker strap and flexible buckles add two layers of protection against jacket slipping off while in water
Available in sizes XXS to XXL
Safety handle
Durable construction and a metal D ring for attaching a leash
Large assortment of bright highly visible color choices
Dirtproof and resists abrasions
8. Queenmore Dog Life Jacket
The QueenMore life jackets are another brand offering several different styles appropriate for all sizes of dachshunds. The jacket chosen for review comes in more limited sizes than the rest of the line. However, according to the product description, a dachshund would wear a large with this particular brand and style.
Pros:
Adjustable sturdy straps with quick-release plastic buckles and Velcro closures over the soft elastic underbelly made with diving material.
Adjustable neck with Velcro closures
Available in sizes XS to L in the style reviewed.
Sturdy safety rescue handle
Durable ripstop material and PP cotton
Metal leash attachment ring
Bright colors with the reflective fish scale on the reviewed jacket
Cons:
Limited size and color choices.
9. Haocoo Dog Life Jacket
With sizes from XXS to XXL and adjustable quick-release buckles, this jacket is good for all breeds. With ripstop mesh material, a front float, and highly visible colors and reflective stripes the Haocoo life jackets are one of the top ten safest choices.
Pros:
D ring leash attachment in front of safety handle.
Available in a variety of sizes from XXS to XXL
Front foam float
Available in brick-and-mortar stores
Comes in a variety of bright colors for increased visibility
Adjustable belt with quick-release buckles
Durable ripstop mesh fiber material and
Reflective stripes for enhanced visibility
Cons:
With so many choices deciding which one to purchase may be challenging.
10. Paws Aboard's Dog Life Jacket
The mesh underbelly promotes quick proper drying to keep your dachshund comfortable. The mesh and adjustable straps make it versatile enough for proper fittings for a variety of dogs. The straps and mesh underbelly work together to support the Doxie's long spine. This dog life jacket provides superior comfort while still providing safety and durability.
Pros:
Great support for wiener dogs long back.
Physical store availability
Convenient D ring leash attachment in front of the handle.
Available in a variety of sizes from XXS to XL
Variety of bright designer patterns and colors combines easy visibility with style
Adjustable straps help to ensure proper fit.
Mesh underbelly
Reflective strips to increase visibility
Cons:
Does not have a neck float.
Final Thoughts
Regardless of the life jacket that is chosen no safety gear is guaranteed and accidents do happen. So just as with children do not leave pets unattended in or near water. Even the best properly-fitted safety gear is no substitute for responsible care in and around water. With properly fitted proper life jackets for all members of the family, everyone can enjoy the water safely this summer.