A dachshund dog ramp is a great pet product to have for your small dog's health. Dachshunds are prone to joint problems and back problems, so jumping up and down from furniture can be painful as they age. Thus, ramps are good for dachshunds because they keep their joints healthy in the long run.
DoggoRamps is a dog ramp company that makes excellent products for dachshunds. This article will cover everything there is to know about the company all in one convenient place. In this post, you'll find unbiased reviews to help you decide if these ramps are ideal for your doxie or not.
We base our information on reviews from a variety of online platforms, such as Amazon and Shopify. DoggoRamps products can be expensive, so it's a good idea to do plenty of research before purchasing one.
If you're considering buying a DoggoRamps product or any other dog ramp item, then this article will help you make that final decision. Of course, DoggoRamps is just one company, so if their products don't seem like the right fit for your dog, there are plenty of other dog ramps and stairs available, for example AlphaPaw PawRamp, or DoggieRamps.
DoggoRamps Overview
DoggoRamps is a company made by a dachshund lover who wanted to make life easier for his furry friend. Now, he sells these ramps to help keep other dogs safe too. So, the history of this company is relatable to many dog parents.
History of DoggoRamps
Ryan Beauchesne founded DoggoRamps in honor of his Dachshund named Crusoe. In 2016, Crusoe had to get emergency surgery for a blown disc in his back. That blown disc was the result of Intervertebral Disc Disease (IVDD), which is incredibly common in long-bodied dogs. Approximately 25% of dachshunds are affected by IVDD.
Jumping on and off of furniture can really take a toll on a doxie's health. Yet, Crusoe and many other doxies love hanging out on the furniture. So, after many attempts, Beauchesne created the ideal furniture ramp for long-bodied canines. He has since made three different models: a small dog bed ramp, a couch ramp, and a bed ramp for medium to large dogs.
Where is DoggoRamps located?
The DoggoRamps headquarters are located in Chelsea, Quebec. Yet, they have two different distribution centers: a Canada one in Mississauga, Ontario, and the United States one in Knoxville, Tennessee.
If you need to contact DoggoRamps, you can email them at doggoramps@gmail.com or you can fill out a contact form on their website.
Note: They don't provide a phone number on their channels.
DoggoRamps Addresses:
Canada Distribution Center
USA Distribution Center
Head Office
7085 Tomken Road

Mississauga, ON

Canada L5S 1R7

5502 Island River Drive

Knoxville, TN

USA 37914

PO Box 1769

Chelsea, QC

Canada J9B 1A1
How and Where are Doggo Ramps Made?
All Doggo Ramps are made in North America at distribution centers in Canada and the United States. The ramps are made from scratch, using solid, furniture-grade maple hardwood. These ramps start from raw lumber, and every step of the manufacturing process takes place at the distribution centers, so customers can feel good about where these products are coming from.
Is DoggoRamps Legit?
Yes, DoggoRamps is a legitimate dachshund ramp company. There are many positive reviews online recommending their products. Plus, if the ramp isn't a good fit for your dog, you can return it for a full refund within 30 days.
What Kind of Dogs Can Use These Ramps?
Any dog can use these ramps, but it's most beneficial for small dogs. Small dogs like dachshunds, pugs, and Chihuahuas have the highest risk of injury from jumping up and down since it's a much bigger fall for them than it would be for a large breed.
However, some larger breeds can also be safer with a dog ramp. Some medium to large dogs have longer bodies or shorter legs, such as basset hounds, corgis, and bulldogs. So, while most large dogs don't need assistance when jumping up and down, some breeds are an exception.
Also, senior dogs, dogs with joint problems, special needs dogs, and dogs prone to IVDD could benefit from having an adjustable dog ramp. DoggoRamps are ideal for any dogs that have a harder time climbing onto beds, couches, or other high areas. The company even shared a heartwarming story about a three-legged dog who adores these products.
DoggoRamps Discount Code
Use this discount code: DACHWORLD15 to get 15% off when you check out any product at their website: https://doggoramps.com
DoggoRamps Product Lines
Every dog deserves a ramp that's catered to their needs. Luckily, DoggoRamps offers several product lines for different types of furniture and for dogs of different sizes. Let's take a look at the ramp features.

The small dog bed ramp is perfect for helping small dogs like dachshunds climb onto beds. The structure can hold any dog up to 40 pounds. It has an adjustable height that can be set between 12 inches and 37 inches tall. For added safety, it has removable railings, an anchor rope, and an anti-slip surface. Plus, the railings can be set up on either side of the ramp. The wood comes in a few different colors: clear natural, walnut, jet black, snow-white, and coastal gray.
When you purchase this ramp, it comes fully assembled. It's 64 inches long and 14 inches wide. It can fold down to 3 inches high, and it weighs 23 pounds. Thus, it's long enough for your dog to climb up without having it take up the whole room. It's made of solid hardwood, and it comes with a training guide to help you teach your furry friend how to use it. Overall, the ramp is sturdy while still being lightweight enough to transport.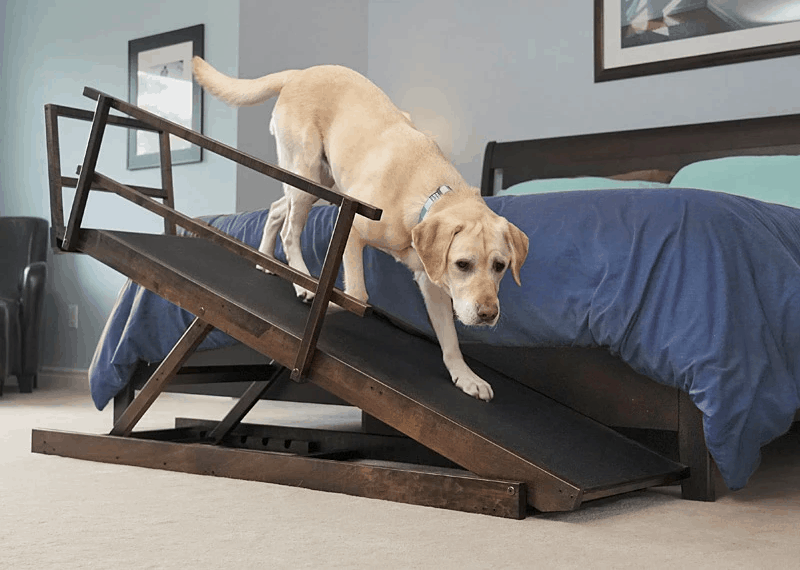 The DoggoRamps bed ramp for large dogs is very similar to the small dog bed ramp, except it can support up to 200 pounds. It can adjust between 20 inches and 35 inches tall. It has a 21-inch wide base to allow enough space for bigger canines. As the small dog ramp, it's also 64 inches long. So, it's long enough to provide a gradual incline for your dog without taking up too much of the room's space.
This ramp arrives fully assembled, and it has many safety features. It has removable railings, an anti-slip surface, and a training guide created by canine training experts. The railings can also be set up on either side of the ramp. It's made of solid hardwood, it weighs 46 pounds, and it folds down to 4.5 inches high. You can choose from five different wood colors: clear natural, walnut, jet black, snow-white, and coastal gray.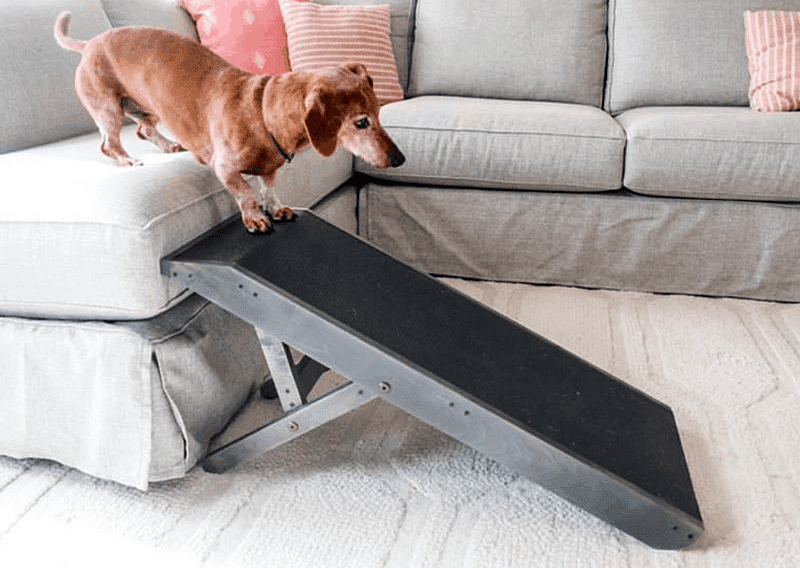 The dog ramps for the couch have a smaller design, made to give dachshunds and other dogs a small boost onto the couch. It works for all couches up to 21 inches tall. It can hold up to 150 pounds, and it has a small platform on the top to allow dogs to climb up with ease. Plus, it can match your furniture and look natural in your home.
It's made of solid hardwood, and it has a high-traction surface to help dogs climb up. The wood can come in several colors, including clear natural, walnut, jet black, snow-white, and coastal gray. The ramp weighs 15 pounds and it ships fully assembled. It measures 35 inches long and 14 inches wide, and it folds down to only 3 inches high for easy storage.
With any of these three products, your dachshund will have no problem getting up onto the furniture in a safe, efficient way.
Top 5 Reasons Why People Love DoggoRamps
DoggoRamps has received many positive reviews from dog lovers. Here are some reasons why people think these are some of the best dog ramps for dachshunds.
1. Sturdy Construction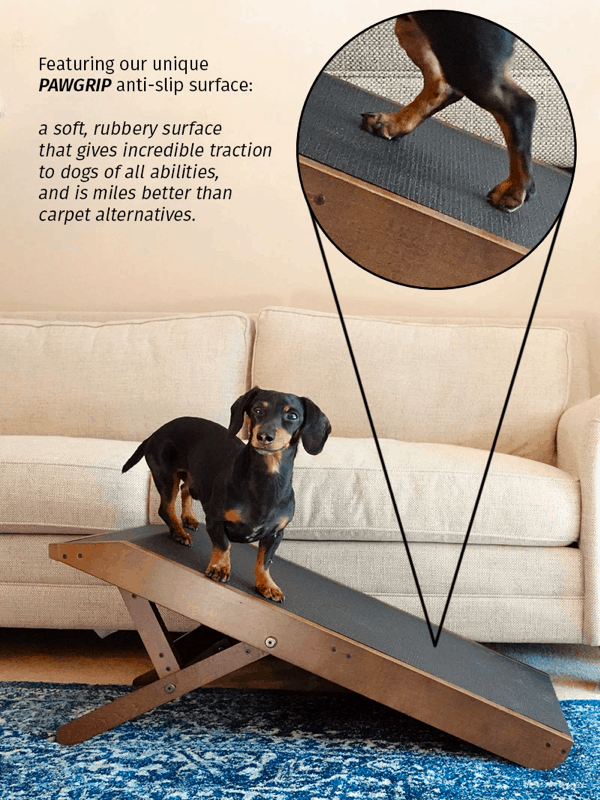 Customers have described the ramp's construction as "superb" and "sturdy." The long ramp and high-traction surface allows dogs to safely climb up the ramp with ease.
2. Easy to Set up and Take Down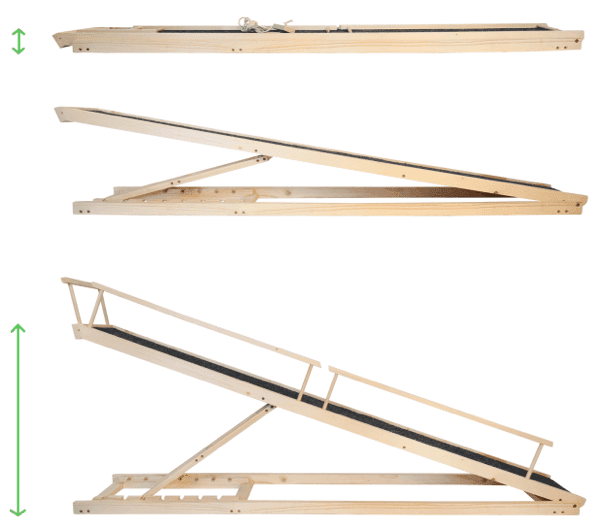 The ramp comes assembled, so it's easy to set up beside your bed or couch. All you have to do is choose where to put it and set it to the ideal height. Then, if you want to slide it under your bed or store it in the closet, it's easy to fold down too.
3. Versatile Uses
Customers love that there are several options to choose from, including small dog ramps, large dog ramps, and couch ramps. Plus, all the ramps are adjustable to ensure that the height is ideal for your canine.
4. Trustworthy Founder
Many reviews have mentioned how much they love the story behind this company. Some customers followed Crusoe beforehand and were thrilled to hear about this product from his human. Crusoe's story is relatable for many other dachshund parents out there since IVDD is so common for the breed.
5. More Affordable Than Vet Bills
These ramps can be pricey, but customers point out that buying one ramp will be much easier and more affordable than paying for IVDD surgery later down the road. A dachshund bed ramp is a great way to prevent a dog's spine problem in the future.
You can check what people saying about DoggoRamps:
Are There Any Critical Reviews?
Most products have at least some negative reviews, so it's important to take a look at those as well. Across all platforms, including Amazon, Shopify, and Facebook, there are very few critical reviews for DoggoRamps, but there is still a handful of them.
One of the most common complaints is with delivery. There are a few reviews that claim that they never received their products, and since the company doesn't have a phone number, it's difficult to address the problem. Luckily, most customers seem to have received their products in a timely manner though.
Several other DoggoRamps reviews stated that they felt the price was still too much for the quality. Several people mentioned the railings being flimsy or breaking. One customer also mentioned that it would be better if the couch ramp came with railings like the bed ramps.
A few others didn't give five-star reviews because their product didn't adjust easily or it was smaller than they expected. So, these aspects are all things that future customers should be aware of, but it's important to remember that there are significantly more positive reviews than negative ones.
DoggoRamps Services and Policies
Before you decide to purchase a dachshund ramp for a bed or couch, here are some of the services and policies that DoggoRamps lists on their website.
Shipping Policy
If an order is placed before 4:00 pm EST, the order will be shipped that same day. Otherwise, it will be shipped the following day. Shipments go out every day of the week.
You can expect your order to arrive between 2 and 5 business days if you live in the United States or Canada. However, international orders can take at least 10-15 days, depending on the location.
Canada orders will ship from Ontario through Canpar or Canada Post while all other orders ship from Tennessee through FedEx. Shipping is always free in the United States and Canada.
After placing your order, you'll receive an email with tracking information.
Return Policy
If there's a problem with your order or if you decide that the ramp isn't a good fit for your dog, you can return the product for a full refund any time within the first 30 days. Any costs associated with return shipping must be paid by the customer, but DoggoRamps doesn't charge any fees for returns.
DoggoRamps is a flexible company, so if you need more than 30 days to test out the ramp, you can contact them about possibly extending the return policy period.
5 Simple Steps to Train Your Dachshund to Use the Dog Ramp
Another great service that DoggoRamps provides is a training and setup guide to help dog parents get started. Here are some step-by-step tips to help you train your dachshund to use a dog ramp with side rails.
1. Introduce Your Dog to the Ramp
Any new things can be scary for dogs at first, so set up the ramp in a common area. Ignore the ramp at first, and give your dog some time to sniff it and get used to it. If your dog interacts with the ramp at all, reward them. However, if your dog doesn't approach the ramp at all, start by rewarding them for looking at it first. Then, they'll feel more comfortable with going near it.
2. Practice on the Flat Ramp
Once your dog has accepted that the ramp is there to stay, fold the ramp down so it's completely flat. Lead your dog across the flat ramp using a treat. After they walk across it, give them the treat and praise them. Be patient during this process and never scold your dog for refusing to walk on the ramp.
3. Take it Slow
Only move forward if your dog seems comfortable standing on the flat ramp. Next, start by propping up the ramp onto the lowest setting. Repeat the previous actions for the flat ramp, and lead your dog up the slightly inclined ramp. Depending on how quickly they pick up on that, you can increase the incline slightly over time.
4. Prepare for the Full Height
Before you show your dog how to go up the full ramp, make sure you set it up properly. If you have a dachshund bed ramp, it comes with a rope to secure the ramp to the bed. Bed ramps also have removable railings to prevent your dog from falling off. As you lead your dog up the ramp and onto the bed, make sure you stay by their side as an extra safety precaution.
5. Practice Makes Perfect
Every dog learns new skills at its own pace. Once they feel comfortable climbing up the ramp, you'll also have to show them how to climb down. Some dogs might pick it up right away while others might need extra encouragement. Patience, persistence, and positive reinforcements are the key to teaching your canine to use a ramp.
DoggoRamps Ratings
Now that you've taken a look at all the features of DoggoRamps products, let's look at an overview. Here are our ratings based on a variety of different ramp aspects.
Wooden Frame:

9/10

Surface Quality: 8/10
Value for Money:

9/10

Storage:

8/10

With Small Breeds:

10/10

With Heavy Breed: 9/10
With all Breeds:

9/10

Durability:

9/10

Company Policies: 9/10
Customer Service: 8/10
Average Score: 8.8/10
Verdict: If you have a dachshund or another dog at risk of IVDD, DoggoRamps is certainly worth it. These ramps are durable, safe, and accessible for dogs who have a difficult time climbing onto furniture.