The Dachshund is a dog that needs a great deal of work when it comes to choosing the right kind of dog food. Due to their shape, their predisposition to gaining weight, and their genetics causing issues with their hips and spine, making sure that your dachshund does not become overweight is vitally important.
What Nutrients Does a Dachshund Puppy Need?
With a dachshund, their nutritional needs differ compared to many other breeds, due to their body shape, their penchant for gaining too much weight, and their overall appetite. Like any breed of dog, they are obligate carnivores and require a meat-based diet to thrive and stay healthy.
However, a small breed diet that is closely monitored is a requirement for the breed, in order to prevent them from becoming overweight or ill. Protein and fat are what to look at in their food, and talking to your vet about any health issues or allergies is a must for purebred dogs.
For a puppy, the most important nutrient is called DHA, a growth hormone that stimulates mental and physical growth while regulating their size, preventing over nutrition or malnutrition.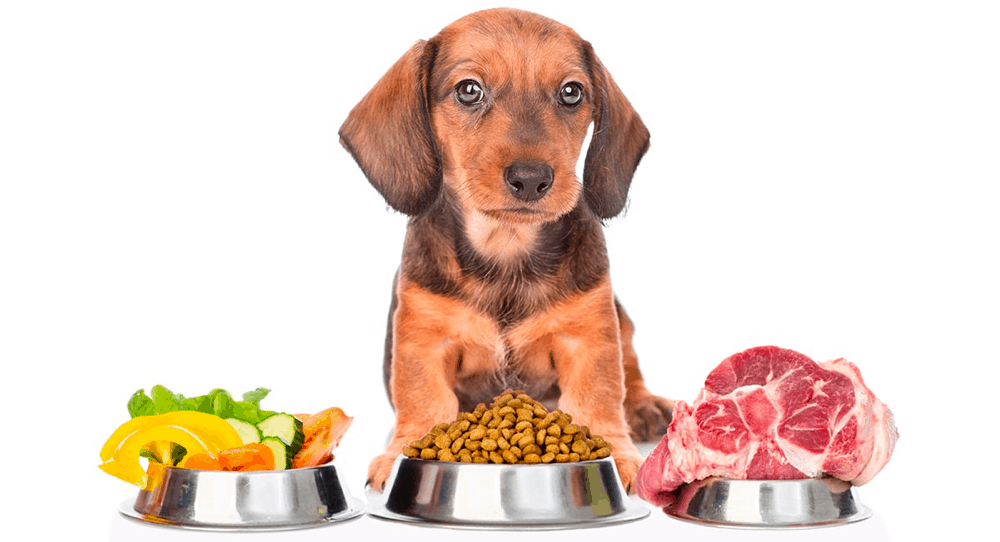 How many calories does a dachshund puppy need?
The caloric intake of the breed is roughly 30-40 calories per pound of dog a day. This should be monitored more closely because of the breed's inherent health issues. This should be adjusted depending on the activity level of your dog, but puppies should be getting plenty of playtimes to help promote healthy growth.
Puppies need slightly more calories as they grow, in order to make sure they stay healthy during their physical development. Any dog food should have the correct feeding charts on the side, as well, and higher grade dog food will require less feeding than lower-grade dog food, as they are more nutrient-dense.
How should I feed my dachshund puppy?
Typically for puppies, it is recommended that you feed them three times a day. This helps set a good routine for the puppy, keeping an eye on their caloric intake, helping set up a schedule for going to the bathroom, and making sure that they don't overeat. Some dogs and breeds can free feed, but the Dachshund is a breed that requires monitoring when they eat. Three times a day also helps prevent digestive issues, by giving them smaller meals and smaller amounts to digest, so that they do not become gassy, bloated, or otherwise ill.
For a Dachshund puppy, the best foods will be ones that have no artificial ingredients. This will help them digest food more easily, prevent bloat or stomach problem, and cut down on any gas or issues with their anal glands. Later in the article, the top five foods of dachshunds will be covered, giving plenty of options depending on the needs and age of the dachshund.
What nutrients does an adult Dachshund need?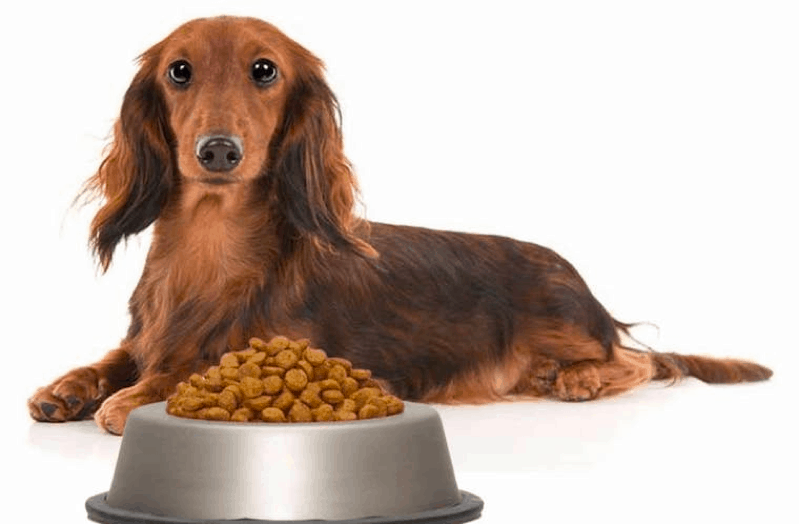 Adult dachshunds should be fed a small breed of adult food, and the food should be adjusted depending on if they are more active or not. For a dachshund that needs to lose weight, the amount should be reduced slightly, and smaller dachshunds require less food per day. Most brands of trusted dog food will also have the feeding directions on the bag, in order to prevent overfeeding.
For adults, making sure that they are fed twice a day, morning and evening is the best way to keep track of their caloric intake and make sure they are not overeating. This is true for most breeds and dogs who do not free feed, but especially for dogs like the dachshund who are at risk of obesity.
For dachshund, the most important nutrients they should be getting are protein and fat, just like any carnivore.  Hip and joint supplements are also important for dachshunds, as they can have issues with their spines and hips very easily. Chondroitin and glucosamine are the two best supplements for this breed, to keep them active and healthy long into their lifespans.
What nutrients does a senior Dachshund need?
Dachshunds, especially those that are seniors, are at high risk for hip dysplasia. Making sure that they are on a lower-calorie, senior food specifically meant for small breeds is vital to their well-being. Smaller breed dogs are at much higher risk of obesity-based injuries, due to extra weight putting stress on their hips and spine. Supplements for hip and joint issues, and possibly even buffered aspirin as prescribed by a vet may be needed to reduce any point in their hips and joints at an older age.
Top 5 Best dog foods for Dachshund (puppies, adults, and seniors)
We've listed five of the best foods for Dachshund puppies, adults, and seniors here. Take a look below, to help you decide what is best for your dachshund.
1. Hill's Science Diet Dry Dog Food for Puppy
This food is the top lab-tested and researched dog food that you can find on the shelf. Science Diet has more vets on staff and more clinical trials than nearly every other brand combined, which is why they are such a staple in the dog food world. They have foods for small breed puppies, adults, and seniors, and are easy to find in any major pet retailer.
This food is going to be the best for making sure that your Dachshund puppy will grow in a healthy, safe way. This is the main food you should choose if your dachshund is a puppy.  It also contains DHA, which is a vital nutrient for developing puppies.
Pros:
Easy to find, tested, and proven, have foods for all life stages while supporting the needs of the dog.
Cons:
Many of the vitamins and minerals inside of the food are lab-made, rather than sourced naturally
Average Nutrient & Caloric Content
| | |
| --- | --- |
| Crude Protein | 24.5% min |
| Crude Fat | 15.5% min |
| Crude Fiber | 3.0% max |
| Moisture | 10.0% max |
| Vitamin E | 500 IU/kg min |
| Ascorbic Acid (Vitamin C) | 95 mg/kg min |
| Docosahexaenoic (DHA) | 0.1% min |
2. CANIDAE Premium Whole Grains Dry Dog Food
This dog food is excellent if you have a household with multiple dachshunds living in it.
They have both all life stages foods, which are great for homes with dogs of different ages, and age-specific dog foods, which are good for if you have dogs at a similar age, or only a single dog. They are all-natural dog food, so everything is sourced from either plants or animals.
This is good food for an active, adult dog, rather than a puppy or a senior dog. This choice is excellent, with a very high rating online. The nutrition information is for the small breed, raw coated salmon food, perfect for hip and joint support.
Pros:
Easy to find, good for any age dog, and matches activity levels well.
Cons:
A bit more expensive than some other foods.
Average Nutrient & Caloric Content
| | |
| --- | --- |
| Crude Protein | 24.0% min |
| Crude Fat | 12.5% min |
| Crude Fiber | 4.0% max |
| Moisture | 10.0% max |
| Linoleic Acid (Omega-6 Fatty Acid) | 2.0% min |
| Alpha-Linolenic Acid (Omega-3 Fatty Acid) | 1.2% min |
3. ORIJEN Dry Dog Food
This dog food is one of the highest quality when it comes to freshness and ingredients. There aren't many foods that can be found easily that are as well made as Orijen, and it is balanced very well for more active dogs. The freeze-dried variety makes for both a good food topper and a good training treat for your dachshund.
If you have a dog that is a working dog, a service animal, or a hunting dog, this is the best choice for your adult dachshund. As the information shows, it is a very, very high protein food, meant for only the busiest of dogs. The glucosamine and chondroitin levels are also very high, which is great for dachshunds.
Pros:
Very high quality, high standards, very palatable to dogs.
Cons:
Can put weight on less active dogs, so it is only suitable for high energy individuals.
Average Nutrient & Caloric Content
| | |
| --- | --- |
| Crude protein | 38% min |
| Crude fat | 18% min |
| Crude fiber | 4% max |
| Moisture | 12% max |
| Dietary starch | 18% max |
| Sugars | 1.3% max |
| DHA (docosahexaenoic acid) | 0.2% min |
| EPA (eicosapentaenoic acid) | 0.2% min |
| Calcium | 1.3% min |
| Phosphorus | 1% min |
| Omega-6 fatty acids* | 2.8% min |
| Omega-3 fatty acids* | 1.2% min |
| Glucosamine* | 800 mg/kg min |
| Chondroitin sulfate* | 700 mg/kg min |
4. Taste of the Wild Dry Dog Food
This dog food is great for most dogs and comes in a variety of different proteins and flavors of different dogs.
It is also an all-natural brand, as everything in it is sourced from plants or animals. It is not a difficult food to find either, as most large chain stores carry it, and it can be found online, as well. This is an excellent food if you have multiple dogs, as well, as it is formulated for all sizes and all life stages.
Pros:
Good, quality dog food with no additives, easy to find, and palatable.
Cons:
Nothing special about it sticks out, so some dogs may not like it.
Average Nutrient & Caloric Content
| | |
| --- | --- |
| Crude Protein | 25.0% min |
| Crude Fat | 15.0% min |
| Crude Fiber | 3.0% max |
| Moisture | 10.0% max |
| Zinc | 150 mg/kg min |
| Selenium | 0.35 mg/kg min |
| Vitamin E | 150 IU/kg min |
| Taurine | 0.12% min |
| Omega-6 Fatty Acids | 2.4% min |
| Omega-3 Fatty Acids | 0.3% min |
5. Merrick Grain-Free Dry Dog Food
Merrick is another dog food that's all-natural, and their biggest claim is the massive line of different flavors, proteins, and life stage foods that they carry.
They also offer a high protein line for dogs with a high-energy lifestyle, and they are another easy-to-find line of dog food. With high levels of glucosamine, this is a perfect food for an older dachshund, and the Lil Plats line is specifically designed for picky dogs.
Pros:
Huge amount of different foods, good for picky dogs.
Cons:
Higher protein, so not as suitable for older or low-energy dogs.
Average Nutrient & Caloric Content
| | |
| --- | --- |
| Crude Protein | 32.0% min |
| Crude Fat | 12.0% min |
| Crude Fiber | 3.5% max |
| Moisture | 11.0% max |
| Calcium | 4.8% min |
| Phosphorus | 0.4% min |
| DHA | 0.05% min |
| Glucosamine | 1200 mg/kg min |
| Chondroitin SulFate | 1200 mg/kg min |
How to choose the best dog food brand for your Dachshund?
When looking at food for your dachshund, it is important that you select one based on a few different things.
First, their age should be factored in, as puppies need different levels of protein and nutrients such as DHA compared to older dogs.
Secondly, the activity level of the dog should be taken into account. A dog who has lowered energy should not be fed a raw or high protein diet, as this will cause them to gain weight at a dangerous rate. Low energy dogs should either be kept on low-calorie food or even better, helped to get more exercise and activity every day.
Thirdly, the weight of the dog should be considered. A dog who is already overweight will need a reduced-calorie food, or to be given less at feeding time. A dog who is a good weight, and already active should get a higher protein and fat-based food, in order to give them energy for their more active lifestyle. These three things are the main things to consider when selecting dog food, minus any outside health issues or conditions.
For a dachshund who has severe allergies, issues with bladder or digestion, or other underlying conditions, prescription foods should be considered. Science Diet and Royal Canin both offer these foods, but they have to be purchased from a vet, rather than at any store. Royal Canin also offers breed-specific foods, so finding one for Dachshunds would be a good choice if yours is having trouble with the previous foods listed. For dachshunds with a special diet, these lines also have sensitive stomach foods with egg, rather than what would be considered normal proteins.
For dogs with skin allergies, grain-free food can be a good option. Many skin allergies stem from grains or what are considered common proteins, and any food with fish protein will be naturally better than any other food. The omega fatty acids found in fish promote healthy skin and coat for your animal and are naturally easier on the stomach. The only downside is that if a food is too rich in fish, it can cause gas.
If your dachshund has food allergies, then the first thing to do is contact your vet, and have a screening done. An allergy screening can tell you all you need to know about your dog's possible allergies. After this, selecting food that avoids the allergies they have will be much easier, and will help alleviate any food-related issues. Just like any dog, supplements depending on their age and needs should be added to their diet.
Dachshunds should never be fed an overly fatty or protein-heavy food, as this may cause severe weight gain. Table scraps and human food should not be given to a dachshund either, as they may begin to beg or even become food aggressive when they want something to eat. Lastly, the common foods that make dogs ill, such as alcohol, raisins, grapes, and many kinds of plants should be kept from them, a full list of which can be easily found on any poison control site for animals.