What do dachshunds eat? Dog food, of course! Of course, that's a ridiculously simple answer to the complex question of which is the best dog food for dachshunds. You have a wide variety of choices at a wide variety of price points, all claiming to have the best ingredients to keep your pup happy and healthy. We'll help you try to make sense of all this information.
Quick Choices:
Best Dachshund Puppy Foods:
Best Adult Dachshund Foods:
Best Specialty Adult Dog Food
Best Senior Dachshund Foods:
Continue reading …!
How to Choose the Best Dog Food Brand
Unfortunately, it's hard to get good, unbiased information about dog food. There are a lot of dog lovers out there who want to feed their furry friend the very best, and that means there's a lot of money flowing through the dog food industry. It can be hard to know what's actually best for your pooch versus what sounds good to you. Even veterinarians may have biases, as many sell certain brands of food right from the office. Some may even have had their education sponsored by a particular brand.
Also, there's little to no publically-funded research into pet nutrition, so scientific studies must have a corporate sponsor. In other words, the companies that sell the food have control over the money that determines what kind of research gets done. This doesn't mean that there's anything wrong with these foods, just that it's hard to find impartial information about what your dog actually needs. Everyone providing those answers is also trying to sell you something.
Where to Start
Confused yet? Don't worry; we'll help break things down for you so you can make the most informed choice.
The Best Food for Each Stage of Life
The best place to start is the life stage of your dachshund since dogs need different nutrients at different points in their lives. Are they a puppy (up to 1 year), an adult (1-9 years), or a senior dog (9+ years)?
Puppy
Puppies, of course, are growing dogs, and as such, they need extra nutrients to keep up with that growth. That means that dog food made especially for puppies is more nutrient and calorie-dense. Adult dogs can eat puppy food, but they may end up consuming more calories than they need and gaining weight. Puppy food may also be softer and easier to chew for teething dogs, and you can always mix dry kibble water to make it even softer.
Adult
For most of your dog's life, they'll need good adult dog food. According to AAFCO, which sets dog food nutritional standards, in order to be "complete and balanced," adult dog food must contain at least 18% protein and 5.5% fat. It also must contain a number of vitamins (including A, D, E, and thiamine) and minerals (including calcium, potassium, and phosphorus).
Senior
Senior dog food usually has a higher fiber content than adult dog food. A senior dog's metabolism slows down as they age, and more fiber in their diet will help prevent constipation and keep digestion running smoothly. Senior dog food is also typically less calorie-dense since older dogs aren't as energetic as younger dogs. This food may also contain nutritional supplements to help keep aging joints healthy. However, note that AAFCO doesn't enforce separate standards for senior dog food; they're essentially the same as adult dog food.
| | | | |
| --- | --- | --- | --- |
| | Puppy | Adult | Senior |
| Protein | 22.5+% | 18+% | 18+% |
| Fat | 8.5% | 5.5% | 5% |
| Calcium | 1% | 0.6% | 0.6% |
| Phosphorus | 0.8%-1.3% | 0.5% | 0.5% |
| Other important ingredients | DHA | Taurine | High fiber, glucosamine, chondroitin |
Dog Breed and Size
Here, we're talking specifically about dachshunds, so there's not a huge variation in size. Large and giant breeds may need food with special ingredients to protect their joints, but small-breed food is perfect for dachshunds. There's not really a difference between standard and miniature dachshunds when it comes to food type. The most important distinction is just to make sure that the individual kibble size (i.e., the size of each bite) and portion size are appropriate for your dachshund.
How much does dog breed matter when it comes to choosing food? Well, that depends on who you ask. If you ask a company like Royal Canin that manufactures breed-specific food, it matters a great deal. However, if you try to find out what differentiates dachshund food from, say, Chihuahua or pug food, you won't get much of an answer. The proportions of ingredients are proprietary, so you must take the company's word for it.
Special Health Conditions
There are certain canine health conditions that can be made better or worse by the type of food you choose. The most obvious is a sensitive stomach. Some dogs can digest a broader range of food than others. If your dog is vomiting or having diarrhea regularly, of course, you'll want to speak to your vet. If there are no underlying medical conditions, it may be that your dog just has a tender tummy. Some dog foods have a smoother texture or blander ingredients that may be easier on your dog's stomach. For example, canned wet food is generally easier to digest than dry kibble.
Similarly, some dogs may have allergies to certain foods or ingredients. Food allergies can cause an upset stomach, but they can also cause itchy skin, particularly around the ears and paws. If you suspect your dog has an allergy, consult your vet. They'll be able to figure out what's causing the problem and help direct you toward better food. There are plenty of limited-ingredient or even hypoallergenic foods available.
Finally, weight control is particularly important for dachshunds, because extra pounds can put strain on a dachshund's already-delicate spine. The best food for dachshund weight loss will help your dog feel full while keeping calories low because they contain extra fiber for bulk. In addition to exercise, an overweight dachshund diet plan can help your pooch shed some pounds.
Ingredients
We've left the most controversial factor for last. It's fashionable right now to sell dog food with "whole foods" and "natural ingredients." These foods are also much more expensive than traditional dog kibble, but are they worth the extra cost? That's not an easy question to answer, but most evidence says that as long as dog food contains the necessary nutrients, ingredients don't matter much.
Of course, if your dog has allergies, make sure you get food that doesn't contain the allergen, but other than that, don't worry too much about ingredients. Remember that dog foods are marketed to you, the owner, rather than your dog. Perhaps you would rather eat, for example, a whole chicken breast instead of chicken byproducts, but that doesn't mean your dog can tell the difference. In fact, meat byproducts contain up to 300% more protein than whole meats, so they can be excellent ingredients in high-protein dog food.
Additionally, just because a certain vitamin or mineral or anti-oxidant would be good for you, that doesn't mean your dog needs it. Some companies that their foods contain ingredients that are high in vitamin C, which helps bolster the immune system… in humans. Dogs, however, don't need to eat vitamin C in their food because their bodies produce it naturally. It's important to think critically about the claims a particular food is making before you shell out top dollar for it.
Top 15 Best Dog Food for Dachshunds
All that said, here are our recommendations for the best food for your dachshund.
Best Puppy Food for Dachshunds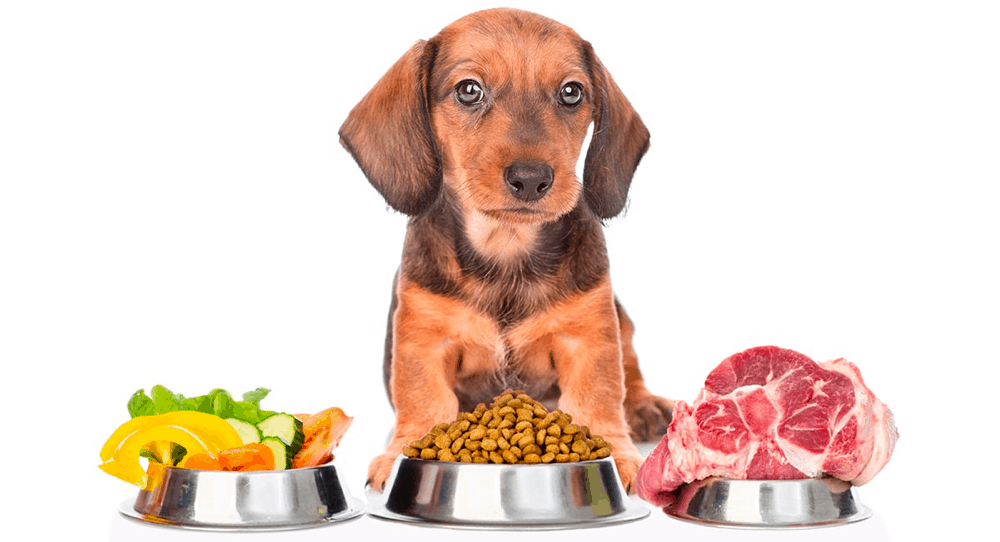 Here are the best options for nutritionally-dense food made just for puppies.
| | | | | |
| --- | --- | --- | --- | --- |
| Criteria | Blue Buffalo | Diamond Naturals | Hill's Science Diet | Iams |
| Protein (min) | 29% | 32% | 30% | 29% |
| Fat (min) | 17% | 22% | 20% | 17.5% |
| Fiber (max) | 5% | 3.5% | 3% | 4% |
| Moisture (max) | 10% | 10% | 10% | 10% |
| Calcium (min) | 1.4% | 1.2% | 1.7% | 1.2% |
| Phosphorus (min) | 1% | 1% | 1.3% | 1% |
| Kcal per cup | 415 | 419 | 374 | 399 |
1. Blue Buffalo Life Protection Formula Small Breed Puppy Food
Blue Buffalo's small-breed specific puppy food gets its high protein content from chicken and chicken meal. The easy-to-chew kibble helps clean teeth of tartar, and it contains omega-3 fatty acids from fish meal and omega-6 fatty acids from flaxseeds to help ensure skin and coat health.
There is no corn, wheat, or soy, but this puppy food does contain DHA and ARA, two amino acids found in fish oil that promote healthy brain development. Although Blue Buffalo isn't the cheapest puppy food on our list, it does represent a good balance of value and quality.
Flavor: chicken and oatmeal
Sizes: 6 lbs., 15 lbs.
Grains: brown rice, oatmeal, barley
2. Diamond Naturals Small Breed Puppy Dry Dog Food
Diamond Naturals' small breed puppy food is a high-quality food at a great price, particularly when you buy the huge 40-lb. bag. The first ingredient is cage-free chicken, and the company includes proprietary probiotics for a healthy digestive system. Other nutrient-rich ingredients include kale, chia seeds, pumpkin, blueberries, oranges, quinoa, dried kelp, coconut, spinach, carrots, and papaya.
There are no corn or wheat ingredients, nor are there artificial flavors or colors. Customers report their dogs love the taste of this dry dog food, and their owners love the reasonable price.
Flavor: chicken and rice
Sizes: 6 lbs., 18 lbs., 40 lbs.
Grains: ground white rice, cracked pearled barley
3. Hill's Science Diet Puppy Small Paws Dry Dog Food
Made specifically for toy dogs and other small breeds, Hill's Science Diet Puppy Small Paws is an excellent candidate for the best food for mini dachshund puppies. There are no artificial colors, flavors, or preservatives in this dry kibble, which is small enough in size for even tiny mini dachshund puppy mouths.
Hill's Science Diet sources ingredients only from countries that have reliable safety protocols, so they ensure strict quality standards when they make the food in the US. You can feed this dry dog food to your puppy up to one year of age, at which you can switch over to the Small Paws Adult Formula if your dachshund loves the taste.
Flavor: chicken and barley
Sizes: 4.5 lbs., 15.5 lbs.
Grains: wheat, barley, sorghum, corn, cornmeal
4. Iams ProActive Health Smart Puppy Small & Toy Breed Dry Dog Food
Our final recommendation for puppy food comes from Iams, which is traditionally known as a discount brand, but this puppy food is still of excellent quality. It contains fish oil for joint and coat health, as well as omega-3 oils for brain development.
The first ingredient is chicken, and it also contains protein from chicken by-product meal, chicken fat, and dried egg product. This puppy food does have some controversial grain fillers like corn and sorghum, but overall, it has high customer satisfaction ratings, and it's widely available in stores and online.
Flavor: chicken
Size: 7 lbs.
Grains: whole grain corn, sorghum
Best Adult Dog Food for Dachshunds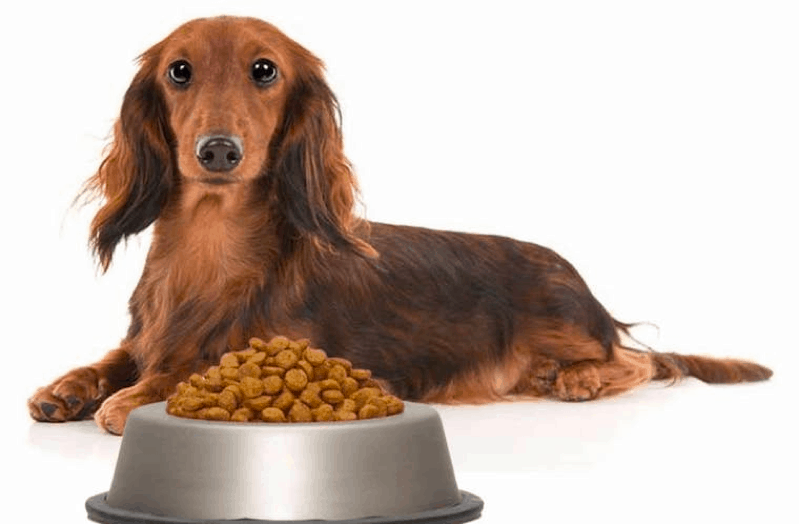 These dog foods are best for adult dachshunds without major health or digestive problems.
| | | | | |
| --- | --- | --- | --- | --- |
| Criteria | Diamond Naturals | Wellness | Nuro Freestyle | Weruva (wet food) |
| Protein (min) | 27% | 18% | 31% | 43-71% |
| Fat (min) | 16% | 15% | 17% | 10-37% |
| Fiber (max) | 3% | 4% | 4% | 0.5% |
| Moisture (max) | 10% | 11% | 10% | 81-86% |
| Calcium (min) | N/A | 1.2% | 1.0% | N/A |
| Phosphorus (min) | N/A | 0.9% | 0.9% | N/A |
| Kcal per cup | 418 | 408 | 422 | 217-425 (per can) |
5. Diamond Naturals Small Breed Adult Formula Dry Dog Food
Once again, Diamond Naturals makes a nutritionally-balanced and well-priced adult dog food. Like the company's puppy food earlier on our list, this formula is created especially for small breeds including dachshunds. It contains many of the same fruits and vegetables, plus probiotics, prebiotics, and antioxidants for maximum nutrition.
Although the formula does contain grains, there's no corn, soy, or wheat to provoke allergies. Diamond Naturals' adult small breed dog food is popular with dog owners for its high-quality ingredients and flavor at a budget-friendly price.
Flavors: chicken and rice, lamb and rice
Sizes: 6 lbs., 18 lbs.
Grains: rice, barley, sorghum
6. Wellness Small Breed Complete Health Adult Recipe Dry Dog Food
The best dog food for a miniature dachshund is not much different from the best for a standard dachshund, but this Wellness dry dog food is specially formulated and sized with small and toy breeds in mind. It contains no fillers, meat by-products, or artificial preservatives, and it's made in the USA without GMOs, if those qualities are important to you.
Customers rate it particularly high for ingredients and freshness, and in fact, deboned turkey is the first ingredient. Other ingredients include carrots, spinach, potassium chloride, sweet potatoes, blueberries, and apples. There are also probiotics and prebiotics for healthy digestion.
Flavor: turkey and oatmeal
Size: 4 lbs., 12 lbs.
Grains: oatmeal, rice, barley, rye
7. Nulo Freestyle Small Breed Grain-Free Dry Dog Food
If you don't mind paying a little more for dry dog food, Nulo Freestyle makes an excellent small breed adult formula that prioritizes healthy digestion. It contains L-carnitine and miscanthus grass to promote a healthy weight, helping your dachshund feel full without overeating. It contains no corn, wheat, soy, white potatoes, or tapioca.
Please note that the "83% protein" statistic is a little misleading – it means that 83% of the protein in the food comes from animal-based sources. Nevertheless, Nulo Freestyle does have a fairly high percentage of overall protein (31%) compared to other dry dog foods. This is a higher-end food, but most customers think it's worth the money.
Flavor: salmon and red lentils
Size(s): 4.5 lbs., 6 lbs., 11 lbs., 14 lbs.
8. Weruva Wet Dog Food
Every other food on this list is a dry dog food that comes in kibble form. However, some dogs may have difficulty digesting kibble, and other simply don't find dry food as appetizing. In general, wet food is more expensive and requires more effort on your part, but some dachshunds may prefer it, and it tends to have more protein than dry food. Also, the high moisture content can help keep your dog hydrated.
Weruva makes multiple tasty flavors of grain-free canned food, but note that nutritional contents for this brand varies substantially by flavor. All varieties have at least the minimum nutrients specified by AAFCO, but they may have as little as 10% fat or as much as 37%.
Flavors: chicken, beef, lamb, fish
Size(s): 5.5 oz x 24 cans, 14 oz x 12 cans
Best Specialty Adult Dog Food
Here you'll find food specially formulated for dachshunds with certain health conditions from allergies to obesity.
| | | | | |
| --- | --- | --- | --- | --- |
| Criteria | Natural Balance | Hill's Science Diet | Canidae | Purina Pro Plan |
| Specialty | Weight management | Sensitive stomach | Skin allergies | Hypoallergenic |
| Protein (min) | 26% | 21% | 32% | 18% |
| Fat (min) | 7.5% | 12% | 18% | 9.5% |
| Fiber (max) | 10.5% | 4% | 4% | 4% |
| Moisture (max) | 10% | 10% | 10% | 11% |
| Calcium (min) | N/A | 1% | N/A | 0.7% |
| Phosphorus (min) | N/A | 0.8% | N/A | 0.6% |
| Kcal per cup | 315 | 392 | 496 | 342 |
9. Natural Balance Fat Dogs Low Calorie Dry Dog Food
Unfortunately, dachshunds are prone to weight gain, which can put strain on their back and joints. To keep your furry friend healthy as long as possible, you need to ensure they're eating right and exercising. Natural Balance offers a dry dog food that can help, with high fiber and low calories. We find it to be the best dog food for overweight dachshunds.
Natural Balance Fat Dogs has all the nutrition your dachshund needs with a reduced calorie content. Nevertheless, its particular blend of protein and fiber promise to keep your dog feeling full after mealtimes so they won't beg for treats. Customers report excellent results, particularly with corgis – another long-backed breed for whom gaining weight can cause serious back problems.
Flavor: chicken and salmon
Sizes: 5 lbs., 15 lbs., 28 lbs.
Grains: oat groats, barley
10. Hill's Science Diet Adult Sensitive Stomach & Skin Small & Mini Breed
Dachshund stomach problems are no fun to deal with, and even if your doxie doesn't have a diagnosable medical issue, some dogs just have tender tummies. Switching to a wet food may help, but this Hill's Science Diet dry food has a great reputation for being gentle on even the most sensitive stomachs.
It's formulated just for small breeds and contains prebiotic fiber to aid in digestion. As a company, Hill's Science Diet prides itself on the scientific research it puts into its food, and the sensitive stomach formula is no exception. It should not only help your dachshund's digestion, but also nourish their skin and coat.
Flavor: chicken and rice
Sizes: 4 lbs., 15 lbs.
Grains: brewer's rice, barley, sorghum
11. Canidae Pure Grain-Free Limited Ingredient Dry Dog Food
When searching for the best dog food for dachshunds with skin allergies, one good strategy is to look for foods with limited ingredients. This cuts down on potential allergens and can help you figure out which ingredients your dog is allergic to. Obviously, you may have to try some different foods with different mixtures of ingredients to do this, but we recommend this Canidae dry food, which is made with just eight key ingredients.
Since chicken is a fairly common canine food allergen, Canidae – which gets its animal protein from fish – may be a great choice for your pooch. There are no grains either, which are less likely to cause allergies, but some owners prefer foods without grain. The Canidae Pure line is also treated with a proprietary blend of probiotics, anti-oxidants, and fatty acids for maximum health.
Flavor: salmon and sweet potato
Sizes: 4 lbs., 12 lbs., 24 lbs.
12. Purina Pro Plan Veterinary Diets HA Hydrolyzed Formula Dry Dog Food
If even limited ingredient dog foods don't reduce your dog's allergies, the next step is hypoallergenic dog food, in which ingredients are chemically broken down into amino acids. This process is called hydrolyzation, and since it must be carried out in a facility completely free of stray allergens, it renders the food very expensive. Additionally, while you can order hydrolyzed food like this highly-recommended Purina Pro Plan formula yourself, you'll need a prescription from your vet to actually purchase it.
The chicken proteins in Purina Pro Plan have been broken down so that your dog's immune system won't react to them the same way they'd react to chicken. With a single protein source and a single carbohydrate source, this food is specially developed so your dog's stomach will be able to draw all the necessary nutrients from it. Note that hydrolyzed food is only appropriate for dogs with very sensitive or broad food allergies; it is not somehow "better" than regular dog food because it's more expensive.
Flavor: chicken
Size(s): 6 lbs., 16.5 lbs., 25 lbs.
Grains: none
Best Senior Dog Food for Dachshunds
Finally, here are the best dry foods for older dachshunds.
| | | | |
| --- | --- | --- | --- |
| Criteria | Wellness | Purina Pro Plan | Go! Solutions |
| Protein (min) | 32% | 29% | 32% |
| Fat (min) | 12% | 16% | 14% |
| Fiber (max) | 6.25% | 3% | 4.5% |
| Moisture (max) | 10% | 12% | 10% |
| Calcium (min) | 1.3% | 1% | N/A |
| Phosphorus (min) | 1.1% | 0.9% | 1.2% |
| Kcal per cup | 359 | 487 | 394 |
13. Wellness Core Grain Free Senior Dry Dog Food
Just like with humans, senior dogs can develop joint problems including arthritis, so food developed specifically for older dogs often emphasizes micronutrients like glucosamine and chondroitin. However, senior dogs mostly have the same nutritional needs as younger adult dogs.
This Wellness-brand dry dog food has the best of what you need in a senior dog food: fish oil, glucosamine, and chondroitin for joint health as well as lower calories to maintain a healthy weight. It also has extra taurine for heart health and to compensate for the lack of grains. While this is not a soft kibble, adding a tablespoon or so of hot water can help soften it for easier chewing.
Flavor: turkey and chicken
Sizes: 4 lbs., 12 lbs., 24 lbs.
14. Purina Pro Plan Bright Mind Dog Food Adult 7+ Small Breed Formula
Dachshunds are smart dogs, but as they age, they may begin to have cognition problems that manifest as lack of alertness. However, lots of mental stimulation plus a food like Purina Pro Plan's Bright Mind can help your senior pup stay sharp as they age. It features "enhanced botanical oils" to promote brain health and cognitive function, which makes it unique among dog food for seniors.
Additionally, it contains the same joint health supplements and fatty acids as other senior dog foods. As this is a food specifically for small breeds, the kibble size is a bit smaller, which may be ideal for small or miniature dachshunds. This Purina Pro Plan formula emphasizes bioavailability, which means that not only does the food contain the proper nutrients; it contains them in forms that are easy for your dog to digest and use.
Flavor: chicken
Sizes: 5 lbs., 16 lbs.
Grains: rice, whole grain corn, wheat
15. Go! Solutions Carnivore Grain-Free Senior Recipe Dry Dog Food
Finally, this Go! Solutions senior dog food is on the pricier end, but it includes multiple sources of animal protein (chicken, turkey, salmon, duck, trout, and New Zealand green mussels) as well as prebiotic fiber and added digestive enzymes. It fits the bill of a no-grain and limited ingredient diet, too, if those are concerns for your senior pooch.
Customers report that it's a good fit even for dogs with sensitive stomachs, and some even claimed that it helped reduce shedding and gave their dogs more energy. It's pleasing even to picky eaters, and 87% of the protein in the food comes from animal sources.
Flavor: chicken, turkey, and duck
Sizes: 3.5 lbs., 12 lbs., 22 lbs.
Dachshund Feeding Guide
Everyday Feeding
Unfortunately, there's no hard and fast rule for how much to feed a dachshund. Instead, it depends on age, weight, metabolism, and the nutritional makeup of the food. Puppies need frequent small meals, but adults and seniors typically do well with two meals over the course of a day. You will likely need to make adjustments based on your dog's health and hunger level, but if your question is "How much should I feed my dachshund?" here's a place to start.
Dachshunds up to 12 lbs. should eat between ¾ and 1 cup of food per day.
Dachshunds 11-20 lbs. should eat between 1 and 1-1/3 cups of food per day.
Dachshunds 21 lbs. and up should eat between 1-1/3 and 2 cups of food per day.
You should divide this amount of food into meals by the dog's age, with puppies eating smaller meals more frequently. Here's a rough estimate of how to break those meals up so you'll know how much to feed a miniature dachshund puppy at each meal.
Dachshunds age 2-4 months: four meals per day
Dachshunds age 4-6 months: three meals per day
Dachshunds age 6-8 months: two or three meals per day
Dachshunds age 8 months and up: two meals per day
Additionally, most packages of dog food will have a recommendation for portion size based on your dog's weight. Note that we do not recommend free-feeding; that is, leaving food out for your dachshund at all times and allowing them as much as they want. Dachshunds are highly food-motivated and tend toward obesity, so you may be setting your dog up for health problems if you give them constant access to food.
Starting a New Food
Dachshunds tend to be quite food-motivated, so you might not have any trouble getting them to adjust to a new food. However, it's usually a good idea to change foods gradually so as not to cause problems with digestion, which you may then have to clean up. You can do this by mixing the new and old foods together at each meal, slowly increasing the proportion of the new food. Here's a good schedule to follow when switching from Food A (old food) to Food B (new food).
Day 1-2: 80% A + 20% B
Day 3-4: 60% A + 40% B
Day 5-6: 40% A + 60% B
Day 7-8: 20% A + 80% B
Day 9: 100% B
Of course, if your dog has an especially sensitive stomach, you can stretch the process out over more than nine days. Additionally, the percentages don't have to be exact; just do the best you can to estimate how much new vs. old food is going into your dog's bowl, but don't overfeed your dog in the process.
Specialty Diets
Perhaps none of these foods sounds right to you, so you want to create a specialty diet for your dachshund that includes home-cooked meals or leaves out grains. Some dog owners even try to feet their dogs a raw diet of uncooked meat. If you're even thinking about any of these choices, it's essential that you talk to your vet first.
Simply serving your dachshund food that you cooked yourself will not meet all a dog's nutritional requirements, which are different for a humans. For example, if you cut grains completely out of a dog's diet, you'll also be removing taurine, which is essential for heart health. Additionally, raw dog food is more likely to be contaminated with disease-causing bacteria, which can affect both you and your dachshund. Take special care when handling these kinds of foods.
Treats
Since dachshunds are both highly food-motivated and difficult to train, treats may seem like a dachshund owner's best friend. And they can be, but because doxies are prone to gain weight, you have to be careful with handing out treats and consider them as part of your larger dachshund diet plan. Expert recommend that no more than 10% of a dog's daily calories come from treats, and since dachshunds are small dogs, a few treats go a very long way. Consider looking for some very small training treats, using veggies like cucumbers or green beans, or finding reduced-calorie treats. Your dachshund might not be picky as long as they're getting some kind of treat!
Final Thoughts
Ultimately, the American Kennel Club recommends three simple factors for choosing the best dog food.
The words "complete and balanced" are on the label (meaning it's certified by AAFCO).
It's nutritionally formulated for your dog's stage of life (puppy, adult, or senior).
It doesn't contain any ingredients that your dog is allergic to.
We would add a fourth criterion: it's something your dog will happily eat. It really can be that simple. This becomes a little more complicated if your dog has special dietary needs, but your vet will help narrow down your choices if this is an issue.
Other than that, as long as your dachshund is healthy and well-fed, you don't need to worry too much about the perfect kind of food. We think playtime, exercise, training, and bonding with your dachshund are much more important than switching from food to food in a quest for perfect nutrition.