Dachshunds have a long body and short legs, which can make jumping on and off furniture a pain for their joints. Doggie Ramps is one of the many popular dog ramp companies out there, and we will discuss everything you need to know about the brand.
This article will cover an unbiased review and evaluation of Doggie Ramps to help you decide if these are the ideal products for your canine. We will also compare it to other similar products, including DoggoRamps and AlphaPaw PawRamp.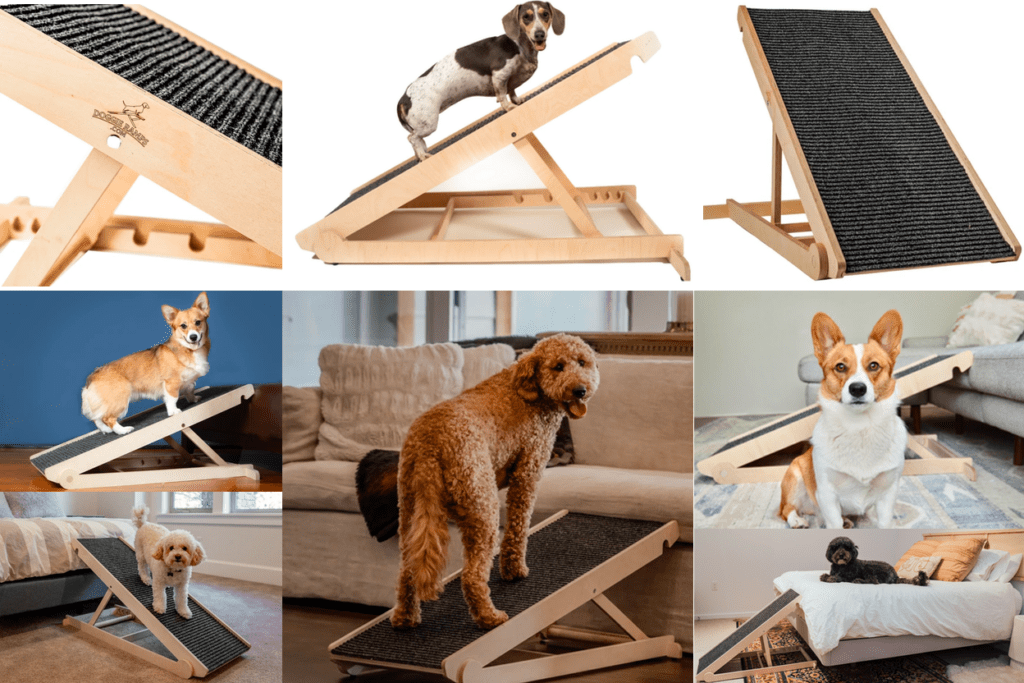 Overview About Doggie Ramps
Before you settle on the best dog ramp for your couch or bed, let's look into Doggie Ramps as a company. Here is some information about how they came to be, along with contact details.
History
Doggie Ramps doesn't state the names of its founders, but on its "about us" page, it makes it clear that dog lovers are behind these products.
The company created these ramps as a way to protect their dogs when going up and down from furniture. Specifically, it is ideal for dogs suffering from arthritis and any other hip, back, or knee troubles.
The creators believe that these ramps can help improve a pet's mobility. After all, it's best to be proactive and start using a ramp before a dog's joint problems worsen. Specifically, short dogs with long bodies, such as dachshunds and corgis, need these ramps most of all.
Where is it Located?
The headquarters for Doggie Ramps are located in Stayton, Oregon.
If you need to contact the company, you can reach them by phone at (971) 209-2554 or by email at info@doggieramps.com. Their operating hours are between 9 and 5 from Monday through Friday.
Where are Doggie Ramps Made?
All Doggie Ramps are proudly made in the USA. Each piece of the ramp is hand-made in an Oregon factory and put together with care. Plus, every product has free shipping within the continental United States.
Doggie Ramps Reviews
Doggie Ramps only has one product available, and it's a versatile dog ramp for all types of furniture. It's ideal for dogs of all breeds, ages, and sizes.
USA Made Dog Ramp for Bed or Couch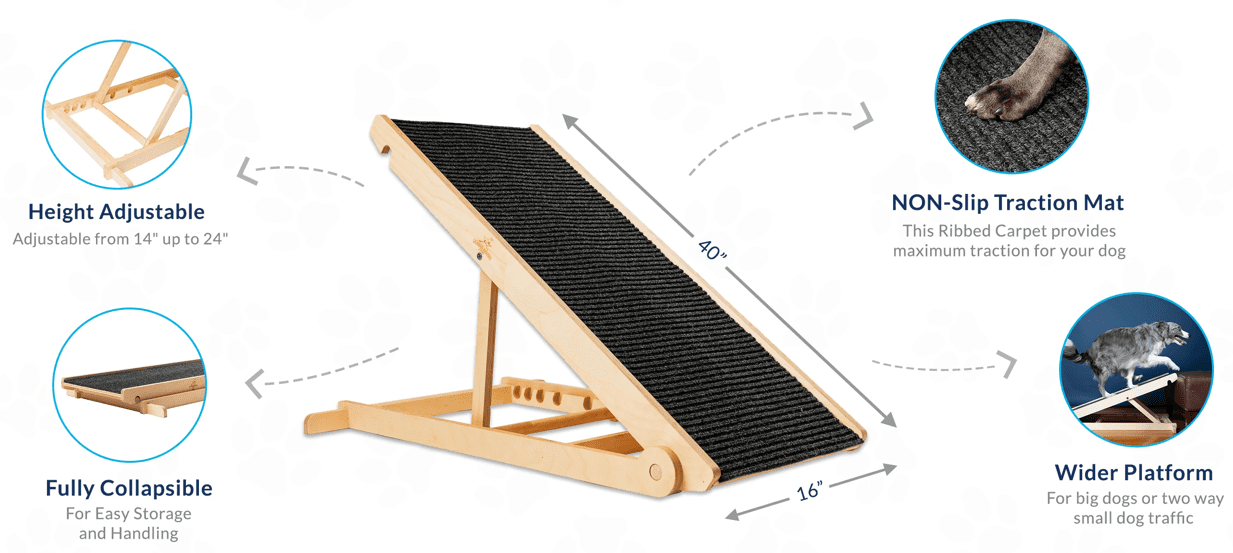 This adjustable wooden dog ramp is perfect for putting near a bed, couch, or anything else your dachshund might need to climb onto. It comes fully assembled from the United States manufacturing facility.
The ramps can adjust between 14 inches and 24 inches for the ideal height and incline. It can also collapse for easy storage. The surface has a high traction carpet to prevent your pup from slipping. The ramp is tested to hold over 200 pounds. Yet, it only comes in one color, which has natural wood and dark carpet.
Pros:
It's adjustable.
It's made in the USA.
It can hold over 200 pounds.
It can collapse for easy storage.
It comes fully assembled.
It has an anti-slip carpet surface.
It has rubber feet to keep it in place.
Cons:
It's expensive.
It only comes in one color.
Top 5 Reasons Why People Love Doggie Ramps
Looking at reviews is a great way to decide how reliable a company is. Luckily, Doggie Ramps has lots of excellent reviews, and here are a few reasons why customers choose to purchase this brand.
#1 – It's Easy to Set Up
Many reviews mentioned how easy the ramp is to set up and adjust. For most furniture items, it provides a gradual incline that's comfortable for your dog to climb upon.
#2 – It's Sturdy
Other customers mentioned how well-constructed the ramp is. Even for large dogs, the ramp stays together, so you can feel at ease when your canine climbs up. These ramps are especially good for small dogs.
#3 – Transporting is a Breeze
When you fold the ramp down, it's lightweight and easy to carry, which is perfect for moving it from one room to the next. Many customers mentioned how happy they are that they can move it around to keep their dogs safe no matter which room they're in.
#4 – It's Made in the USA
"Made in the USA" is a label that many people look for when choosing new products. USA-made products often offer better quality and consistency. According to most reviews, this product follows through with that.
#5 – The Customer Service is Reliable
A few customers explained that something was wrong with their product upon arrival, but they made sure to mention that customer service was professional and reliable while sorting out the issue.
Are There Negative Reviews About Doggie Ramps?
Of course, all products and companies have at least some bad reviews, but Doggie Ramps is certainly not a scam. The not-so-good reviews mention issues with the quality, such as the wood cracking or the carpet peeling off. A few others mentioned that the surface was a little too slippery for their dogs, especially on steep settings.
Luckily, customer service seems very responsive, so if any of these minor issues occur with your product, there's a good chance that the company will help you sort it out.
Doggie Ramps Services and Policies
Doggie Ramps might seem like the ideal brand for your furry friend, but let's look over their policies before you go through with your purchase. Here's what to expect for shipping and returns.
Shipping Policy
Shipping is free for anyone within the continental United States. All orders are processed on Monday through Friday from 8am to 5pm. Orders received after 5pm PST will be processed the following business day.
The products only ship on business days and shipping to Canada might be delayed at the border. If the product is damaged upon arrival, contact Doggie Ramps within 48 hours of receiving the product.
Return Policy
If you aren't fully satisfied with your order, you're able to return it for a full refund within 30 days. The ramp needs to be in the same condition you received it in for the refund to be issued. Refunds usually take about four weeks to be processed.
Ratings
Now that we've covered all the essential information about Doggie Ramps, let's take a look at the overall ratings for this product.
Wooden Frame:

8/10

Surface Quality: 8/10
Value for Money:

8/10

Storage:

9/10

With Small Breeds:

9/10

With Heavy Breed:

9/10

With all Breeds:

9/10

Durability:

8/10

Safety:

8/10

Company Policies:

8/10

Customer Service: 8/10
Average Score: 8.4/10
Verdict: Doggie Ramps are quality products made in the USA that are easily adjustable and easy to store, but the quality of the carpet and frame may vary.