Due to a dachshund's short legs and long body, jumping on and off furniture can be dangerous. So, a dog ramp is perfect for easing them onto beds, couches, and other surfaces. There are many dog ramp products for this reason, including the Alpha Paw PawRamp.
This article will cover everything there is to know about the Alpha Paw PawRamp brand. We'll cover an unbiased review and evaluation of the product so dog parents can decide if this is one of the best dog ramps for dachshunds. We will also compare this product to DoggoRamps, a company that creates similar dachshund ramps.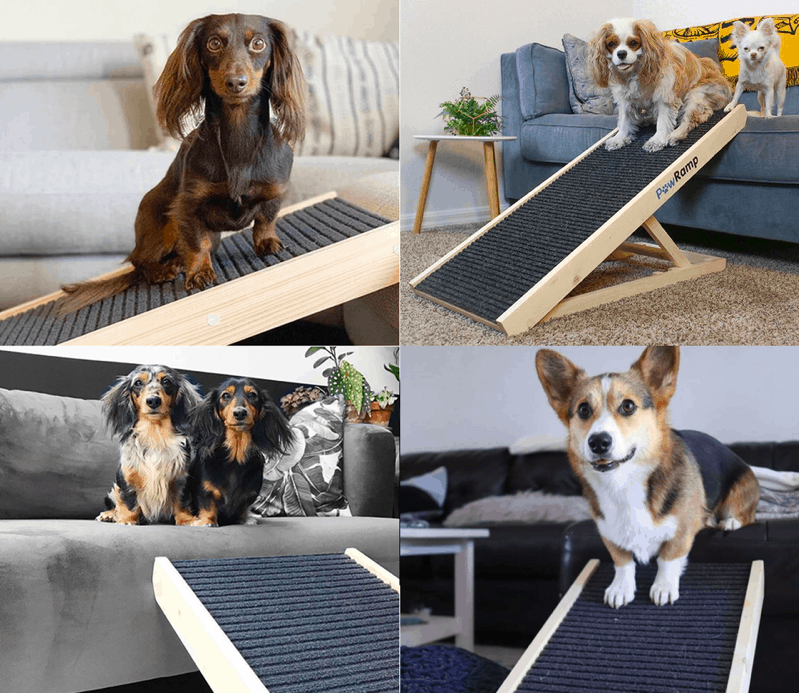 Overview About AlphaPaw
AlphaPaw is a pet supply brand that carries a wide variety of products, including grooming supplies, dog food, and supplements. Yet, one of their bestsellers is the PawRamp, designed specifically with small dogs in mind.
Who is Behind AlphaPaw?
Ramon van Meer and his 10-year-old son Victor founded Alpha Paw in 2018. The two share a mutual love for everything dog-related, and they have a soft spot for dogs in need.
The family currently has two rescue dogs, but Ramon has cared for over 50 dogs throughout the years. So, he used his passion for giving dogs a good life to help him create a pet product business. Victor has also gone on to launch a doggy cookie bakery, which donates a meal to shelter dogs with every treat bag sold.
The father-and-son "dream team" has a goal of helping other pet parents give their furry friends happy and healthy lives.
Alpha Paw also has many veterinary experts working with their company. Dr. Ross Bernstein, DVM, Dr. Addie Reinhard, DVM, and Dr. Jo de Klerk, DVM are all a part of the company's pet care experts. They evaluate all the Alpha Paw products before they go up on the site, including the Alpha Paw PawRamp.
Where is AlphaPaw Located?
Alpha Paw is located at 4120 W Windmill Lane, #106, Las Vegas, NV, 89139. They can be reached by phone or email.
If you need to get a hold of them, you can call (800) 363-5458 any time Monday through Friday from 9am to 5pm, PT. You can also email them at support@alphapaw.com, but responses will occur within the same time period.
Where are AlphaPaw PawRamps Made?
The Alpha Paw PawRamp is made in Las Vegas, Nevada. However, these products can ship worldwide. Like all their products, the dachshund ramp designs were approved by veterinarians.
Is Alpha Paw Legit?
Yes, Alpha Paw is a legit company with many positive reviews. Many customers reported that their products are high-quality and shipped within a reasonable amount of time.
While Alpha Paw is a trustworthy company, there are some scammers who have tried to impersonate the PawRamp product. According to a public Facebook discussion, some companies that were caught scamming the Alpha Paw PawRamp were LovahRamp, Cane Paw, Dogalots, Dogaloved, and DoggyRampUS.
AlphaPaw Product Line Reviews
Alpha Paw only sells one dog ramp, but it comes in two different styles: Full or Lite. They also sell a ScratchyRamp, which is made specifically for cats.
1. PawRamp Full for Dogs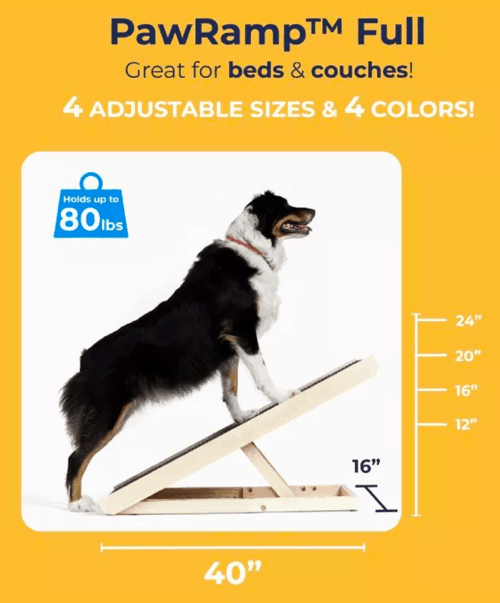 The AlphaPaw PawRamp Full is the perfect dachshund ramp for a bed, but can also be used for a couch. It's the longer option, measuring 40 inches long and 16 inches wide. It has four different adjustable heights at 12, 16, 20, and 24 inches tall. It has been tested to hold dogs up to 80 pounds, but it works best for smaller pets.
This ramp has a wood frame with a ridged carpet to prevent your dog from falling. It's lightweight and can fold down to 3.5 inches high, allowing for easy storage. Every ramp is handmade and arrives fully assembled. You can purchase it in a dark brown, light brown, white, or natural coloring.
2. PawRamp Lite for Dogs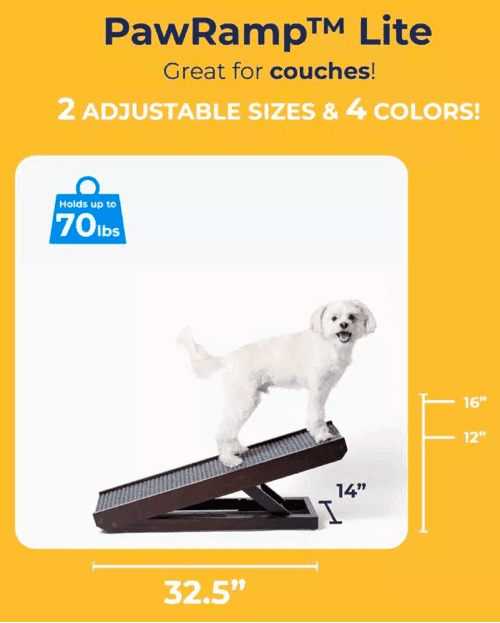 The AlphaPaw PawRamp Lite is a lot like the full one, but it's more of a dog ramp for a couch instead. That's because it's a little too short to work for most beds. It's 32.5 inches long and 14 inches wide. It's adjustable at two heights: 12 inches and 16 inches. This model can only hold dogs up to 70 pounds.
Like the full model, this dog ramp comes in dark brown, light brown, white, or natural. The base is wood, but it has ridged, "no-slip" carpet on the surface. It also folds down to 3.5 inches, allowing for easy storage and transport since it's lightweight. It's handmade and always arrives fully assembled.
3. ScratchyRamp for Cats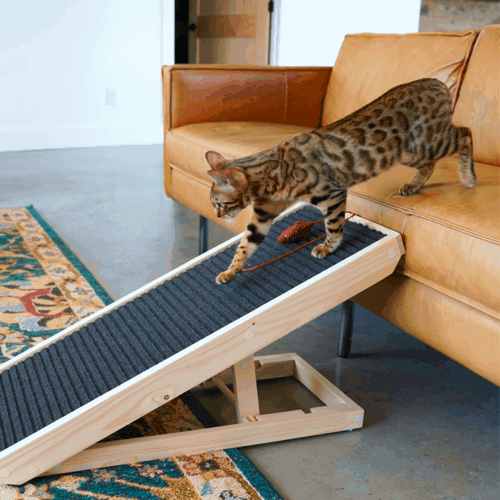 The ScratchyRamp not only serves as a ramp for cats, but it's also a great scratching post. It's designed to help your cat get onto the bed or couch, and it's especially beneficial for senior cats. It has a wood frame and a grooved carpet surface, which cats love to scratch with all four of their paws. So, you can purchase a replaceable carpet if needed.
This product measures 32.5 inches long and 14 inches wide. It can be adjusted to two heights: 12 and 16 inches. The wood only comes in a natural color, but it comes fully assembled. Plus, this lightweight ramp can fold completely down in case you need to move it or store it.
Top 5 Reasons Why People Love Alpha PawRamp
Recommendations and word of mouth are great for helping you choose products. So, after analyzing the AlphaPaw PawRamp reviews, here are some of the reasons customers love these dachshund ramps.
#1 – It Keeps Small Dogs Safe
Many customers reported that they bought this dachshund dog ramp specifically for small dogs like dachshunds, who are prone to Intervertebral Disc Disease (IVDD). So, this ramp helps smaller dogs ease themselves up and down from furniture without damaging their bones and joints. It's also great for senior dogs who have a harder time getting around.
#2 – It's Sturdy
There are many reviews applauding the company for creating a sturdy ramp that's built with high-quality materials. Several reviews mentioned that the surface could have more grip to it, but for the most part, it's a durable product.
#3 – It's Easy for Dogs to Use
Ramps for dachshunds can be confusing for some dogs, but many customers mentioned that their dog learned to go up and down the ramp after only a few tries. It certainly helps that you can adjust it at a more gradual incline.
#4 – It's Adjustable
All the ramp models have more than one height setting, and the dachshund bed ramp has the most variety. Setting it at different heights can help make the ramp ideal for your furniture height and your dog's preferences. The majority of customers were happy with how easy the ramp is to adjust.
#5 – Provides Easy Storage
Finally, the adjustability comes in handy for storage too. Customers love that you can fold down the ramp and easily slide it under a bed or couch when it's not in use. It's also lightweight to make it easy to move from one room to the next.
Are There Any Negative Reviews?
Like all products, the AlphaPaw PawRamp has a few negative reviews. Yet, for the most part, the feedback is overwhelmingly positive. Most of the bad reviews come from customers who bought the ramp through Amazon.
A few customers claimed that the carpet wasn't high-traction enough. They stated that it was too slippery for their dog to climb up, or in some cases, the carpet came off of the wooden base. Some also said that the ramp didn't stay in place on tile flooring. One review also stated that the wood used for the ramp had a hole in it after a year of use.
Yet, for the most part, customers described the ramp as sturdy and durable. It's possible that the quality of this ramp could vary, according to the reviews from multiple sites.
You can check more about what people saying about AlphaPaw PawRamp:
AlphaPaw Services and Policies
Before you purchase a ramp for your dachshund, it can be helpful to look over the company's policies. Here is some essential information about Alpha Paw orders.
Shipping and Delivery
Alpha Paw products ship worldwide, and shipping is free for any orders over $40 USD in the contiguous United States.
Shipping within the USA takes 3 to 8 business days to arrive. International orders could possibly take an additional 10 to 15 business days to arrive.
Return Policy
If there's a problem with your product, you can return the ramp within the first 90 days for a 100% refund. Yet, the cost of shipping the product back to the company must be paid by the customer.
Alpha Paw is also happy to exchange or cancel orders if necessary. Any returns, refunds, exchanges, and cancels can be done by emailing support@alphapaw.com.
AlphaPaw PawRamp Ratings
Now that we've covered all the information about Alpha Paw's ramp products, let's look at an overview of the quality based on various categories.
Wooden Frame:

9/10

Carpet Quality: 7/10
Value for Money:

8/10

Storage:

9/10

With Small Breeds:

10/10

With Heavy Breed:

5/10

With all Breeds:

7/10

Durability:

8/10

Safety: 7/10
Company Policies: 9/10
Customer Service: 9/10
Average Score: 8/10
VERDICT: While this ramp isn't ideal for large dogs, it's an easy-to-use product for small dogs like dachshunds. It could use more safety features, but it excels in terms of storage, variety, and durability.
Compare DoggoRamps Vs. AlphaPaw PawRamp
There are lots of dog ramp products out there, and DoggoRamps has one of the most similar product lines. Here is a comparison of DoggoRamps vs AlphaPaw PawRamp features.
| | | |
| --- | --- | --- |
| Factors | DoggoRamps | AlphaPaw PawRamp |
| Price | $1xx – $3xx | $1xx – $2xx |
| Variety | Couch ramp, bed ramp for small dogs, bed ramp for large dogs | Couch ramp, bed ramp, ramp for cats |
| Safety Features | Removable railings and rope tie | No railings or rope |
| Surface | Anti-slip PawGrip surface | Ridged carpet |
| Weight Capacity | 40 to 200 pounds | 70 to 80 pounds |
| Storage | Lightweight and folds down | Lightweight and folds down |
Both DoggoRamps and AlphaPaw PawRamp are high-quality products that work well for dachshunds. AlphaPaw PawRamp is a simpler design that takes up less floor space. It also has a cat ramp product while DoggoRamps doesn't.
Update: One more choice for Dachshund Ramp: Doggie Ramps USA Made Adjustable Pet Ramp
However, if you have a larger dog or if you want more safety features, DoggoRamps might be the better choice for you. Either way, both of these ramps will keep dachshunds at a lower risk of IVDD.