The Shih Tzu is known for being one of the best family dogs. They are outgoing and peppy in their personality and very friendly. They are also pretty small in size, so if you rent your home and have pet restrictions to follow, the Shih Tzu could be a great fit for your family. But there are so many breeders out there. How do you choose the best one?
That's where we come in! Working with a breeder can be a wonderful experience if you find the right one. Not only will they provide you with the pet of your dreams, but the best breeders have added benefits, such as training assistance, completed vaccinations, deals on the best supplies, and work with you well beyond the adoption day. Here is a list of all the absolute best, highly-rated Shih Tzu breeders in the state of North Carolina.
1. Caroline Shih Tzu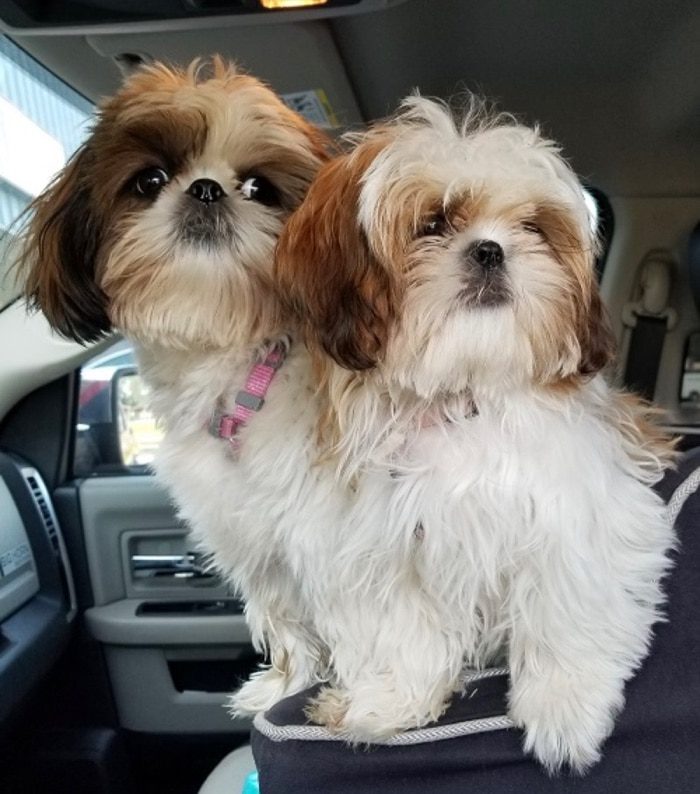 We are going to start our list of Shih Tzu breeders in North Carolina with Carolina Breeders. They are run by Patrice Chappell and located in Spruce Pine, North Carolina. She does this as a hobby and makes it her goal to provide well-adjusted, pampered, healthy small dog breeds to new families. Carolina Breeders is AKC inspected and certified. They claim to provide small breeds and will sometimes have "toy breeds" as well, but those are not regular occurrences.
Each puppy will be provided with a written health guarantee to ensure they are top health. They will have all vaccinations up to date, a completed de-worming, and registration for each puppy. However, you can purchase without the registration for a discounted price if that is something you don't feel you require. They no longer use a wait list for purchasing the puppy. Once the litter is ready for adoption, they post the pictures and you can purchase the one you want from that list on their website. There are many to choose from though. This is a cash only adoption process.
The testimonials are available through the Google business page or directly on their website. They have many reviews that include updates from past adoptions and are all fairly positive. There is a contract for you to print out and mail to them once you are ready to complete the purchasing process. It can be found under the contact section on her website.
| | |
| --- | --- |
| Owner | Patrice Chappell |
| Location | Spruce Pine, North Carolina |
| Email | N/A |
| Phone Number | (828) 387 – 1365 |
| Website | carolinashihtzu.com |
2. Shih Tzu by Martha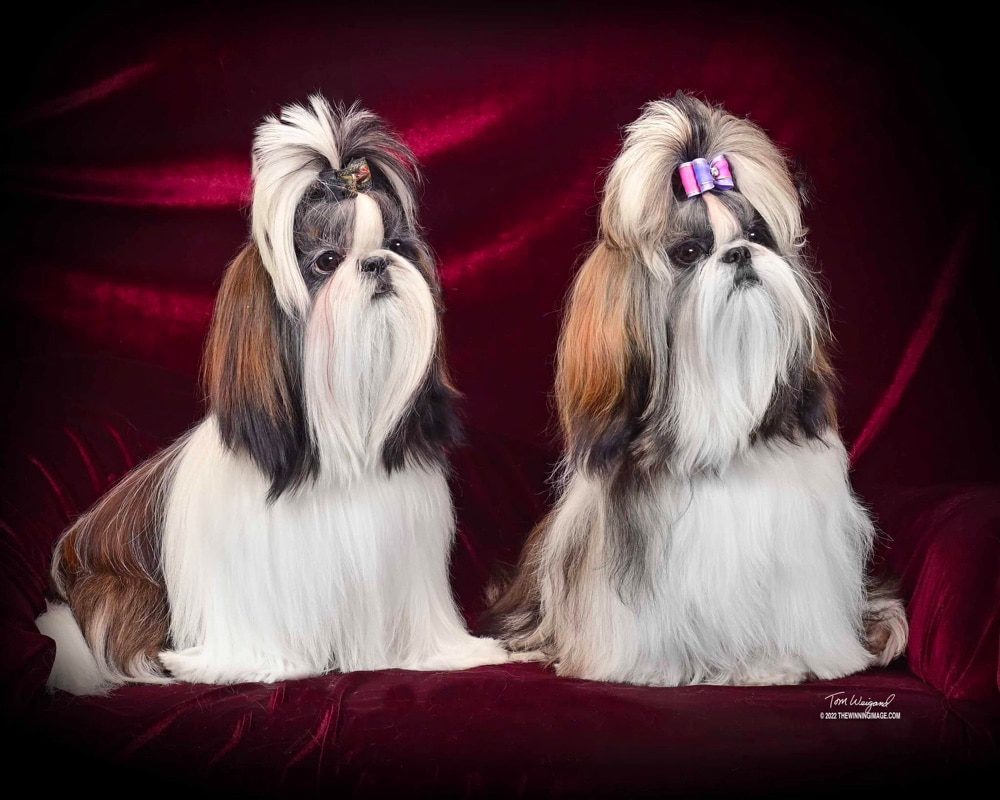 Shih Tzu by Martha is a breeder located in Morganton, North Carolina. Martha spends much of her time breeding and showing her Shih Tzu's. She has even recently won the "breeder or merit" award from the AKC. Martha spends most of her time working with her Shih Tzu's and quilting. They are all raised in her home and given the best chance at a happy, healthy life. Her family helps out a ton as well.
The detailed walkthrough of the purchasing process can be found on her website, which is something I haven't seen on other sights. She lays out the process very openly so you know what to expect. To purchase one of these cute puppies, you first call Martha and express interest. She will take down some information about you, what you are searching for, and what your home life is like to ensure a Shih Tzu is the perfect fit for you and your needs/wants. She provides you with ample time to ask any questions or discuss any concerns you may have about raising a dog or the process.
You are then asked to put down a deposit to hold your space in the wait list, which will be half of the purchase price. They will accept your payment via cash, postal money order, or Pay pal. They will only take personal checks for the deposit only. This deposit is, however, nonrefundable, so make sure you are confident you will complete the process.
You are then able to get your puppy home by the time they reach 11-12 weeks usually. They are sent home up to date on all vaccinations and de-wormed. You will be provided with a written health guarantee to show this.
| | |
| --- | --- |
| Owner | Martha |
| Breeder Since | 2018 |
| Location | Morganton, North Carolina |
| Email | Marthasplace2001@yahoo.com |
| Phone Number | (828) 443 – 2235 |
| Website | shihtzubymartha.com |
| Facebook | Shih Tzu By Martha |
3. Happy Tails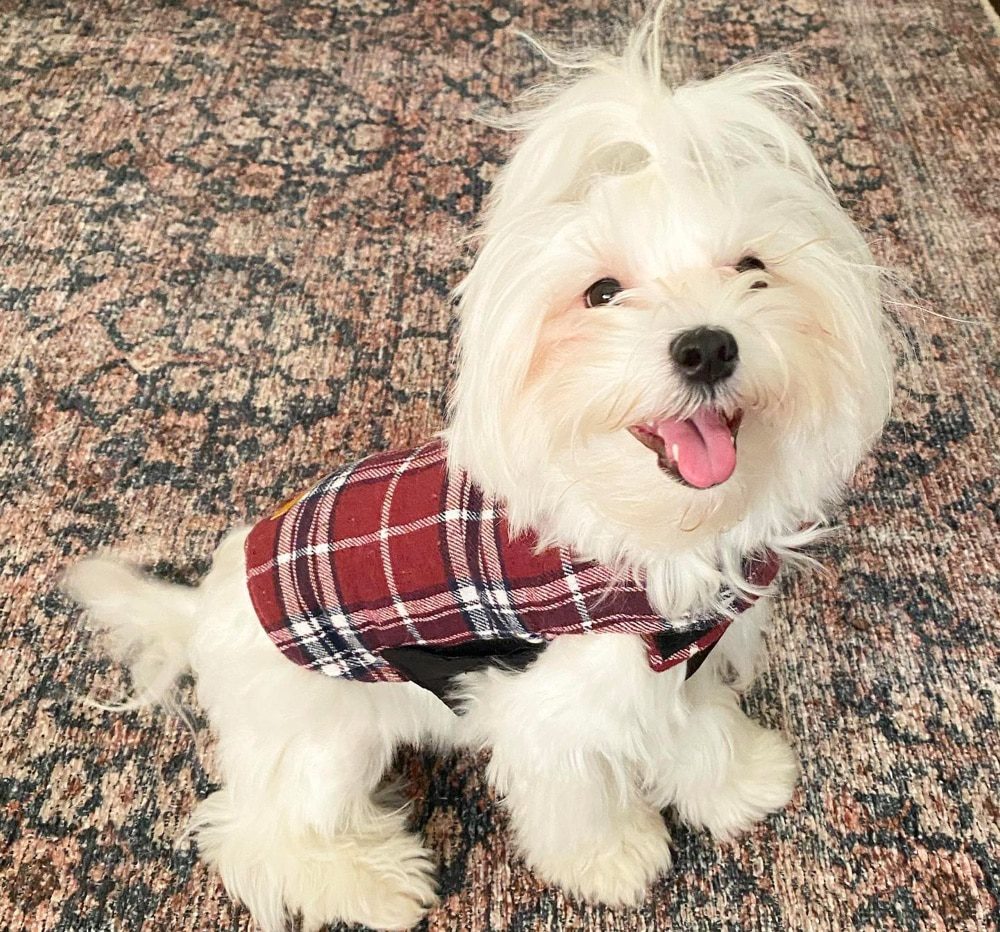 Our next breeder is Happy Tails from Oak Ridge, North Carolina. Their website is just stunning and definitely deserves some praise for their beautiful and successful business of breeding Shih Tzu puppies. They have been breeding since 2005, starting with their own dogs, Tucker and Sadie, and falling in love with the animal world ever since. They offer a wide variety of breeds to choose from, which is possible through their guardian program. They work with over 30 breeders to be able to provide so many breeds, on-site vet techs, and high-quality health screenings through all phases of life.
Once you select the puppy you want, you need to make a $200 deposit to hold that puppy. You can do this directly on their site and that deposit is then subtracted from the overall total at the end. Once they receive the payment, the puppy's listing is removed from the website so no one else purchases it from under you. If you are struggling to pick a dog, you can speak with their puppy expert and they will help you decide which breed is best for your lifestyle and family. You can then schedule a meet-and-greet, either in-person or through facetime, and get to know your new furry friend.
Once it is time for adoption, you can either go pick the puppy up yourself or they can deliver it to you. Every deliver is done with a USDA licensed and certified nanny at your disposal. The health guarantee can be found on their website, which details any health conditions that could arise that they would or would not be responsible for.
What makes this breeder unique is the vast size the company has grown to due to the popularity of their puppies and the care they put into everything. You can purchase all the products you need directly from them, set up a finance play to pay for it all, and get all the health guarantees and vet check-ups before the dog even enters your home. This one is definitely worth the visit.
| | |
| --- | --- |
| Owner | Maverick and Montana Mackovic |
| Breeder Since | 2005 |
| Location | Oak Ridge, North Carolina |
| Email | info@happytailpuppies.com |
| Phone Number | (855) 763 – 4213 |
| Website | happytailpuppies.com |
| Facebook | Happytail Puppies |
4. Scales Lovable Puppies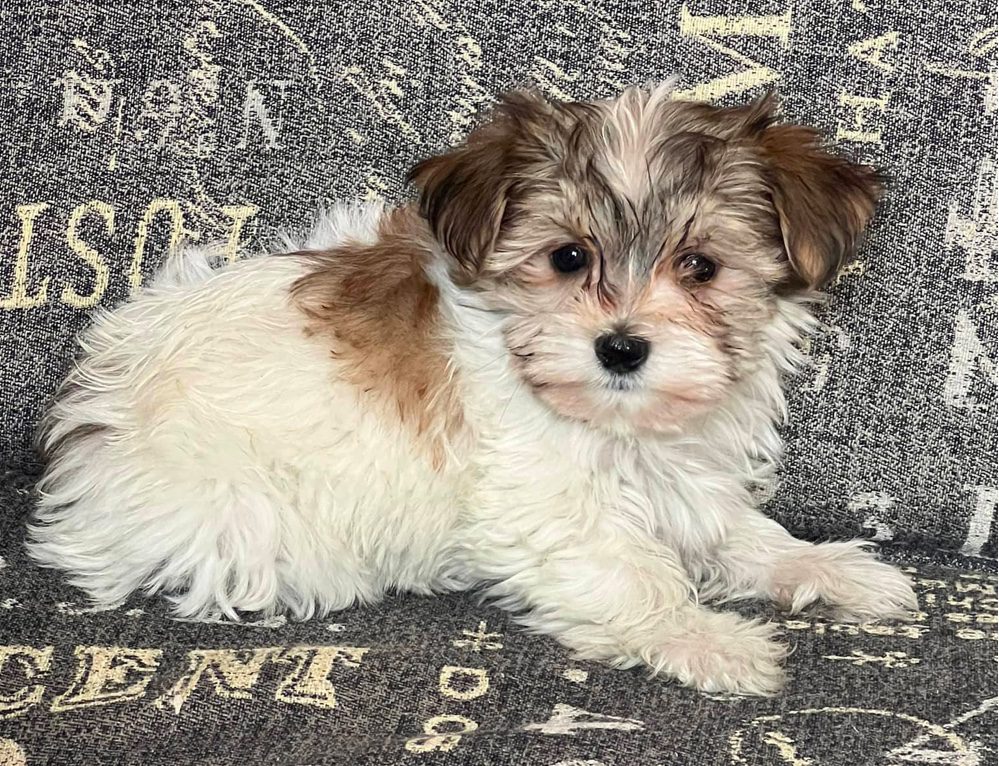 Scales Lovable Puppies is located in Raleigh, North Carolina with two different locations that house their puppies. Cortez has been breeding since 2003 after finishing him time in the army. He has loved working with dogs all his life and jumped at the chance to do that as a career when he could. He has been doing this ever since. There are a variety of breeds to choose from, all considered "designer" breeds.
Ever puppy is sent home with up to date shots, a written and detailed health guarantee, and completed de-worming. To purchase a puppy here, you need to put a deposit down. All payments need to be completed before adoption. The deposit is also non-transferrable and non-refundable
5. Daisy Patch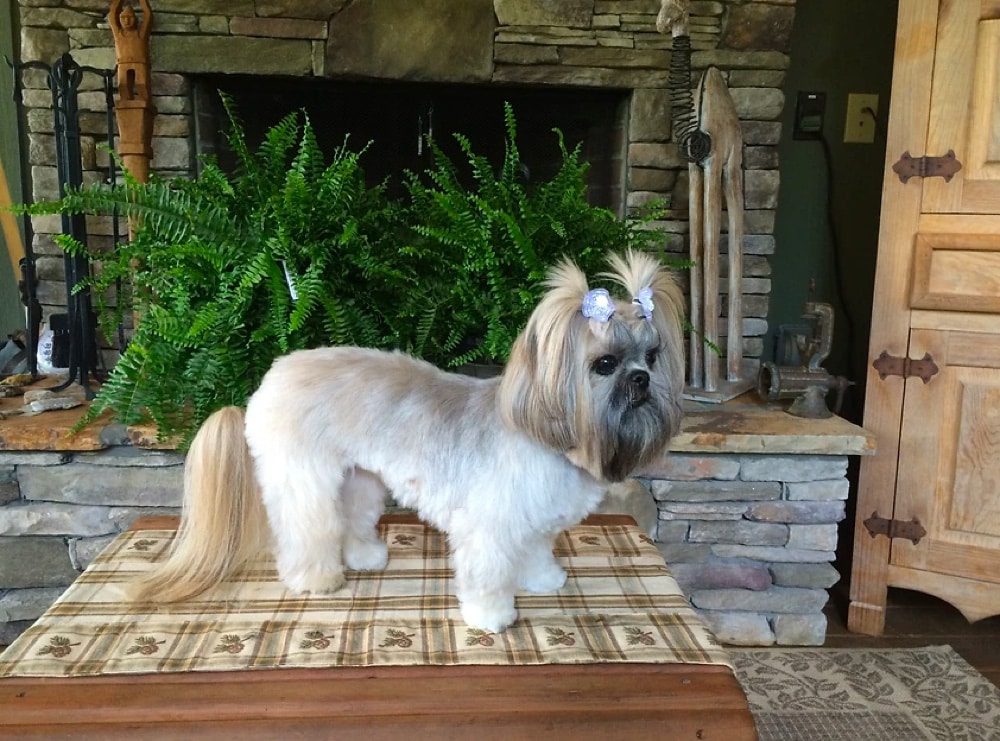 Daisy Patch is another wonderful Shih Tzu breeder option to check out. They are a small breeder who focuses on providing quality, healthy Shih Tzu and Berna doodles to loving families. All available puppies can be viewed directly on the website also.
Every dog is guaranteed to have all proper medical care up to date. They will have all vaccinations and de-worming. The contract is available for viewing on their website. To apply, you simply copy the application into an email, answer all the questions, and wait. It is also recommended that you send a deposit with your application to hold your spot on the wait list or to claim a specific puppy.
They will then read through everything and see if you are a good fit. The application will as you about your life and usual schedule and way of life to make sure a Shih Tzu is the right breed for you. You can read the health guarantee that is included with the application as well.
Once you get your puppy at 10 weeks, that is not where their relationship ends. They provide you with all the support you may need to raise a puppy if you need the help or advice on anything. That truly makes this a quality experience worth the price.
| | |
| --- | --- |
| Location | Asheville, North Carolina |
| Email | daisypatchgail@aol.com |
| Phone Number | (828) 505-0086 |
| Website | daisypatchshihtzu.com |
6. RoxCPups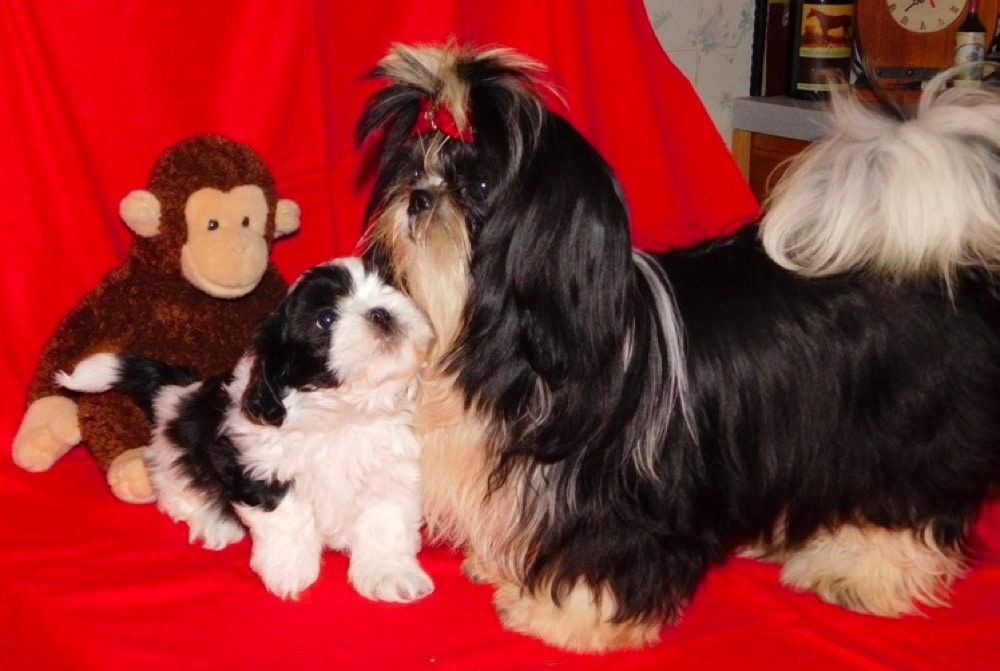 RoxCPups has been around for a while now, and still love what they do. They state on their website that their main goal is to "producing beautiful, happy, healthy pups which make wonderful family pets." They make sure to follow all proper licensing requirements for North Carolina. All the dogs used for breeding are AKC registered and they are AKC licensed and certified.
The puppies are raised within the breeder's home, so they are well socialized among other animals and humans. Every pup put up for sale is guaranteed to have their vaccinations and de-worming with a written health guarantee you will receive upon purchase. The health guarantee statement is also posted directly on the website for you to read.
Your puppy can come home at a minimum of 8 weeks old. They need to be fully weaned off the mother and independent in eating before being adopted. You can put a deposit down of 200$ once you find a specific puppy you wish to adopt. They accept cash and check for payment of the deposit and only cash for the rest of the price. It is also encouraged you go to them to pick-up the puppy. They have been open to delivery if the customer is close by, but they prefer you pick the puppy up.
Once the puppies reach 4 weeks old, the breeders will post them for sale on the website and Facebook page. Be sure to be on the lookout for that if you are interested!
Our Top Pick
The top pick for Shih Tzu breeders in North Carolina is definitely Happy Tails from Oak Ridge, North Carolina. There are so many different breeds and services offered that you are bound to find the best fit for you and your family. You can view the puppies available directly on the website and filter out different things to find the best fit, such as breed, temperaments, blood lines, gender, coloring, size, and traits.
They offer financing options, delivery, checkups from a licensed vet before adoption, and 24-hour customer service. You can purchase all the toys, beds, treats, and anything else you may need directly from them as well. So, when you are ready from adoption, they puppy will come with that stuff you ordered too.
Not only that, but their website is just beautiful and very professional looking compared to the others. They are definitely the ones to search for if you are in the North Carolina area.