The loyal and affectionate Shih Tzu is one of the oldest dog breeds in the world! While their history is heavily debated, most records show the Shih Tzu as being a favorite of Chinese royal houses. It's quite easy to see how these little lap dogs were royalty, as they still expect to be treated as such!
For those looking for Shih Tzu puppies for sale in Florida, we've carefully researched a list of breeders for you to choose from. This popular companion dog is a favorite among Americans and many breeders can be found throughout the state.
Though our list has been researched and backed up by customer reviews, we recommend you speak with your chosen breeder personally. This way you'll know first-hand if this is the right breeder for you. Let's dive into the top 8 best Shih Tzu breeders in Florida!
1. Stacy B's
As a breeder of both Shih Tzus and Yorkshire Terriers since 1989, Stacy is an experienced owner, shower, and breeder. Her family and her take great pride in raising their puppies in their home and placing them in loving homes.
Many of Stacy's Shih Tzus are champions. She actively shows with the AKC and has participated in the Westminster dog competition! Even if Stacy does not have any current litters, she is more than happy to connect you with a co-breeder to help you find your perfect puppy.
Each puppy will have a vet check and is guaranteed against any congenital health issues. Stacy B's website is full of pictures and descriptions about her champion Shih Tzus along with helpful links and breed history.
Stacy B's Contact Details
| | |
| --- | --- |
| Owner | Stacy Bingham |
| Breeder Since | 1989 |
| Location | Port Saint Lucie, FL |
| Email | staceybing@comcast.net |
| Phone Number | 209-814-5437 |
| Website | stacyb.com |
| Facebook | Stacy B's Shih-Tzu |
2. Blessed's Shih-Tzu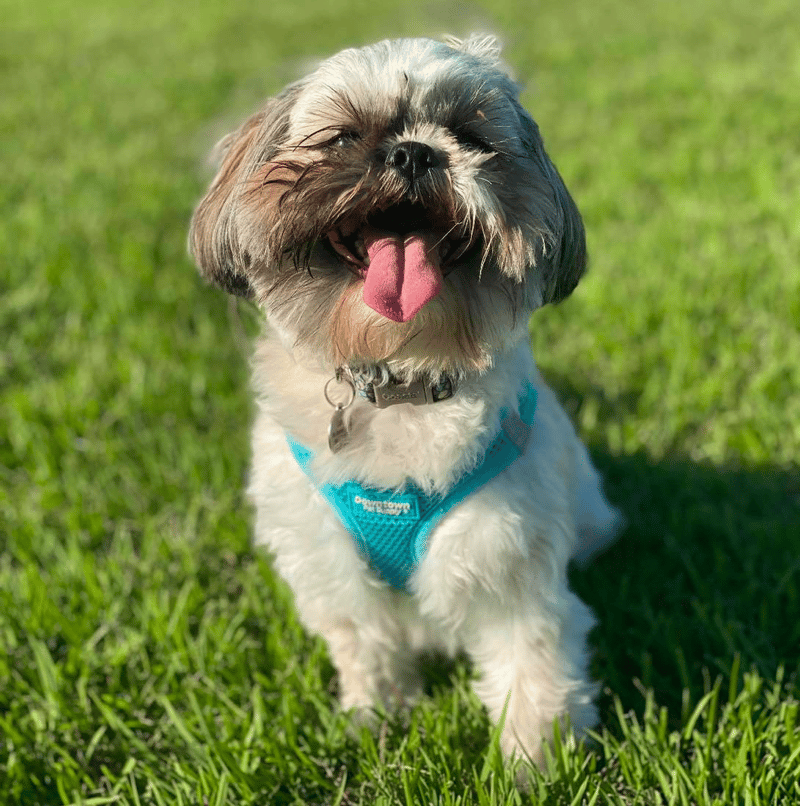 A small breeder located in Apollo Beach, Florida, Blessed's Shih Tzu is obviously very in love with their dogs! They believe dogs are family companions first and will only let their puppies go to approved homes. They also begin basic potty training for your puppy, a huge bonus to help them transition to your home!
Be sure to read this breeder's puppy contract carefully. They require a progress report at 6 months and all dogs are returned in the event you are unable to keep them. They will provide AKC limited registration after your puppy has been spayed/neutered. They also offer a one-year health guarantee that covers hereditary diseases found in the breed.
They have wonderful reviews that can be read on both their FB page and their home page. Owners gush over how great it is to work with Sheila and that their puppies are perfect companions to their homes!
Blessed's Shih Tzu Contact Details
3. Denimay Shih Tzu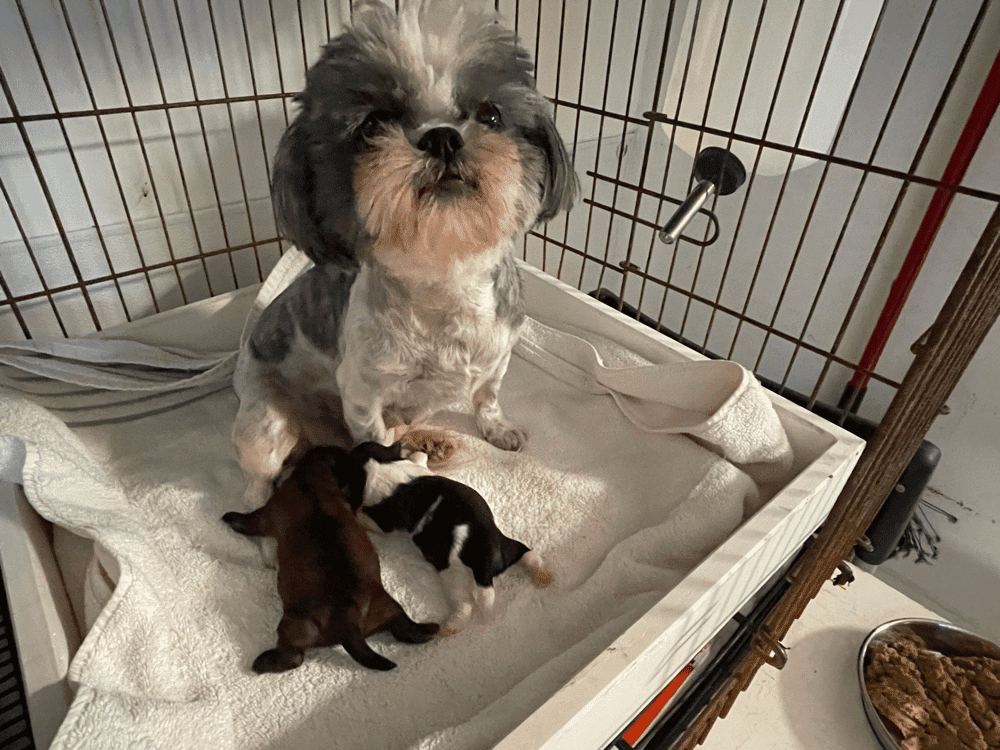 Denimay has a unique approach to purchasing one of their puppies. They require a questionnaire completed and a meeting between them and prospective owners. They stress on their website that Shih Tzus are not just animals, but rather family members who deserve loving homes.
An AKC-registered breeder and in compliance as of 2020, Denimay is an active member of the Shih Tzu breeding community. We like this breeder because they offer life-long support for you and your puppy. You become a part of their doggy family when you purchase a puppy through them.
Your puppy will come home up-to-date on all of their vaccinations and be in good health. They also occasionally have adult dogs available for adoption, so be sure to check their website often.
Denimay Shih Tzu Contact Details
4. Beth Ash Shih Tzu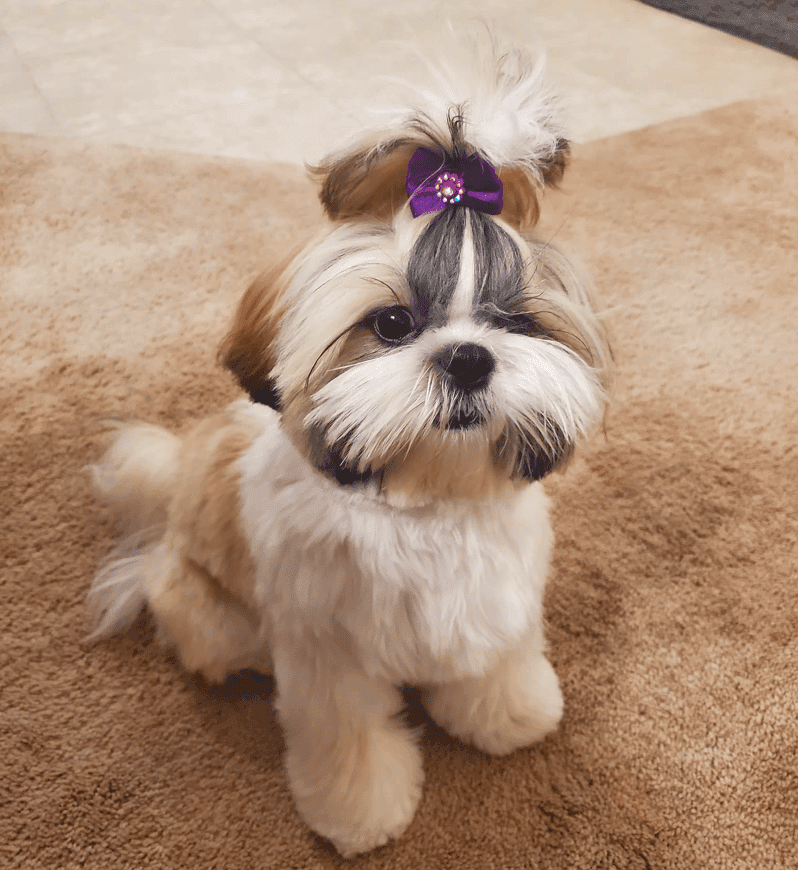 A husband and wife team dedicated to producing show quality and family companion Shih Tzus, they learned early that many unethical breeders exist. Read their backstory to gain an appreciation for the work they do to preserve the breed and make ethical breeding choices.
As an active show ring competitor, they will often produce show-quality puppies which will be listed accordingly on their website. All puppies determined to be petted will have limited AKC registration.
Beth Ash Shih Tzu puppies will come with deworming, first shots, and a health certificate from a registered veterinarian. They also offer a one-year health guarantee against genetic health issues. Read their contract carefully and you'll find that this breeder truly believes that all dogs deserve good, loving homes.
Beth Ash Shih Tzu Contact Details
5. Tian Mi Shih Tzu
Leslie at Tian Mi Shih Tzu has been breeding and showing Shih Tzus for many years and is self-proclaimed and addicted to showing her dogs! This is a breeder who believes in this breed and the beauty of these dogs. She also loves them for their ability to be the perfect couch companion.
She also believes in breeding for health and temperament first while maintaining AKC breed standards. Tian Mi Shih Tzu puppies are for pets only and come with a limited AKC registration once they've been fixed. All of Leslie's puppies are bred for show quality first and then become available as pets if the standard is not met.
Leslie will only allow her puppies to go to loving homes and asks to speak with you first before purchasing one of her pups. She also is very active in the rescue community and occasionally has rescued Shih Tzus. Reach out to her for more information on what's included with her puppies, upcoming litters, and information about showing Shih Tzus.
Tian Mi Shih Tzu Contact Details
| | |
| --- | --- |
| Owner | Leslie LeFave |
| Breeder Since | 21 years |
| Location | Sunny Clermont, FL |
| Email | tianmi-shihtzu@cfl.rr.com |
| Phone Number | N/A |
| Website | shihtzukisses.com |
6. Luv of Pups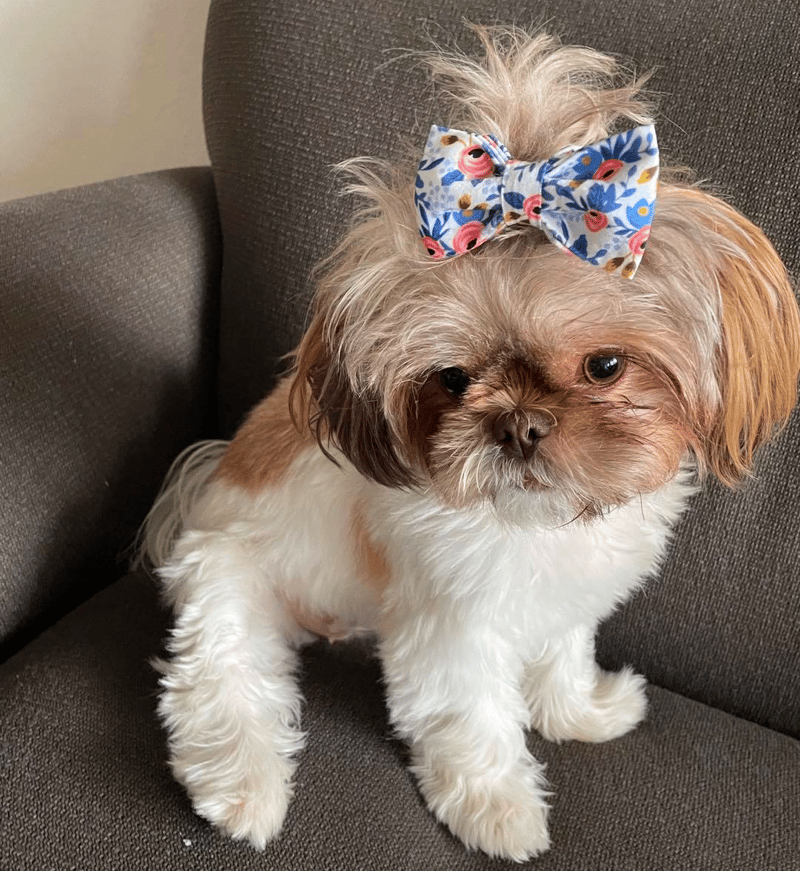 Luv of Pups offers quality, purebred Shih Tzu puppies to approved homes. Cheryl takes her responsibility as a breeder seriously and reserves the right to choose what type of home her puppies go to.
Cheryl treats her dogs as a part of her family and raises them in a clean and safe environment. All of her puppies will be well-socialized and be seen by a veterinarian before coming home with you.
We like this breeder because she offers to be available for the lifetime of your puppy. She would love to have updates on how your new companion is doing! She also offers to take back any puppy without question. Each puppy bred by Luv of Pups is considered family and will always be treated that way.
This breeder has great reviews that praise Cheryl's professional services and obvious love for the breed. She has a few litters coming up, so be sure to join her waiting list soon.
Luv of Pups Contact Details
| | |
| --- | --- |
| Owner | Cheryl |
| Location | Ocala, FL |
| Email | luvofpupsfl@gmail.com |
| Phone Number | 352- 843-8387 |
| Website | luvofpups.com |
| Facebook | Luv of Pups |
7. Maldiz Shih Tzu
As a heavily awarded breeder, Maldiz Shih Tzu focuses on producing show-quality Shih Tzus. Their titles include American Champion, Panamerican Champion, and Best in Show. They closely follow the AKC breed standard for both their show and pet Shih Tzus, which can be seen in their sire and dams!
This breeder will only allow puppies to go to their forever homes on a spay and neuter contract, meaning you will need to have your puppy fixed in a set amount of time. They only breed a few times a year, an excellent mark of a good breeder! so be sure to reach out to them to be placed on a waiting list.
Maldiz Shih Tzu Contact Details
8. Florida's Fancy Shih Tzus
This breeder has worked hard for many years to produce a quality line of Shih Tzus that will excel in the show ring and as a family companion. Each sire and dam is registered with the AKC and is examined for health before breeding.
Florida's Fancy also offers two sizes of Shih Tzus, one being the standard 9-12 pounds, and a smaller version weighing 5-8 pounds. They also offer for you to meet the parents of your puppy at their home to help ensure that you're working with an ethical breeder. As of right now, they are only offering puppies on spay/neuter contracts.
Your puppy will come with a one-year health guarantee, first shots, deworming, and a health certificate. You'll also receive a basic puppy starter kit and your puppy will have started potty training. We like this breeder for the care of their puppies and ensuring a proper home will be provided.
Florida's Fancy Shih Tzus Contact Details
Final thoughts
We've gathered some quality breeders in Florida to help you find the perfect puppy for your home. Many of our breeders above have champion bloodlines and come with pedigrees and AKC registration. If you're interested in showing your Shih Tzu, reach out to these breeders and see if they can help you get started.
For those looking for a companion, these breeders will be able to provide a quality dog with the loyal and loving personalities Shih Tzus is known for. We encourage you to reach out to your chosen breeder and speak with them personally. Only you will be able to judge if that breeder is right for you.
We also recommend going through their social media pages. This will offer a great insight into the breeder and you can see how they engage with fellow owners and potential buyers. It's also a great way to see tons of adorable puppies! We hope that you can soon welcome a new Shih Tzu companion into your home.