If you've had your dachshund pup for a few months now, you are quick to learn that there is more to owning a puppy than squeezing and admiring their adorable, squishy faces.
There is also a bigger responsibility that pet owners take when owning a puppy that needs to be considered.
Things such as vet visits, health checkups, vaccinations, and even considering the possibility of getting your little girl or guy spayed or neutered is all part of owning a new pet.
Spaying and neutering can be a hard decision for some pet owners, as we know, but it is important to understand the benefits of spaying and neutering when choosing what is best for your pet.
When Should I Get My Dachshund Fixed?
Most veterinarians believe the best time to spay or neuter your dachshund is between the ages of six months to a year in age, even though there are different recommendations depending on who you talk to.
When your puppy is between 6-12 months of age, this is the time that the bones, joints, and internal organs are fully grown and they become a mature adult, making it the best time to get this type of surgery.
But, if you have an older dachshund and you decide that you want the dog to get fixed, do not worry, as long as your Dachshund does not have severe medical issues and is healthy, it can be spayed and neutered at almost any age.
If you have any questions or concerns about getting your dog spayed or neutered, the best person to talk to is your veterinarian because they can give you options and help to make you comfortable with your decision. Remember, the veterinarian is on your dogs' side and will do what is best for your pet!
What is The Process of a Spay or Neuter?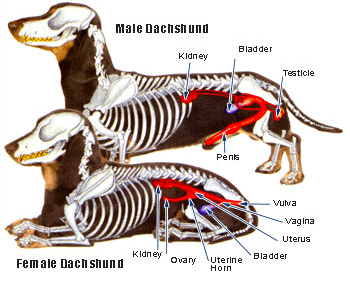 The procedure of neutering your Dachshund should always be carried out by a veterinarian or a trained professional. It is a simple procedure which stops your dog from breeding.
For the male dog, castration is done by removing the testicles while the dog is under anesthesia.
Spaying, or Ovariohysterectomy, is when the female Dachshund will have its uterus and ovaries completely removed to stop your dog from getting pregnant. Spaying is also done while your dog is under anesthesia.
When done at the right age, this simple procedure will hardly affect your dog and your veterinarian will do everything in their power to ensure that the procedure is complication free and smooth for both you and your pet.
Why is Spaying and Neutering Important?
Getting your dog spayed or neutered can be a hard decision but it is something that all pet owners have to decide at some point in time. It is important to understand what the procedure entails and how it affects your dog before you decide to or not to have your dog fixed.
Veterinarians often push hard for pet owners to have their dogs spayed or neutered because of the millions of mixed breed and purebred dogs that are euthanized each and every year due to neglect and irresponsible breeding.
Since Dachshund dogs are a high demand breed that are often purchased worldwide, it is not uncommon for people to breed these dogs just to make a quick buck. This type of breeding can be hard on the dogs, especially the female Dachshund which can be pregnant as early as 5 months of age and can produce up to 3 litters each year. This has a toll both on their body and their personality.
There are always two sides to why a person should or shouldn't get their dog fixed and so there are many decisions that you need to make as to if you are getting your dog spayed or neutered or not.
As we stated, some people are irresponsible breeders and will use their female Dachshund to have many litters of puppies just to make fast money while other breeders will breed Dachshunds to help improve the quality of the breed, making this a very respectable career or hobby for that breeder.
This is why it is important to know the pros and cons of getting your dog spayed and neutered so that you can make the best decision when it comes to your forever pet.
Pros of Spay/Neuter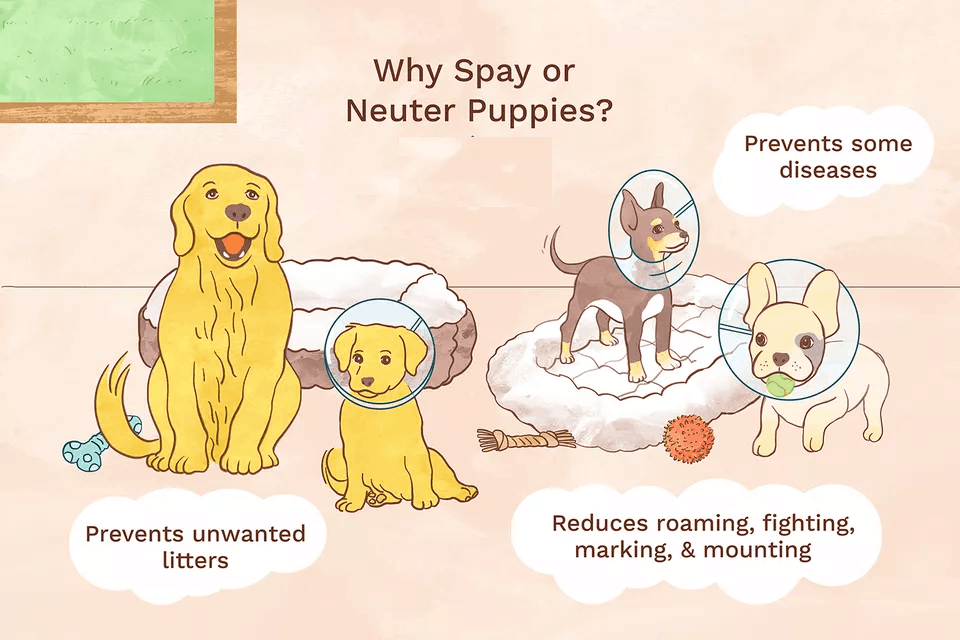 Here are some of the pros to getting your dog spayed or neutered:
Disease Prevention: When removing the uterus and ovaries of a female dog, you no longer have to worry about cancer developing within these sensitive organs. Neutering will also prevent testicular cancer and hernias.
Less unwanted litters: Though life is a gift, in some situations, the birth of a litter isn't always a beautiful experience, especially if a puppy or the mother dies from preventable conditions such as the elements, disease, starvation, etc.
With fewer accidental litters happening and cautious, educated pet parents on the lookout, we as a society can control overpopulation and direct our focus to ensure every Dachshund gets a good and loving home.  
Reduces mounting: Once your Dachshund is neutered, they will less likely feel the need to mount other dogs and even humans as they no longer have that urgent drive to reproduce. This will also alter how they interact with other male dogs as there is less of a need to dominate for the first breeding pick, making taking your Dachshund to the dog park much more stress-free.
Keeping the balance: Research has shown that you as an individual actually help reduce the overpopulation issues in your community when deciding to spay or neuter.
Fixing your Dachshund also means fewer animals to wind up on the street or euthanized in shelters. This is an issue that also affects wildlife as they fight against one another to survive, meaning this procedure actually protects dogs from becoming injured or killed.
Cons of Spay/Neuter
Here are some cons of getting your dog spayed or neutered:
Sterilization: Altering your dog means there is no going back after the surgery is complete. Because a dachshund's testicles are removed when undergoing neutering, it means that they become fully sterile and will be unable to reproduce for the rest of their lives. 
No guarantee with behavior: Just because you get your dog fixed does not mean it is a quick solution to correct their behavioral problems. Though your dog will have a less directed form of aggression, there are many cases where they will still be aggressive and fight with other dogs even after being spayed or neutered.
Increases certain diseases: It has been said that neutering can increase the risk of your Dachshund developing Intervertebral Disc Disease (IVDD), especially if the surgery is done before they are fully mature.
Health Benefits and Risks Associated with Spays and Neuters
There is no doubt that the evidence shows both the positives and negatives with the surgical procedures of spaying or neutering. Even though the idea of spaying and neutering depends on many different situations, with the different studies and technologies that we have now, we can conclude these facts:
That there is a positive side of neutering including:
Eliminates the risk of contracting testicular cancer
Reduces risk of perianal fistulas
It might reduce the risk of diabetes
Reduces the risk of non-cancerous disorders occurring in the prostate
That there is a negative side of neutering including:
Triples the risk of hypothyroidism
Increases risk of cardiac hemangiosarcoma by 1.6%
Increases risk of orthopedic disorders
Doubles the small risk of urinary tract infections by 1%
Getting the female dog spayed is a bit more complicated than neutering the male dog because the surgery is a little more complicated. Here are some of the pros and cons of getting your female dog spayed:
The pros of getting your female dog spayed includes:
Removes risk of ovarian tumors if done before the age of 2
Nearly eliminates the risk of pyometra; a form of infection that affects around 23% of intact females
Removes risk of ovarian tumors
Reduces the risk of perianal fistulas
The cons of getting your female dog spayed includes:
Increases risk of recessed vulva
Causes urinary "spay incontinence" in 4-15% of female dogs
Increases risk of osteosarcoma (bone cancer) if done before one year
Doubles small risk of urinary tract tumors
It is up to you as the dog's owner to decide what you want to do for your dog's health including if you should or shouldn't have your Dachshund fixed.
And even though spaying and neutering is the best approach for sterilizing your pet, it is not the only thing that your vet can do to sterilize your pet. Here are some of the things they can do that are often surprising for new pet owners:
Chemical Neutering: This is a method used on younger dogs (3-10 months) that is meant to render the male sterile in a non-surgical form by injecting chemicals in the testicles to disrupt hormone-producing cells. This approach is a newer one, and studies show great promise for short-term effects but have yet to see how well it works in the long run.
Vasectomy: This is a procedure that allows the dog to keep all of his testicular tissues intact and their sex hormones, unlike neuter, and is done by disrupting the tube where the sperm travel so that they cannot reach the outside world.
Tubal Ligation: Akin to a vasectomy in males, this procedure will prevent female dogs from getting pregnant and essentially have the female's tubes tied as a form of permanent birth control.
Ovary-sparing spay: This is very new to the world of procedures that remove the entire uterus but leaves the ovaries behind. These dogs will still attract males as the sex hormones are produced by the ovaries primarily. They will also not bleed during their heat but having no uterus might lead to infections in the cervices.
How Much Does It Cost to Neuter Your Dachshund?
When it comes to having your Dachshund fixed, it can cost anywhere between $50 to $300 for either a spay or neuter procedure.
Spaying is considered a more complex surgery because it requires the surgeon to create a small incision to locate and remove the ovaries and uterus; because of this, prices are generally a bit higher as the spay surgery tends to run longer than that of a neuter surgery.
The overall cost of the spay and neuter will be determined by your veterinarian and on the rates that they charge.
What to Expect After Surgery?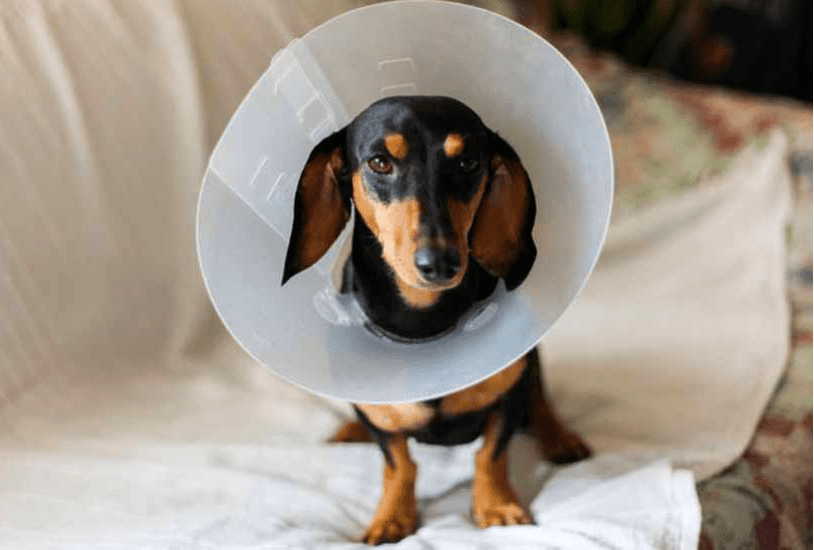 When your Dachshund is discharged from the animal clinic and brought home, you will want them to be as comfortable as possible.  Even though it might be hard to not worry about your pet, know that the recovery time will be fast, and your dog will be living a happy life just like before the surgery.
Dogs that get spayed and neutered normally have a speedy recovery of around 7-10 days. Your dog should have its appetite and spunk back within 32 hours after the surgery. Depending on your Dachshund's personality and age, their recovery can cause them to be hyperactive or quiet after the surgery and it is important to know that this is completely normal.
Male dogs will have an incision on each side of the scrotum that must be kept as clean as possible, while females will have a mid-line cut on their abdomen, both of which should only have minimal swelling or redness.
As you wait for the sutures to be removed or as they dissolve, you need to keep your Dachshund's activity level at a minimum for the first week and a half while they heal because you do not want them to stretch or tear open the wound. It might be hard to keep your dog's activity level down but do your best to not get them overly excited while they are healing.
You might wonder how you can keep your dog from getting an infection after the surgery and the truth is, the best thing that you can do to ensure their recovery is fast and effective is to leave your Dachshund's cone on them if the vet gives them one.  Even if your dog seems sad or destructive it is important that you keep the cone on so that it can help to prevent infection because of them licking the wound.
Debunking Spaying and Neutering Myths
Your pet will not be automatically happier or healthier if they are not spayed or neutered.

Your dog's happiness will only depend on their enrichment, healthy diet, stimulation levels being met, and the level of love you show them, whether they are fixed or not.
Your female 

does not need to have a litter before being spayed

. There is no science behind the reasoning that your female dog should have a litter before spaying. In fact, most vets prefer your Dachshund to be spayed sooner, usually before her first heat, rather than later to keep her health intact.
Getting your dog fixed will never negatively change your male dog's personality; in fact, having your dog neutered aids in removing those steady streams of hormones and gives your dog a break.
No longer constantly thinking with a drive to expand territory and fight for reproduction rights, it allows your dog a chance to spend more time focusing on other things.

Your dog will not get fat after surgery

; sure, there is a chance of gaining a few pounds, but gaining more than that is due to overfeeding, lack of dietary restrictions, and providing your Dachshunds with a few too many snacks.
Final Thoughts
Getting any kind of surgery on your pet can be extremely nerve-wracking but it is important to know that this is a routine surgery and is very safe for your dog.
Not only is this surgery safe, but it is also one that is done around five or six times a day in most clinics and is relatively painless for your puppy.
Always discuss the options with your vet to determine if your Dachshund is healthy enough and old enough to go through the spayed or neutering surgery before you make any decisions.