Dachshund owners naturally want to make sure they're feeding their beloved pooches the best possible food. Royal Canin is a popular dog food brand that makes a line of products targeted just for dachshunds. Naturally, dachshund owners want to know whether Royal Canin is a good and healthy choice for their pets.
Is Royal Canin Dog Food Good for Dachshunds? Royal Canin is just fine for your dachshund. It provides complete and balanced nutrition for puppies, adults, and senior wiener dogs alike. Although it doesn't contain many whole ingredients (meats, veggies, etc.), it has everything your dachshund needs to stay happy and healthy.
Reviewing Royal Canin dog food as a whole is difficult because there are so many products and options. However, this article will consider only the products tailored specifically for the dachshund breed. These products are available for puppies, adults, and senior dachshunds in both wet and dry food.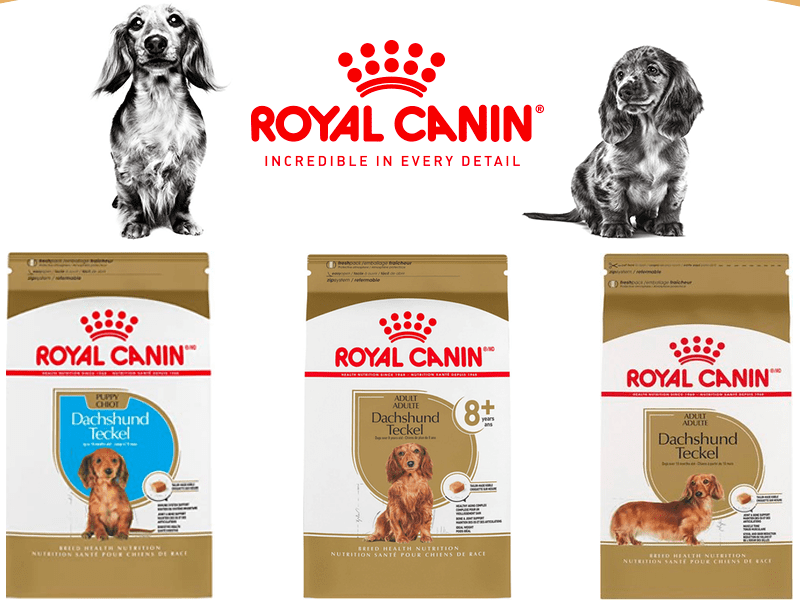 What is Royal Canin Dachshund Dog Food?
Royal Canin is a French pet food company founded in 1968 by a veterinary surgeon. This vet found ways to treat his clients' pets' skin and coat problems by preparing his own blend of food. The company grew over the years and was eventually purchased by Mars, Incorporated in 2001. Now, Royal Canin has factories and plants all over the world and produces breed-specific food for both dogs and cats.
Royal Canin often comes highly recommended by veterinarians, according to New York Magazine's publication The Strategist. Vets are often very familiar with the brand because it's often involved in research into pet nutrition. It's worth noting, however, that Royal Canin also employs sales representatives that approach vets about selling their brand. This doesn't mean that vets get a percentage of the sales – most don't – but it's worth keeping that in mind as an informed consumer.
Royal Canin Dog Food Recall History as of 2021
As of 2021, Royal Canin has only been subject to three FDA recalls in its 50+ year history. In 2006, Royal Canin Veterinary Diets food was recalled for containing too much vitamin D3. In 2007, the company recalled Veterinary Diets and Sensible Choice products that were contaminated with melamine. There have not been any recalls since 2007, which is very impressive for a pet food company.
Royal Canin Dachshund Reviews
There are five different varieties of Royal Canin dog food for dachshunds: dry food for each stage of life (puppy, adult, and senior) and two types of wet food for adult dogs.
1. Royal Canin Dog Food for Dachshund Puppies
Royal Canin's puppy formula for dachshunds is a dry food that contains extra protein, fat, and calories needed for growing dachshunds. It's best for dachshund puppies from eight weeks to ten months of age. This chicken-flavored kibble is just the right size for your dachshund puppy to eat comfortably, and it provides the calcium and phosphorus to help your puppy's bones and joints grow strong and healthy.
2. Royal Canin Dog Food for Adult Dachshunds
After your dachshund is older than about ten months, you can switch them over to Royal Canin's adult dry dog food. The dry food is also chicken-flavored, with fiber and easily digestible protein to support gastrointestinal health. However, if your dachshund has a sensitive stomach or just prefers wet food, Royal Canin also offers a canned food specific to dachshunds. The high moisture content helps adult dachshunds stay hydrated and satisfies even the pickiest eaters.
3. Royal Canin Dog Food for Senior Dachshunds
Finally, Royal Canin dachshund food for seniors contains everything dachshunds age eight and older need. It contains a blend of antioxidants to help your aging doxie stay fit and healthy. Although Royal Canin doesn't sell a wet food specially formulated for seniors, the dry food can be rehydrated with warm water to make it easier to chew.
Royal Canin Dachshund Food Comparison Chart
| | | | | | |
| --- | --- | --- | --- | --- | --- |
| | Puppy Dry Food | Adult Dry Food | Senior (8+) Dry Food | Pouch Wet Food | Adult Wet Food |
| Minimum protein content | 28% | 26% | 26% | 7% | 7% |
| Protein type | Chicken by-product meal | Chicken by-product meal | Chicken by-product meal | Chicken by-products, chicken, pork by-products, pork liver | Pork by-products, chicken by-products, chicken, pork liver, chicken liver |
| Minimum fat content | 14% | 12% | 12% | 4.4% | 4.4% |
| Maximum fiber content | 3.9% | 4.4% | 3.9% | 2.2% | 1.9% |
| Grains | Brown rice, brewers rice, corn, wheat gluten | Brewers rice, brown rice, oat groats, wheat gluten | Brewers rice, corn, wheat gluten, corn gluten meal | Modified corn starch | Corn flour |
| Maximum moisture content | 10% | 10% | 10% | 81% | 81% |
| Minimum calcium content | 1.15% | 0.6% | 0.52% | Unknown | Unknown |
| Kcal per cup | 369 | 293 | 340 | 79 per pouch | 79 per can |
| Sizes available | 2.5 lbs. | 2.5 lbs., 10 lbs. | 3 lbs. | 3 oz x 12 | 3 oz x 4 |
Is Royal Canin High-Quality Dog Food?
"High-quality" is a very subjective term, especially when it comes to pet food. Royal Canin does contain grains, and much of the protein comes from meat by-products rather than whole meats. Even though meat by-products contain higher concentrations of animal protein than whole meats, some pet owners consider these to be low-quality ingredients. However, when it comes to pet nutrition, it's very difficult to find reliable information about whether that matters. Most national and international certification bodies don't think it does.
Even so, some dog food brands focus on things that sound nice to human ears – like whole meats vegetables – without considering whether it's actually important to a dog's diet. Foods with whole ingredients are more expensive. Additionally, just because something is "natural" doesn't mean it's healthy. Most sources urging you to buy expensive food are the same ones selling or profiting from this food. That doesn't mean it's bad or intentionally dishonest, but it's something that you as a dog owner should consider.
Royal Canin dachshund food ingredients contain all the nutrition that your dachshund needs, as certified by the Association of American Feed Control Officials (AAFCO) and the European Pet Food Industry Federation. Your dog's stomach should be able to process all the ingredients. Most pet owners who buy it report being satisfied with it. Essentially, Royal Canin as a brand is more focused on breed-specific nutrients than they are generic pet food ingredients. You'll need to decide for yourself what is most important for your dachshund.
Pros
Complete nutrition for all stages of life
Ingredients customized by dog breed
High customer satisfaction ratings
Very few products recall in company history
Cons
Contains grains and processed ingredients
Relatively high carbohydrate content
Expensive
Royal Canin Dog Food Ratings
Overall, we rate Royal Canin a 3.4 out of five. Although it provides complete nutrition, it doesn't offer much in the way of variety, and it's a relatively expensive brand.
| | |
| --- | --- |
| Category | Royal Canin Ratings |
| Ingredients | 4.0/5 |
| Quality | 4.0/5 |
| Variety | 2.0/5 |
| Price | 2.0/5 |
| Customer Satisfaction | 5.0/5 |
| Overall Rating | 3.4/5 |
Ingredients: 4.0/5
As we've already mentioned, Royal Canin makes use of unpopular ingredients like grains, fillers, and meat by-products. However, we don't oppose the use of these ingredients on principle, and the history of the company shows they've been chosen by scientific research and real feeding trials. Royal Canin include everything a dachshund needs, including ingredients to support bone and joint health, which are especially important for long backs and short legs. With a protein content of 26-28%, Royal Canin's dry dog foods have a fairly high percentage of this vital nutrient, and it does come from named animal sources.
Quality: 4.0/5
Again, it may be controversial to claim this is high-quality food, but it is nevertheless complete nutrition. Importantly, despite being in business for more than half a century, Royal Canin has only been subject to a few product recalls. Compare that to Blue Buffalo, a competitor brand that has been around less than 20 years but has already faced dozens of recalls. Royal Canin tests every shipment that leaves its factories rather than relying on random tests. This helps ensure the food's overall quality.
Variety: 2.0/5
Unfortunately, all of Royal Canin's dachshund foods have the same flavor: chicken. The wet food does add some pork ingredients, but it too comes in only one flavor. If your dachshund doesn't happen to like this flavor, you may be out of luck. However, since Royal Canin does vary the formula for the stages of your dachshund's life, we do give it some points here.
Price: 2.0/5
This might be Royal Canin's greatest weakness. Pound for pound, its dry food is more expensive than many of the premium dog food brands, and you don't have many options when it comes to sizes. The dachshund formula in particular is more expensive than Royal Canin's products for other breeds. Of course, dachshunds don't eat as much as larger breeds, so a 10-lb. bag will last you a while.
Customer Satisfaction: 5.0/5
However, Royal Canin gets top marks when it comes to satisfied customers. Online reviewers give it particularly high marks for flavor, saying that their dachshunds seem to love the taste. Many say it helps their dogs maintain a healthy weight, which is vitally important to reducing stress on a dachshund's spine. Others say it helps regulate their pet's bowel movements or improves coat and skin health.=
Average Rating: 3.4/5
The variety and price categories pull down the rating of what is essentially a good-quality food with an excellent customer reputation. Perhaps a good method would be to order a small bag of dry food to allow your dachshund to try it first. You can see whether your pooch likes the taste, and then give it a few weeks to see whether it gives them the energy and health benefits it promises.
Final Thoughts
Every wiener dog owner wants to find the best food for dachshunds, and Royal Canin is a solid option. Although it's expensive, it is formulated especially for the breed, and many customers rave about how much their dogs like it. Given the company's history of minimal recalls and frequent quality checks, it's a safe choice. The ingredients are backed by science, and many vets recommend Royal Canin specifically. If you can fit it into your budget, it's worth a try to see if your dachshund will like it as much as many others do.