Can Dogs Eat Sour Cream? A little bit of plain sour cream is fine. Sour cream is a dairy product and too much can give your dog an upset stomach. A little taste every now and then (like licking a spoon) is fine.
Everyone can relate to the big puppy eyes your dog gives you when you are cooking. They just want a little taste of what you're are cooking with and it can be hard to say no. Some things are perfectly fine to give your dog and some aren't. What about sour cream?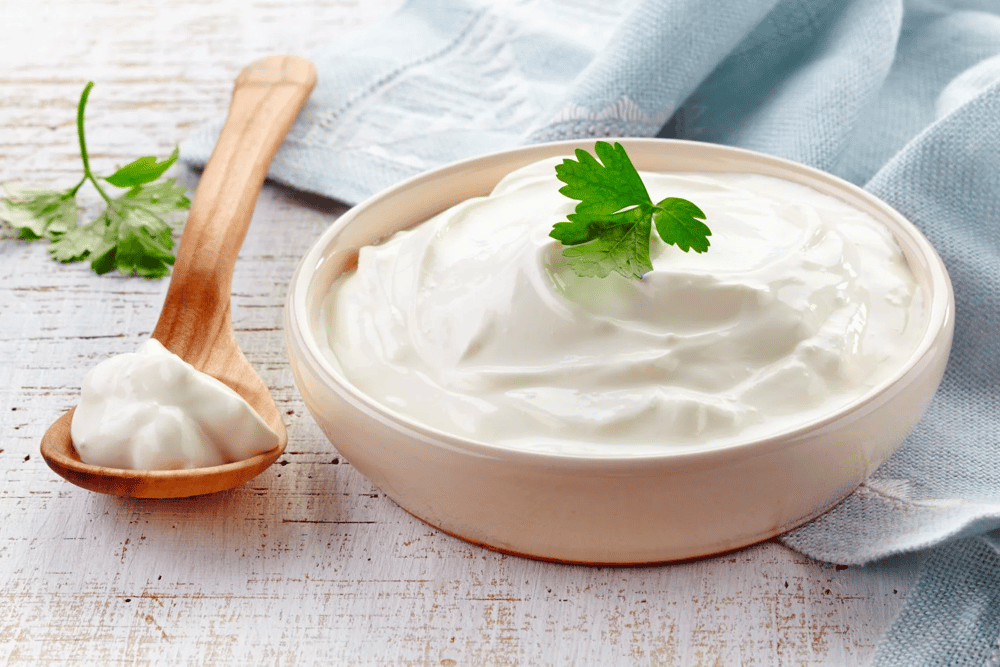 What is Sour Cream?
Sour cream is made by fermenting regular cream with lactic acid bacteria which makes it thicker with more of a tart taste. It is commonly used as a topping to many dishes from tacos to deserts. It also is added to many different recipes for dips, sauces, and soups. It can even be used when baking.
Is Sour Cream Toxic to my Dog?
Nope! Sour cream is not toxic and is safe for your dog to consume in small to moderate quantities.
Health Benefits of Sour Cream in Your Dog's Diet
Sour cream mainly consists of fat, cholesterol, and calories. There isn't very much in way of nutrition for dogs. There aren't many benefits besides your dog liking the taste. It can help with an upset stomach because it contains probiotics. It is important to remember that only a small portion should be used to ease an upset stomach as too much can cause more digestive issues.
Health Risks of Sour Cream in Your Dog's Diet
Too much sour cream can quickly cause your pup some issues. Dairy products, in general, can cause digestive issues for dogs and sour cream is no different. Your dog might develop an upset stomach, nausea, diarrhea, or bad gas. Long-term and consistent feeding of sour cream (even in smaller quantities) can lead to weight gain and health issues associated with obesity such as pancreatitis, hypothyroidism, and Cushing's disease.
What Types of Sour Cream Can Dogs Eat?
In general, you want to stick to regular sour cream to feed your dog. It is just fermented cream with no additives and is the safest option for your dog.
Can dogs eat low-fat or sugar-free sour cream?
Low-fat and sugar-free sour cream should be carefully checked before sharing with your dog. Some low-fat and sugar-free products can contain xylitol (an artificial sweetener) that is incredibly toxic to your pup. Be sure to check the label before letting your dog eat sour cream.
Can Dogs Eat Regular Plain Sour Cream? Yes, a taste of plain sour cream should not affect your dog.
Can Dogs Eat Sour Cream Dip? No, you should not give your dog any sour cream dips because the mix could contain garlic, onion, or other harmful spices that are not good for your dog.
Can I Add Sour Cream to my Dog's Dinner? Adding sour cream to your dog's dinner is okay. It should not be a regular addition, but if you are wanting to add some probiotics to your dog's meal, you can add a teaspoon to a small dog's food and a tablespoon to a larger dog's bowl. Better options for adding probiotics would be plain yogurt.
How Much Sour Cream Can My Dog Eat?
Your dog should not be fed a lot of sour creams. A small taste should be all that your pup needs since there is no major benefit. The most are 3 spoonfuls for a large dog and 1 spoonful for a small dog, though I would encourage limiting it too much less since it is just a treat.
What Happens If Your Dog Eats Too Much Sour Cream?
If your dog eats too much sour cream, they can develop symptoms such as nausea, vomiting, diarrhea, and gas. If this happens, don't panic. Sour cream is not toxic and the symptoms should clear within one to two days. While you are monitoring your dog, only feed a bland diet (boiled plain chicken and plain rice would be an example of a bland meal). Don't feed any treats or additions to their daily meals. Of course, make sure they always have access to water. It also can help to not feed your dog for twelve hours if they are vomiting as that will give their GI system time to settle down and recover from their nausea. At no point should you take away their water? If the symptoms persist for more than two days, make sure to contact your vet for additional instruction.
Final Thoughts
Sour cream, while a fun occasional taste, should not be used as a regular addition to your dog's diet. It can cause GI issues because it is a dairy product. There is no good reason to give your dog sour cream. If you are looking for a treat to routinely give your dog, sour cream is not the answer. Instead, look into something such as peanut butter, plain yogurt, or mashed bananas.
READ MORE: