Can dogs eat sausages? Yes, dogs can eat sausages, but they aren't healthy snacks. While sausage is tasty and full of protein, it's also high in fat and salt. So, there are plenty of healthier alternatives that your dog can try.
Quick Tips for Feeding a Dog Sausage:
Sausage is not recommended for dogs since it's high in fat and salt.
Eating sausage could cause digestive problems.
The only healthy sausages are ones made specifically for dogs.
Chicken and turkey are healthier alternatives.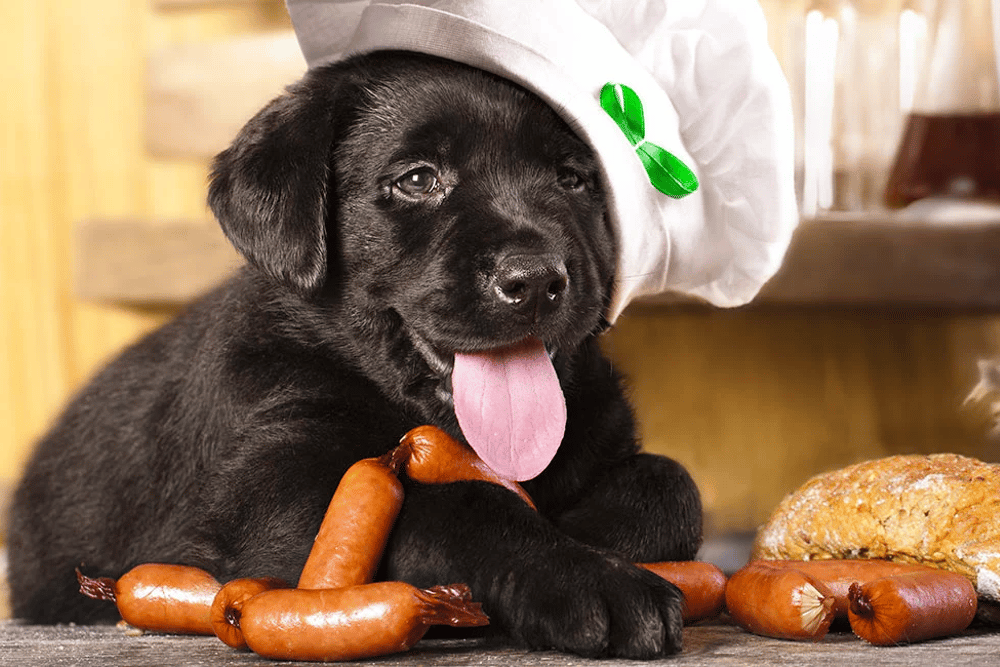 Is Sausage Bad For Dogs?
Yes, sausage is bad for dogs. While dogs can eat sausages in small quantities, it isn't recommended. Plus, it's rare that you'll find a plain sausage that's free of seasoning.
Benefits of Sausage for Dogs
Meat is a great source of protein for dogs, and it often has vitamins and nutrients that they need. However, sausage isn't the best meat for canines, and it has little to no benefits beyond those. Of course, your dog is sure to love the flavor though.
Risks of Sausage for Dogs
Sausage is very greasy and high in fat, so eating too much sausage could put dogs at risk of obesity. Too many fatty foods could also lead to problems with the heart, kidney, and pancreas.
Most sausages are also seasoned with lots of added flavors, many of which are hazardous to dogs. If the sausage contains any type of garlic or onion seasoning, then it's poisonous to your pup and can cause red cell damage.
Can Dogs Eat Any Types of Sausages?
Dogs can eat sausages as a treat, but it's not a good idea, especially if it's frequent. Unless the sausage is made specifically for dog consumption, it probably isn't good for them. Yet, some types of sausages are less problematic than others.
Can Dogs Eat Vienna Sausages?
No, dogs shouldn't eat Vienna sausages. Vienna sausages are made of pork and beef inside a sheep's intestine. Since they're usually processed and put into a can, they're high in calories, cholesterol, sodium, and fat. Some might also contain garlic preservatives, which are toxic for dogs.
Can Dogs Eat Pork Sausages?
No, dogs shouldn't have pork sausages. They're made using pork meat, which is mixed with salt, fat, preservatives, and fillers. They also commonly have seasonings, which include garlic, pepper, nutmeg, and parsley. There are no real benefits to pork sausage for dogs other than the taste.
Can Dogs Eat Raw Sausages?
No, it's best to avoid giving raw sausage to dogs. Raw meats increase the risk of your dog contracting parasites and diseases, such as salmonella. Dogs who eat raw sausages might experience vomiting, diarrhea, lethargy, and abdominal pain.
Can Dogs Eat Hot Dog Sausages?
No, it's best to avoid hot dogs for dogs. While they're a favorite treat for many canines, they're packed with salt and fat.
When in doubt, it's best to avoid sausages altogether for your dog. Most sausages have added ingredients that will cause your dog to become sick or uncomfortable. So, think about the long-term effects before giving your dog something unhealthy. If you can find sausages made of chicken or turkey, those will be the least problematic.
How Many Sausages Can Dogs Eat?
If possible, don't give your dog any sausages. That's the best way to keep them safe. Giving them a few crumbs and scraps won't do much harm, but it's best to stick to healthier meats instead.
What Happens if a Dog Eats Too Many Sausages?
Depending on the type of sausage and the amount your dog eats, the symptoms can vary. Yet, if you notice any unusual symptoms, it might be a good idea to contact your vet.
Here are some symptoms you might notice:
Vomiting
Nausea
Diarrhea
Loss of appetite
Lethargy
Dehydration
If your dog only consumed a small amount, they might be perfectly fine. Yet, if unusual symptoms and behaviors persist for longer than a day, take them to the vet. After all, it's better to be safe than sorry.
Alternatives to Sausage for Dogs
If you really want to give your dog a sausage, stick to chicken or turkey sausages, which are the leaner and safer choices. Yet, they could still contain garlic and other seasonings, so be sure to check that first.
Plain chicken is the best meat alternative for dogs. Cook the chicken without any added flavoring, and your dog will still go crazy for it. It's always a good idea to only serve it in small amounts to avoid spoiling your dog's appetite.
If you want to give your dog more human foods as treats, consider serving fruits and vegetables. Carrots, blueberries, and kale are some examples of human foods with exceptional health benefits for dogs. However, avoid grapes at all costs since they can cause kidney problems for canines.
Final Thoughts
Whenever you eat sausage, your dog probably runs to your side and begs for food. While it's hard to resist their adorable face, you might have to for their own good. Sausage is unhealthy for dogs, especially in large quantities. So, stick to healthier human foods or to dog-specific treats. Your dog will appreciate it in the long run.
READ MORE: