The fruit of the pomegranate shrub has become wildly popular over the last decade thanks to its many supposed health benefits. Now that this fruit is more of household food, many Americans may wonder: can dogs have pomegranate? If dogs get a hold of pomegranate husk, flesh, or seeds, will they get sick? We're here to provide you the information you need about dogs and pomegranates.
Can dogs eat pomegranate? Yes, but they probably shouldn't. Although pomegranate isn't toxic to dogs, the husk and the flesh (the white part) aren't easy to digest and may give your dog stomach trouble. Pomegranate seeds, on the other hand, are fine in moderation, though feeding your dog too many of these seeds could cause digestive problems.
Here are some tips to keep in mind:
Although pomegranates have plenty of nutrients that are good for humans, they don't necessarily have the same benefits for dogs.
The red coloring of pomegranate seeds might cause your dog's stool to turn red for a day or two. This doesn't cause alarm on its own, but it's something to be aware of.
Dogs should only be given fruit as an occasional treat because of the high sugar content.
Just because some dog foods and treats contain pomegranate extract doesn't mean the whole pomegranate is a good thing to feed your pooch.
Is Pomegranate Safe for Dogs?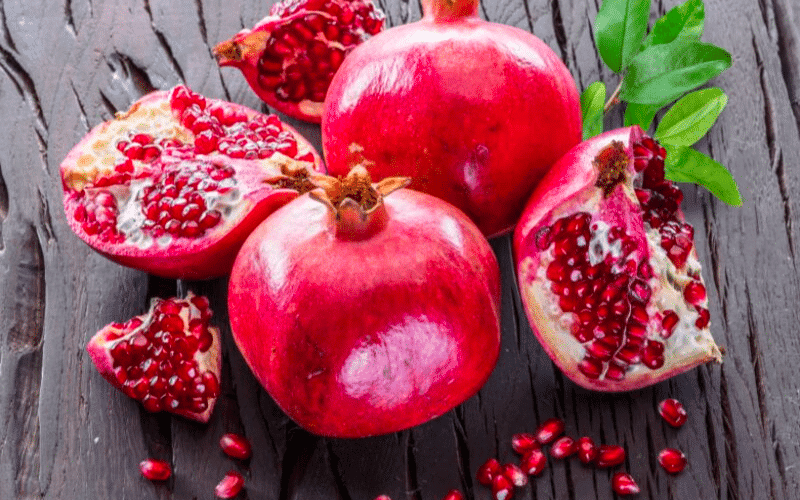 The pomegranate fruit consists of three parts: the outer husk, the inner flesh, and the juice-filled seeds. The hard husk, or pericarp, is usually red-pink in color, though a few varieties have very dark purple husks. The flesh, or mesocarp, is always white and spongy in texture. Although neither of these is dangerous for dogs, they are non-nutritive, so they're difficult to digest.
Also, it's thought that the tannins in the husk and flesh may irritate your dog's stomach, leading to discomfort, nausea, or vomiting. In a worst-case scenario, a large chunk of hard, indigestible husk could become a digestive tract obstruction. Fortunately, this is unlikely.
The arils or seeds of the pomegranate, which are the parts of the fruit humans consume, are easier on a dog's digestive system. They consist of a membrane that contains sweet, red juice as well as a crunchy seed.
Can dogs eat pomegranate seeds? Yes, they are fine for dogs in moderation. If your dog happens to love the taste of pomegranate, there's nothing wrong with feeding them a few seeds every now and then.
More Details about Dogs and Pomegranate
Although the fruit of the pomegranate isn't toxic, some sources say the leaves of a pomegranate bush may be bad for dogs, though there isn't much information available on this. If your dog eats pomegranate leaves, you may want to consult your vet for more information and keep an eye on your dog for any signs of distress.
There are many varieties of pomegranates, just as there are many varieties of apples. While there are small differences in the taste and appearance of these varieties, there are no large differences in terms of the nutritional value. That means there are no particular types of pomegranate that are better or worse for dogs than any other.
Is Pomegranate Good For Dogs?
We've established that these fruits, particularly the seeds, aren't necessarily harmful to dogs, but are pomegranate seeds good for dogs? The arils do contain quite a bit of fiber, which helps keep the digestive system working smoothly. However, as for health benefits, there's no research showing that this popular fruit is worth buying specifically to feed your dog.
About 100g of pomegranate seeds provides 12% of a human's recommended daily value of vitamin C, 16% of vitamin K, and 20% of fiber. However, dogs don't need to digest vitamin C. While dogs do need vitamin K to help the calcium in their diet form strong bones, nearly all commercially available dog food contains plenty of vitamin K.
Additionally, while vitamin K is sometimes used as a treatment for dogs who have ingested rat poison, you should never try to administer this treatment yourself with pomegranate or any other food. If your dog has eaten something toxic, always contact your vet or an emergency helpline first. According to Cornell University's Veterinary School, vitamin K therapy for rat poison involves injecting the dog with highly-concentrated vitamin K along with other medicine – this is far different from simply feeding your dog a few pomegranate seeds.
What to Do if Your Dog Eats Too Much Pomegranate
If your dog should accidentally ingest some pomegranate, there's no need to panic or immediately call the emergency vet. Even large amounts of pomegranate probably won't cause more than vomiting or diarrhea. The best thing to do is keep an eye on your dog for the next few hours, keeping in mind that they may need to go outside more often if they're sick to their stomach. If they are sick, may sure they have plenty of water to help them rehydrate.
Additionally, keep an eye on your dog's stool. In humans, red phytochemicals in pomegranate juice can sometimes cause red stools, especially if a lot of juice or fruit has been consumed. This may happen to a dog who has eaten a pomegranate, as well. This is not the same as a bloody stool, and it isn't dangerous. However, it may certainly be disconcerting if you're not aware it could happen.
The more worrisome scenario is that your dog is unable to have a bowel movement after eating a large piece of pomegranate husk or flesh. Again, this is unlikely, but it could cause a bowel obstruction. If your dog becomes constipated, call your vet and be sure to mention that your dog recently ate pomegranate. The vet will help you determine what the next step should be.
Final Thoughts
In summary, pomegranate isn't bad for dogs, but it's not especially good for them, either. In addition, it's fairly expensive and difficult to peel. The seeds are so small that your dog will likely swallow them whole without tasting the juice. Thus, there are other fruits and veggies that are better suited to your dog's digestive system. Finally, remember that fruit should only be given to dogs in small portions as a treat since they don't need much sugar in their diet.
READ MORE: