Can Dogs Eat Plantains? Yes! Plantains are safe and even have some benefits for dogs as long as they are fed in moderation. Make sure the peel is removed and the plantains should be cooked. Mashed or boiled is the best way to feed your dog plantains. Feeding raw plantains can cause digestive problems. Plantain peels can cause intestinal blockages that can be dangerous for dogs and should always be avoided.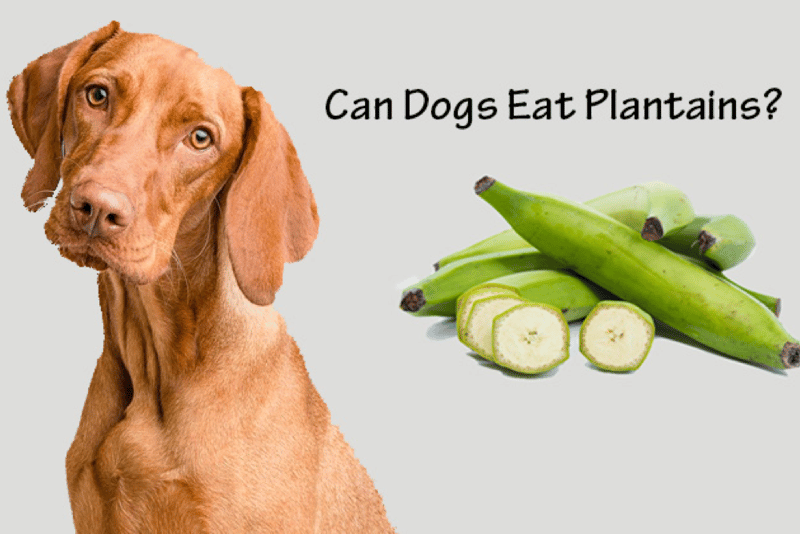 For a more in-depth answer to this question, keep reading!
You were cooking dinner with plantains and accidentally dropped one on the floor. Quick as a flash, your dog grabbed the rogue food and swallowed it whole! Or maybe you are just hoping to give your pup a new treat to try. Either way, our quick and easy guide to plantains and dogs is for you.
What are Plantains?
Plantains are often mistaken for bananas due to their similarity in appearance, though they are not to be confused with the classic fruit. Plantains are not eaten raw and must be cooked. Ripe plantains are black in color and are usually still cooked. They are versatile, inexpensive, and often appear in Caribbean, South America, Central American, African, and South Asian cuisine.
Are Plantains Toxic to my Dog? No! Even uncooked plantains are okay, though they might give your dog digestion problems.
Pros of Plantains in Your Dog's Diet
Plantains can be a nice addition to your dog's usual treat regime. Before feeding your dog plantains, they should always be peeled and cooked by either steaming or boiling. You can also mash plantains after cooking. Plantains are good sources of vitamins, magnesium, and potassium. They have anti-microbial and anti-inflammatory properties, as well. They also have dietary fiber that can help with digestion. A small amount of mashed plantains can even help if your dog has an upset stomach. Plantains have also been shown to help relieve some of the symptoms of kennel cough
Cons of Plantains in Your Dog's Diet
Like most things, too much can be a bad thing! Plantains have a high sugar content and should only be occasional treats. Otherwise, they could cause your dog to gain weight. If your dog has blood sugar problems, like diabetes, you shouldn't feed them high-sugar foods like plantains. Fried plantains should be avoided due to a high amount of fat. Plantain chips should also be avoided due to the high amount of sodium and sugar. A good reason to limit the number of plantains you feed your dog is that since they are high in dietary fiber, eating too much can cause digestive issues for your dog.
How to Ripen a Plantain Before Giving it to Your Dog
Plantains are usually sold green or yellow. To get a nice, ripe, black plantain, you can wait or you can try to speed up the process.
Placing a plantain in a paper bag and leaving it in a warm place will speed up the process. Adding an apple or banana to the bag can enhance the process. This method can take a few days.
Ovens can also be used. Warm the plantain in a 300-degree oven for 30 minutes then remove. Wait a few hours for the plantain to fully cool before peeling and giving to your dog.
Microwaves can be used similar to ovens. Poke a few holes in the plantain with a fork, knife, or toothpick and warm for 30 seconds at a time until it feels soft.
Plantain Lillies: Plantains are NOT to be confused with the plantain lily! These are completely different plants. Plantain lilies are plants with no fruit and ARE toxic to dogs. If you suspect your dog has eaten a plantain lily, contact your veterinarian immediately.
Plantain Recipe Quick Guide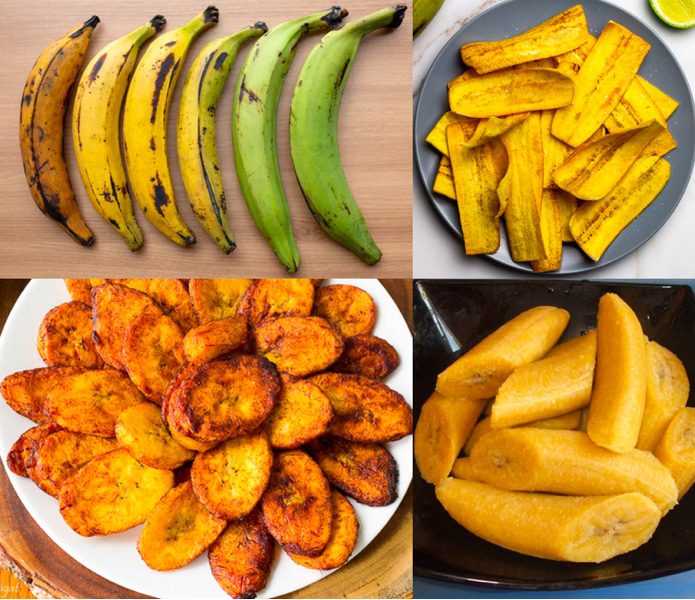 Are Raw Plantains Safe for Dogs?
Yes, not dangerous, but it may give digestive issues due to high fiber. Most dogs won't like to eat raw plantains anyway since they are tough and don't taste very good.
Can Dogs Eat Green Plantains?
Yes, as long as they are cooked to avoid indigestion. If the green plantains are not cooked, they could cause indigestion due to high fiber. Green plantains are not as sweet as fully ripe plantains.
Can Dogs Eat Yellow Plantains?
Yes, as long as they are cooked to avoid indigestion. They will be sweeter than green plantains and closer to the fully ripe black plantains. Dogs will probably enjoy them more for this reason.
Can Dogs Eat Black Plantains?
Yes, ripe plantains are soft enough for dogs to digest and are perfectly sweet for dogs to enjoy as a treat without adding additional sugar.
Can Dogs Eat Plantain Peel?
No, It can cause indigestion that ranges from indigestion to intestinal blockages.
Can Dogs Eat Cooked Plantains?
Yes, in moderation they are a great treat for a dog.
Can Dogs Eat Boiled Plantains?
Yes, in moderation they are a great treat for your dog. They also can help cure indigestion for your dog if a small quantity is used.
Can Dogs Eat Plantain Chips?
Yes, in very small amounts due to increased sugar content. You also need to make sure that the chips don't have any spices added to them as some spices, like garlic and onion, can be harmful to dogs.
Can Dogs Eat Fried Plantains?
No, They are too high in fat and routine feeding of any fried foods can lead to heart disease or weight gain.
Can Dogs Eat Plantain Lily?
No, Again, this is not the plantain fruit and is toxic to dogs. If you suspect your dog at Plantain Lily, contact your veterinarian immediately.
Can Dogs Eat Plantain Leaves?
No, The leaf of plantain trees should not be fed and neither should the leaves of the Plantain Lily.
Can Dogs Eat Plantain Weed?
No, It is a broadleaf plant that is high in fiber and should not be fed to your dog. It is not toxic, but it is not good for them.
How Many Plantains Can My Dog Eat?
The size of your dog determines the amount your dog can eat. Larger dogs can have up to half of a plantain at one time, while smaller dogs should only have a few pieces.
What Happens If Your Dog Eats Too Many Plantains
If your dog eats too many plantains, it can cause some short-term and long-term health issues. Short-term issues may be constipation or diarrhea. The best thing to do in cases where your dog has indigestion is to monitor and wait for it to pass. If your dog regularly consumes too many plantains, it may develop diabetes due to the high sugar content.
Conclusion
Plantains can be a great addition to a dog's diet as long as it is properly prepared and fed in moderation. Every dog is unique and their health needs differ, so dogs with unhealthy blood sugars should not be given sugary fruits like plantains. Some dogs won't like the taste of plantains, so if you plan to use plantains as a new source of treats it would be a good idea to only buy one and see if your dog likes it before purchasing a whole bunch.
READ MORE: