Can dogs safely eat mulberries? Yes, dogs can safely eat mulberries as long as they are ripe and it is in moderation. Unripe berries or overindulgence in ripe berries can lead to some stomach upset and possible diarrhea. It is best if you give your pup a few berries instead of letting them eat berries off the ground or directly from the tree.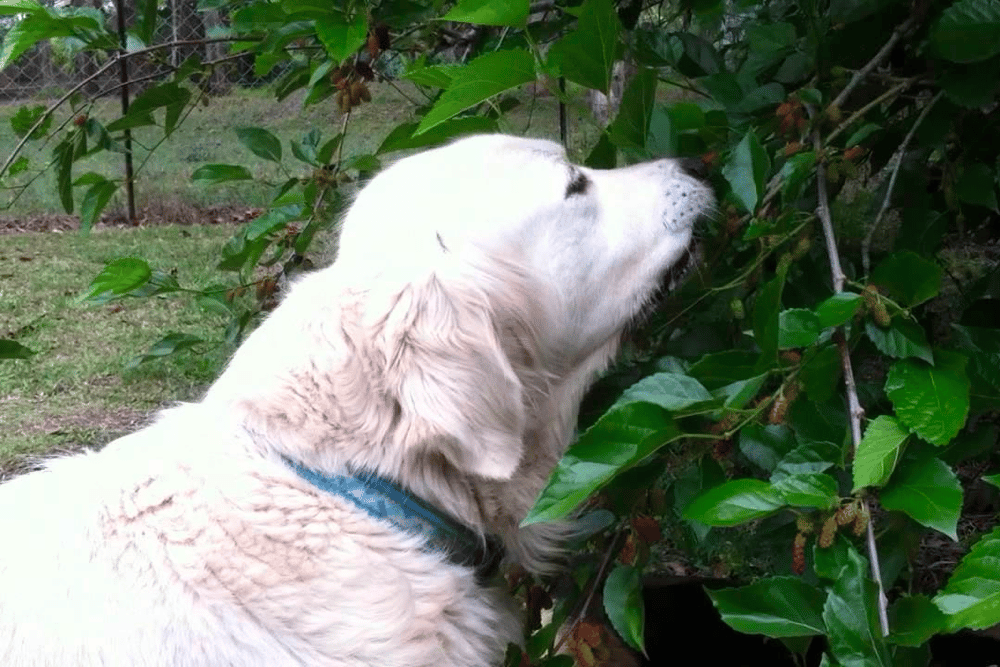 Are Mulberries Safe for Dogs?
Safe in small numbers. While mulberries aren't toxic to dogs, moderation is key. If you see your pup eating these berries make sure they aren't gorging themselves. Having too much of a good thing tends to lead to some consequences, in this case, some upset belly issues. If your dog indulges a little bit too much in mulberries, it is very likely that they are going to wind up with an upset belly and most likely some diarrhea for a bit.
It is also important to make sure that the berries are not under-ripe or fermented. Fermentation can happen when they are overripe. These are often the berries that have fallen off the tree and have been on the ground for too long. In people, eating under-ripe mulberries can lead to hallucinations. Ingesting either of these can lead to some worse GI upset that may warrant a visit to the vet. So if you are unsure if the berries are ripe, try not to let your dog eat them.
Can dogs eat white, red, and black mulberries?
White mulberries are widely seen throughout the world but are most actively grown in Asia. This is due to the fact that these plants are the main staple in a silkworm's diet. While they are called white mulberries they can actually range in color from white, to lavender and even black. Red mulberries stay a little more true to their name and stay between red and black in color. The red mulberry trees are also very widespread and bloom from March to June. Black mulberries are the smallest of the three and can stand the hottest climates. The berries from this type of mulberry tree are indeed black. None of these is more concerning than the others when it comes to ingestion.
Can Dogs Eat Dried Mulberries?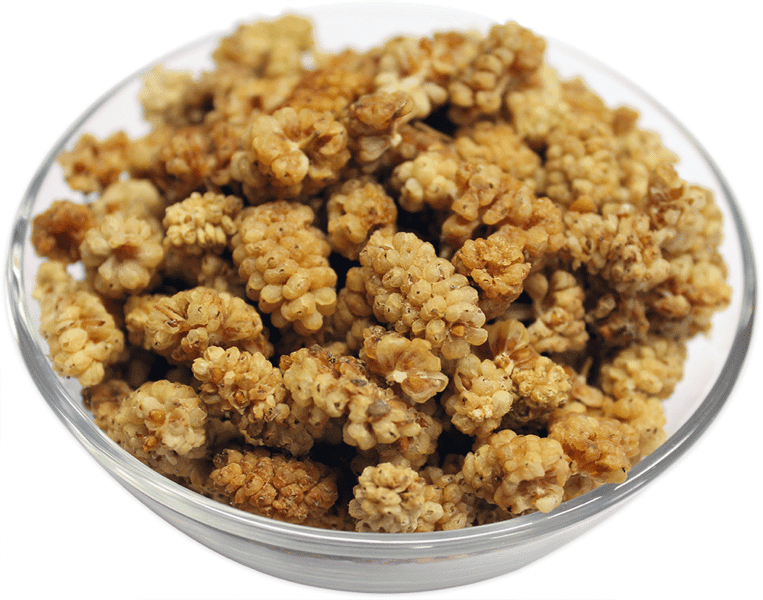 With mulberries being mainly made up of water, 88% to be exact, are they still safe for dogs when dry? When dried, the percentage of protein, carbohydrates, and fat jumps up significantly. This actually makes them very high in protein compared to most other berries. With everything being more concentrated, dried mulberries are less of an ideal snack for dogs. If you do give your pooch some of these dried berries make sure they are only getting a small amount.
Health Benefits of Mulberries for Dogs
Not only are mulberries nontoxic, but they also can have some health benefits for you and your dog. Research has shown that they are able to help lower cholesterol, potentially reduce cancer risk and help manage blood sugar. If your dog has any health concerns, especially diabetes or other diseases that affect blood sugar or cholesterol levels, it is best to confer with your vet before giving your dog these as a treat.
They are also a good source of certain vitamins and minerals, particularly Vitamin C and iron. They also contain Potassium, Vitamin E and Vitamin K. While these components are beneficial in general, they are not a treatment or preventative for any medical concerns.
Mulberries have long been used in Chinese and herbal medications. Not only the berries themselves, but the leaves also have been shown to have their uses in human medicine. These leaves can also lower blood sugar, help promote heart health, reduce inflammation and help liver function. They may even help with weight loss and give you a more consistent skin tone. Most people that consume the leaves steep them to make tea. This is due to the fact that there is a coating on the leaves that can lead to skin irritation and an upset stomach. Therefore, it is better if your dog eats just the berries and not the leaves. If they manage to get some leaves, they won't hurt your dog but again may lead to some nausea and diarrhea.
Mulberry Recipes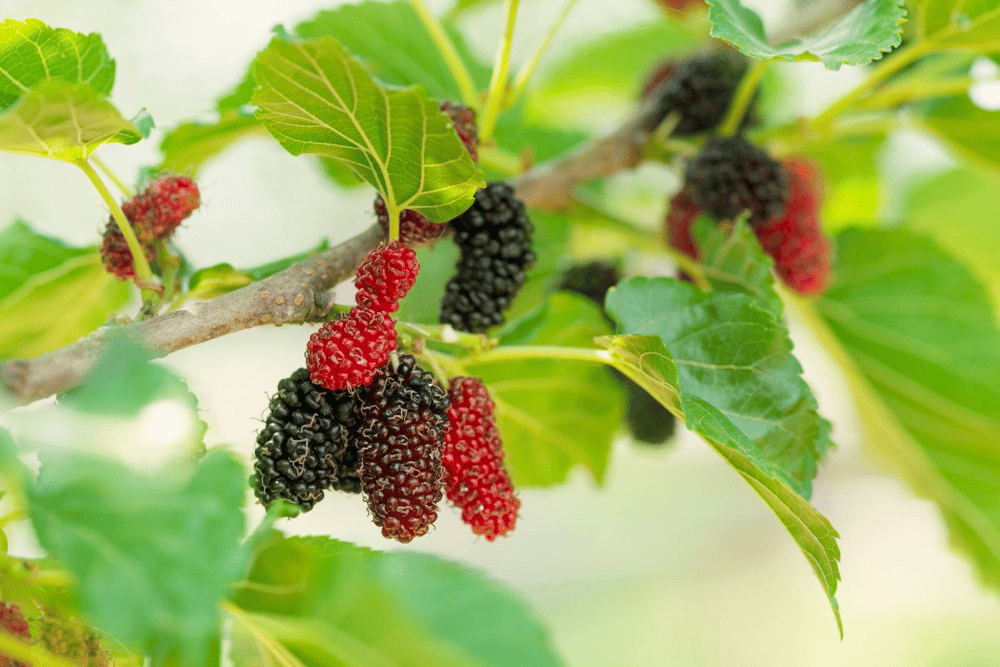 The best mulberry recipe for your four-legged friend is also the easiest: fresh off the tree. This helps make sure they are getting appropriately ripe berries. Baking them is less ideal because as previously stated when dried they pack much more of a punch and a little can go a long way. Baking also adds many additional ingredients that can bump up the calorie count pretty quickly.
You can boil the mulberries, but since the only thing this will change is the amount of mess involved it isn't advisable. Boiling these berries is the first step to making them into a jam because it starts to loosen the juices. Since they can stain hands and muzzles, the added mess isn't worth the lack of health benefits.
So, save yourself the hassle and grab a few fresh berries off the tree for your pooch on the next walk. That way you don't have to worry about them eating any unripe berries or leaves. You can also monitor how many they have as well.
What To Do If Your Dog Eats Too Many Mulberries
Despite your best efforts, your dog may eat too many mulberries. Unfortunately, their stomachs won't appreciate too much of a good thing, and if you are stuck cleaning up the mess, neither will you. If your dog does get diarrhea a bland diet may do the trick. Boil up some boneless, skinless chicken breast and some white rice. This can safely be fed for a few days. Hopefully, that will be enough to stop diarrhea. If it doesn't work within a few days you should call your local veterinarian. Also, if at any point after eating mulberries your dog is vomiting, lethargic, or has no interest in food you should call your vet. They may need some prescribed medication to help combat the GI upset.
READ MORE: