Can Dogs Eat Jicama?  Yes! Jicama is a safe food that is not only safe but is full of special nutrients that can help to keep your dog's digestive system strong and benefit their overall quality of life. This is one of the foods that you should add to your dog's diet if you haven't already!
Therefore, as dog owners, most of us know that dogs will eat just about anything that they can get their mouth on from table food to poop and from poop to garbage. So as a pet parent, knowing what to feed your dog is very important to help keep your dog healthy and fit and Jicama is one that has many health benefits!  Consider adding this to your dog's diet so that you can see their overall health benefited!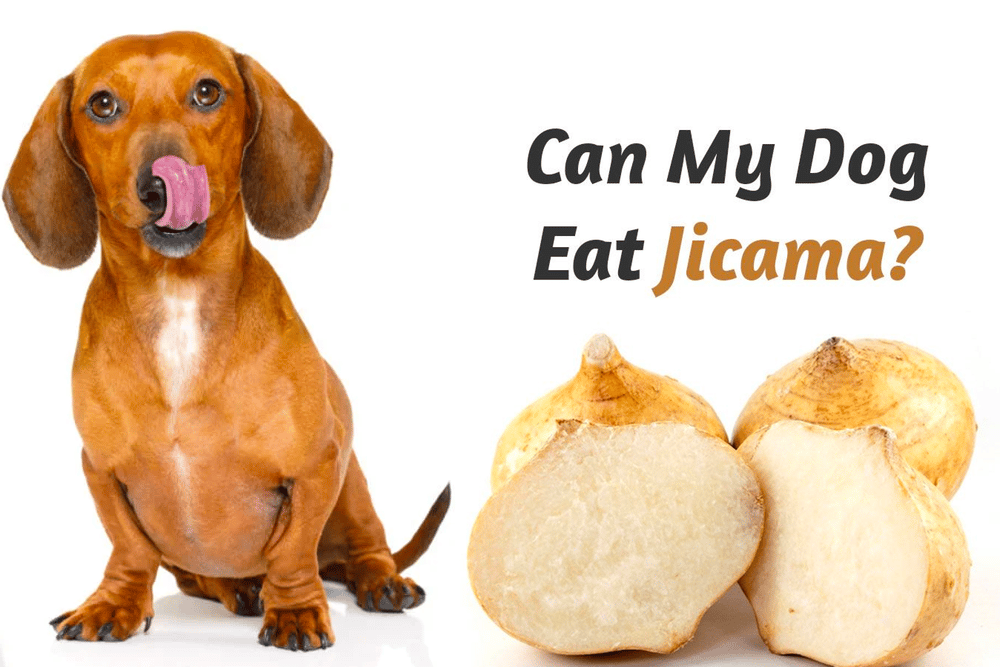 What is Jicama?
Jicama is a tuberous root that is also often called the Mexican turnip. It is a native plant to Mexico and is an edible root from the bean family.
Benefits of Feeding Jicama to Your Dog
There are many benefits of feeding Jicama to your dog such as:
It is a food that is full of fiber.
Helps to keep the digestive system strong.
Low in calories.
Loaded with Vitamin C.
Helps to keep the immune system strong.
Is full of calcium.
Has iron that can help support bone growth.
Includes minerals such as magnesium and potassium.
Keeps cells from being damaged.
Is full of antioxidants.
Can increase good bacteria in the gut.
Helps to keep teeth clean and lessens the chance of gum disease.
Will not upset your dog's stomach.
Very nutritious.
Contains Vitamin E and Selenium.
Is full of Beta Carotene.
Improves heart health.
Has important dietary fiber which can lower your dog's bad LDL cholesterol.
It contains soluble fiber which can lower cholesterol levels by preventing bile from going into the intestines.
Can lower blood pressure and increase circulation.
Is a great food if your dog is suffering from diarrhea.
Helps with constipation.
Can replace meat if your dog is sensitive to this kind of food.
It is a food that will not cause your dog's sugar to spike which will help your dog to maintain a good weight.
Is a great food for dogs that are struggling with pancreatic issues or diabetes.
Are There Any Risks of Feeding Your Dog Jicama?
Yes. You have to be careful when you feed your dog Jicama because the stems and the leaves can be toxic to your dog. The stems and the leaves contain Rotenone which is a toxin that is dangerous for dogs to eat.
Another thing to watch out for when feeding Jicama to your dog is the mature seeds. Even though the young seeds are not dangerous to your dog, the mature seeds can be toxic and since they are so small, they can cause your dog to choke on them.
You should only feed your dog the fleshy root which is the part of the plant that is found under the ground. As a rule of thumb, this part of the Jicama looks like a potato and that is the safe part to feed your dog. It is a good idea to peel the root as well to make sure that there is no Rotenone or pesticides on the skin.
Make sure that you are removing the seeds, leaves, and stems before you give this food to your dog, and always make sure that you wash the root carefully to make sure that it is clean and chemical-free before feeding it to your dog.
The great news is that if you purchase Jicama from a grocer then the chances of your dog coming in contact with any toxic parts of the root is almost zero.  The grocer will remove all of the toxic parts of the root before it is even sold.
Should Jicama for Your Dog Be Raw or Cooked?
The great thing about Jicama is that it can be fed to your dog raw or cooked. If your dog is a puppy and you are just beginning to feed it foods like this, it would be best that you would boil the root before you feed it to them so that it can become softer for your dog to be able to chew.
Older dogs will enjoy eating the Jicama raw because it will help them to be able to keep their teeth strong and healthy because it is so crunchy to eat.
Most dogs are able to handle raw Jicama without it upsetting their stomach and so if your dog is not able to handle the cooked Jicama and you feel that they are too small to chew it, try grating it and sprinkling it on the food to give them the health benefits from a young age.
How Much Jicama Can You Feed Your Dog?
Your dog should get at least ¼ cup of Jicama in order to really benefit from the vitamins, minerals, and antioxidants of the food.
When feeding your dog Jicama and any other new food, you should start by giving them a small amount at first over a period of two weeks to make sure that your dog is handling the food well.
Cool Ideas for Feeding Jicama to Your Dog
The great thing about Jicama is that it can be eaten alone, or you can add it with other foods to make your dog's diet exciting. Here are some ideas to try if you are adding Jicama to your dog's diet:
Feed it raw like a bone for your dog to chew on.
Feed this to your dog instead of kibble to change up the eating plan.
Add with peanut butter to make the dish exciting.
Include it with your dog's diet when adding meat.
Fry in a pan to make it like fried potatoes.
Sprinkle it on your dog's food as a dog spice.
Final Thoughts
Jicama is a great food to feed your dog both raw and cooked. It is one food that is full of healthy benefits that can help to keep your dog safe and healthy. Try Jicama in your dog's diet and discover the great health benefits that your dog can get while trying out new foods!
READ MORE: