Can Dogs Eat Jelly Beans? No, dogs can't eat jelly beans because they can contain ingredients that are unhealthy or even poisonous for dogs. You should never feed your dog jelly beans because they have no health benefits and could contain toxic ingredients like xylitol and caffeine. When it comes to human foods for dogs, always steer clear of sugary snacks.
Why Can't Dogs Eat Jelly Beans?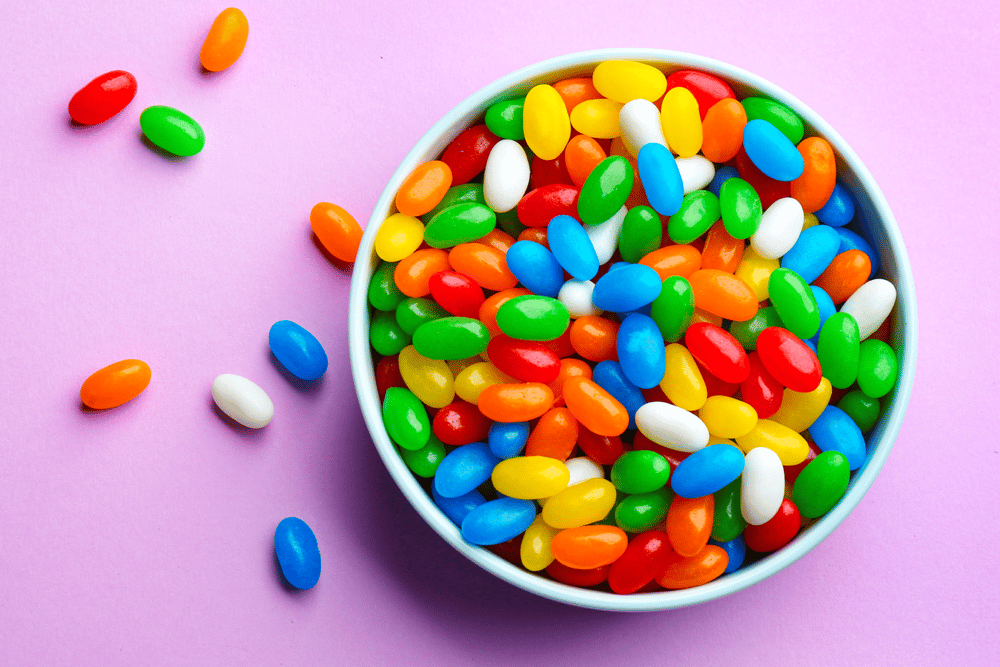 Jelly beans are sweet, tasty treats for humans, but never let your dog get a hold of them. They're filled with ingredients that could have negative health effects on canines, such as sugar, xylitol, pectin, and caffeine.
Sugary snacks aren't always an immediate danger to dogs, but too much sugar could put your pet at a high risk of diabetes, obesity, and heart disease. Xylitol, an artificial sweetener, is even more hazardous because it could lead to death in extreme cases.
Since jelly beans aren't healthy for humans either, they often have a lot of fillers, dyes, and preservatives added to them. These items can make them taste better and last longer, but could also trigger allergies in animals.
So, there are far too many risks involved with jelly beans to serve them to dogs. If your dog is looking at your holiday candy longingly, it's best to hand them a dog-friendly treat instead.
Are Jelly Beans Bad for Dogs?
Yes, jelly beans can be dangerous for dogs, especially if consumed in large amounts. Not only are they a sugary treat with no health benefits for canines, but they contain several other dangerous items.
Sugar
Nearly all human candies have sugar added to them to make them sweeter. Of course, too much sugar can cause problems for both dogs and humans.
Dogs don't usually get much sugar in their diets, so they're likely to vomit or get diarrhea after eating jelly beans. If they eat a lot of jelly beans at once, they could be at a higher risk of diabetes or weight gain. Obesity in dogs can eventually lead to arthritis and other joint issues.
Plus, sugar isn't good for teeth. Dental disease is already common in dogs, so sugar will only be worse for their teeth and gums.
Xylitol
Xylitol is an artificial sweetener, but it's even more dangerous than pure sugar. It's one of the few human foods that are toxic to dogs, along with chocolate. Dogs who consume xylitol usually experience drastically low blood sugar levels, which is a condition called "hypoglycemia."
Most dogs show symptoms of low blood sugar only 30 minutes after eating xylitol. Yet, in some cases, it could take as long as 18 hours. Another common issue that xylitol causes is liver failure. If any of these health concerns aren't treated fast enough, they could lead to death.
Here are some symptoms of xylitol toxicity:
Vomiting
Excessive drooling
Drowsiness
Loss of coordination
Loss of consciousness
Seizures
Coma
Pectin
Pectin is a type of starch that's commonly found in candies to give them a jelly-like consistency. All jelly beans have some type of starch in them for that reason.
Starch isn't toxic for dogs, and it can even be found in some treats and veterinary products. However, large amounts could lead to constipation and other gut problems in dogs.
Caffeine
When you think of caffeine, you probably associate it with coffee and chocolate. Yet, some candies use it as a stimulant. Caffeine comes from the same compound as theobromine, which is what makes chocolate so dangerous for dogs.
While not all jelly beans have caffeine, it's toxic for dogs like xylitol. Caffeine will be absorbed into your dog's gut within 45 minutes of consumption. It can cause a wide range of health concerns for your canine.
Here are some signs of caffeine toxicity:
Hyperthermia (high body temperature)
Restlessness
Increased heartbeat
Shaking
Seizures
Added Flavors
Jelly beans have a wide range of flavors, along with other additives and preservatives in them. Not only could they trigger allergies, but some of these are much more dangerous for dogs than others. For example, jelly bean flavors like chocolate or grape might contain traces of real foods, which are poisonous for dogs.
What to Do if Your Dog Eats Jelly Beans by Accident
If your dog accidentally ate some jelly beans, double-check the ingredients on the bag if possible. If you see xylitol or caffeine, contact your vet immediately. If not, monitor them closely for any abnormal behaviors or symptoms.
When in doubt, it can't hurt to take your dog to the vet. Eating one or two jelly beans probably won't have an effect on them, but large quantities could be life-threatening. It's always better to be safe than sorry when it comes to your furry friend's wellbeing.
Safer Alternatives to Jelly Beans for Dogs
Instead of giving your dog some jelly beans, give them less sugary items. Of course, dog treats are your safest bet, but there are also plenty of human foods that are much safer for dogs than candy.
Fruits and vegetables are great human food alternatives. Many of them have natural sugar to make them tasty for your dog, and they also have many added health benefits.
Apples, blueberries, carrots, and green beans are just some great treatment options. However, be sure to stay away from grapes, which can be toxic to dogs.
Final Thoughts
If you were wondering if dogs can have jelly beans, the answer is a definite no. Jelly beans have so many hazards for dogs, so they're not worth the risk. Instead, stick to dog treats or pet-friendly human foods. It might be difficult to say no to your dog's begging face, but when it comes to jelly beans, saying no is for their own good.
READ MORE: