The honeydew melon is a common ingredient in fruit salad because of its crowd-pleasing sweetness. Although its yellow-green flesh consists of about 90% water, it nevertheless does provide a good amount of vitamin C and vitamin B thiamine, both of which are important in a human's diet. But what about dogs – can they consume honeydew melon safely?
Can dogs eat honeydew melon? Yes, they can. No part of the honeydew melon is toxic to dogs. However, you'll want to remove the seeds and tough rind, which can be choking hazards. As with all fruit, make sure to only give your dog honeydew in moderation.
Here's what you need to know about feeding dogs honeydew melon:
Dogs don't need much sugar in their diet, so any fruit should be a "sometimes treat" rather than an everyday meal.
Honeydew melons contain plenty of water, so they can make a hydrating, refreshing treat on a hot summer day, for you or your dog.
There's no specific research on the exact benefits of honeydew melon for dogs.
If you want to see if your dog likes honeydew, start by feeding them a few small pieces to see how they react.
Is Honeydew Melon Safe for Dogs?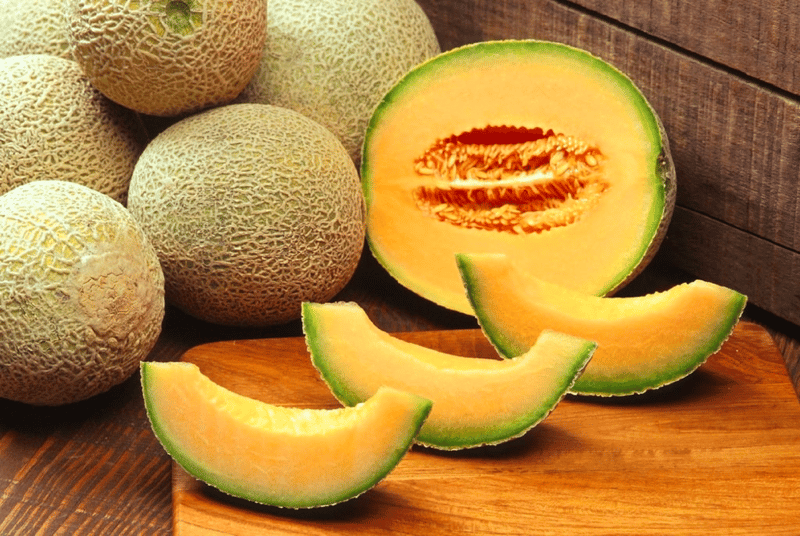 The flesh of a honeydew melon, both regular and golden honeydews, is perfectly safe for a healthy dog to eat. If your dog is diabetic, on the other hand, you shouldn't purposefully feed them honeydew or any fruit because of the high sugar content. However, even if a diabetic dog gets a hold of a small piece of honeydew, it probably won't cause an emergency. Keep an eye on your dog for the next few hours and call your vet if you're concerned.
If you do decide to feed your non-diabetic dog honeydew melon, make sure to remove the rind and the seeds first. Although the seeds and rinds aren't toxic, they could become choking hazards. Additionally, the rind is tough and difficult to digest, and in a worst-case scenario, it could obstruct your dog's digestive system. This is unlikely unless your dog swallows a large chunk of honeydew rind, but if this happens, you'll probably want to consult your vet.
Is Honeydew Melon Good for Dogs?
When looking at the nutritional value of any food, it's important to keep in mind the difference between a dog's dietary needs and a person's. For example, a cup of honeydew melon contains 56% of a human's recommended daily allowance of vitamin C. However, dogs don't need to ingest vitamin C the way people do, because their bodies can create it out of the other food they eat. More vitamin C won't hurt your dog, but it's not beneficial, either.
On the other hand, honeydew melon is also a good source of potassium, which dogs do need in their diets. Good dog food will contain enough potassium that you shouldn't need to supplement it with fruit. However, if your dog has been experiencing vomiting or diarrhea, they may be getting rid of necessary potassium. Honeydew melon will not only provide this potassium but will also help rehydrate your dog.
Naturally, you should not try to diagnose or treat your dog's health problems on your own. If you suspect your dog might have a potassium deficiency, a condition called hypokalemia, your first move should be to call your vet. Feeding your dog honeydew melon – or any fruit or vegetable – is not a substitute for medical treatment.
What to Do if Your Dog Eats Too Much Honeydew Melon
Unfortunately, there's no hard-and-fast rule for what counts as "too much" honeydew melon. At worst, eating a lot of honeydew melon may give your dog an upset stomach. If you know your dog has a sensitive stomach, keep an eye on them, and make sure they have plenty of water available. Under most circumstances, you don't need to make an emergency call to your vet if your dog eats too much honeydew melon.
The exception would be a dog with diabetes. If your diabetic pooch eats a substantial amount of honeydew melon, you should contact your vet and let them know what's happened. Prolonged hyperglycemia, or too much sugar in the bloodstream, can cause pancreatitis or kidney problems.
Final Thoughts
Can dogs have honeydew melon? Yes, occasionally. If you find out that your dog loves the taste of honeydew, you can use it as a treat, particularly in the summer. However, remember that dogs need much more protein in their diets than carbohydrates, including sugar, so only give your dog fruit in moderation.
READ MORE: