Eggplant, known in the UK and Europe as aubergine, is a popular veggie because of its ability to absorb flavors as a component in a larger dish. If you have eggplant in your home or grow it in your garden, you may wonder if it's dangerous for your dog to get a hold of. We'll outline any safety concerns you need to know about dogs and eggplant.
Can dogs eat eggplant? Yes, eggplant is generally safe for healthy dogs except in the rare case of an allergy, which could result in itchiness, diarrhea, or vomiting. Additionally, if your dog has kidney problems or arthritis, eggplant could make the symptoms worse.
Here are some safety tips to keep in mind about dogs eating eggplant:
As with all fruits and veggies, the eggplant should only be fed to your dog in moderation.
Just as humans usually don't like to eat eggplant raw because it can taste bitter, your dog will likely also prefer the cooked variety.
However, if you feed your dog cooked eggplant, be mindful of what the eggplant is cooked with, as certain oils and spices may be unhealthy or even dangerous for dogs.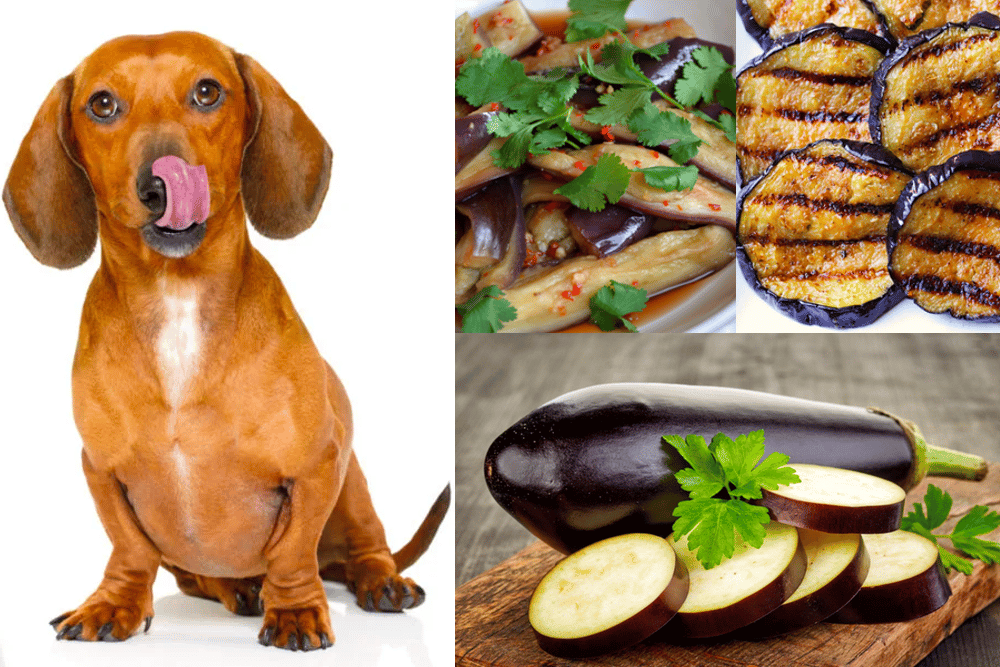 Is Eggplant Good for Dogs?
Eggplant is typically safe for dogs, but is it actually good for them? Since plain eggplant is high in fiber and low in fat and calories, it's not an unhealthy snack. However, it also doesn't provide any special health benefits, since the micronutrients it contains (like vitamin K and potassium) are in very small amounts. If your dog particularly likes potatoes, eggplant might be a good substitute, since eggplants have a similar texture but less starch.
The most common variety of eggplant has dark purple skin and white flesh, though some varieties may have white or even black skin. There's no significant nutritional difference between the different varieties, for humans or for dogs. Additionally, all eggplants are high in carbohydrates but very low in protein, which should be the basis of a dog's diet. Thus, while occasional pieces of eggplant are fine, they shouldn't make up the bulk of a dog's meals.
Dogs and Eggplant Recipes
Can dogs eat raw eggplant?
While most dogs can eat eggplant raw without problems, chances are they aren't going to like it much. That's because raw eggplant typically tastes bitter and a bit astringent, which isn't pleasant for you or your dog. However, if you drop a bit of raw eggplant on the floor and your dog slurps it up, there's no cause for alarm.
Can dogs eat cooked eggplant?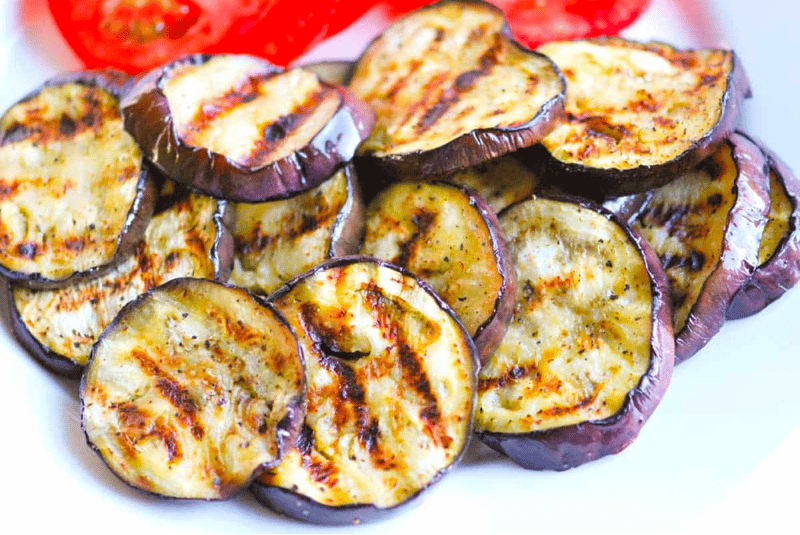 Yes, and your dog will probably prefer cooked eggplant to raw. Cooking removes the veggie's bitterness and gives it a more pleasant taste and texture. Of course, you just need to make sure that anything the eggplant is cooked with is also okay to feed your dog. For example, cooked eggplant is sometimes flavored with garlic or onion, which are both dangerous for dogs.
The safest way to cook eggplant for dogs is by boiling, grilling, steaming, or baking the eggplant on its own without adding extra oils or spices. While adding things like oil and salt may make eggplant taste better for humans, your dog doesn't need the added fat and sodium. It probably won't hurt your dog if they happen to eat a small piece of eggplant cooked in, for example, olive oil, but it's not a good idea to feed it to your dog regularly.
Similarly, fried eggplant shouldn't be given to dogs because it contains more fat than they need. The same goes for breaded eggplant, and pickled eggplant usually contains garlic. Eggplant parmesan can have cheese on it, which is not dangerous, but too much dairy may upset your dog's stomach. Essentially, if your dog wants to cook eggplant, it's much better to steam or bake some yourself instead of feeding your dog leftovers of a dish made for humans.
When is Eggplant Dangerous for Dogs?
There's a small chance your dog might be allergic to eggplant. If they're allergic to tomatoes, there's a higher chance they'll also be allergic to eggplant, since both vegetables are nightshade plants. If you're not sure whether your dog has an eggplant allergy, just keep an eye on them after they eat some to see if they show any discomfort or physical symptoms.
Though most healthy dogs should tolerate eggplant just fine, dogs with kidney problems or arthritis should not be given eggplant in any form. Eggplant contains high levels of compounds called oxalates, which can bind with calcium and iron in the bloodstream. Not only does this prevent your dog's body from using the calcium, but it can also form the basis of kidney stones and, at high enough levels, cause kidney failure.
However, your dog would probably have to eat lots of eggplant over a long time for that to happen. Even if your dog has arthritis or kidney problems and accidentally ingests a small amount of eggplant, it does not cause for immediate concern. Just know that you shouldn't intentionally feed eggplant to a dog with one of these conditions.
What to Do if Your Dog Eats Too Much Eggplant
If your dog eats, for example, an entire eggplant, the worst they will probably face is an upset stomach. The same goes for dogs who are allergic to eggplant unless the allergy is very severe. Of course, if your dog ingests eggplant (or any new food) and then has difficulty breathing or keeping down water, you'll need to take them to the vet. Otherwise, just keep an eye on your dog to make sure any symptoms of nausea and diarrhea pass after a day or so.
If your dog has kidney problems and arthritis and accidentally eats a bite or two of eggplant, it's probably nothing to worry about, but you can always contact your vet if you have concerns. If they eat a larger amount of eggplant, though, you should probably at least give your vet a call to see if there's any action you need to take.
Final Thoughts
Your dog can have eggplant as an occasional snack without problems unless they have an allergy. Just remember that it should be prepared without too much oil or salt and completely without dangerous foods like garlic and onion. Your dog will likely appreciate cooked eggplant more than raw eggplant. Just be sure to give it to them in moderation.
READ MORE: