Can dogs eat edamame? Yes, plain edamame beans can make a safe and tasty treat for dogs. Edamame is packed with many essential nutrients, such as omega-3s, calcium, and vitamin C. Yet, edamame is soy, which is a common allergen for many dogs, so it might not be good for sensitive pups.
Quick Tips for Feeding a Dog Edamame:
Edamame is a healthy treat or food topper for dogs.
It contains beneficial items like fiber, protein, calcium, omega-3s, and vitamin C.
Make sure the edamame is plain with no seasoning.
If your dog has soy allergies, avoid giving them edamame.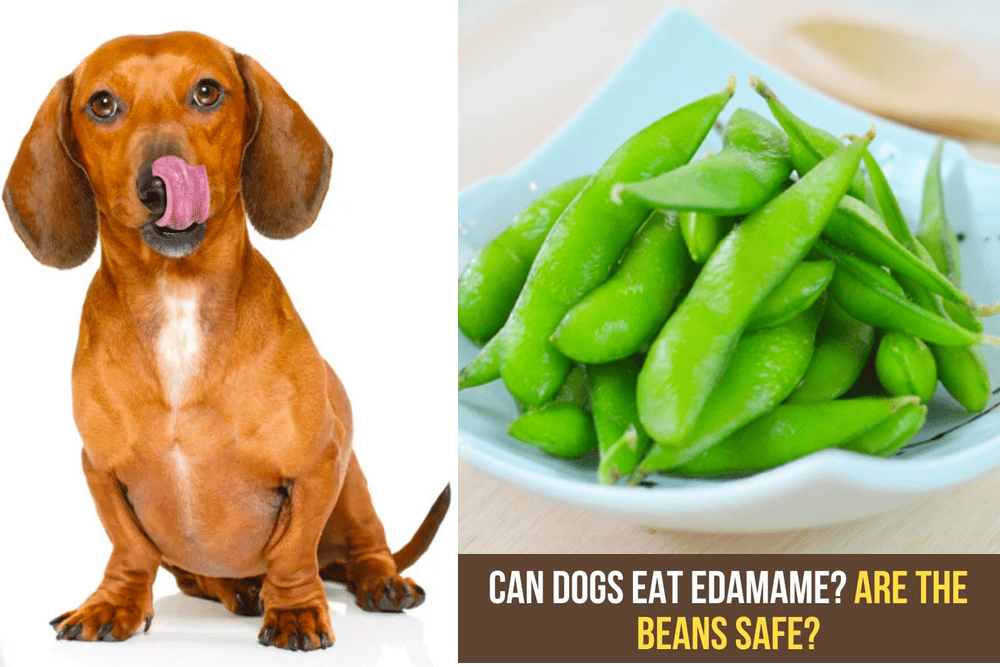 Is Edamame Good for Dogs?
Edamame refers to immature soybeans in a pod. Many humans eat edamame as a healthy snack, but they can also be good for dogs. As long as the edamame is plain with no salt, oils, or spices, it's safe to share with your furry friend.
Benefits of Edamame for Dogs
Edamame is a nutritious legume with lots of beneficial ingredients. It has protein and dietary fiber to keep your dog's digestive system healthy. It also has omega-3 fatty acids, which give your dog healthy skin and a soft coat.
Calcium in edamame can support bone health while vitamin C can reduce the risk of inflammation. So, edamame contains a lot of important parts of your dog's diet. Of course, your dog should be getting these ingredients in their meals too, but these treats can give them a nice health boost.
These vegetable-like soybeans are also great for a healthy heart. Since edamame has low cholesterol, high fiber, and some isoflavones, it improves cardiovascular health, especially in older dogs.
Risks of Edamame for Dogs
Like all human foods, edamame can cause some risks for dogs. The biggest problem is that edamame is soy, and soy is a common allergen for canines. Many dog foods avoid using soy in their recipes to cater to dogs with sensitive stomachs.
The pod or shell of edamame can also be difficult for dogs to digest. It could cause a choking hazard for small dogs or cause digestion issues for dogs of all sizes.
Plus, most edamame dishes for humans include salt and other seasonings to improve the flavor. These added flavors are much more unhealthy for dogs than they are for humans, so they could cause even more tummy troubles.
How to Feed Your Dog Edamame
Dogs can eat soybeans, but figuring out how to serve them can be tricky. Edamame can be prepared in a variety of different ways, so which ones are safest for your dog?
Can Dogs Eat Raw Edamame?
Yes, raw edamame is great for dogs to eat. It's best when sprinkled on top of your dog's meals.
Can Dogs Eat Frozen Edamame?
Yes, dogs can eat frozen edamame. It's perfect as a frozen treat or when mixed in with frozen vegetables.
Can Dogs Eat Steamed Edamame?
Yes, dogs can have steamed edamame. Steamed and boiled are the most common forms of edamame for human consumption.
Can Dogs Eat Edamame Beans?
Yes, the beans are the best part for your dog to eat. They're healthy, soft, and easy to digest.
Can Dogs Eat Fried or Baked Edamame?
Yes, edamame is still safe for dogs when it's fried or baked, as long as no seasoning is added to it.
Can Dogs Eat Edamame Pods or Shells?
Yes, dogs can have edamame pods or shells, but it's safest if you only serve the beans. Remove the beans from the pods before giving them to your dog to avoid choking hazards.
Edamame Recipes for Dogs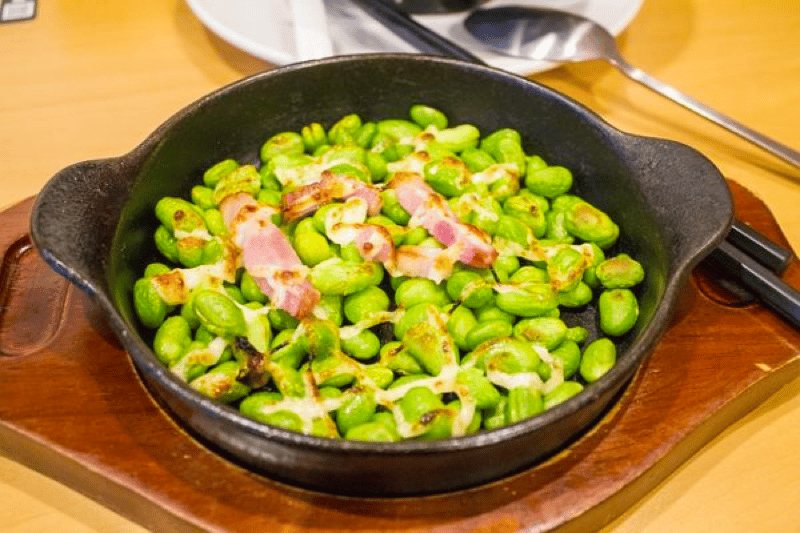 For families who make homemade food for their canines, edamame can be a beneficial ingredient to the add-in. So, if you research homemade dog food recipes, you might find some that include edamame.
Here are some human foods that you can serve with edamame:
Carrots
Chicken
Tuna
Lettuce
Broccoli
If you plan to make your dog's primary diet homemade meals, then be sure to do your research first. You'll need to make sure your dog is getting the proper amount of protein, fat, and nutrients in each meal. When in doubt, talk to a dog food nutritionist for help.
How Much Edamame Can Dogs Eat?
It's best to only serve edamame in small amounts to your dog, especially if they've never eaten it before. The exact amount depends on your dog's size, weight, and age, but in general, two to three edamame beans per day is okay. Do not give them more than six to nine beans per day.
What Happens if Dogs Eat Too Much Edamame?
Edamame is high in fiber, so eating too much could speed up your dog's digestive tract. Thus, they will likely experience vomiting or diarrhea. Luckily, this won't require immediate veterinary care, but closely monitor your dog's symptoms just in case.
Final Thoughts
Edamame can be a tasty and healthy treat for both humans and dogs. It's safe to share these soybeans with your furry friend, as long as it's only in moderation. Edamame can make a great occasional treat or a food topper to keep your dog's heart and digestive tract healthy.
READ MORE: