Dragon fruit, also called pitaya or pitahaya, is the fruit of the moonlight cactus, which grows mostly in Central and South America. Most often, the exterior of the fruit is bright pink with yellow-green spines, but the inside of the fruit is white with small black seeds. The texture of the fruit is a bit like a kiwi, but the flavor is milder. This fruit isn't terribly common in most American households, but there's a small chance your pooch might encounter it.
Can dogs have dragon fruit? YES. Nothing about the rind, flesh, or seeds of the dragon fruit is toxic to dogs. It does contain a lot of vitamin C, but unlike humans, dogs can produce their own vitamin C and don't need to eat it.
Here are some other things to keep in mind:
There is no specific research about the positive nutritional value of dragon fruit for dogs. In fact, there's relatively little research about its nutritional value for humans!
All fruit should only be given to dogs in moderation (as an occasional treat) because of the sugar content.
In the U.S., dragon fruit is expensive, so you might want to find more budget-friendly treats for your pooch.
Always introduce a new food to your dog slowly. Give them small pieces and wait a bit to see how their stomach handles it.
Is Dragon Fruit Good for Dogs?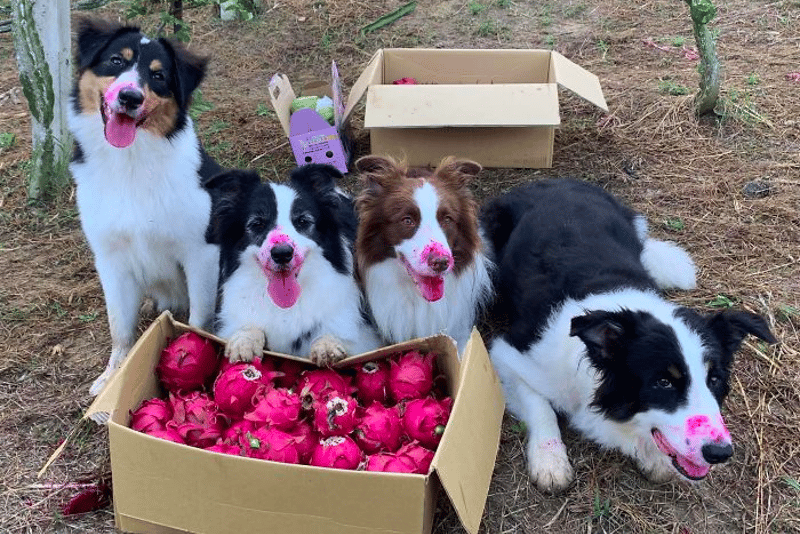 Yes, dogs can eat dragon fruit without problems. If you're going to feed your dog dragon fruit, the only real concern is a choking hazard, depending on the size of your dog. However, you should always keep an eye on your dog when they're eating anything other than their normal wet or dry food. Of course, some tummies are more sensitive than others, so even though this fruit is non-toxic, it may bother some dogs. If your dog experiences any digestive problems, it's probably a good idea to no longer give them dragon fruit.
Is dragon fruit poisonous? The answer here is also no. No part of the plant or its fruit is poisonous, though the plant (not the fruit) has cactus spines that could potentially poke you or your dog.
What Types of Dragon Fruit Can Dogs Eat?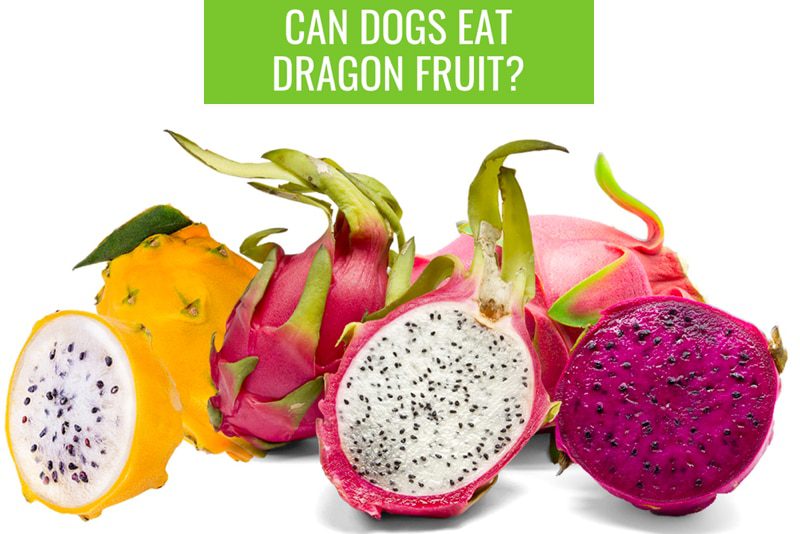 The most common type of dragon fruit is the pink-skinned pitaya with white flesh described above. It's also called pitaya blanca, and you may hear it referred to as pink dragon fruit (for its exterior) or white dragon fruit (for its interior). However, there are other variations. There's not a great deal of study on the different nutrients in the different variations, but here's what we know.
Yellow dragon fruit, or pitaya amarilla, also has white flesh, but the peel is bright yellow. It's sweeter than other types, but it's also much rarer in most parts of the world. Since yellow dragon fruit really only grows in Southeast Asia, it's unlikely an American or European dog would get a hold of one. However, if they do, it's fine.
Red dragon fruit, or pitaya roja, has deep red flesh and skin. It's most common in Costa Rica, and the taste is somewhere between the yellow and the pink/white dragon fruit in terms of sweetness. The dark red coloring means that the red dragon fruit has more antioxidants and thus may be slightly healthier for humans. However, there's no research about the health value of dragon fruit for dogs.
You may hear about purple dragon fruit, but that is not yet a separate category. It might be a type of red dragon fruit with a purple-shaded interior, or it might be a hybrid of pink and red pitayas. Either way, the nutritional content is not remarkably different from the other kinds of dragon fruit, either for dogs or humans.
Is Dragon Fruit Good For Dogs?
Although dragon fruit is rarely, if ever, a major staple in a dog's diet, the pitaya does have some minor health benefits. Like many types of fruit, it's high in fiber while also being low in calories, making it good for digestion. It also has a decent amount of calcium, which is important for forming strong bones. However, most dog food already includes all the calcium your dog needs.
Unlike many other fruit seeds, dragon fruit seeds aren't toxic to dogs. They're so small that they don't even present a choking hazard – though the entire fruit might, if your dog tries to swallow it all at once. If you'd like your dog to try dragon fruit, make sure to cut it up into small pieces and start by only giving them a few at a time.
As previously mentioned, dragon fruit is high in vitamin C. However, just because humans need to make sure to include vitamin C in their diets, that doesn't mean dogs do, as well. According to the American Council on Science and Health, dogs can synthesize their own vitamin C out of the glucose that they eat. This means there's no need to give your dog dragon fruit or other food high in vitamin C. It won't hurt them, but they don't need it.
What to Do if Your Dog Eats Too Much Dragon Fruit
Don't worry too much if your dog accidentally eats a few bites of pitaya. Unless they have an unusual allergic reaction, they should be fine. If your dog has a very sensitive stomach, it might experience some slight discomfort or digestive irregularities, but these should be minor. If you're concerned, keep an eye on your dog for the next few hours. The only reason to take them to the vet would be if they start exhibiting breathing problems or vomiting, but the chances of this happening are very slim.
Even eating too much dragon fruit shouldn't cause more than minor indigestion. Of course, you shouldn't feed your dog dragon fruit frequently or in large quantities because it has more sugar than dogs need. However, dragon fruit is so pricey that you probably don't keep enough in your home to cause problems in the first place.
Final Thoughts
Can dogs eat pitaya, also known as dragon fruit? Yes, it's perfectly fine for your dog – though maybe not for your wallet. If your pet pooch likes fruit as an occasional treat, there are more suitable fruits for dogs like apples and pears. These are both less expensive and offer a bit more fiber than dragon fruit.
READ MORE: