Can dogs eat beef jerky? Yes, dogs can eat beef jerky, but it's not recommended. Many brands of beef jerky have added seasoning in them, which can be dangerous for dogs. So, if you share beef jerky with your dog, it's a good idea to look at the ingredient list first.
Quick Tips for Feeding a Dog Beef Jerky:
Make sure the beef jerky doesn't have any salt, garlic, or other seasonings on it.
You can make plain, homemade jerky for your dog.
Jerky treats made for dogs are the safest options.
Only serve any type of jerky in moderation.
Is Beef Jerky Dangerous for Dogs?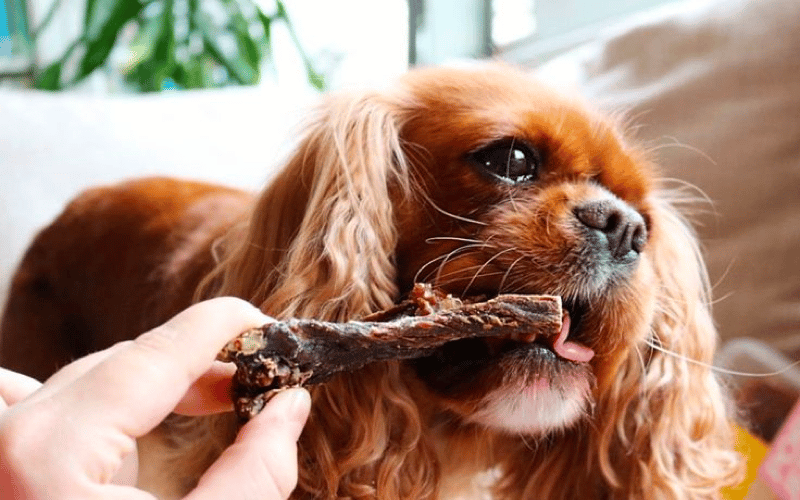 Yes, beef jerky can be dangerous for dogs in large quantities. Most beef jerky for humans has a lot of unhealthy ingredients added to it, such as salt, pepper, and garlic, some of which are toxic to canines.
However, small amounts of plain beef jerky can make safe, tasty treats for dogs.
Benefits of Beef Jerky for Dogs
Beef jerky is a meat source that's packed with protein, which is great since dogs thrive on a protein-rich diet. Also, compared to most meats, jerky is surprisingly low in fat, making it less likely to lead to weight gain.
Yet, beyond those two aspects, jerky has no real health benefits for dogs.
Risks of Beef Jerky for Dogs
The biggest risks for dogs are the ingredients that are added for flavor. Humans prefer these additives to make the snack taste better, but dogs are better off without them.
Here are some unhealthy items you might find in beef jerky:
Garlic
Onions
Salt
Black Pepper
Spicy Flavors
Any of these spices could be toxic or even fatal for dogs in large amounts. Even small servings could cause stomach aches, vomiting, diarrhea, and dehydration. That's why checking the ingredients of human food is essential before giving any to your dog.
Can Dogs Eat Any Type of Jerky?
Jerky comes in a wide range of brands and flavors. Even some brands of dog-friendly jerky might not be the healthiest choice. So, let's see how each type could affect your canine.
Can Dogs Eat Natural Beef Jerky?
Natural beef jerky implies that the snack has no added sugar, salt, or spices, making it the healthiest human option for dogs. If you're unsure if the jerky is natural or not, check the ingredient list.
While this type is healthier than most, it should still only be served in moderation to avoid digestion problems.
Can Dogs Eat Jack Link's Beef Jerky?
Jack Link's is a popular jerky brand for humans, but you should never give it to your dog. The company uses an excessive amount of salt and spice in their recipes, including garlic powder, which is toxic for dogs.
Can Dogs Eat Pacific Gold Beef Jerky?
Pacific Gold is another popular brand, but it's also unsafe for canines. It's packed with way more sodium than a dog can handle, and all the formulas have garlic powder and onion powder. If your dog eats too much of this jerky, it could suffer from serious health concerns.
Can Dogs Eat Slim Jims?
No, dogs should not eat Slim Jims since they're incredibly unhealthy. Small amounts are okay, but there are lots of safer alternatives. Slim Jims are like jerky, but they're more processed and usually made of pureed meats rather than dehydrated products.
Most Slim Jim products include items like salt and soy, which could trigger unusual symptoms or allergic reactions in dogs.
Can Dogs Eat Spicy Beef Jerky?
No, dogs should never eat any kind of spicy jerky. Spicy foods might be tasty to humans, but they can easily upset your dog's stomach. So, keep this type of jerky to yourself.
Can Dogs Eat Teriyaki Beef Jerky?
Teriyaki beef jerky usually has corn syrup or sugar added to it. Foods with added sugars can lead to weight gain and other severe health concerns in dogs, so your pup should stay away from teriyaki beef jerky too.
Can Dogs Eat Turkey Jerky?
If the turkey jerky doesn't have any added sugar, salt, or spices, then it's safe for your dog to eat. Again, it should still only be in small servings though.
How Much Beef Jerky Can a Dog Have?
Jerky shouldn't be a daily treat for dogs, so you should only give them small amounts at a time. It should only be given as a snack and never in the place of a meal.
The number of treats your dog eats should never surpass 10% of their daily calorie intake, so the same is true for jerky. When in doubt, less is more with unhealthy snacks. If you want to give your dog more treats, then switch to a healthier alternative.
Alternatives to Beef Jerky for Dogs
Since beef jerky isn't a healthy treat for dogs, it's a good idea to find alternatives for them. Luckily, many pet food companies create dog-friendly jerky, which is healthier and free of unwanted additives.
Homemade jerky is also healthier for dogs than packaged products. That way, you can ensure that there are no dangerous ingredients in it.
What Happens if a Dog Eats Too Much Beef Jerky?
If your dog eats too much beef jerky, it will likely suffer from digestive issues, such as vomiting, gas, and diarrhea. They could also experience dehydration and increased urination.
Dogs who experience unusual symptoms after eating jerky should be monitored closely. If symptoms continue for longer than a day, contact your vet. It's better to be safe than sorry for your furry friend's health!
Final Thoughts
Beef jerky is sure to make your dog's mouth water, but it isn't the best human snack for dogs. Jerky has minimal health benefits for canines, and it often has unhealthy spices and other ingredients added to it.
So, if you want to give your dog jerky, always check the ingredients beforehand and only serve in moderation. When in doubt, stick to jerky that's made specifically for dogs.
What can dogs eat?